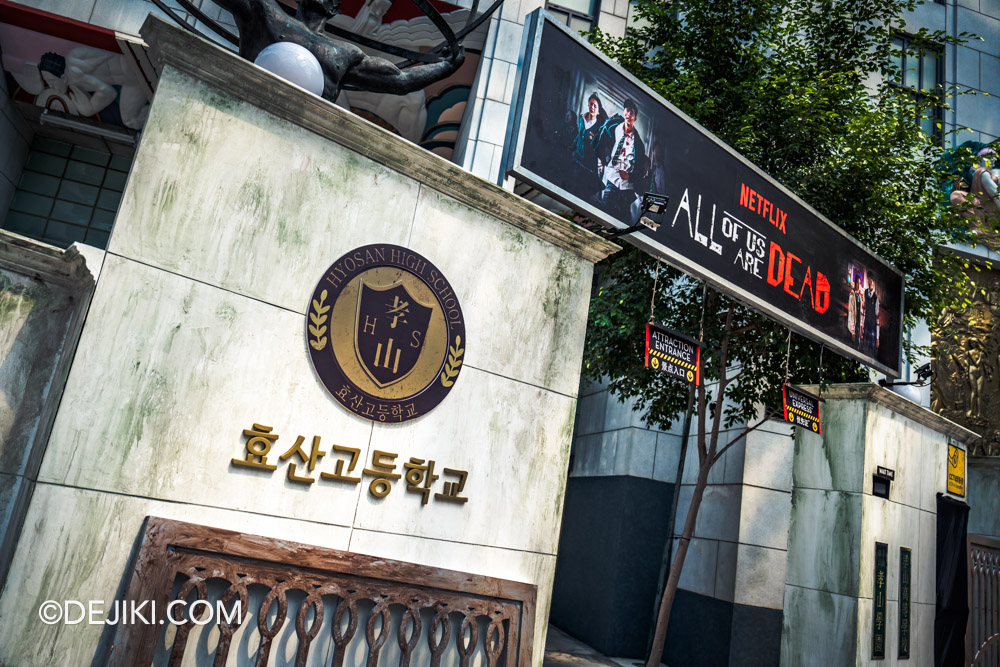 Get your HHN11 news in Halloween Horror Nights 11: BEFORE DARK 2, and other Universal Studios Singapore park highlights in this combined park update.
LATEST: Halloween Horror Nights 11 MEGA Review
Discover this year's Halloween Horror Nights 11 line-up in my MEGA Review, with photos of all the haunted houses and scare zones →
Halloween Horror Nights 11: BEFORE DARK Part 2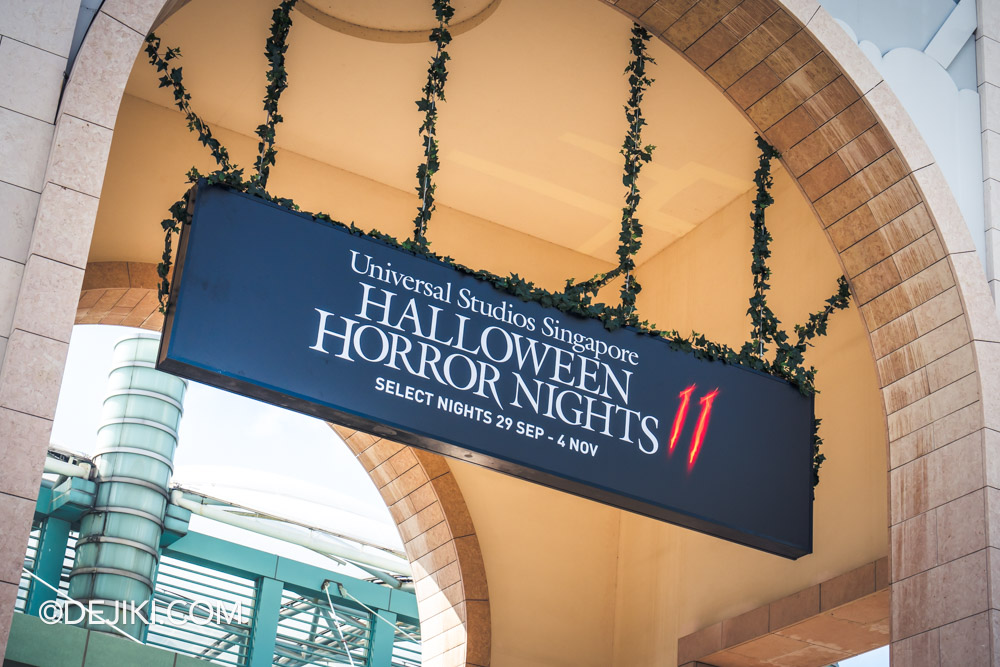 BEFORE DARK is DEJIKI.COM's original series documenting Halloween Horror Nights construction updates at Universal Studios Singapore.
Part 2 will feature the haunted houses entrance and facades not covered in Part 1, plus some retail store updates as the new HHN11 merchandise collection has arrived.
HHN11: BEFORE DARK vlog
Come along for a video tour around the park in this new HHN11 vlog.
---
HHN11 Haunted Houses Entrances and Facades
This terrifying scroll and hanging stalactites mark the start of the queue, before you can finally embark on your journey to DIYU and Descent Into Hell. Glimpse into your dark future and see three of the 'Hells' revealed at a Sneak Preview.
Don't be late for class at Hyosan High School. The gates are now at the park's New York zone, leading you to Netflix's All of Us Are Dead haunted house.
Small details even on the side of the structure, for added realism.
The pathway to the rat-infested Grimm Encounters is still quite clean and clear, for now.
A haunting archway with Peranakan architectural touches now stand at Jurassic Park, luring you into the Mansion that lies further on. Go inside for a sneak preview, if you dare.
The walls are down at The Weeknd: After Hours Til Dawn Nightmare, revealing what looks like the 'Sin City' mentioned in the 'Blinding Lights' lyrics, along with a bloody phonebooth in front of it.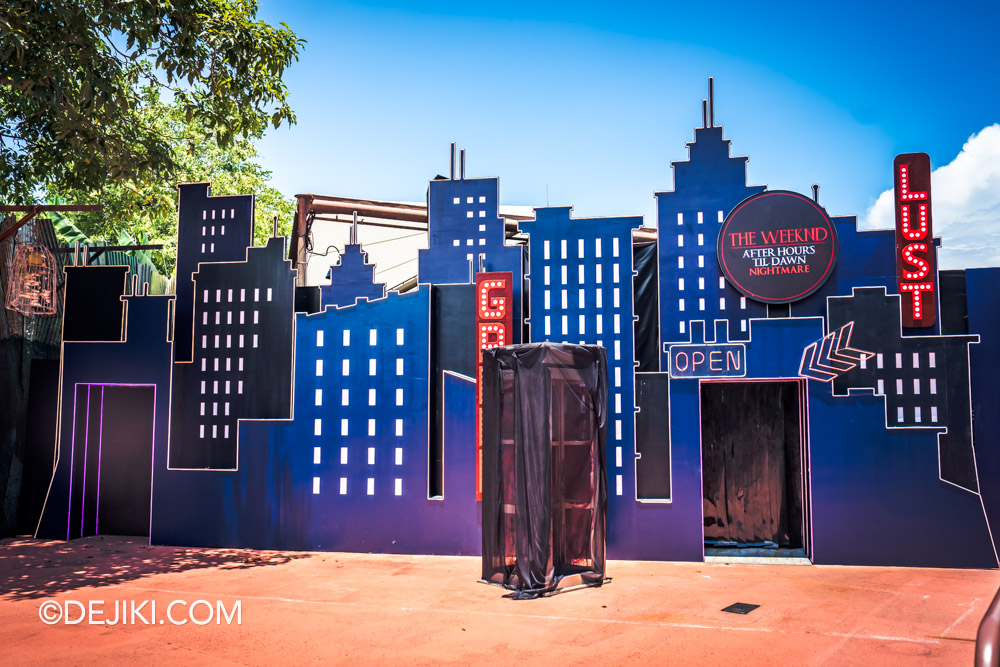 This is the first time a haunted house has an entrance at this side of the Waterworld queue, it suggests an entirely new layout for its queue. It could start from another zone, as it wouldn't make sense for the line to go into the Waterworld amphitheatre and snake out again. Not using the amphitheatre's upper level for the haunted house queue is a mystery, unless Waterworld is operating during HHN11, which would be a bigger mystery. Edit: Waterworld has been added to the HHN11 park map as a park attraction available during event nights.
Given that only one attraction in Far Far Away (Enchanted Airways) is operating, it is possible that the park will use that zone as a queue area, leading out to a side gate which is conveniently next to the open area shown above.
I wouldn't be surprised if the queue lines for some attractions in Far Far Away, such as Puss in Boot's Giant Journey, Donkey Live, or even Shrek 4D Adventure, could be connected into a long chain for this haunted house's queue.
---
HHN11 Scare Zones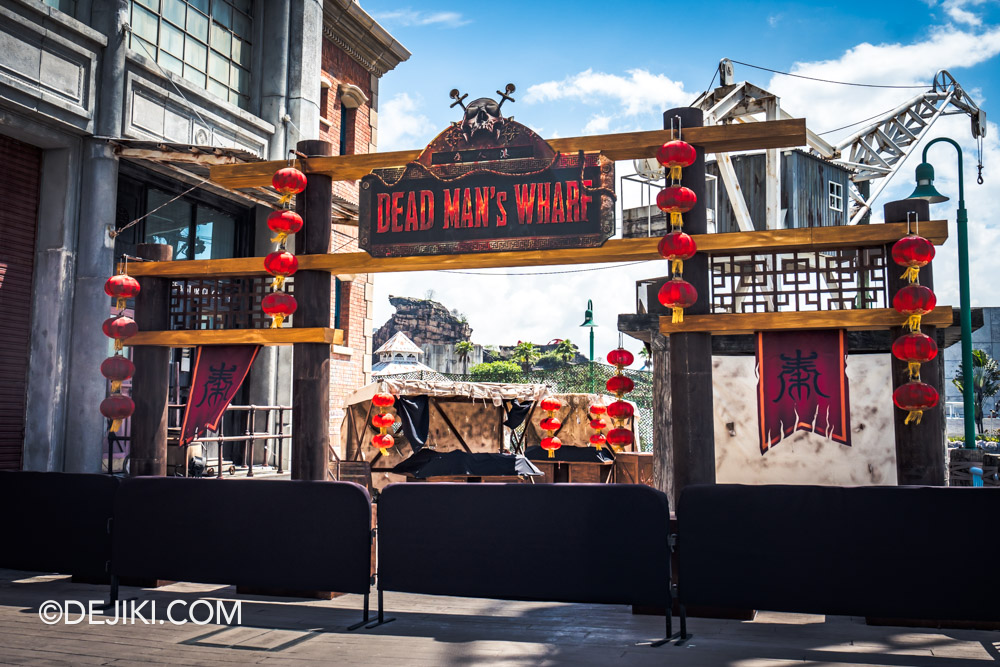 All paths to Dead Man's Wharf have been sealed up, with the zone's sole entrance facing Sci-Fi City.
This means that this scare zone is a one-way walkthrough experience, and given the size and layout of the scare zone, it is possible that crowd control will be implemented during peak periods.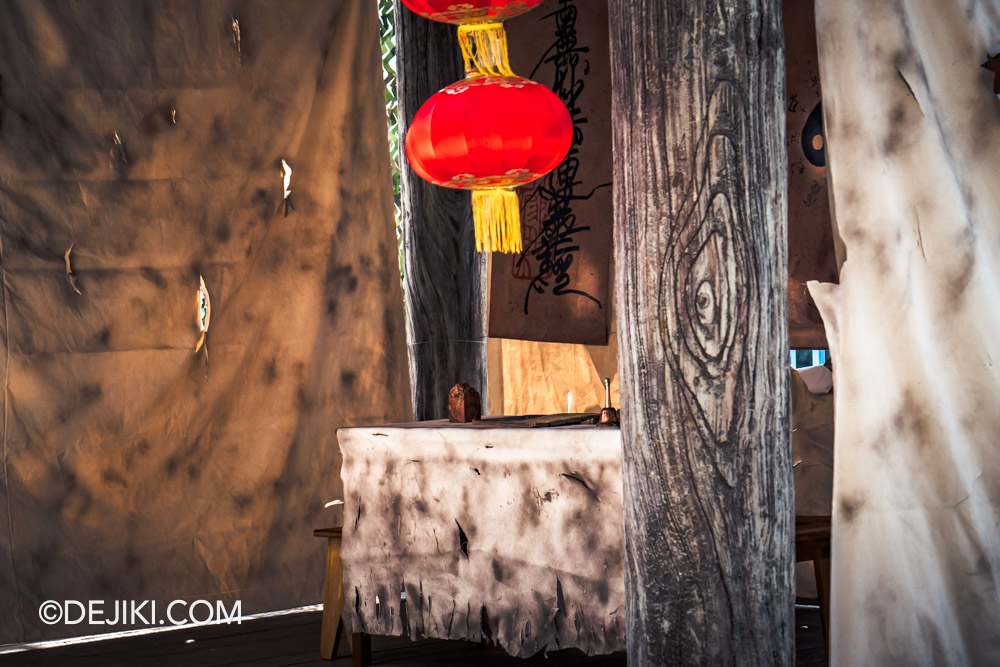 Your adventure at Dead Man's Wharf will start off at the black market stalls and a visit to the fortune teller.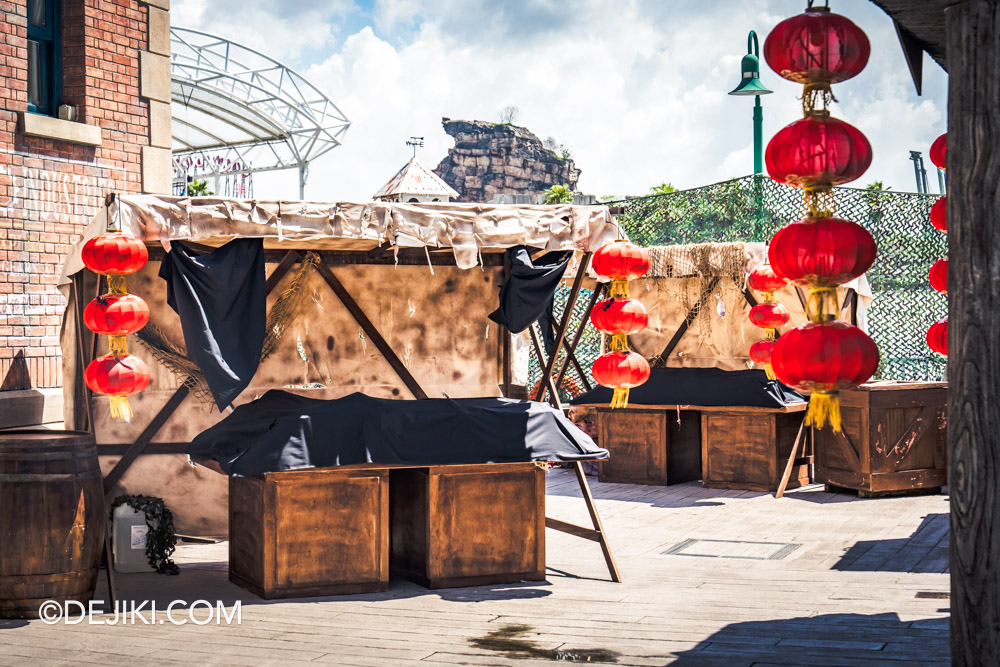 You can see other photos inside this scare zone before all paths were sealed in the previous article.
Over at The Hacker, there have been adjustments made to the main stage at New York Public Library, as well as the addition of this Show Times Panel for the GAME OVER show that happens in this zone.
In The Cursed Kiramam, more props have been added, but they are now almost completely covered and barricaded, which makes it harder to see – understandable as the area should look and feel as a normal Jurassic Park in the day.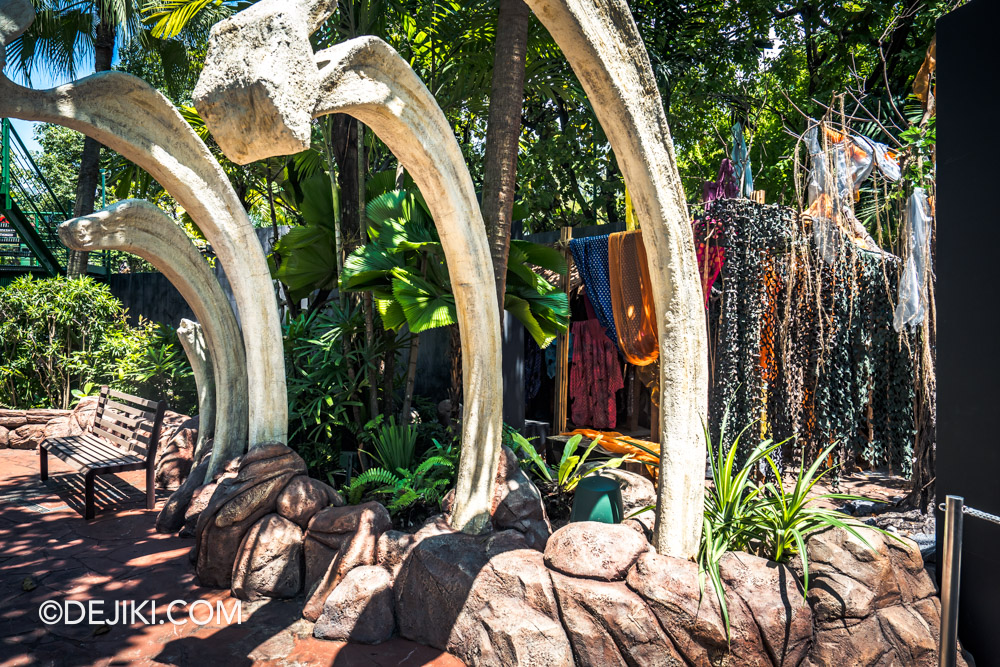 For more photos of The Cursed Kiramam and The Hacker scare zones, as well as the Judgement Day Scaremony Stage, check out HHN11: Before Dark Part 1.
---
Halloween Horror Nights 11 merchandise
NEW: More The Weeknd Merchandise available
For the event's second weekend, the merchandise display has been further updated, expanding the collection of items related to The Weeknd: After Hours Til Dawn Nightmare haunted house. These items are branded with The Weeknd's XO label, and not Halloween Horror Nights 11.
'After Hours (In Your Eyes) The Weeknd T-shirt (White or Black) – S$70
'After Hours' The Weeknd Hoodie – S$230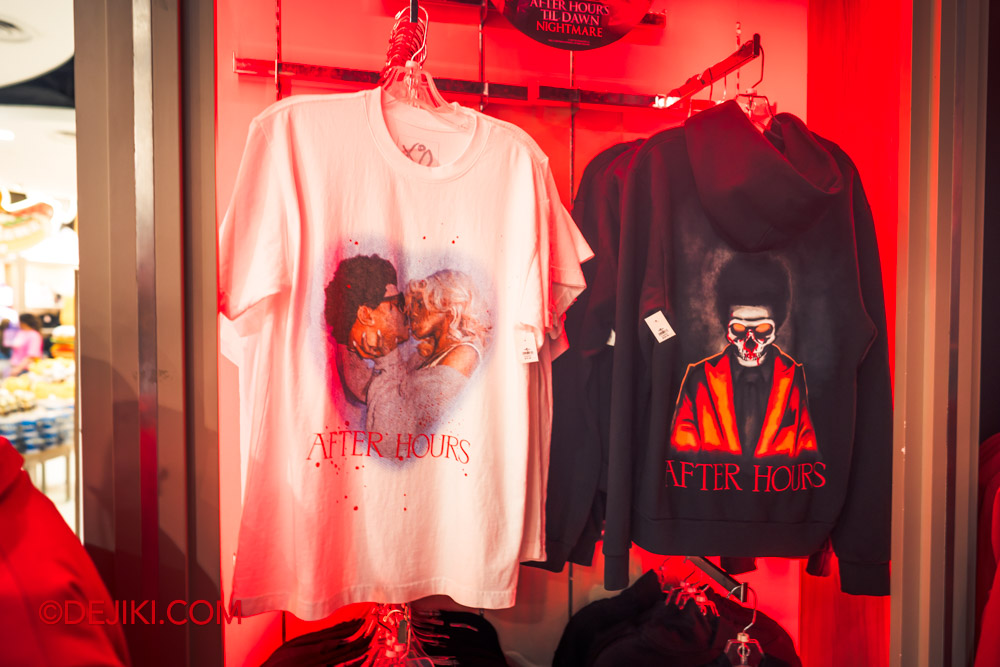 'After Hours' The Weeknd T-Shirt (Black) – S$70
HHN11 Merchandise Corner Update
As Halloween Horror Nights 11 has started on 29 Sept 2023, the park has refreshed the retail display at Universal Studios Store. Watch this video for an overview of the display and items available: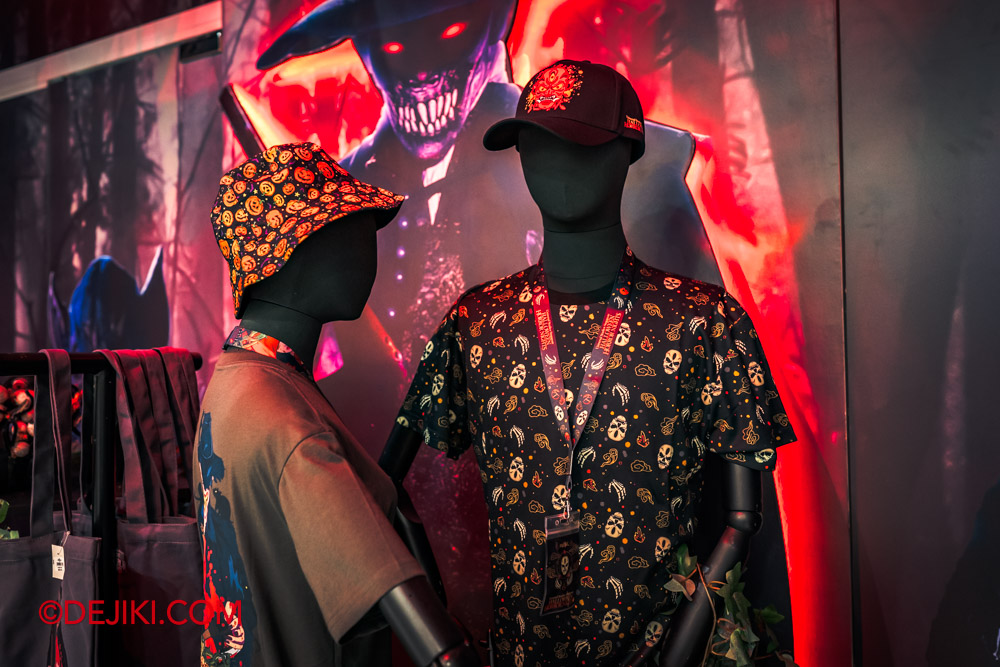 DIYU: Descent Into Hell All-Over-Print T-shirt – S$35
DIYU: Descent Into Hell Baseball Cap – S$20
DIYU: Descent Into Hell Sports Towel with Carabiner – S$20.
The original, earlier content in this article:
The new collection of HHN11 merchandise is now available exclusively at the Universal Studios Store at Hollywood zone.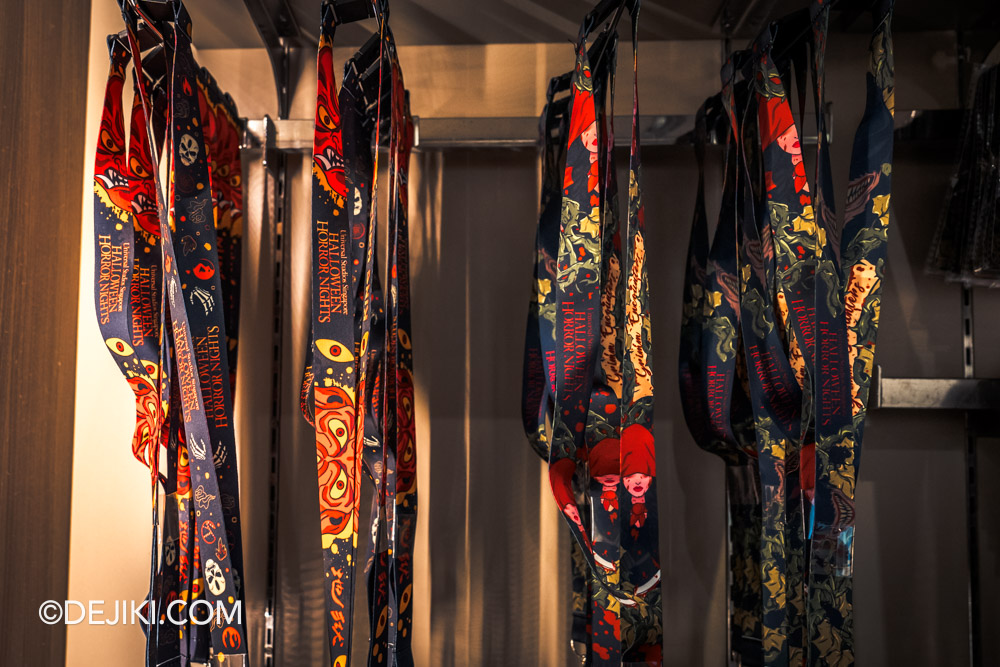 Dual-sided lanyards are available at S$12 each. The DIYU: Descent Into Hell lanyard features a repeating pattern of clouds, fire, skeleton hands and skull (with three eyes – it's King Yama), or you can wear the other side with his glaring eyes and fire for the full KING YAMA experience.
While Grimm Encounters design can be worn showing either the Pied Piper or Red Riding Hood in reverse. Your choice of mystery.
Each lanyard comes with a card holder, which is useful to slot in your HHN11 admission tickets and express passes. If you look carefully at the design for DIYU, there is a ring with 5 smaller icons surrounding the skull, each possibly representing a 'Hell' in the haunted house. I've already explored the Hell of Ice, Hell of Blood, and Hell of Fire. What could be the remaining two?
HHN T-shirts are back, with designs based on the two haunted houses. Grimm Encounters grey T-shirt – S$35.
For DIYU, the motifs from one side of the lanyard is repeated in this black T-shirt. DIYU: Descent Into Hell T-shirt – S$35.
Lug your stuff around in this Grimm Encounters Tote bag, which has a subtle HHN logo on the reverse side.
Button pins featuring designs from both haunted houses are also available, at S$12 per set of three.
---
USS Park Updates
Trolls: Hug Time Jubilee – ALL-NEW SHOW at Pantages Hollywood Theater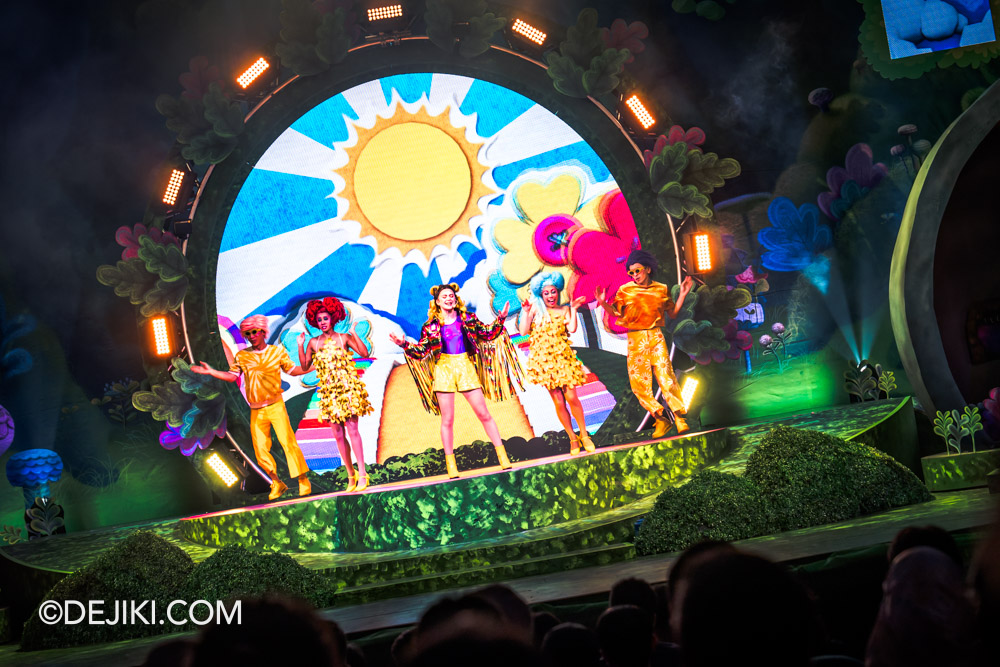 Trolls: Hug Time Jubilee, an original production at Universal Studios Singapore, has opened just last week at the theme park's Pantages Hollywood Theater.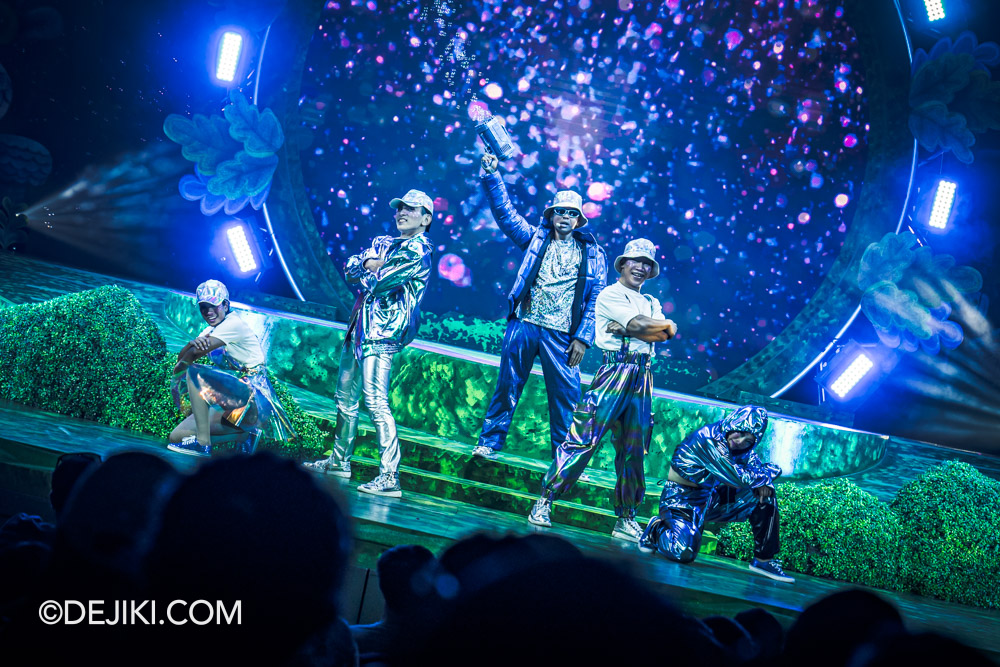 Vibrant, bright and all colourful, this 25-minute show stars Poppy and Branch, who are auditioning acts for their Hug Time Jubilee, a massive celebration of song and dance.
The show parks the debut of Cloud Guy at Universal Studio Singapore, and original 'guest acts' auditioning for the headlining act at Hug Time Jubilee: Sunshine, Fizzay, and Eadie M.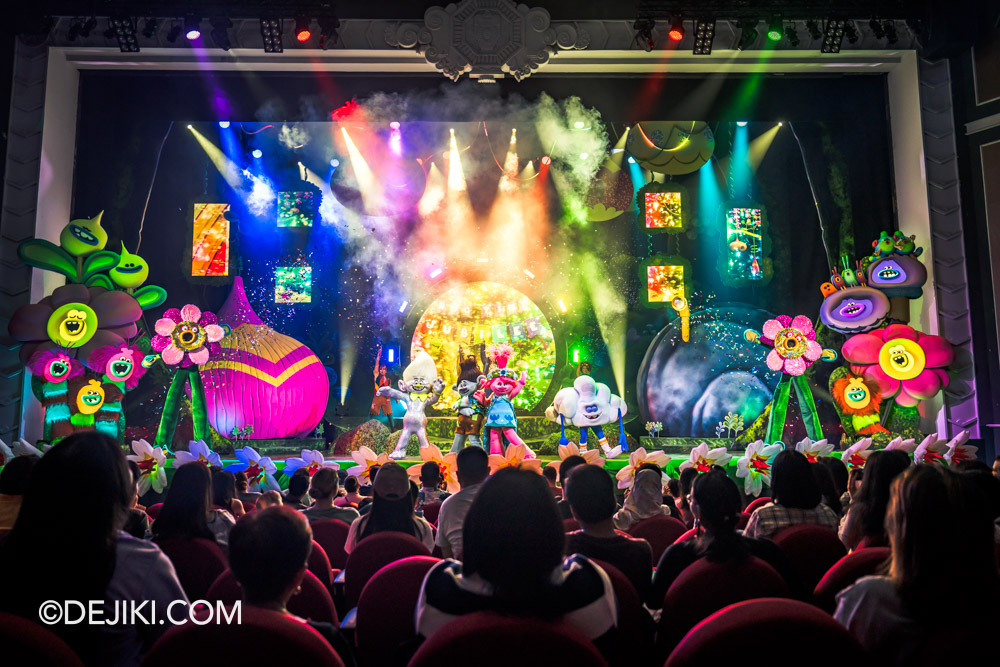 It's definitely a winner for me – the show was a fun experience with more 'recent' songs and a wider appeal compared to Elmo's TV Time. The new stage, which features numerous effects and extend out to parts of the theater, is also quite a sight for see – especially for USS. For now, Trolls: Hug Time Jubilee is performed twice daily, and should remain as a permanent show for quite some time.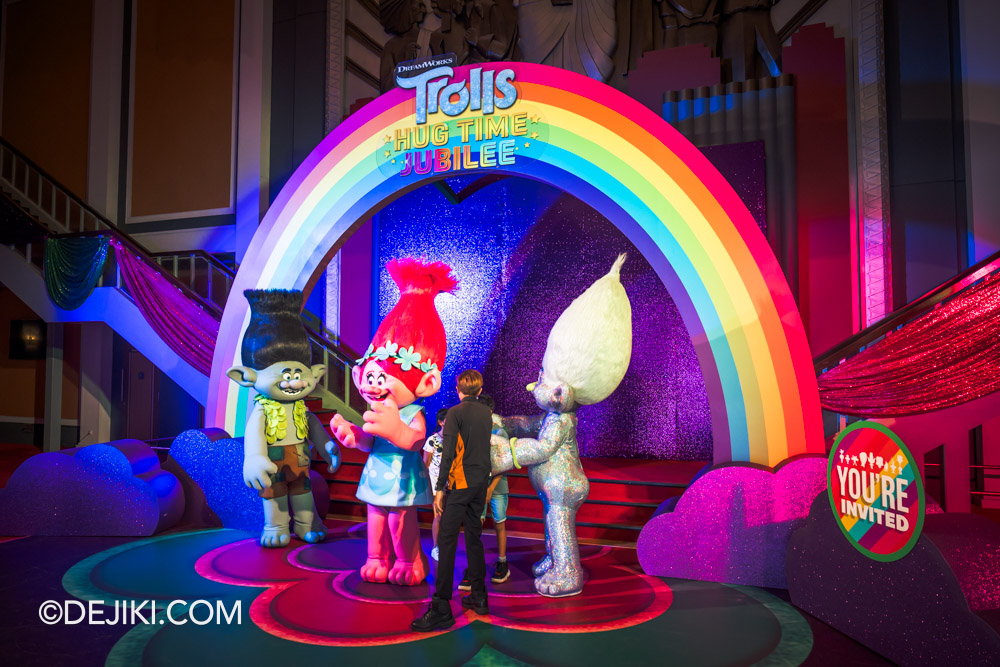 Also happening once a day is a Meet and Greet at the Foyer of Pantages Hollywood Theater. Check with the park crew for the timing.
---
Waterworld – Still as good as before
I finally got to watch Waterworld during a separate visit to USS, and it is still as good as before.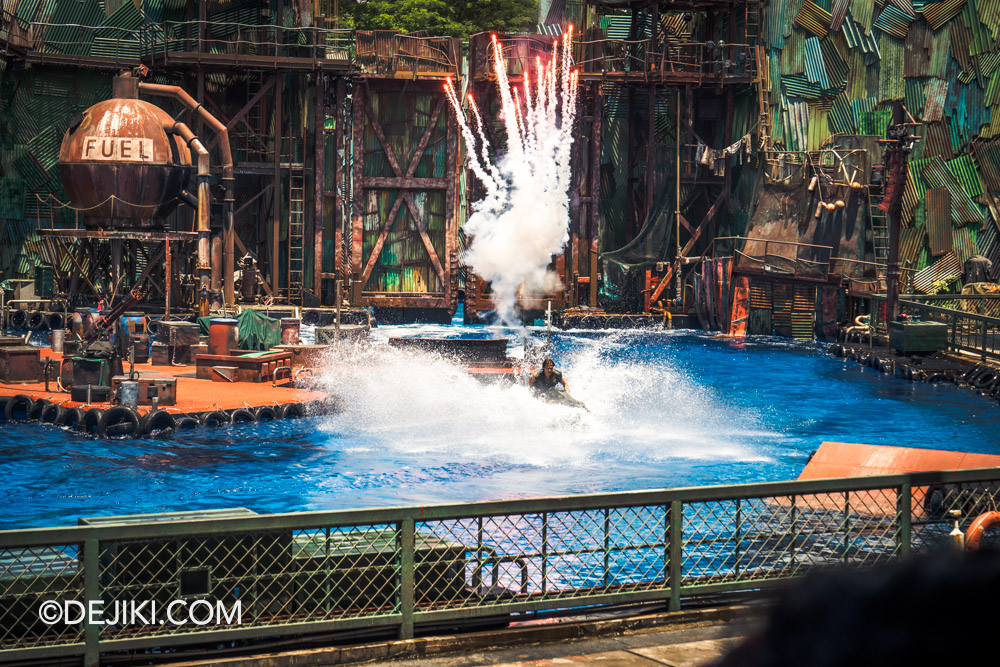 On a bright, clear day, the pool was incredibly blue, and it's great to see that most, if not all, of the effects were working as designed.
Waterworld has 2 shows daily on most days. Check the schedule at the park or with the USS smartphone App on your day of visit.
---
The King Returns at Ancient Egypt
The Scorpion King in 'Parade Form' has returned to Ancient Egypt for Meet and Greets.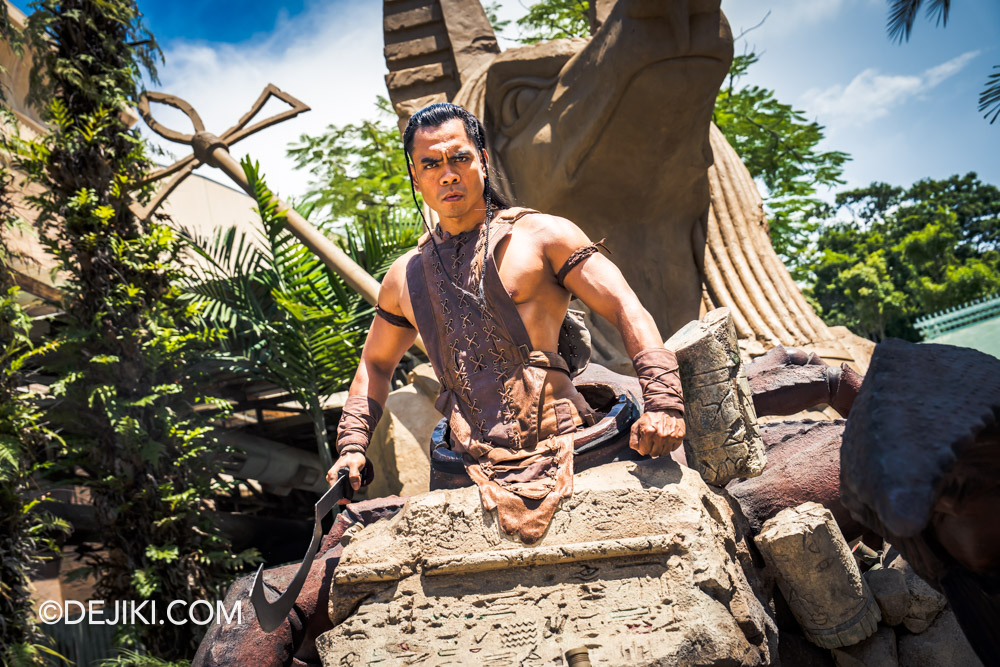 He will alternate his solo appearance with the Sorceress, who will appear with other Egyptian legends.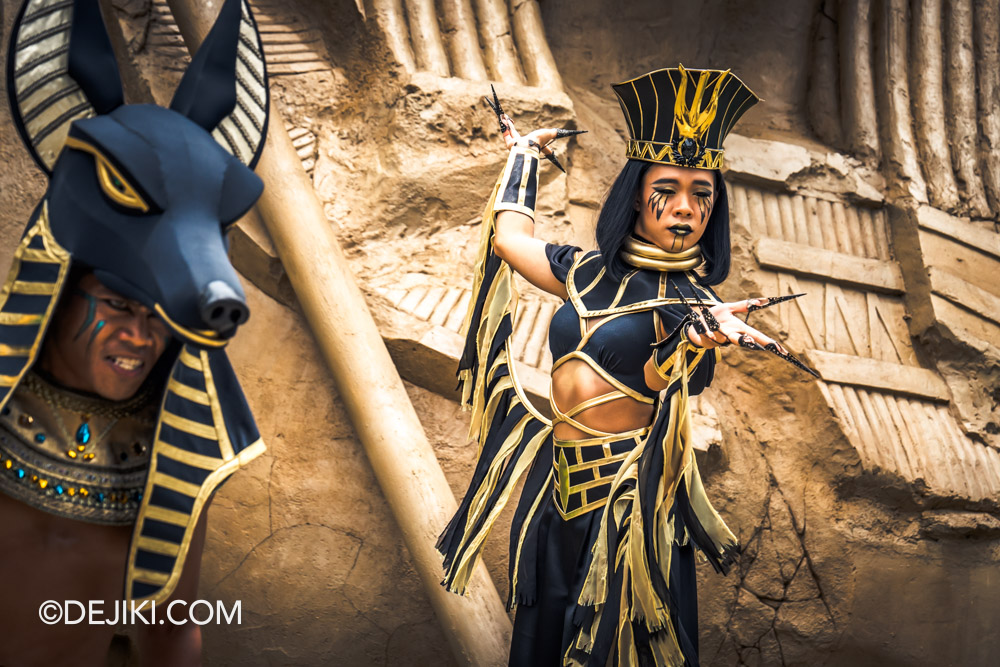 For more info on Universal Studios Singapore's day Halloween event suitable for the whole family, read my article on Trick or Thrills 2023.
---
Experience the Horrors at Halloween Horror Nights 11
Halloween Horror Nights 11 runs on select nights from 29 Sept to 4 Nov 2023. More details can be found at RWSentosa's website or my HHN11 event guide.
Halloween Horror Nights 11 EVENT GUIDE
Get the HHN11 info you need over at my Event Guide, including event calendar, ticketing options, add-ons and the RIP Tour prices.
---
Halloween Horror Nights 11 (2023)
HHN11 REVEALED: Ticket and Event Guide
Sneak Preview: DIYU: Descent Into Hell, Rebirth of the Matriarch, Icons and more
Halloween Horror Nights 11 MEGA Review: Photos of all Haunted Houses and Scare Zones
HHN11 RIP TOUR (VIP Tour) Review

Features on Haunted Houses, Scare Zones and Experiences
Grimm Encounters | The Weeknd: After Hours Til Dawn Nightmare
Judgement Day (Opening Scaremony) | Netflix's All of Us Are Dead
DIYU: Descent Into Hell | Rebirth of the Matriarch
Dead Man's Wharf | The Cursed Kiramam
The Hacker + The Hacker: GAME OVER

Universal Studios Japan (USJ) 2023
Halloween Horror Nights 2023/ HAHAHA! Halloween Party! Event Guide


Halloween Horror Nights – The Archives


Click to Expand and see all posts from past Halloween Horror Nights