Unearth the origins of the legendary Pontianak at Universal Studios Singapore's Halloween Horror Nights 8.
SPOILER WARNING
Photos of Pontianak, a haunted house attraction at USS Halloween Horror Nights 8, are featured here to showcase its design and atmosphere. This is also a page for haunt fans to share their thoughts.
Photography and video recording is not permitted inside any Haunted Houses at Universal Studios Singapore during Halloween Horror Nights.
Overview and Thoughts
Starring the region's most iconic ghost, Pontianak brings us through a harrowing journey through a Malay village to witness this ghost's origins and the various 'conditions' that would cause her to manifest. Many have agreed that this is the scariest house this year, for various reasons. There have been several rumours about actual hauntings at this attraction, witnessed by the cast, crew and even park guests.
Well, the Jurassic Park site where this house is built at is notorious for reports of unexplained events, and for some reason this venue has been home for mazes with supernatural themes – I mean, they even dared to try a 'taboo' concept like Hell House (2015) here.
As an iconic ghost of the region, the Pontianak is a staple character that has appeared in Singapore's past horror nights: Old Changi Hospital (house), True Singapore Ghost Stories: The MRT (house), MATI Camp (house) and Forbidden Forest (zone).
While the park has billed this house as the 'scariest', it is also one of the more immersive houses, with great attention to detail in the kampung home interiors – so much that you feel like you've stepped into an authentic film set. Also adding to the scares are a handful of highly-effective stunts that can make some people lose their mind, heart, soul, or all at the same time. Apart from seeing apparitions of Pontianak in every room, the highlight of this maze is the very unsettling trek through the jungle-like banana plantation, where over 8 terrifying Pontianaks can be encountered within seconds.
---
Once you step out of the sheltered queue area, the Pontianak experience begins. There is suddenly a lingering scent of jasmine, otherworldly cries, and chilly sensations…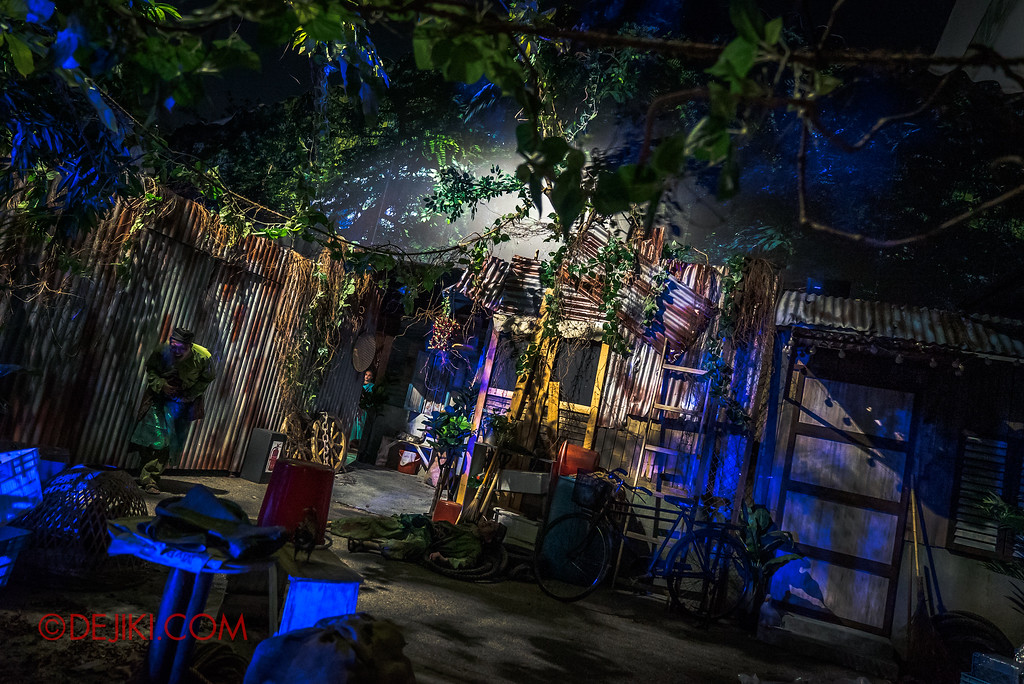 You ignore these unsettling signs… and continue walking until you reach the outskirts of a village.
Outside the house lies a fresh victim of the Pontianak – a man, barely alive, begging for mercy.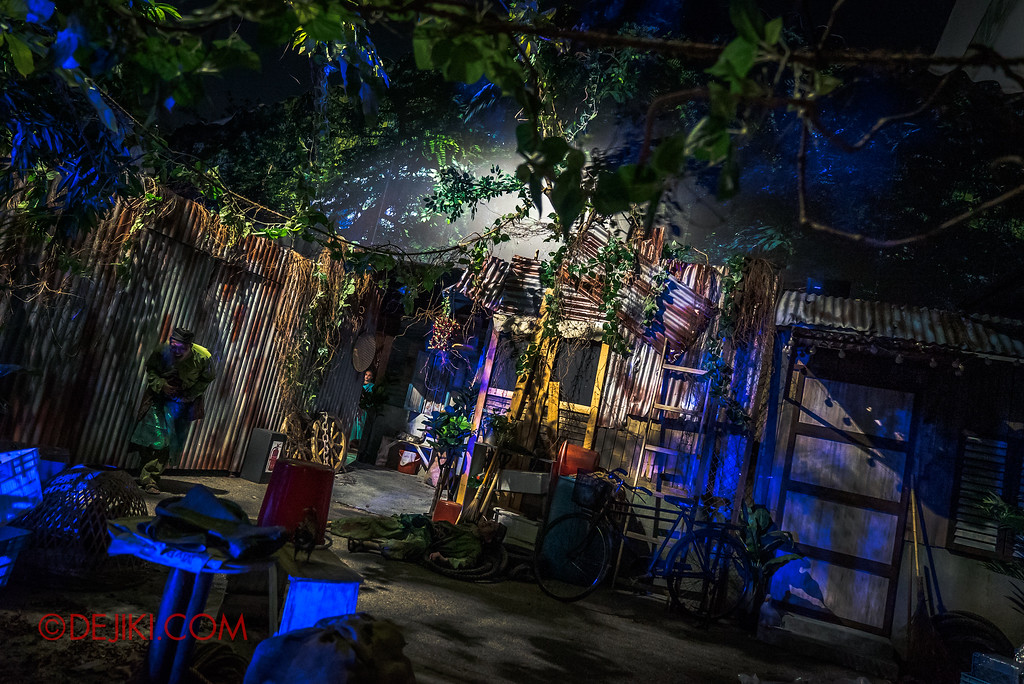 In the house, a woman suffers from a miscarriage. Carrying her baby, she screams endlessly, while an elderly woman berates her fate.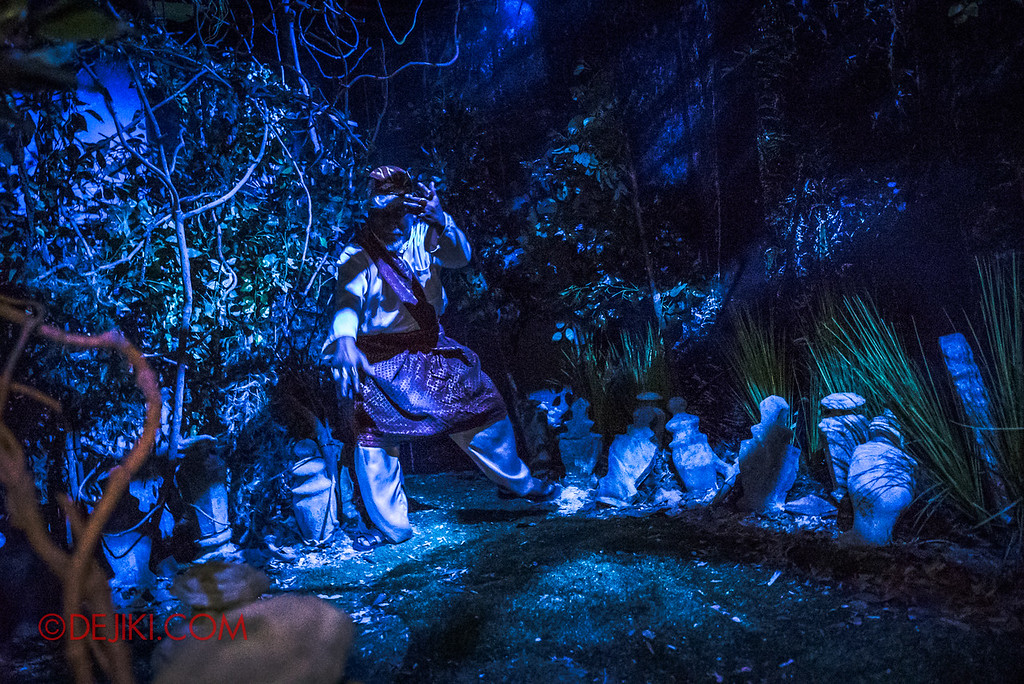 The back of the house opens into an eerie graveyard. An elderly man, who looks like a bomoh (shaman), seems to be casting a spell.
The graveyard stirs, and spirits start to materialise.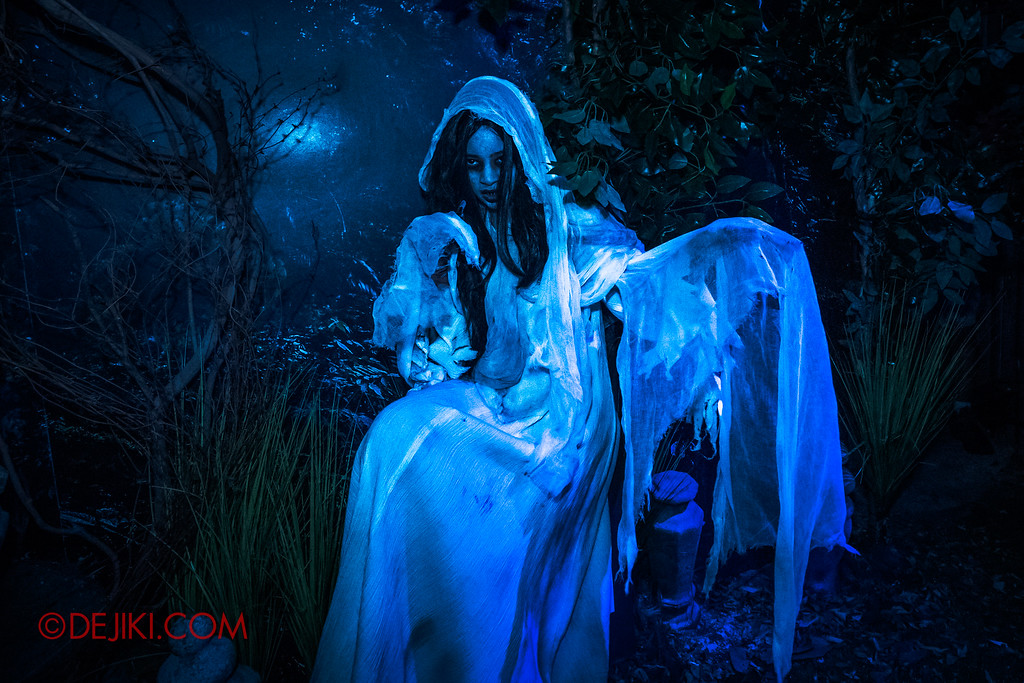 The Pontianak has risen, and she starts to attack from everywhere.
Don't walk near hanging sheets and laundry…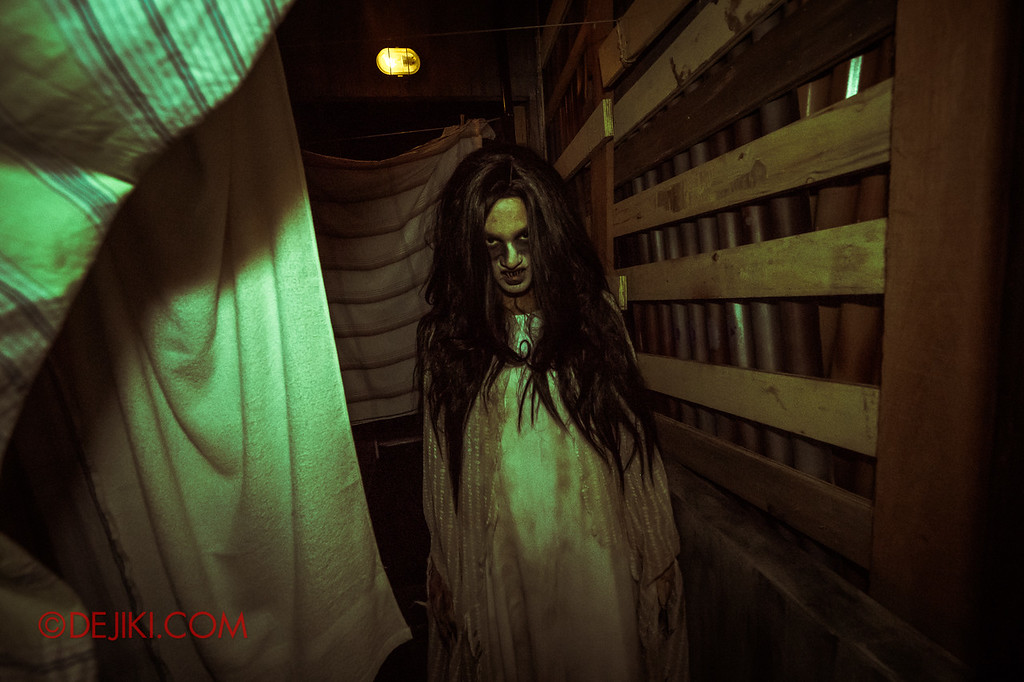 She wastes no time terrorising her prey.
Beware when you tread through the house – she can materialise from behind, beside, and above.
After intense hauntings in the walkways between houses, the path opens up into a jungle filled with banana trees.
Your heart pounds as you tread through this maze-like plantation.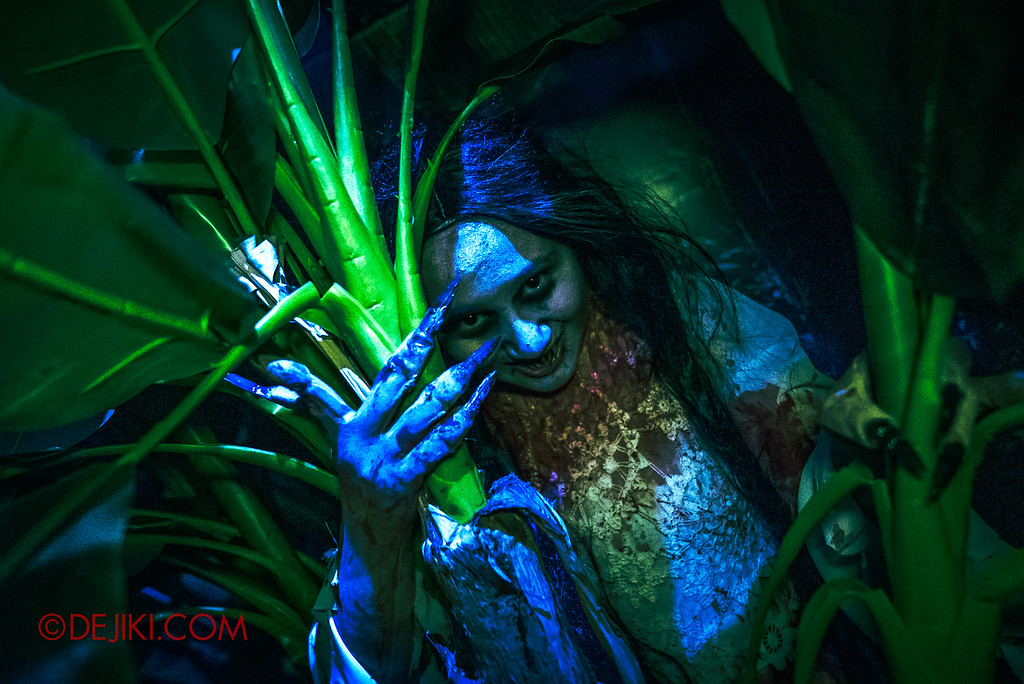 Wade through the dense bunches of banana leaves to find a way out.
Don't look back. Don't think about what you've just seen… or not seen.
Face your fears
Universal Studios Singapore's Halloween Horror Nights 8 is held from 27 Sept through 31 Oct 2018 on select nights. Tickets are available online at halloweenhorrornights.com.sg, or you can also buy them via my Klook link.
Halloween Horror Nights 8 – coverage presented by Dejiki
Check back throughout October for extended event coverage on Halloween Horror Nights – only on Dejiki.com! Like the FB page and share with your friends:

Halloween Horror Nights 9 (2019)
HHN9 REVEALED: Ticket and Event Guide

Halloween Horror Nights 9 MEGA REVIEW
SURVIVAL GUIDE for Halloween Horror Nights 9
HHN9 RIP Experience (VIP Tour)

Features on Haunted Houses, Scare Zones and Experiences
The Chalet Hauntings Revisited | Spirit Dolls | Hell Block 9
Curse of The Naga Revisited | Twisted Clown University
Dead End | Death Fest + Death Fest LIVE
2019 Opening Scaremony (The Undertaker)

SNEAK PREVIEW: Curse of The Naga | The Chalet Hauntings | Behind The Scenes of HHN9
HHN9 Construction Updates (BEFORE DARK)
Part 1 | Part 2 (with Daytime Halloween event) | Part 3 (Horror Truck) | Part 4


Universal Studios Japan (USJ) 2019
Universal Surprise Halloween/ Halloween Horror Nights 2019 Event Guide

---
Halloween Horror Nights – The Archives
Click to Expand and see all posts from past Halloween Horror Nights