Hot in this week's Halloween Horror Nights 8 update: Stranger Things haunted house sneak peek, Apocalypse: Earth, Frequent Fear Pass, and more!
Apocalypse: Earth
Gaia has finally emerged, and so have the forces of Nature which will take revenge at horror nights.
In a rather dramatic fashion, the whole of New York is overrun with giant branches and vines – and it looks nowhere done.
Two cars are bound by the trees.
There are also "lava" variety of trees, masking dark secrets – probably all the trees have victims entwined in them.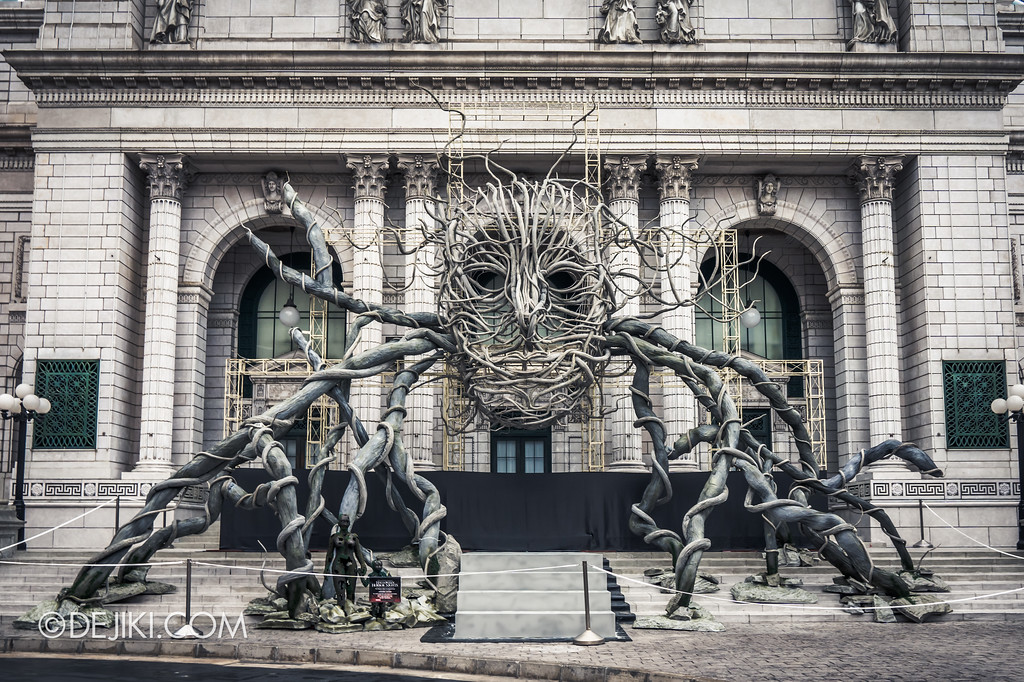 What's more exciting is this giant head made out of entangled branches. The entire stage area will be engulfed with projection effects.
Help…
Cannibal
The cannibal tribe has staged an elaborate takeover of the Ancient Egypt zone.
More dwellings, more stone structures, and flags bearing their insignia.
Tools of the trade.
Zombie Laser Tag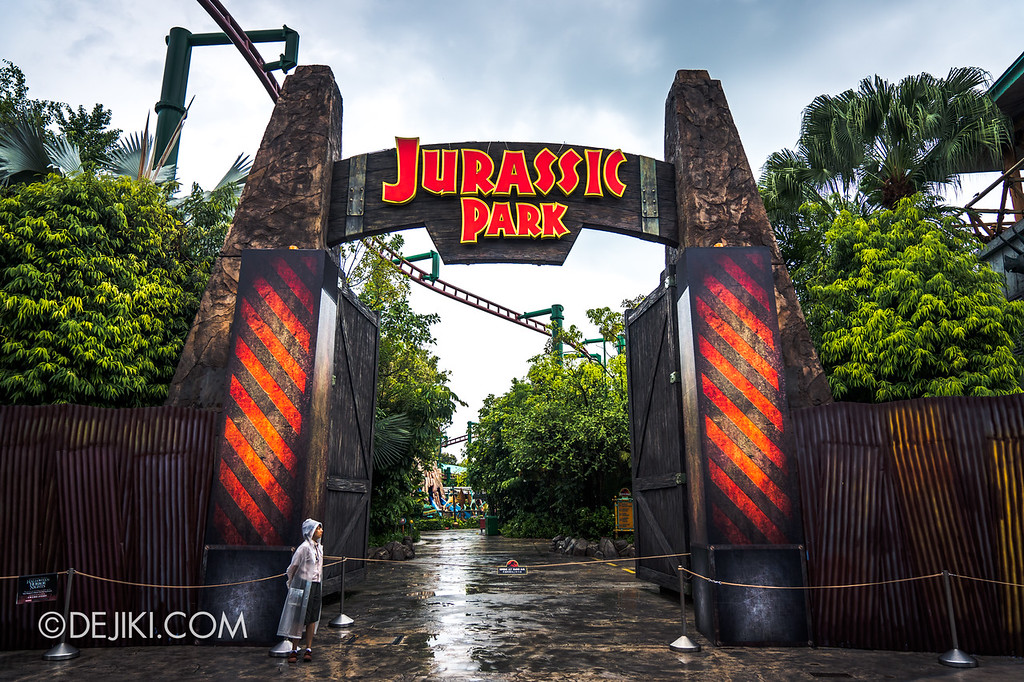 Things are shaping up rapidly at this year's exciting Interactive VIP zone.
The row of crates from last week? It has doubled.
A zombie (or a hoard of them) might spring from these fences.
This wire fence stands out from everything. Maybe it's the start, or the end. There's a panel beside it.
And then there is this panel with the Infinity sign, just beside the Raptor Nest.
Stealthily added around the whole Jurassic Park are cameras and wireless transmitters, likely to conduct the Zombie Laser Tag experience safely and seamlessly. These implements also suggest that ZLT will make use of most of the Jurassic Park's walkable area.
Special Thanks: TM and SN for sending in tips for park updates.
Stranger Things haunted house first look
EDIT: Universal Orlando images removed, as I already went for the preview of Singapore's haunted house.
What I know is… Singapore's haunted house will open with this epic 'Stranger Things' giant marquee. It's almost three stories tall!
HHN8 Frequent Fear Pass – now ready
HHN8 Frequent Fear Pass is now available for early processing at the USS Membership Lobby. This is only for park guests with daytime access to the park – via a Day Pass or Annual/ Season Pass. For all other guests, please process your Frequent Fear Pass during Halloween Horror Nights 8 event nights (from 27 Sept 2018).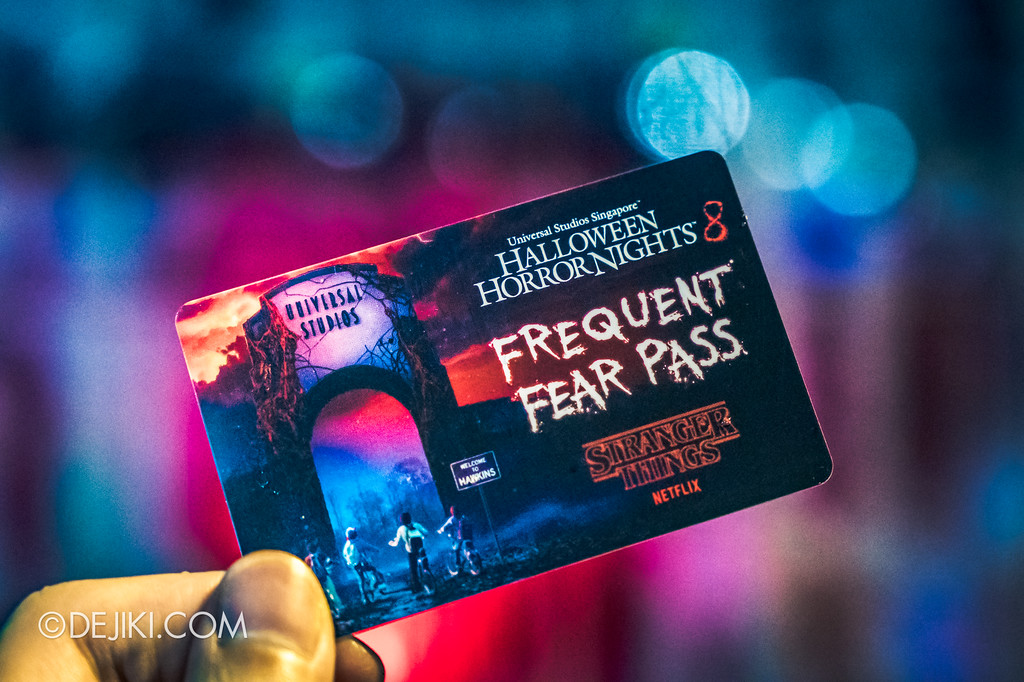 Those who bought their HHN8 Frequent Fear Pass during the 'Limited Time Special' sale can redeem a set of vouchers from USS Guest Services:
• HHN8 Single Universal Express Pass for Haunted House
• HHN8 Shot Glass with Drink
• 2x $5 Game Credit at Hollywood China Arcade
• Zombie Laser Tag Discount Voucher (Pay just $15 instead of $38)
The catch? These are only valid for use on specific event nights as printed on the vouchers, and they are all off-peak nights. Everyone will be gunning for the heavily discounted Zombie Laser Tag slots on 31 Oct, because the offer would only be valid that night after 10PM.
Haunted HHN8 Bus Stop
Every year, there will be an outstanding outdoor ad promoting Horror Nights. For HHN7, we had the somewhat controversial Memorial for Southpoint Mall. This year, it's an eerie, floating set of shelves.
Sealed with a web of red threads entangled with Chinese coins, the shelves are precariously crammed with talismans, urns, altars and offerings for the dead.
Looks like a sneak peek for the Pagoda of Peril haunted house.
There is a HHN8 selfie contest going on – Simply upload a selfie with any of the HHN8 Ads and Posters on Instagram (tagging @rwsentosa and #HHN8) for a chance to win event tickets or merchandise. Good luck!
Roadshow Hauntings
Roadshows are great places to grab tickets because you can enjoy a discount (and some options are open-dated tickets) and grab some freebies. Head over to this post for more info about the HHN8 Roadshows.
Also, if you haven't met any of this year's frightening icons, they will be making appearances at these upcoming roadshows:
Upcoming Appearances
12 September 2018 – 12:00PM at SIT@Dover Campus, Canopy Canteen
14 September 2018 – 7:00PM and 8:20PM at GV Vivo and GV Plaza Singapura (respectively)
15 September 2018 – 7:00PM and 8:20PM at GV Vivo and GV Plaza Singapura (respectively)
16 September 2018 – 1:00PM and 2:20PM at GV Vivo and GV Plaza Singapura (respectively)
6 October 2018 – 12:30PM and 1:30PM at Bugis Junction Malay Street, outside Hoops Factory
7 October 2018 – 6:30PM and 7:30PM at Bugis Junction Malay Street, outside Hoops Factory
For the full list of roadshows, check the HHN website for all roadshow locations and dates.
More updates in the next BEFORE DARK article
Want more updates on Halloween Horror Nights?
Follow me on Facebook and Instagram (@dejiki)
Brace yourself for Infinite Fear
Get all the info you need on Halloween Horror Nights 8 at the Halloween Horror Nights 8 Tickets and Event Guide post.
Halloween Horror Nights 11 (2023)
HHN11 REVEALED: Ticket and Event Guide
Sneak Preview: DIYU: Descent Into Hell, Rebirth of the Matriarch, Icons and more
Universal Studios Japan (USJ) 2023
Halloween Horror Nights 2023/ HAHAHA! Halloween Party! Event Guide
Halloween Horror Nights – The Archives
Click to Expand and see all posts from past Halloween Horror Nights
Subscribe to Dejiki.com or Like my Facebook page for notifications of updates.
---