Evil stirs in this Japanese-themed haunted house filled with dolls at Universal Studios Singapore's Halloween Horror Nights 9.
SPOILER WARNING
Photos of Spirit Dolls, a haunted house attraction at USS Halloween Horror Nights 9, are featured here to showcase its design and atmosphere. This is also a page for fans to share their thoughts.
Photography and video recording is not permitted inside any Haunted Houses at Universal Studios Singapore during Halloween Horror Nights.
Overview and Thoughts
Inspired by the real 'Valley of the Dolls' village of Nagoro in Shikoku, Japan, Spirit Dolls takes the concept of a village filled with life-sized dolls but gives it a HHN twist. The house's Japanese name, 呪いの人形, literally means "Cursed Doll".
In the horror nights version of this village, dolls are handmade to honour the deceased. The daughter of the doll makers, Yumi (wearing the dark sailor-style uniform) also wanted to be like her parents and made her own doll. Unfortunately, she drowned while playing near a river. Her parents tried to use black magic to bring her back, putting her remains into the Yumi doll. The ritual went wrong, creating a vengeful spirit instead that killed everyone in the village. Their souls are trapped in the life-sized dolls.
Opinions on this haunted house have been divided. Some felt that it's a repeat of last year's The Haunting of Oiwa, with many scenes returning. Some said that it wasn't scary. Some didn't know what's going on. And of course, some people felt it was so scary but couldn't recall any part of it – because they kept their eyes closed.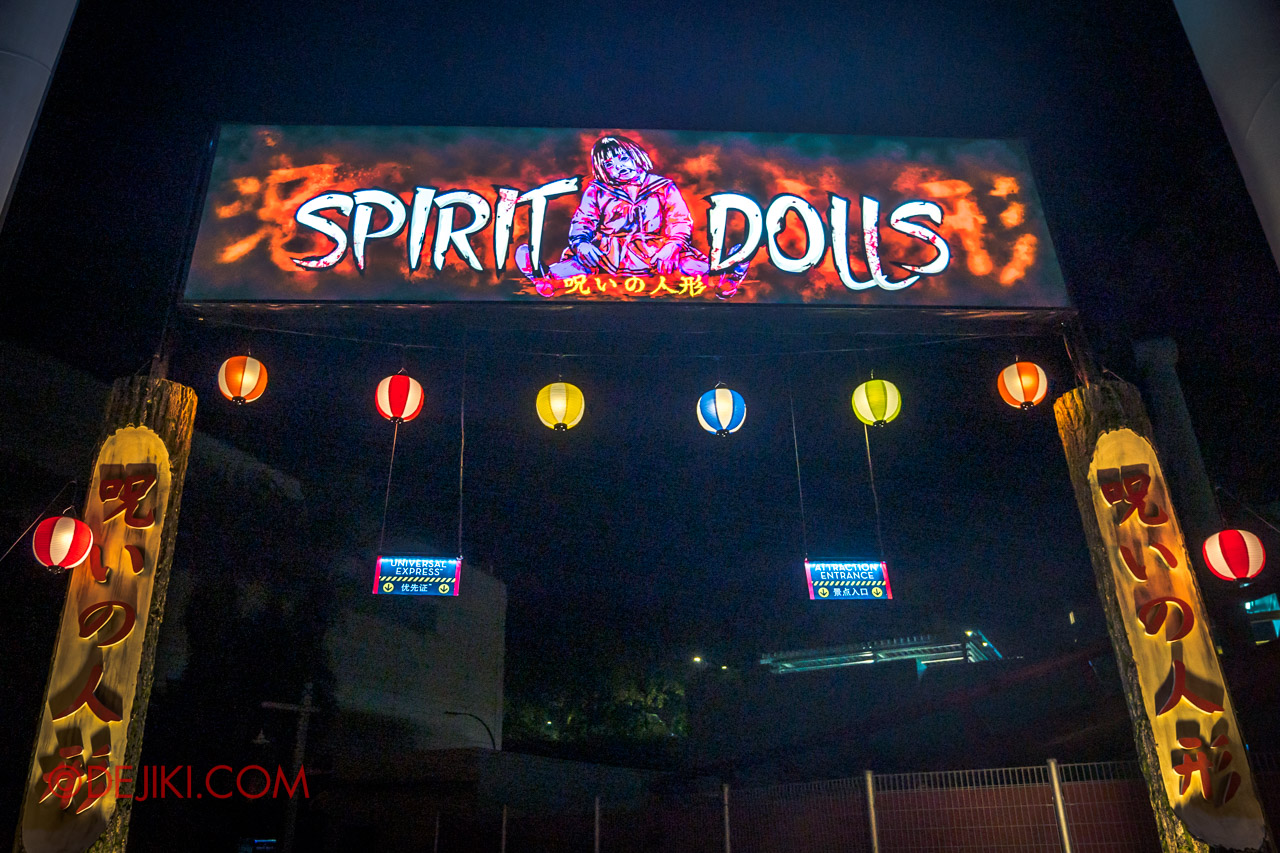 There's no running away from Japanese styling and design, but the two houses have their distinctions: last year's house is based on a story from the Edo period, while Spirit Dolls takes place in a much more modern time. Oiwa's presentation rushed us through five chapters of the story, while Spirit Dolls has a more 'exploration' style experience. The first part in Yumi's family home, offers a nearly complete Japanese house filled with a lot of props and details in its scenic design, even down to the tatami mat alignment rule in most scenes. Thereafter, you get to visit other parts of the village and even cross a rickety bridge leading to even greater danger.
My take on the story is: you are a tourist exploring this 'abandoned' doll village, and made it inside Yumi's family home, which is the star attraction. The dolls start coming alive, and you find other tourists who warn you to get out before it's too late. Along the way, you find a possible explanation for the curse, but before you could fully understand, the dolls find you again and drive you out.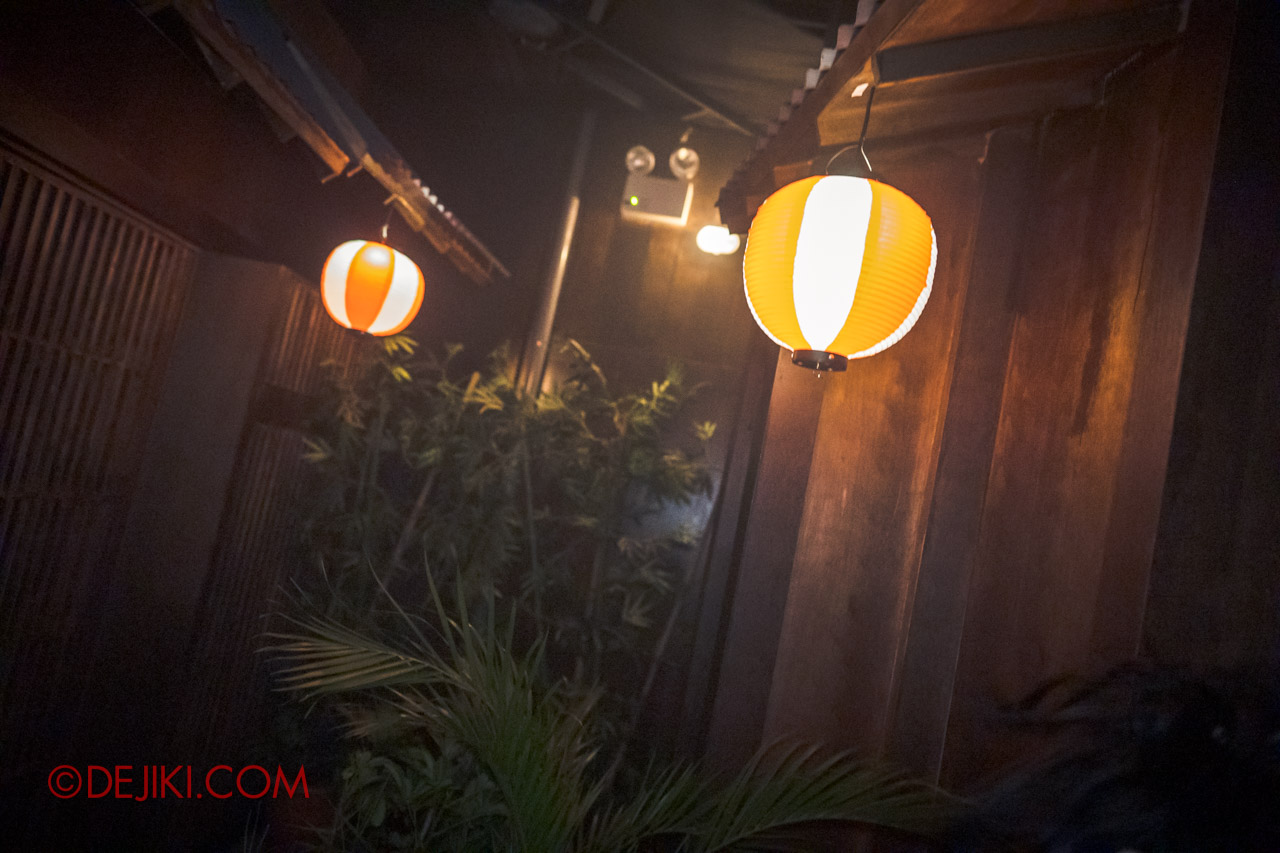 While I enjoyed the scenic design of this house, I expected more unsettling scenes using dolls. HHN fans may have heard of a horror maze called TATARI at Universal Studios Japan's 2016 HHN, which featured scenes where countless dolls, many at eye level, closely watch as screaming guests waddle about in fear. In Singapore, there aren't enough dolls to achieve the same effect. Most of the 'scary' dolls are easily missed because of placement. There is some confusion over the characters: towards the end, there are some 'human' characters that appear cursed but they don't look like dolls. The story in the last segment of this haunted house is probably the weakest – with jump scares from the cornfields and quite literally, a cliffhanger ending.
The real doll village of Nagoro is unsettling because dolls can be found almost everywhere, seemingly alive but frozen. It is a slow-burning type of horror that creeps up on you. Perhaps what Spirit Dolls needed to truly succeed was more space, and it may be better executed as a scare zone, something like the Suicide Forest from HHN6.
---
It seemed like an ordinary Japanese-style house.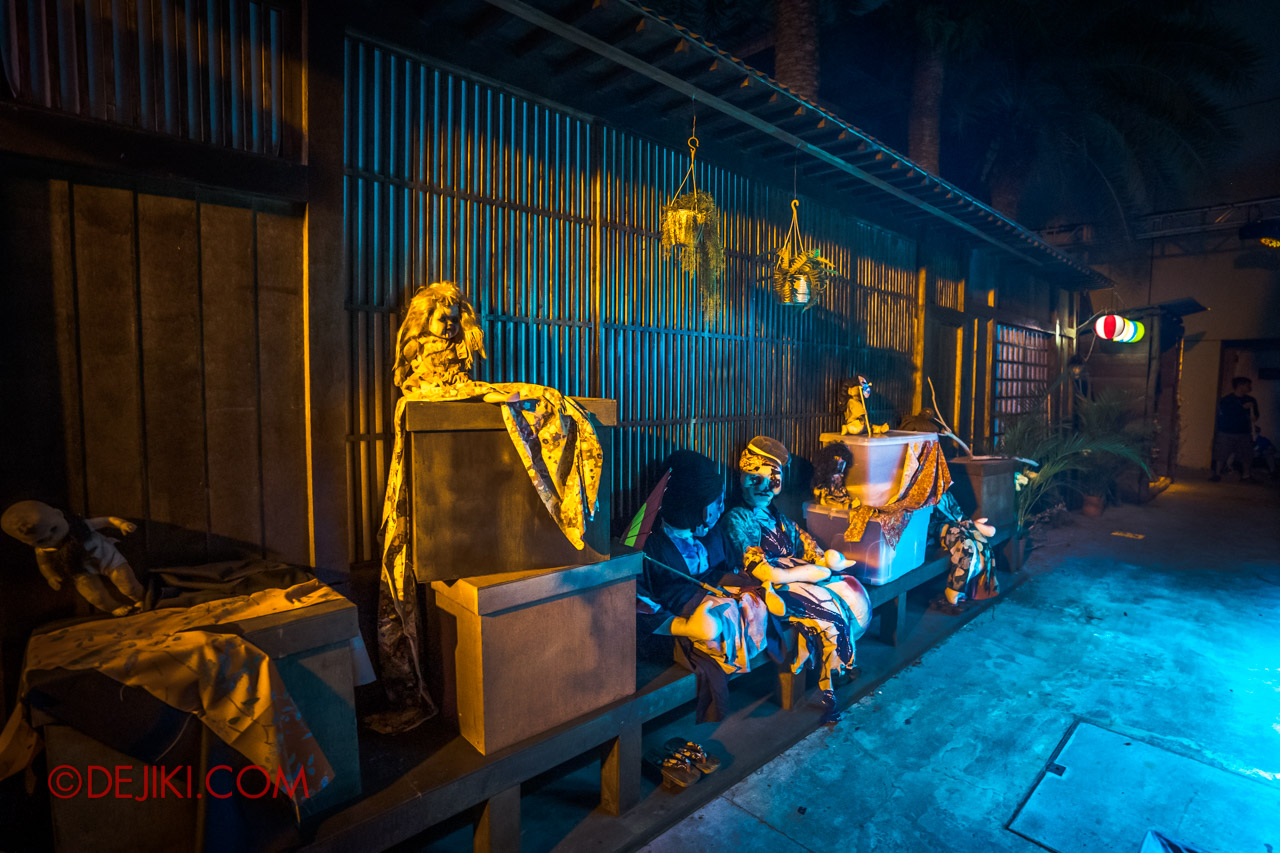 But once you walk closer and turn into the alley: The house is lined with several toy dolls, and as well as several larger ones that are… almost life-sized.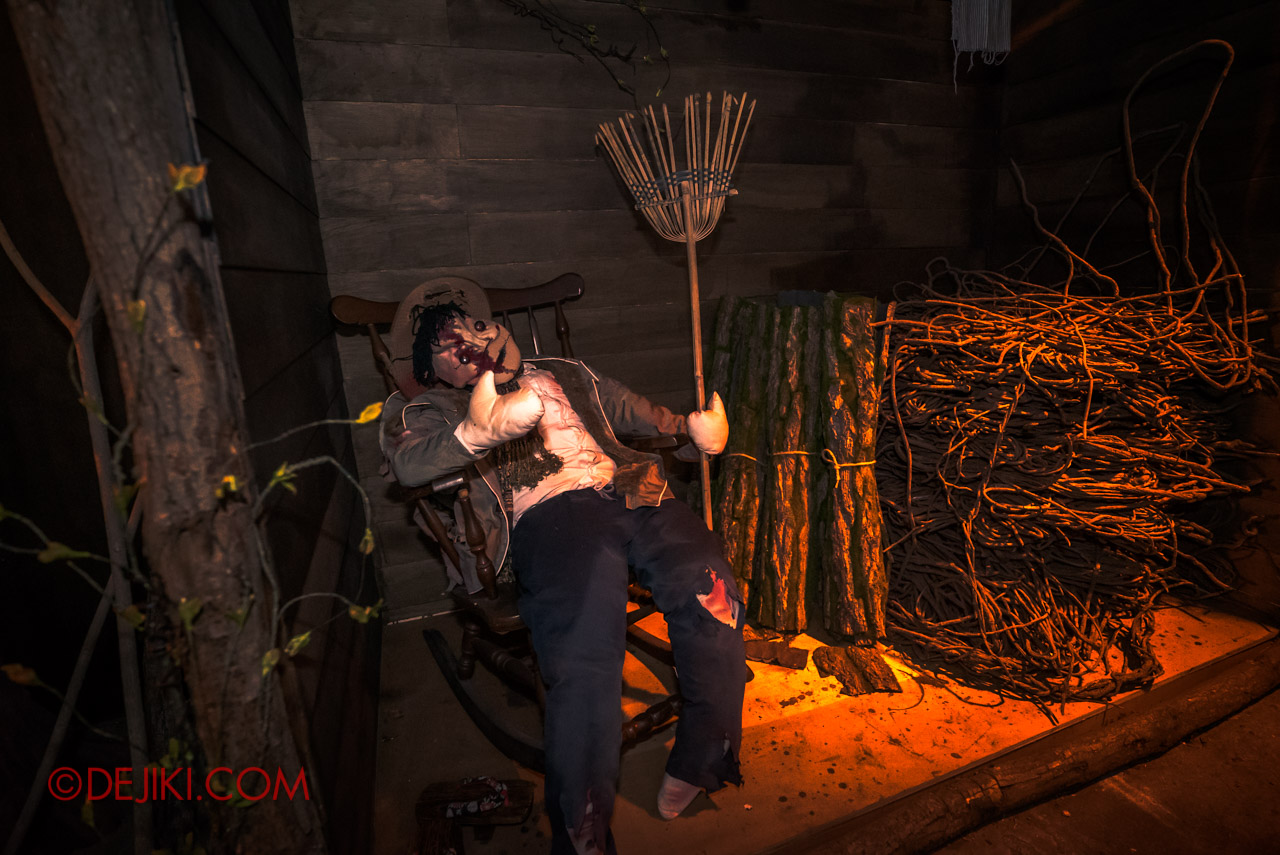 The path takes a turn to the left, leading to an open door into the house.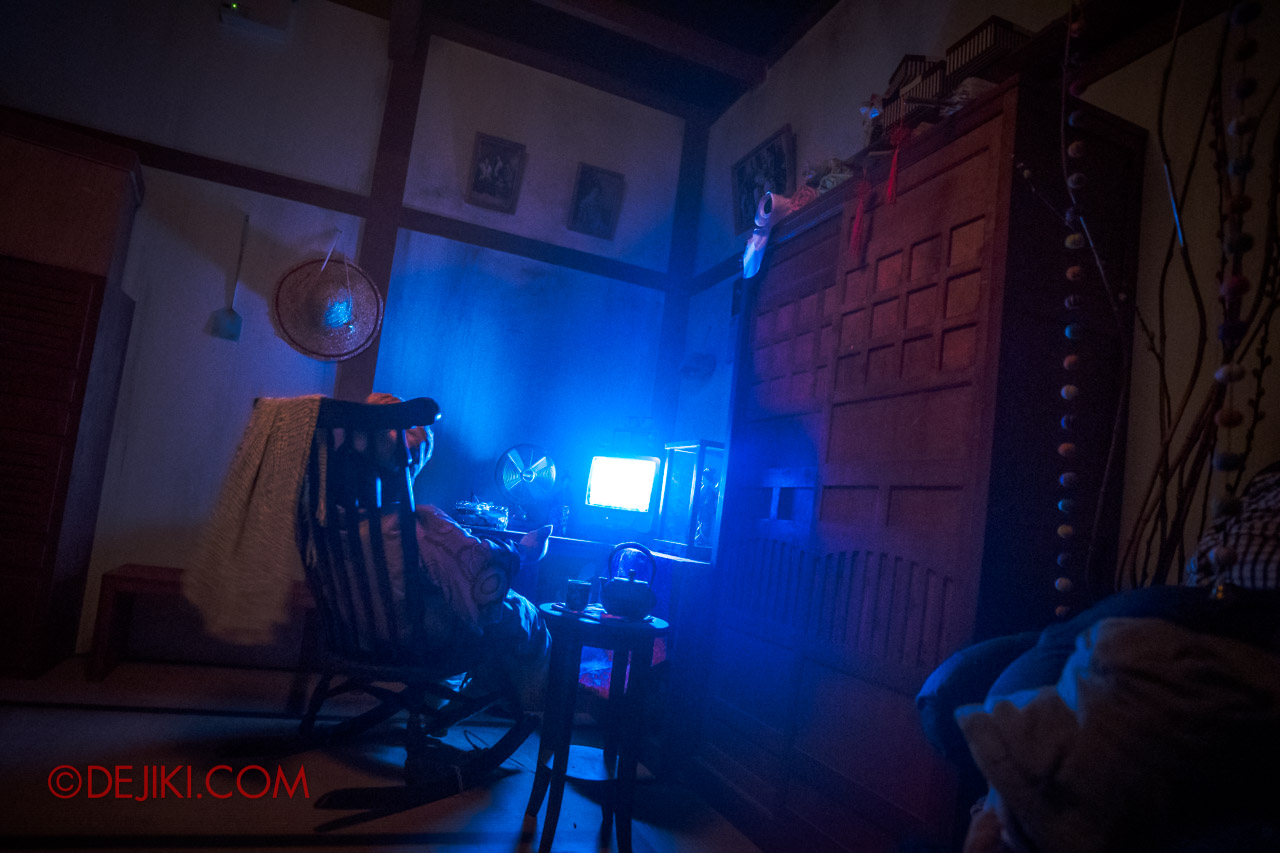 In the dim lighting, you see a few dolls inside. An old, small television flickers to life – gently lighting up the room.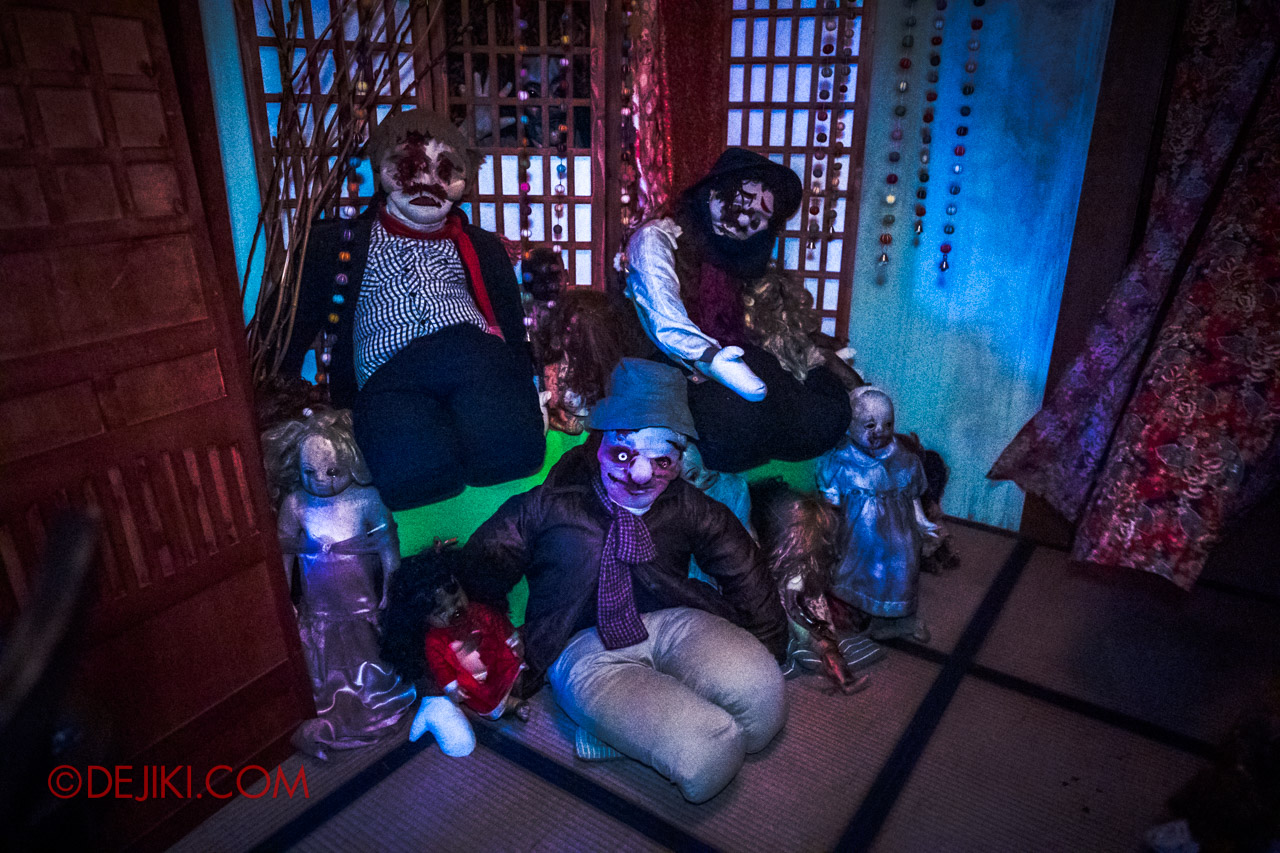 There's more of them.
The house is occupied by several of this life-sized dolls, seemingly once alive, but all frozen in action. Or are they actually moving?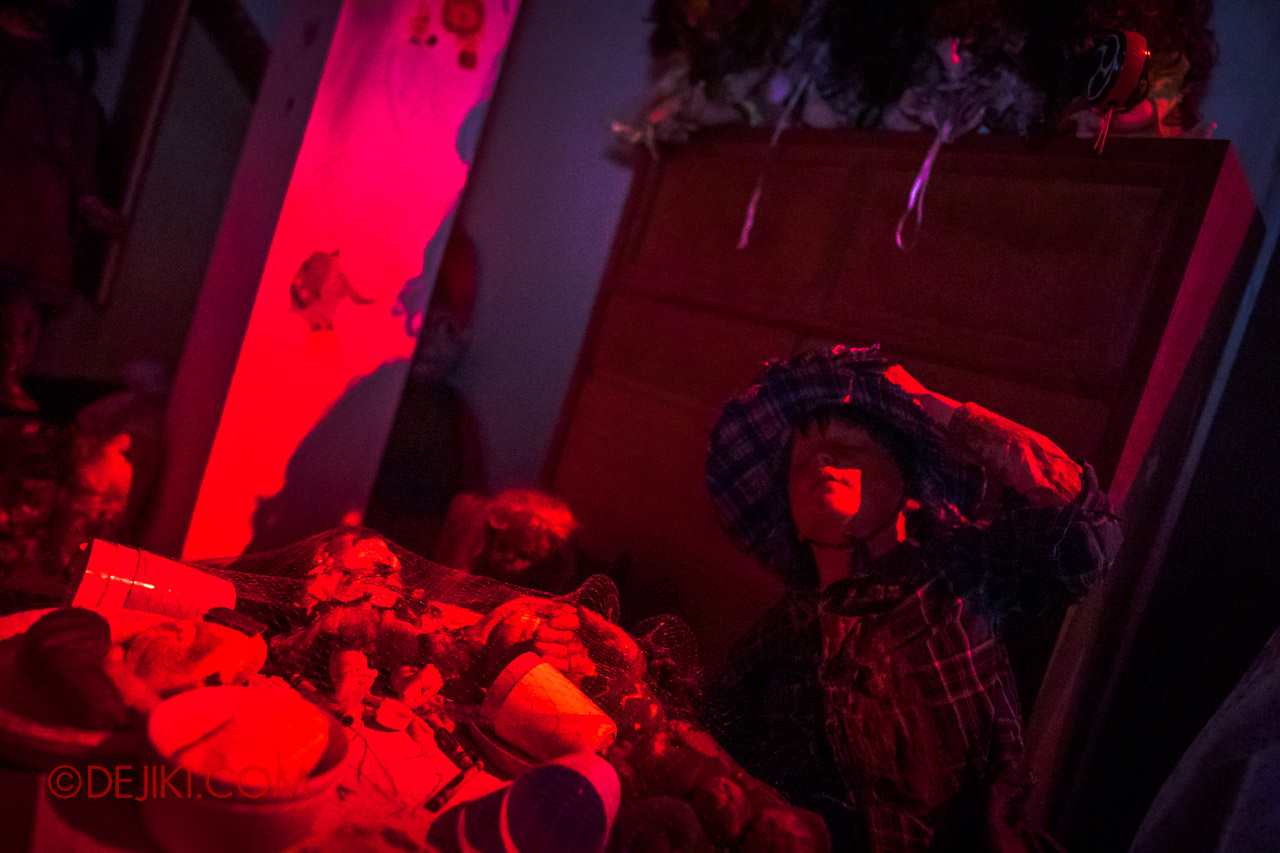 The next room appears to be a playroom of a young girl named Yumi.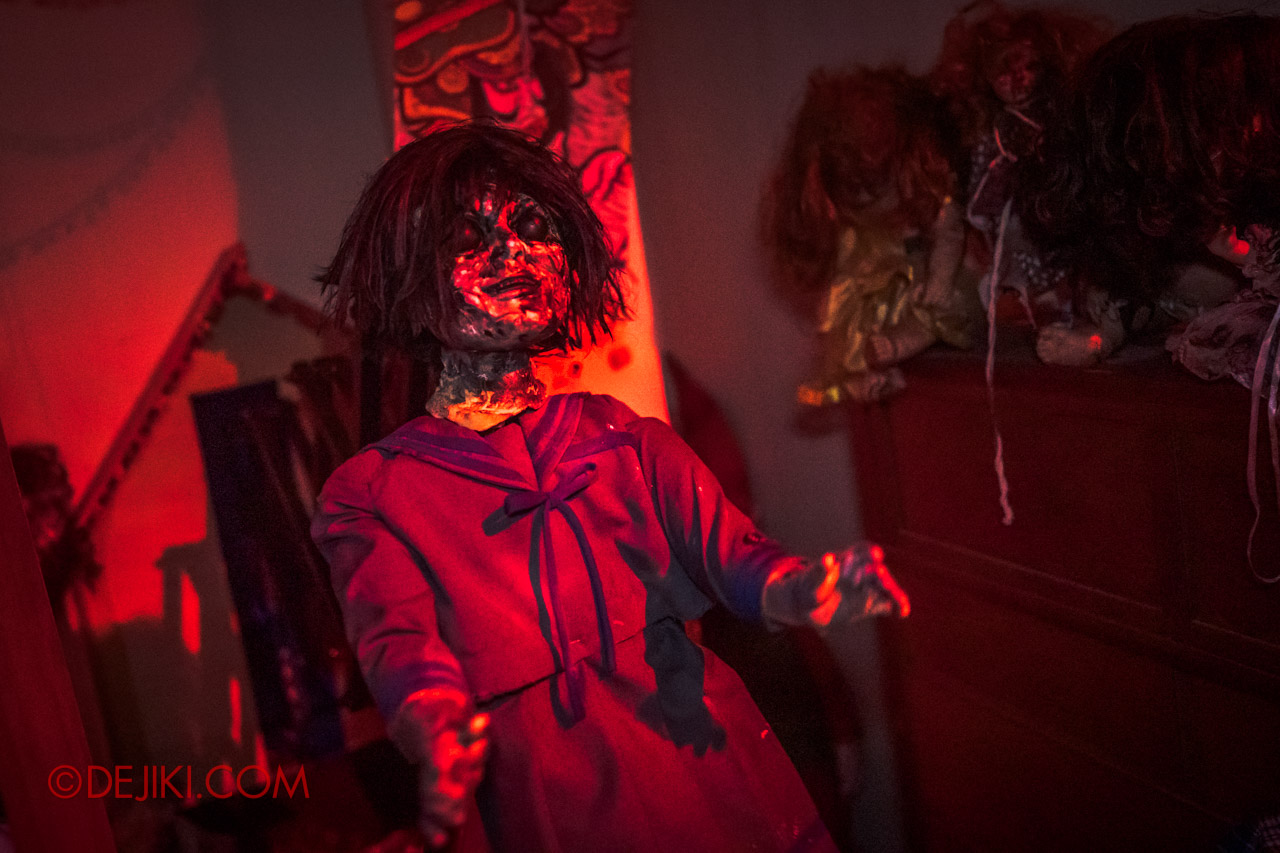 As you look closer at some of the dolls, suddenly, the Yumi doll flies forward towards you.
Startled by the attack, you dash out of the house from the back. But it's not safe at all – you witness the doll violently stabbing someone.
Tourists from the nearby houses shout at you: Get out of the village, before it's too late.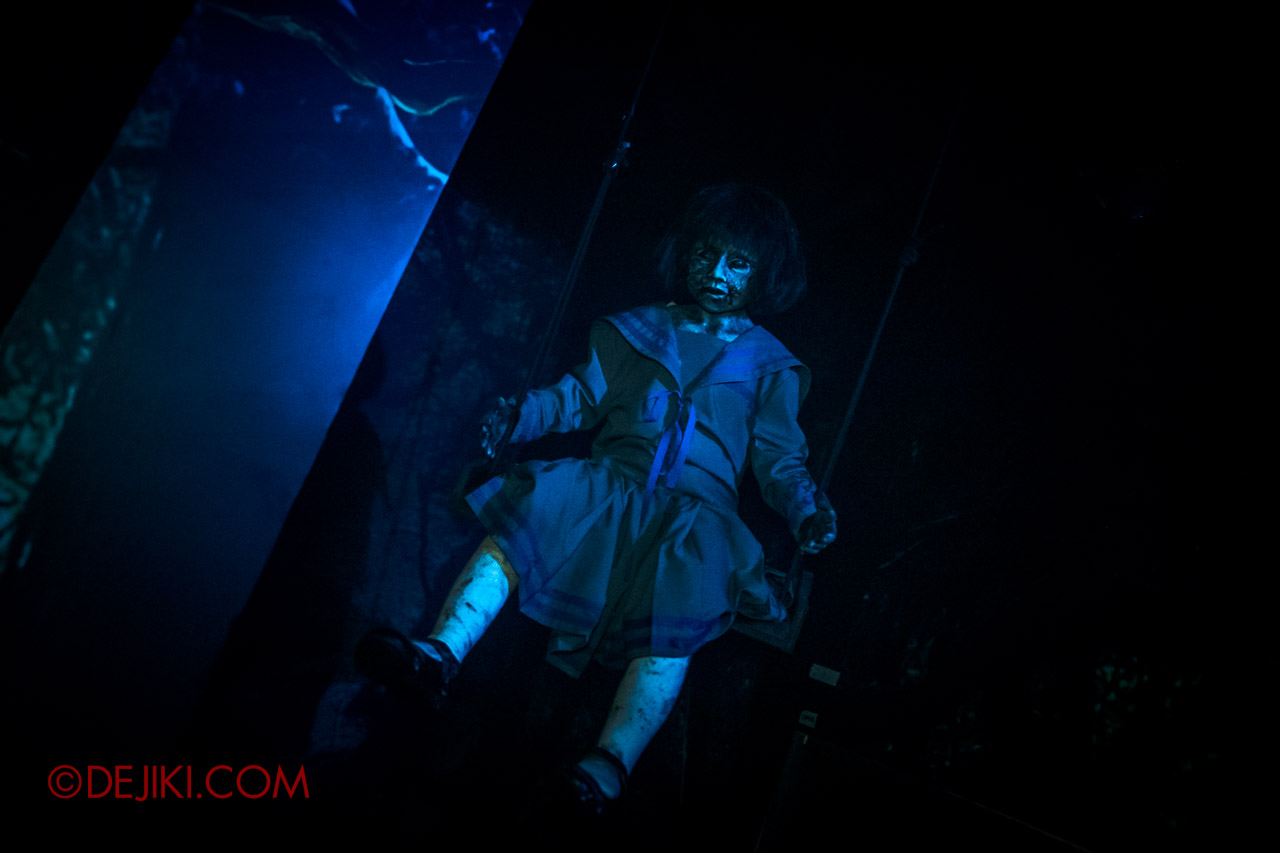 The path leads to a forest, where a larger Yumi doll now sits high on a swing, keeping a close watch.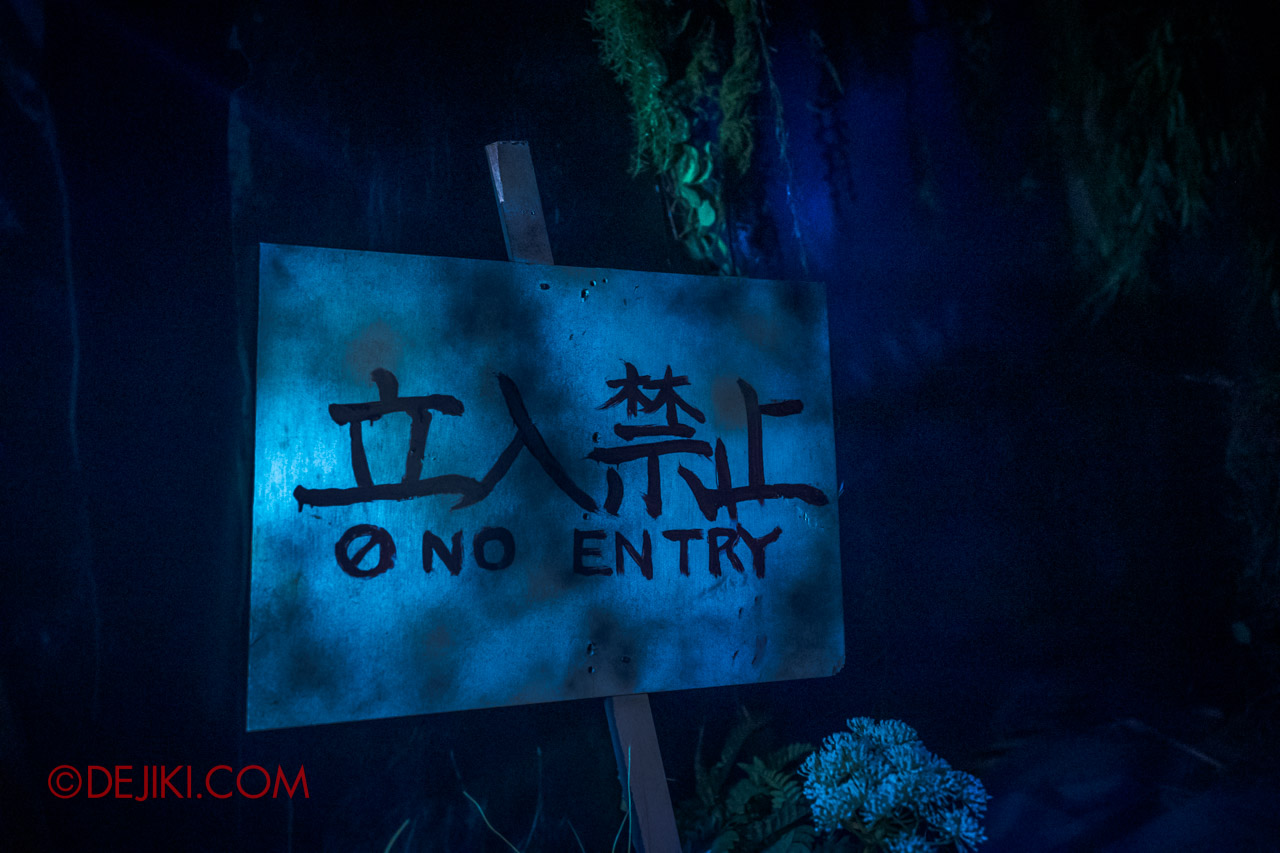 Your own way forward is through a wooden bridge that is marked off limits.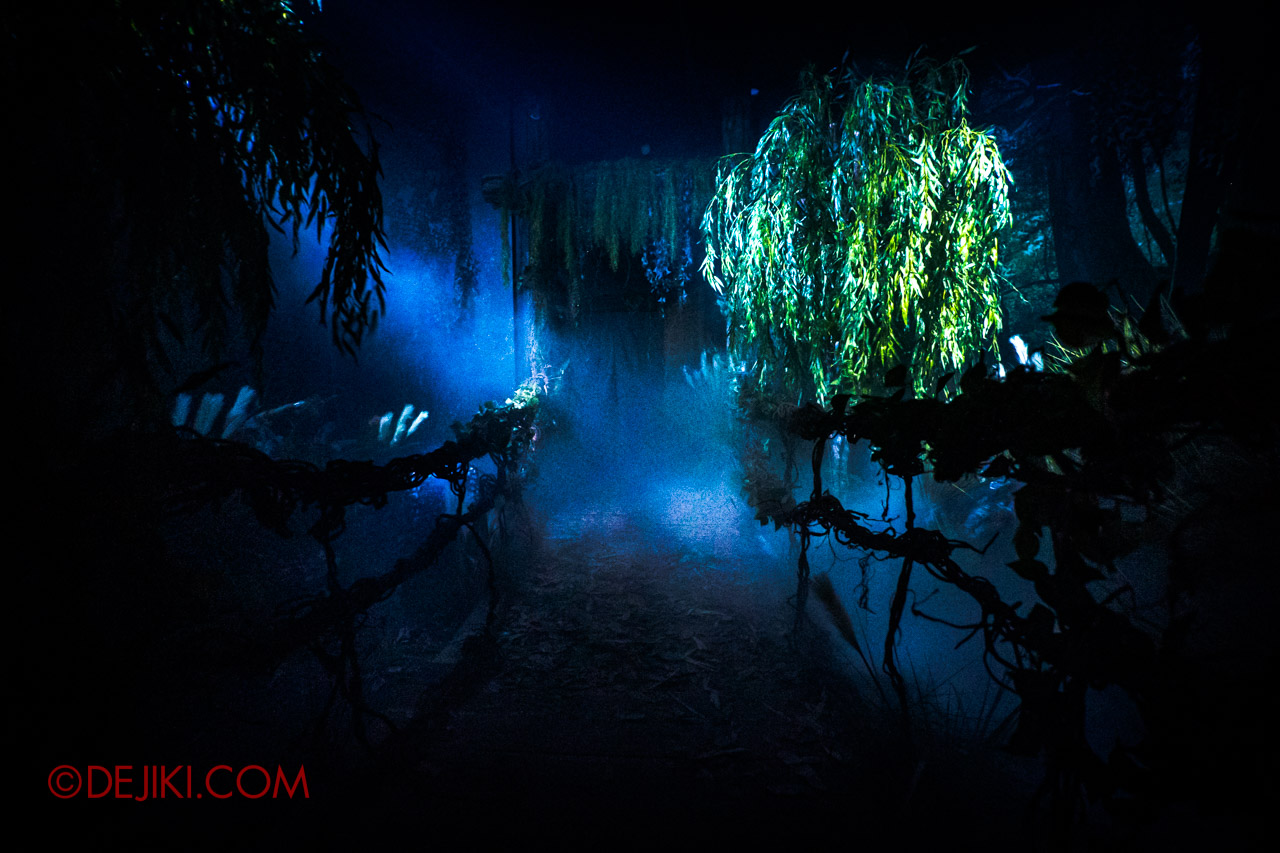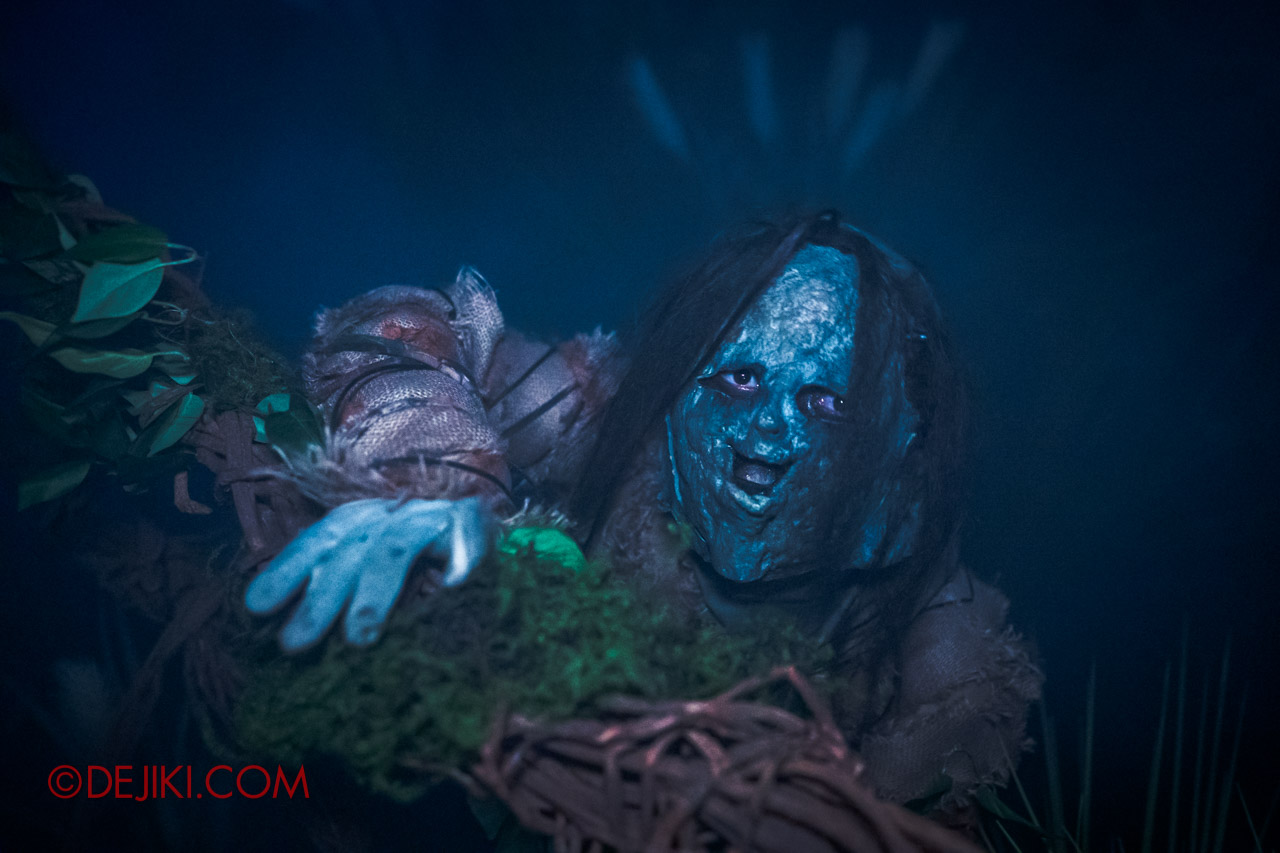 For good reason. This may be the place where Yumi died.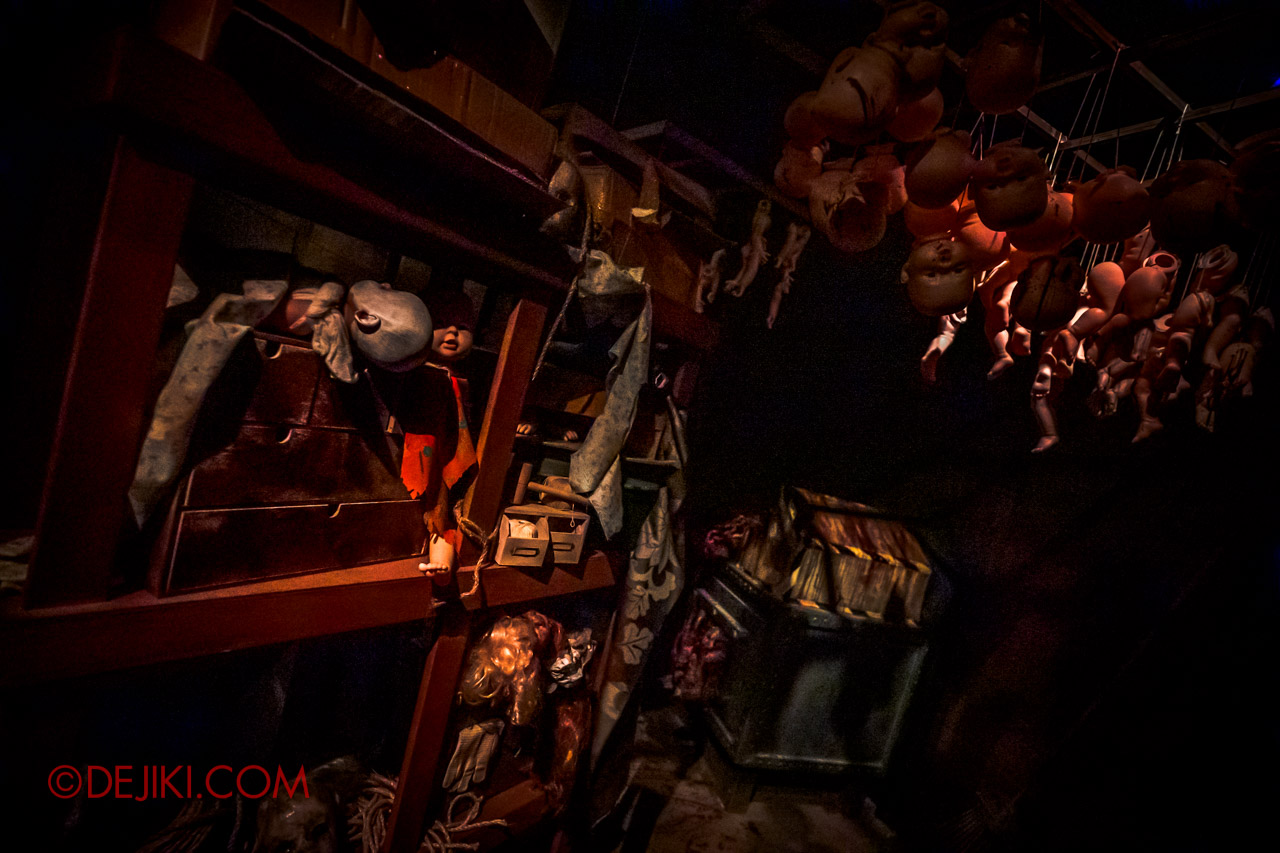 On the other side of the river, there's a shed that is filled with doll parts.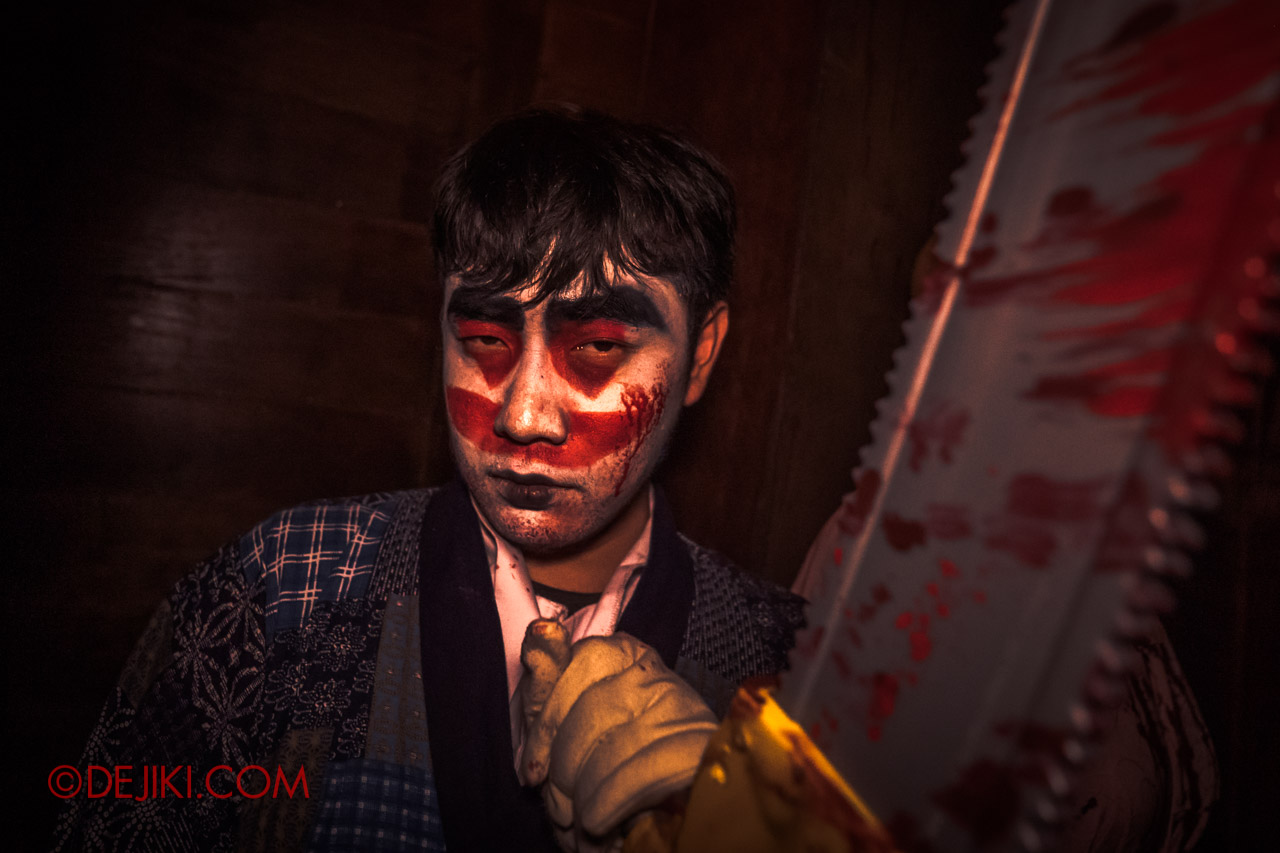 And what appears to be a fatal way of creating dolls.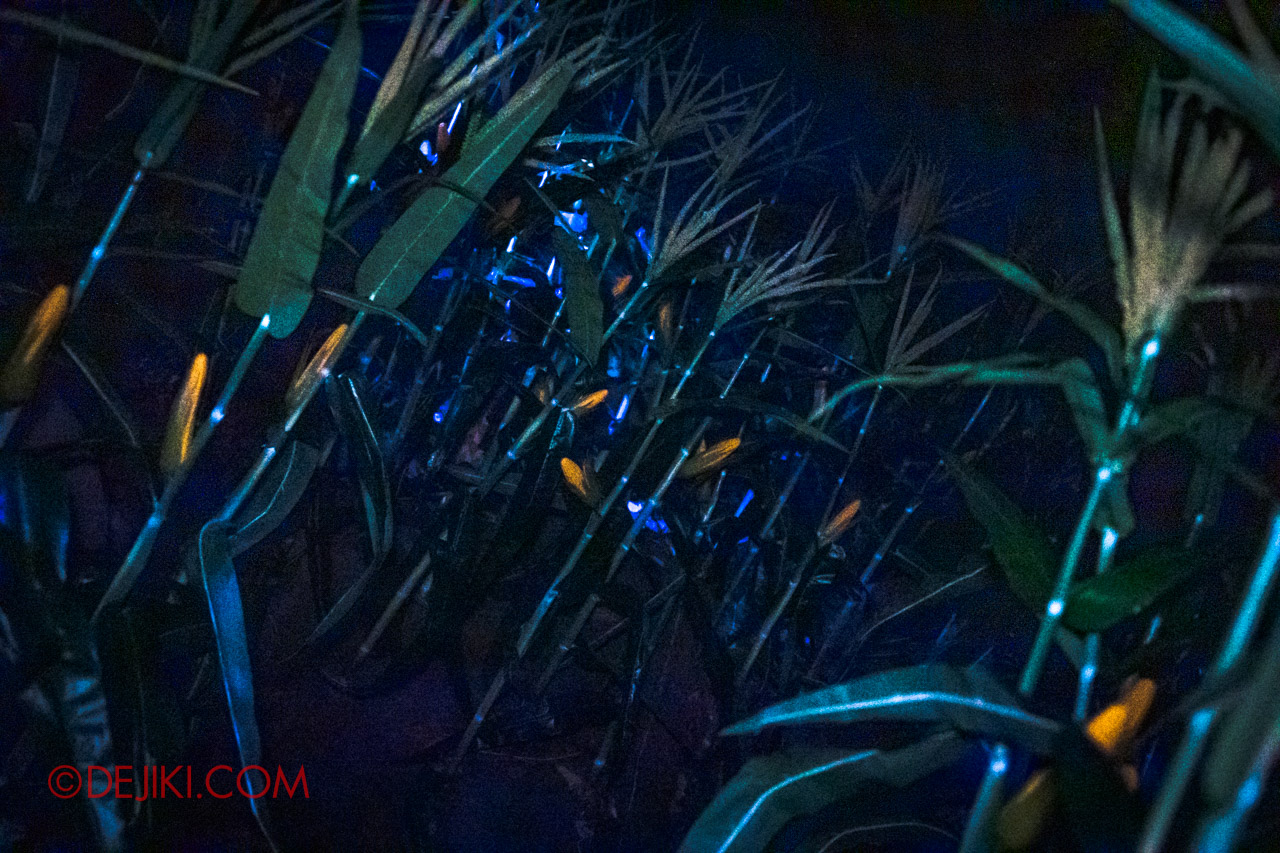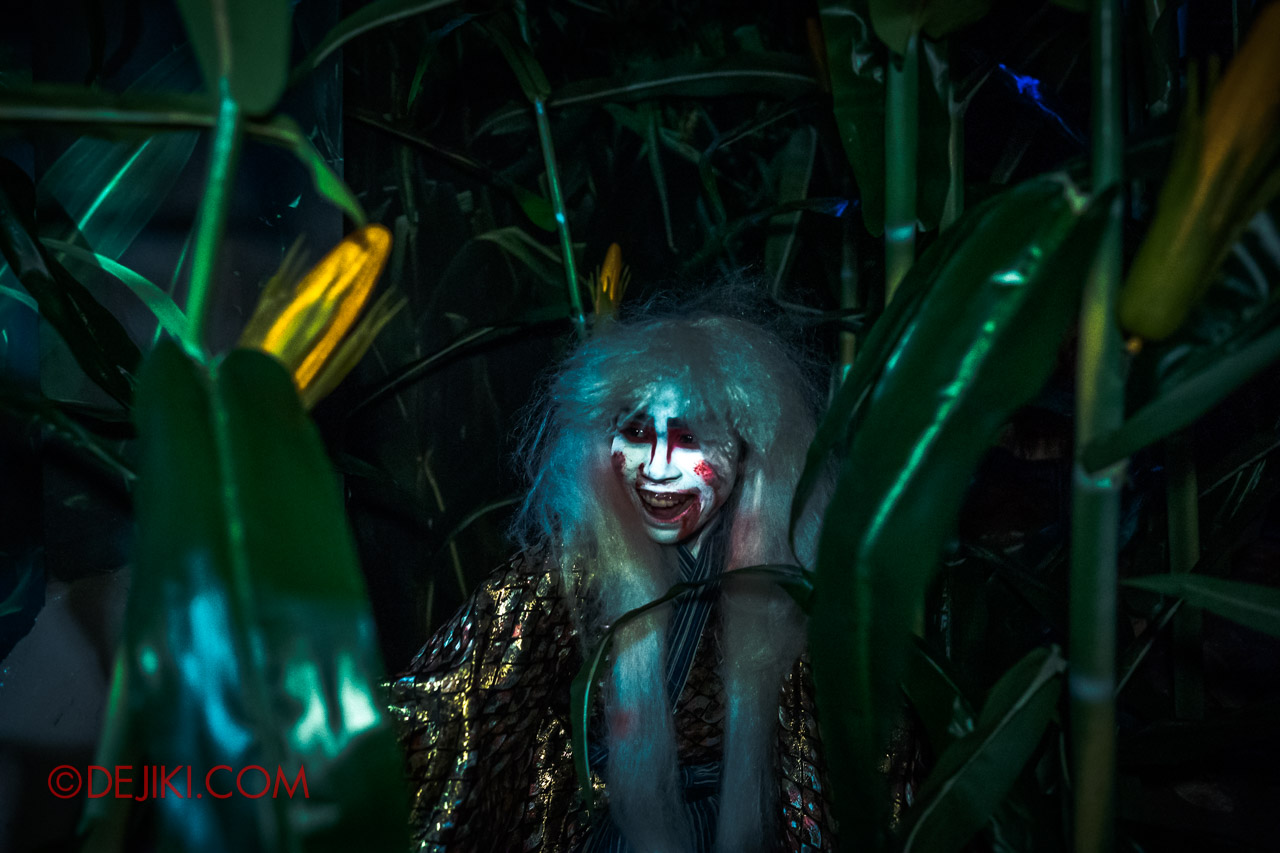 Narrowly avoiding the attack, you dash out into the cornfield, only to find more danger.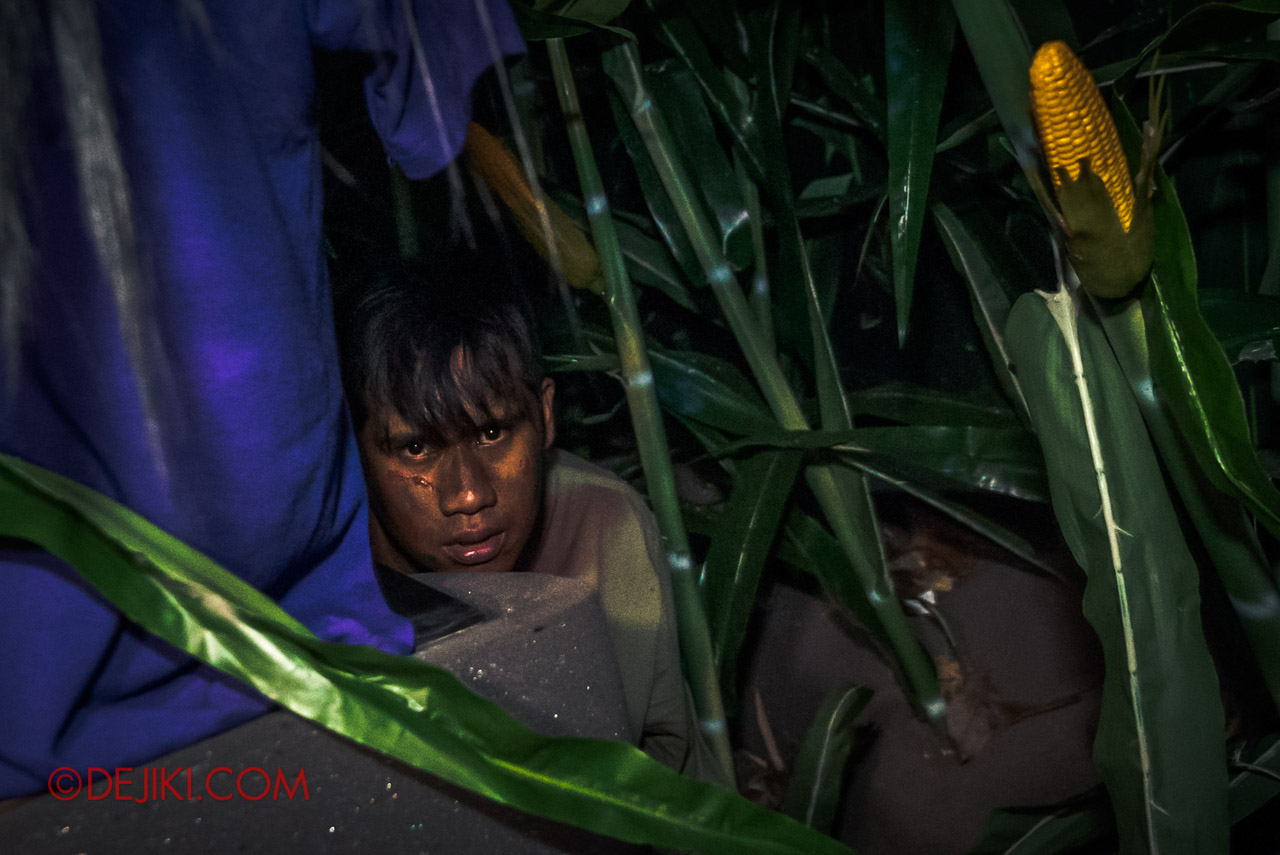 Some tourists are hiding in the field, wishing they never came to this place.
The field opens into a clearing: Another Yumi doll is hung on a tree, accompanied with several other broken dolls. Beside the tree, a group of life-sized dolls are kneeling.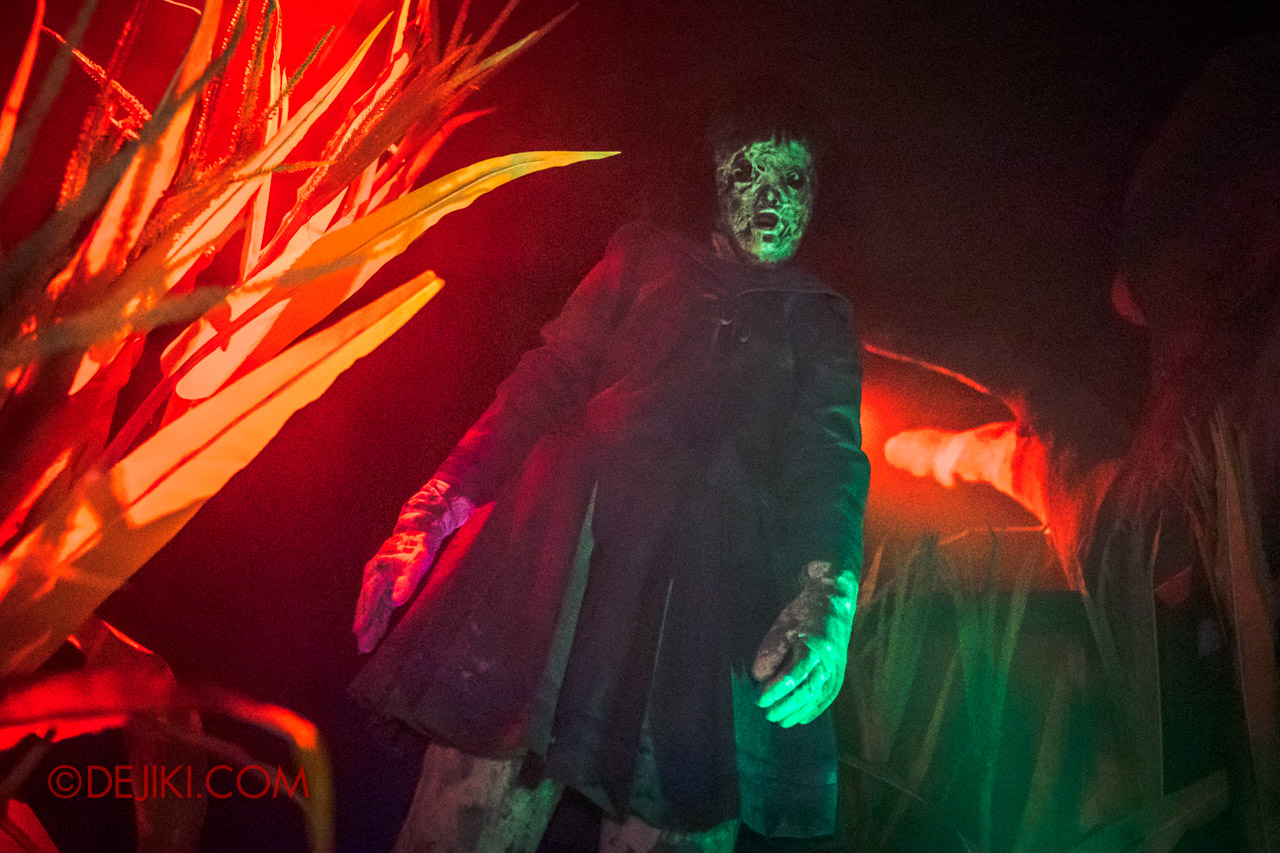 Yumi makes her final attack from a cliff, while other cursed dolls get ready to strike the finishing blow.
---
Halloween Horror Nights 9: Select Nights 27 Sep – 31 Oct
Prepare for the event: Get all the info here
You can get all essential info you need at my Halloween Horror Nights 9 Event Guide. Tickets are available online at halloweenhorrornights.com.sg, or you can also buy them via my Klook link.
Get more HHN9 updates
More photos from the haunted houses will be published on my Instagram (@dejiki) and on this website as special features. Follow me on Facebook for updates.
---
Halloween Horror Nights 10 (2022)
HHN10 REVEALED: Ticket and Event Guide
Halloween Horror Nights 10 MEGA Review: Photos of all Haunted Houses and Scare Zones
SPECIAL FEATURE: Behind the Scenes at HHN10 Haunted Houses
HHN10 RIP Tour (VIP Tour) Review

Features on Haunted Houses, Scare Zones and Experiences
The Silenced Auction (Opening Scaremony) | DIE-ning with The Dead | Monsters & Manifestations
Escape The Breakout | Killustrator: The Final Chapter | Hospitality of Horror
Operation: Dead Force | The Hunt for Pontianak | Dark Zodiac

Trick or Thrills (2021)
Halloween Horror Nights Exhibition
2021 Day and Night Halloween: DIE-ning with the Dead, Universal Monsters Scream Alley


Halloween Horror Nights – The Archives


Click to Expand and see all posts from past Halloween Horror Nights