In this week's Halloween Horror Nights 4 – Before Dark, we revisit Universal Studios Singapore to check out new scare zone and haunted house installations for the park's mega horror fest in October.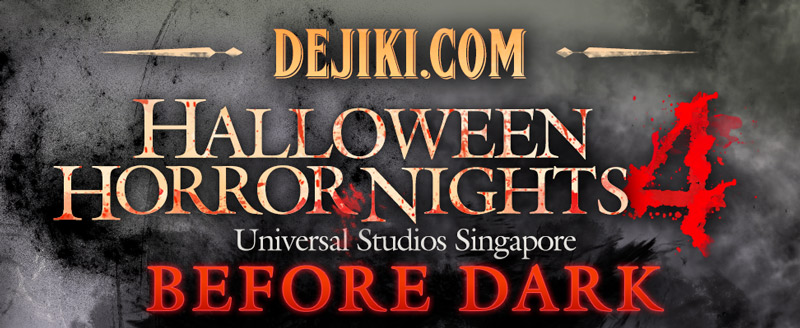 ---
◂ Minister of Evil ▸
What a sight. This will be the highlight during the Opening Scaremony.
The stage for the Minister now includes a wooden podium.
There are some small installations around Hollywood. This one, above the store's ornamental arch, is particularly odd. It's close to the outdoor displays too, so who knows what it'll be used for.
The entrance for Mini-Store of Evil has further extended vertically. This store is open daily from 1pm.
◂ Scary Tales ▸
Let's run to the back of the park and visit the Forest of Scary Tales.
The giant pages of this twisted book surround the arch of Jurassic Park.
It looks like the two fixtures at the canopy are for projectors – probably some sort of video for each giant page.
Let's take a closer look at the pages:
Once upon a time the Scribes of Scare,
Took over Fairy Tales, so beware.
Instead of happy endings and happily ever afters…
They made the characters live in horror.
Soon our favourite stories were changed.
They grew demented, confused and deranged…
They grew vicious, malicious and ready to kill!
The Scary Tales murder just for the thrill,
So be warned and be alert
You could be hunted…you will be hurt
One last look at the giant books.
A few set pieces have arrived at The Forest of Scary Tales:
Rapunzel's Tower, filled with loops of her old hair.
It looks more like a snake coiling around the tower, doesn't it?
A Candy house and furnace for Hansel and Gretel's grim end..
Perhaps this time, the blind witch would be the "real victim".
There's also this frame, filled with nails and vines:
The little backstage area below the brake runs of Canopy Flyer is back. But the walls concealing it is also updated for Scary Tales.
◂ Canyon of the Cursed ▸
After two weeks of peace and quiet, the path along Ancient Egypt is finally filled with dark horses, wagons and teepees.
Welcome to the wild west Canyon of the Cursed.
The two tallest horses are right at the entrance of Revenge Of The Mummy.
◂ Bogeyman ▸
There are only small updates in the Bogeyman zone, which appears to be more or less complete:
Some of the props in this area… look a lot better after dark. Check back during HHN4 season!
◂ Demoncracy ▸
Not much new stuff this week, but at least some of the large scenic items are more complete.
And more things are being installed in New York. Could this rigs for more lights, or something else?
Last week this set piece had a odd hole. It's for this pipe (which probably would be spewing steam during HHN).
Black tower next to the Palace Theater marquee. Who knows what might happen here.
"New" wrecked tracks – for a whole new level of train breakdowns.
◂ The Haunted Houses ▸
Check out this walk-through sneak peek of Jack's 3-Dementia. It features two local DJs (Muttons on the Move from 987FM) – who were easily startled in this bright maze with just a few scare actors. The video gives a nice tour of Jack's haunted house and also showcases the elaborate sets and lighting effects. While this house can't be too dark for the Chroma-3D effect to work, I hope the attraction would be refined to be a lot more unsettling.
The entrance to MATI CAMP is now under construction.
The design does remind you of some local military camps, don't you think?
MATI CAMP: Fight, Overcome or Die
There's also a sentry tower.
The land of switchbacks has also returned.
---
Stay tuned for the next BEFORE DARK…
Want more updates on Halloween Horror Nights? Subscribe to dejiki.com or Like Dejiki.com on Facebook today!
Are you brave enough..?
Ever thought of attending Halloween Horror Nights 4? Get all the event and ticketing information you need at the 2014 Guide to Halloween Attractions in Singapore here!
Halloween Horror Nights 9 (2019)
HHN9 REVEALED: Ticket and Event Guide

Halloween Horror Nights 9 MEGA REVIEW
SURVIVAL GUIDE for Halloween Horror Nights 9
HHN9 RIP Experience (VIP Tour)

Features on Haunted Houses, Scare Zones and Experiences
The Chalet Hauntings Revisited | Spirit Dolls | Hell Block 9
Curse of The Naga Revisited | Twisted Clown University
Dead End | Death Fest + Death Fest LIVE
2019 Opening Scaremony (The Undertaker)

SNEAK PREVIEW: Curse of The Naga | The Chalet Hauntings | Behind The Scenes of HHN9
HHN9 Construction Updates (BEFORE DARK)
Part 1 | Part 2 (with Daytime Halloween event) | Part 3 (Horror Truck) | Part 4


Universal Studios Japan (USJ) 2019
Universal Surprise Halloween/ Halloween Horror Nights 2019 Event Guide

---
Halloween Horror Nights – The Archives
Click to Expand and see all posts from past Halloween Horror Nights
Subscribe to dejiki.com or Like my Facebook page for notifications of updates:
---