Endure the torment in The Cursed Kiramam, a village consumed by a dark curse at Universal Studios Singapore's Halloween Horror Nights 11.
---
WARNING
Photos of a scare zone at Halloween Horror Nights 11 are featured in this article as a special showcase. This article contains spoilers.
Copyright Note: All content on this website, including Halloween Horror Nights photos and writeups cannot be reuploaded onto other websites without my permission.
---
Overview and Thoughts
After years of going through various 'regional' villages, we now have our first scare zone with a story about an Indian village cursed by the gods. The park doesn't explain everything, making this scare zone a very mysterious one and for some, even more terrifying. At least you should know that Kiramam is the Tamil word for 'village'.
There is only one (officially) named character in this zone, and that is Agni, the sacrificial bride. Agni is also the name of the Hindu God of Fire, regarded as a protector of homes and humankind. The element of fire can be sacred and used to purify and cleanse one of sins, but at the same time, it can also raze and damage.
In some stories, Agni was also cursed to consume everything in its way, pure or impure, leaving a path of destruction. That could be the 'curse' that caused the once-prosperous village to suffer. According to the official story, their only way to appease the demon gods is to offer a sacrifice every 11 years. Trapped in a hysteric trance, the hauntingly-beautiful bride could also be unknowingly possessed by Agni by the time we meet her.
Story aside, this is probably one of the scariest experiences at HHN11, with the Jurassic Park jungle area configured with lots of hidden scares in the shadows. The wider pathways and single direction design allow it to "swallow" all the crowds from the two nearby haunted houses, while ensuring that a walk through this cursed village will keep your heart pounding.
---
The Cursed Kiramam – Scare Zone Photo Tour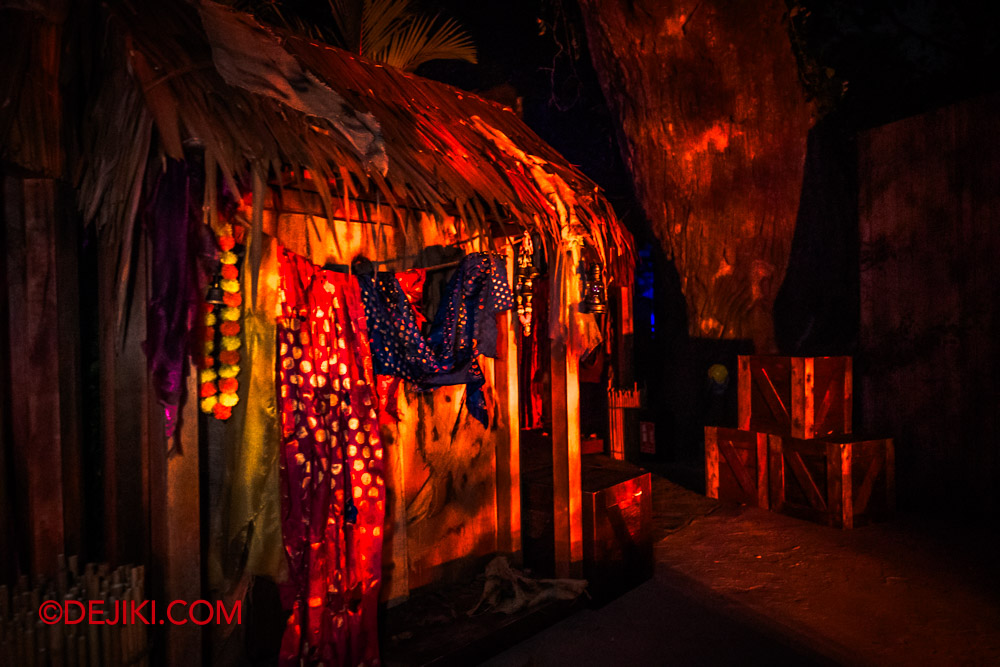 It was once a lively place. Now, the village looks deserted and ruined – ravaged by an invisible force.
A few inhabitants remain – some appear to be in a trance, while others berate you for even trying to enter.
Deceptively lifeless, haunting spirits still linger in the village.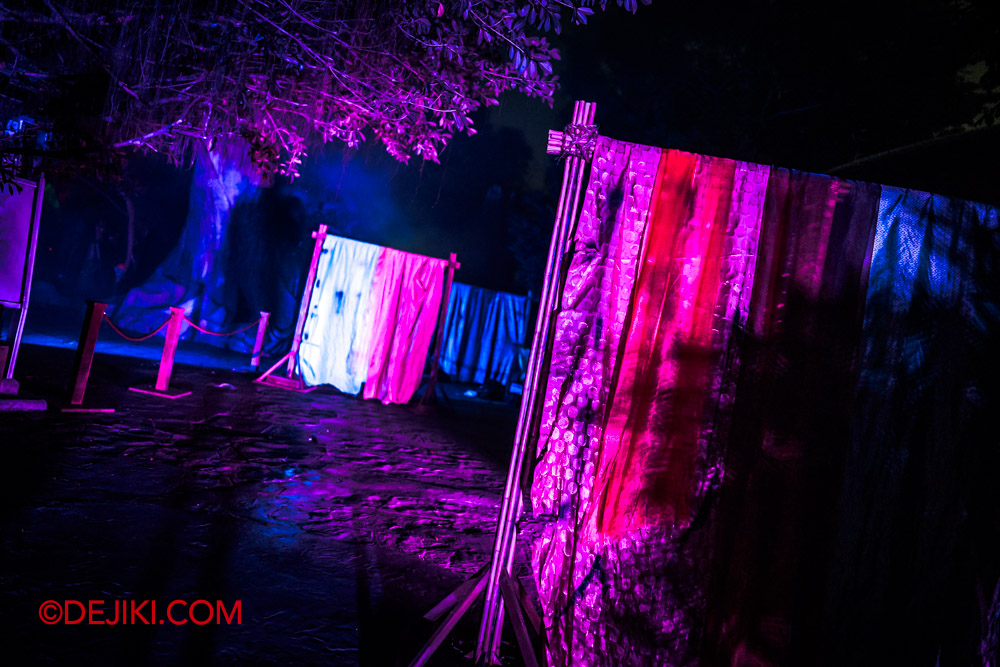 You find a way out of the village, into a misty forest. The trees appears to move.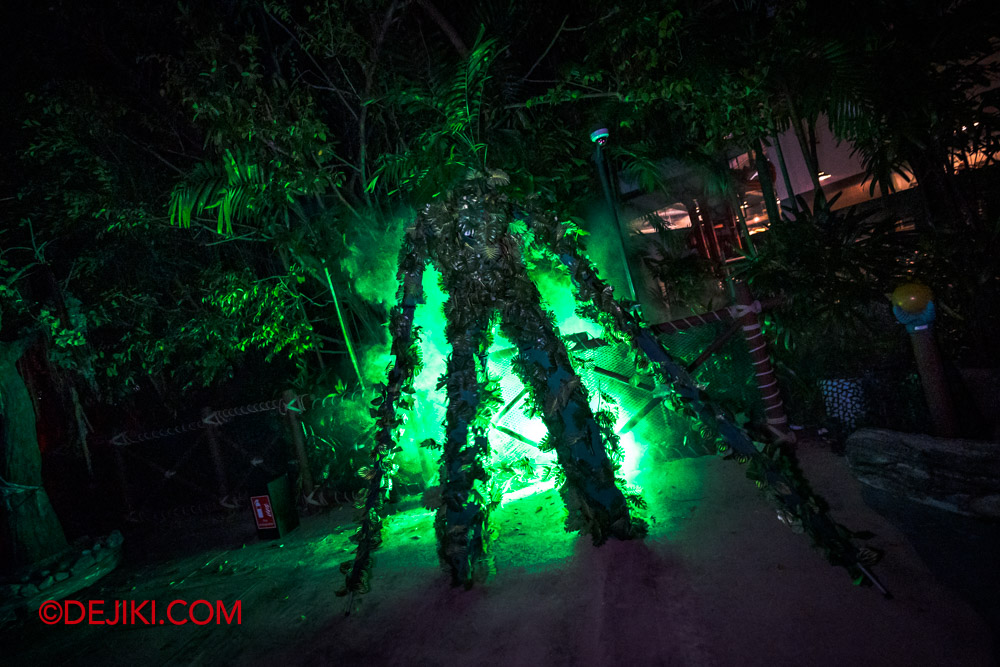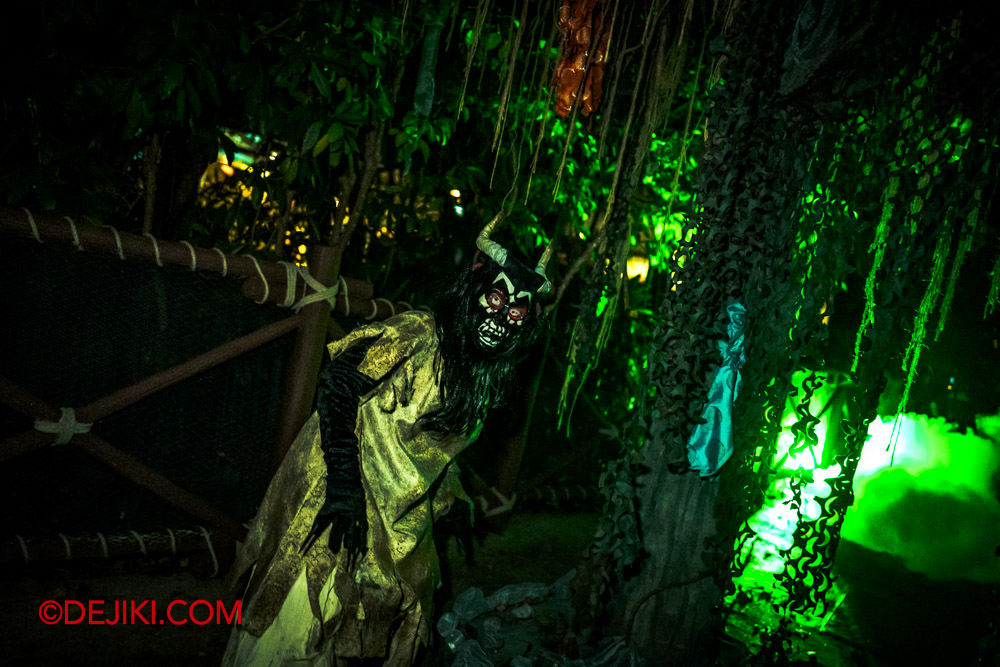 Supernatural entities linger here, as you discover where some villagers were taken.
Some of them were enslaved, while others are locked up to be sacrificed.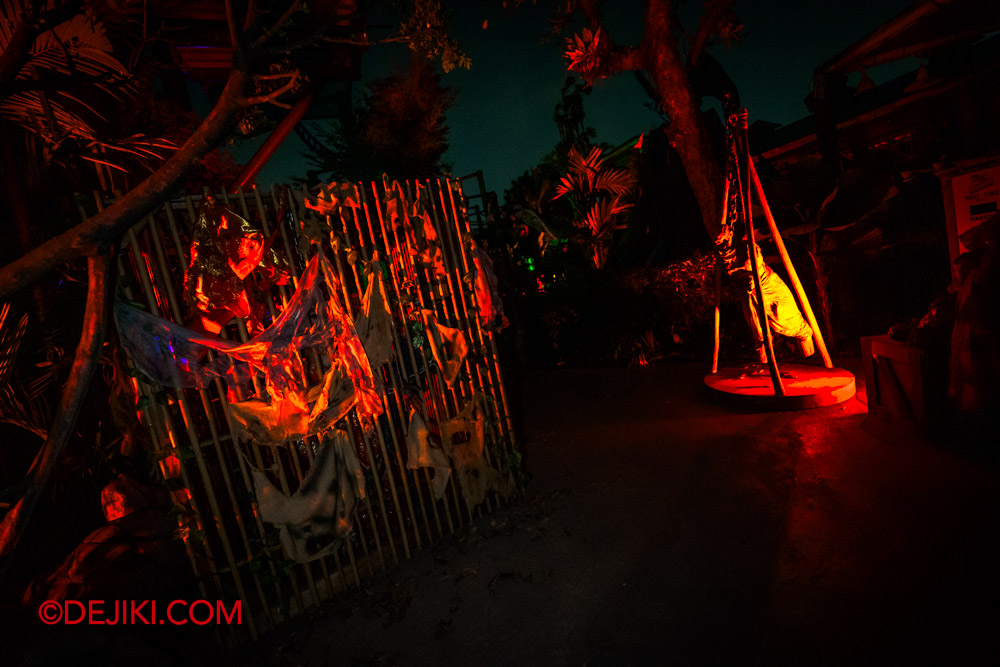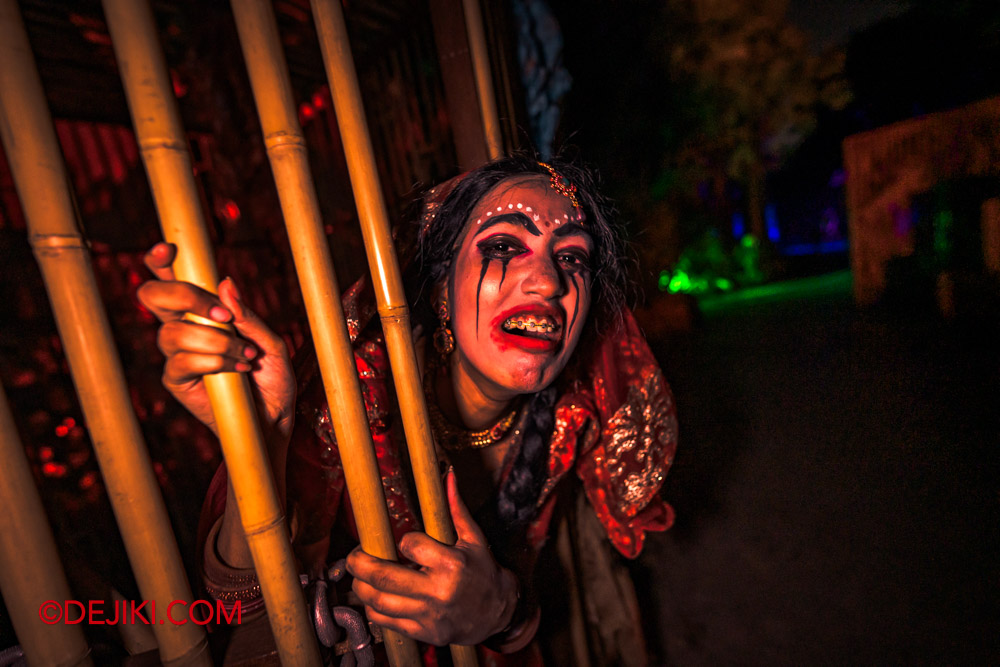 You have to leave them behind as you can't even protect yourself.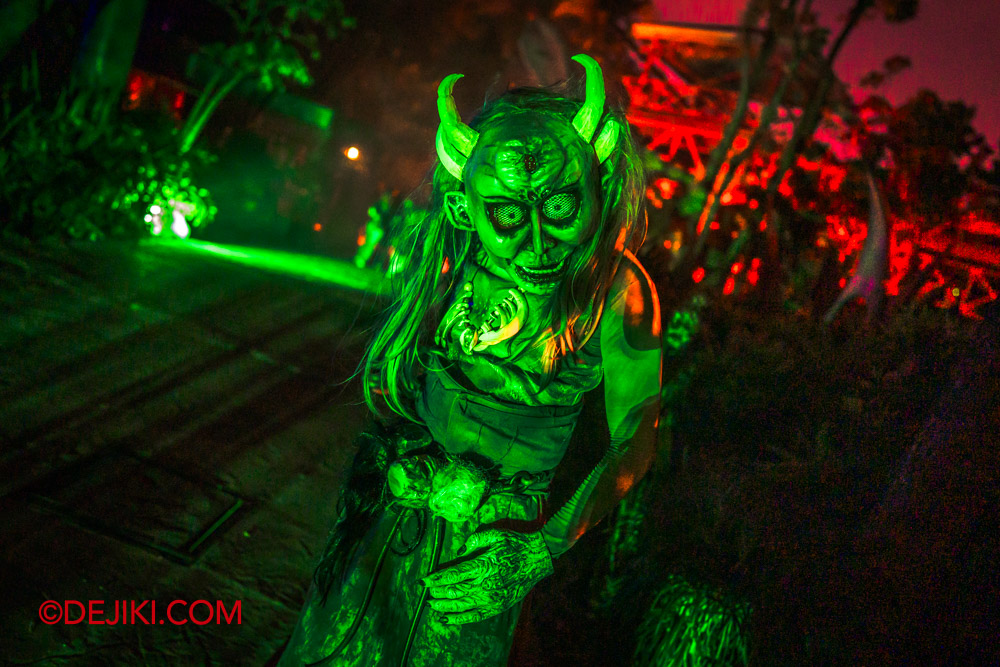 The path ahead is ever perilous, as more demon gods manifest along the way.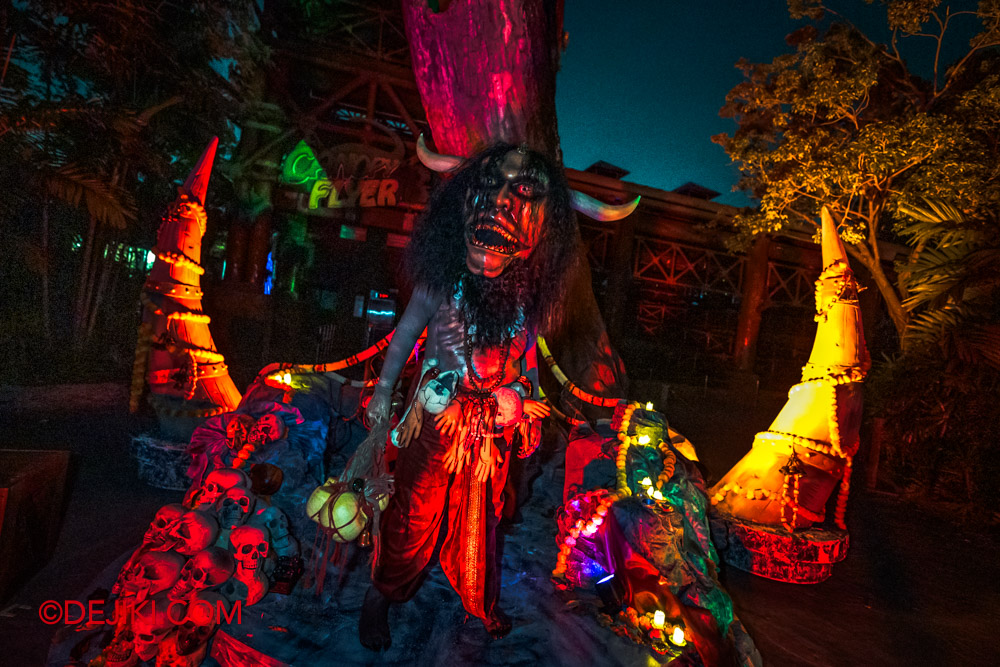 You discover the leader of them all, who proudly sits on his throne on a ceremonial stage.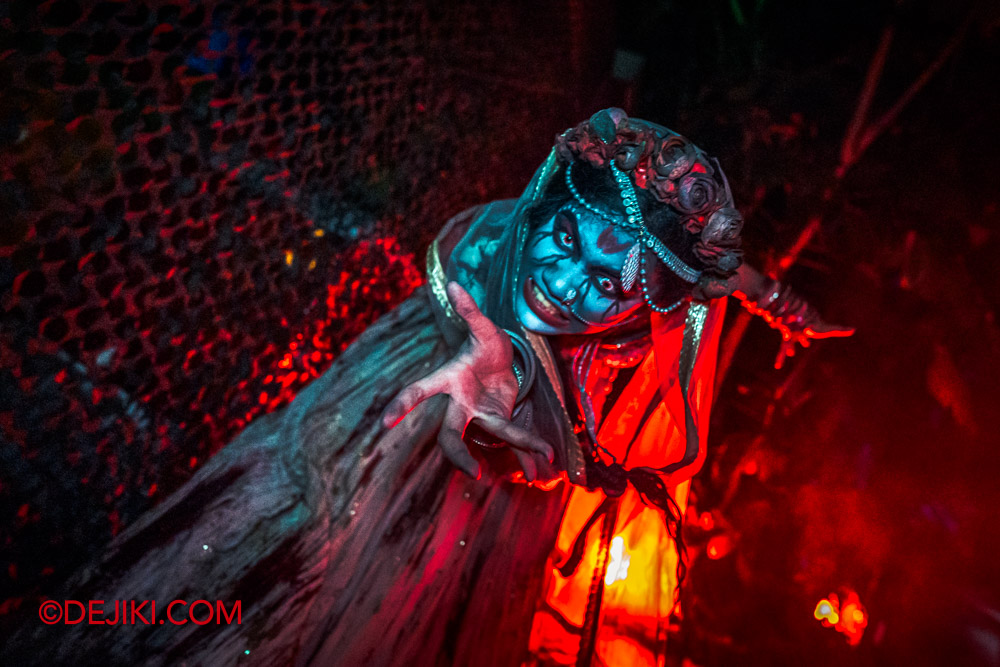 Agni, the Sacrificial Bride, rises from the flames, leering at you for coming this far.
Consumed by the curse, she takes her place at the stage, and remain trapped in a constant state of hysteric possession.
---
Halloween Horror Nights 11: Select Nights 29 Sep – 4 Nov
Halloween Horror Nights 11 MEGA Review by DEJIKI
Read my full review and see photos from this year's haunted houses, scare zones, the Opening Scaremony show, and DIE-ning in Hell special experience.
Halloween Horror Nights 11 EVENT GUIDE
Stay prepared. Get essential info in my Halloween Horror Nights 11 Event Guide, including event calendar, tickets and add-ons prices, plus Tips & Tricks.
Get more HHN updates
More photos from this year's HHN attractions will be published on my Instagram (@dejiki), Tiktok and on this website as special features. Follow me on Facebook for updates.

---
Halloween Horror Nights 11 (2023)
HHN11 REVEALED: Ticket and Event Guide
Sneak Preview: DIYU: Descent Into Hell, Rebirth of the Matriarch, Icons and more
Halloween Horror Nights 11 MEGA Review: Photos of all Haunted Houses and Scare Zones
HHN11 RIP TOUR (VIP Tour) Review

Features on Haunted Houses, Scare Zones and Experiences
Grimm Encounters | The Weeknd: After Hours Til Dawn Nightmare
Judgement Day (Opening Scaremony) | Netflix's All of Us Are Dead
DIYU: Descent Into Hell | Rebirth of the Matriarch
Dead Man's Wharf | The Cursed Kiramam
The Hacker + The Hacker: GAME OVER

Universal Studios Japan (USJ) 2023
Halloween Horror Nights 2023/ HAHAHA! Halloween Party! Event Guide


Halloween Horror Nights – The Archives


Click to Expand and see all posts from past Halloween Horror Nights