Get useful tips and tricks for Universal Studios Singapore's Halloween Horror Nights 8 in this must-read guide to the event.
---
Guide Shortcuts
Map and Attraction Listing | Show and Event Times
Price Lists of Merchandise, Food and Drinks | Trip Reports and Vlogs | Tips, Tricks and Secrets
HHN8 Express Pass Guide | No Express Pass Strategy
HHN8 FAQ |Parking at Sentosa | Getting Out (How to Go Home)
---
Map and Attractions Listing
What is happening? Where is everything?
Well, first you can head over the HHN8 REVIEW Megapost to discover all the new horror attractions at the park.
Here is the park map with all the scare attractions marked out. You may want to screenshot this.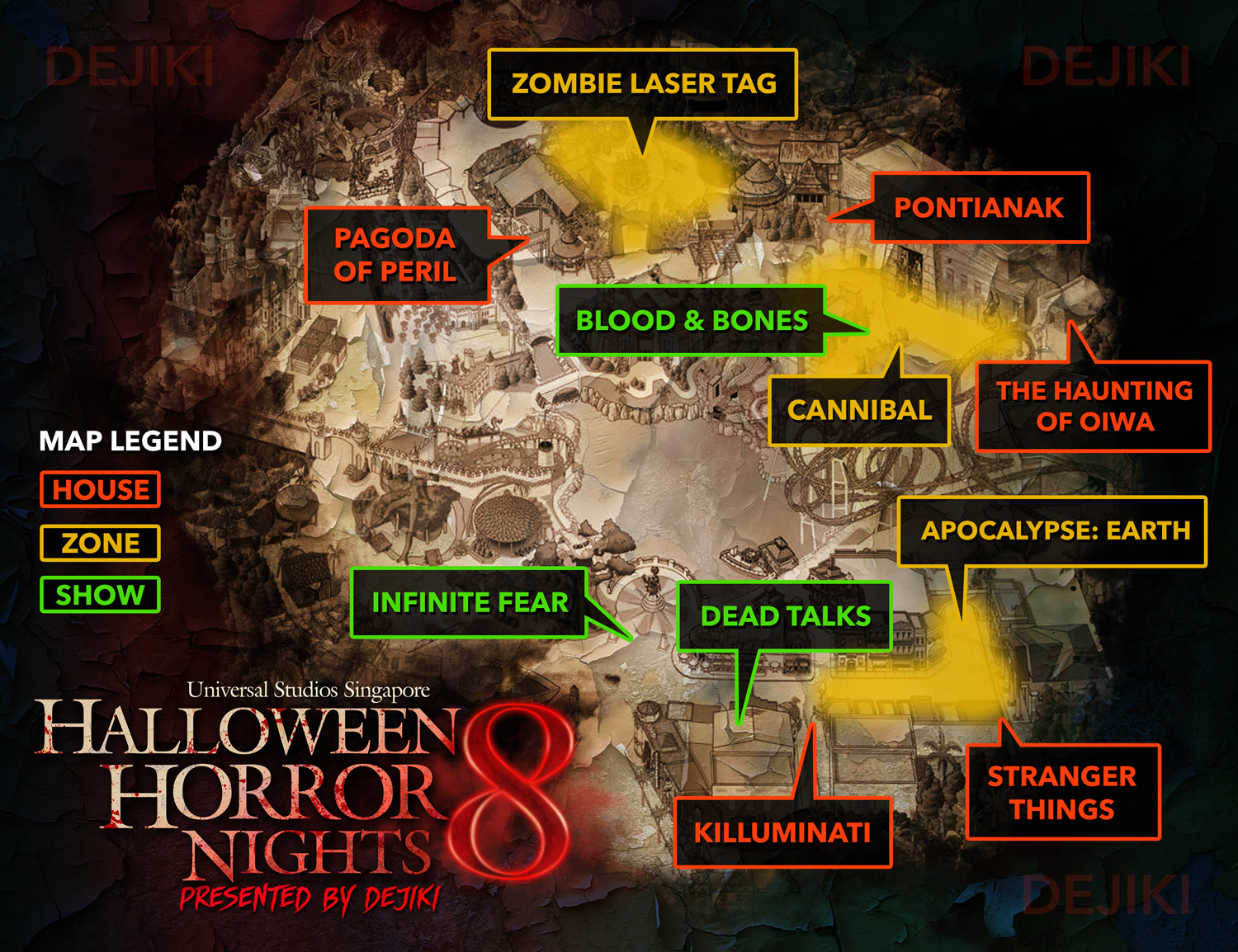 Click to expand full list of attractions at each zone of the park
A breakdown of attractions in each zone of the park:
Hollywood
– INFINITE FEAR (Opening Scaremony Show)
– DEAD Talks (Stage Show inside Pantages Hollywood Theatre)
– Icon Meet and Greet at Hollywood Lagoon Stage
New York
– Killuminati (Haunted House)
– Stranger Things (Haunted House)
– Apocalypse: Earth (Scare Zone)
– Zombie Laser Tag ('VIP' zombie survival experience)
Sci-Fi City
– Battlestar Galactica: HUMAN (Park Attraction)
– Battlestar Galactica: CYLON (Park Attraction)
– Transformers: The Ride (Park Attraction)
– Accelerator (Park Attraction)
Ancient Egypt
– The Haunting of Oiwa (Haunted House)
– Cannibal (Scare Zone)
– Revenge of the Mummy (Park Attraction)
The Lost World – Jurassic Park and Waterworld
– Pontianak (Haunted House)
– Pagoda of Peril (Haunted House)
– Zombie Laser Tag ('VIP' Zombie Survival Experience)
Far Far Away
– Puss in Boots' Giant Journey (Park Attraction)
– Enchanted Airways (Park Attraction)
– Scared Shrekless (Movie Screening inside Shrek 4-D Adventure)
Madagascar
– King Julien's Beach Party-Go-Round
---
Special Event and Show Times
Time
What's Going On
7:00PM
USS ticket gantries open
You can scan your ticket to enter the park.
7:30PM
OPENING SCAREMONY SHOW
Go inside the mind of a mental patient and unleash the Infinite Fear from within!
~7:35PM
ROPE DROP
HHN8 Haunted Houses and Scare Zones are now open!
INFINITE FEAR
Unleash Fear into our world!
Non-Peak Nights
7:30PM (Scaremony), 8:35PM, 10:05PM, 11:35PM
Peak Nights (Fri/ Sat)
7:30PM (Scaremony), 8:35PM, 9:50PM, 11:20PM
Scaremony version includes additional HHN8 icons and characters, while later showings will only have Fear Demons and reduced effects.
DEAD Talks
Gideon Grim is in Singapore for a seminar on highly-effective scaring!
Non-Peak Nights
8:00PM, 9:30PM, 11:00PM, 12:30AM
Peak Nights (Fri/Sat)
7:45PM, 9:15PM, 10:45PM, 12:15AM, 1:30AM (select nights)
Please arrive at least 15 minutes before show time at the Pantages Hollywood Theatre.
Blood & Bones
Witness a gruesome ritual sacrifice where the Cannibal Chief slaughters a hapless victim.
Non-Peak Nights
8:50PM, 9:35PM, 11:05PM, 11:50PM
Peak Nights (Fri/Sat)
8:50PM, 9:35PM, 10:50PM, 11:20PM
*Note: Show times subject to change during the event. Check in the park for most updated times.
---
Photo Opportunities
You'll be able to take photos with Lu Xi Fa, Lady Oiwa, Pontianak, and Yin Demon at the Hollywood stage. Check with the park crew for meet and greet times!
For the Gaia and Cannibal Chief icons, they can be found at their respective scare zones.
---
Pricelist of HHN8 Merchandise, Food and Drinks
Stranger Things Halloween Horror Nights T-shirt (S$30) – available in S/M and M/L sizes.
Stranger Things HHN Trucker Cap (S$20) in the same style as the character Dustin from the TV series.
UPDATE: Due to popular demand the Trucker Cap is sold out on 28/9 and the store is unable to advise on a restock.
---
Various food and drink carts and select restaurants around the park will be open. This year, an all-new 'Blood Sucker' drink from the American Universal Studios park is here!
Drink Carts (around the park and in haunted house queues)
Jello Shot Syringe – $8 each
Test Tube Shots (Non-Alcoholic) – $3 each
Blood Sucker Pack (Non-Alcoholic) – $9 each
Blood Sucker Pack (Alcoholic) – $12 each
---
Trip Reports
Update: 9th Night (14/10)
We've just gone past the mid-point of Halloween Horror Nights 8. In summary:
Non-Peak Nights (Thursdays and Sundays): Expect longer wait times due to student crowds on these nights, which may also affect the experience inside haunted houses. Wait times should still drop to below 30-60 minutes in the final 1-2 hours of the event.
Peak Nights (Fridays and Saturdays): Moderate or similar crowds as non-peak nights.
Rain: Scare zones and Zombie Laser Tag may be suspended during inclement weather. As the haunted house queues are partially or fully outdoors, it may cause wait time to drop significantly.
Wait Time displays: Fairly accurate if below 70 mins, but likely inaccurate if it is above 100 minutes. The park has been displaying higher wait times than actual, probably to manage guest expectations.
Trip Report: Night 6 (11/10)
Woah – that was really unexpected, but we've just experienced one of the craziest HHN nights in Singapore. There was an incredible line to get in! Wait times were crazy, going to 200 for some houses. It started to rain sometime around 10:30PM, offering respite from the long lines, as the queues started to clear rapidly. It was still possible to clear all houses if you make the right choices and stayed till the end, because the park extended its hours still 1:30AM. Experience the madness in the vlog.
Watch the CRAZY HHN8 THURSDAY vlog on YouTube →
Trip Report: Night 4 and 5 (5-6/10)
The event is starting to get more crowded, with wait times going as high as 170 minutes for some houses. However, wait times started to drop consistently after 11PM, and some houses had no lines after 12AM. It's still quite possible to complete all 5 houses without an Express Pass – I even managed to leave in time to catch a train home.
Watch the HHN8 Night 4 vlog on YouTube →
First 2 weeks trip reports
Trip Report: Third Night (29/9)
The first HHN8 Saturday wasn't as crazy as Thursday (27/9). Wait times for houses varied greatly, and fluctuated wildly between 20 to 120 minutes. Still, it is a breeze to clear all the houses by 12AM if you have arrived at the park before 7:30PM. Some houses had very low actual wait time of below 30 minutes, with popular houses like Stranger Things hitting a peak of 120 minutes at some point.
The Stranger Things T-shirt has returned. Grab it while stocks last!
Watch the HHN8 Night 3/ First Saturday vlog on YouTube →
Trip Report: Second Night (28/9)
This is the first 'Peak' night but the park was nowhere as crowded or hectic as Thursday (27/9). It's really very puzzling to have lower attendance than Thursday, for a Friday. Wait times are very short, typically below 20 minutes, with Stranger Things leading with the longest wait of 60 minutes. Most houses are a walk-on, or just merely 5-10 minutes.
I managed to clear 4 haunted houses and Zombie Laser Tag by 9PM. If I had stayed on to queue for Stranger Things, I'd cleared everything by around 10PM. My friends stayed behind till closing and managed to visit all 5 houses for 8 times in all, and DEAD Talks.
Also as of tonight all of the Stranger Things merchandise are SOLD OUT.
Watch the HHN8 Second Night vlog on YouTube →
Trip Report: First Night (27/9)
Despite being a Thursday and Off-Peak Night, Halloween Horror Nights 8 opened with an unusually large crowd that pushed wait times for almost all houses to at least 100 minutes at some point, with the highest wait time seen at The Haunting Of Oiwa (170 minutes). Some houses had wait times dip to 45 to 50 minutes, before increasing again. As expected, the Stranger Things house was very popular, with wait times reaching 2 hours just 30 after the park opens.
My friends were rushing houses and they managed to clear 3 houses (Stranger Things, The Haunting of Oiwa, Pontianak) within the first hour, went for some shows and scare zones, and we met up for Killuminati at around 10PM. If we had stayed to queue for the 5th house (Pagoda of Peril with a 70 minute wait), we would have cleared all 5 haunted houses before 12:30AM.
---
Tips, Tricks and Secrets
Check Haunted House Wait Times
Check the latest estimated waiting time at the Digital Displays in Hollywood, Far Far Away and Sci-Fi City. You can also check the wait time with roving park staff selling HHN Express Pass.
HHN8 Park Soundtrack (Spotify Playlist)
Have an ear for fearsome music? Listen to INFINITE FEAR: Park Soundtrack, a compilation of songs heard at the park's shows, attractions and 'chill-out' zones. Thanks to Tong Ming for helping to compile this!
For INFINITE FEAR (Scaremony show): Knife Party – Power Glove (Spaveech Remix). Also please note that the park may be using remixes, edits, or clean/ censored versions of the songs – the Spotify playlist here curated the original versions.
More songs will be added as they are discovered.
How to get inside the secret room in Killuminati?
The Killuminati haunted house has two routes that split at the beginning and merges again in the middle. And yes, it has two secret rooms… or maybe more? I don't know.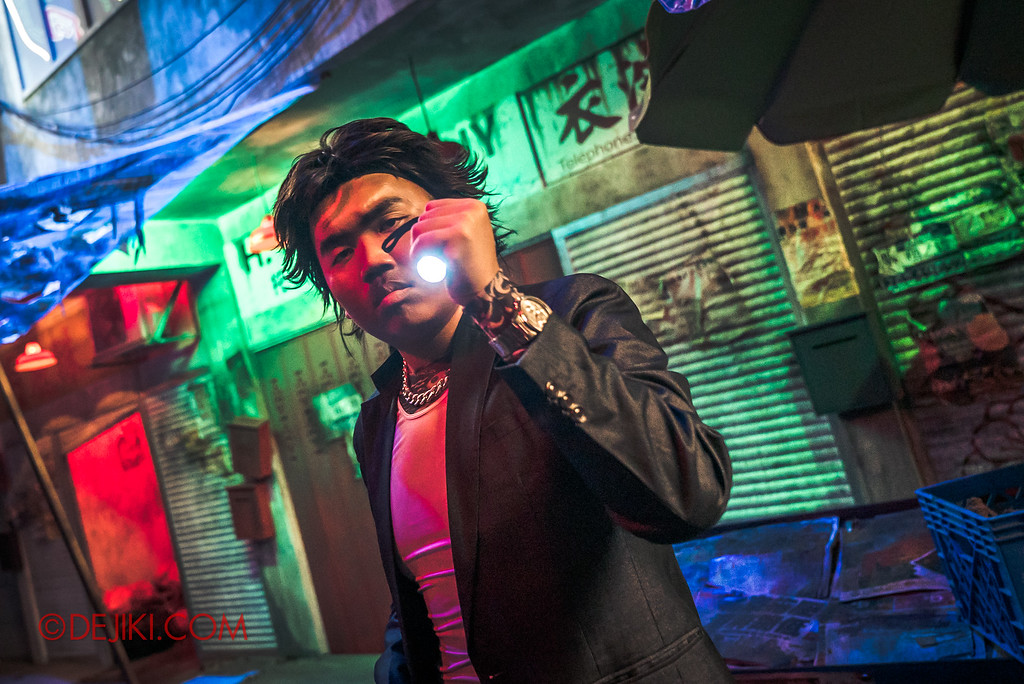 You'll need to stay on the right path if you want to find the secret rooms where the defectors are hiding. If you are suddenly invited to step into another room – then yes, you found it. You'll get some cool souvenirs for bragging rights. Good luck!
Depending on crowd levels the secret rooms may not be available. Please do not push on all the walls and doors to find a way in. Also, do not force your way into any room. Trespassers will be expelled from the attraction.
Priority Queue for HHN Park Admission
If you have a Frequent Fear Pass, RWS Invites membership, or a Genting membership with priority access privileges (e.g. certain Genting Rewards Club), use the gantries at the left side of the USS Park Entrance for priority access into USS.
---
HHN8 Express Pass Guide
There are two types of HHN Express Passes. These Add-on passes shorten waiting time, by allowing guests to use the Universal Express queue lane once per attraction per pass. Express Passes do not include admission to the park during Horror Nights.
HHN8 Express Pass – participating attractions
5 Haunted Houses: Killuminati, Stranger Things, The Haunting of Oiwa, Pontianak, Pagoda of Peril
HHN8 Express Pass PLUS – participating attractions
5 Haunted Houses: Killuminati, Stranger Things, The Haunting of Oiwa, Pontianak, Pagoda of Peril, and participating theme park rides: Battlestar Galactica: HUMAN, Battlestar Galactica: CYLON, Transformers: The Ride, Accelerator, Revenge of the Mummy, Enchanted Airways, Scared Shrekless, Puss in Boots' Giant Journey, King Julien's Beach Party-Go-Round
All Express Passes are not valid for use at DEAD Talks or front row access at Battlestar Galactica.
How long is wait for the HHN Express Lane?
There's usually a short wait, typically cutting down hours of waiting in the normal line to 5 – 30 minutes. During very crowded nights, the Express line wait may increase to 45 minutes.
I thought the price starts from $60. Why is the price so much higher tonight?
HHN Express and Express PLUS Pass is dynamically priced based on demand. Buy early, pay less. Buy at the park, definitely more.
---
★ "No Express Pass" strategy ★
Don't want to pay for express, but want to visit all 5 houses? Here are some key strategies that have worked before:
PLAN A: Dashing into the Dark
1. Be at park gates before 6PM. Wait for gates to open and line up orderly in front of the turnstiles. Bag checks may be conducted by security, so get your things ready when the line starts to move!
2. Once the turnstiles are open (around 7PM), get your tickets scanned and move into the park quickly.
3. You will have to wait for the HHN8 Opening Scaremony at Hollywood to start at around 7:30PM. Both left and right paths will be open after crew members have removed the rope.
4. Move quickly to your destination only after the rope has been removed. Choose to go either left or right!
Option 1: Head RIGHT…
NOTE: The path towards the right side may not be open right after the opening scaremony. When this happens, all guests will need to proceed to the left.
Stranger Things → Killuminati → The Haunting of Oiwa → Pontianak → Pagoda of Peril
My advice is to run to Stranger Things first because it is very popular and wait times may stabilise to 1.5 hours even on a quiet night.
Option 2: Turn LEFT…
Run through Madagascar and Far Far Away…
Pagoda of Peril → Pontianak → The Haunting of Oiwa → Stranger Things → Killuminati
Most people are now following the past guides and running towards the back end of the park first. If you are too far behind, consider heading to Pontianak instead, which should still have a shorter wait at 7:45PM.
Tip: Park regulars may want to use the Far Far Away lagoon side path for quicker access to the back of the park. For experts only.
---
PLAN B: Closing Time
Stay in the park until it closes for shorter waiting times, as most people would begin leaving the park from around 11PM.
1. At around 1.5 hour before park closing, check the wait times and prioritise to go to either houses at the far end of the park first: Pagoda of Peril or Pontianak. It is likely that you have to choose one, if the wait time is more than 30 minutes.
2. After that, walk towards The Haunting of Oiwa through the Cannibal Scare zone.
3. Head to either Stranger Things or Killuminati, if the queues are still open.
Note: Typically, the queues for haunted houses will be closed at the official event end time (12:30AM for off-peak nights; 1:30AM for peak nights). The park may close the lines early at their discretion.
---
PLAN C: Frequent Fear Pass Upgrade
Consider upgrading your Halloween Horror Nights Standard Admission to a Frequent Fear Pass and return again for another night. You will need to top-up the difference between what you already paid for your ticket and the normal price of a Frequent Fear Pass. Not all tickets may be eligible, please check at the USS membership lobby.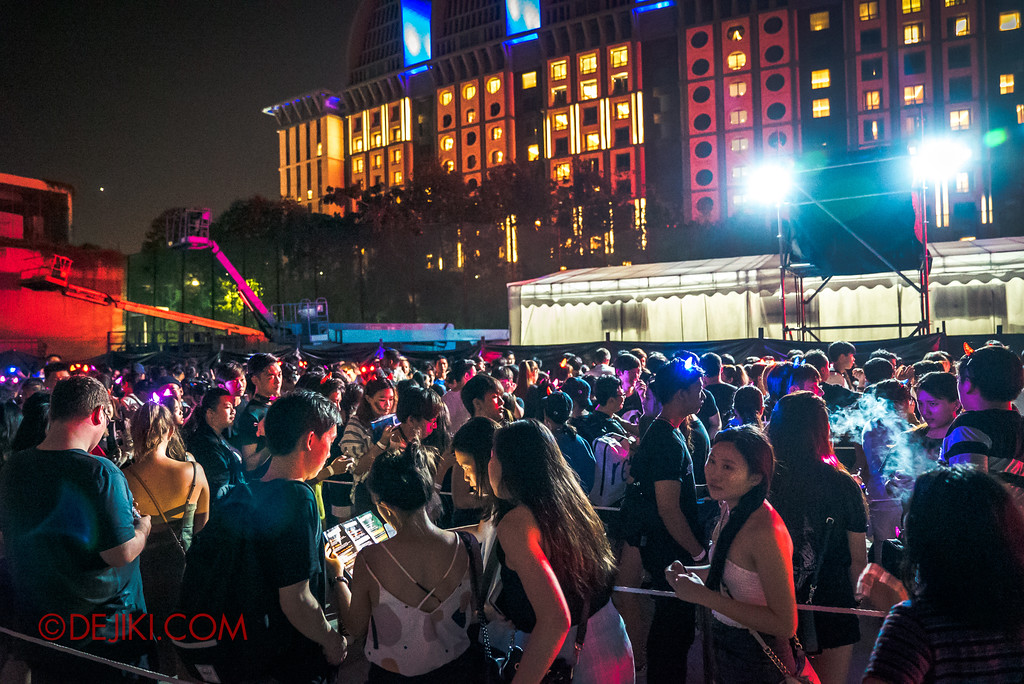 Stranger Things – 120 minutes wait time at 8PM on a Thursday
---
Top Questions about USS Halloween Horror Nights
Feel free to post a comment if you have any other questions.
Q: What is this event about?
Halloween Horror Nights is the largest and most elaborate Halloween-themed entertainment event in the region. During event nights, Universal Studios Singapore will offer an exhilarating line-up of horror attractions that includes haunted houses, scare zones, and shows. Select theme park attractions will also remain open.
Q: Why should I pay money to scare myself?
It's for the experience of these highly-produced themed entertainment experiences. Whether you're in a haunted house or scare zone, you will spend your night having countless screams and quite a lot of fun.
Q: Can I come alone?
Yes! Although it is more fun to go with people you know. Why not make friends with people in the queue? And, if you are afraid to walk alone and need to hold onto someone, do let the person know first.
Q: OK.. so how can I survive the 5 haunted houses?
You just need to join the queue for the houses. Once you get inside the house, you just need to follow the path (which is marked out) and you can experience the horrors along the way.
Q: What should I wear?
Comfortable clothes, since it is mostly an outdoor event. Wear appropriate shoes for walking about. If you are playing Zombie Laser Tag, bring covered shoes for safety and comfort.
Q: What should I bring?
Your HHN tickets, money (cash) to buy souvenirs, food and drinks, umbrella, small water bottle, power bank, smartphone cables, handheld fans, common sense and decorum.
Q: Will the Pontianak/ghosts/demons/zombies grab me?
The scare actors will not touch park guests. For the safety of performers and other park visitors, please do not touch, verbally abuse, harass or assault anyone in Haunted Houses and Scare Zones. If you cause harm to performers, park staff and guests, you may be detained and/or expelled from the park.
Q:What is this Zombie Laser Tag game?
Zombie Laser Tag is returning as an improved attraction where you team up with 7 other friends to battle zombies! Separate charges apply, and you will need to book a timeslot for your team.
Anything else should guests take note of?
1. Bag checks may be conducted at the park entrance, so get your bags ready for inspection for smoother entry.
2. The 'Infinite Fear' Opening Scaremony show will be performed again during the night, so guests coming in late won't miss this dramatic act.
---
Parking at Halloween Horror Nights
Where to park?
Driving to Horror Nights? Park on Sentosa island for convenience. You'll need to pay Sentosa admission first.
Sentosa Admission fee for Cars
After 5PM (weekdays): $2
After 5PM (weekends and public holidays): $3
Car Park Rates for Beach Station, Imbiah, Tanjong Beach, Palawan Beach and Sentosa Cove Village carparks
After 5:01PM (weekends and public holidays): $2.40 per entry
Note: Ad-hoc surcharges may apply based on prevailing demand.
For rates before 5PM and other details, please check Sentosa's website.
Underground Carpark, Resorts World Sentosa
Alternatively, park at the nearest car park, right below USS!
Car Park Rates
Thursdays and Wednesday (31 Oct):
7am to 7pm: $7 for 1st hour, $1 subsequent half hour or part thereof
After 7pm: $6 per entry
Maximum: $28 per 24 hours
Friday, Saturday, Sunday:
7am to 7pm: $8 for 1st hour, $2 subsequent half hour or part thereof
After 7pm: $8 per entry
Maximum: $28 per 24 hours
---
Going Home (Final Escape)
Taxi
If you're thinking of leaving by a cab, you may want to leave before 11:00PM to avoid a long line at the RWS taxi stand at the basement. There's a $3 Surcharge for taxis leaving the resort, among other surcharges.
Sentosa Express (Monorail)
Planning to take the monorail out of Sentosa to Vivocity? The last train leaves from Beach Station at 12:00AM. Better get to the Waterfront station (closest to RWS) before 11:30PM.
RWS Shuttle Bus
If you're heading to Harbourfront or Vivocity for more transport options, you can take the RWS8 shuttle bus from the bus stop at RWS basement carpark. During HHN event nights, this bus service will be extended by up to three hours after event hours.
RWS8 is available until
2:30AM on 27 & 28 Sep, 5, 11, 12, 14, 18, 19, 21, 25, 26, 28 and 31 Oct 2018
3:30AM on 29 Sep, 6, 13, 20, 27 Oct 2018
Night Rider Bus Service
Two Night Rider services are available from Resorts World Sentosa for a flat fare of $4.50. NR1 and NR6 are available on Fridays, Saturdays & eve of Public Holidays. These buses depart from the RWS Coach Bay from around 11:30PM to 2:00AM, frequency about every 25-30 minutes.
---
Survived the night?
So did you beat the mad rush? Share with us YOUR tips or any notable experience at the park! I'd love to know your speed records for clearing Haunted Houses! 😉
Face Infinite Fear, now!
Universal Studios Singapore's Halloween Horror Nights 8 is held from 27 Sept through 31 Oct 2018 on select nights. Tickets are available online at halloweenhorrornights.com.sg, or you can also buy them via my Klook link.
Halloween Horror Nights 8 – Dejiki's Full Event Coverage
Check back throughout October for extended event coverage on Halloween Horror Nights – only on Dejiki.com! Like the FB page and share with your friends:

Halloween Horror Nights 8 (2018)
HHN8 REVEALED: Infinite Fear and Stranger Things
Meet the Killuminati / The Ceremonial Sacrifice (HHN8 press conference)
HHN8 Construction Updates: Before Dark
FIRST LOOK: Stranger Things haunted house with Behind the scenes tour
Halloween Horror Nights 8 COMPLETE REVIEW
SURVIVAL GUIDE: HHN8 Tips, Strategies and Secrets
HHN8 RIP (VIP) TOUR and Behind the Screams (BTS) Tour review

Features on Haunted Houses, Scare Zones and Experiences
INFINITE FEAR Opening Scaremony show | Zombie Laser Tag 2018
Pagoda of Peril | The Haunting of Oiwa | Stranger Things | Pontianak | Killuminati
Apocalypse: Earth | Cannibal

Universal Studios Japan (USJ) 2018
Universal Surprise Halloween/ Halloween Horror Nights 2018 Event Guide | 2018 HHN Japan Review

---
Halloween Horror Nights – The Archives
Click to Expand and see all posts from past Halloween Horror Nights


Halloween Horror Nights at Universal Studios Japan (2017)


Halloween Horror Nights 7 (2017)

---
Halloween Horror Nights 6 (2016)
---
Halloween Horror Nights 5 (2015)
---
Halloween Horror Nights 4
---
Halloween Horror Nights 3
---
Halloween Horror Nights 2
---
Halloween Horror Nights