Explore this dangerous jungle at your own risk, where you will meet the dangerous Pontianak at Universal Studios Singapore's Halloween Horror Nights 10.
---
WARNING
Photos of The Hunt for Pontianak, a scare zone attraction at USS Halloween Horror Nights 10, are featured here to showcase its design and atmosphere. This article contains spoilers.
Copyright Note: All photos on this website, including Halloween Horror Nights photos cannot be reuploaded anywhere without my permission.
---
Overview and Thoughts
The Pontianak has made several appearances at Singapore's Halloween Horror Nights, with her origins explored in the eponymous haunted house back in 2018. Now she haunts in a modern tale – targeting the behaviour of influencers (and wannabes) and the quick shot to fame via viral videos, with deadly results.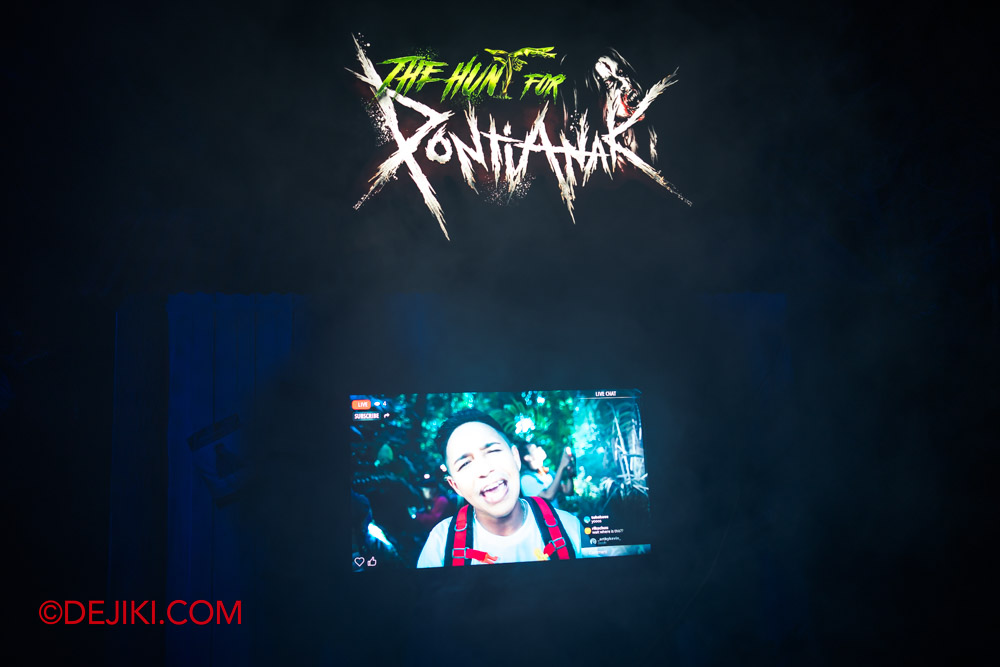 The story of a group of influencers doing "the hunt" is told through some smartphones left behind in the forest. If you can find them, the "found footage" will reveal their misadventures in the jungle. But it doesn't take much to know that it was a bad idea from the start.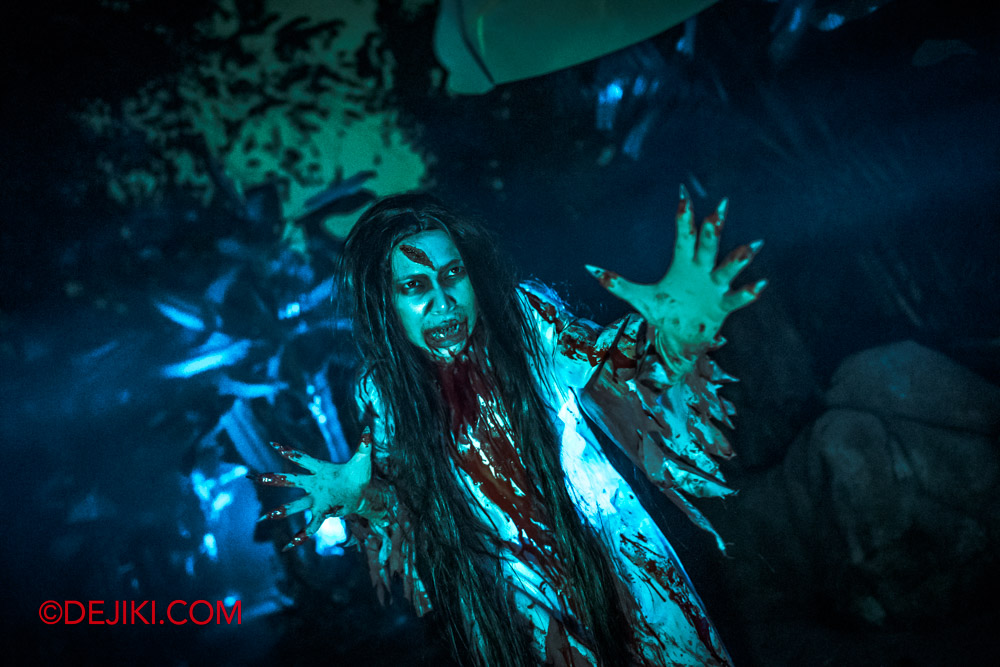 Reactions to this zone has been mixed from what guests have shared with me. Some found it a lot less scary, as it's a one-way route ensuring that you won't be truly lost. Others felt that that there's unseen forces hiding among the trees adding onto the suspense. Ultimately, whether this zone is scary or not really depends on crowd conditions, which with higher attendance due to the event's popularity. There are some bottlenecks (the hut being the main one) which the park may address when needed.
Fans of the Singapore HHN events may find some parts of this zone familiar, as if it's a combination of the 2013 Forbidden Forest and Suicide Forest (2016). The experience is akin to an outdoor haunted house, as it is designed as a single route walkthrough, leading those who survive the ordeal to the exit facing Waterworld.
---
The Hunt for Pontianak – Scare Zone Photo Tour
You step inside Jurassic Park, facing the scare zone's marquee. A video of proud livestreamers introduces you to the premise of this zone: Influencers on the hunt for the region's most dangerous spirit, all for clout, all for the likes.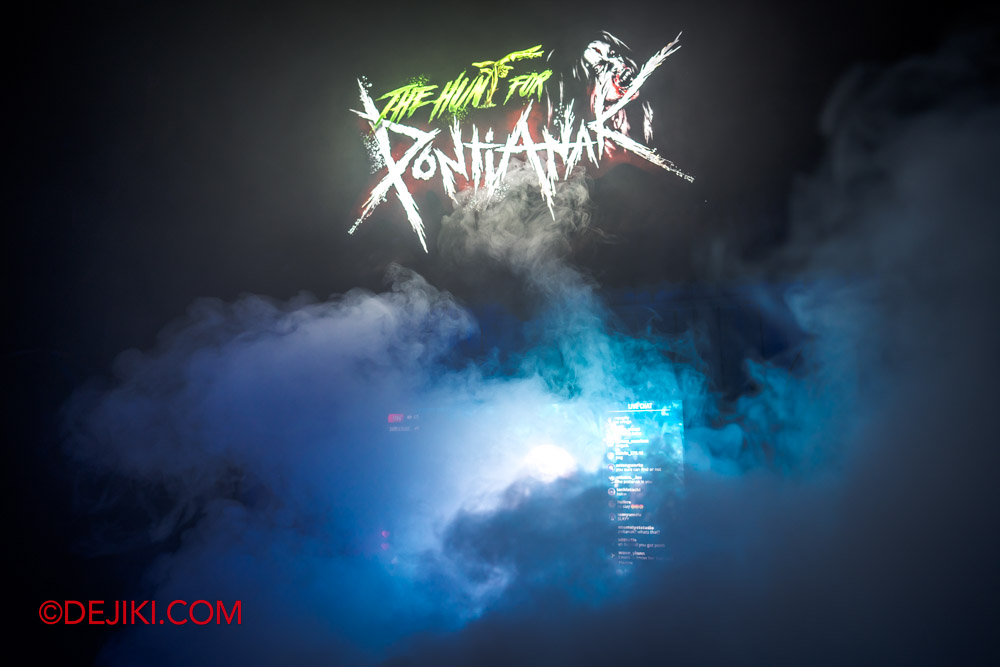 Heavy fog creeps in, and you are transported into a jungle where the influencers have wandered in.
The Hunt begins.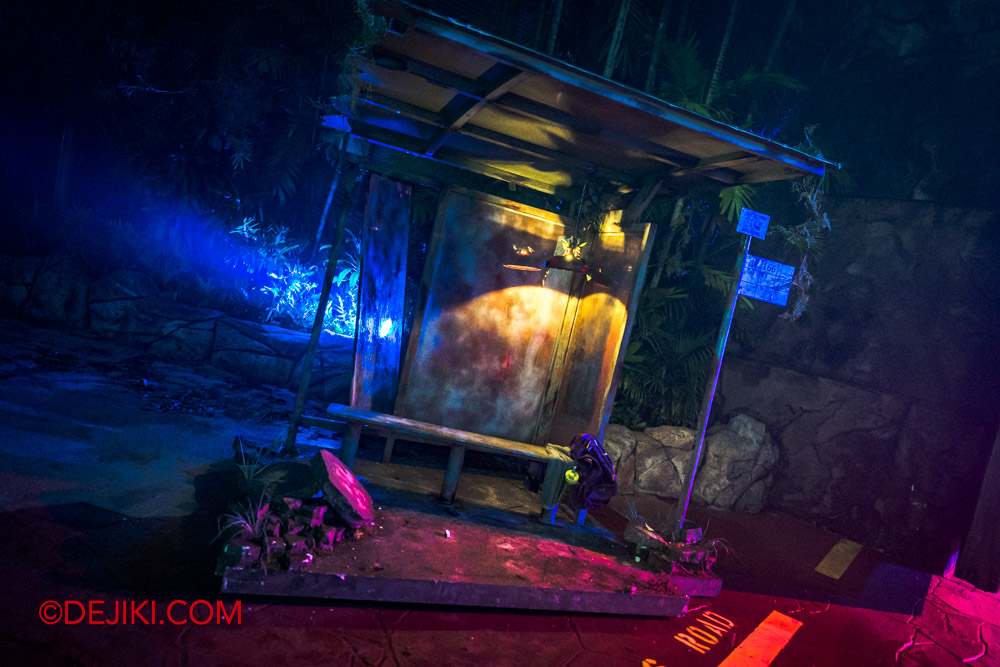 You are lost – with no way back. The bus stop is abandoned, disused. But at least you know that you are in a jungle in Selangor, Malaysia.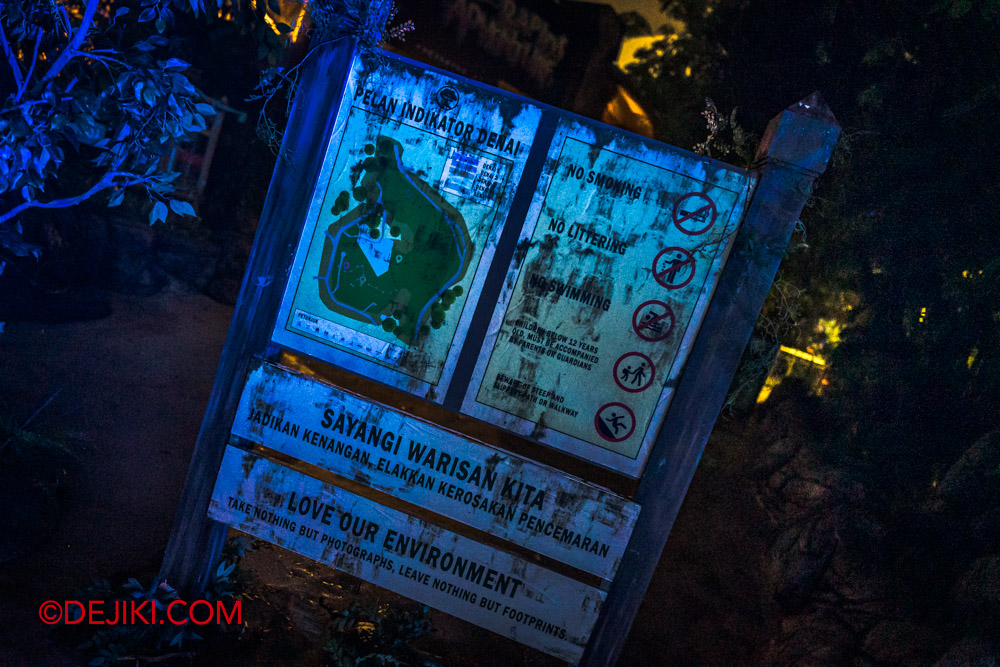 An injured backpacker warns you to leave the jungle immediately.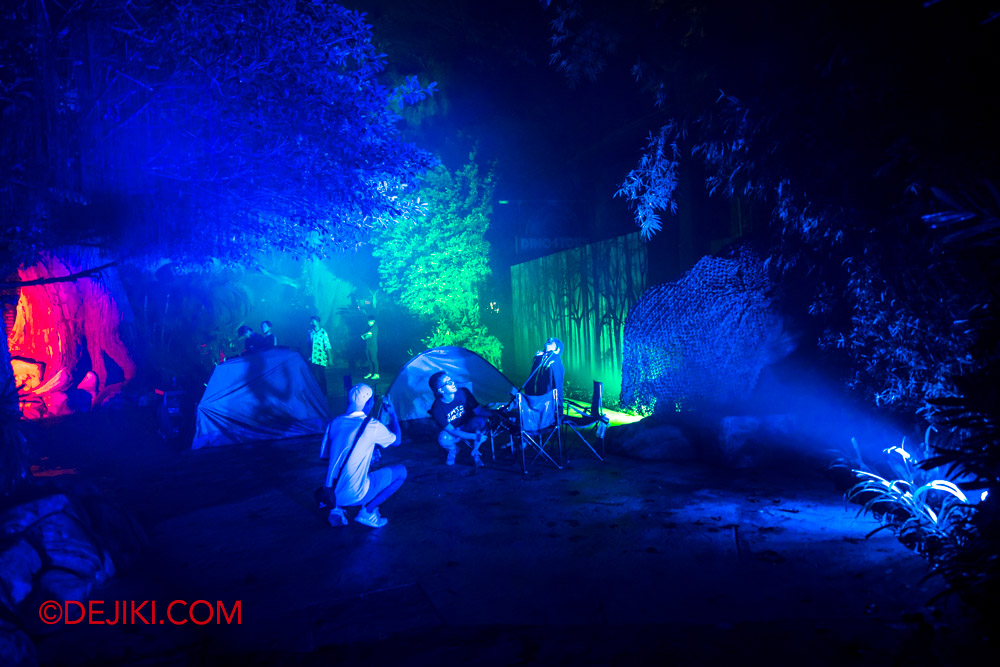 You make your way deeper into the jungle, finding a spot where some people have set up camp.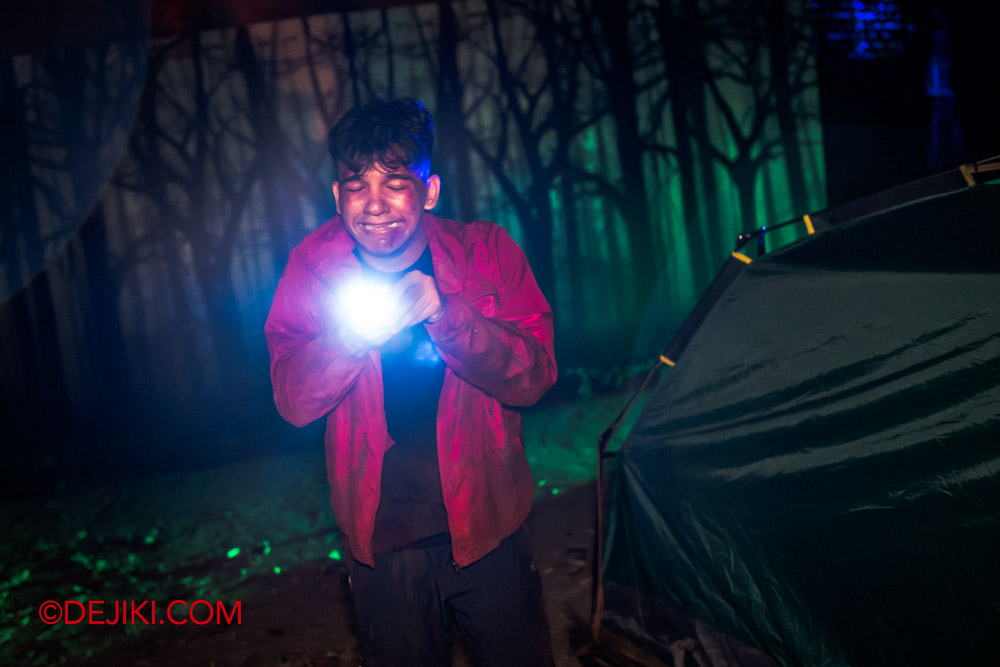 The campers warn you to leave – as the Pontianak has been sighted. It's no longer safe.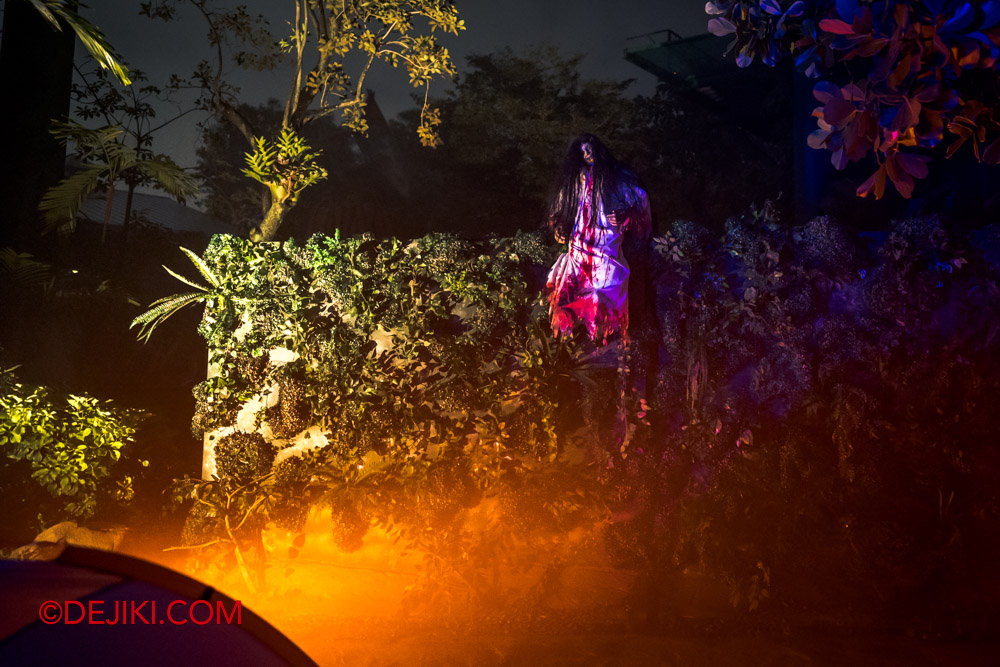 Just as another man runs towards you, "She's here! HELP!"
You see a long-haired figure in white gown forcefully dragging him back into the mist.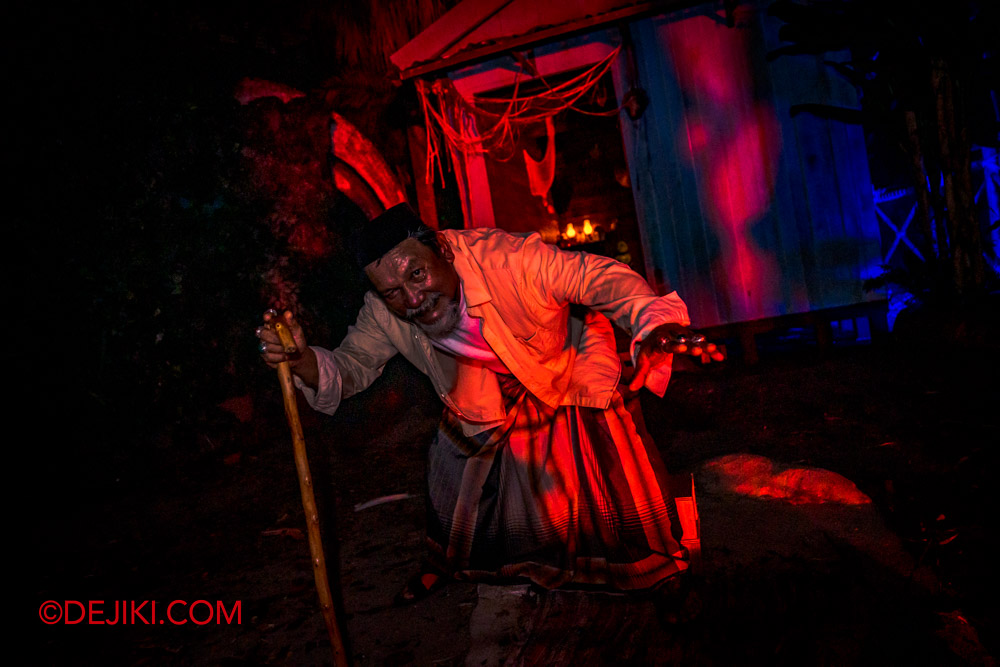 You hear another voice. It's an old man, standing on the other side of the clearing. He warns: The Pontianak is everywhere. It's not safe, and it's too late to turn back.
The nearby hut seems like a safe place to rest and think of where to go next. Until you step inside.
Among the shelves of occult items – you know that someone is watching you.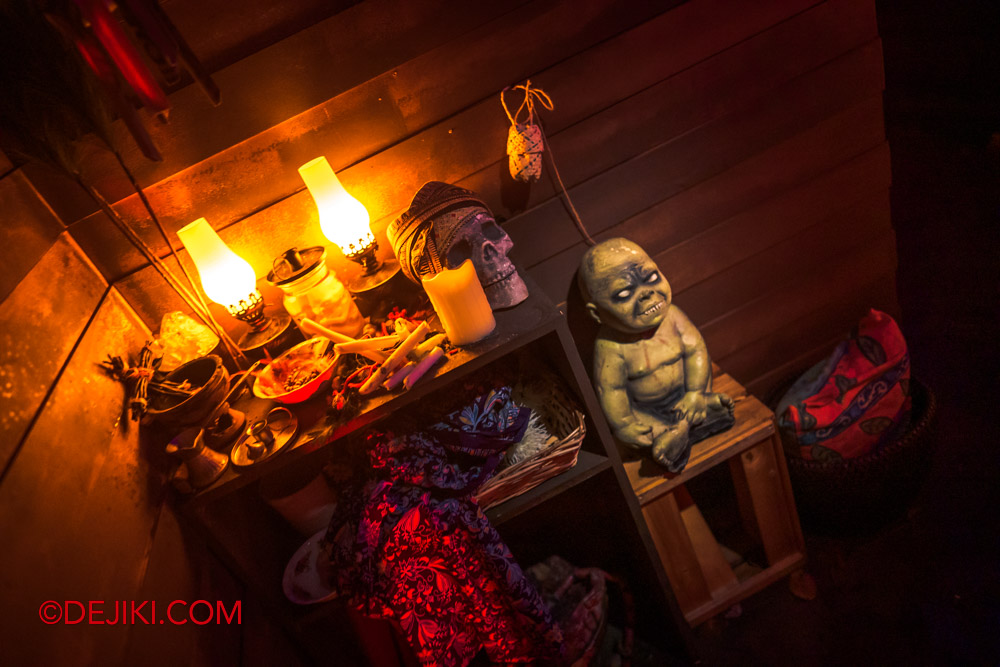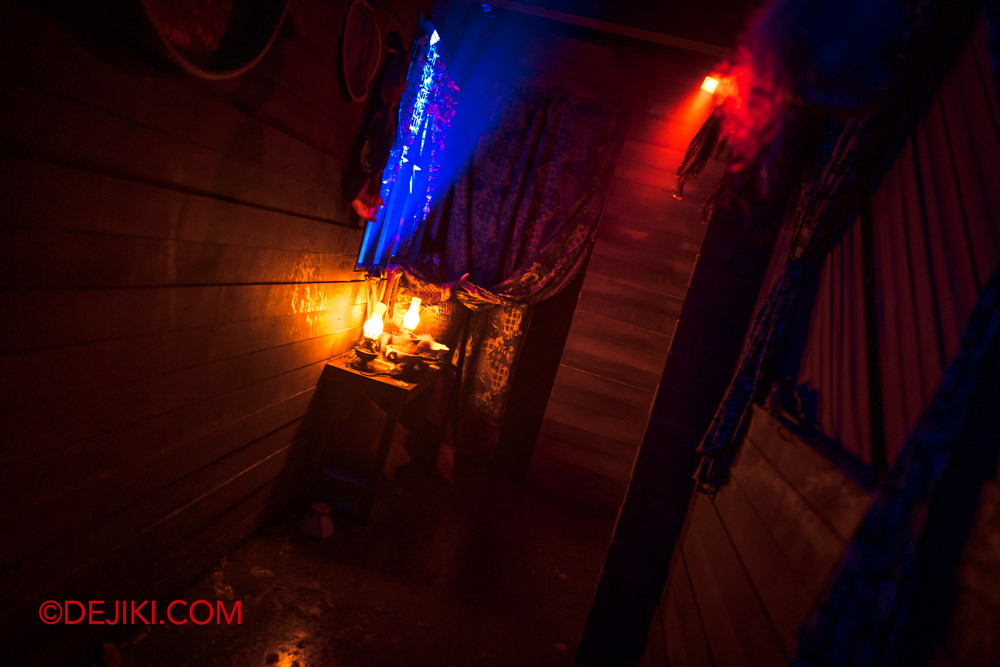 You run out of the hut quickly – barely avoiding the invisible force that floated past you.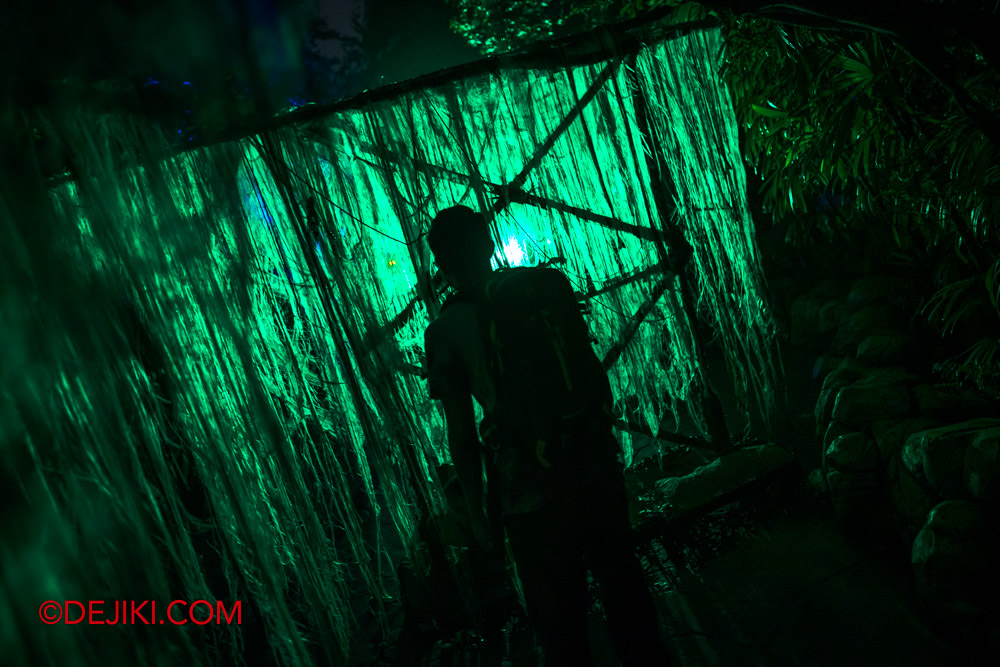 The only way forward is filled with nets that are woven with red thread – there you meet some other campers. Finally! Some help to get you out of this jungle.
Until you realise – the Pontianak has claimed these as her victims. And you are next.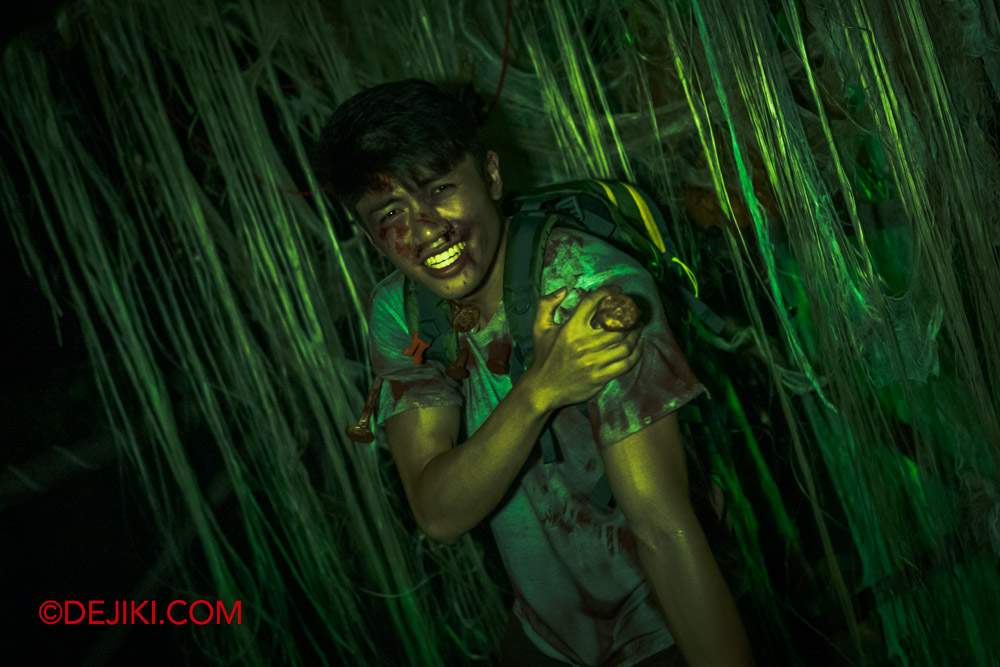 As the injured wanderers scream for help, you dashed across a bridge, noticing that apparitions of the Pontianak are becoming clear.
On the other side, you find an abandoned phone – the influencer who was livestreaming is now gravely injured. He warns you to get out.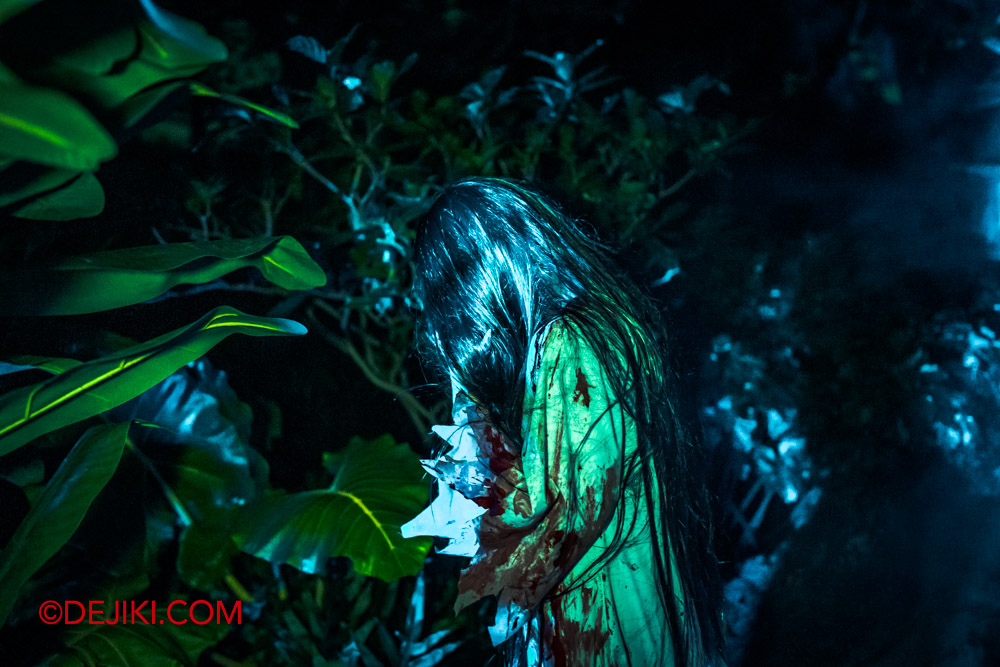 The pathway leads you right into a banana plantation. You see a weeping woman, with long hair, and sharp nails.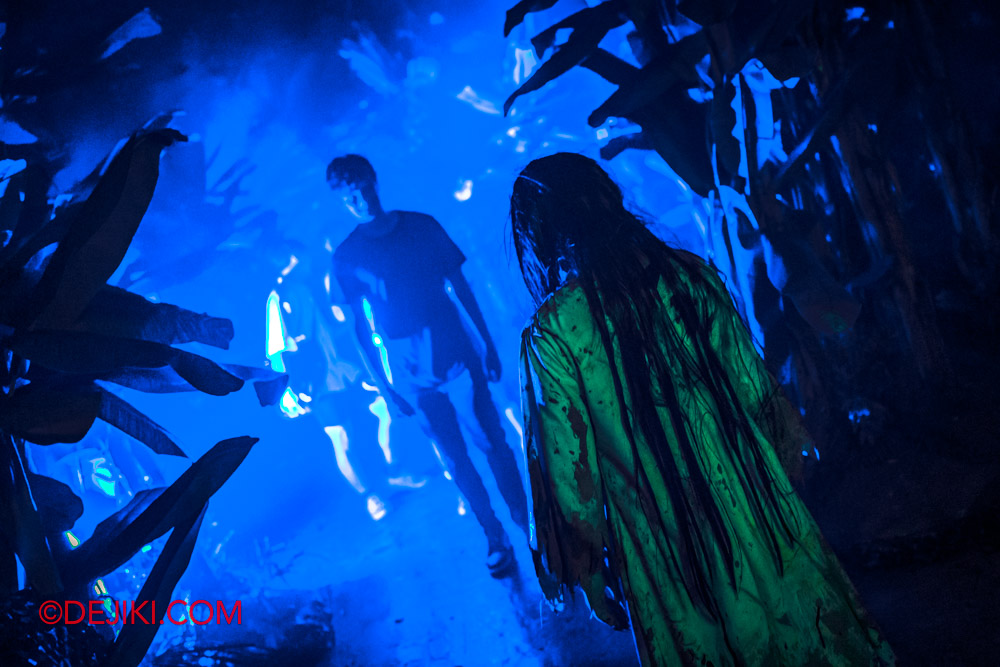 She floats towards you, blocking your way forward.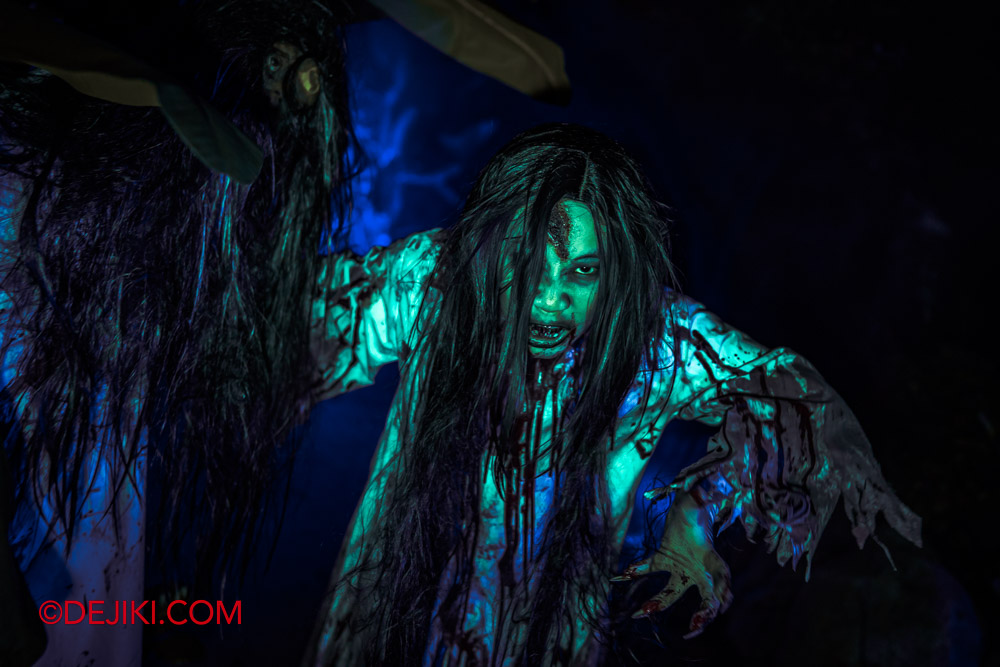 As you take a step backwards, ready to turn away, you realise that she has reappeared right behind you.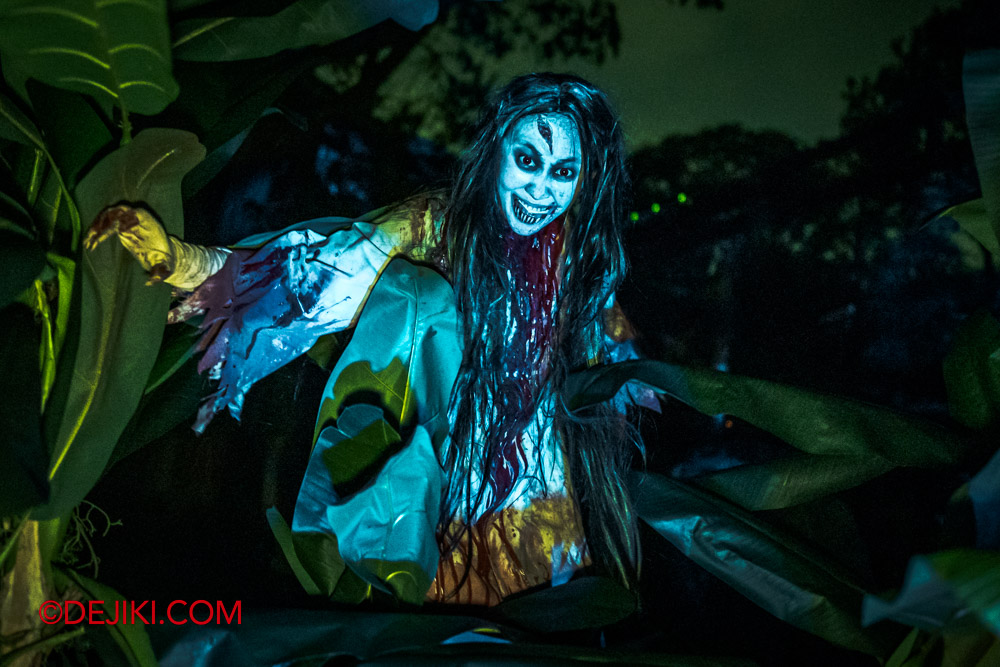 You can't fight, so you make a run for it – but she reappears right above you, lunging forward with her blood-stained claws.
The Pontianak weeps. As she floats closer, you feel your chest tighten – it's becoming impossible to breathe.
---
Halloween Horror Nights 10 runs on select nights from 30 Sept to 5 Nov 2022.
Halloween Horror Nights 10 MEGA Review by DEJIKI
Read my full review and see photos from this year's 3 haunted houses, 2 scare zones, the Opening Scaremony show, and other special experiences.
Halloween Horror Nights 10 EVENT GUIDE
Get all the info you need about Halloween Horror Nights 10 in my Event Guide, including event calendar, ticketing options, add-ons and the RIP Tour prices.
Halloween Horror Nights 10 (2022)
HHN10 REVEALED: Ticket and Event Guide
Halloween Horror Nights 10 MEGA Review: Photos of all Haunted Houses and Scare Zones
SPECIAL FEATURE: Behind the Scenes at HHN10 Haunted Houses
HHN10 RIP Tour (VIP Tour) Review

Features on Haunted Houses, Scare Zones and Experiences
The Silenced Auction (Opening Scaremony) | DIE-ning with The Dead | Monsters & Manifestations
Escape The Breakout | Killustrator: The Final Chapter | Hospitality of Horror
Operation: Dead Force | The Hunt for Pontianak | Dark Zodiac

Trick or Thrills (2021)
Halloween Horror Nights Exhibition
2021 Day and Night Halloween: DIE-ning with the Dead, Universal Monsters Scream Alley


Halloween Horror Nights – The Archives


Click to Expand and see all posts from past Halloween Horror Nights