Step into the world of Stranger Things and find Will Byers at Universal Studios Singapore's Halloween Horror Nights 8.
SPOILER WARNING
Photos of Stranger Things, a haunted house attraction at USS Halloween Horror Nights 8, are featured here to showcase its design and atmosphere. This is also a page for haunt fans to share their thoughts.
Photography and video recording is not permitted inside any Haunted Houses at Universal Studios Singapore during Halloween Horror Nights.
Overview and Thoughts
This house marks a few "firsts" for Singapore. We all know it's the first Singapore haunted house based on a major intellectual property (IP), and a world's first for three Universal Studios theme parks to partner with Netflix. After the first preview, I learned that all three parks designed their houses independently, although they worked off the same reference materials from Netflix. So we have three interpretations of Season 1 around the world.
While Singapore had access to some screen-accurate costumes, such as the Demogorgon, the local team had to reproduce scenic elements by creating new art via illustration. Textiles, wallpapers and even fixtures had to be fabricated just for the haunted house, and the team referenced video clips and stills from the Stranger Things show.
It's no secret that Singapore's version of the house is the smallest of the three, and the only one built outdoors. While the scenes may lack the grandiose Hollywood film set ambiance, it boasts creative transitions and elements not seen in other parks. You'll need to duck to go through the Upside Down portals, and you will feel immersed in the action and not just walking past the performers. There are also a few unique stunts only performed in Singapore. However, depending on crowds, all these effects may be lost or even missed when the rooms are jammed with too many park guests.
Stranger Things seems to be one of the most popular houses at HHN8, and hopefully this paves the way for major IP houses in future Horror Nights events in Singapore.
The 12 iconic scenes in Singapore's Stranger Things maze can be roughly divided to:
1. Welcome to Hawkins
2. Byers' Home – Living Room and Corridor
3. Will Byers' Bedroom
4. Transition to Mirkwood (Shed and Forest with Jonathan)
5. Upside Down Forest
6. Enroute to Hawkins Lab
7. Hawkins Lab – Elevator scene
8. Hawkins Lab – Rift Lab scene
9. Castle Byers
10. The Library
11. Hawkins Middle School Corridors
12. Hawkins Middle School – Classroom Finale
---
Walking past the gigantic, glowing titles, you might be startled by a roaming Hawkins lab scientist. Have you seen this girl?
Danger is in the air as you walk through the clearing towards the Byers' home.
Step inside to find Joyce Byers desperately trying to find her son, Will.
The Christmas lights flash erratically, and then only three lights flicker… R-U-N.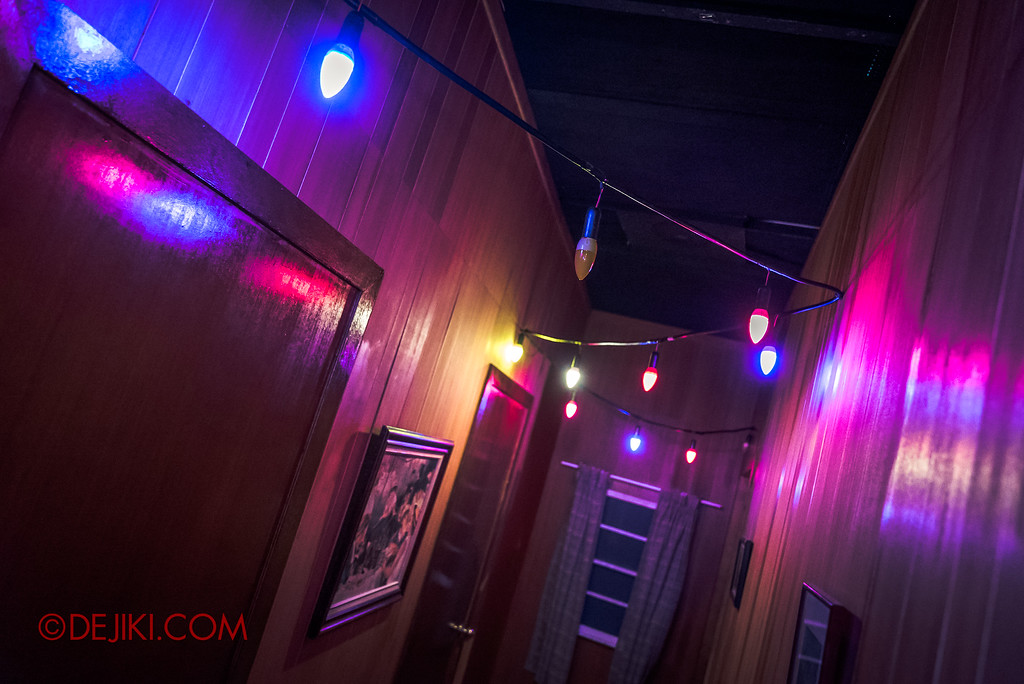 Heed the sign and run through the hallways and into Will's Bedroom.
While the lights flicker ominously, quickly hide from a Demogorgon by diving into Will's closet.
You'll find yourself at the Shed – this is where Will disappeared.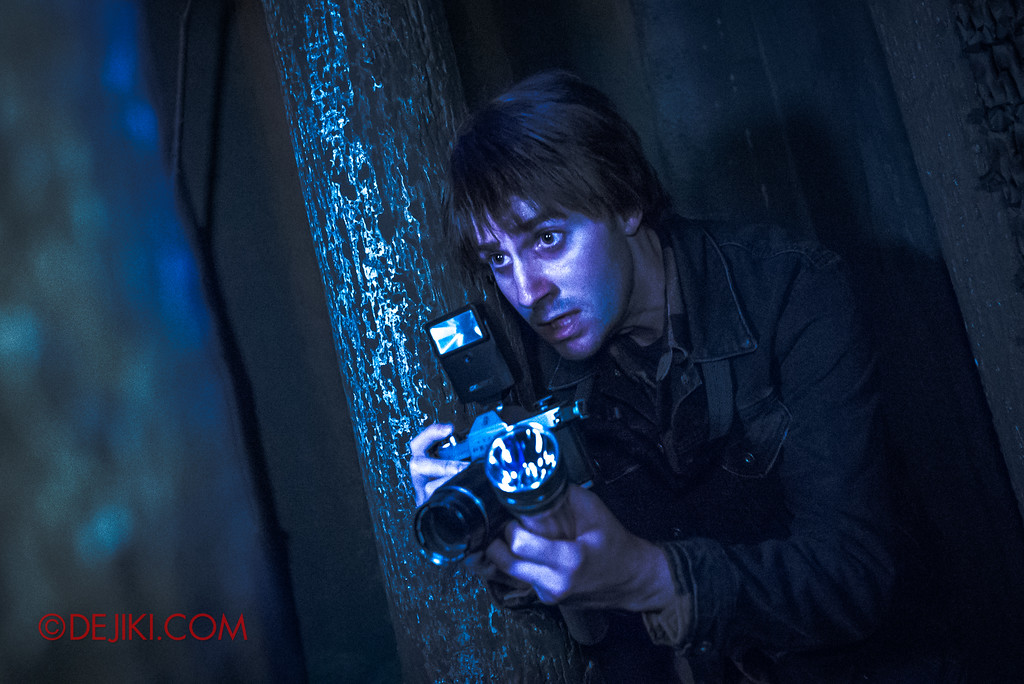 Step outside to meet Jonathan Byers, who is trying to find Nancy Wheeler.
Your only way out is through a portal into the Upside Down.
The deer carcass – a telltale sign that a Demogorgon is lurking nearby.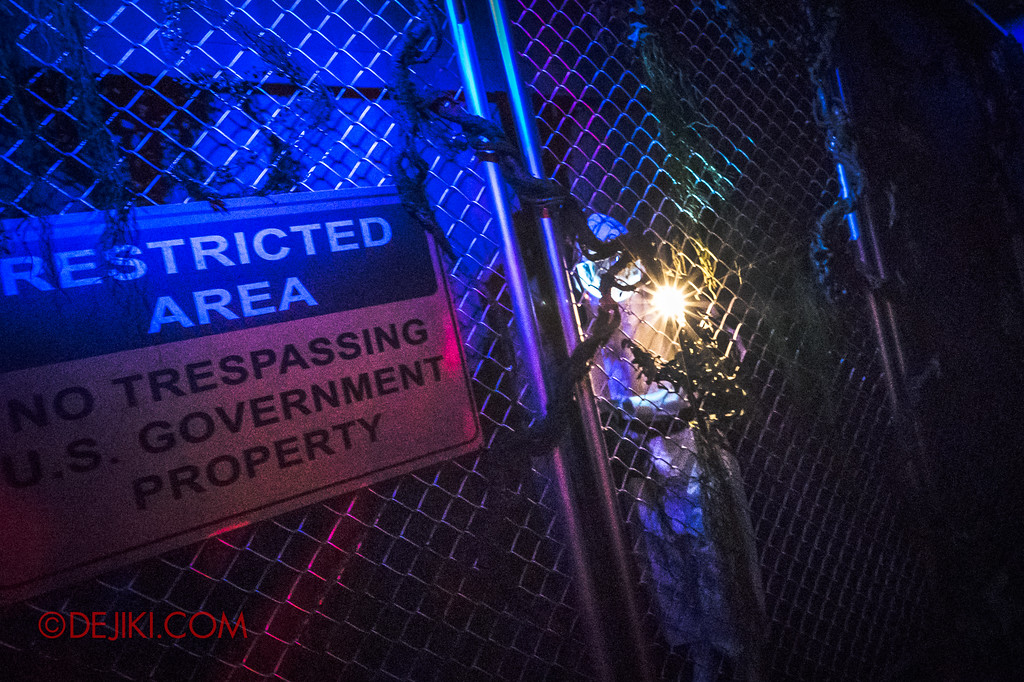 Swerve out of its grasp and flee into Hawkins Lab via a side entrance!
Relive an iconic moment from Episode 1: an unfortunate incident at the elevator.
The Rift Lab is on high alert, as more Demogorgons have breached into our world through this massive Gate.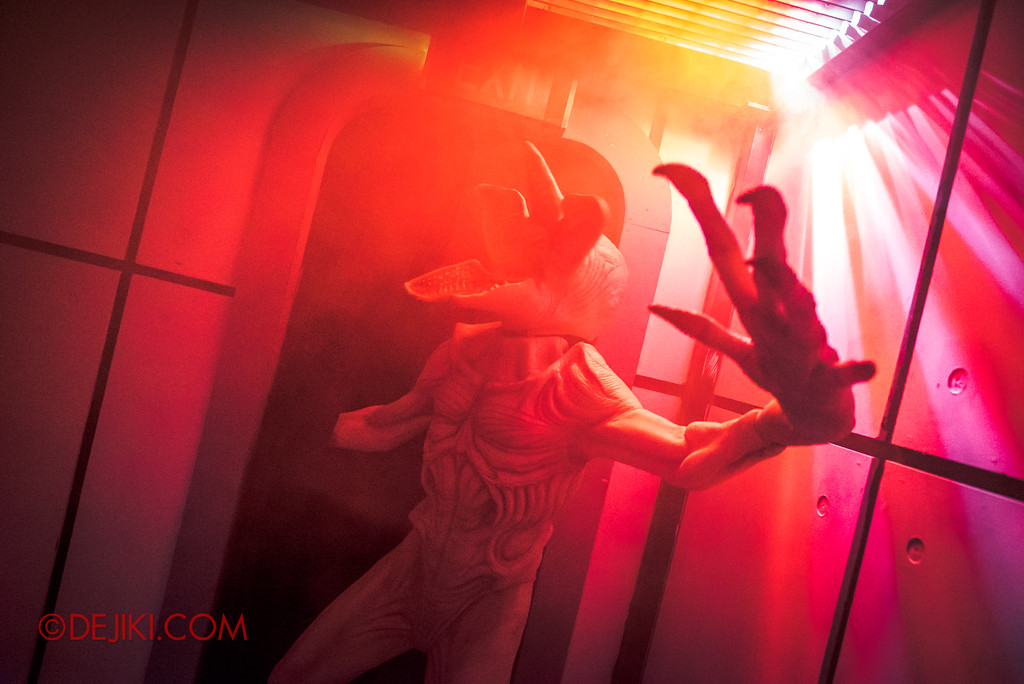 With no other exit, go into the Upside Down again to find Will Byers' makeshift fort, Castle Byers.
Engulfed by webbing and spores from the Upside Down, you find Will…
and discover Barb's unfortunate fate.
Another portal leads you back into Hawkins Middle School, where several Hawkins Lab agents are already dead, including Connie Frazier.
Race your way around the maze-like corridors, with danger at every turn.
At the house's final scene, you'll witness a tense showdown between Eleven and a Demogorgon.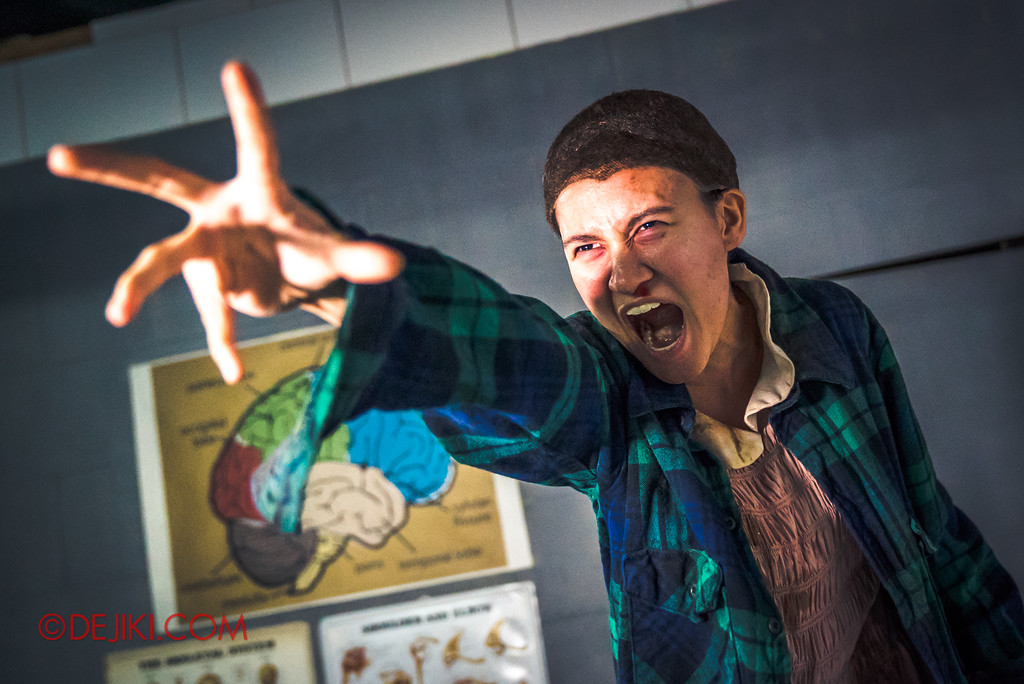 Goodbye, Mike.
Face your fears
Universal Studios Singapore's Halloween Horror Nights 8 is held from 27 Sept through 31 Oct 2018 on select nights. Tickets are available online at halloweenhorrornights.com.sg, or you can also buy them via my Klook link.
Halloween Horror Nights 8 – coverage presented by Dejiki
Check back throughout October for extended event coverage on Halloween Horror Nights – only on Dejiki.com! Like the FB page and share with your friends:

Halloween Horror Nights 10 (2022)
HHN10 REVEALED: Ticket and Event Guide
Halloween Horror Nights 10 MEGA Review: Photos of all Haunted Houses and Scare Zones
SPECIAL FEATURE: Behind the Scenes at HHN10 Haunted Houses
HHN10 RIP Tour (VIP Tour) Review

Features on Haunted Houses, Scare Zones and Experiences
The Silenced Auction (Opening Scaremony) | DIE-ning with The Dead | Monsters & Manifestations
Escape The Breakout | Killustrator: The Final Chapter | Hospitality of Horror
Operation: Dead Force | The Hunt for Pontianak | Dark Zodiac

Trick or Thrills (2021)
Halloween Horror Nights Exhibition
2021 Day and Night Halloween: DIE-ning with the Dead, Universal Monsters Scream Alley


Halloween Horror Nights – The Archives


Click to Expand and see all posts from past Halloween Horror Nights