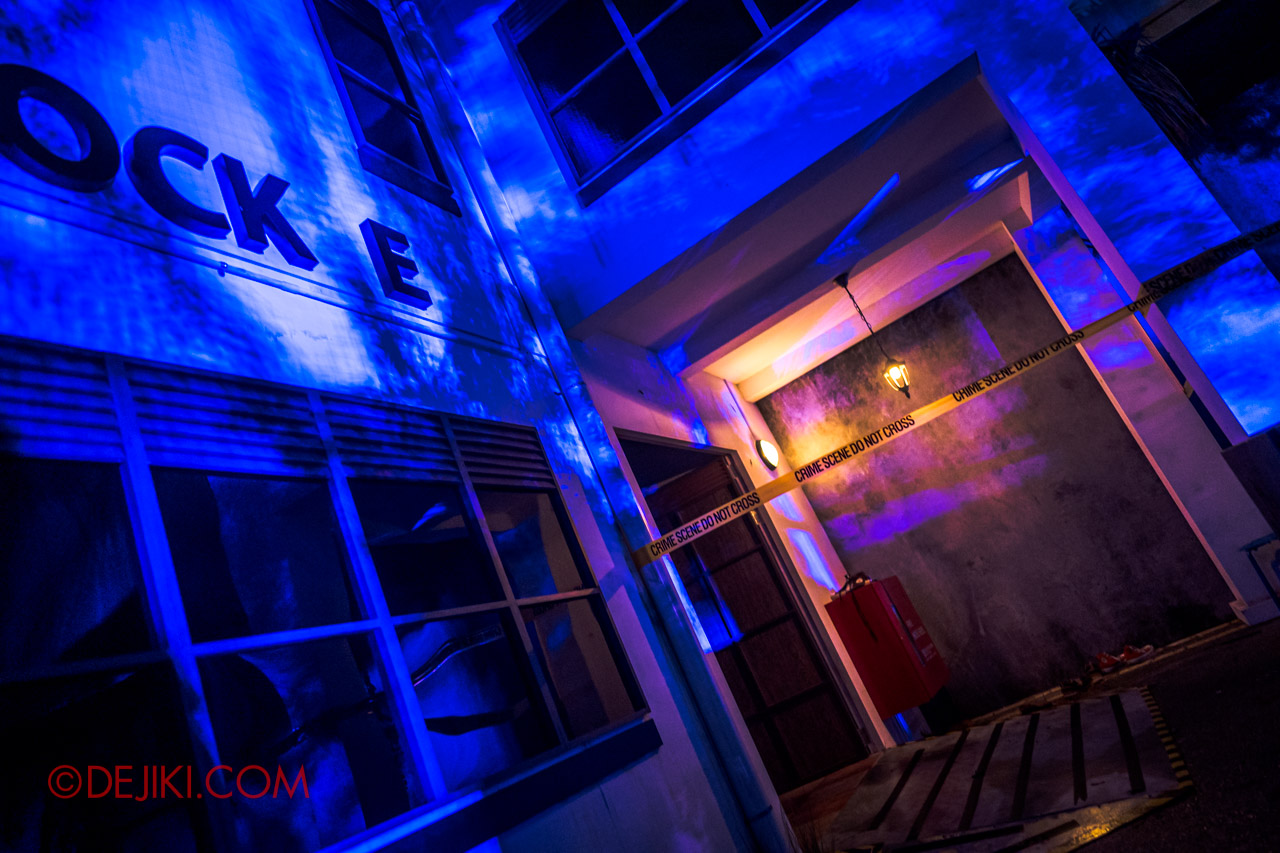 Investigate the mystery of missing teenagers and paranormal sightings in this haunted chalet at Universal Studios Singapore's Halloween Horror Nights 9.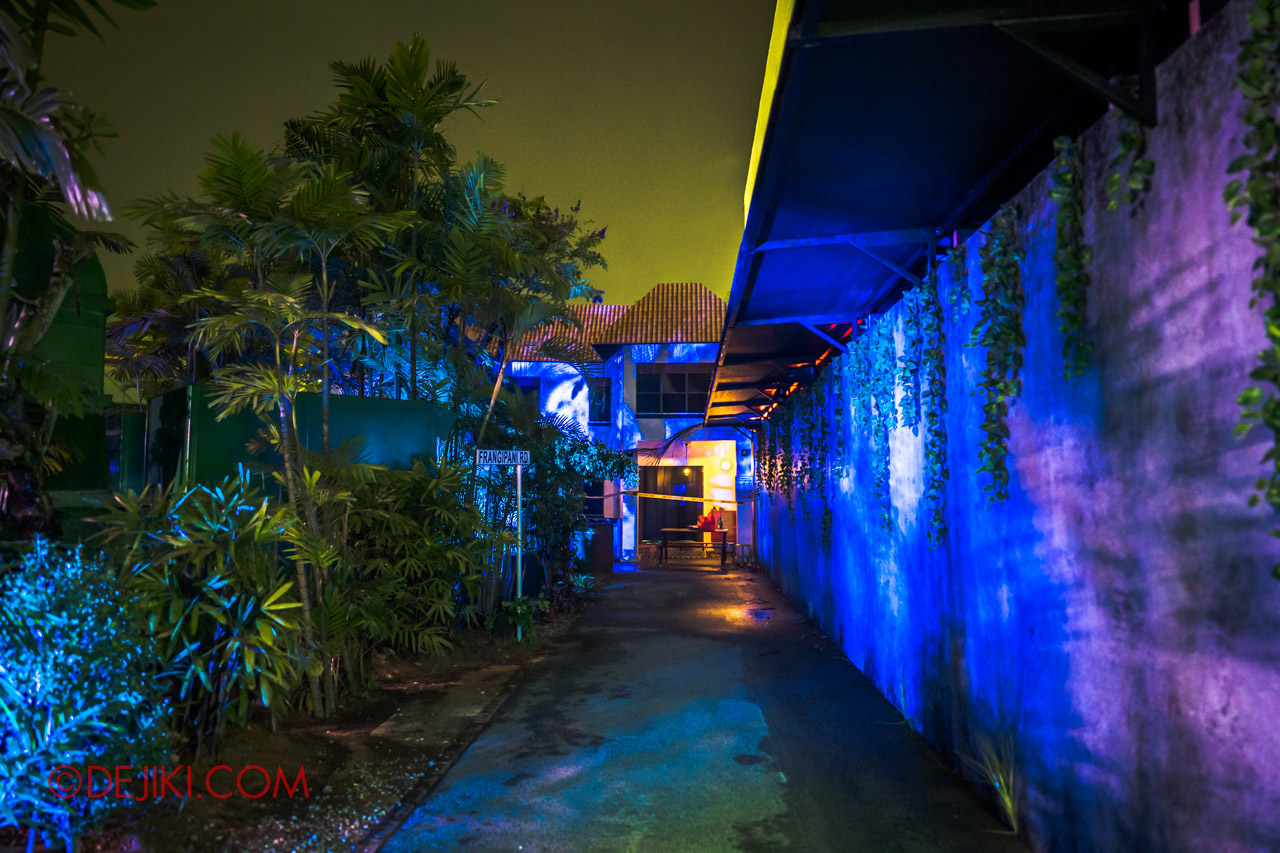 SPOILER WARNING
Photos of The Chalet Hauntings, a haunted house attraction at USS Halloween Horror Nights 9, are featured here to showcase its design and atmosphere. This is also a page for fans to share their thoughts.
Photography and video recording is not permitted inside any Haunted Houses at Universal Studios Singapore during Halloween Horror Nights.
Overview and Thoughts
I'll start off this year's haunted house photo tours with the unique 'local' house. The park has the reputation of making ordinary things scary in these locally themed productions – the Siloso Gateway Block 50 (HHN5) comes to mind. This Chalet tries to bring back the same effect, with much success in several scenes.
For the international readers: chalets in Singapore are like budget resort buildings that most Singaporean teenagers have been to, usually for parties or sleepovers with friends or classmates. Staying up late to share ghost stories or contact spirits (for some reason) are some common activities. For my time it has advanced to horror movie marathons. Of course, there's always unexplained things happening, and sometimes the mysteries don't stop until dawn.
There are two things I particularly enjoy about this house: First, is that we get to explore seemingly mundane scenes with 'invisible' ghosts, and then get to 'revisit' the earlier rooms with the ghosts and true horrors fully materialised. Second, is the use of unusual effects, such as the advancing door (using lighted scrim panels), UV-reactive strobe corridor, as well as the final stunt room where an entire wall drops.
Like all haunted houses, this chalet is best experienced alone for the most unsettling and scariest experience. You will have to be among the first, or the last, guests entering this haunted chalet for maximum effect.
---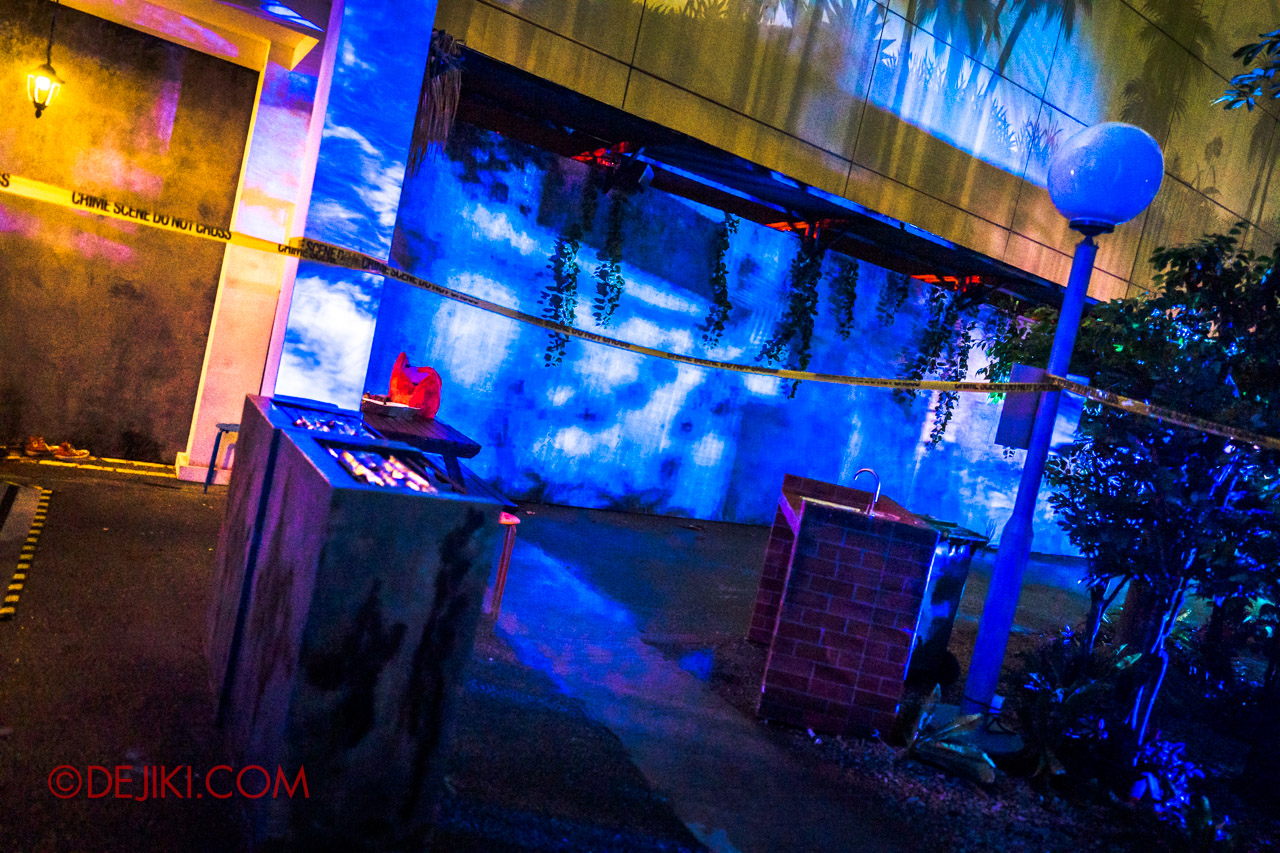 Five teenagers have never checked out of the 'Block E' chalet at the end of Frangipani Road. Feeling adventurous in the middle of the night, you decide to go beyond the police tape and explore the abandoned chalet building.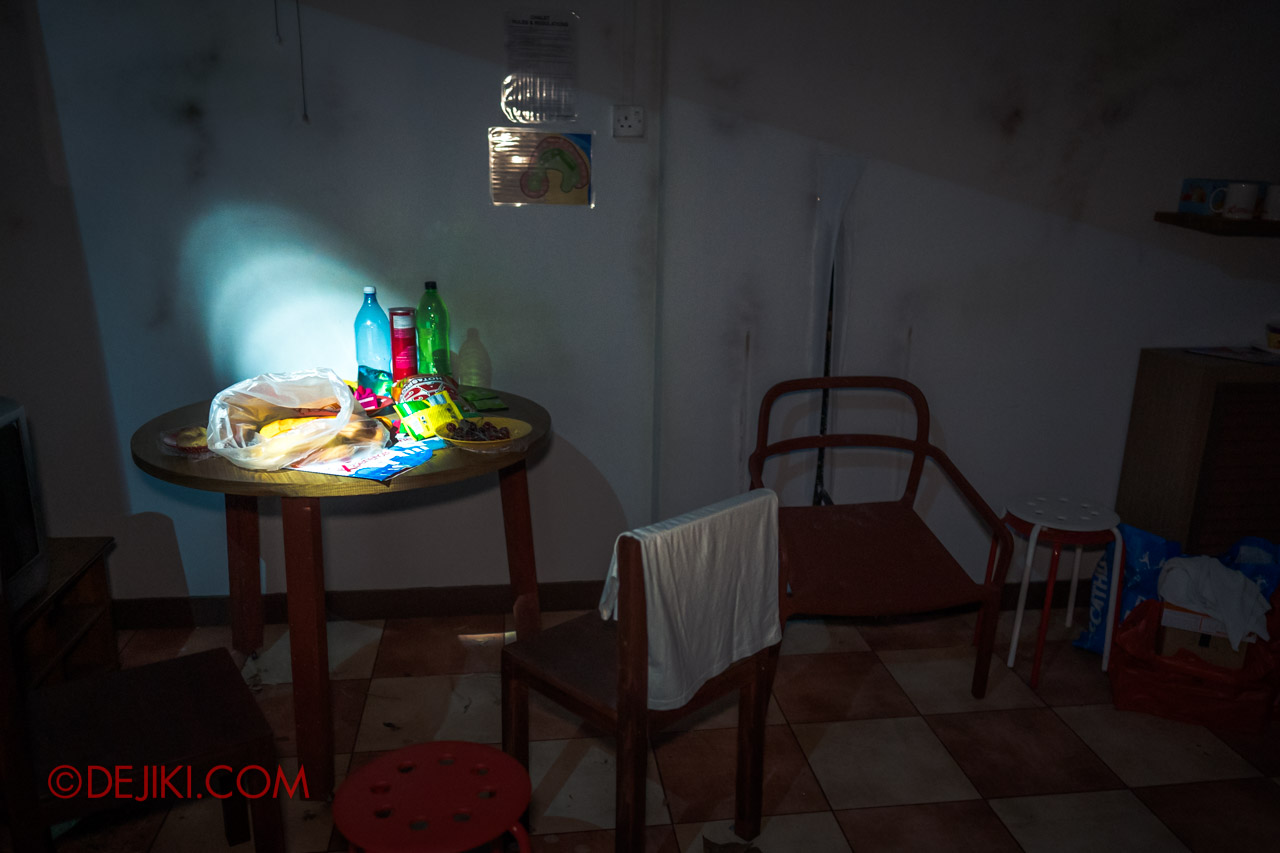 It looks abandoned, but you hear faint sounds, clearly someone is still around. As you shine light to see better around the room, furniture starts to move on its own.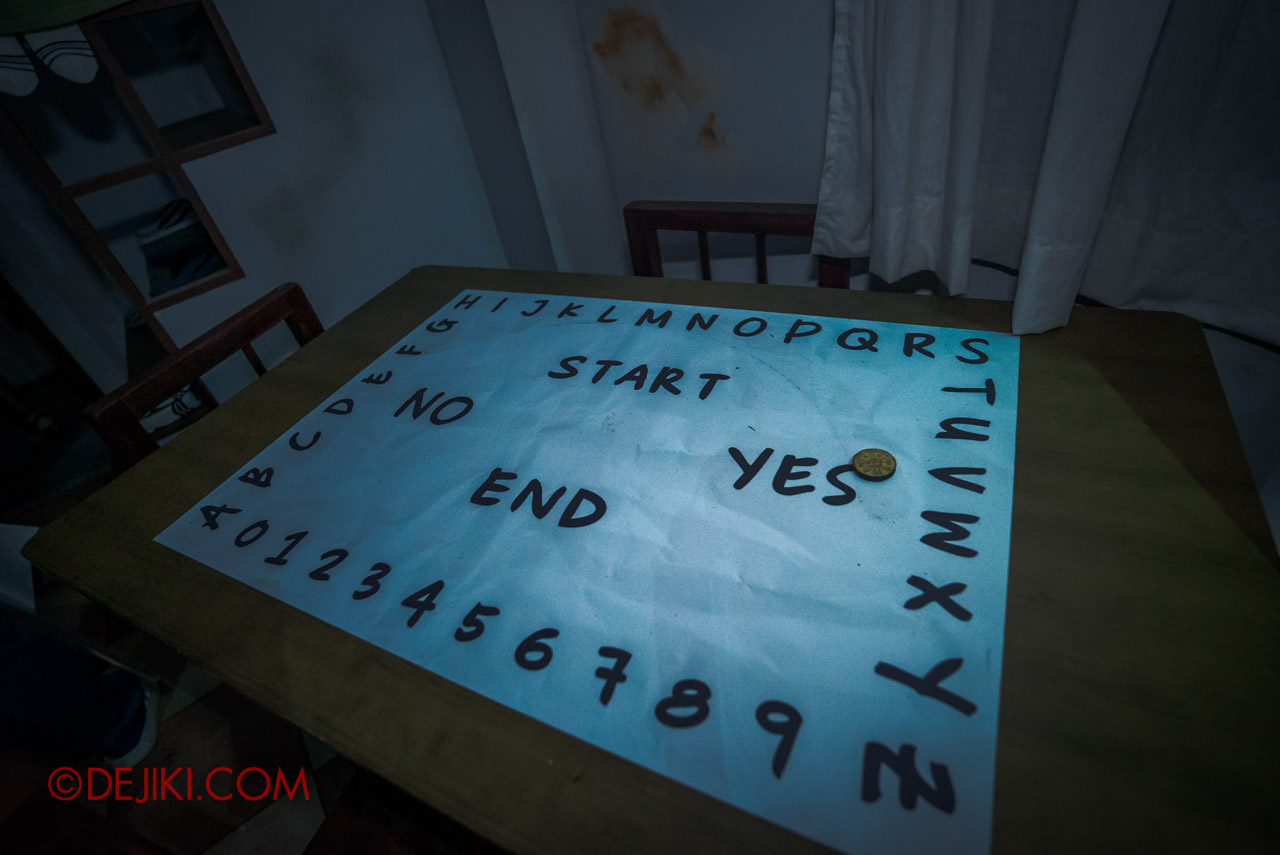 On the other side of the room, a coin slides on a table. The teenagers must have been playing the Spirit Coin game on a makeshift Ouija board.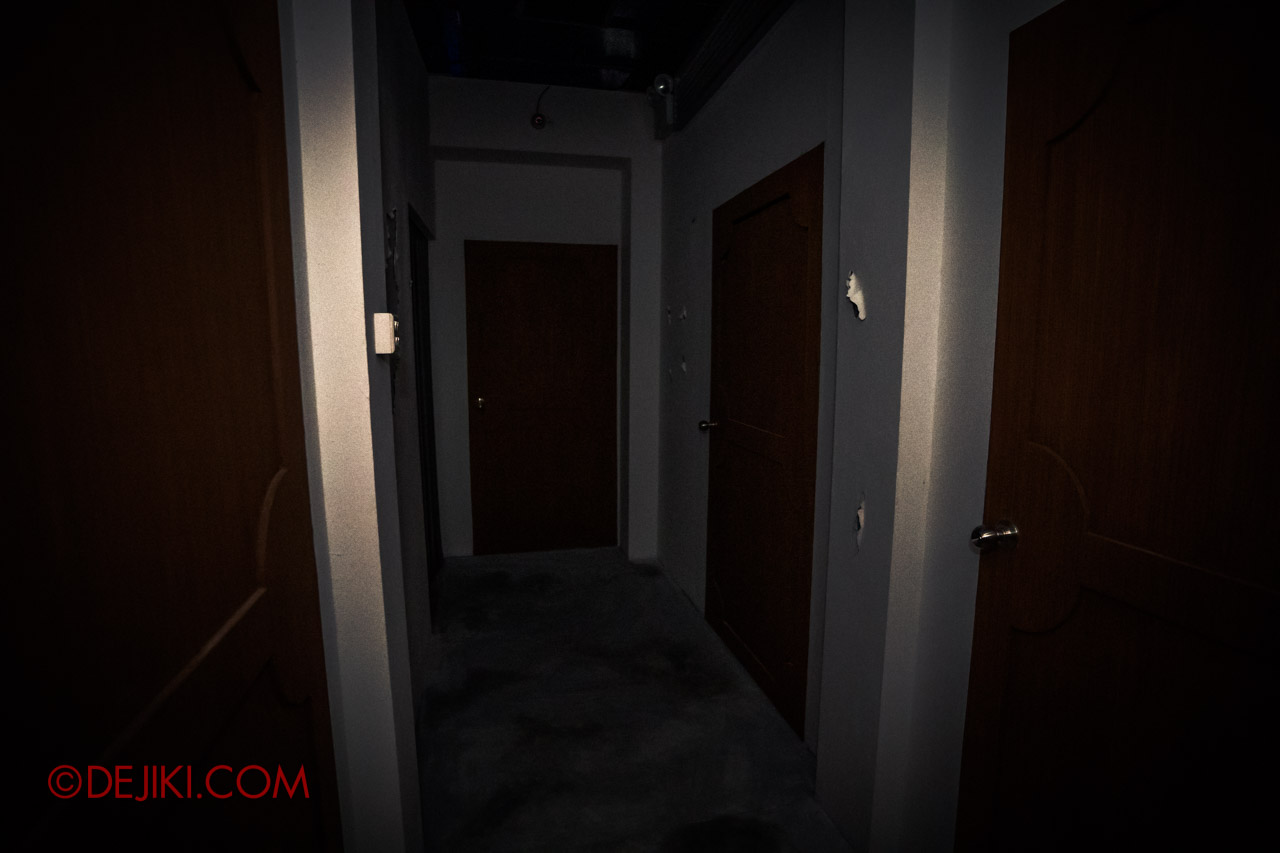 Walking around the building, you start to hear ghostly wails, and spirits slowly start to manifest.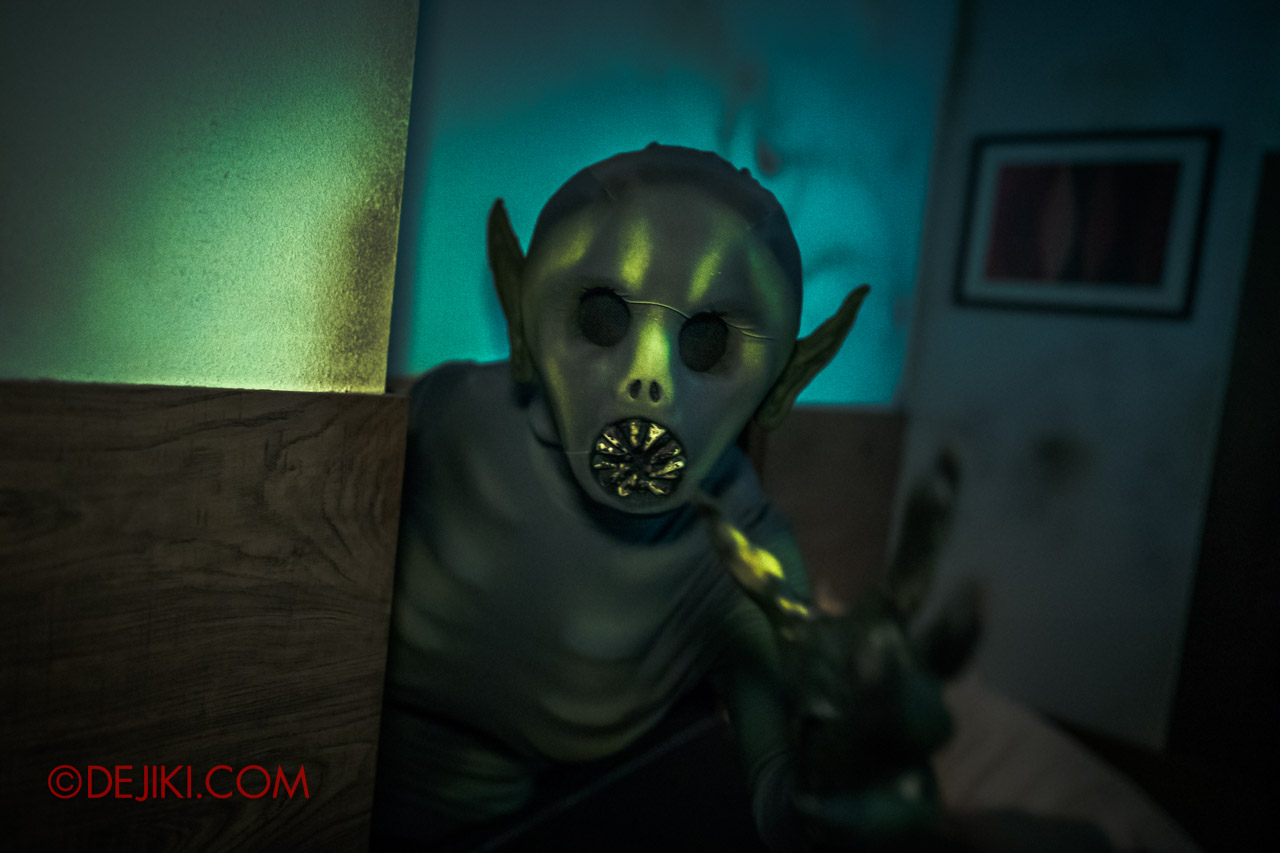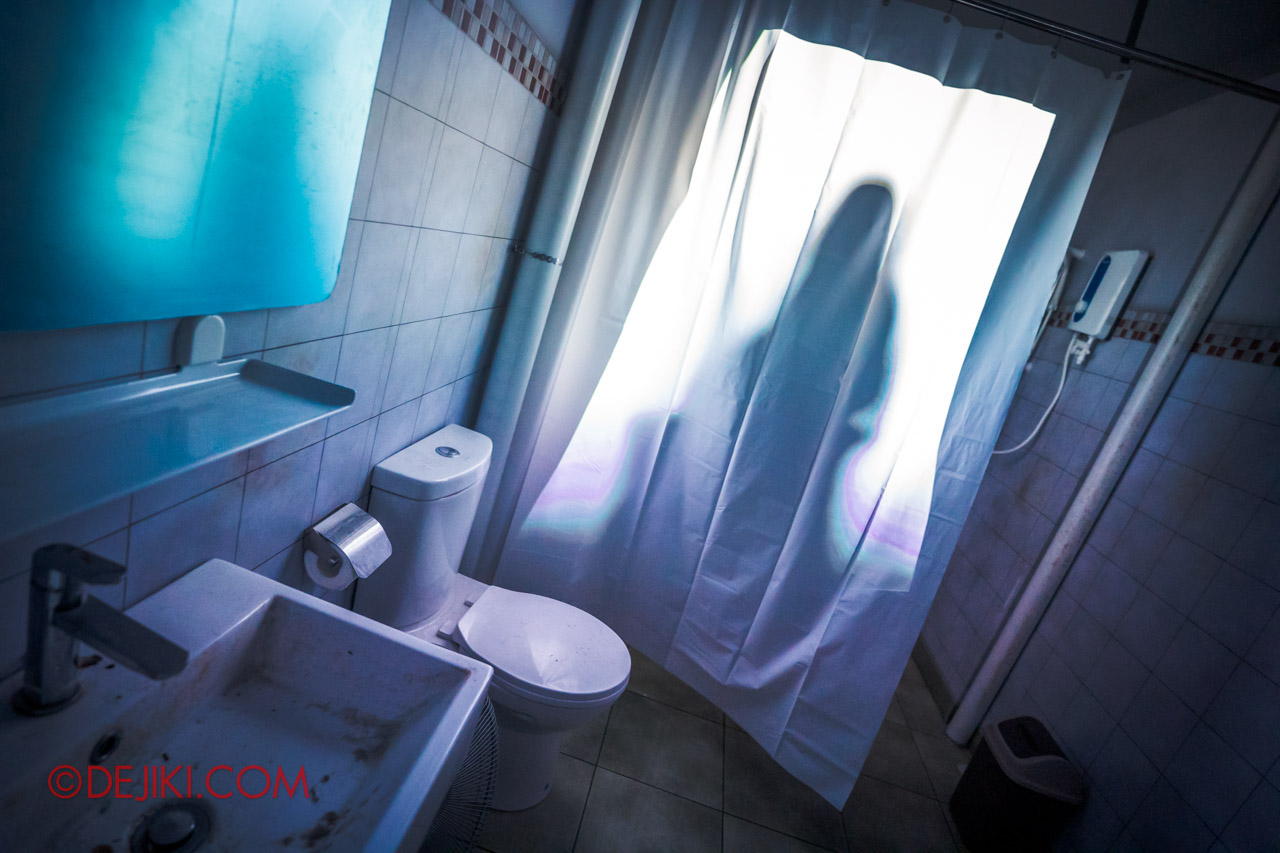 You find a creepy shadow in the bathroom – the curtain slowly pulls away. There was no one behind.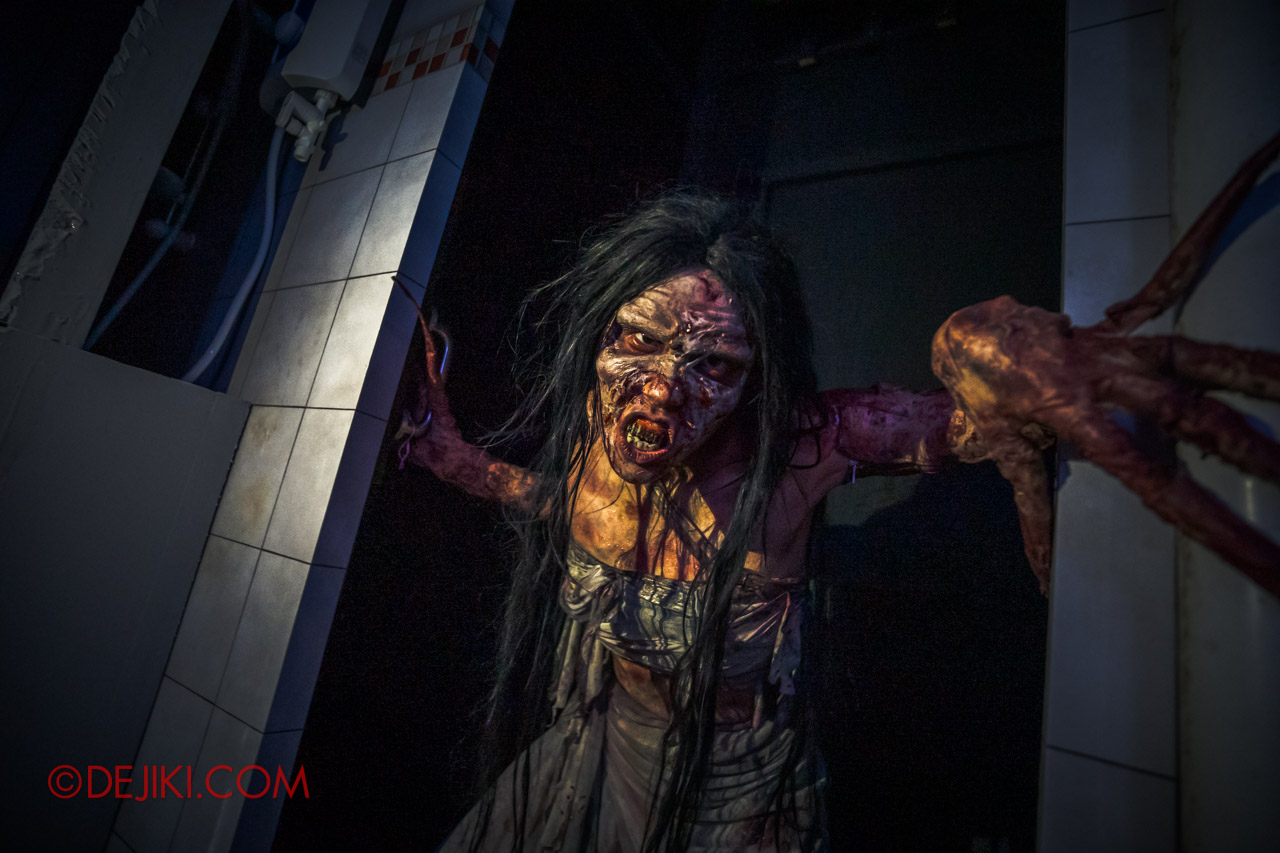 As you walk closer, a langsuir bursts out of the showers – swiping her claws at you.
Rushing away, you find yourself in a blacked out corridor – you have gone through a portal and are now between the walls, and between two worlds. A door glows in front of you, and quickly advances towards you.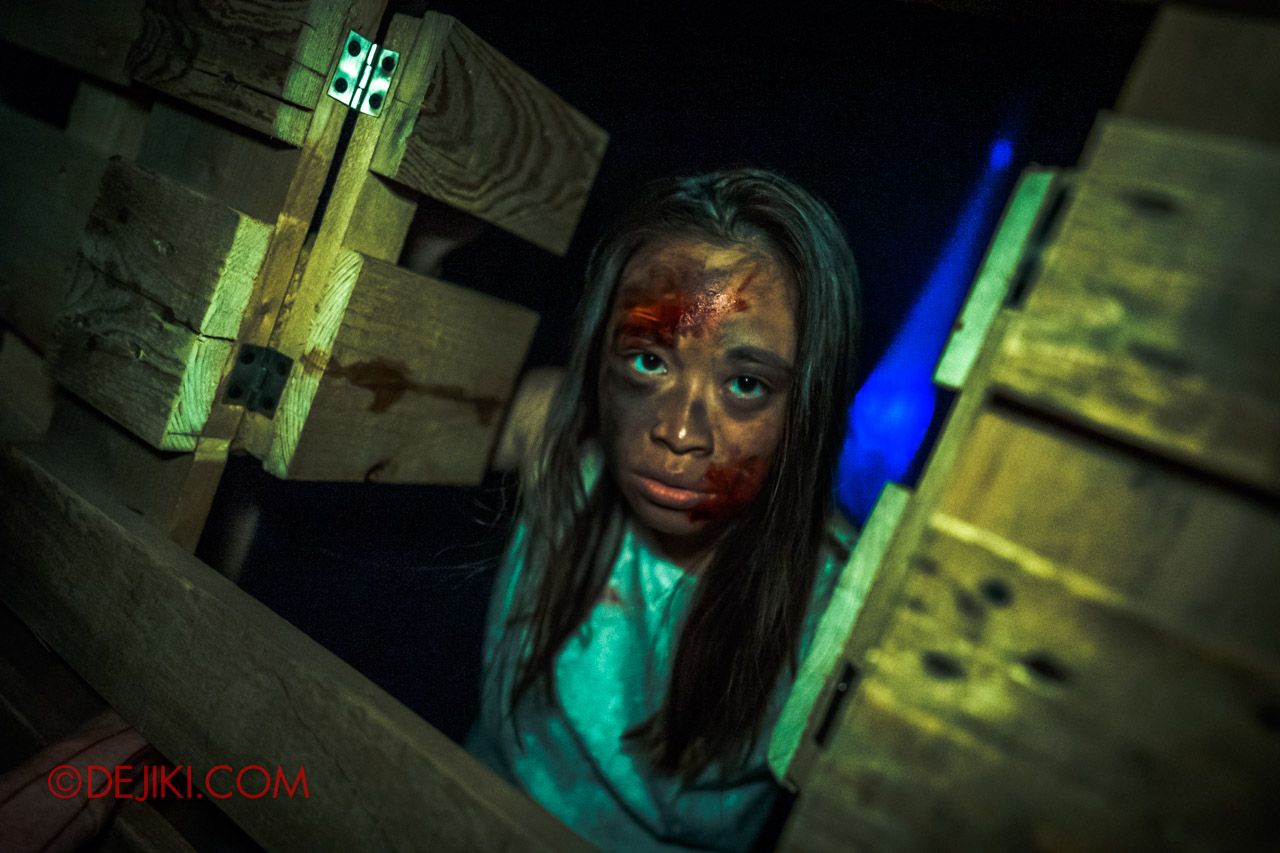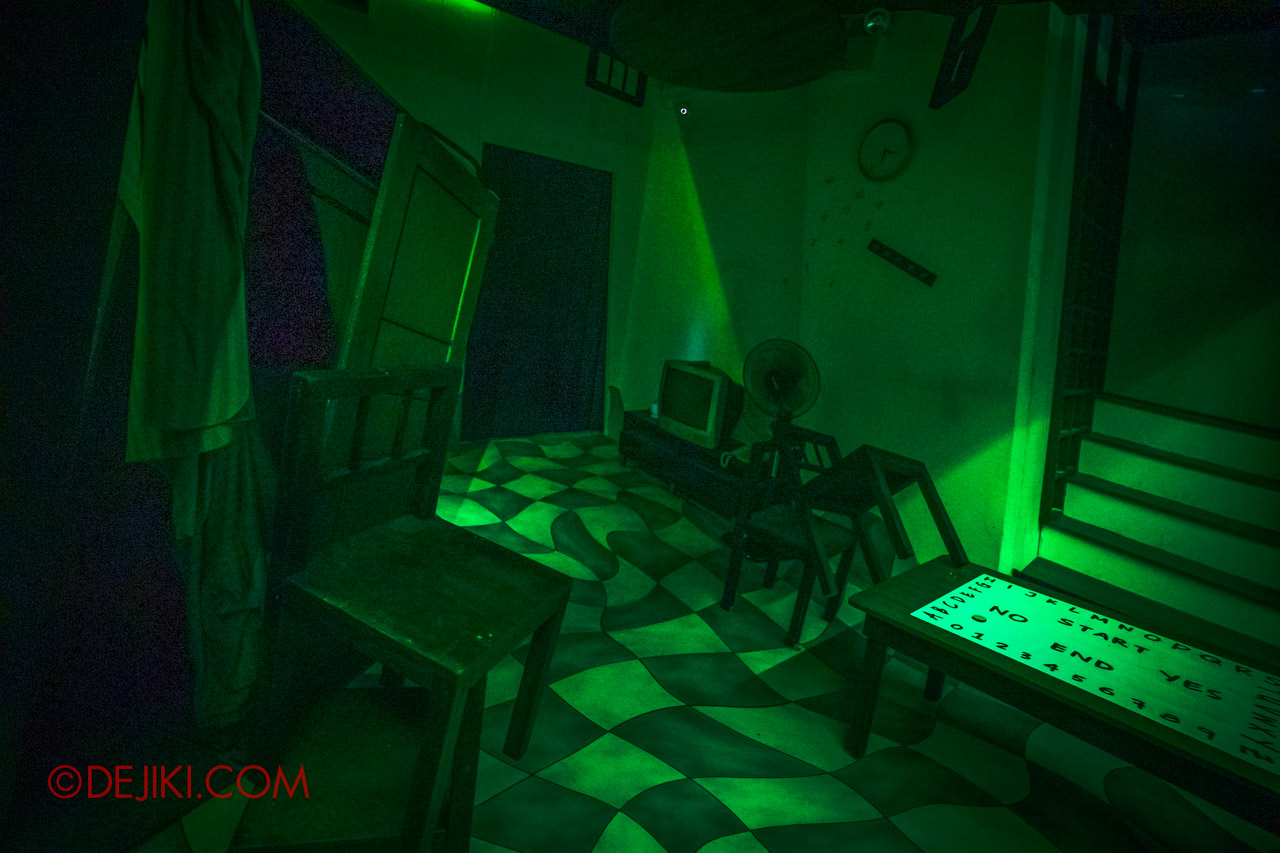 You are back in the living room – but everything looks distorted and doused in green.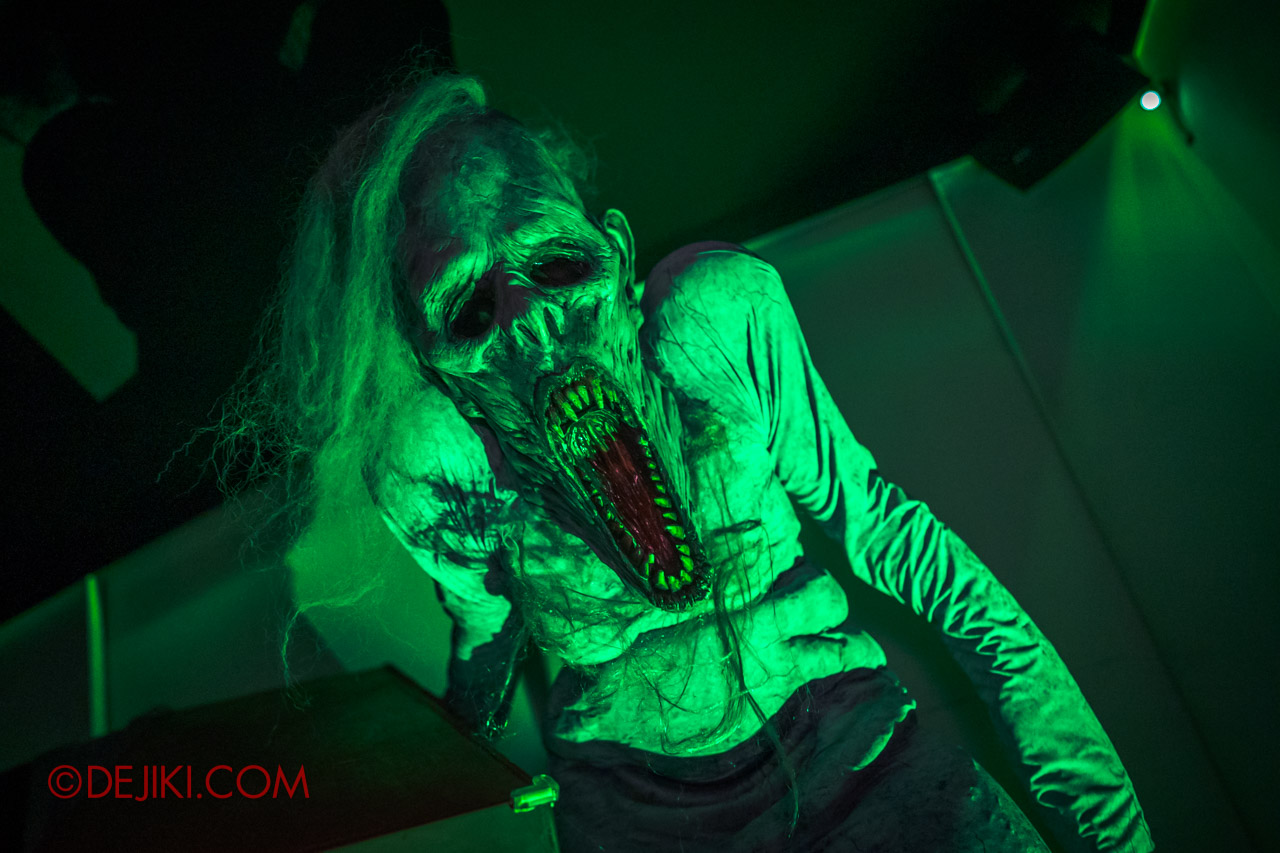 A gigantic Hantu Gala lunges towards you.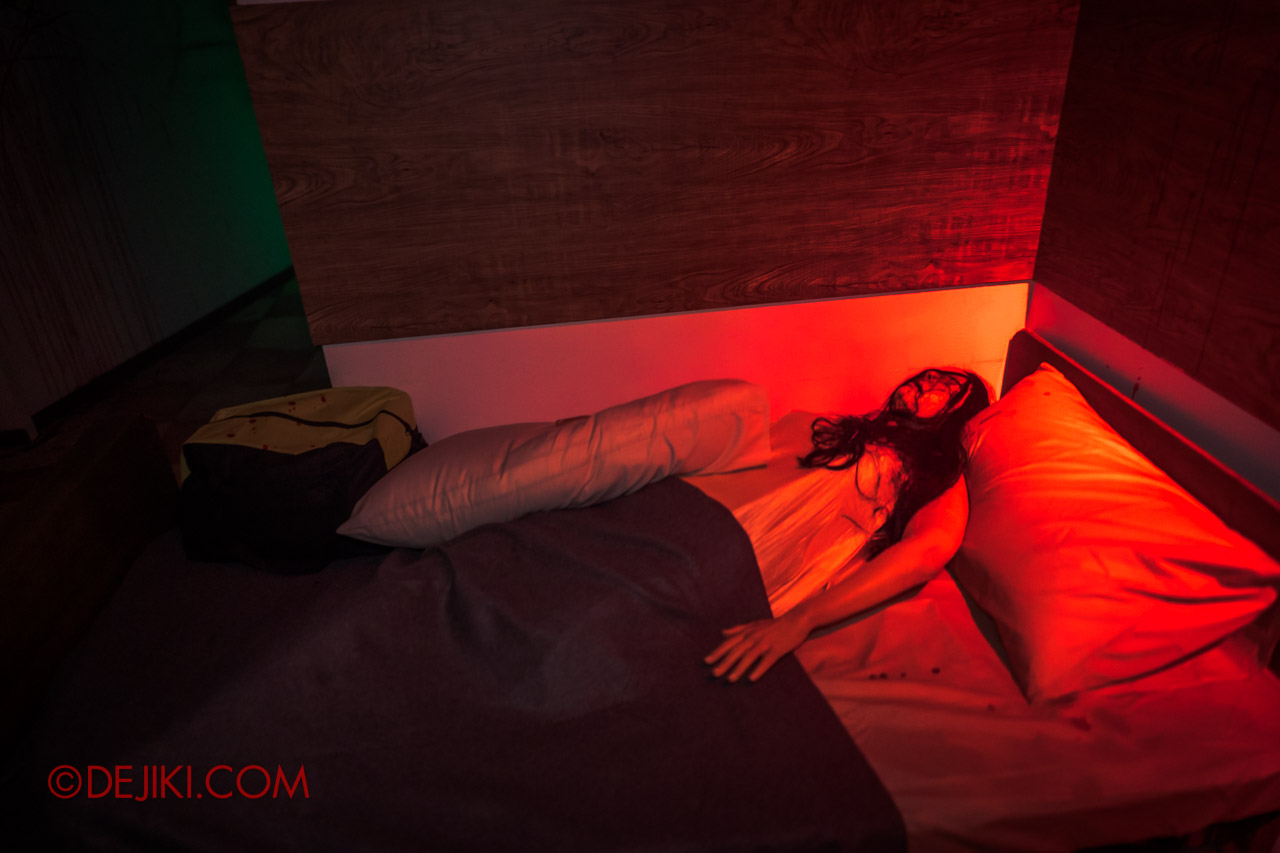 You run back to the bedroom – now filled with haunting apparitions of a long-haired woman.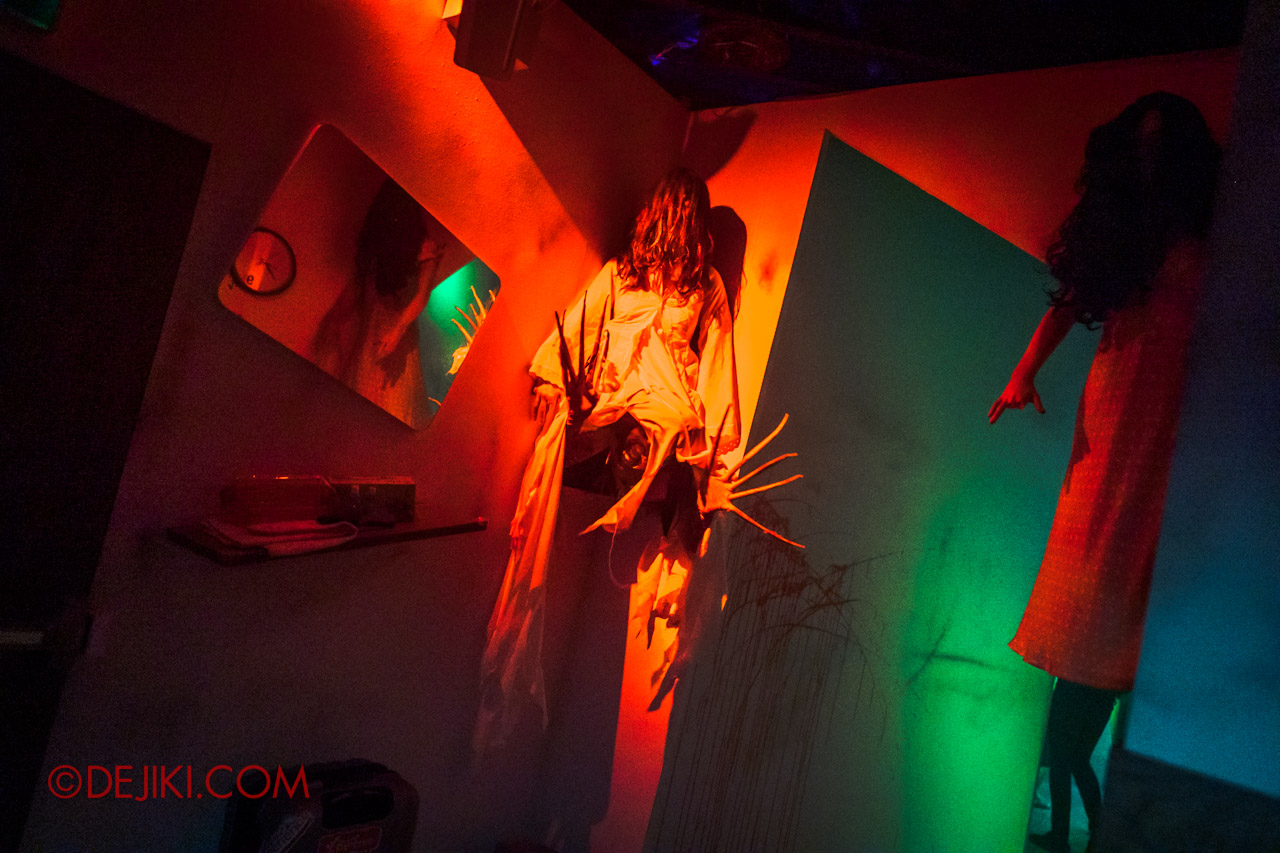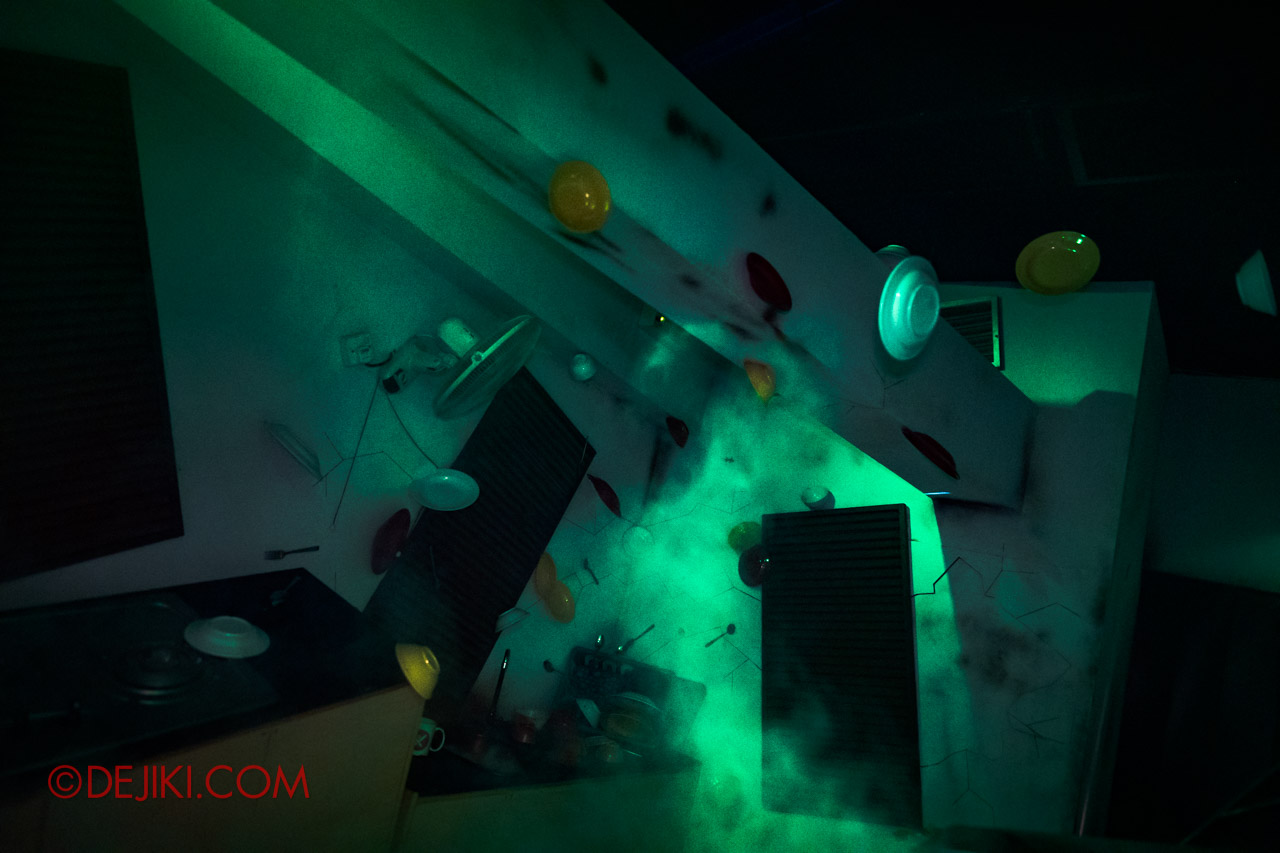 The kitchen stirs, now with appliances going crazy. More items have started floating.
Barely avoiding the troubling ghosts haunting the kitchen, you finally make your way out.
It's a bloodbath outside the building.
The langsuir is behind the violent attacks, but you notice that there are more ghosts emerging from the shadows.
Running past them, you go around the fenced up area and end up back indoors.
The walls have started to break apart, with letters and words flashing on the fragments.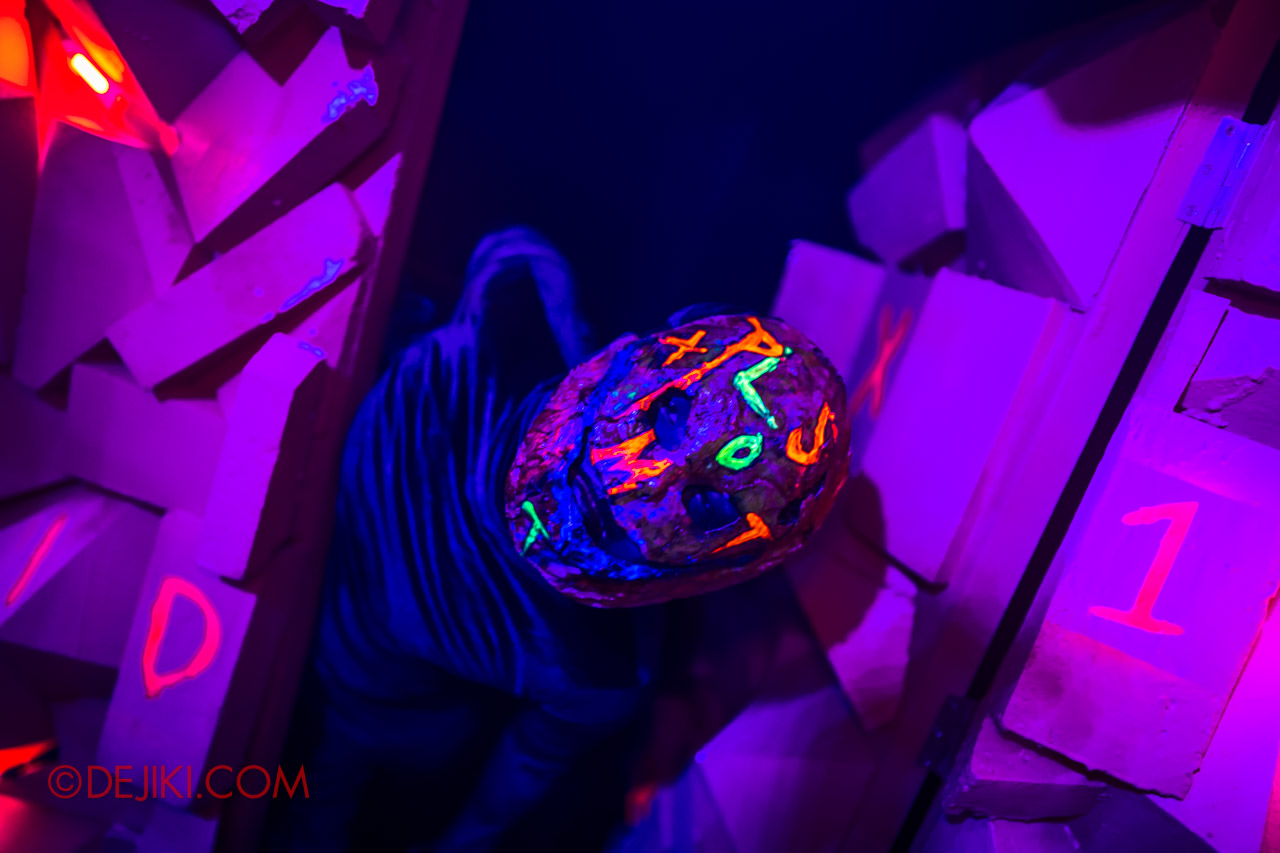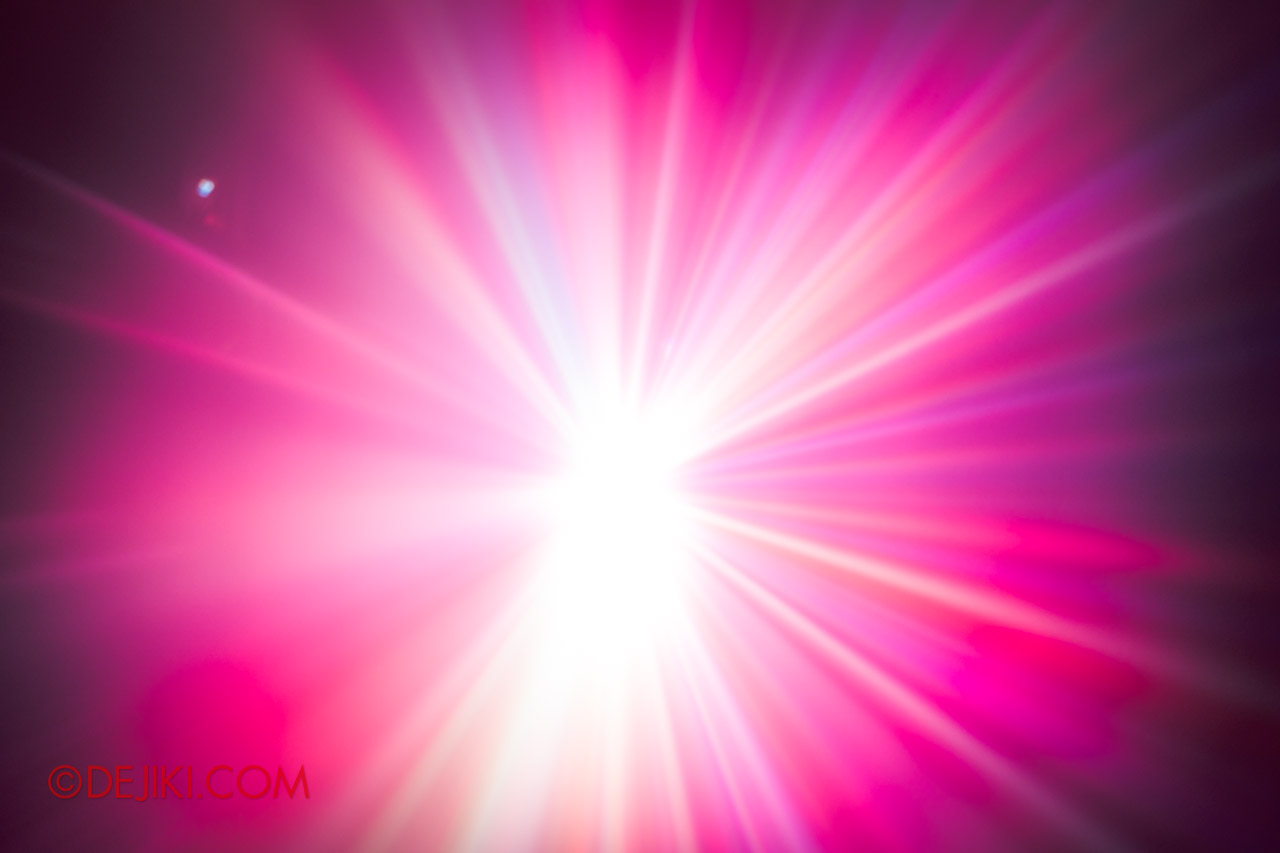 The path forward leads to a boundless realm with piercing lights. All of a sudden, a langsuir charges towards you.
You barely dodge her claws and sprint towards the nearest way out of this haunted chalet. The fates of the missing teenagers remain a mystery.
---
Halloween Horror Nights 9: Select Nights 27 Sep – 31 Oct
Prepare for the event: Get all the info here
You can get all essential info you need at my Halloween Horror Nights 9 Event Guide. Tickets are available online at halloweenhorrornights.com.sg, or you can also buy them via my Klook link.
Get more HHN9 updates
More photos from the haunted houses will be published on my Instagram (@dejiki) and on this website as special features. Follow me on Facebook for updates.
---
Halloween Horror Nights 10 (2022)
HHN10 REVEALED: Ticket and Event Guide
Halloween Horror Nights 10 MEGA Review: Photos of all Haunted Houses and Scare Zones
SPECIAL FEATURE: Behind the Scenes at HHN10 Haunted Houses
HHN10 RIP Tour (VIP Tour) Review

Features on Haunted Houses, Scare Zones and Experiences
The Silenced Auction (Opening Scaremony) | DIE-ning with The Dead | Monsters & Manifestations
Escape The Breakout | Killustrator: The Final Chapter | Hospitality of Horror
Operation: Dead Force | The Hunt for Pontianak | Dark Zodiac

Trick or Thrills (2021)
Halloween Horror Nights Exhibition
2021 Day and Night Halloween: DIE-ning with the Dead, Universal Monsters Scream Alley


Halloween Horror Nights – The Archives


Click to Expand and see all posts from past Halloween Horror Nights