Read all about Universal Studios Japan's Universal SURPRISE Halloween event – reviewed by guest writer Yukendoit!
I'm glad to run Scott (Yukendoit)'s guest article about Universal Japan's Halloween event here! My sister Giselle also happened to visit the park recently, so everything came together for this one-of-a-kind event coverage. Here it goes!
---
Hello all you wonderful people and greetings from the land of the rising Sun. While ol' Dejiki might cover Singapore's amazing Halloween Horror Nights, an event which one could easily argue is superior to the one in Orlando, there is another Asian Halloween Horror Nights taking place.
If you haven't figured out which event I'm currently writing about from the title of this article you may want to take your brain pills. The event in question is Halloween Horror Nights at Universal Studios Japan.
When comparing this event to Orlando, Hollywood, or Singapore the first thing that will jump out to you about this event is the fact that you can't buy tickets for it. They aren't on the website, even though there are express passes for the Halloween attractions on sale. You can't buy them at the front gate either! This is because the event is completely FREE with a one-day park ticket.
On top of it being free, there is a huge chance that you might walk by Deadpool or Batman while you are in the park. These aren't park characters, they are guests cosplaying. They have got a bit stricter from past years on what you can wear but if you want to dress up like a zombie, it's your world!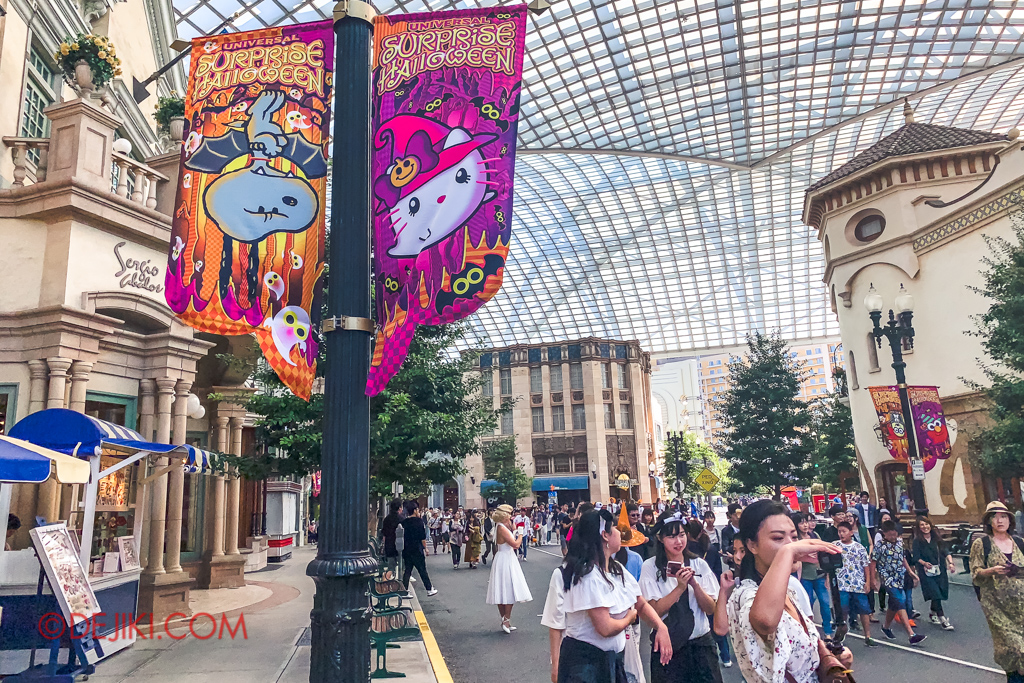 For the year 2018 they have three different types of ways to experience this unique HHN, but it really only bottles down to two. If you're coming to the park with children you can spend the morning trick-or-treating, either by going up to staff and saying "trick-or-treat!" or participating in the biggest child candy organised free-for-all. And at night the kids zone (Universal Wonderland) as well as the area leading to Minion Park, is a safe area – so no zombies can be seen. The kids zone in particular has some neat and super cute projections, it's worth stopping and taking a peek.
However if you are coming to USJ for screams they've got you covered. Two of the five haunted houses open at 10AM. But before I get into the houses and explain them there is two things you want to know. If you wish to see the extreme haunted house Hotel Albert you must get a pass online as they are most likely sold out at the gate. If you are ok with missing the extreme house, you can get in the others for free. But you have to get free timed entry tickets to "Insidious: The Last Key" and "Silence in the Ghost Ship". These tickets are distributed at Soundstage 14 near the lake.
You made it this far let's talk about the haunted houses.
USJ HHN 2018 haunted houses (horror mazes)
Cult of Chucky
You can't escape Chucky. Even if you leave the country he's going travel with you. This is a returning haunted house which is mostly unchanged from its 2017 premiere. The haunt is based off the film Cult of Chucky. You wonder through a sanatorium whose lead doctor thought it be a good idea to use good guy dolls as relaxing toys for their patients. Well since that decision Chucky has taken over the institution and the patients are now following him as a deal-facto leader.
The scares are great in this house and even though you will be pulsed through his house (meaning they stop your group at the entrance and tell you to wait) you will probably run into the group in front of you. There is a bit of a showy scene to end the haunted house as well. Even though it's been seen before it's still a great house. This house is one of two that opens at 10AM.
I give it 👻👻👻 3/5 ghosts for its atmosphere and scares.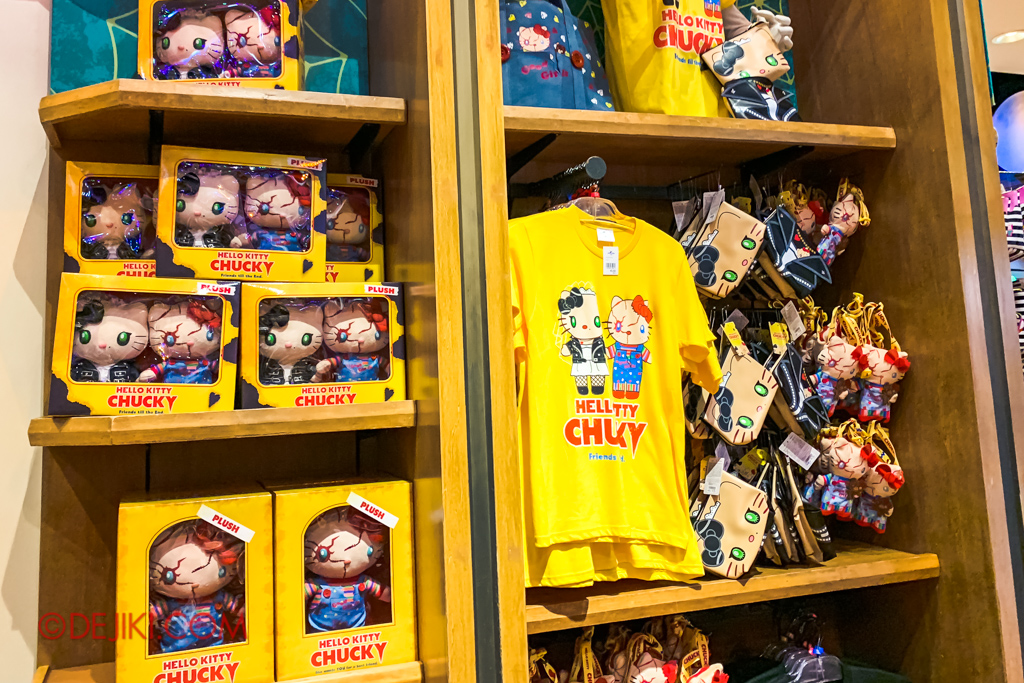 Hello Kitty Chucky merchandise is back
The Survival: Dead Man's Forest 2
Like the above house this haunt opens at 10AM. This is also the second longest haunted house at the event, clocking in at about 30 minutes. This is a returning house that has the same set up as last year but with completely different tricks. You are brought into a lab where they are experimenting on zombie-like creatures. These creatures break out and you are sprayed with a poisonous gas. You have to remember a code and transverse woods, giant creatures, and the clock as the government is set the blow up the base in 10 minutes – oh also there are two platforms at the end one is broken but the other one will get you out. They aren't sure which one is busted, good luck!
The haunt is incredible, the setup for it takes place in the two preshow rooms for Backdraft and then you are sent out in the woods. Since a quarter of this is outside, the daytime light can hurt the scariness of this attraction so I'd recommend going at night. However prepare to get wet!
You can teach an old dog new tricks and with the addition of huge monsters The Survival: Dead Man's Forest gets 👻👻👻👻 4/5 ghosts
Insidious: The Last Key
Strange that a sequel to the original Insidious would come to Japan, but this is how it is. This has a unique twist: your group has to hold on to a red rope the whole time keeping you connected as a group. You wander the hallways of "The Further" with a key that you are given in the hopes to unlock a red door. This haunt features a lot of surprising fake walls, drop doors, and one area where you can hear Tiny Tim's "tip toe through the tulips".
Other than the red rope that you have to hold on to, this haunt feels like one you could experience at any other Horror Nights around the world. But that makes it awesome! It's a wonderfully timed house with unique scares and well timed distractions.
The haunted house is up there with the best of the event. 👻👻👻👻👻 5/5 ghosts
Silence in the Ghost Ship
This is one of most high concept ideas seen in a haunted house. In most houses, when a scary guy jump out at you and go boo, you scream. Well this house dares you to not make a sound. You find yourself on a decrepit ship with its ghostly staff still on board. Their faces have rotten away from the years of drifting out at sea. Any sound that is made triggers the ghouls to your location. Also there are multiple pathways and it is quite easy to lose your party and find yourself alone in this house. There are a couple moments where you'll turn a corner only to find a moaning ghost in your face.
Hands down this house floored me. It was fun, creative, and spooky. I wish this house could tour to different HHNs around the globe to see what Japan's event is like. 👻👻👻👻👻 5/5 ghosts
Hotel Albert
Now I personally can't comment on this house as its 90 minutes long and as of the writing of this article I can't seem to get a ticket into the hotel. If you like your experiences long and horrifying though, I hear a stay at this hotel will really shake you up.
USJ HHN 2018 scare zones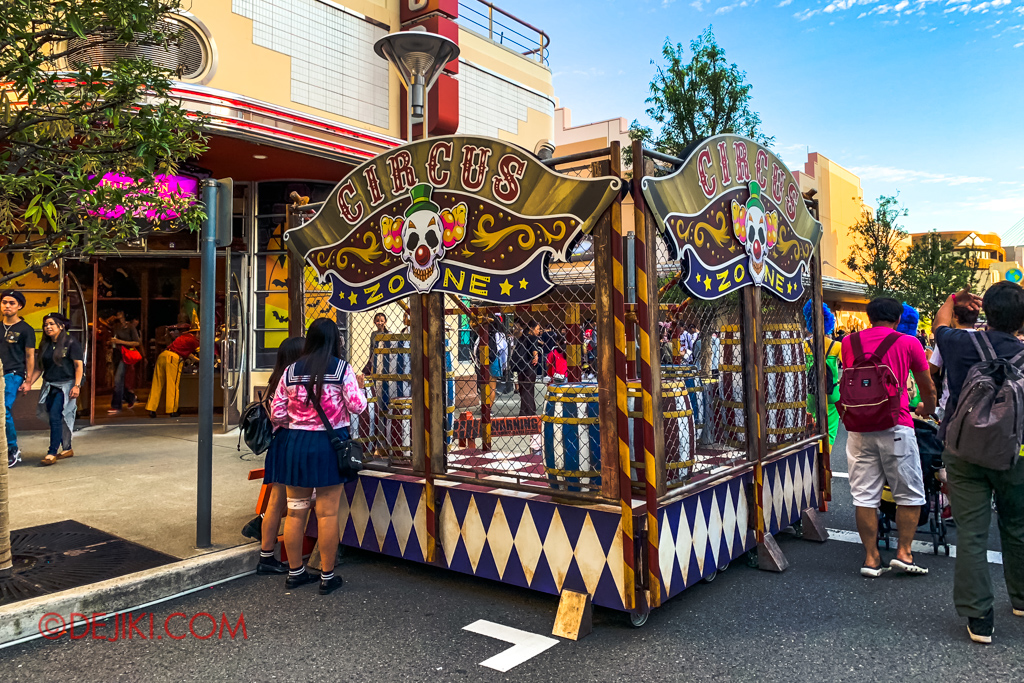 This year is the first year at HHN in Japan that they have decided to have actual scare zones in the park. In 2016 they did have the J-horror zone but it was only one area. The whole park is covered with zombies but they are all located in different areas.
The Circus zone is huge and features clowns and gorillas mucking about. The Pirate zone features the menacing dwellers of the sea seeking gold and crew. The Cutie zone which seems to be the busiest and most popular zone has zombie girls in cute dresses with chainsaws. The Toxic zone has zombies that have taken too much of their own medication. The Tribal zone feels like if their was a Mad Max spinoff that happened during the Stone Age. The Mutant zone is where you can find the grossest, most disgusting, hideous creatures at the event. However I'm sure they have a good heart though. And the Prisoner zone would be the most standard zone at Japan's Horror Nights. Convict zombies with chainsaws. About every 30 minutes the zones light up and they all get out in dance both normal cast zombies and dancers a like break it down and boogie.
USJ HHN 2018 shows
SADAKO: The cursed attraction
For five years this show has taken over the Terminator 2: 3D show. Tricking guests into believing that they are just watching a normal attraction until the girl from "The Ring" shows up and frightens the audience. This is the most uncomfortable you'll ever feel while watching a show in a theme park. The well girl is everywhere, on the screen, to the right of you, behind you, it's a great use of the last Terminator show in existence. 👻👻👻👻👻 5/5 ghosts. A must see!
Blood Legend
They went a bit out of the box this year and went with a show on vampires. You learn the history of vampires and they focus on a Hungarian woman who is said to be "the scariest vampire of all time". Jump cut to today and you are watching two Japanese girls on a holiday in Budapest. You are not going to believe this but they run into vampires. It totally messes up their vacation. This is an alright sit down movie you watch where your seats move but I can say this is one that if you don't have time you can give it a pass.
It doesn't suck, but it gets 👻👻 2/5 ghosts.
And that my friends is a peek into Halloween Horror Nights in Japan. If you enjoyed reading this or watching the videos put into it, you might want to check out my YouTube channel on the old internet. A big thanks to Dejiki for having me on. If you've been to HHN in Japan let me know in the comments or one of my many HHN videos!
You can do it, I can do it, we can all do it!
---
That's it folks! Many thanks to Scott for taking time to write and share about his Japan HHN experience, and Giselle for sharing with me all the photos.
Thinking of heading to Japan for its massive Halloween event? Get all the info you need and buy your tickets here.
Halloween Horror Nights 10 (2022)
HHN10 REVEALED: Ticket and Event Guide
Halloween Horror Nights 10 MEGA Review: Photos of all Haunted Houses and Scare Zones
SPECIAL FEATURE: Behind the Scenes at HHN10 Haunted Houses
HHN10 RIP Tour (VIP Tour) Review

Features on Haunted Houses, Scare Zones and Experiences
The Silenced Auction (Opening Scaremony) | DIE-ning with The Dead | Monsters & Manifestations
Escape The Breakout | Killustrator: The Final Chapter | Hospitality of Horror
Operation: Dead Force | The Hunt for Pontianak | Dark Zodiac

Trick or Thrills (2021)
Halloween Horror Nights Exhibition
2021 Day and Night Halloween: DIE-ning with the Dead, Universal Monsters Scream Alley


Halloween Horror Nights – The Archives


Click to Expand and see all posts from past Halloween Horror Nights