The first-ever Halloween Horror Nights Exhibition will take you back through 9 years of horrors with an inside-out look of the creation of its haunted houses, scare zones and shows. Find out more in this article.
What is the Halloween Horror Nights Exhibition?
From now till 7 Nov 2021, Universal Studios Singapore is holding the first-ever Halloween Horror Nights Exhibition, offering guests a behind-the-scenes look at Singapore's HHN history and allowing them to revisit the sights, sounds and scares from the first 9 years of the region's largest horror event. It takes place at Soundstage 28, the very space where incredible haunted houses rose from the ground.
This article comprises a Photo Tour, a Short Review, and a list of ticketing options for the HHN Exhibition.
Halloween Horror Nights Exhibition Photo Tour
Your tour begins in a small gallery at the foyer – where photos and posters of the Universal Monsters are featured.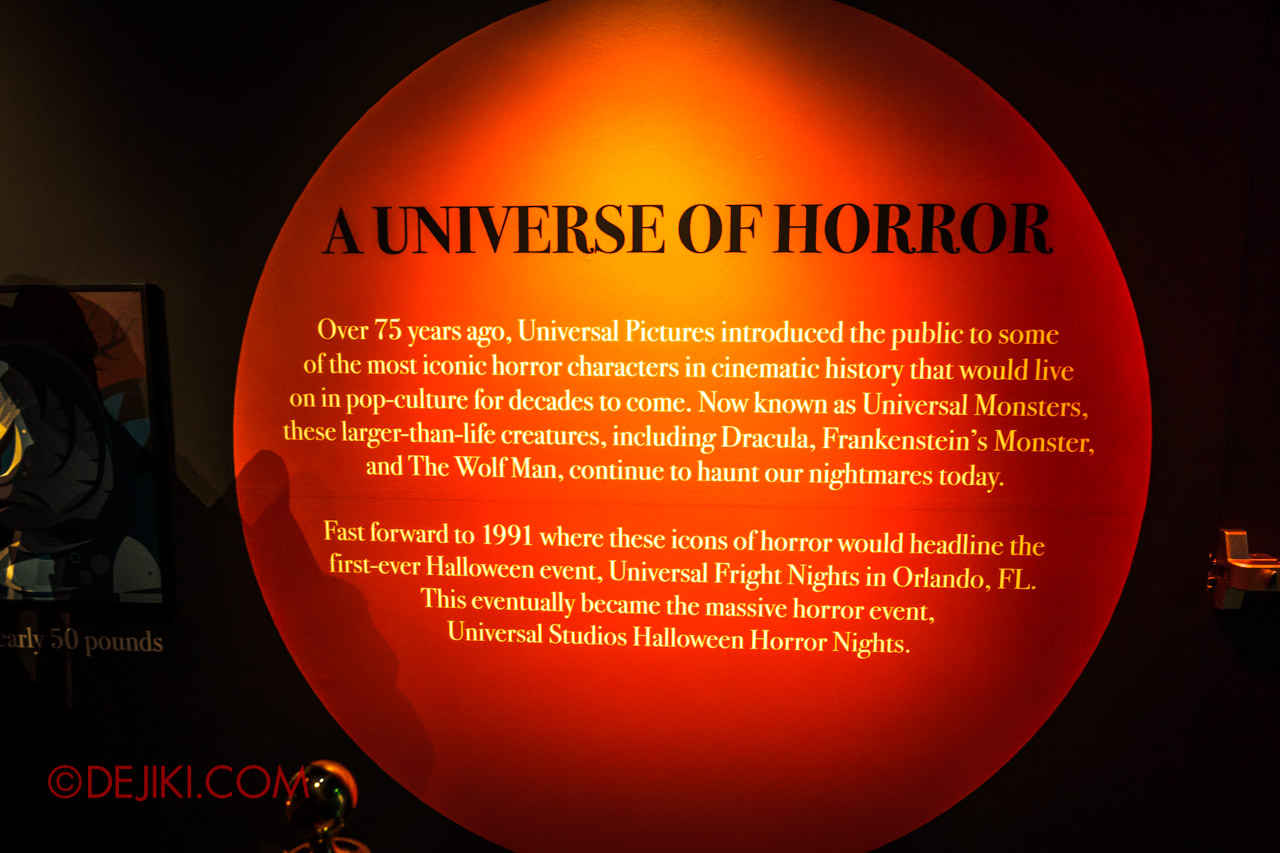 These characters headlined the 1991 Universal Fright Nights at Universal Studios Florida, and from then on the event kept growing and became the Halloween Horror Nights we know today.
Depending on available capacity, you may spend some time in the foyer – the blood red wall forms a rather necessary backdrop.
Developing the Horrors
Black strip doors – a staple in HHN haunted houses – flip away to reveal a 'timeline' (that gets increasingly bloodier). This hallway brings you through seven stages of developing the Halloween Horror Nights events.
Starting with market research, brainstorming ideas, and the process of creative iterations, parts of the event are then put together to form the annual line-up.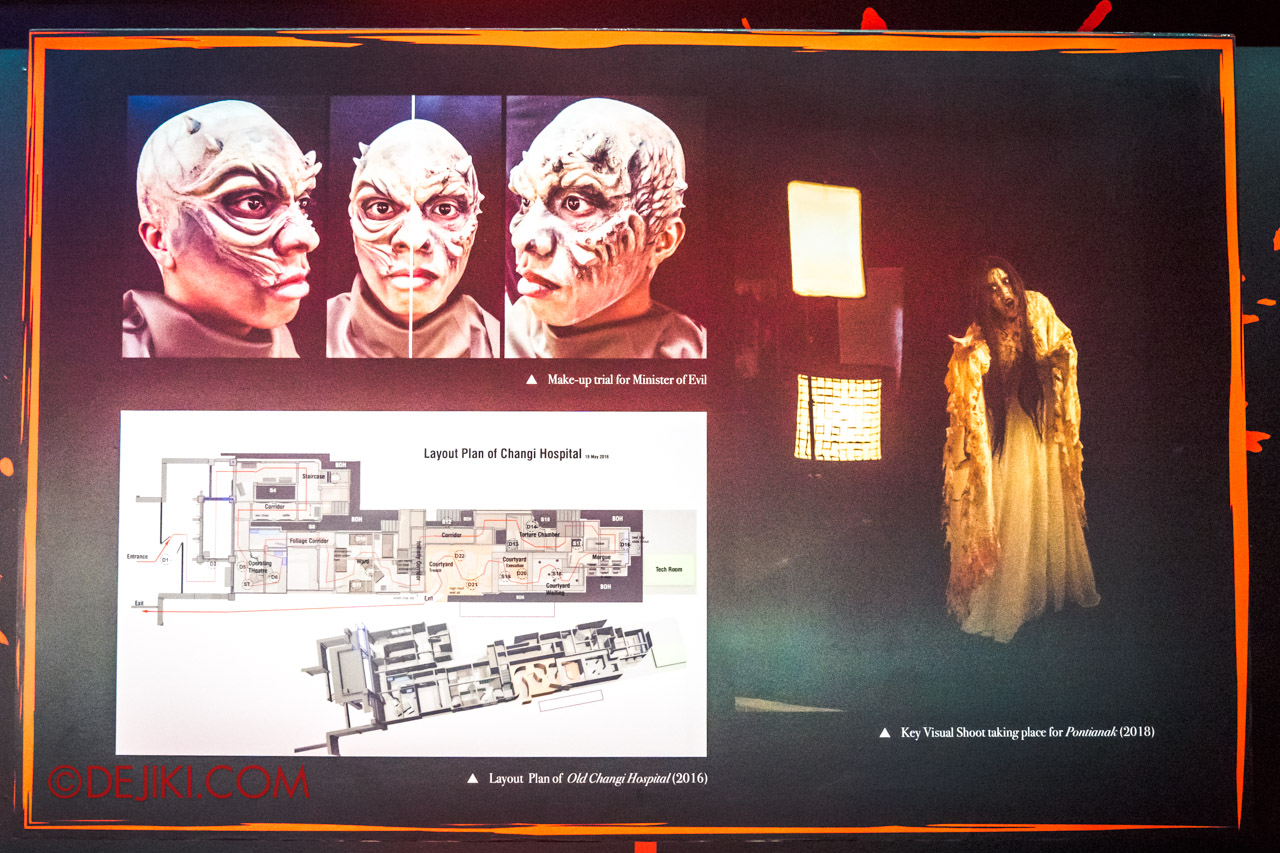 Some unpublished artwork and layout plans are on display – such as the Old Changi Hospital (2016).
Snippets of marketing efforts and the actual event – moments of everything "coming alive!"
The Hall of Icons
The blood-stained carpet brings you into a circular hall that reintroduces the themes, icons and key marketing materials from the last 9 events. A striking ring of pillars in the middle of the hall are filled with stylised carvings of Event Icons. Shown here: The Director (2011), with a not-so-hidden secret.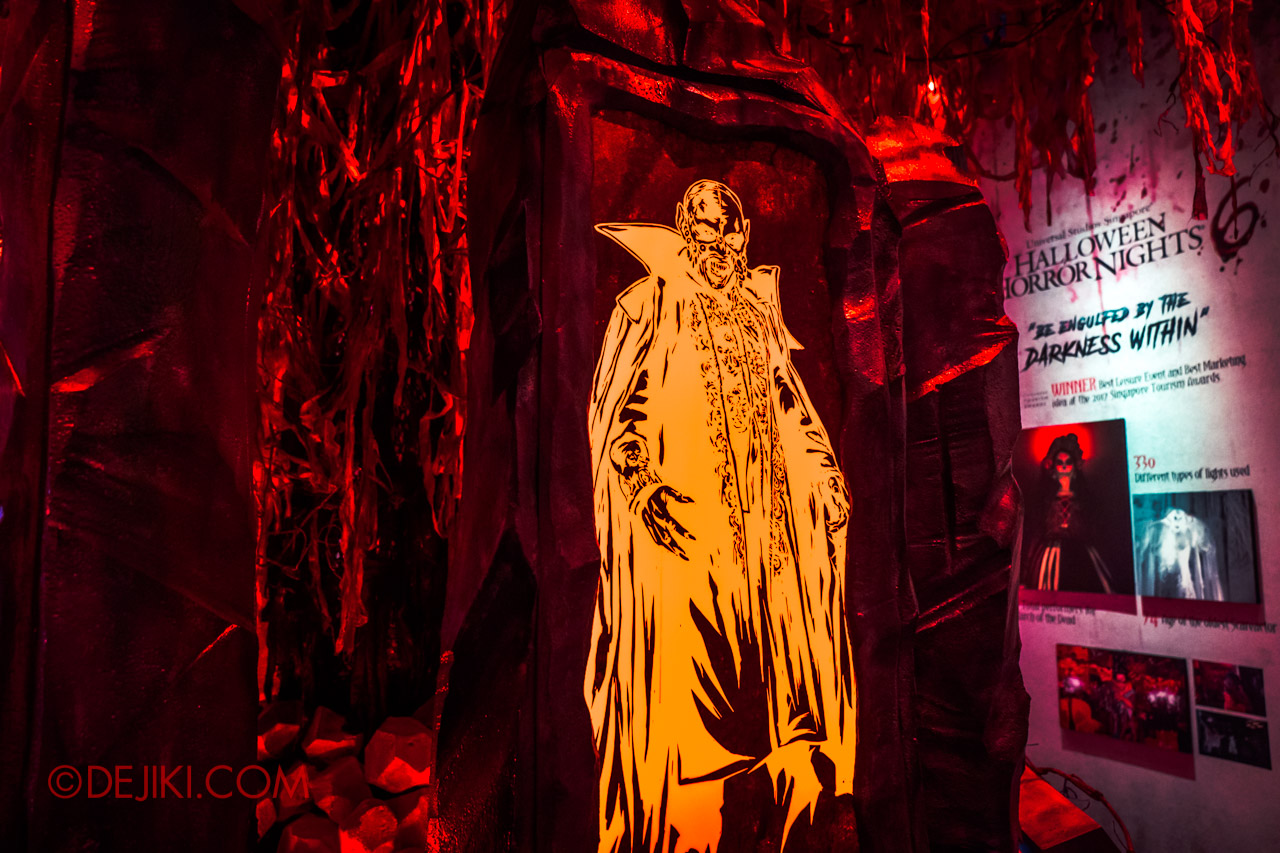 Also displayed around this hall are several fun facts, evocative moments and slogans for all 9 events.
Scare Zones showcase
The next area brings you through some of the event's ambitious scare zones, starting with the hauntingly beautiful March of the Dead.
Several Icons were also "remade" as displays around the exhibition. The first is Lady Death, a fan-favourite Icon who arose from the darkness within at Halloween Horror Nights 6.
While there were very few, it was nice to see that some of the larger props in the exhibition.
If you have been following my HHN event coverage, you would notice that many photos at the exhibition look familiar. At the request of the Exhibition team, I have contributed a very significant amount of media for display as exhibits. I thought my photos will offer an outside-in perspective on the event and work nicely with the development materials. In a way, this is also my work coming full circle: my ardent and extensive coverage of the Halloween Horror Nights over the last decade has made its way back into the park. Most of them were remastered or recreated for this exhibition, and can be found in almost every room that has photos.
The New York zone was home to several high-production zones, and the exhibits also provide insight on some very mysterious aspects – such as the types of aliens for The Invaders (2015).
Here you can also get a very close look at the costume for Gaia (2018), the icon of Apocalypse Earth scare zone.
HHN Exhibition explains the lesser known challenges in building the horror – such as constraints at the Ancient Egypt zone in USS – essentially the scenic elements and materials have to fit in with the existing architecture of the area.
In contrast, The Lost World (Jurassic Park)'s landscape architecture offered more creative and scarier opportunities amid its jungle-like setting. Which we all know too well.
Father Time, from Happy HORROR Days (2017).
Local schools have been involved with designing and creating some of the scare zones; indeed offering very unusual learning experience for the next generation of creatives.
Shows and Scaremony
While technically the entire event is a "show", stage shows also form a key part of event line-ups.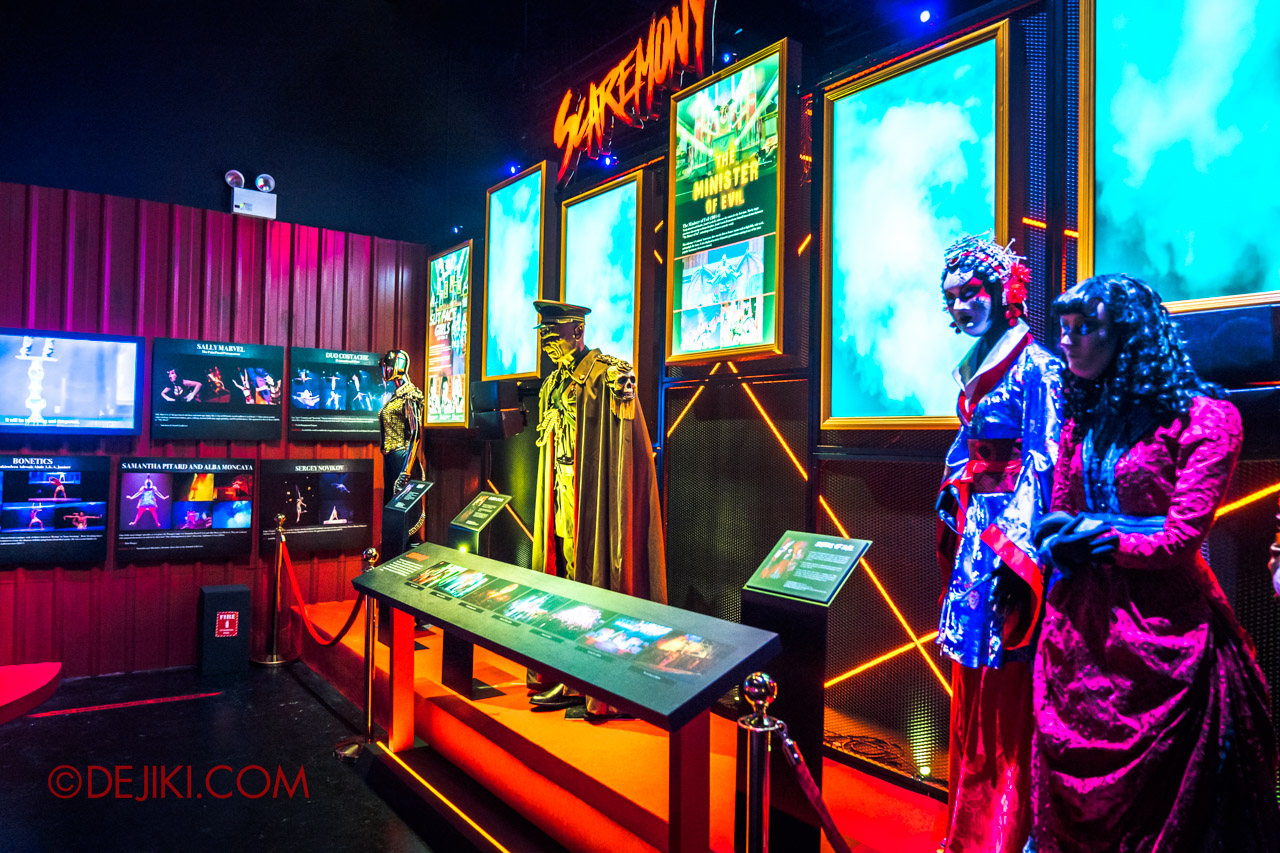 Here you can relive moments from the exciting Opening Scaremony shows that kick off the hauntings, and the local and visiting acts that have graced the event.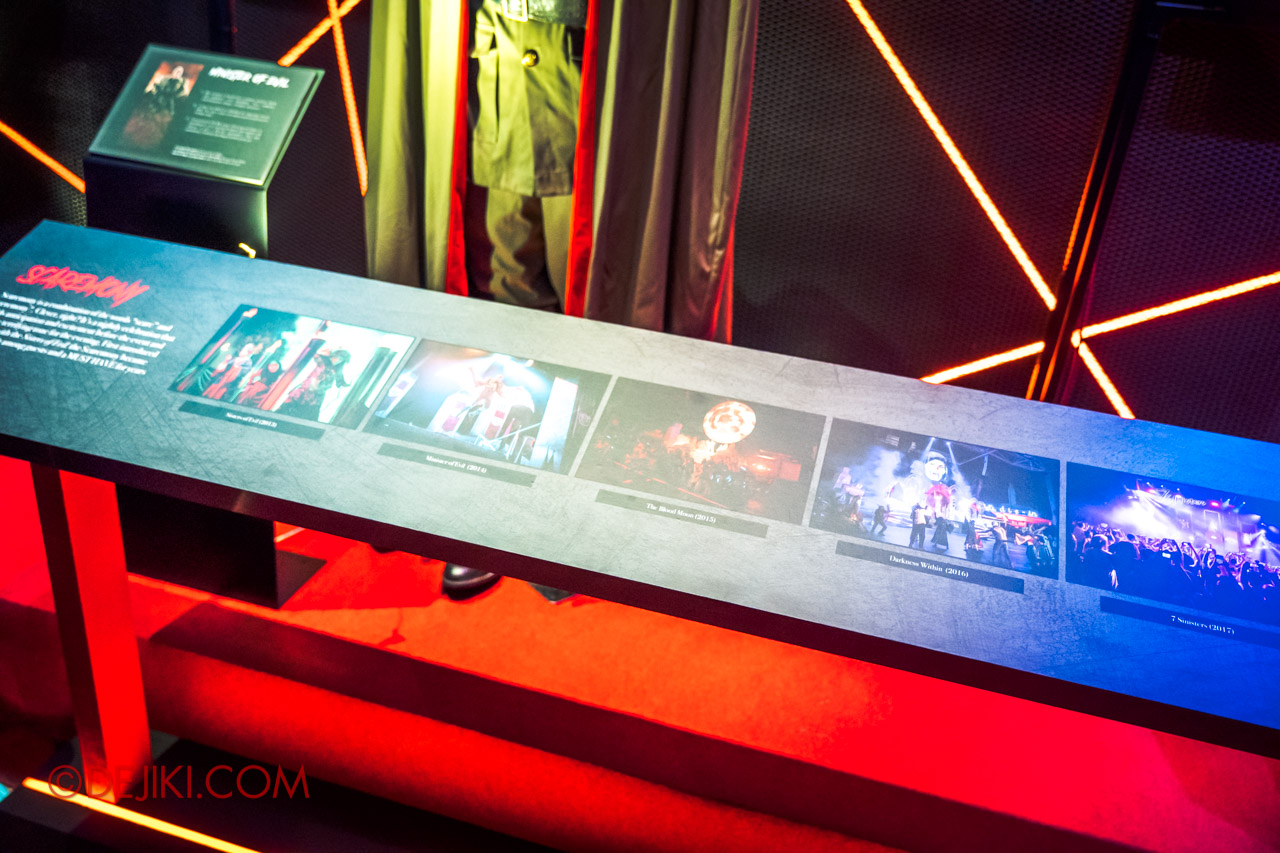 See the 'evolution' of Opening Scaremony – every year it seems to just keep growing bigger.
The Sisters of Evil are the first Icons to start the tradition of the Opening Scaremony shows. Their specialty was teleportation.
Of course, who can ever forget the Minister of Evil? Transformation and Flight.
While not having any superpowers, Raven, along with Pandora and Willow – all characters from Make The Cut (2017) haunted house – famously took over the 7Sinisters stage for Slit Face Girls LIVE concerts in 2017.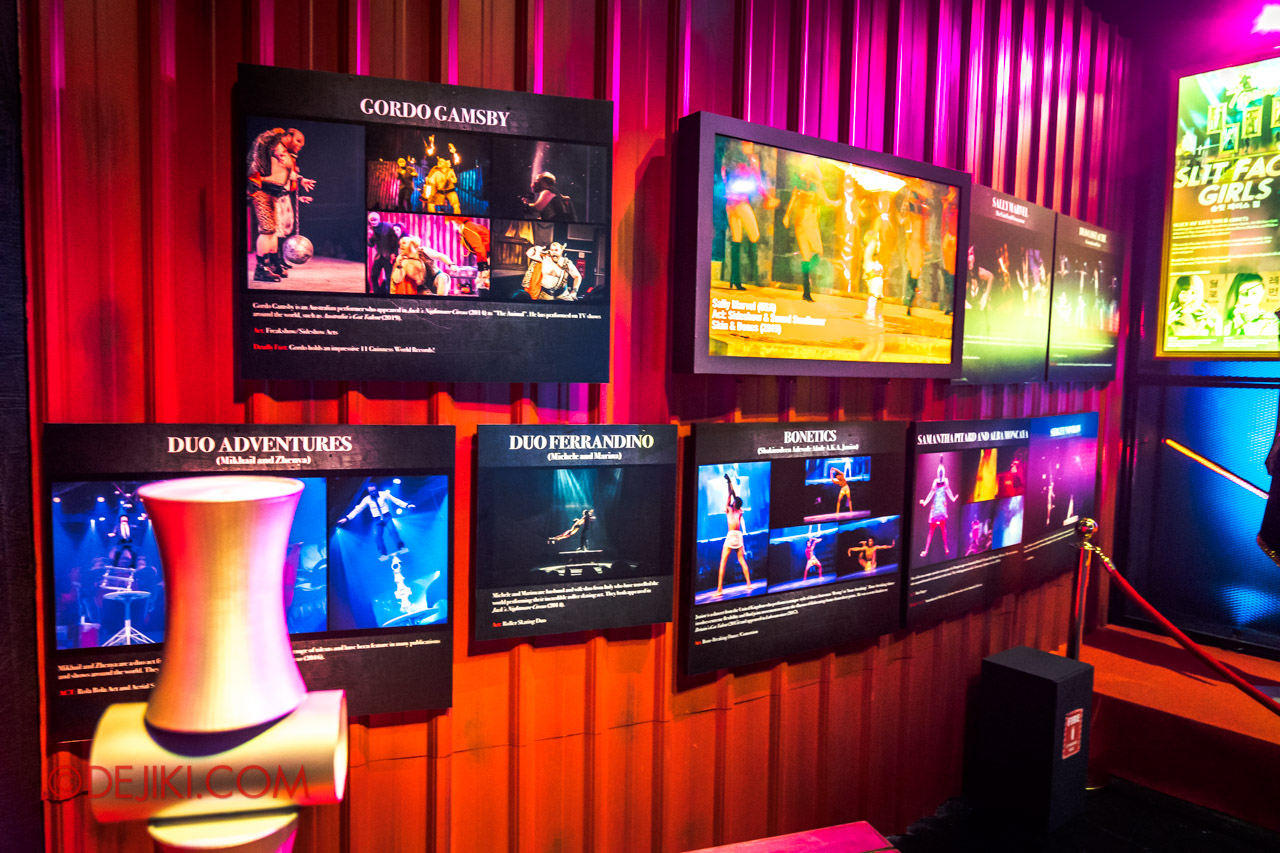 Travelling acts that have performed at shows staged at Pantages Hollywood Theater also have their place in this room. The 5 stage shows, including Jack's Nightmare Circus, DEAD Talks and Skin & Bones, are featured in the other side of this room. You can also flip through the script extracts as you watch replays.
Haunted Houses showcase
Feel your heart pound as you walk through this terrifying section dedicated to the event's signature attractions, where nightmares from the past have returned to haunt.
This is likely the most "intense" section of the entire Exhibition – as there are more grotesque characters featured. Such as Damien Shipman (Bodies of Work, 2016) and the Midnight Man (HEX, 2017).
But there is much more to learn behind the creation of these characters. Many generous exhibits on how the characters came to life.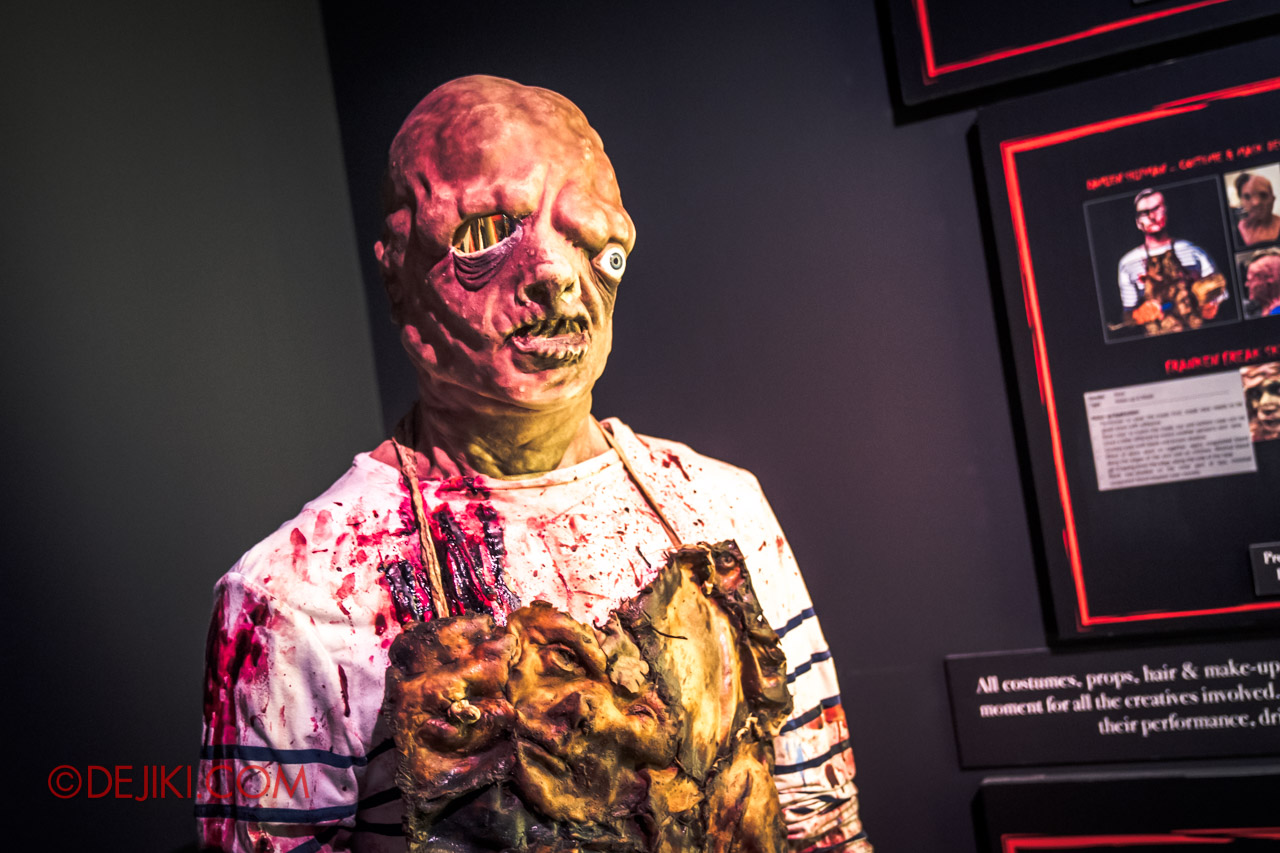 A tribute to Adrift, one of the most memorable houses from 2013 – with its standalone wall.
All sorts of Clowns have scared many at Singapore's HHN events – with even the Twisted Clown University making an appearance in 2019 possibly explaining their "origins".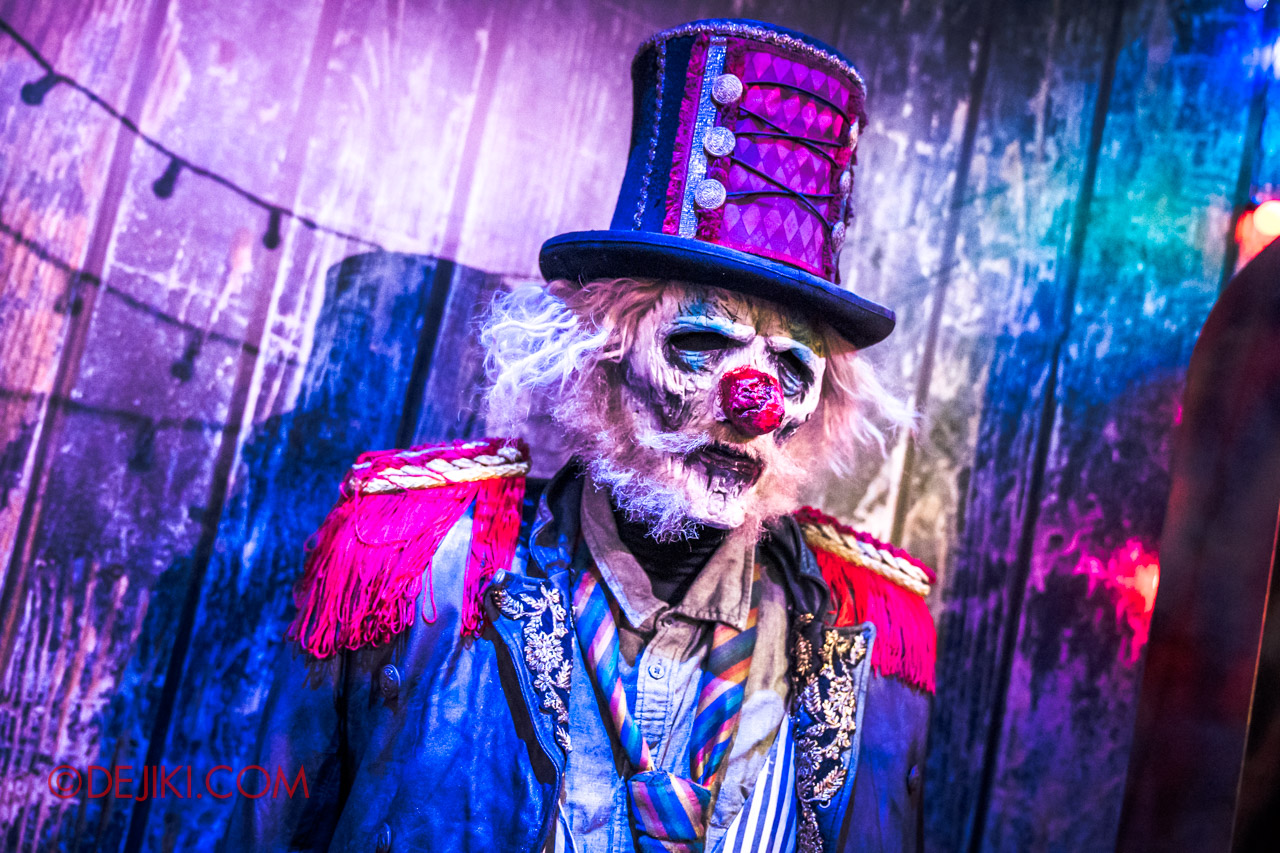 Fortunately, Ringleader Rusty (Twisted Clown University, 2019) is the only physical clown here.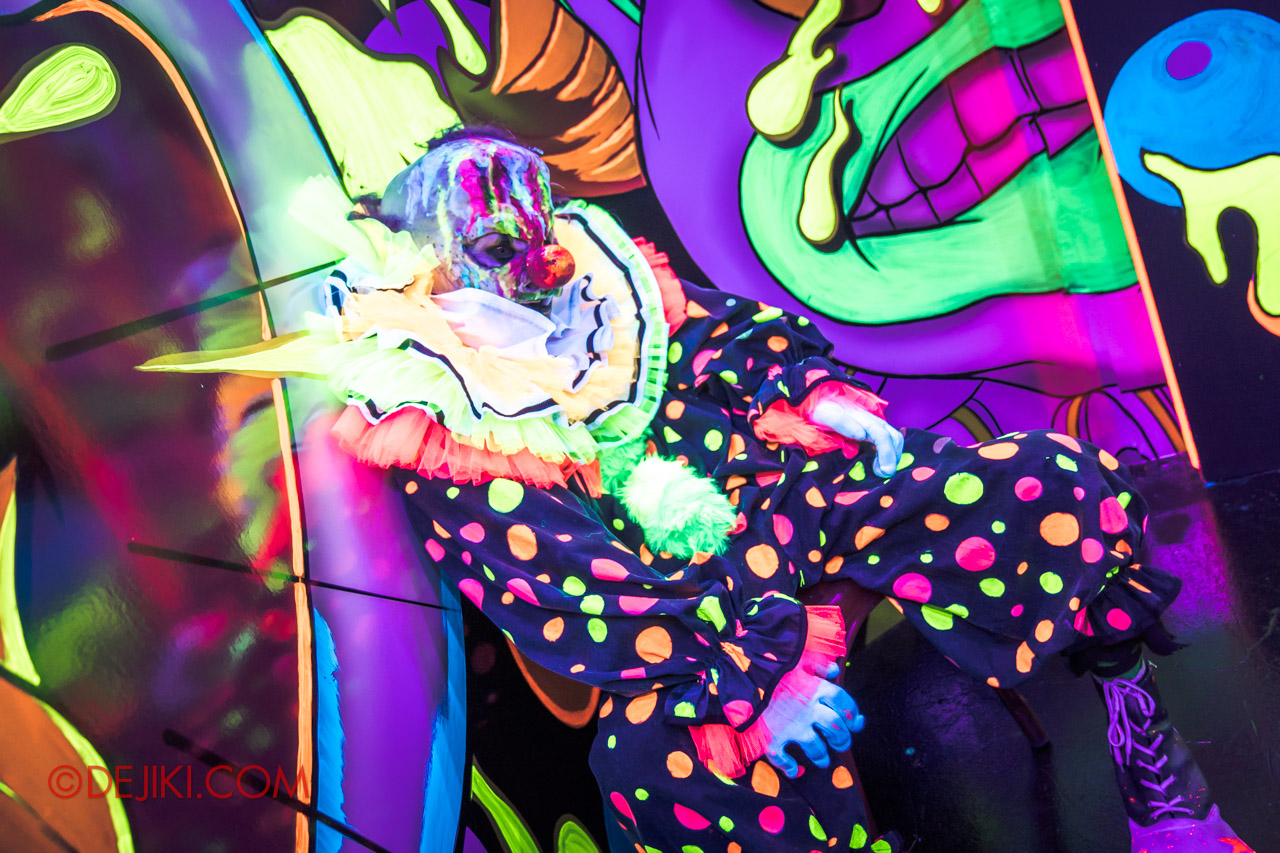 Until you realise that the only way forward is through a horrifying reproduction of Jack's 3-Dementia (2014).
Just like the actual haunted houses, the exhibition does not let up. The first props you see – out of that clown nightmare – might be these haunting villagers (Spirit Dolls, 2019). Fortunately, the Yumi doll is sealed in a glass case.
Some of Singapore's scariest houses are based on Asian themes – which is further explored in this area.
Japanese horror stories have been quite well received – after The Haunting of Oiwa in 2018, the Spirit Dolls house was created at the same space a year later.
The event also saw Chinese-themed houses – TERRORcotta Empress (2017) and Pagoda of Peril (2018). Here, the exhibition explains that automatonophobia (fear of human-like figures) was explored through terracotta guards in the former haunted house.
Thai horror officially landed at Universal Studios Singapore with Curse of The Naga in 2019 – this was a collaboration with Thai filmmakers. The exhibition offers insights on how the Serpentine Spirit was created from sketches – and of course, you can see the costume and makeup effects up close.
Perhaps the most well-known HHN collab would be Netflix's Stranger Things. This also marked the first and only haunted house to be built at US HHN events and in Singapore for the 2018 HHN events.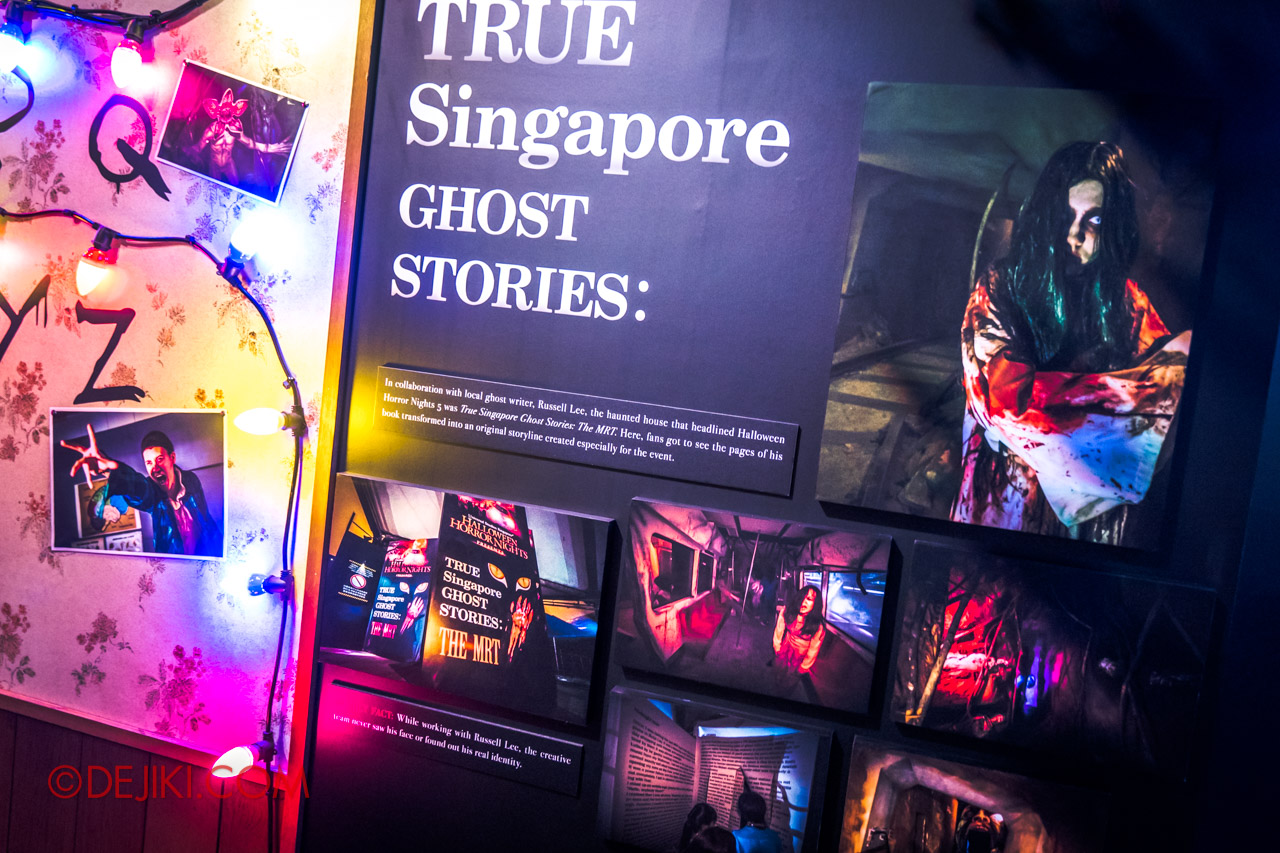 In 2015, the park also collaborated with the enigmatic Russell Lee to create a special house known as True Singapore Ghost Stories: The MRT.
That same year had more locally themed houses than usual, with a literal hot favourite being HELL HOUSE – here you can revisit a "larger-than-afterlife" scene once more.
Right beside the Paper effigy (and furniture) – the Matriarch returns! She is the main character from her namesake house: The Vengeance of The Matriarch – the very first haunted house to be built in this very soundstage, way back in 2011.
Stepping outside into a jungle, you will come face to face with the most feared – the Pontianak. She appeared as hauntings (sometimes unintended) at various haunted houses and scare zones over the years, and in 2018, her story was deeply explored in a haunted house.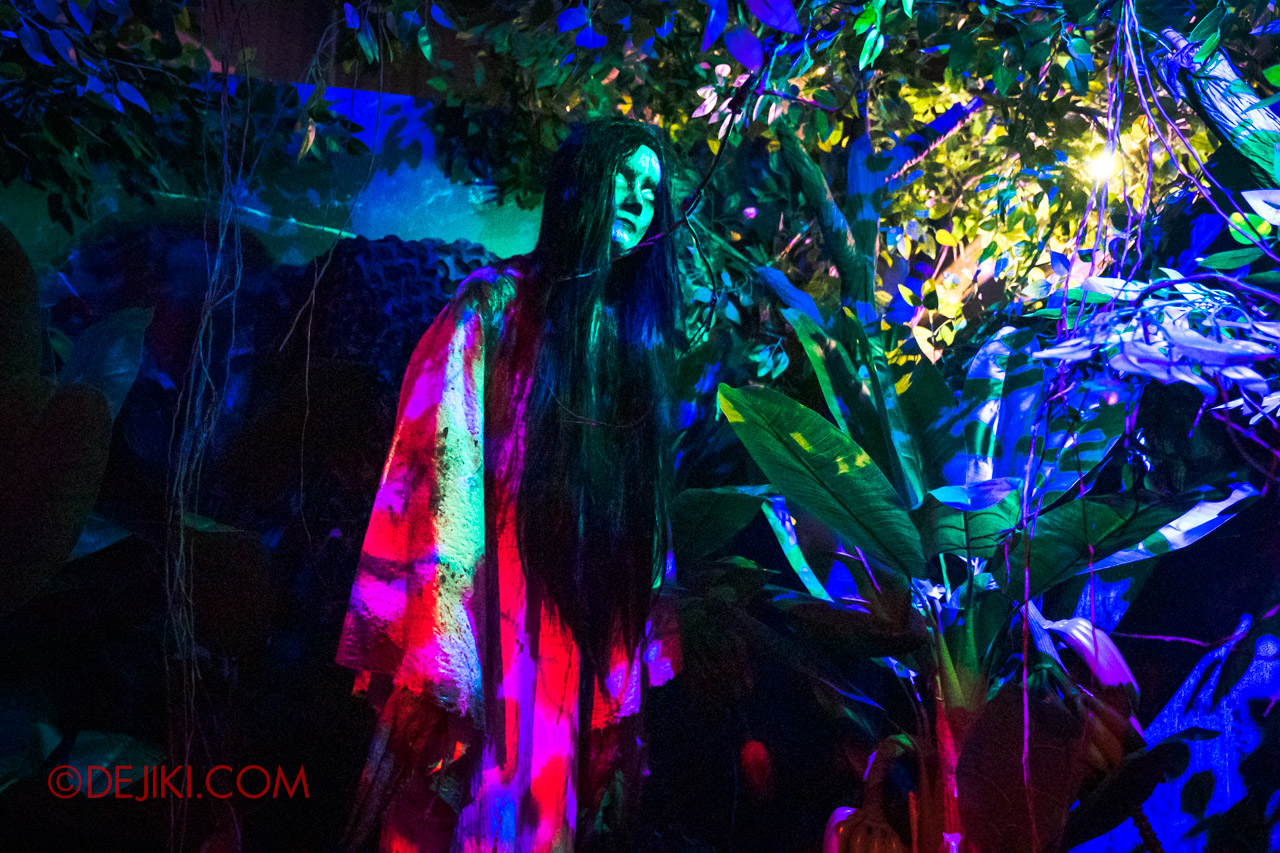 Fortunately, that would mark the end of your misadventure in this Haunted House segment.
Logo Design Showcase
After escaping from the Pontianak, take your time to appreciate a wall of 76 logos designed for the attractions at Singapore's Halloween Horror Nights. Most of them are created by RWS's in-house designer, Chen Lin.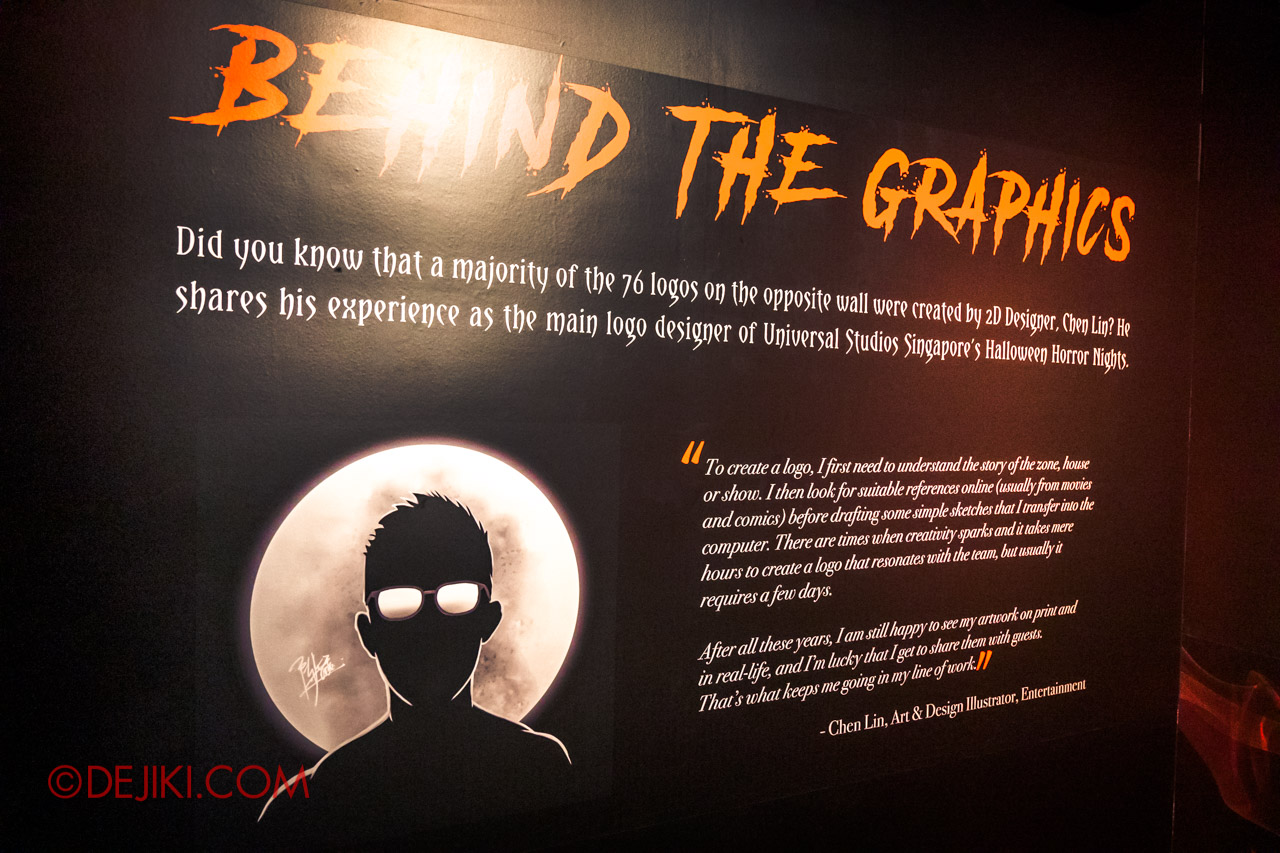 And then, the exhibition comes to a close.
---
BONUS: Full Walkthrough Video of the Halloween Horror Nights Exhibition
A full walkthrough experience of the HHN Exhibition is now available on my YouTube channel!
---
Short Review
Given all that has happened in the past 1.5 years that have led to plans for a full-scale Halloween Horror Nights to be derailed, perhaps Singapore HHN fans should count their blessings (or hauntings) that there is even a "Halloween Horror Nights thing" this year.
The curated content does offer a good sampling of what Singapore's HHN is all about, and what has made Singapore's event – while small in scale compared to the parks in the US, a rather unique one. To me (as an outsider looking in) is all about finding better stories to tell, and creative solutions to make it happen. This is what I felt walking through the exhibition.
While it is a tribute to 9 years of Fear, I expected the HHN Exhibition to be small and the experience to be a short one. After all the Soundstage 28 is a tiny space, and the exhibition is packing nearly a decade of themed entertainment history into this already mini-sized soundstage. Some spaces even felt like haunted houses from the past, complete with the transition room strip doors! Given the limited capacity and safe distancing guidelines, it may sometimes feel very rushed or congested at some spaces. Do note that advanced booking is required to visit the HHN Exhibition – you can do so online before visiting the park, or scan the QR code in the park.
To all the Halloween Horror Nights fans, it is time to go.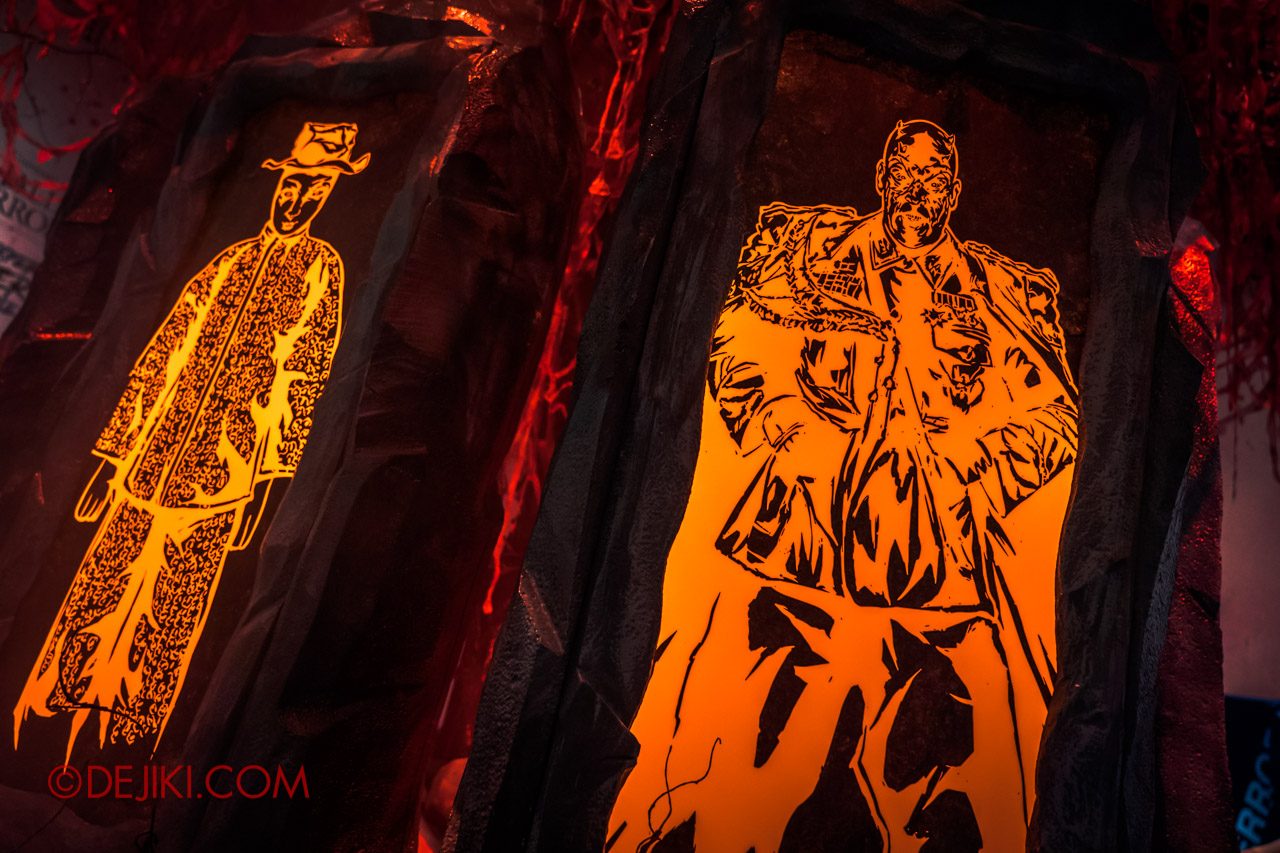 ---
Halloween Horror Nights Exhibition – ticketing options
The Halloween Horror Nights Exhibition is included in USS park tickets and is available to all park guests during the Trick or Thrills event.
As an advanced booking is required for admission, please book your HHN Exhibition slot at the RWS Reservations website using your park ticket ID.
Category
Price for Adult
One-Day Ticket (Singapore Residents*)
(Admission from 12PM, stay in the park till closing)
$69
One-Day Ticket (Non-Residents)
(Admission from 12PM, stay in the park till closing)
$81

AFTER DARK Ticket

(Singapore Residents*)
(Admission from 6PM on Fridays and Saturdays only, stay in the park till 10PM)
$49
* Valid for Singapore Residents with an official Singapore Photo ID (NRIC, Employment Pass, S Pass, Work Permit, Work Holiday Pass, Dependent's Pass, Long Term Visit Pass, or Student's Pass). ID required for entry.
Buy USS Tickets with SingapoRediscover vouchers
Klook is offering Halloween Tickets and Packages for Trick or Thrills at Universal Studios Singapore. The listed products are all SRV Eligible, which means you can use SingapoRediscover vouchers for your purchase.
All packages include admission to the Halloween Horror Nights Exhibition (advanced booking required).
Note: Halloween Packages available while stocks last. Entitlements and pricing subject to change. Please click the links for latest rates.
Category
Price
One-Day Ticket – Adult
(Admission from 12PM, stay in the park till closing)
+ includes S$5 USS retail voucher, and 10% F&B discount in USS restaurants only
$69


Book now »

One-Day Ticket with set meal – Adult
(Admission from 12PM, stay in the park till closing)
+ Halloween themed set meal redeemable at Fossil Fuels, Goldilocks, Mel's Drive-In or Loui's NY Pizza Parlor
+ S$5 retail voucher, S$5 F&B souvenir voucher, redeemable at Fossil Fuels & food carts only
$100


Book now »

One-Day Ticket with set meal – Child/ Youth (Age 4 – 17)
(Admission from 12PM, stay in the park till closing)
+ Halloween themed set meal redeemable at Fossil Fuels, Goldilocks, Mel's Drive-In or Loui's NY Pizza Parlor
+ Carnival Game Booth Coupon, redeemable at TRANSFORMERS Supply Vault
+ S$8 F&B souvenir voucher, redeemable at Fossil Fuels & food carts only
$69


Book now »

AFTER DARK Ticket


(Admission from 6PM on Fridays and Saturdays only, stay in the park till 10PM)
+ 1x Drink and Snack Voucher
$49


Book now »

AFTER DARK + Halloween Meal + Universal Express Package


(Admission from 6PM on Fridays and Saturdays only, stay in the park till 10PM)
+ Halloween themed set meal redeemable at participating USS restaurants
+ Universal Express Unlimited Pass – Use the Express Lane as many times as you wish for participating rides
+ 2x TRANSFORMERS Magic Towels gift
$100


Book now »
Klook is one of the authorised booking partners of the voucher programme, and you can easily use the website or App to redeem your voucher for attractions. Just make sure the ticket you are booking is marked [SRV Eligible].
(Purchases made via Klook links will help support Dejiki.com at no extra cost to you)
NOTE: Reservations Required for Tickets purchased from Official Partners
For all tickets purchased from official ticketing partners, making a reservation prior to visiting the park is required. Please go to the RWS Attractions Reservations website to do so.
---
Subscribe to Dejiki.com or Like my Facebook page for notifications of updates.
---