With less than a week to opening night, Universal Studios Singapore is putting the finishing touches for Halloween Horror Nights 4. See the latest installations in the final issue of Halloween Horror Nights 4 – Before Dark now!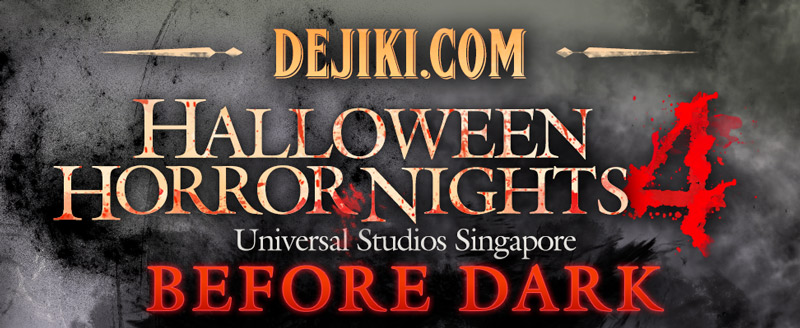 ---
Since this is the final issue of Before Dark, let's take a walk around the park.
◂ Minister of Evil ▸
Changes are apparent at the Minister of Evil's stage. Apart from some modifications, a few of these tiny wooden boxes are scattered across the different tiers of the stage.
This section of Hollywood is definitely part of the Opening Scaremony.
Behind the grand stage, there are a lot of wiring and some tanks (pyrotechnic effects, perhaps).
Let's not forget that complicated rigging happening above the stage, which is supposed to give flight to the Minister of Evil. Those wings don't just grow out from his back for nothing.
How is he going to fly? Who knows.
The lamps along Hollywood were also modified with red covers – for that extra spooky look at night.
◂ Demoncracy ▸
The large props at Demoncracy received the "boiling lava" treatment, with flame ombré painted on the cracked asphalt surrounding the broken pieces of a city.
He's always there.. watching.. judging.
More flame ombré. It would look great with backlit theatrical fog.
There will be signage in this scare zone (and possibly others) to describe what it is.
Also, the schedule for the shows at Demoncracy will also be displayed at this board. Remember to check it out when you visit the park during HHN4.
The dangerous electric fence, complete with Calibri Bold, returns.
Projectors (for the effect at the New York Library) are up.
But check this out: Assortment of equipment for the aerial stunts in this scare zone.
Just imagine demons crawling up and down…
And possibly glide and swoop around this whole area.
◂ Canyon of the Cursed ▸
We've seen most of the key props in Before Dark 3. After two weeks, there appears to be just minor additions and some adjustments of the props here.
Most likely this zone would focus on the performance by the scare actors. The zombie cowboys and native american indians, that is.
Interesting to note: There's no stage here, so there won't be a show like last year's Convention of Curses. Maybe a flash war.
◂ Chill-Out zone at Sci-Fi City ▸
Chill-Out zone is back this year. This is a "safe area" where guests can grab a drink and enjoy live music. It's a place to escape from the scare actors (for a while…)
Last year, the Chill-Out zone was filled with dancing aliens and zombies. Who knows if they decide to make an appearance this year.
You can also shop at the satellite Mini-Store of Evil, which has taken over Galactica PX while BSG is undergoing repair works.
◂ Scary Tales ▸
Things are looking Grimm at Scary Tales…
The two projectors are installed.
They will flash images or video onto the blank frame on the giant books here.
The movable fences from Forbidden Forest have returned. They help to partition Jurassic Park into a proper scare zone, by blocking off the shops and Jurassic Park Rapids Adventure, which will not be available during HHN4.
Hidden behind some of these fences are stone walls and windows.
No idea what this is…
But I'm quite certain this is some giant insect. A spider, perhaps.
There are a couple of big, tall props lying around that are covered in two layers of fabric. I wonder what's so terrifying about them. The details of the exposed parts look good, though.
And now there is a cave.
Rapunzel's Tower is looking far more distressed.
She might have found ways… to better use her hair.
There is this odd little hut at the entrance/exit to Waterworld. The window shows a silhouette of a woman. Is this Red Riding Hood's home?
Anyway, given its quaint location, you won't miss it after walking out of The L.A.B haunted house.
◂ Bogeyman ▸
No, I've not forgotten about the Bogeyman scarezone.
The long barrier has been reduced, so we can look closer…
The clothes are so fresh, it even has fold marks on them. Will they be bloodstained and tattered after a few nights?
The mysteriously bouncy floor has been cordoned off.
Will there be evil children jumping about here?
The arrangements of the cabinets and cupboards have changed slightly. Almost all of them are "alive". So be careful when you walk around this scare zone – you never know when the doors might just swing open…
And what else might reach out of the closet…
Scarecrows united.
◂ The Haunted Houses ▸
The entrance to Jing's Revenge is finally up. It is at the facade of the Rockefeller Building – the only place that makes sense, really.
I'm not sure if secondary schools of the past have ever delved into such advanced mathematics. No wonder the students became deranged.
The gates to the school compound are locked, so I guess I can only ask about it next week.
The entrance to MATI CAMP looks complete!
Ah, even this sign.
Please report to the guardhouse at MATI CAMP with your credentials to gain admittance.
---
UP NEXT: Halloween Horror Nights 4 – The Full Event Coverage
Dejiki.com will be posting event updates during Halloween Horror Nights 4! Subscribe to dejiki.com or Like Dejiki.com on Facebook today!
Are you brave enough..?
It's time to make the decision to attend Halloween Horror Nights 4. Get all the event and ticketing information you need at the 2014 Guide to Halloween Attractions in Singapore here!
Halloween Horror Nights 10 (2022)
HHN10 REVEALED: Ticket and Event Guide
Halloween Horror Nights 10 MEGA Review: Photos of all Haunted Houses and Scare Zones
SPECIAL FEATURE: Behind the Scenes at HHN10 Haunted Houses
HHN10 RIP Tour (VIP Tour) Review

Features on Haunted Houses, Scare Zones and Experiences
The Silenced Auction (Opening Scaremony) | DIE-ning with The Dead | Monsters & Manifestations
Escape The Breakout | Killustrator: The Final Chapter | Hospitality of Horror
Operation: Dead Force | The Hunt for Pontianak | Dark Zodiac

Trick or Thrills (2021)
Halloween Horror Nights Exhibition
2021 Day and Night Halloween: DIE-ning with the Dead, Universal Monsters Scream Alley


Halloween Horror Nights – The Archives


Click to Expand and see all posts from past Halloween Horror Nights
Subscribe to Dejiki.com or Like my Facebook page for notifications of updates.
---