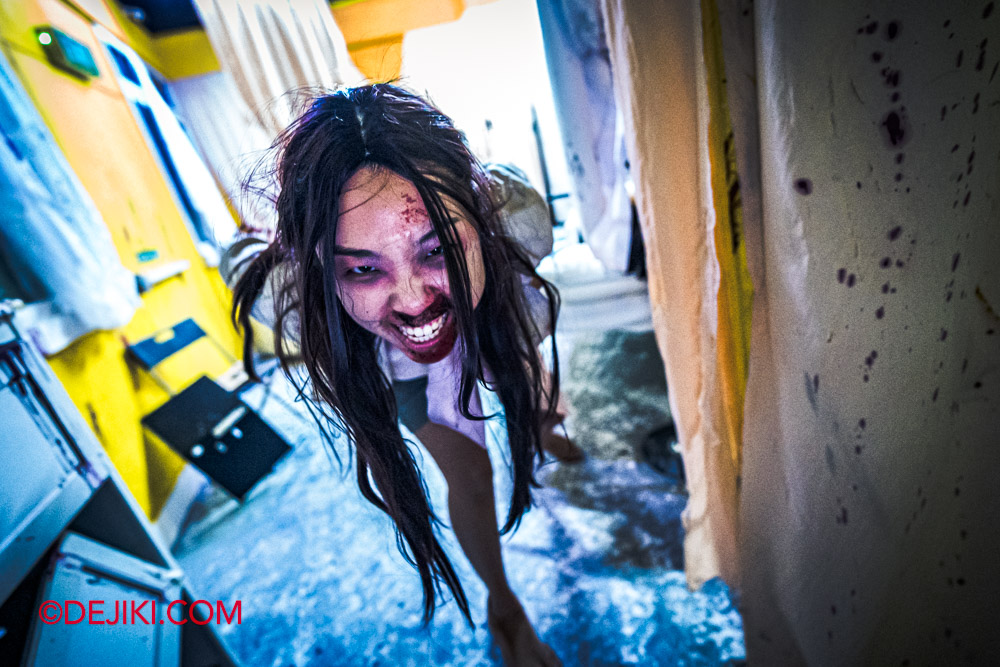 Can you survive the zombie outbreak at Hyosan High School? Explore Netflix's All of Us Are Dead haunted house, only at Universal Studios Singapore's Halloween Horror Nights 11.
---
WARNING
Photos of a haunted house attraction at Halloween Horror Nights 11 are featured in this article as a special showcase. This article contains spoilers.
Copyright Note: All content on this website, including Halloween Horror Nights photos and writeups cannot be reuploaded onto other websites without my permission.
---
Overview and Thoughts
The zombie theme has always been popular at Singapore's Halloween Horror Nights events, and this time USS is the only park with an official attraction based on Netflix's hit horror series, All of Us Are Dead.
This highly anticipated collaboration was announced first as part of HHN11's early bird sales campaign, and when the park later clarified that All of Us Are Dead would be exclusive to Singapore, horror fans were even more excited – especially for those who visit multiple HHN events around the world.
Despite space constraints, the creatives managed to pack in 9 iconic scenes adapted from the horror series – albeit many of them are very compressed. Large scenes like the classroom, canteen and library lack scale in the attraction. However, using darkness with carefully crafted sets, plus highly accurate visual design – all help to put together the visceral experience of navigating through Hyosan High School. Even the costumes worn by the zombie students have correct name tags to the screen counterparts that they portray (at least for those that I am able to read).
---
All of Us Are Dead – Haunted House Photo Tour
Walking into the gigantic marquee, you are transported into the derelict corridors of Hyosan High.
A zombie with a foot stuck in a red cone rushes towards you.
You dive out of his grasp, and find yourself in the Science Teacher's lab, filled with strange noises and video logs of Lee Byeong-Chan's experiments.
The teacher might still be around, conflicted over his creation of the Jonas virus.
Infected by a bite of a mouse, student Kim Hyeon-Ju was tied up at the lab's store room.
Hyeon-Ju was eventually brought to the nurse's office at the medical bay.
Behind a curtain, you can see Byeong-Chan knocking out his son with a bible.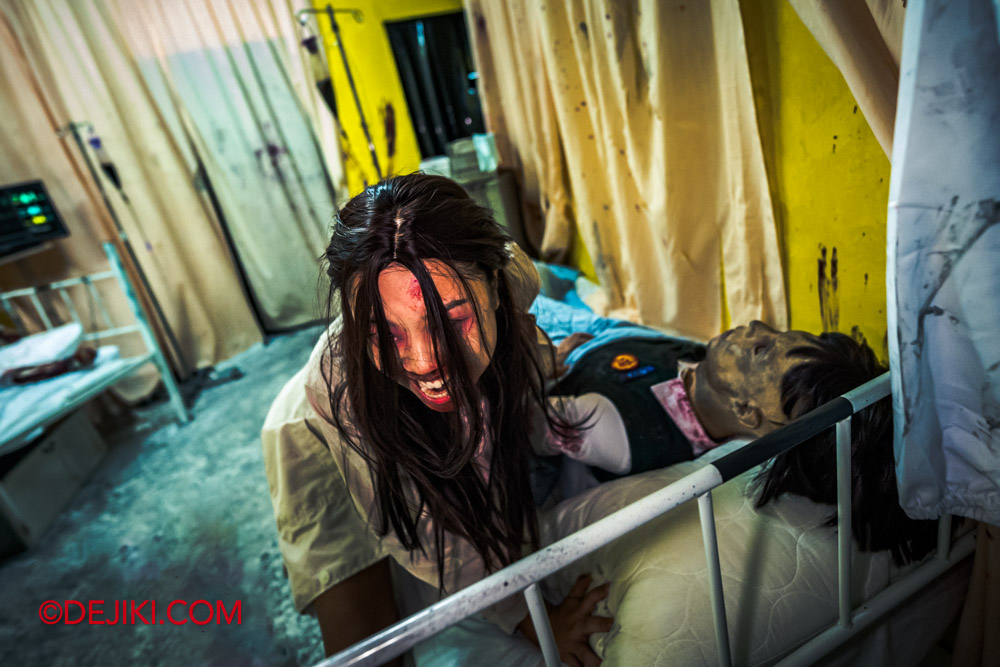 Turning around, infected nurse Kim Kyung-mi runs towards you.
As she chases you out of her office, you encounter one of the school bullies, Park Chang-hoon.
You rush into the barricaded music classroom, narrowly diving out of danger as you encounter more zombified students.
The student with the Red Cone Foot managed to find you again.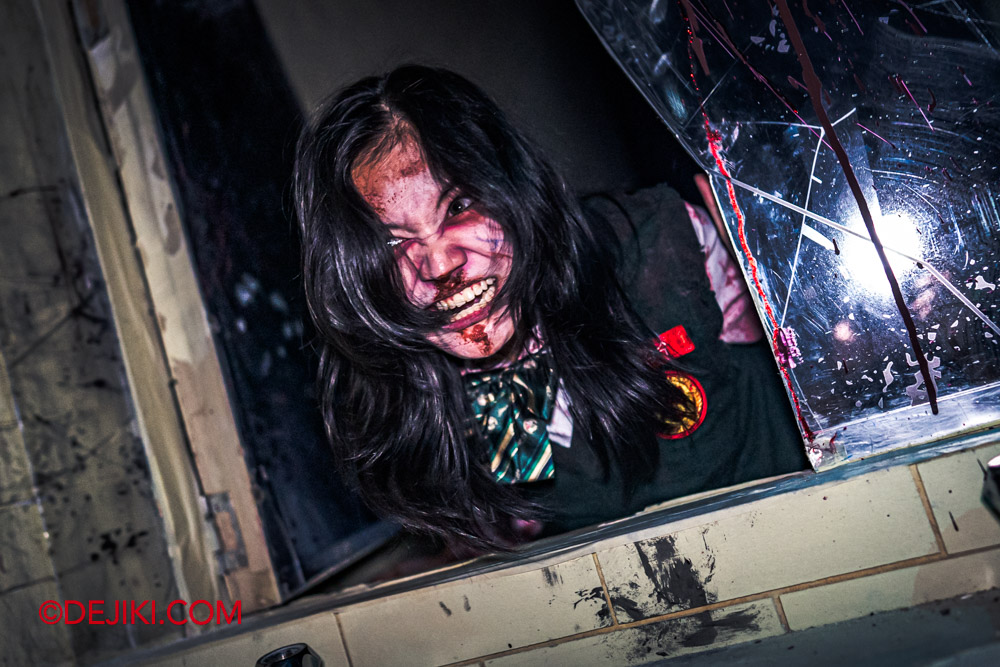 Running into the restrooms, you barely escape from more zombies and also find the infected Lee Ha-Lim, who was impaled by another survivor, Park Mi-Jin.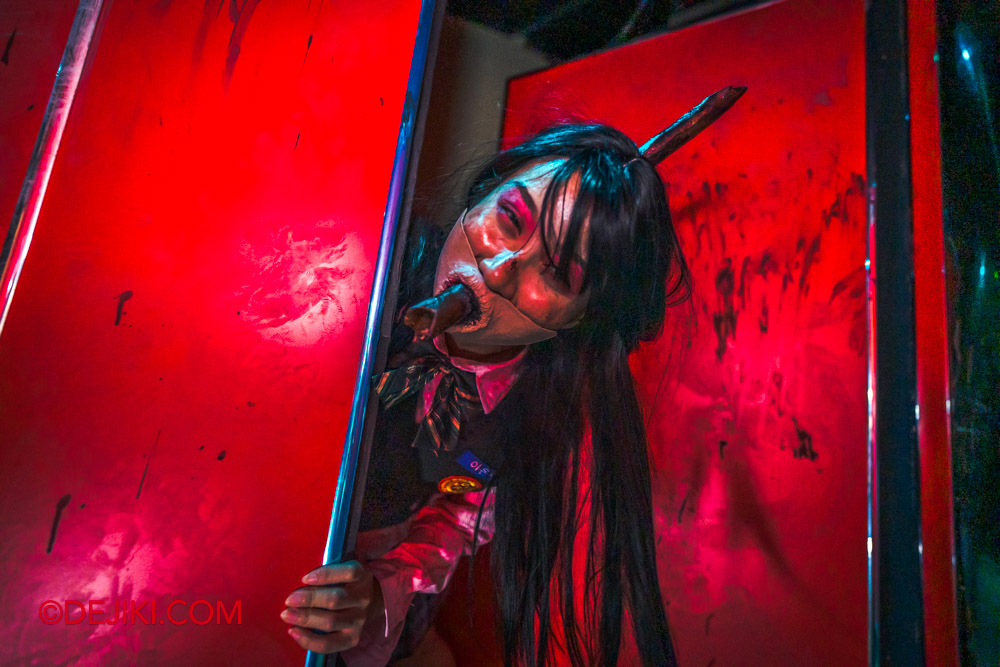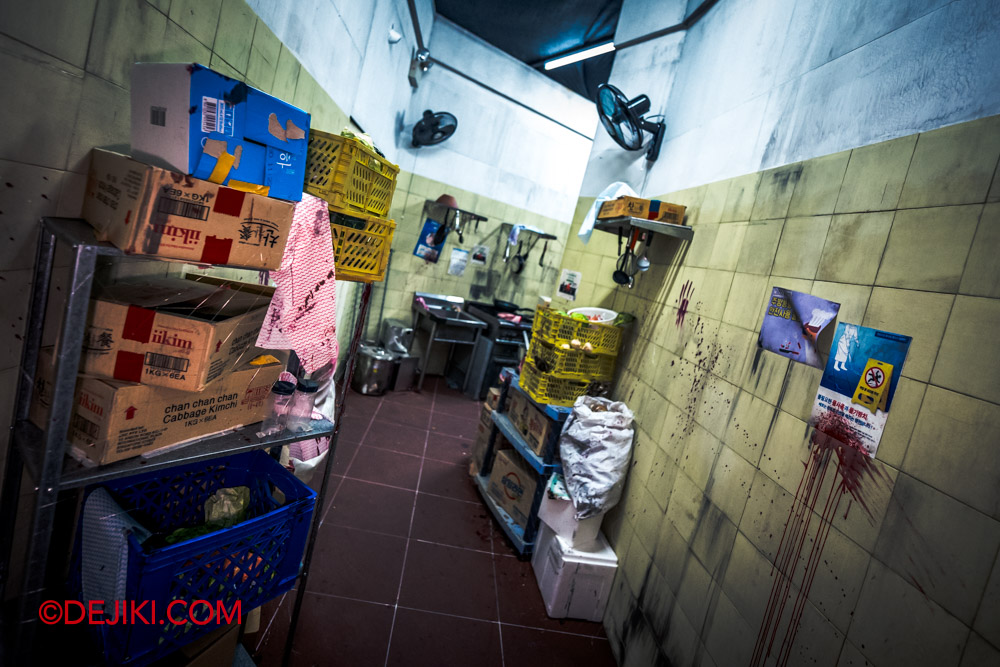 The corridor on the other side leads into the school's canteen, where you attempt to escape through the kitchen.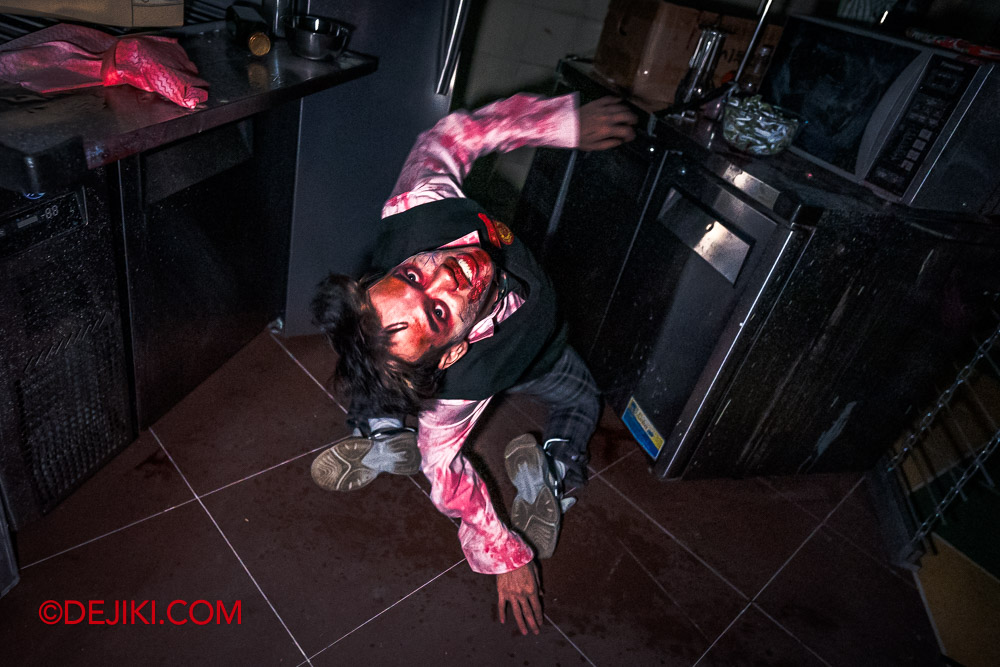 On-Jo begs you for help – she has not been bitten yet, but all her classmates in the canteen have been infected.
You run into the library, filled with more infected students at every corner.
School Bully Yoon Gwi-Nam stands proudly on a bookshelf, realising that while he is infected, he hasn't completely turned. But he's not your ally – so you have to run again.
The Sports Equipment and Locker room might be quiet, but you soon realise that the infected Coach Kang and Archery student Jung Min-Jae are in there with you.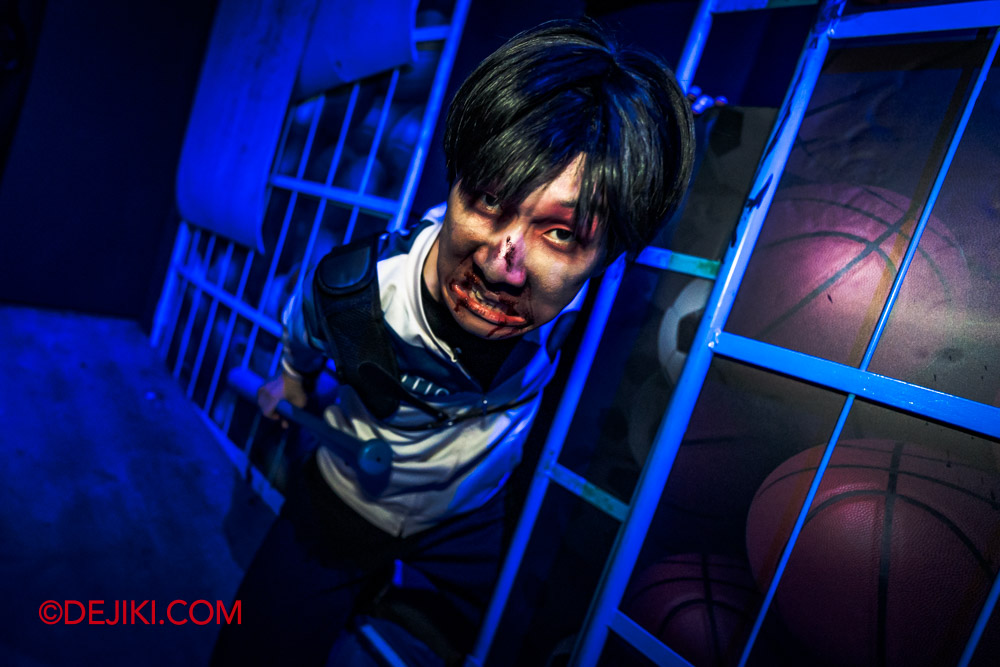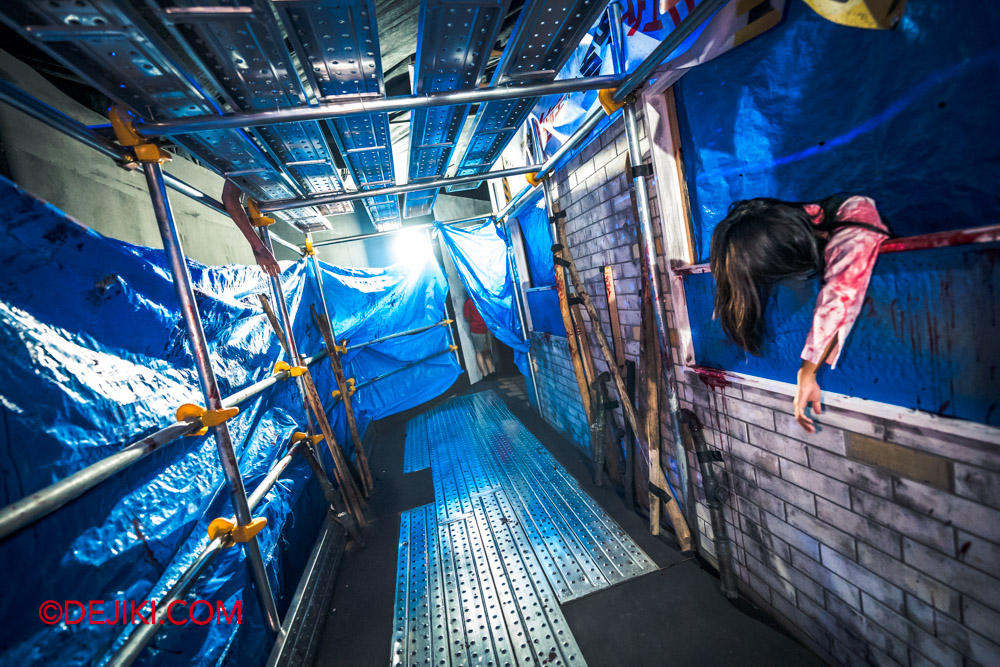 Going outside is the only way forward, as you try to walk on the scaffolds leading to the school rooftop. You could hear a helicopter above you. Has the rescue team arrived?
Unsure if you are infected by the virus but asymptomatic, the soldier refuses to let you board the helicopter.
All that remains is the onslaught of zombies, now all climbing onto the rooftop, with school bully Gwi-Nam having the last laugh at the outbreak situation that has consumed his school.
---
Halloween Horror Nights 11: Select Nights 29 Sep – 4 Nov
Halloween Horror Nights 11 MEGA Review by DEJIKI
Read my full review and see photos from this year's haunted houses, scare zones, the Opening Scaremony show, and DIE-ning in Hell special experience.
Halloween Horror Nights 11 EVENT GUIDE
Stay prepared. Get essential info in my Halloween Horror Nights 11 Event Guide, including event calendar, tickets and add-ons prices, plus Tips & Tricks.
Get more HHN updates
More photos from this year's HHN attractions will be published on my Instagram (@dejiki), Tiktok and on this website as special features. Follow me on Facebook for updates.

---
Halloween Horror Nights 11 (2023)
HHN11 REVEALED: Ticket and Event Guide
Sneak Preview: DIYU: Descent Into Hell, Rebirth of the Matriarch, Icons and more
Halloween Horror Nights 11 MEGA Review: Photos of all Haunted Houses and Scare Zones
HHN11 RIP TOUR (VIP Tour) Review

Features on Haunted Houses, Scare Zones and Experiences
Grimm Encounters | The Weeknd: After Hours Til Dawn Nightmare
Judgement Day (Opening Scaremony) | Netflix's All of Us Are Dead
DIYU: Descent Into Hell | Rebirth of the Matriarch
Dead Man's Wharf | The Cursed Kiramam
The Hacker + The Hacker: GAME OVER

Universal Studios Japan (USJ) 2023
Halloween Horror Nights 2023/ HAHAHA! Halloween Party! Event Guide


Halloween Horror Nights – The Archives


Click to Expand and see all posts from past Halloween Horror Nights