Plunge into the depths of the underworld at DIYU: Descent into Hell, a Hell house-styled attraction inspired by Chinese mythology at Universal Studios Singapore's Halloween Horror Nights 11.
---
WARNING
Photos of a haunted house attraction at Halloween Horror Nights 11 are featured in this article as a special showcase. This article contains spoilers.
Copyright Note: All content on this website, including Halloween Horror Nights photos and writeups cannot be reuploaded onto other websites without my permission.
---
Overview and Thoughts
For HHN11, Universal Studios Singapore embarked on its most ambitious 'Hell House' – the underworld based on Chinese mythology, which in itself offers a wealth of source material to be reimagined. There's no better place to build all these fantasy environments, so DIYU took Soundstage 28.
Most depictions of 地狱 (Di Yu) – be it in media or tourist attractions – are influenced by numerous religions and cultural beliefs. There are common ideas, such as how the purgatory offers numerous "levels", "courts", or "hells" where souls pass through to be judged and suffer through punishments to atone for their sins in the living world, before being reincarnated at the end of the journey.
At the HHN11 adaptation, given time and space constraints, brave guests will get a 'highlights tour' of Hell, going through initial scenes of judgement, harrowing punishments in five separate "hells", before meeting King Yama at the Wheel of Reincarnation.
While DIYU offers a handful of impressive, larger scenes and cool effects (scroll down to see them), the overall journey could feel truncated. I felt like I was speed-running through a few layers of Hell, and the heavy use of strip curtain doors in almost every room made the transitions much more obvious. There's also the odd feeling of how uneventful Hell is, with barely any victims or terrifying characters to meet. Fortunately, the house picks up in the second half (from Hell of Fire) with much more horrifying scenes showing the consequences of various misdeeds.
---
DIYU: Descent Into Hell – Haunted House Photo Tour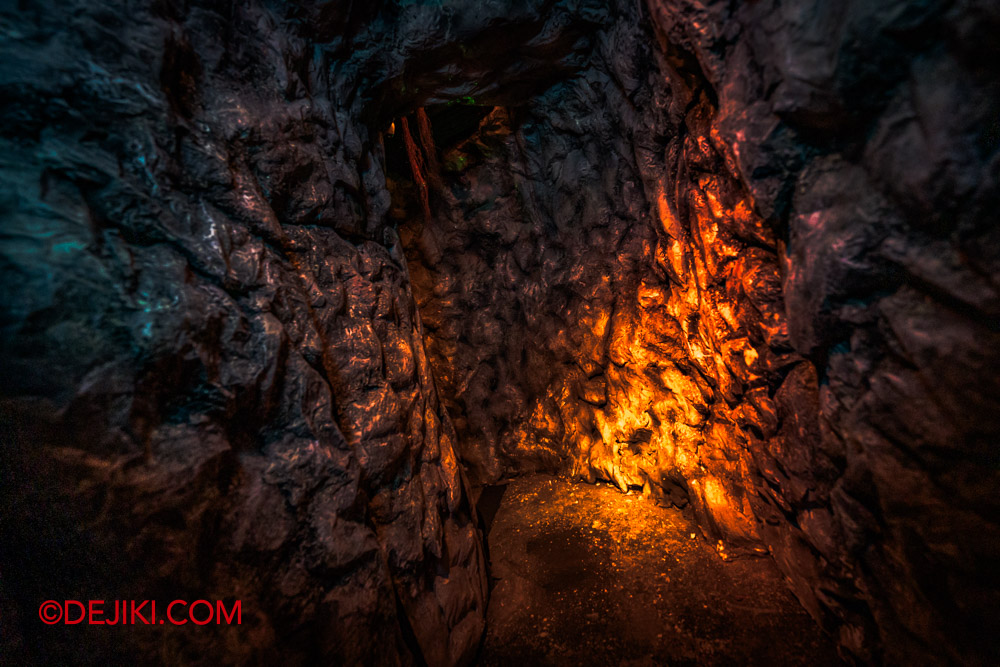 The heavy rock music at Universal Studios Singapore fades away as you leave the theme park through a dark cave, starting your descend into Hell. You feel like you're being watched.
The tunnel opens into an opulent chamber. You're at the gates of Hell, and there are three bridges: Golden Bridge, Silver Bridge… and Sinner's Bridge.
The Black and White Guards (黑白无常, Hei Bai Wu Chang) appear right before you. Sensing your impure heart, the White Guard (谢必安 Xie Bi An) hurries you through the third… and you have to cross the Sinner's Bridge.
After walking across the perilous bridge in darkness, you face the Mirrors of Retribution, where you see your sins reflected in the maze of mirrors.
While you try to remember your misdeeds in the world of the Living, the Ox-Head and Horse-Face (牛头马面, Niu Tou Ma Mian) guards discover you.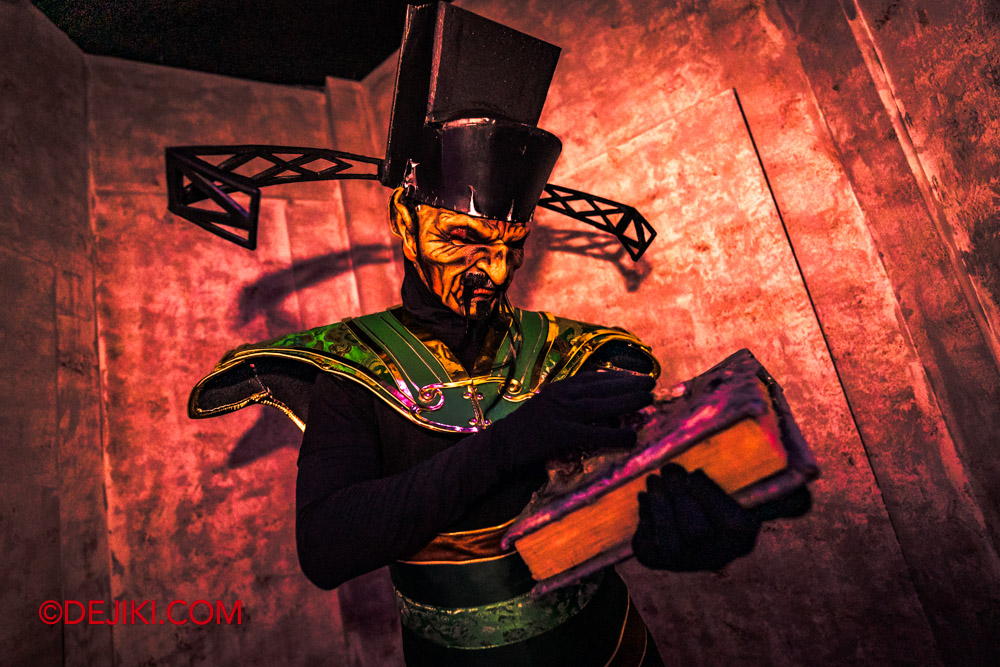 They escort you to the Keeper of the Book of Life and Death (秦广王, Qin Guang Wang), the ruler of the First Court of Hell. He proclaims that you will suffer a journey through various Hells, and sends you on your way…
You trek through the blistering Hell of Ice, a lonely path through punishing snowy mountains.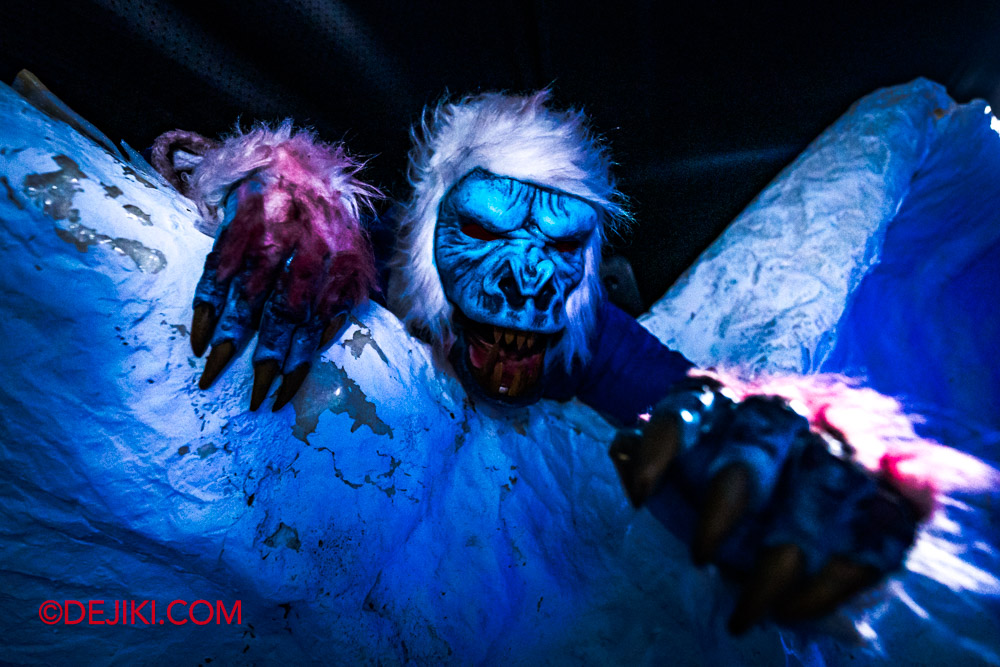 A demon reaches out and pulls you into the Hell of Blood, a pool unending, filled with thick, nauseating blood. Gigantic root-like veins cling to you, making it hard to escape.
The blood pool connects into a stream of lava, overflowing from the Hell of Fire.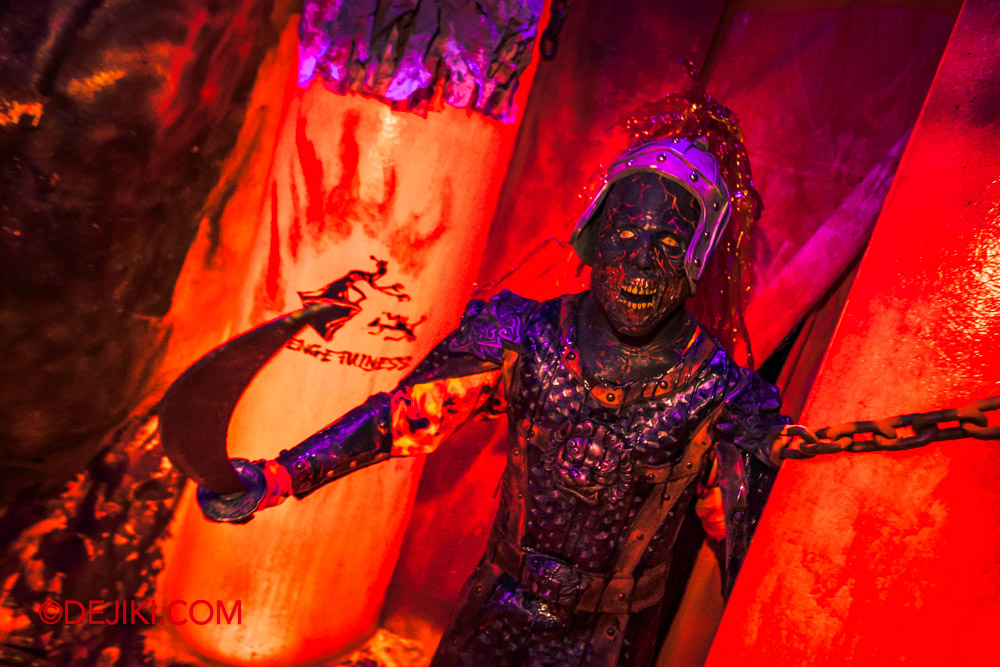 Demonic guards pushes you to the edge of molten pathways, as you witness souls being tortured by hot oil and burning pillars.
Another demon drags you into Hell of Crushing, where sinners are pounded by spikes and pulverised by giant boulders.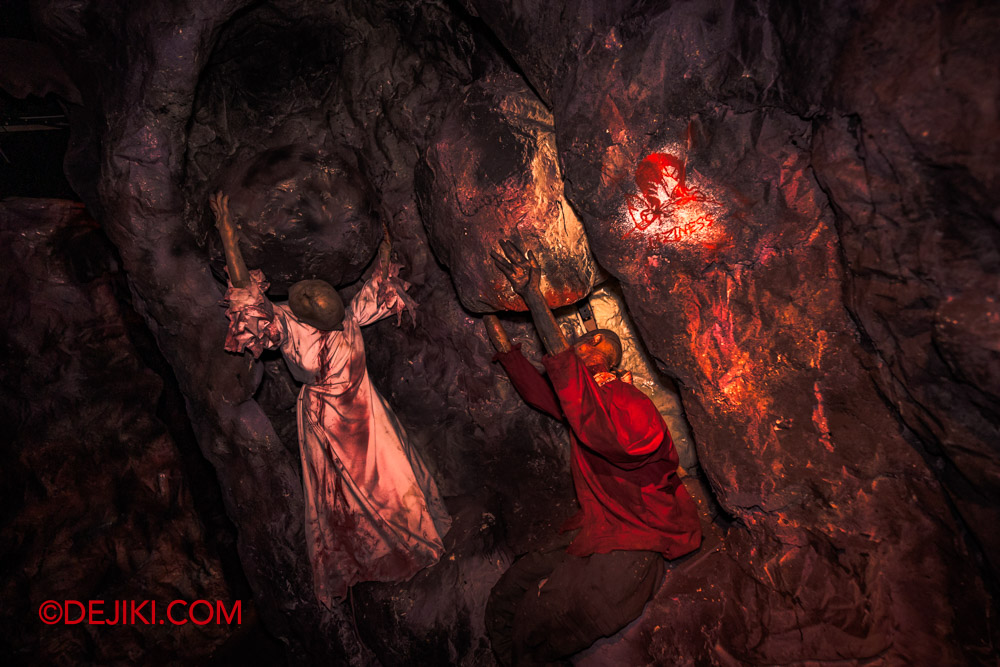 You are thrown into a Hell filled with Blades, where sinners are dismembered and sawn.
After intense scenes of violence and gore, a demon pulls you into the light.
In this golden chamber, you see a majestic demon king, covered in golden armour and wielding a blood-stained glaive (关刀, guan dao). This is King Yama, and he stands at the Wheel of Reincarnation.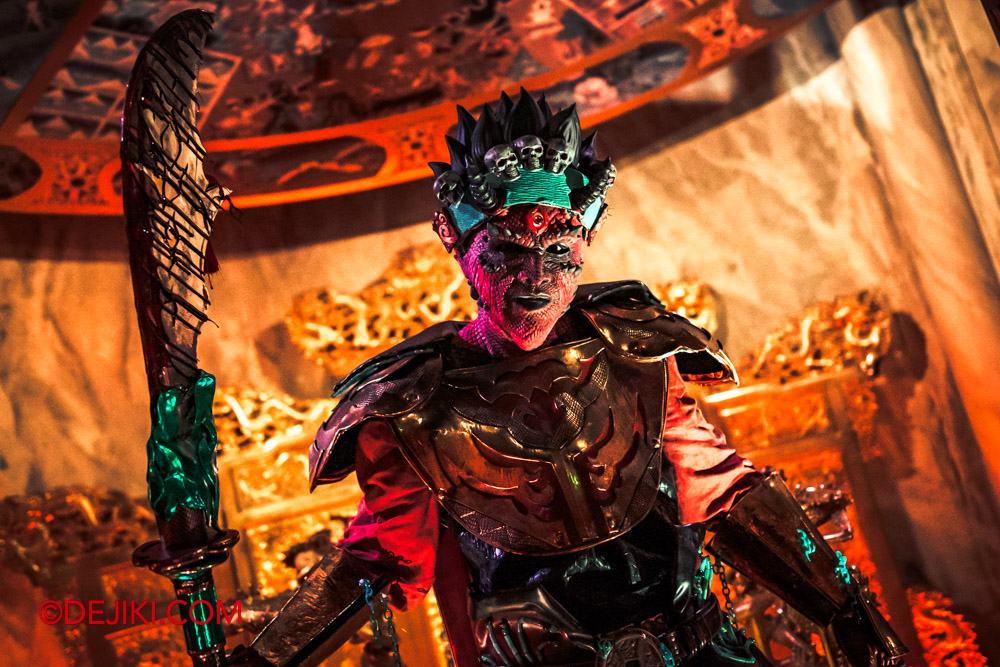 Passing his final judgement on your future path beyond the Wheel, he orders you to meet Old Lady Meng (孟婆, Meng Po) at her Pavilion.
Glance into the dreamy liquid swirling at the Pavilion as Meng Po offers you her Brew of Oblivion. A drink to wipe your memories of the living world and DIYU, so that your soul can start anew as you leave your past, and the world of nightmares behind.
---
Halloween Horror Nights 11: Select Nights 29 Sep – 4 Nov
Halloween Horror Nights 11 MEGA Review by DEJIKI
Read my full review and see photos from this year's haunted houses, scare zones, the Opening Scaremony show, and DIE-ning in Hell special experience.
Halloween Horror Nights 11 EVENT GUIDE
Stay prepared. Get essential info in my Halloween Horror Nights 11 Event Guide, including event calendar, tickets and add-ons prices, plus Tips & Tricks.
Get more HHN updates
More photos from this year's HHN attractions will be published on my Instagram (@dejiki), Tiktok and on this website as special features. Follow me on Facebook for updates.

---
Halloween Horror Nights 11 (2023)
HHN11 REVEALED: Ticket and Event Guide
Sneak Preview: DIYU: Descent Into Hell, Rebirth of the Matriarch, Icons and more
Halloween Horror Nights 11 MEGA Review: Photos of all Haunted Houses and Scare Zones
HHN11 RIP TOUR (VIP Tour) Review

Features on Haunted Houses, Scare Zones and Experiences
Grimm Encounters | The Weeknd: After Hours Til Dawn Nightmare
Judgement Day (Opening Scaremony) | Netflix's All of Us Are Dead
DIYU: Descent Into Hell | Rebirth of the Matriarch
Dead Man's Wharf | The Cursed Kiramam
The Hacker + The Hacker: GAME OVER

Universal Studios Japan (USJ) 2023
Halloween Horror Nights 2023/ HAHAHA! Halloween Party! Event Guide


Halloween Horror Nights – The Archives


Click to Expand and see all posts from past Halloween Horror Nights