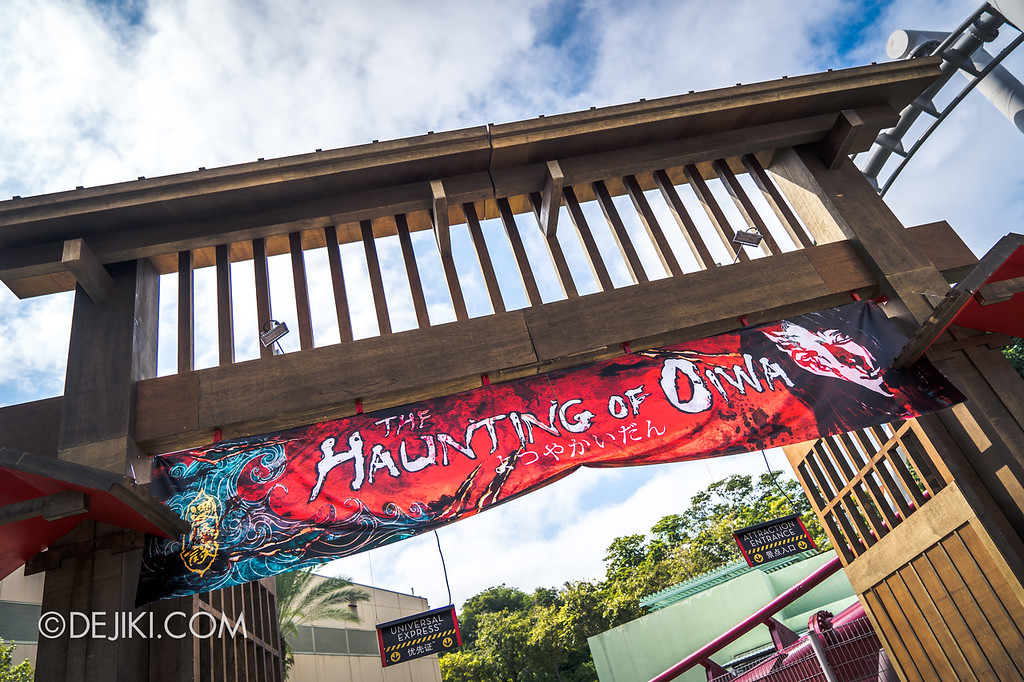 Final preparations for Halloween Horror Nights 8 are underway at Universal Studios Singapore.
Just a few more days to the opening of Halloween Horror Nights in Singapore! For this last BEFORE DARK: Halloween Horror Nights 8 article, I did something new: A walkthrough tour video of USS HHN8 that covers all the attractions and HHN visitor tips plus a giveaway, which you can find at the Vlog section of this article.
Haunted House: The Haunting of Oiwa
The Haunting of Oiwa's entrance is finally unveiled. These gates will lead you to the Japanese village where you can witness a very tragic tale of betrayal.
Some elements of the Japanese-style house facades can be seen from Ancient Egypt. Anyway, recap time: This house will use "hologram" technology to conjure Oiwa's haunting apparitions.
Pagoda of Peril
I wonder how the park is going to set up the experience for the Pagoda of Peril. How will we stumble onto it? From a cemetery? Ai's house, like in the short film?
This week, I saw that USS has built one entrance to the Pagoda of Peril haunted house facing outwards (like some houses in the past: The MRT and Possessions). It looks like.. behind the two trees, there's some sort of derelict building with a Chinese altar on the wall.
The actual Pagoda is up! Where did I see this? It's revealed in the vlog.
Pontianak
Said to be this year's SCARIEST maze, the Pontianak haunted house has a humble entrance arch reflecting the Malay Village where the vengeful spirit will emerge.
Killuminati
We'll soon be able to run and join the line here to meet our new vampire overlords of the Killuminati clan.
Stranger Things
The queue entrance for Stranger Things haunted house has appeared at the Rockefeller Center in NY zone. Thanks SN for sending this in. Last week I had a chance to preview the Stranger Things haunted house and saw the house's surprisingly huge facade.
Over here, the park is going to screen a 20-minute special cut of Stranger Things, so that you won't be lost in the haunted house.
Scare Zones
Over the past few nights, rehearsals were held secretly (or not so secretly), so what we've seen in the park so far are likely nearing the final state for HHN8. I won't repeat all the photos again. If you have time, just revisit past Before Dark articles.
At Apocalypse: Earth, there's more weathering, more reinforcements..
The giant face projection thing had its eyes added.
Nothing new at Zombie Laser Tag this week apart from these cool looking signs. Which means, there's probably not going to be any crazy stunts like last year's ZLT as the game area looks more focused on building an 'authentic' laser tag game experience.
The Cannibal scare zone received some interesting additions.
More shoes (on trees) and bags.
Dear cannibals, these are not home decor items.
Avert your eyes! Covered props… EXPOSED!
Lots of skeletons in this zone. Almost all the covered props in these zones are skeletons.
Quick Merch update: Minion Monsters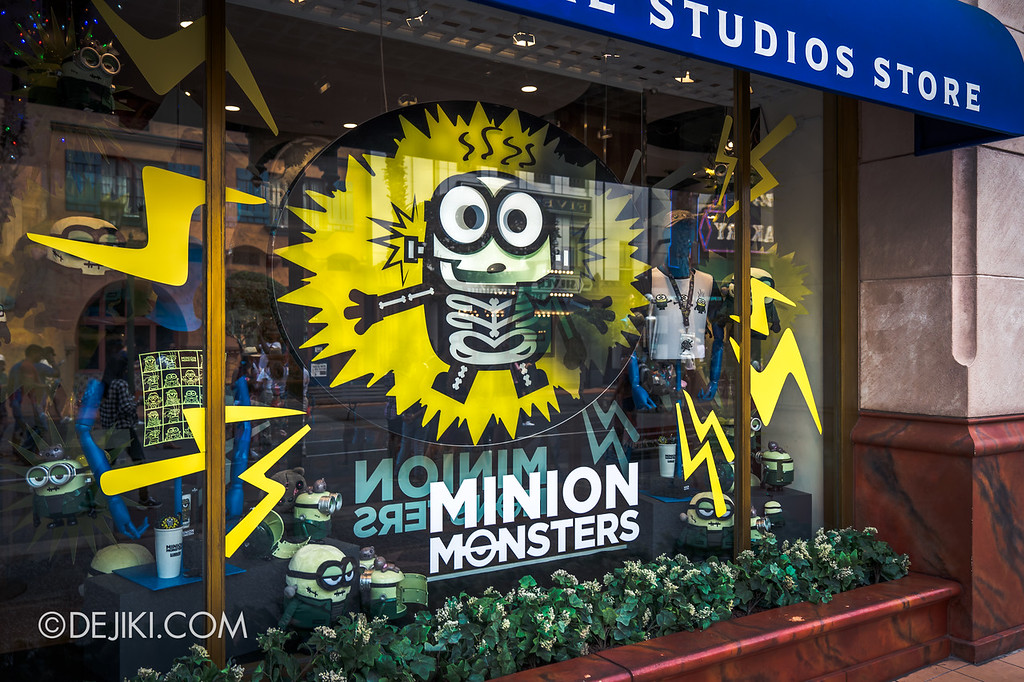 Last week I mentioned about the new Little Monsters merchandise. The Minion Monsters line has returned for Halloween season. Thanks Jeremy for informing me! I'll cover all the new merchandise in another update.
---
Vlog: HHN8 Walkthrough Tour
And now, here is a video of a full Universal Studios Singapore walkthrough. I'll introduce all the scare zones and haunted houses to you. There's also interesting trivia information about HHN and tips for anyone going to the parks for Horror Nights.
The video was filmed rather spontaneously so I wasn't prepared for the audio problems. And there are random pauses because the whole thing was unscripted and I was trying to recall past events from memory. Please watch with subtitles/CC as I have transcribed the entire vlog.
Giveaway
I'm doing a giveaway to celebrate "this first vlog" – Just watch the video and count how many times my friends Tong Ming and Sin Ngee appears. As long as they remain in the frame during a continuous shot, it is counted as one appearance.
As for what I'm giving away, I don't know yet – but it will be Halloween Horror Nights or Universal Studios Park related!
To take part in the giveaway, post a comment with your answer. Comments participating in the giveaway will not be shown publicly on the blog. The winner will be announced in October!
Are you ready for Infinite Fear at USS HHN8?
Universal Studios Singapore's Halloween Horror Nights 8 opens on 27 Sept through 31 Oct 2018 on select nights. Tickets are available online at halloweenhorrornights.com.sg, or you can also buy them via my Klook link.
Get all the info you need about Singapore's ultimate Halloween event at my Halloween Horror Nights 8 Tickets and Event Guide post.
---
Get more updates on Halloween Horror Nights
Follow me on Facebook and Instagram (@dejiki). Discover Singapore's Halloween Horror Nights here:
Halloween Horror Nights 10 (2022)
HHN10 REVEALED: Ticket and Event Guide
Halloween Horror Nights 10 MEGA Review: Photos of all Haunted Houses and Scare Zones
SPECIAL FEATURE: Behind the Scenes at HHN10 Haunted Houses
HHN10 RIP Tour (VIP Tour) Review

Features on Haunted Houses, Scare Zones and Experiences
The Silenced Auction (Opening Scaremony) | DIE-ning with The Dead | Monsters & Manifestations
Escape The Breakout | Killustrator: The Final Chapter | Hospitality of Horror
Operation: Dead Force | The Hunt for Pontianak | Dark Zodiac

Trick or Thrills (2021)
Halloween Horror Nights Exhibition
2021 Day and Night Halloween: DIE-ning with the Dead, Universal Monsters Scream Alley


Halloween Horror Nights – The Archives


Click to Expand and see all posts from past Halloween Horror Nights
Subscribe to Dejiki.com or Like my Facebook page for notifications of updates.
---