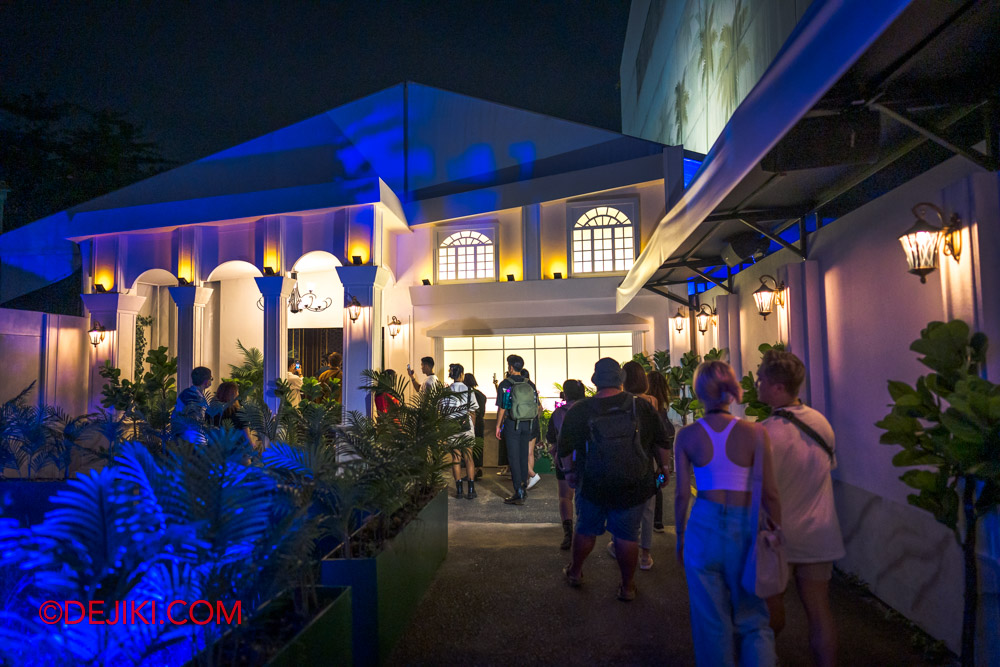 Check into Hotel Golden Monument, a historic mansion with a storied past, and experience the Hospitality of Horror inside this haunted house at Universal Studios Singapore's Halloween Horror Nights 10.
---
WARNING
Photos of Hospitality of Horror, a haunted house attraction at USS Halloween Horror Nights 10, are featured here to showcase its design and atmosphere. This article contains spoilers.
Copyright Note: All photos on this website, including Halloween Horror Nights photos cannot be reuploaded anywhere without my permission.
---
Overview and Thoughts
We now have a haunted house that is literally a haunted house disguised as a hotel. It's also like the staycation story upgraded to a premium class. This time, you get to explore (a few) rooms at the resort, before a sudden change happens halfway, bringing you to an entirely different environment.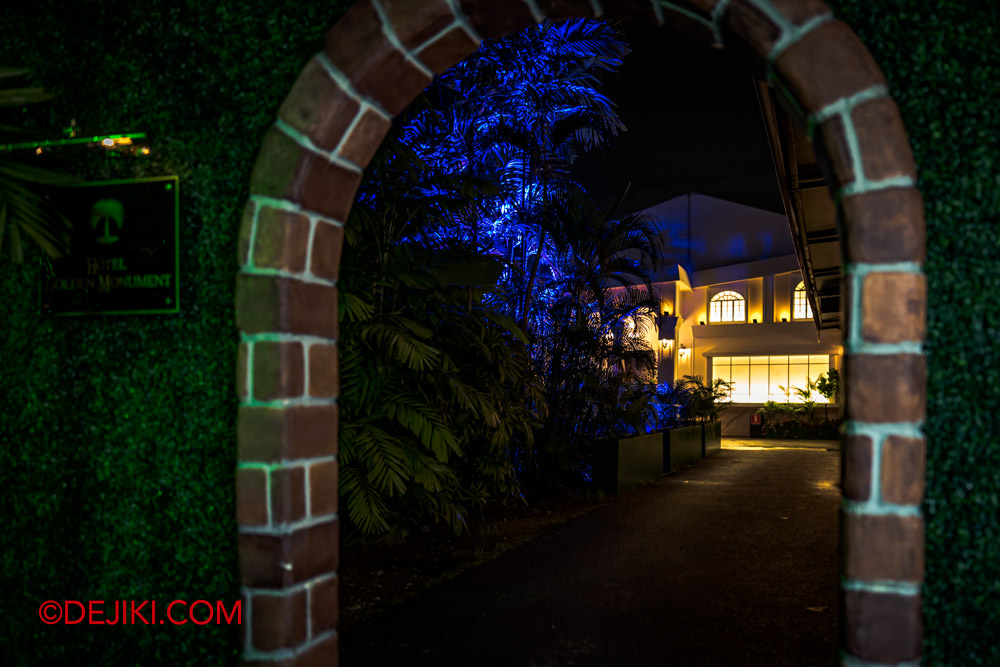 The first time I walked through the house, I noted many elements in its design that reminded me of the legendary attraction: Disney's Haunted Mansion. It's almost like a secret tribute: The hotel facade's forced perspective (though the scaling is very exaggerated), the busts that 'follow' you, hallway with a vanishing ghost, numerous theatrical scrim effects, pepper's ghost, how the route eventually brings us 'outside' and then 'underground', and even the piano motif goes through subtle variations in some rooms.
Houses built at this site always had to work around space constraints and a very narrow layout. There is just not enough space to bring out the Hotel's supposed grandeur, and the story felt very truncated. There's still a focus on jumpscares, with many interesting distractions and effects deployed. But I end up leaving the house with a lot of questions about the Sorceress, her powers, and the rituals that happen. And also, the confusing mix of "period" and modern guests – unless some are meant to be ghosts trapped in there, while others are the new victims. It's puzzling when they seem to appear across scenes, without a pattern.
---
Hospitality of Horror – Haunted House Photo Tour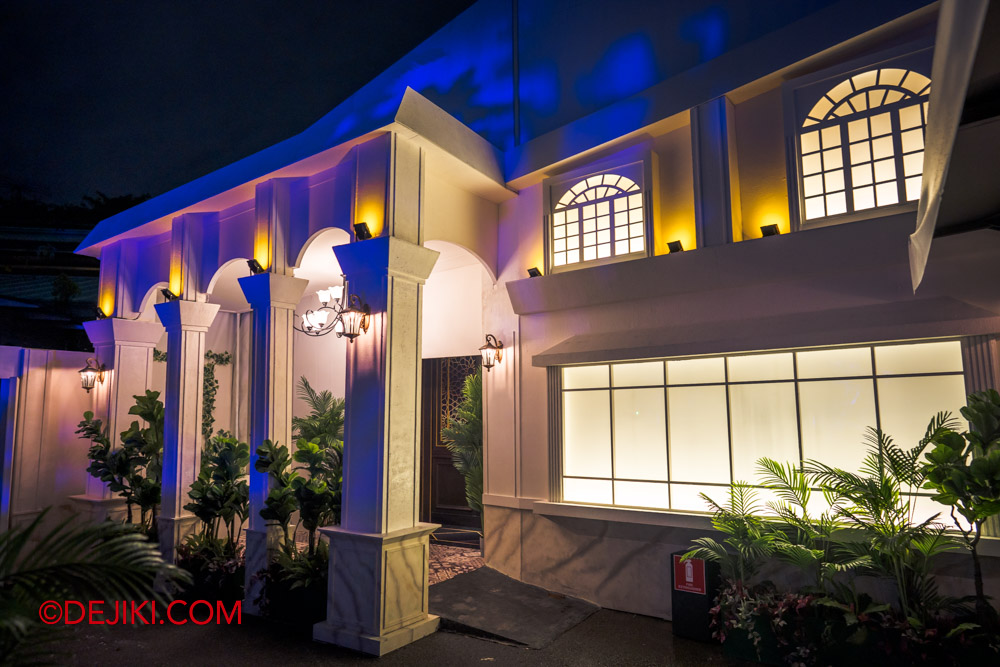 Welcome to Hotel Golden Monument, where luxury knows no bounds.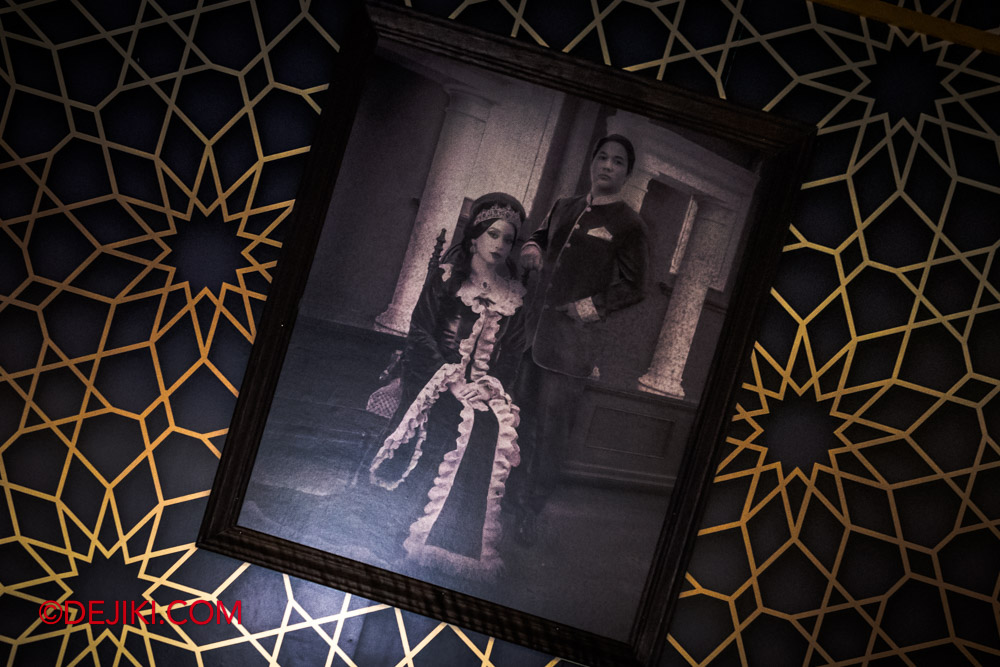 The Hotel originally a mansion built by the region's richest tycoon, for his favourite wife. For many years, the mansion was left empty and abandoned – no one knows what happened to its owners. Eventually, a developer bought over the mansion, restoring the building and converting it into a luxury hotel.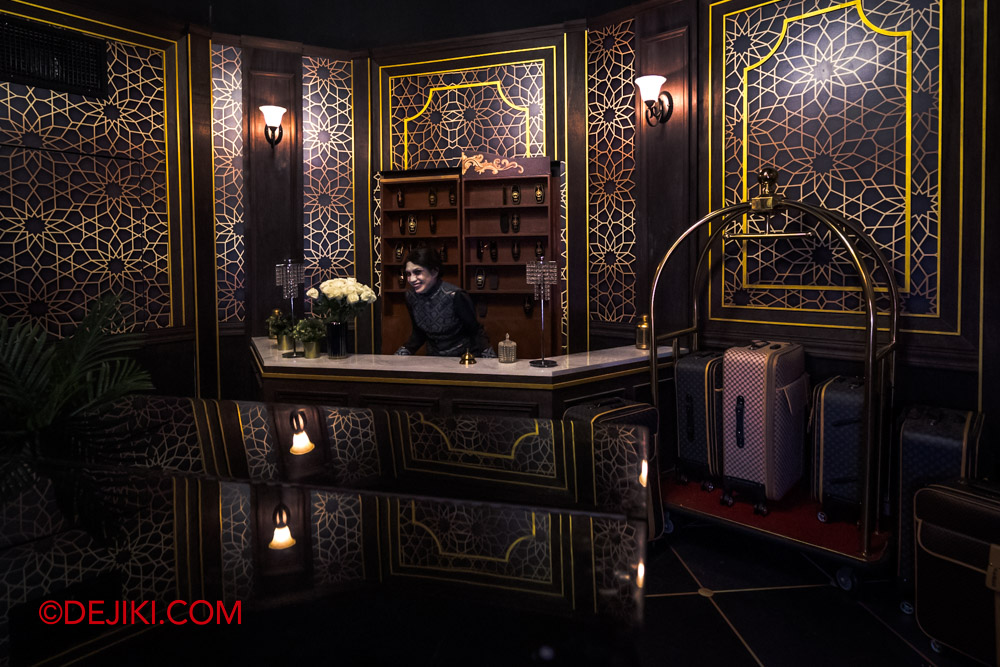 Now, you are ready for your vacation in one of the mansion's luxurious rooms… but something tells you that it's not going to be a tranquil one.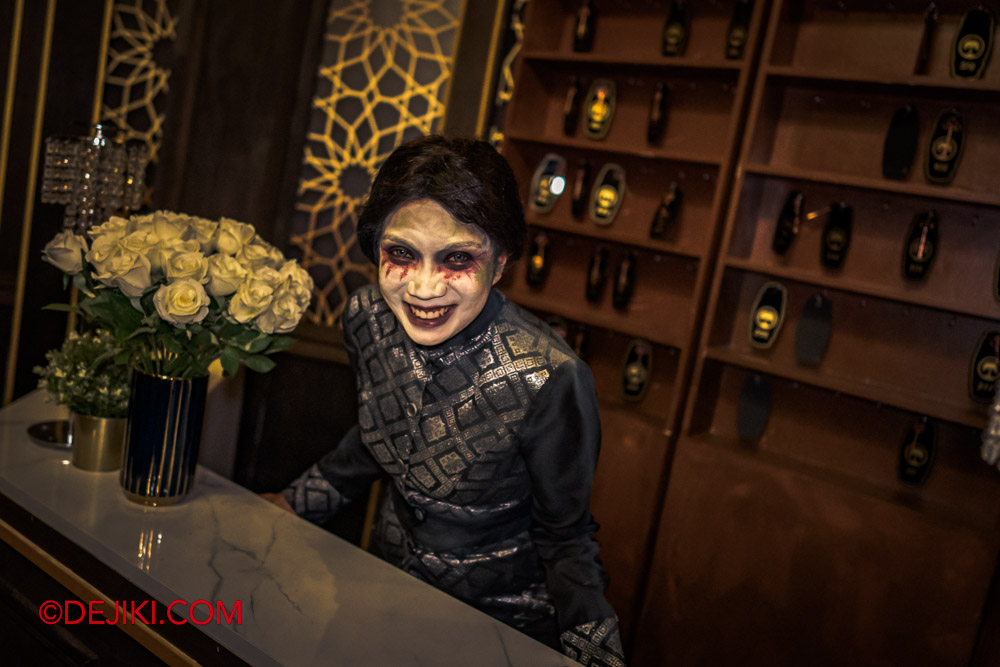 Something feels off at Hotel reception.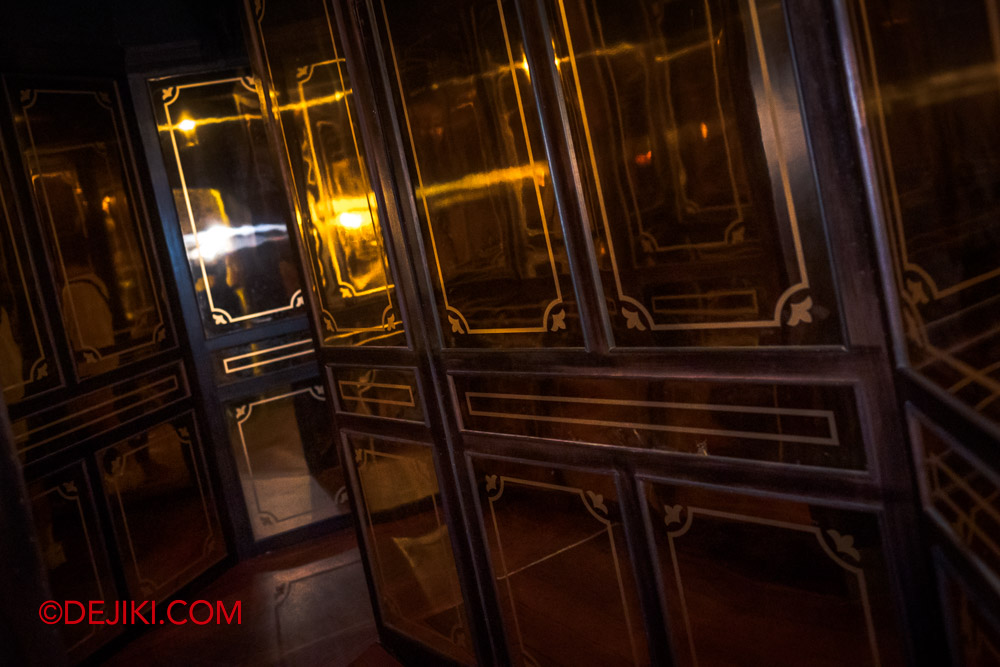 You got your keys, so now you just need to get into the elevator, which looks empty but feels very much occupied.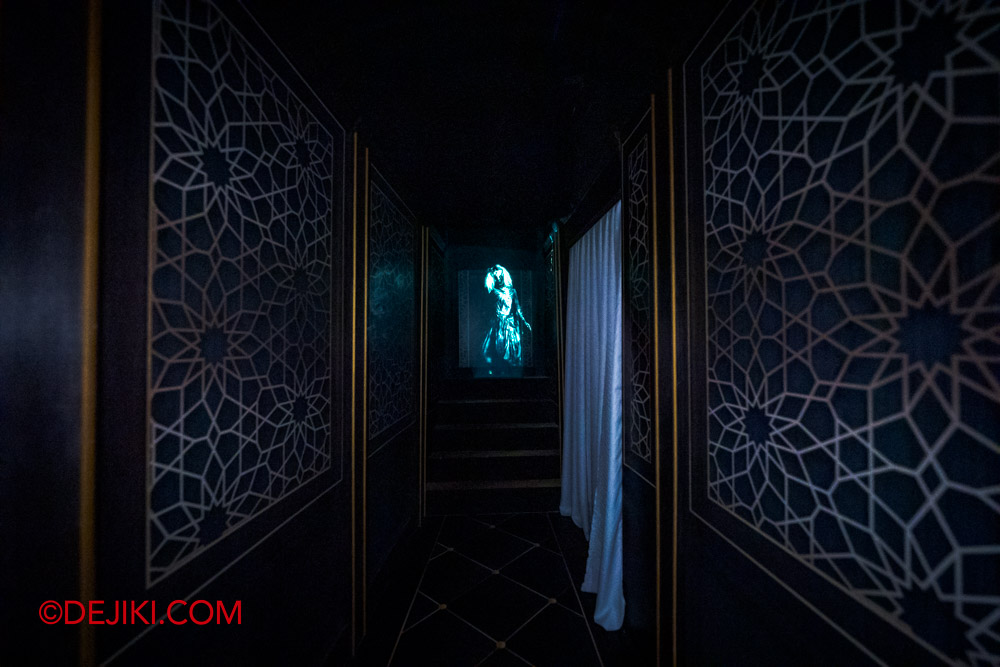 A mysterious, skeletal phantom floats in the hallway in front of you.
It beckons you before phasing through the door, causing the walls around you somewhat flicker – revealing the hotel's derelict state.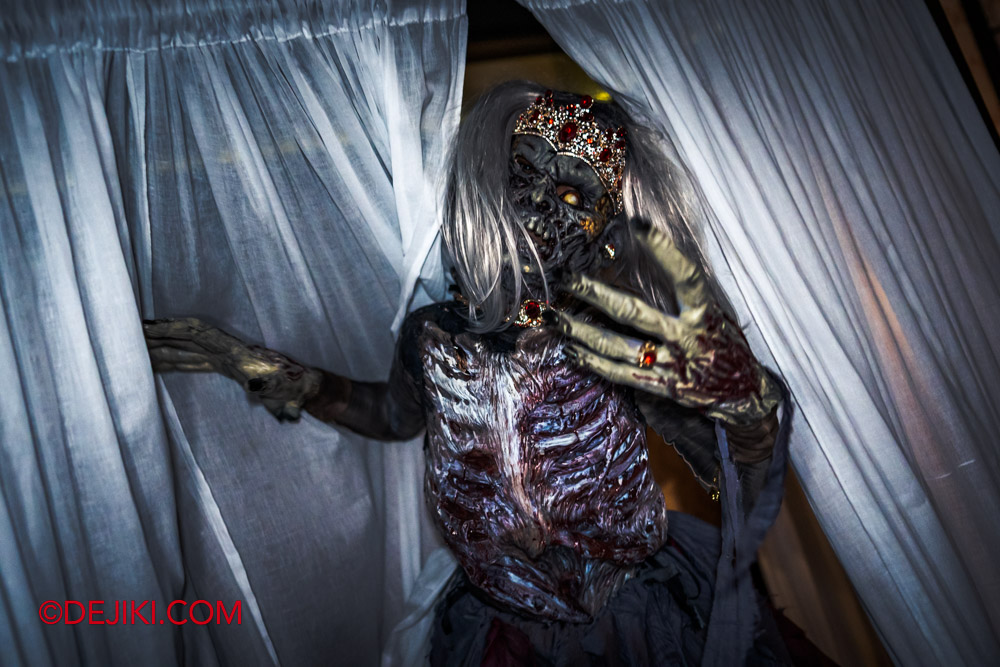 Inside your room, you see the ghostly Sorceress in the flesh, who viciously swipes at you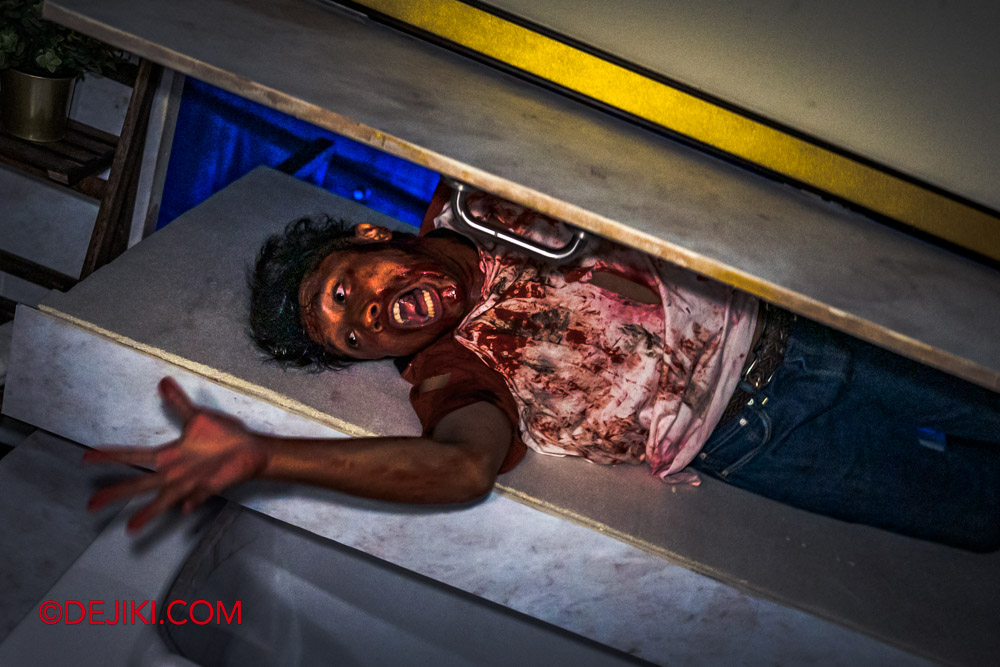 You turn away and run into the bathroom, where in a flash – you find a victim screaming for help.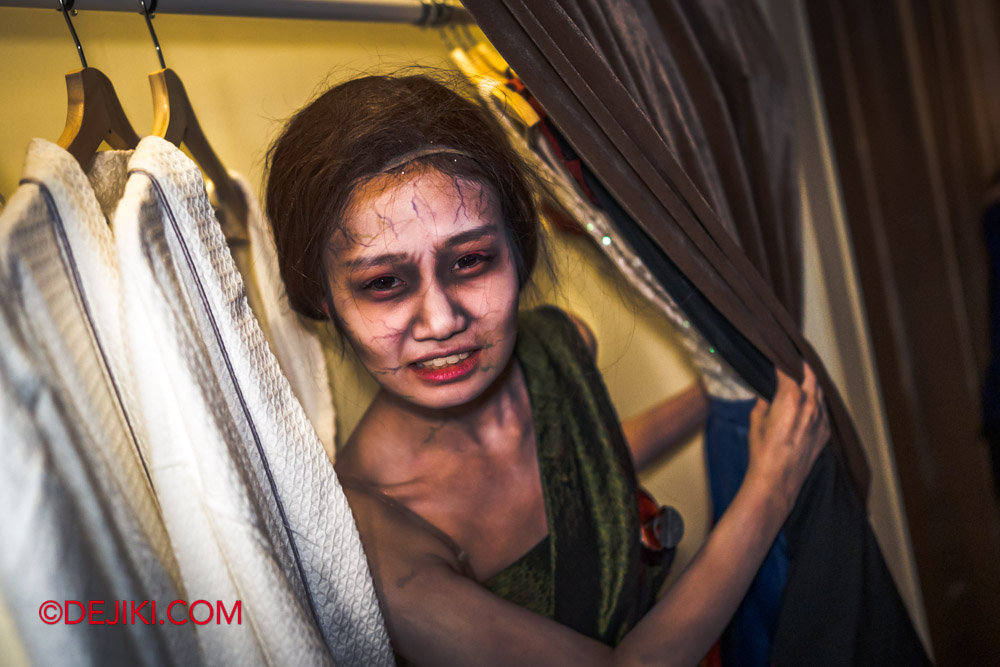 You meet another victim in the next room, the walk-in wardrobe.
The Sorceress is close behind, but you discover a door that leads to a hidden passage between rooms.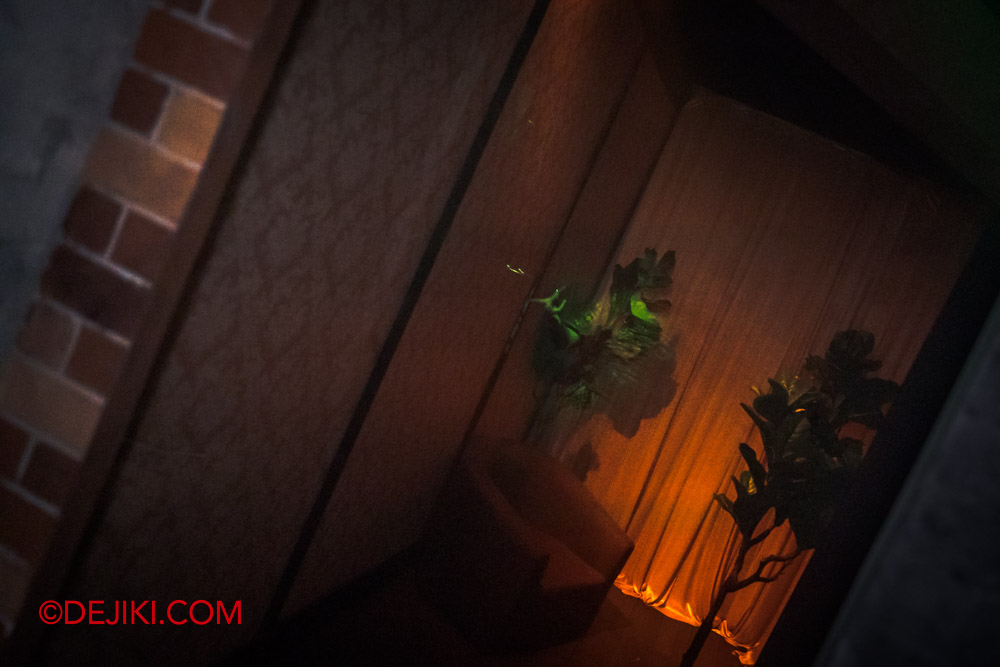 Here you discover that the mirrors in the hotels are 2-way, allowing someone to spy on guests. But not everyone is actually alive, it seems.
The passageway also appears to lead to a secret hideout, and you have no other option but to explore deeper.
There's no turning back as you make your way deeper into the utility areas of the hotel.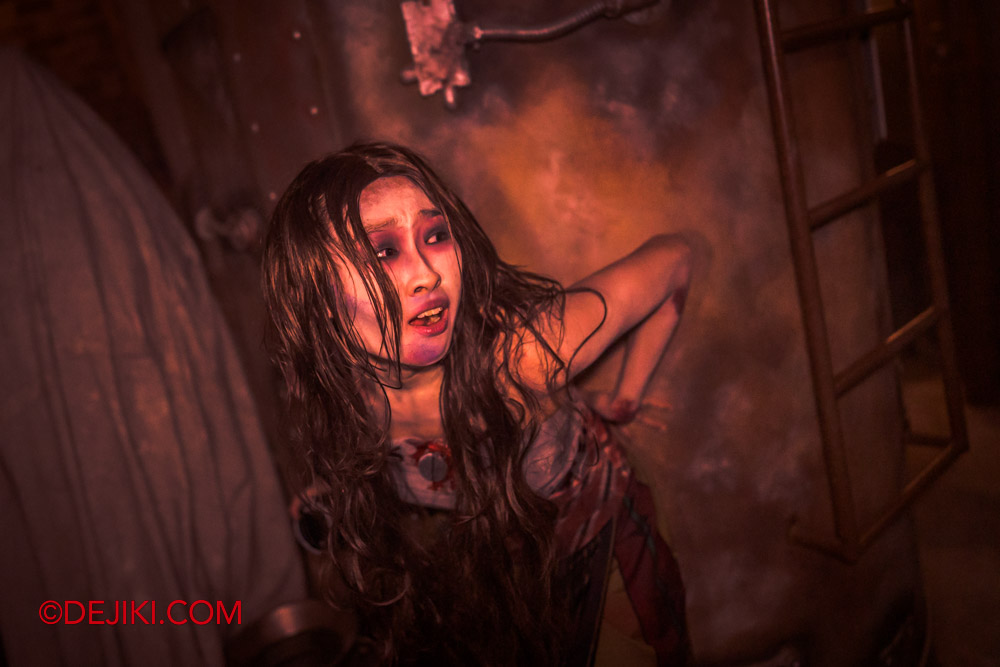 More victims warn you on what lies ahead, while some are desperately screaming for help.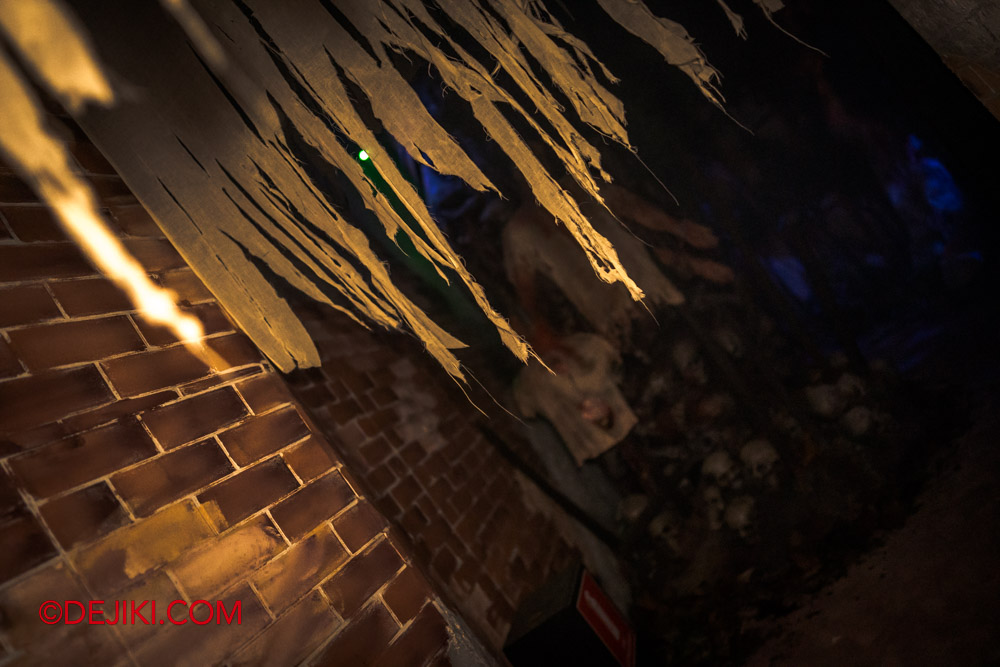 Through the tunnels, you discover where the Sorceress conducts her rituals.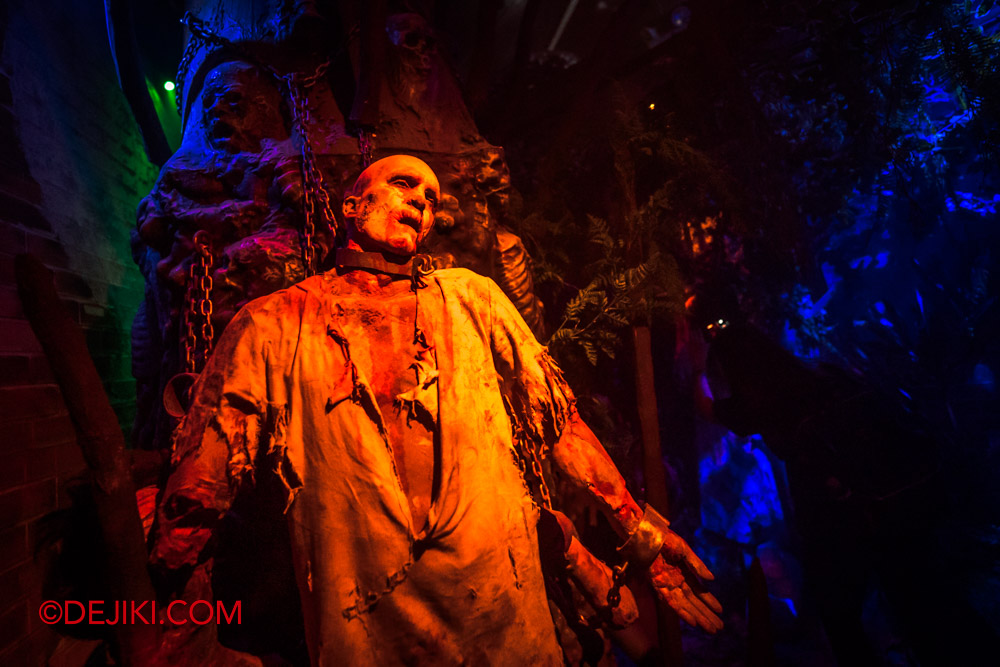 As the gruesome sights shock you at the courtyard, terrifying ghosts chase you into a tomb.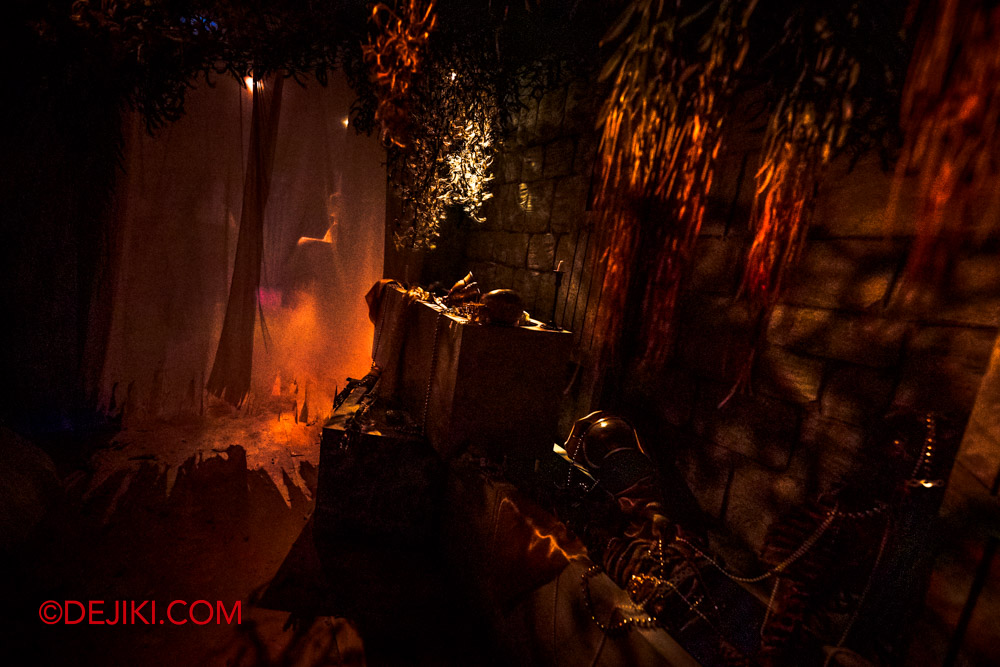 You dash past a treasure hoard of glittering gold and gems.
Narrowly dodging falling columns, you meet more victims trying to escape from the Sorceress.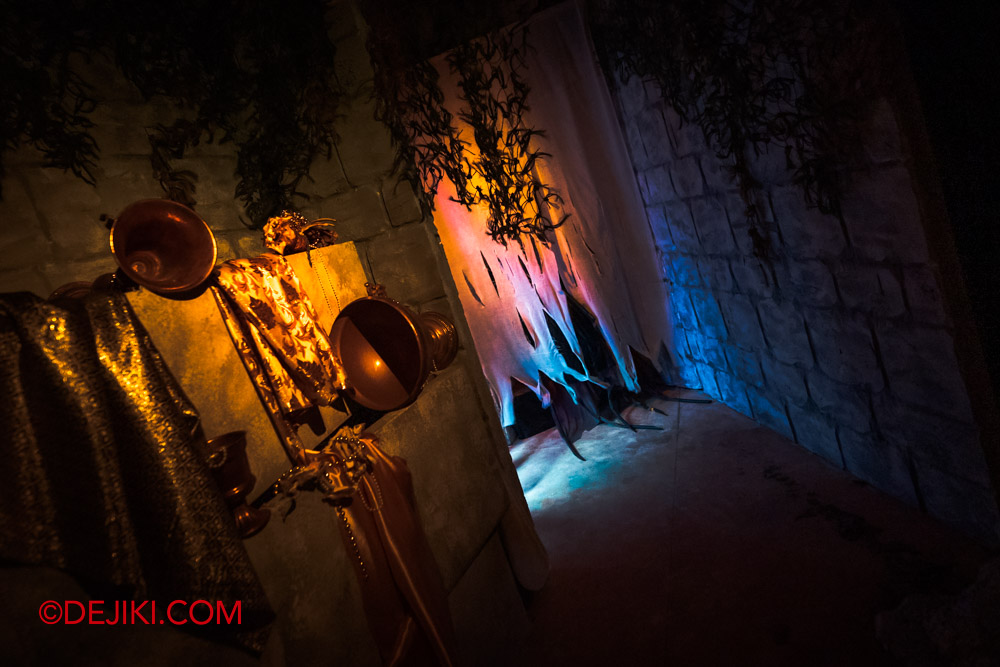 The path clears, and just when you start to see light from outside…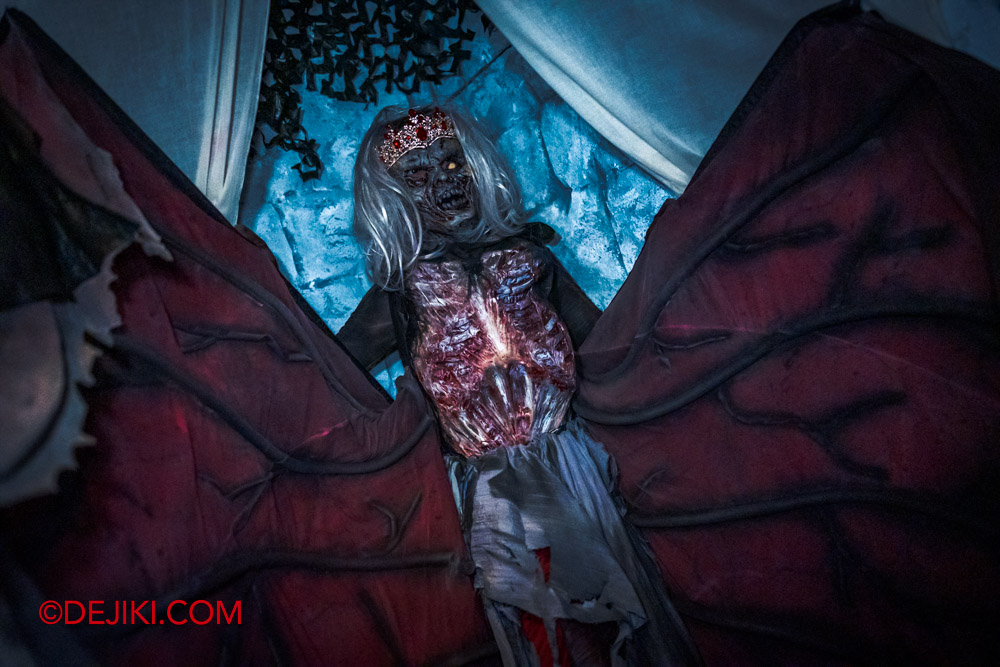 The Sorceress reappears, making her last stand to keep you in her mansion forever.
---
Halloween Horror Nights 10 runs on select nights from 30 Sept to 5 Nov 2022.
Halloween Horror Nights 10 MEGA Review by DEJIKI
Read my full review and see photos from this year's 3 haunted houses, 2 scare zones, the Opening Scaremony show, and other special experiences.
Halloween Horror Nights 10 EVENT GUIDE
Get all the info you need about Halloween Horror Nights 10 in my Event Guide, including event calendar, ticketing options, add-ons and the RIP Tour prices.
Halloween Horror Nights 10 (2022)
HHN10 REVEALED: Ticket and Event Guide
Halloween Horror Nights 10 MEGA Review: Photos of all Haunted Houses and Scare Zones
SPECIAL FEATURE: Behind the Scenes at HHN10 Haunted Houses
HHN10 RIP Tour (VIP Tour) Review

Features on Haunted Houses, Scare Zones and Experiences
The Silenced Auction (Opening Scaremony) | DIE-ning with The Dead | Monsters & Manifestations
Escape The Breakout | Killustrator: The Final Chapter | Hospitality of Horror
Operation: Dead Force | The Hunt for Pontianak | Dark Zodiac

Trick or Thrills (2021)
Halloween Horror Nights Exhibition
2021 Day and Night Halloween: DIE-ning with the Dead, Universal Monsters Scream Alley


Halloween Horror Nights – The Archives


Click to Expand and see all posts from past Halloween Horror Nights