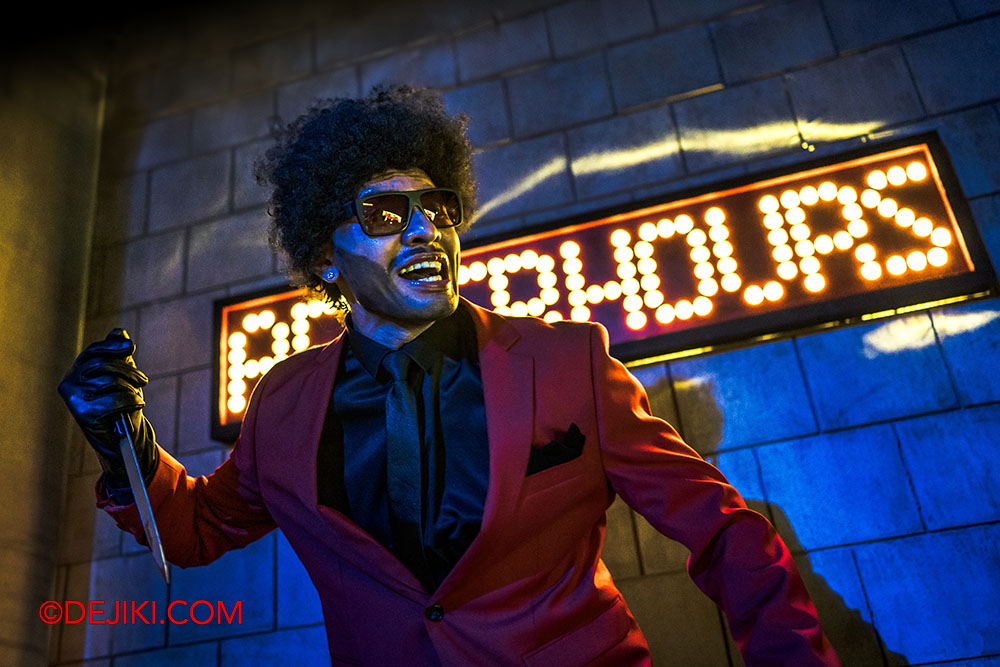 Enter the After Hours club and dance till Dawn with eerie remixes of music by The Weeknd at The Weeknd: After Hours Til Dawn Nightmare, a haunted house attraction only at Universal Studios Singapore's Halloween Horror Nights 11.
---
WARNING
Photos of a haunted house attraction at Halloween Horror Nights 11 are featured in this article as a special showcase. This article contains spoilers.
Copyright Note: All content on this website, including Halloween Horror Nights photos and writeups cannot be reuploaded onto other websites without my permission.
---
Overview and Thoughts
The Weeknd is the second IP house at HHN11, with a late announcement that surprised many HHN fans all over the world. It marks the first time Singapore is getting an 'enhanced' IP house after Hollywood and Orlando. With the other 2 parks skipping The Weeknd in 2023, it also makes this an exclusive IP for the Singapore park and one of its headliners.
In After Hours Til Dawn Nightmare, you can explore different 'levels' of The Weeknd's nightclub, which leads you through surreal spaces inspired by his music videos and special performances. Abel's fans will definitely enjoy the artistic adaptations of his recent discography into a horror attraction. Notable performances, such as the 2021 Super Bowl Halftime Show and the Dawn FM Experience were also referenced. References and allusions can be found in every room, including the animated screens that shouldn't be missed. As for those new to his music, it offers a unique opportunity to be introduced to his songs in the most immersive way.
The presence of The Weeknd's haunting music enhances the experience and could make some sing along – so perhaps this isn't actually a scary house, but the most "fun" and entertaining one in Singapore's line-up. There are still some well-designed jumpscares and elaborate effects in the rooms, along with a stunt.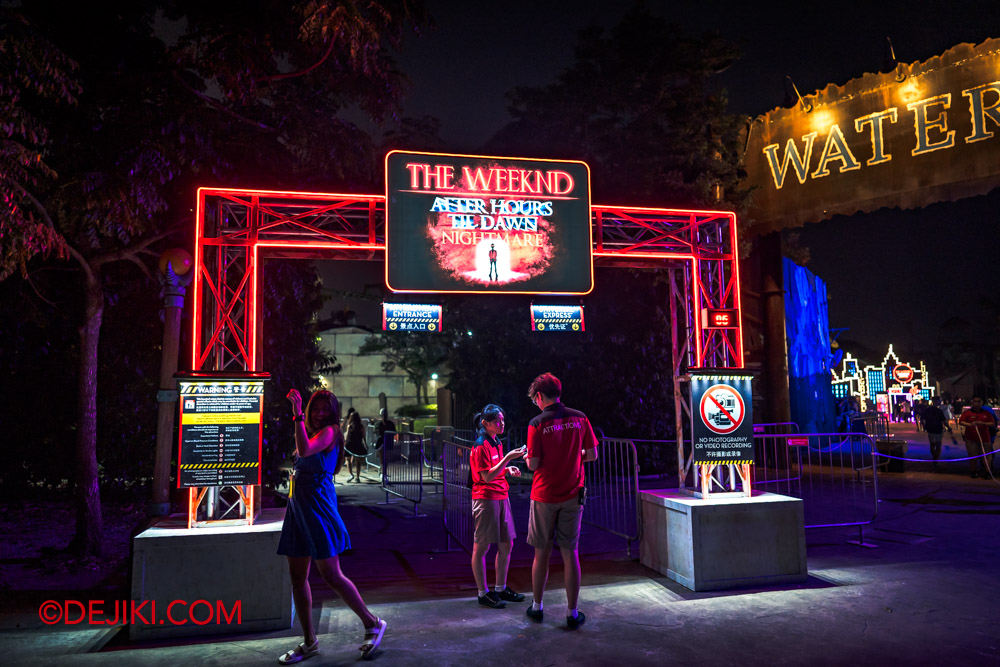 With the larger Waterworld queue space to work with, USS creatives selected scenes from 2022's After Hours houses and adapted them into their own. The transition into Dawn FM (and its night club) halfway through brings into another world of new nightmares. The general flow of the house is also reversed compared to past years', as the Waterworld attraction is also running during HHN11.
---
The Weeknd: After Hours Til Dawn Nightmare – Haunted House Photo Tour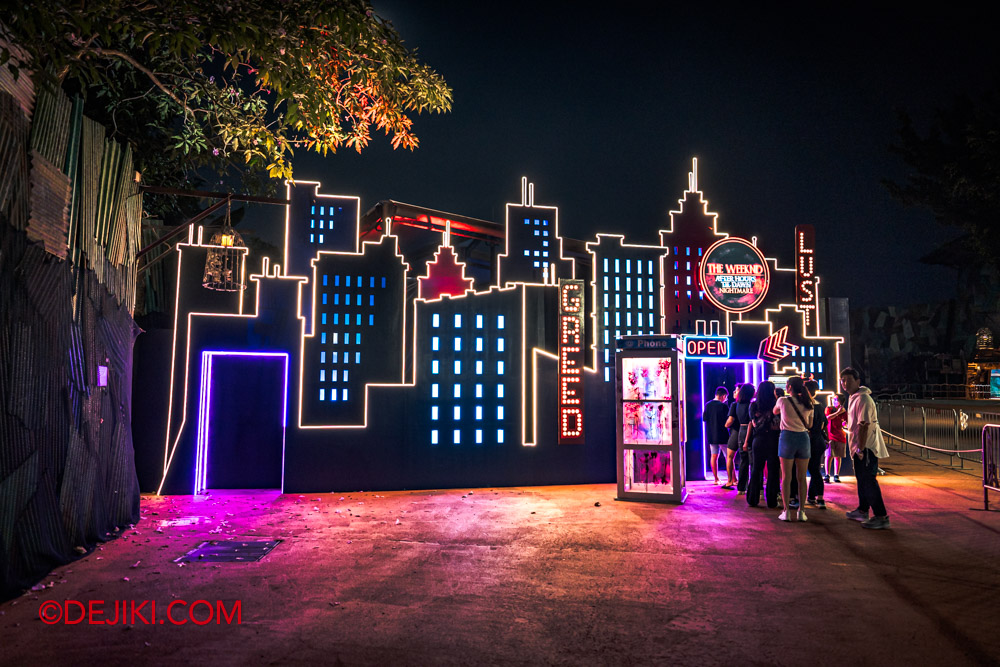 A flashy, 'Sin City' backdrop marks the entrance to The Weeknd's After Hours nightclub. Come on in…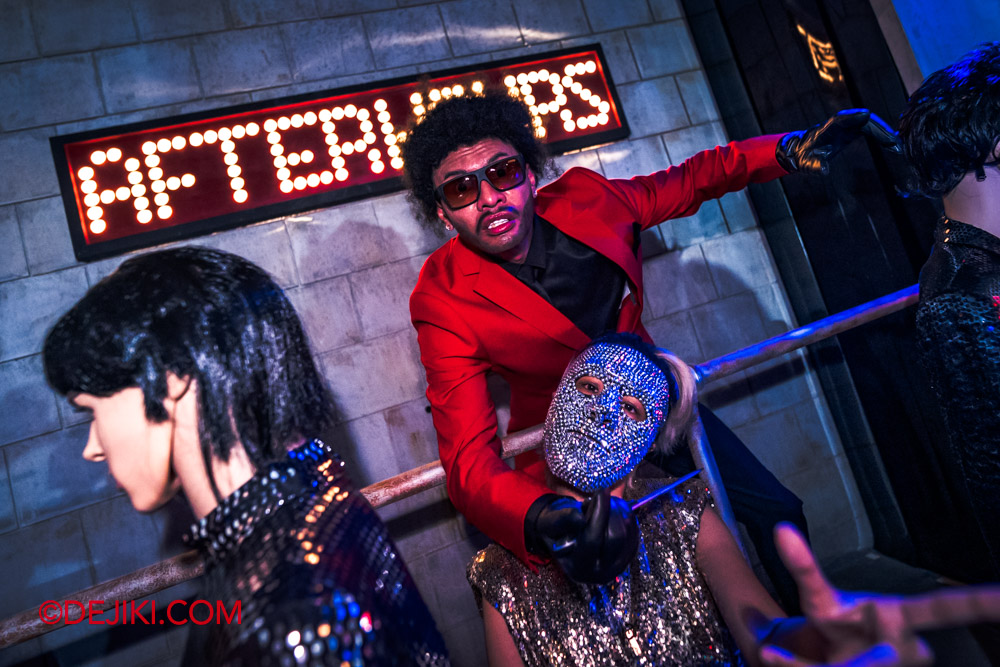 The club's crowded tonight.
Knife in his hand, The Weeknd sets his sights on a new target. A dark, distorted remix of 'In Your Eyes' makes it unsettling to stay on.
Making your way through the crowd and past the VIP section, you find yourself in a dark corridor, where a cautious woman defends herself with an axe.
You dive past The Weeknd, still in his signature red blazer but now headless.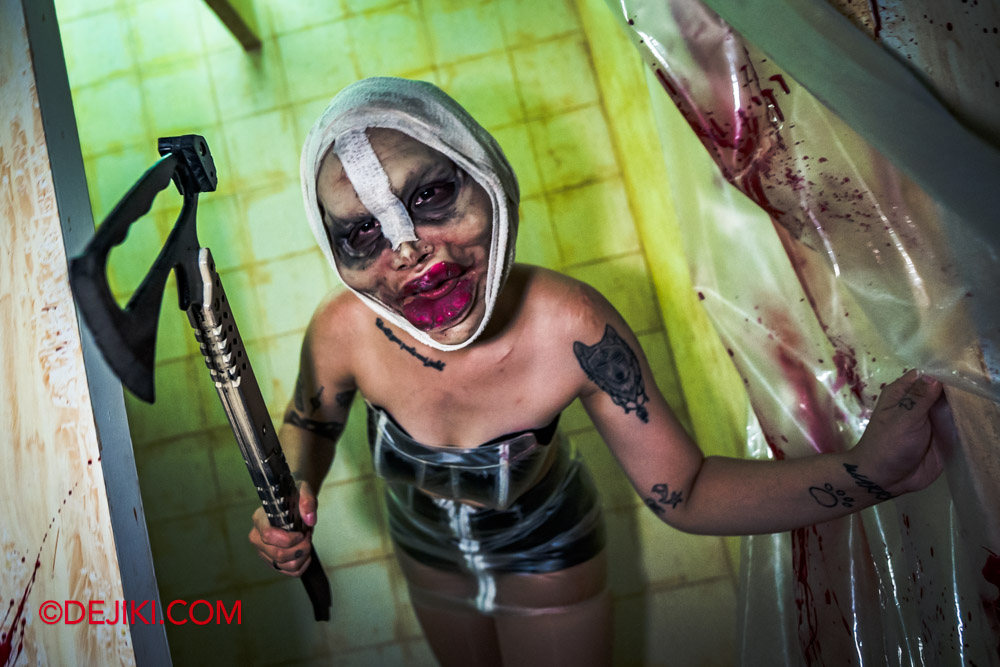 Walking through a bloody restroom, you find random body parts strewn around. It's Too Late.
Two bandaged women are taking The Weeknd's head and other body parts to create a perfect partner, just for them.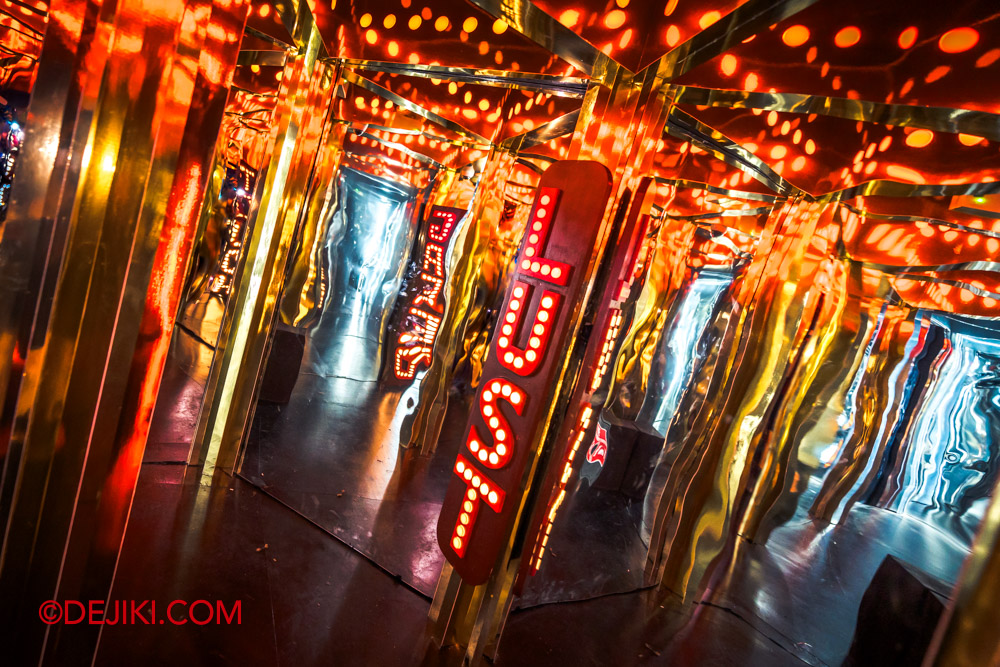 You run outside, and enter a dizzying world of mirrors. Haunting afterimages of The Weeknd – now in bandages – cloud your way forward with Blinding Lights.
The Weeknd is now speeding around Sin City, blazing a trail of madness.
His car spins out of control, and the lights cut out. You're brought into a new scene outdoor alluding to the Gasoline music video. Walking around the car crash, you find The Weeknd has rapidly aged, and speechless at what has happened. He leads you into the Dawn FM nightclub.
As you venture into the dark, winding corridors, you wander into a chamber where The Weeknd is trapped in a box, as a distorted 'Take My Breath' lingers in the air.
Flashes of red flood the next room, with giant sawblades bringing nightmares of dismemberment.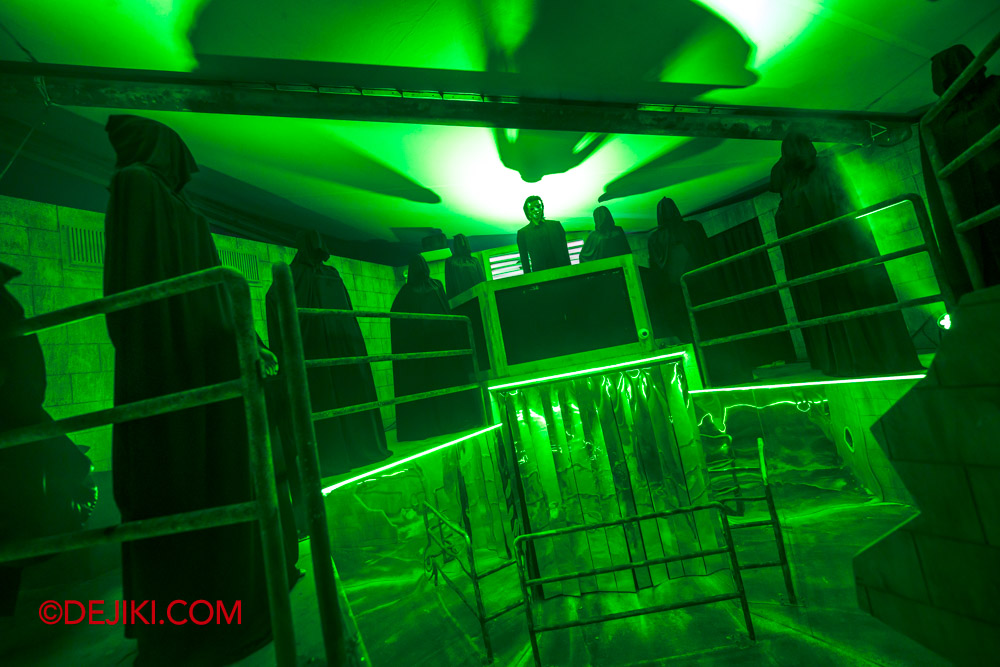 Your journey through Dawn FM comes to a close in a final chamber doused in green. A mass of hooded figures gather above, silently observing as an invisible Sacrifice is taking place. The Weeknd makes his final attempt to escape from his purgatory of pain.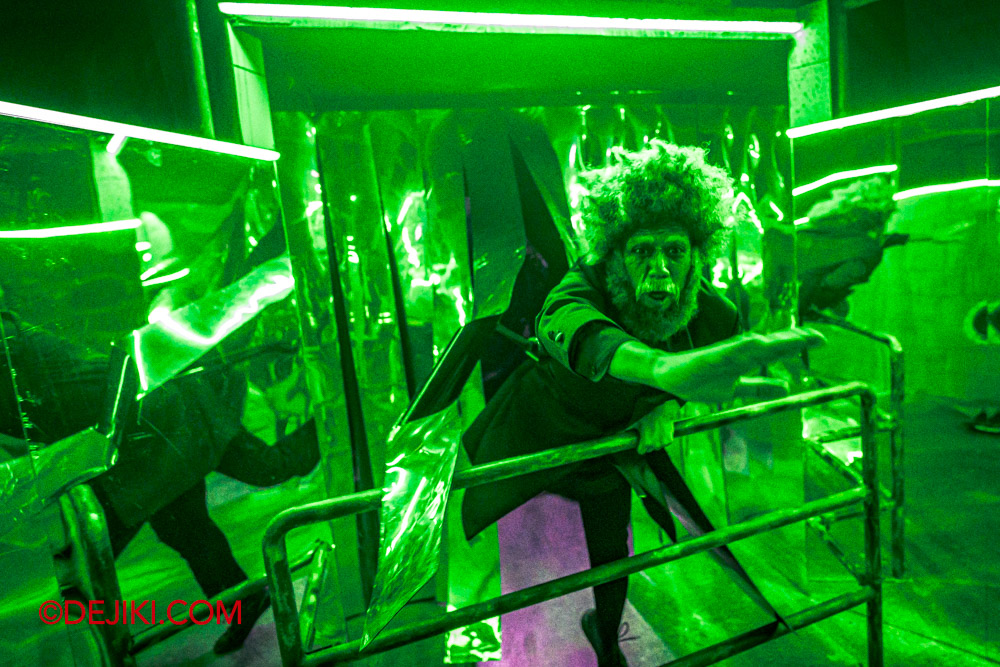 ---
The Weeknd: After Hours Til Dawn Nightmare haunted house video
Note: Footage from secondary camera capturing simultaneously while I'm taking photos.
---
Halloween Horror Nights 11 Park Soundtrack – Spotify Playlist
Relive terrifying moments from The Weeknd: After Hours Til Dawn Nightmare haunted house, plus other songs heard around Universal Studios Singapore during Halloween Horror Nights 11! Note: This is an unofficial compilation.
---
Halloween Horror Nights 11: Select Nights 29 Sep – 4 Nov
Halloween Horror Nights 11 MEGA Review by DEJIKI
Read my full review and see photos from this year's haunted houses, scare zones, the Opening Scaremony show, and DIE-ning in Hell special experience.
Halloween Horror Nights 11 EVENT GUIDE
Stay prepared. Get essential info in my Halloween Horror Nights 11 Event Guide, including event calendar, tickets and add-ons prices, plus Tips & Tricks.
Get more HHN updates
More photos from this year's HHN attractions will be published on my Instagram (@dejiki), Tiktok and on this website as special features. Follow me on Facebook for updates.

---
Halloween Horror Nights 11 (2023)
HHN11 REVEALED: Ticket and Event Guide
Sneak Preview: DIYU: Descent Into Hell, Rebirth of the Matriarch, Icons and more
Halloween Horror Nights 11 MEGA Review: Photos of all Haunted Houses and Scare Zones
HHN11 RIP TOUR (VIP Tour) Review

Features on Haunted Houses, Scare Zones and Experiences
Grimm Encounters | The Weeknd: After Hours Til Dawn Nightmare
Judgement Day (Opening Scaremony) | Netflix's All of Us Are Dead
DIYU: Descent Into Hell | Rebirth of the Matriarch
Dead Man's Wharf | The Cursed Kiramam
The Hacker + The Hacker: GAME OVER

Universal Studios Japan (USJ) 2023
Halloween Horror Nights 2023/ HAHAHA! Halloween Party! Event Guide


Halloween Horror Nights – The Archives


Click to Expand and see all posts from past Halloween Horror Nights