Will you survive Death Fest, the deadliest music festival at Halloween Horror Nights 9? Check out this scare zone and Death Fest LIVE procession show photos here!
Overview and Thoughts
Welcome to the loud and action-packed scare zone this year! There's bright lights, scary props, and crazy maniacs all ready to terrify – not forgetting the loud music playing all night. That's Death Fest, the deadliest music festival at Universal Studios Singapore.
When I first heard that USS is doing a zone based on death metal, a certain concert that was cancelled in Singapore earlier this year came to mind – coincidence, or inspiration? Anyway, some fans may notice the unusual parallels between this zone and March of the Dead from HHN6: The procession, stage show, the enigmatic icon, unusual characters, and connection to music. Except that zone was an elegant and sombre, and this one is just loud and brash.
There aren't many big props cutting across the street at Death Fest, which I thought was surprising as scare zones work better with smaller sections than one continuous space. Then it was confirmed that the zone will be used for the Opening Scaremony, and the park decided to keep Rhythm Truck in the daytime entertainment lineup. They probably learned from the Death March parade that it's easier and safer to not shift props around.
To me, the main highlight of Death Fest is the concert-like experience of the Death Fest LIVE show and procession. The zone feels empty without the show, as if it's waiting for something to happen. The street even looks vacant at times when most park guests are elsewhere in the park. There aren't enough props and even though most of the characters seem interesting, they're spread too thin in this open space. Towards the second half of the event, it was noticeable that there were some adjustments to the performance, allowing the cast to freely roam around the street.
---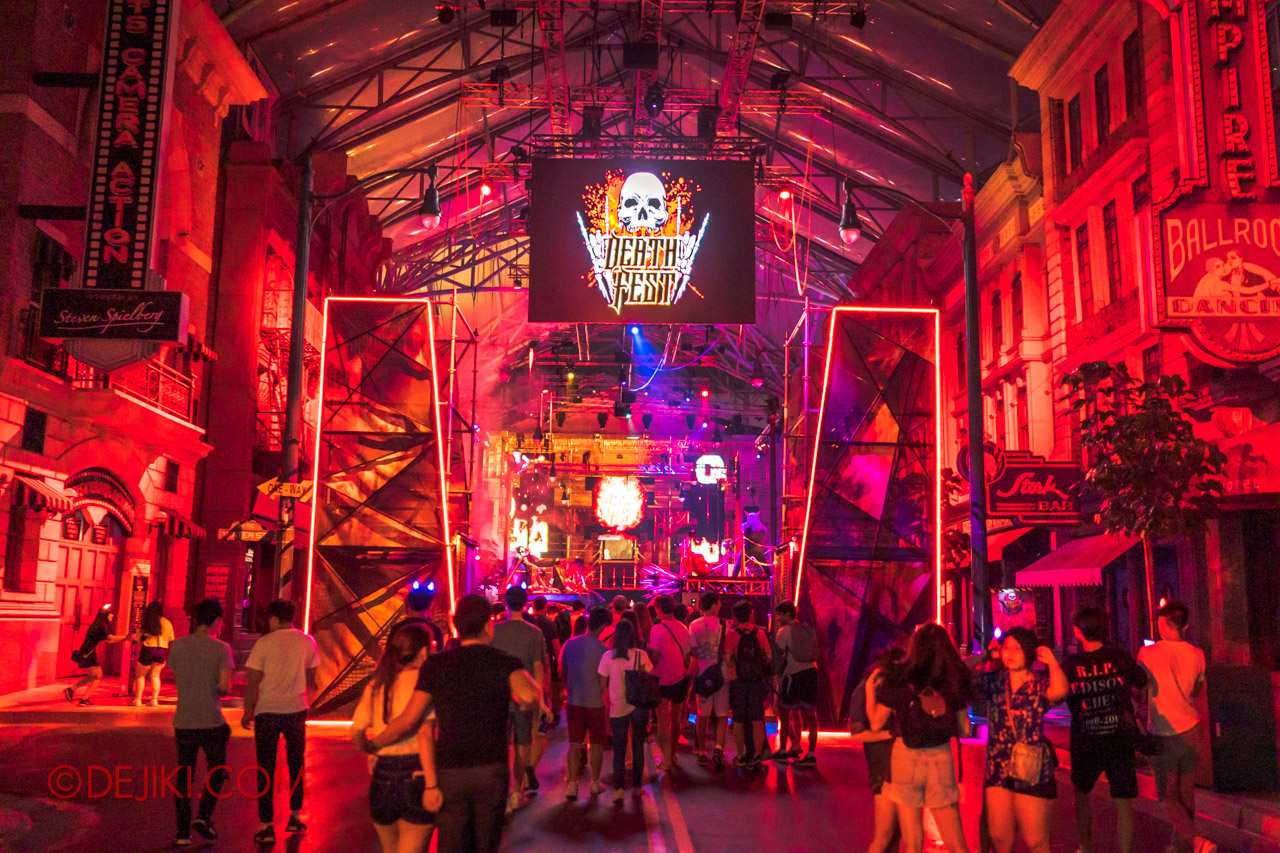 Be overwhelmed by deadly evil music as you step inside Death Fest.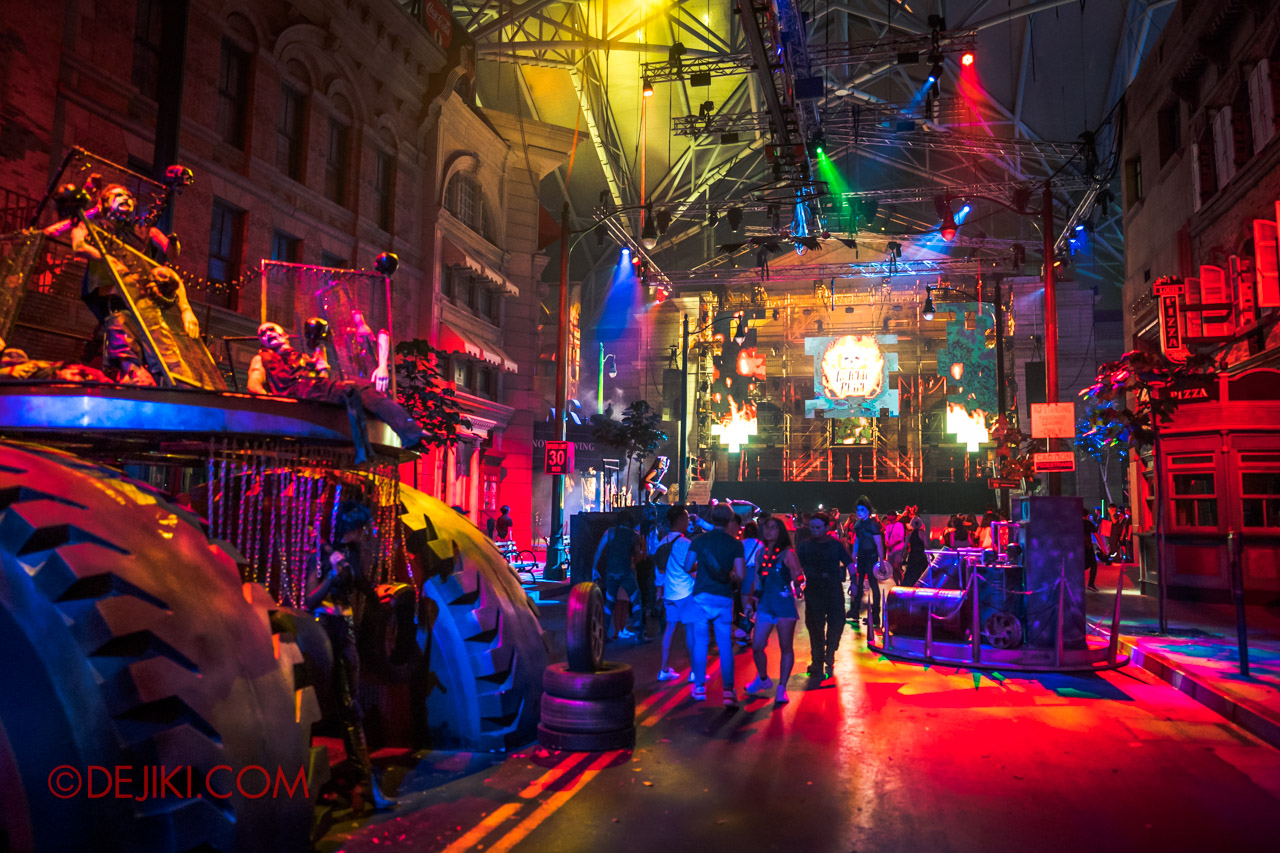 Gruesome scenes depict the violent effects of the death metal music performed here.
Don't lose your head as you walk through the festival, where maniacal fanatics and other musicians lurk in waiting of the death metal star – the God of Destruction, Savage.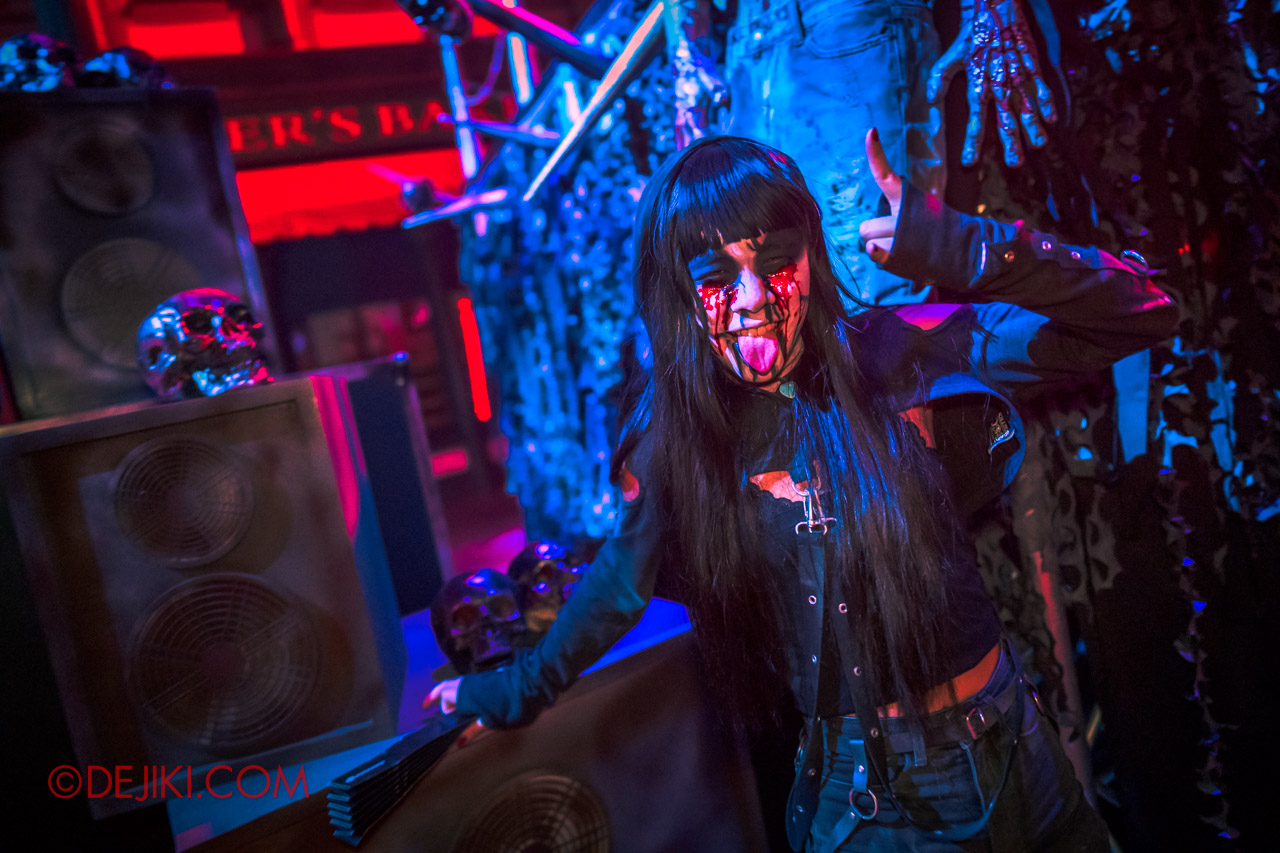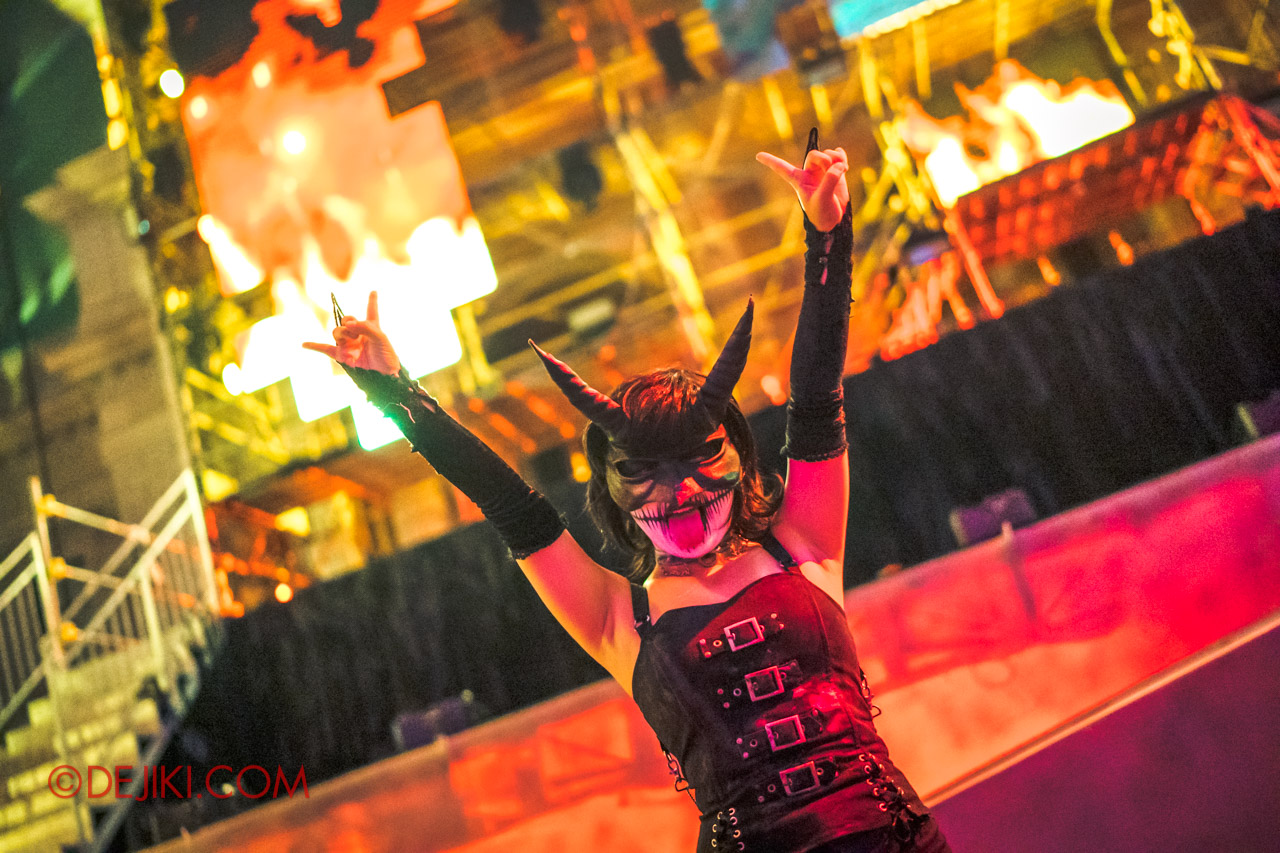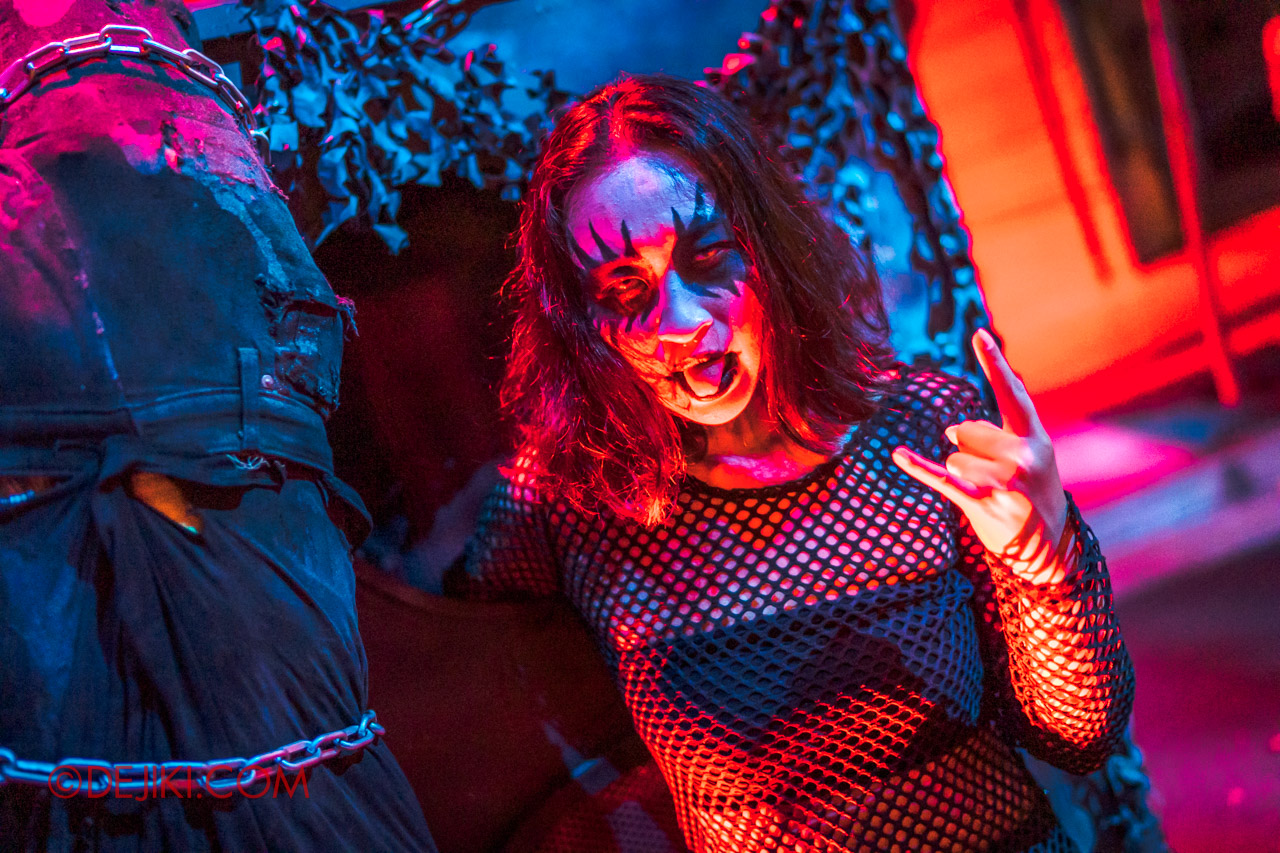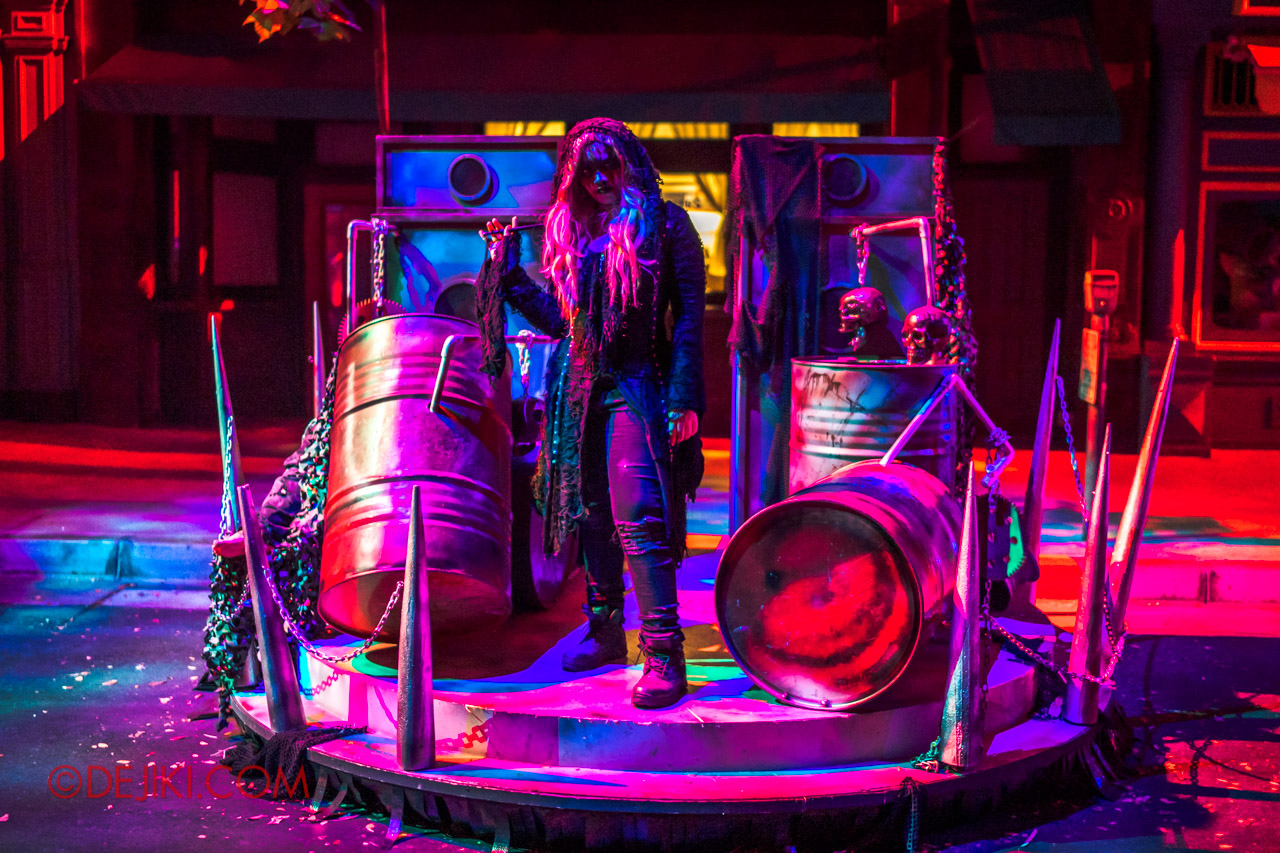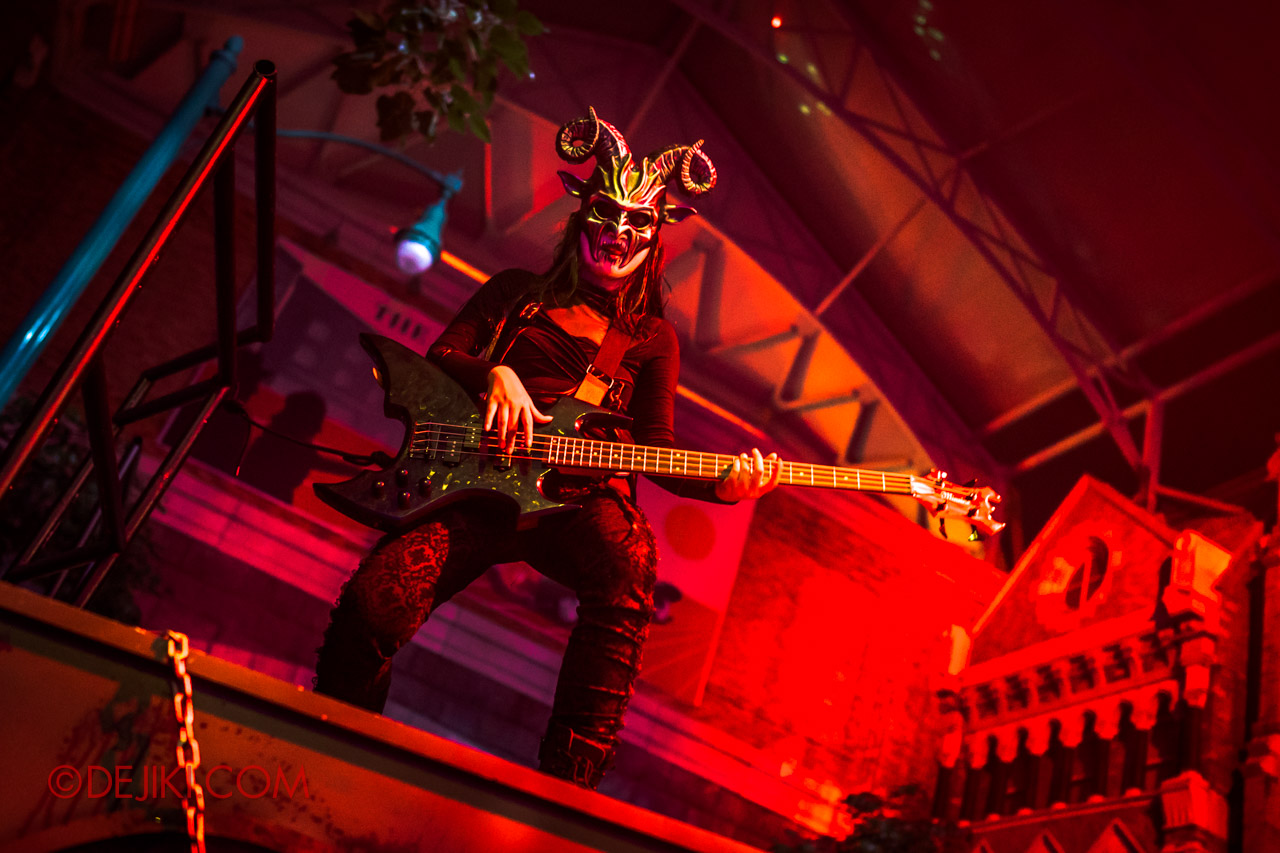 Death Fest LIVE
Performed only on event nights designated as Peak Nights, Death Fest LIVE is a park-wide procession celebrating the release of Savage, Death Trap's lead singer, from Hell Block 9. This show is the first parade-style show to make a full loop around the park, and it culminates into a concert at the Death Fest scare zone.
Watch this video for the Death Fest LIVE experience!
Savage, recently released from Hell Block 9, boards his 'death metal' throne with his partner.
He then goes on a victory parade around the park with his troupe of metalheads.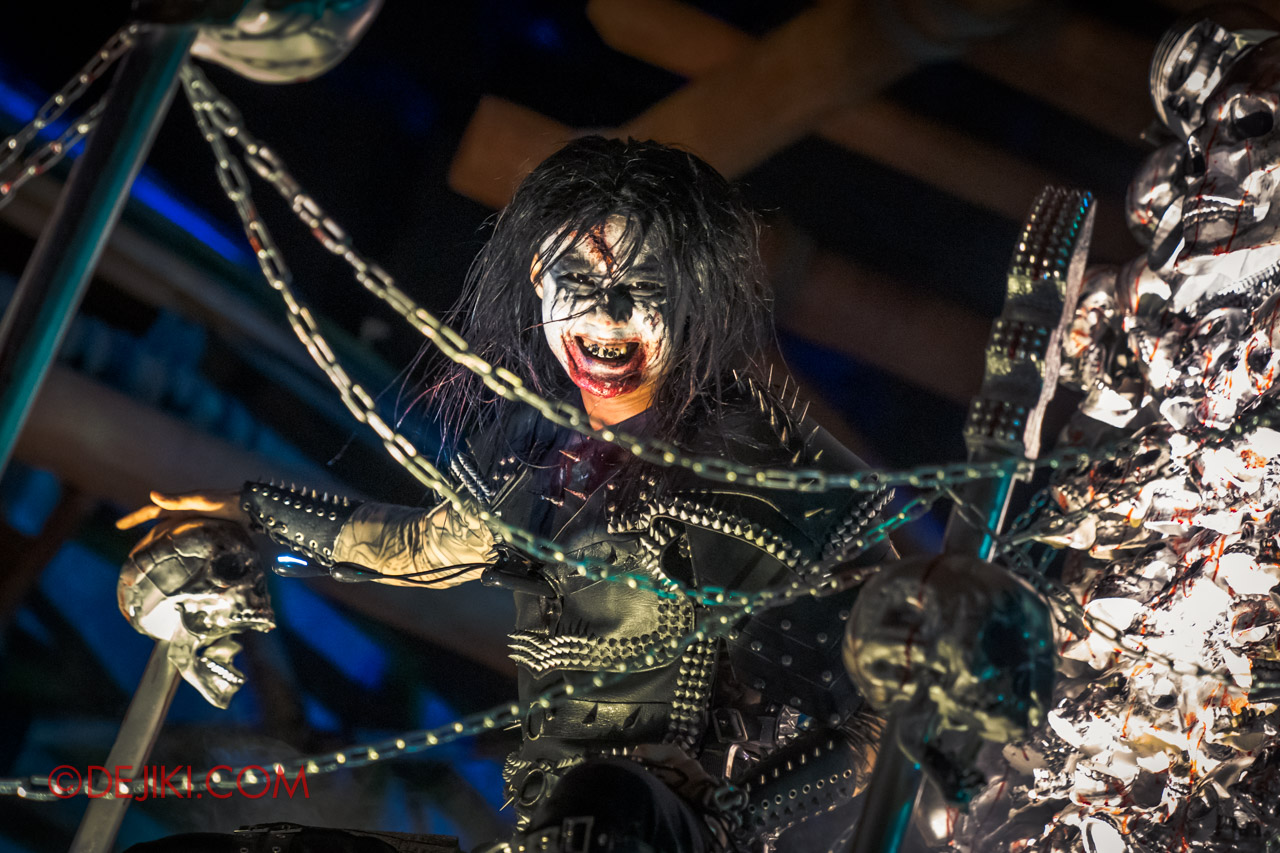 Returning to a loud welcome at Death Fest, Savage then opens his concert with a fiery spectacle.
As he performs 'Superbeast', Savage's deadly side manifests.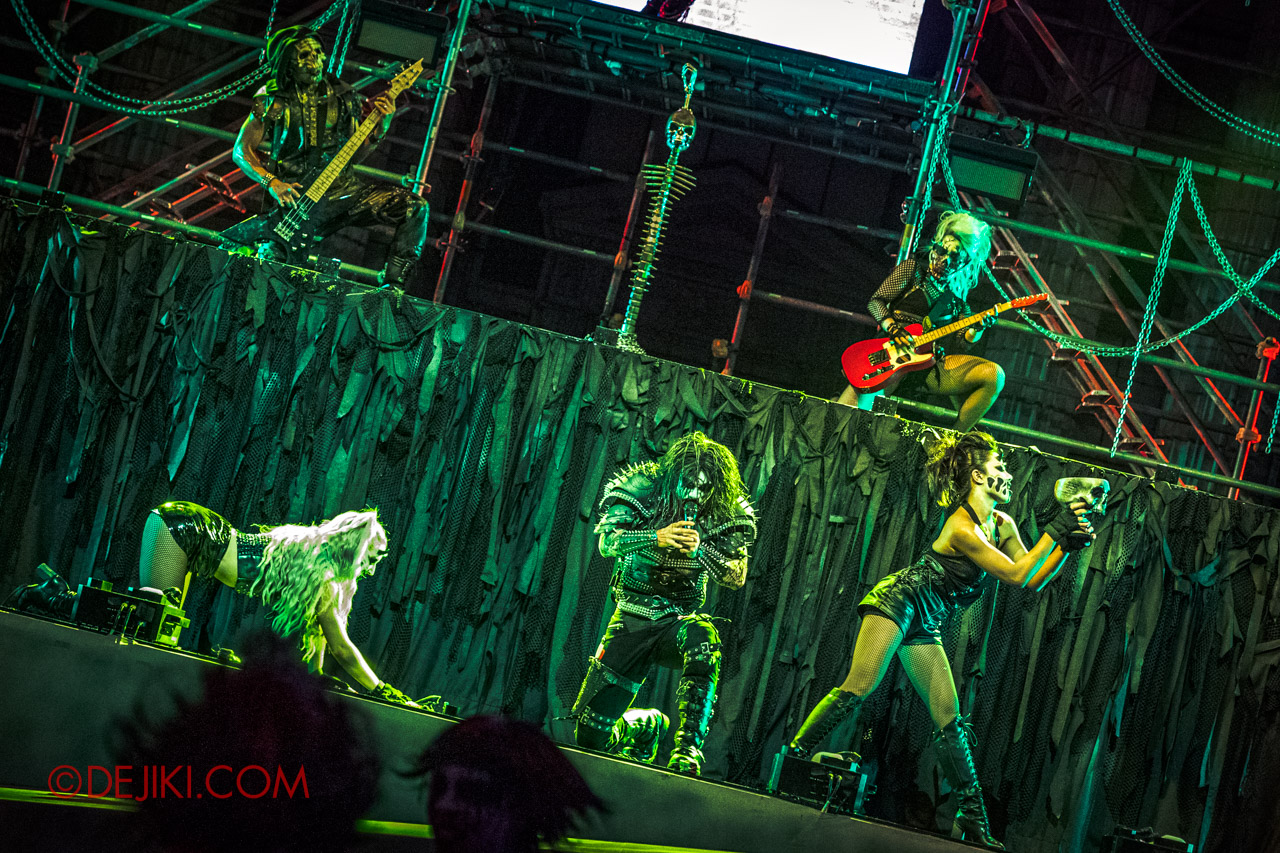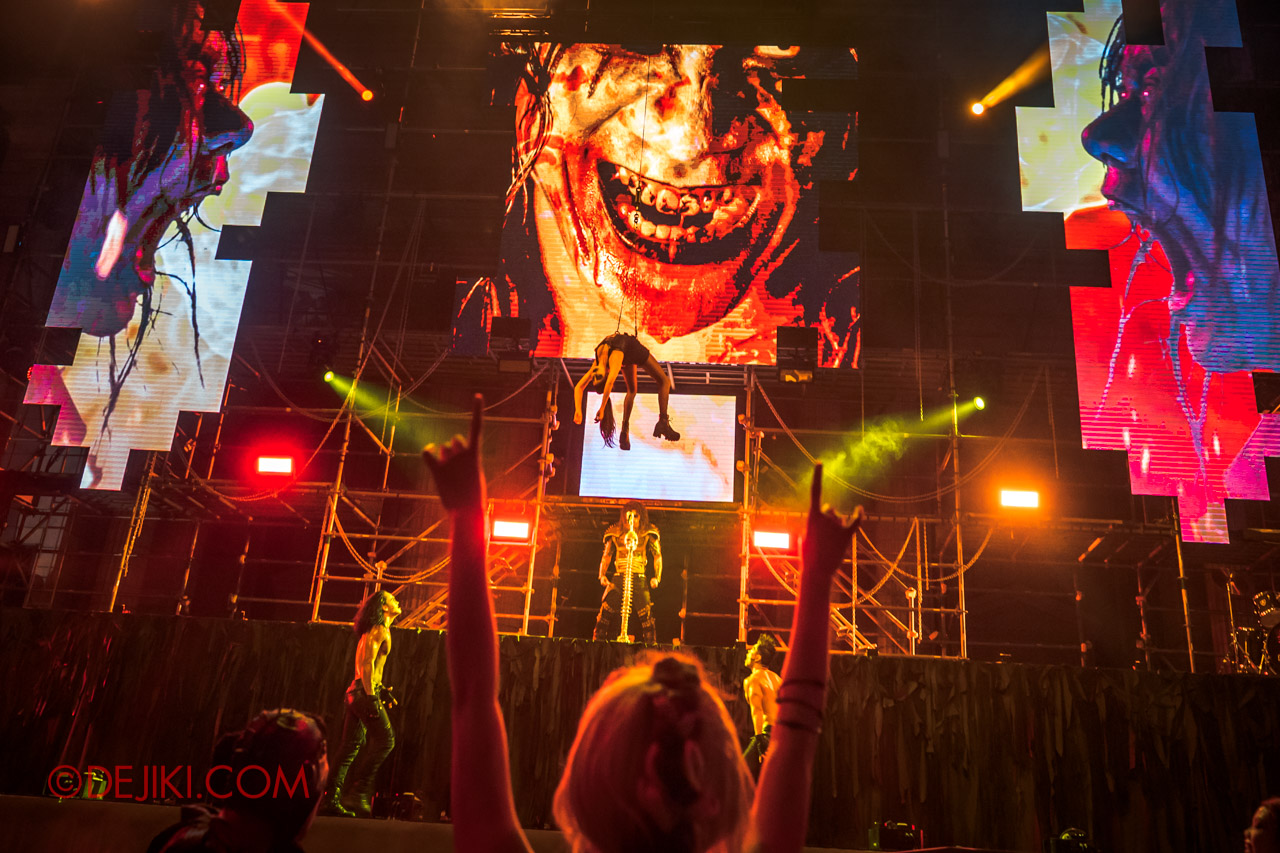 ---
Halloween Horror Nights 9 – coverage presented by Dejiki
And that's the end of over two months of extensive coverage on this year's Halloween Horror Nights event. Thank you for reading, and for those who have been with me since I broke the first news of HHN9 back in July, it has been an incredible journey. Thank you for your likes, your shares, and kind comments. And to all the staff who helped to facilitate the features, you are truly the angels of the event.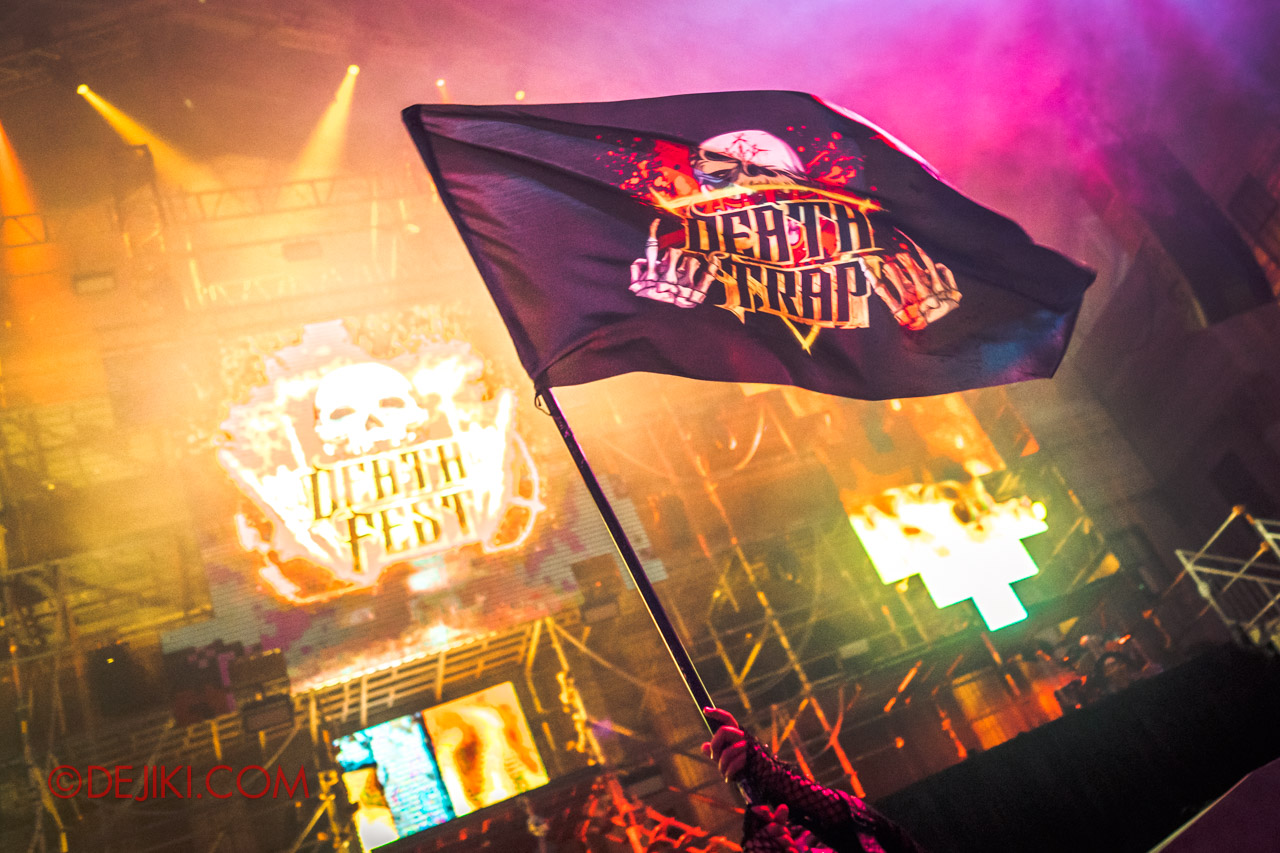 A Note from the Editor, Photographer, Writer, Vlogger and Social Media Manager
I'm glad that this year's coverage did very well in terms of reach and engagement. That includes the articles, photo tours, and posts on Instagram or YouTube. A lot of work has gone into this since it's mostly a one-man show, and there were a few nights when I worked till until almost dawn. For almost one week, production was moved to Taiwan as I went there on vacation.
Throughout October were also many sleepless nights spent editing the articles and touching up the photos. I can share with you that the hardest thing is not even taking the photos or processing them. Even though I get very anxious because there is so little time for the photoshoots, I can only do so much as carry on and pray that the photos would be okay… but often they're not! Only about 20% of photos see the light of day. But the true killer is the entire editorial process. After all, many readers have become quite accustomed to certain standards, and I have developed an international reputation for covering the event. Perhaps somehow I deeply care about the event so much that I would give my all at every opportunity offered by the park.
I hope that I'll be able to do this again next year – the quality content production, not the sleepless nights.
Until next time…
Follow me on my Instagram (@dejiki) for more photos of HHN, USS and other theme parks and attractions. Or check back previous posts on Halloween Horror Nights to relive the terrors of the past:
---
Halloween Horror Nights 10 (2022)
HHN10 REVEALED: Ticket and Event Guide
Halloween Horror Nights 10 MEGA Review: Photos of all Haunted Houses and Scare Zones
SPECIAL FEATURE: Behind the Scenes at HHN10 Haunted Houses
HHN10 RIP Tour (VIP Tour) Review

Features on Haunted Houses, Scare Zones and Experiences
The Silenced Auction (Opening Scaremony) | DIE-ning with The Dead | Monsters & Manifestations
Escape The Breakout | Killustrator: The Final Chapter | Hospitality of Horror
Operation: Dead Force | The Hunt for Pontianak | Dark Zodiac

Trick or Thrills (2021)
Halloween Horror Nights Exhibition
2021 Day and Night Halloween: DIE-ning with the Dead, Universal Monsters Scream Alley


Halloween Horror Nights – The Archives


Click to Expand and see all posts from past Halloween Horror Nights