Evil is knocking on several doors in the Judgement Day Opening Scaremony show at Universal Studios Singapore's Halloween Horror Nights 11.
---
WARNING
Photos of a show at Halloween Horror Nights 11 are featured in this article as a special showcase. This article contains spoilers.
Copyright Note: All content on this website, including Halloween Horror Nights photos and writeups cannot be reuploaded onto other websites without my permission.
---
Overview and Thoughts
The Opening Scaremony is closely connected to the HHN11 slogan, Evil is Knocking. Doors are rare in actual HHN haunted houses and scare zones, so this year, it feels like everything is merging into this surreal stage backdrop – one that is breaking apart. It's as if Evil is leaking through multiple alternate universes, and collapsing into this singular point in Universal Studios Singapore park.
I prefer Opening Scaremony shows that are short and sweet, given that there are many things to do during HHN event nights and everyone just wants to RUN. Judgement Day is one of those shows that felt substantial enough, and just short of 4 minutes.
Some parts, like the lengthy door chase sequence, felt like it could be shortened further, I guess they were retained to build up a suspenseful atmosphere to wrap up the action with a blazing climax.
Video: Judgement Day – Opening Scaremony Show
---
Judgement Day – Opening Scaremony Show Highlights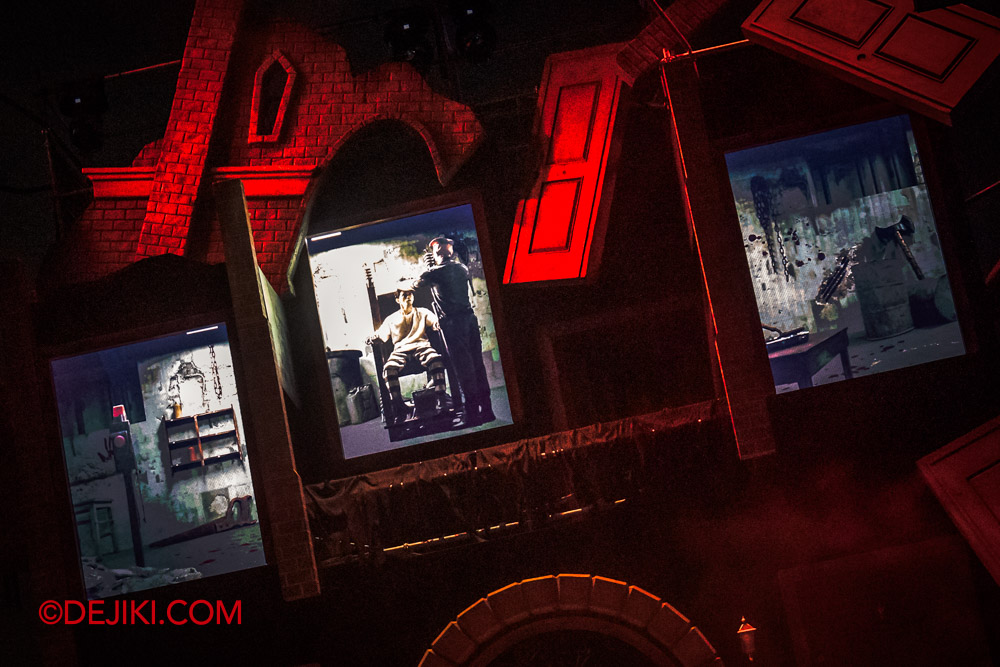 For crimes against humanity, Prisoner 748 is put to death by the Executioner from Hell Block 9.
His soul is transported to the underworld…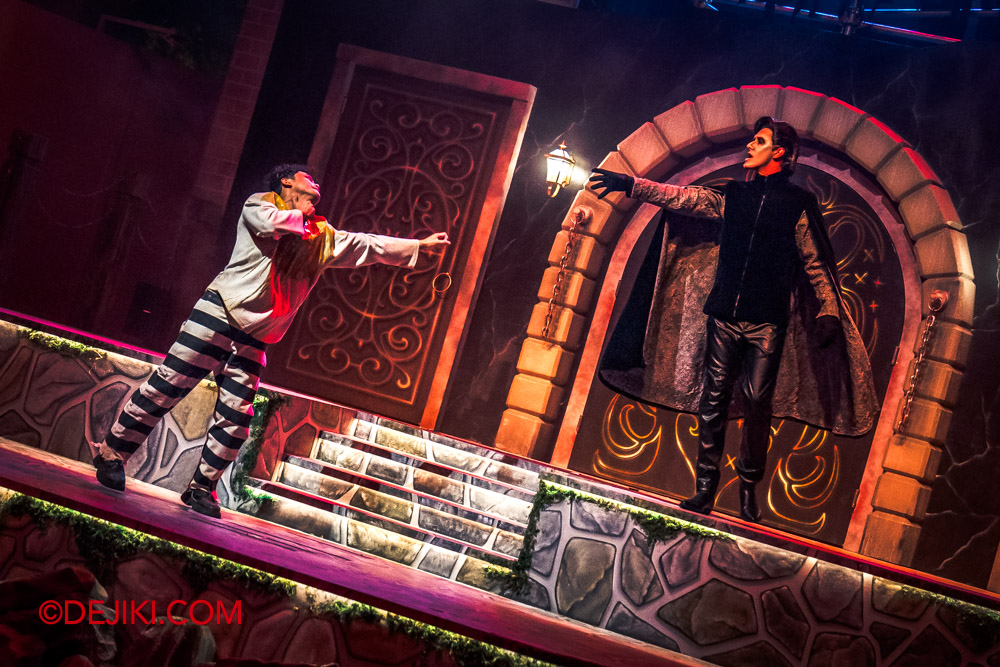 … where he meets the Magistrate, a supernatural judge of the realm. He offers the damned soul a choice of any Hellscape to spend the rest of eternity in. But he would have to choose blind.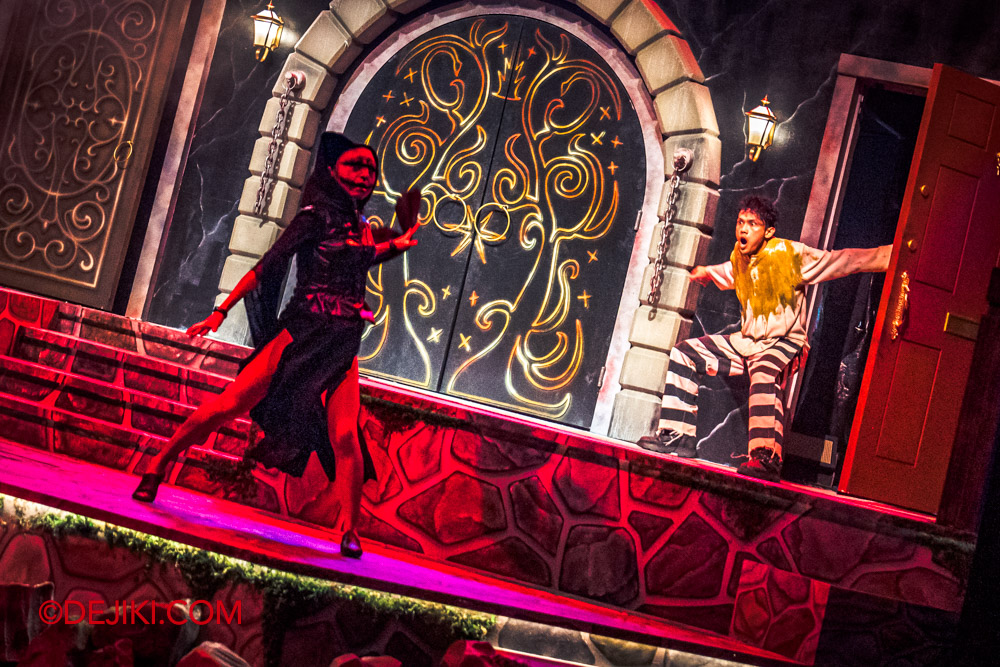 The soul tries to escape, but he is bound in an endless loop of opening doors to different Hellscapes, bringing him back to the same place.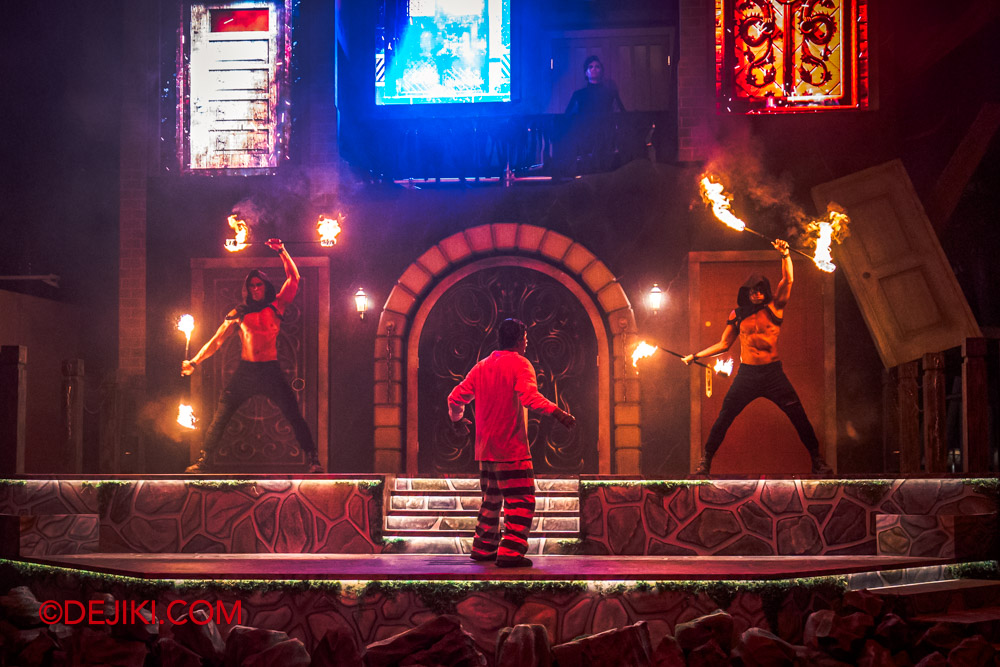 All roads lead back to Hell! The Magistrate's decision is final. Executioners corner the soul with Hell's Flames.
Consumed by the Wrath of Hell's Flames, the soul is eviscerated, leaving the stage empty.
The Magistrate summons the icons of Halloween Horror Nights 11, officially opening the event.
Ropes at Hollywood drop, section by section, releasing guests into the evil of HHN11 attractions that awaits them around the park.
Meet the HHN11 Icons
Throughout the night, the HHN11 Icons, King Yama, The Matriarch and Pied Piper, will meet park guests that dare to come close to them. This is a free Meet and Greet experience open to all.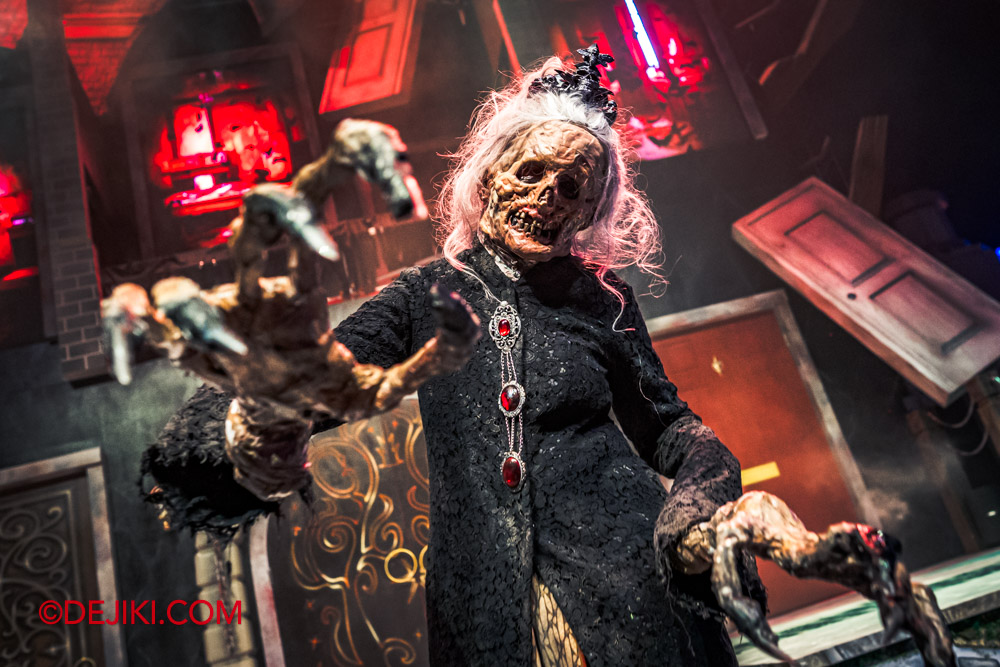 Note: One of the three icons may be reserved for Private Meet and Greet for RIP Tour guests and will not appear at the stage.
---
Halloween Horror Nights 11: Select Nights 29 Sep – 4 Nov
Halloween Horror Nights 11 MEGA Review by DEJIKI
Read my full review and see photos from this year's haunted houses, scare zones, and DIE-ning in Hell special experience.
Halloween Horror Nights 11 EVENT GUIDE
Stay prepared. Get essential info in my Halloween Horror Nights 11 Event Guide, including event calendar, tickets and add-ons prices, plus Tips & Tricks.
Get more HHN updates
More photos from this year's HHN attractions will be published on my Instagram (@dejiki), Tiktok and on this website as special features. Follow me on Facebook for updates.

---
Halloween Horror Nights 11 (2023)
HHN11 REVEALED: Ticket and Event Guide
Sneak Preview: DIYU: Descent Into Hell, Rebirth of the Matriarch, Icons and more
Halloween Horror Nights 11 MEGA Review: Photos of all Haunted Houses and Scare Zones
HHN11 RIP TOUR (VIP Tour) Review

Features on Haunted Houses, Scare Zones and Experiences
Grimm Encounters | The Weeknd: After Hours Til Dawn Nightmare
Judgement Day (Opening Scaremony) | Netflix's All of Us Are Dead
DIYU: Descent Into Hell | Rebirth of the Matriarch
Dead Man's Wharf | The Cursed Kiramam
The Hacker + The Hacker: GAME OVER

Universal Studios Japan (USJ) 2023
Halloween Horror Nights 2023/ HAHAHA! Halloween Party! Event Guide


Halloween Horror Nights – The Archives


Click to Expand and see all posts from past Halloween Horror Nights