It's the USS Halloween update for everyone! See the daytime Halloween event highlights and get the scoop on Halloween Horror Nights updates.
Mega Park Update
This article is a combination of USS Park Update: September 2019 and Halloween Horror Nights 9: BEFORE DARK – Part 2. Click here to skip to the HHN9 portion.
Halloween Fun For Everyone (Daytime Halloween Event)
From 6 Sept till 31 Oct 2019, the Halloween Fun For Everyone event can be enjoyed by all guests visiting Universal Studios Singapore during the day. This is included with regular daytime park admission, and of course, open to all Season and Annual Passholders.
Minion Monsters Tricky Treats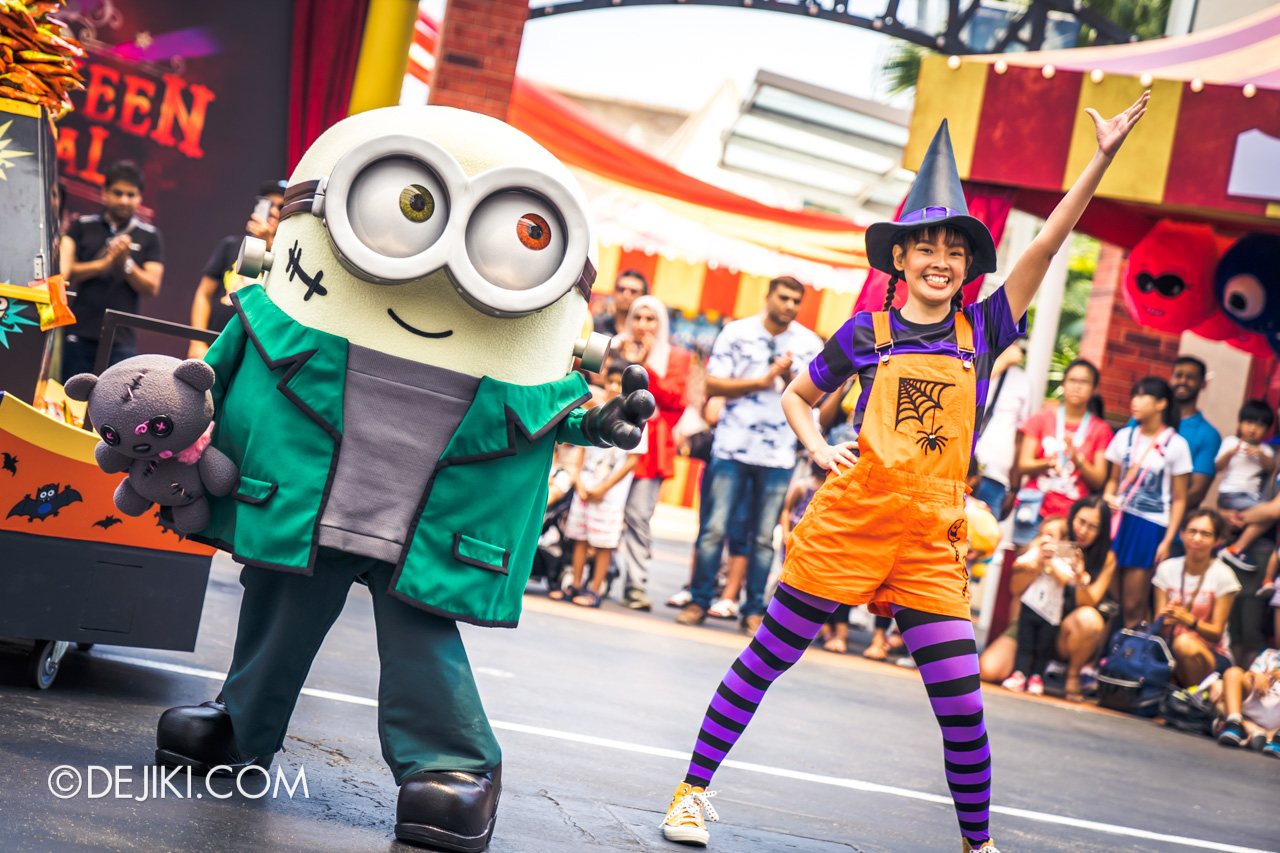 Combining Minions, Halloween and FREE!! treats, this fun and energetic show lets you meet some of the Minion Monsters (FrankenBob, Mummy Stuart and Dracula Kevin).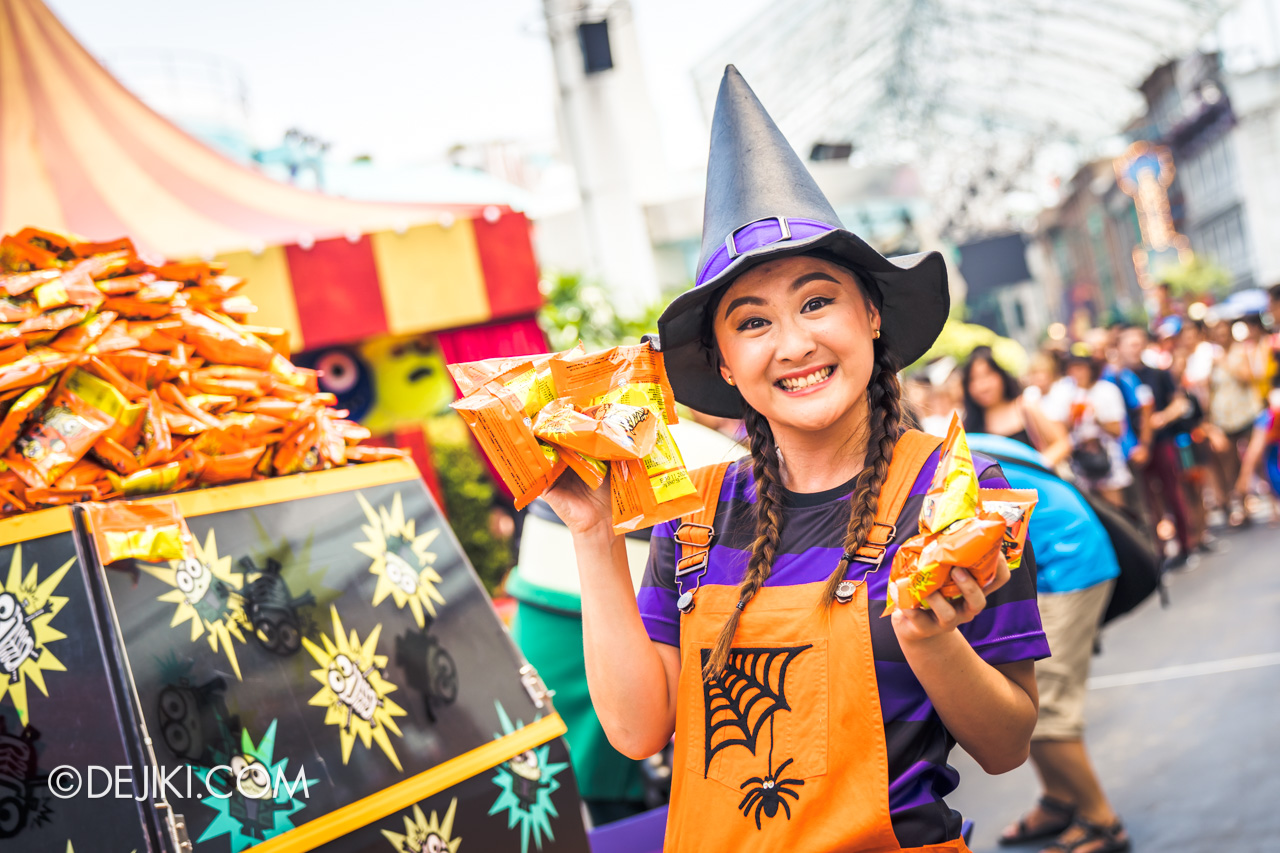 And you'll get to grab some of these free treat packets!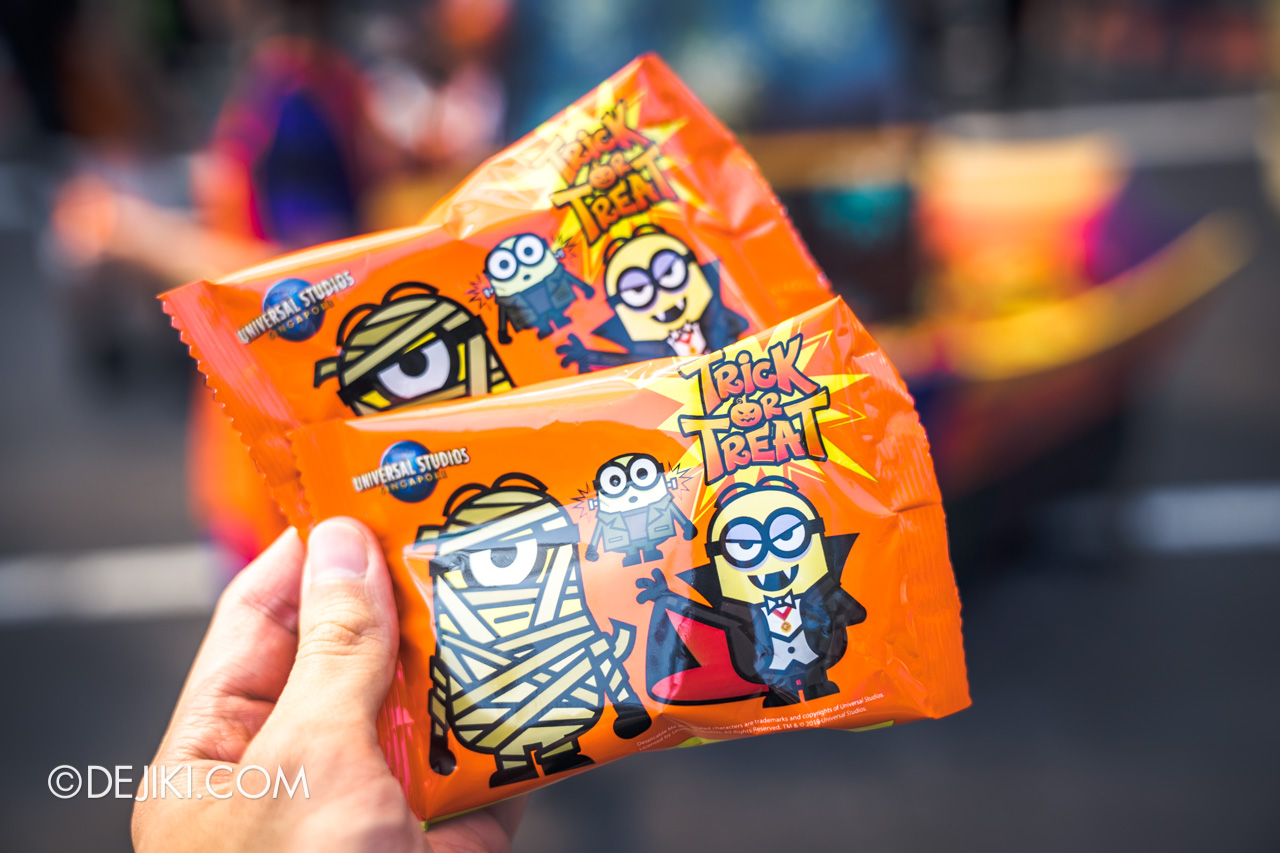 Unlike the similar activity in Japan, which is limited to young children, anyone can participate in this mini experience. Yes, some people went overexcited and started grabbing several at one go.
Trick or Treat with Sesame Street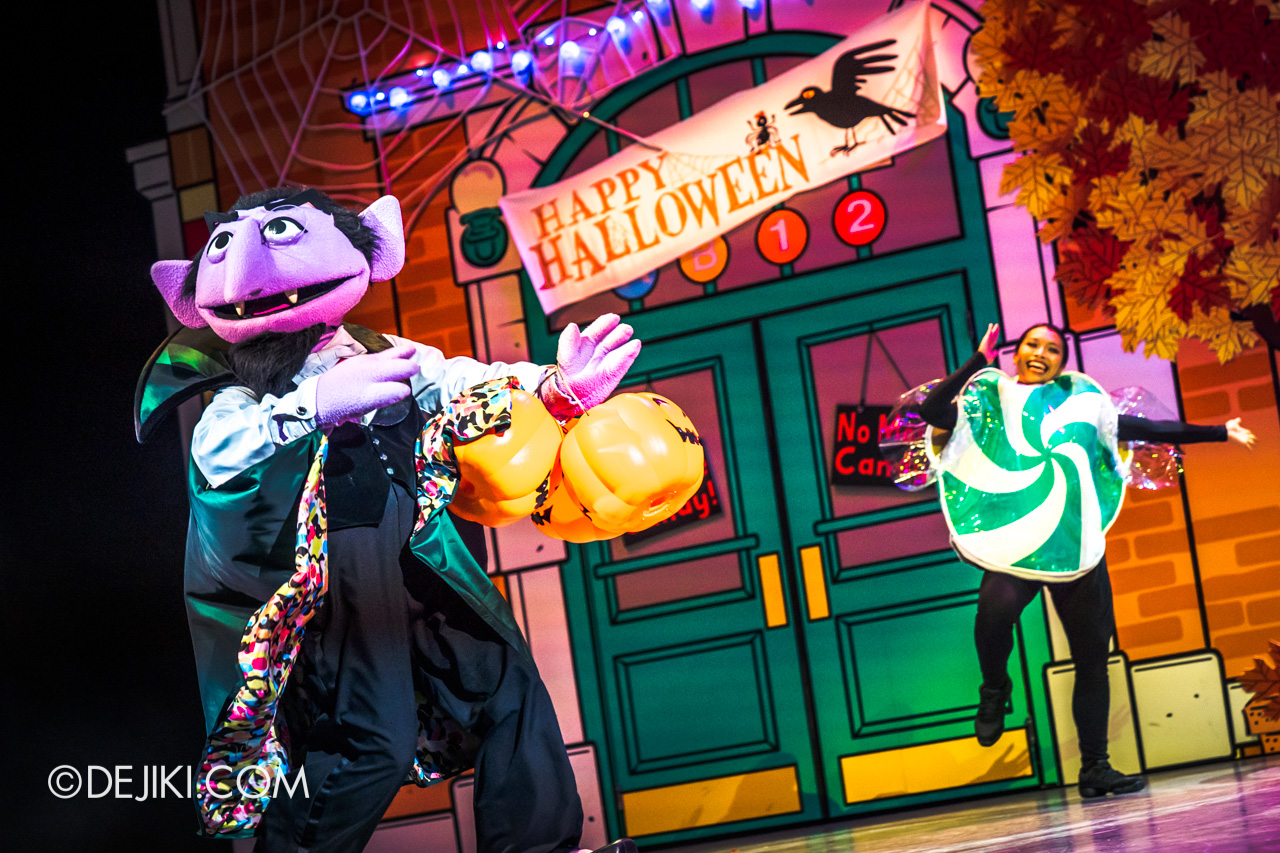 The park's halloween-themed stage show starring the Sesame Street gang has returned for a limited run. There are some changes to the stage setup – notably using less screens – but otherwise the story is the same.
This is in my opinion one of the better original shows produced by Universal Studios Singapore, so do check out it, especially if you need some respite from the hot weather.
Sesame Street Halloween Meet & Greet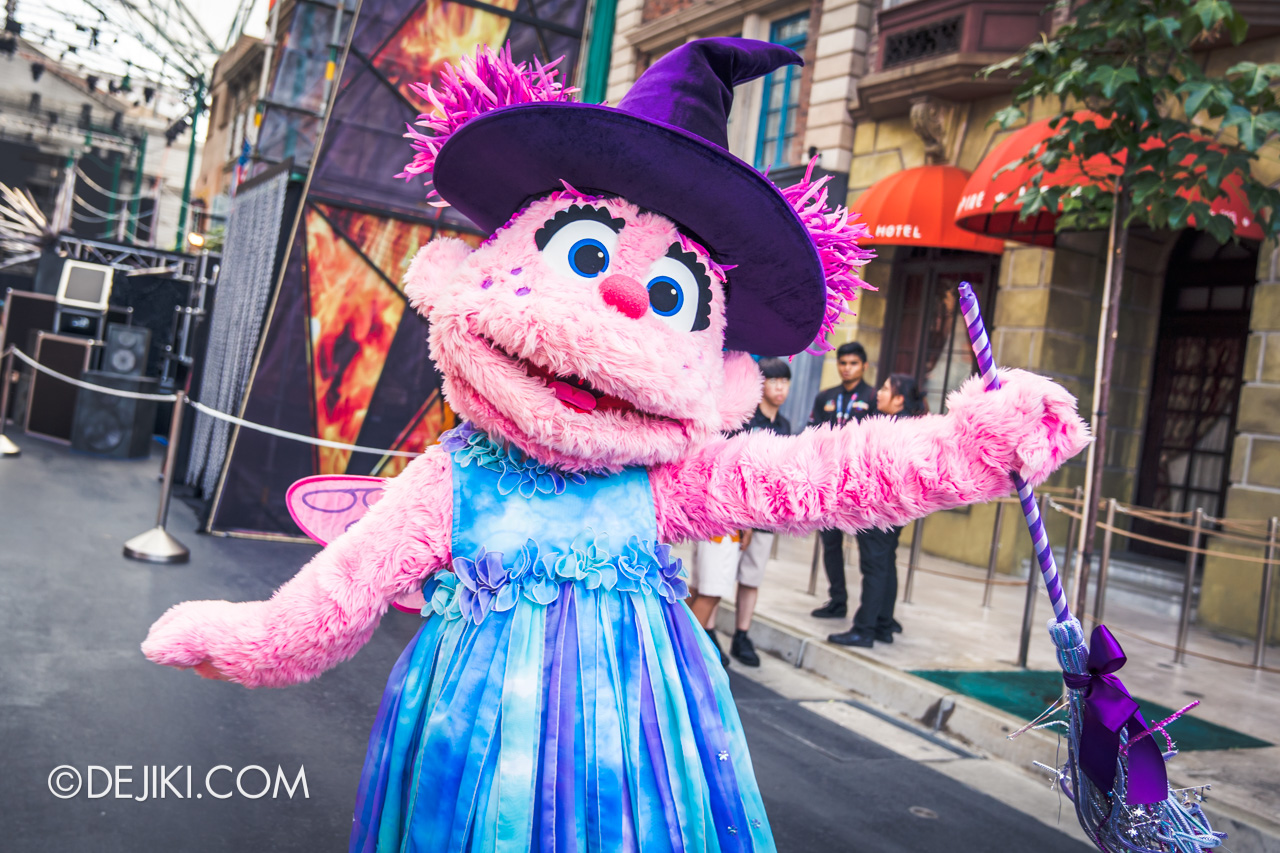 Sesame Street friends are getting ready for trick or treating! Depending on your luck, you will be able to find them in their Halloween outfits.
Halloween Carnival
Halloween Carnival is open for business! There are currently 5 game stalls: 3 around the Lagoon fountain and 2 facing Hollywood Boulevard.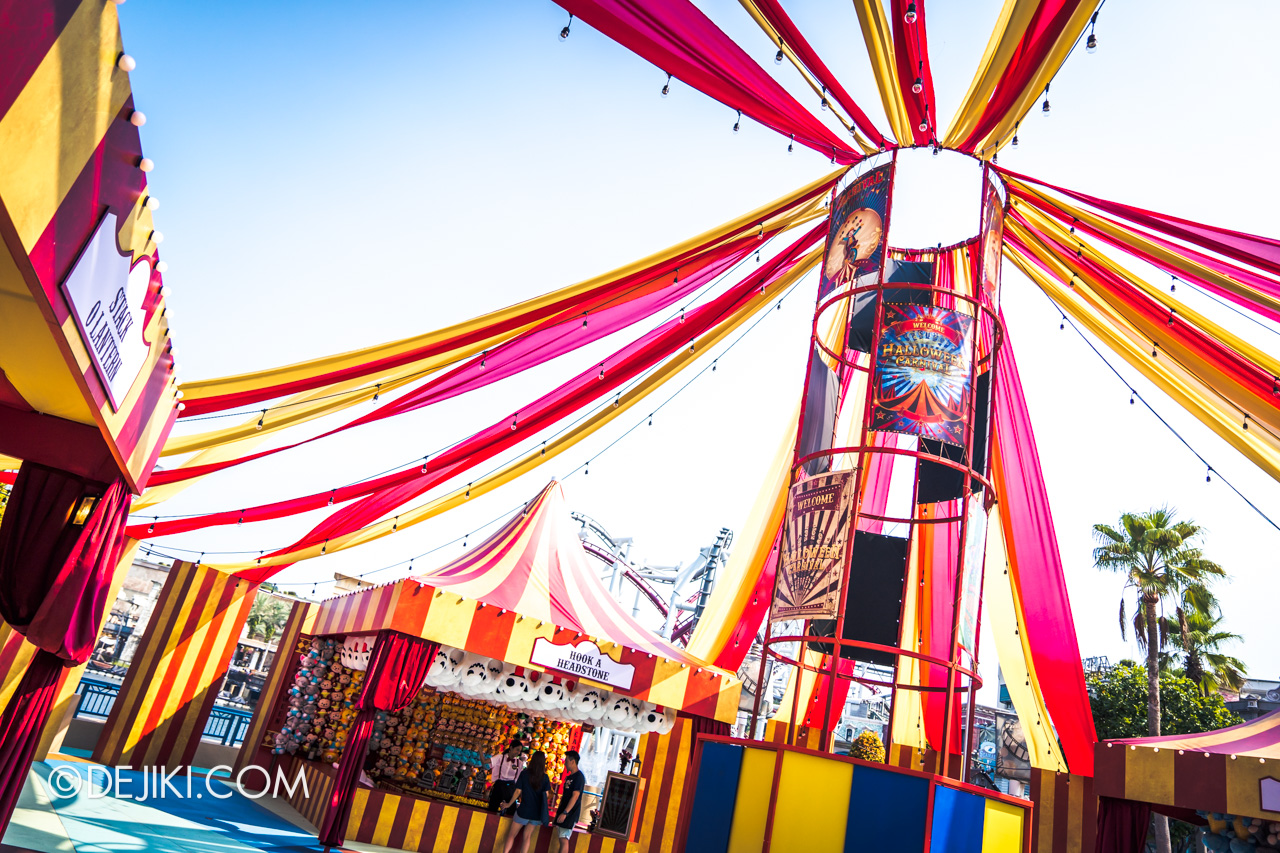 For the following games, each game (round) costs $5, with 3 games for $10. Prices listed in this article may change.
Pumpkin' Dunkin – Basketball Free Throw
Stack O Lantern – Hit the Can
Wheel of Misfortune – Spin the Wheel
Cauldron Toss – Bucket Ball
There are rules specific to each game stall, so my advice would be to check with the game masters before you even open your wallet. Some booths may offer coupon tickets for extra game rounds at other booths as consolation prizes.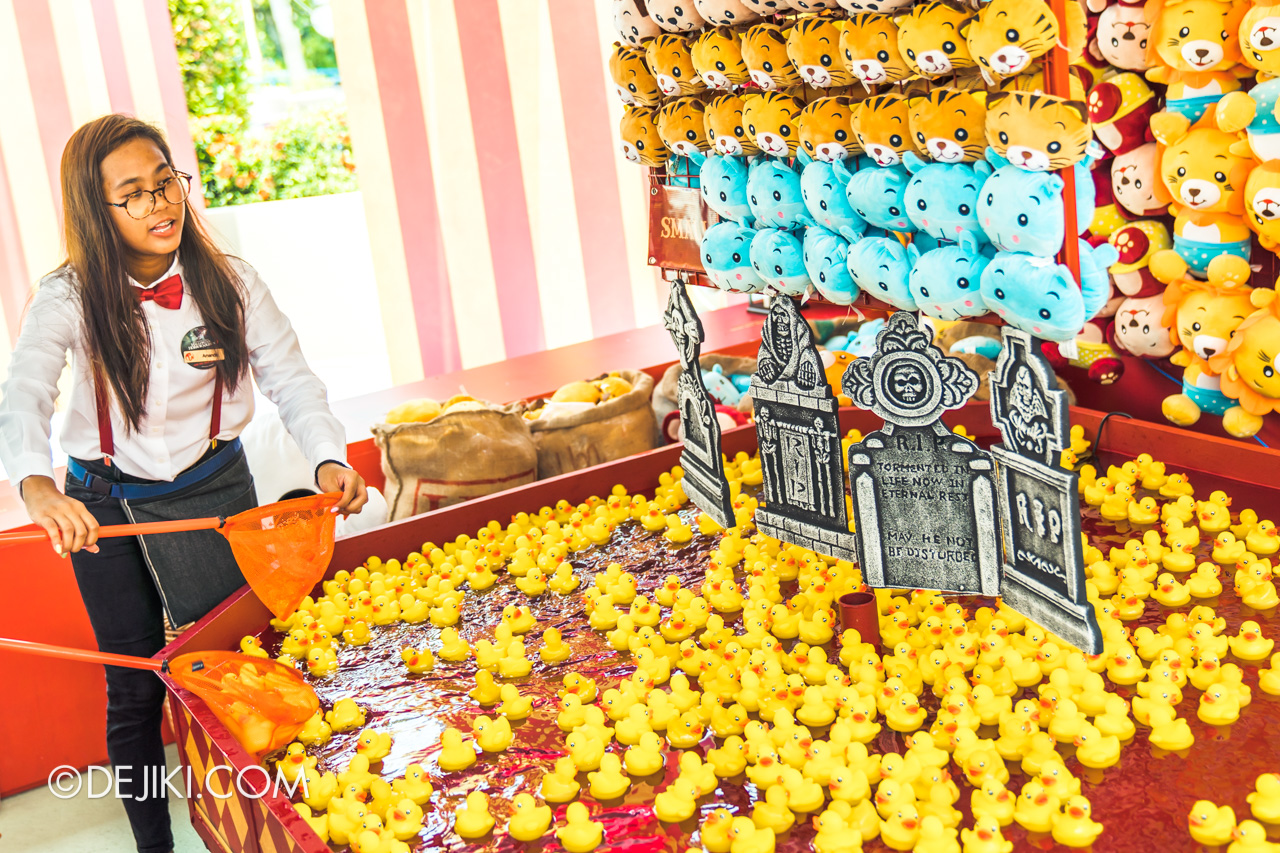 As for the fifth game, Hook a Headstone (Duck Pond): each game costs $10, with 2 games for $15. I guess this is because unlike the other games (of chance), this duck catching game guarantees a win, even if it's a small one.
USS Annual Passholders can redeem a complimentary Halloween Horror Nights 9 Carnival Game Play ticket, limited to one per day from 6 to 26 Sept 2019, or while stocks last. This complimentary ticket is not valid at the 'Hook a Headstone' game stall.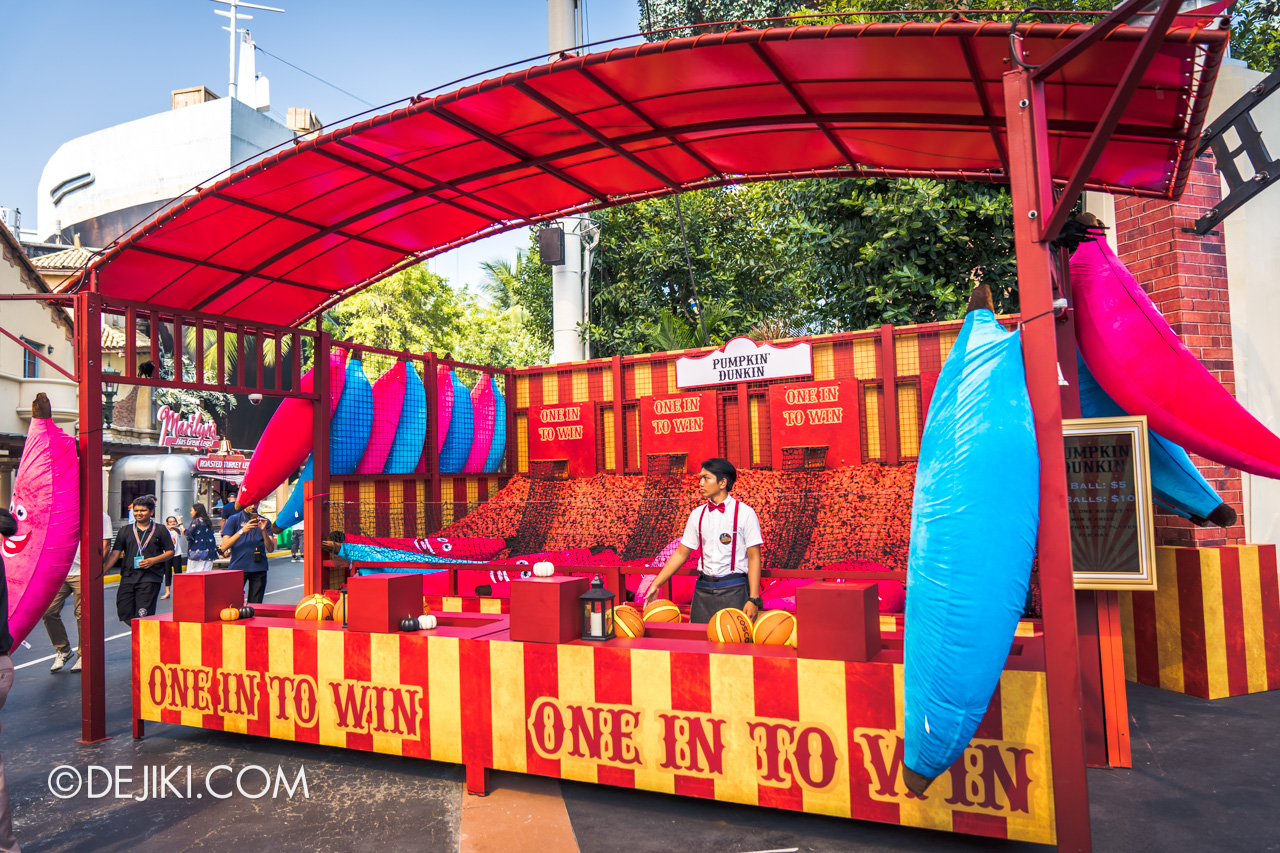 The games can be quite challenging, and as with most carnival games, the odds are often against you. Good luck!!
Park Merchandise and F&B Updates
After several months, the Sesame Street 50 Years and Counting store window has finally changed to feature Minion Monsters merchandise.
Minion Mart also has sections on Minion Monster goods.
Lastly, for those wondering on what creepy foods the park has prepared – check your park map for this season's menu.
---
Halloween Horror Nights 9: BEFORE DARK – Part 2
We're now back at looking at creepy objects covered with black cloth.
The park entrance has received a reproduction of the scene used for HHN9 promotional art, which is actually the Sting Alley section of the park. Can't help but wonder if this will stay for Christmas – with a festive makeover of course.
Death Fest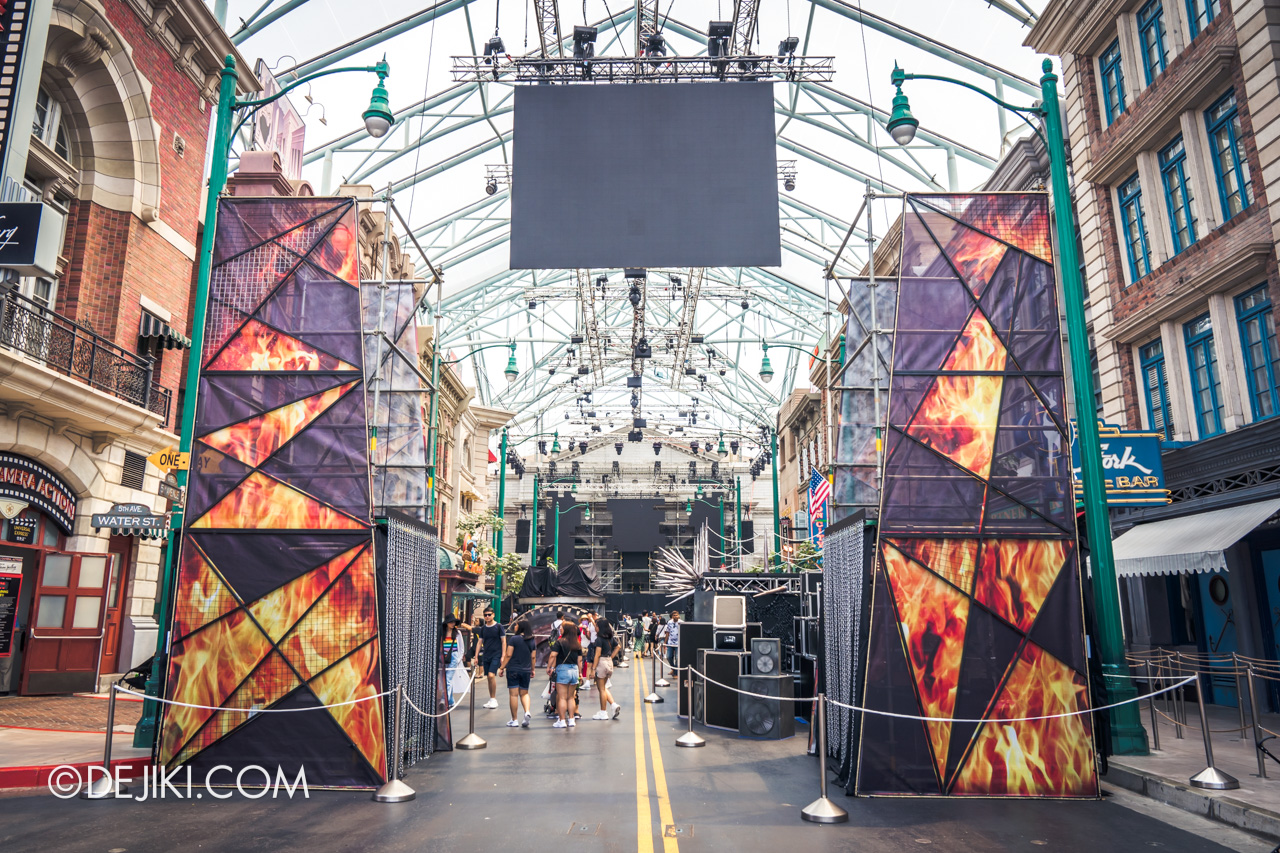 Things are looking sharp at the Death Fest zone, literally.
Spikes and speakers galore.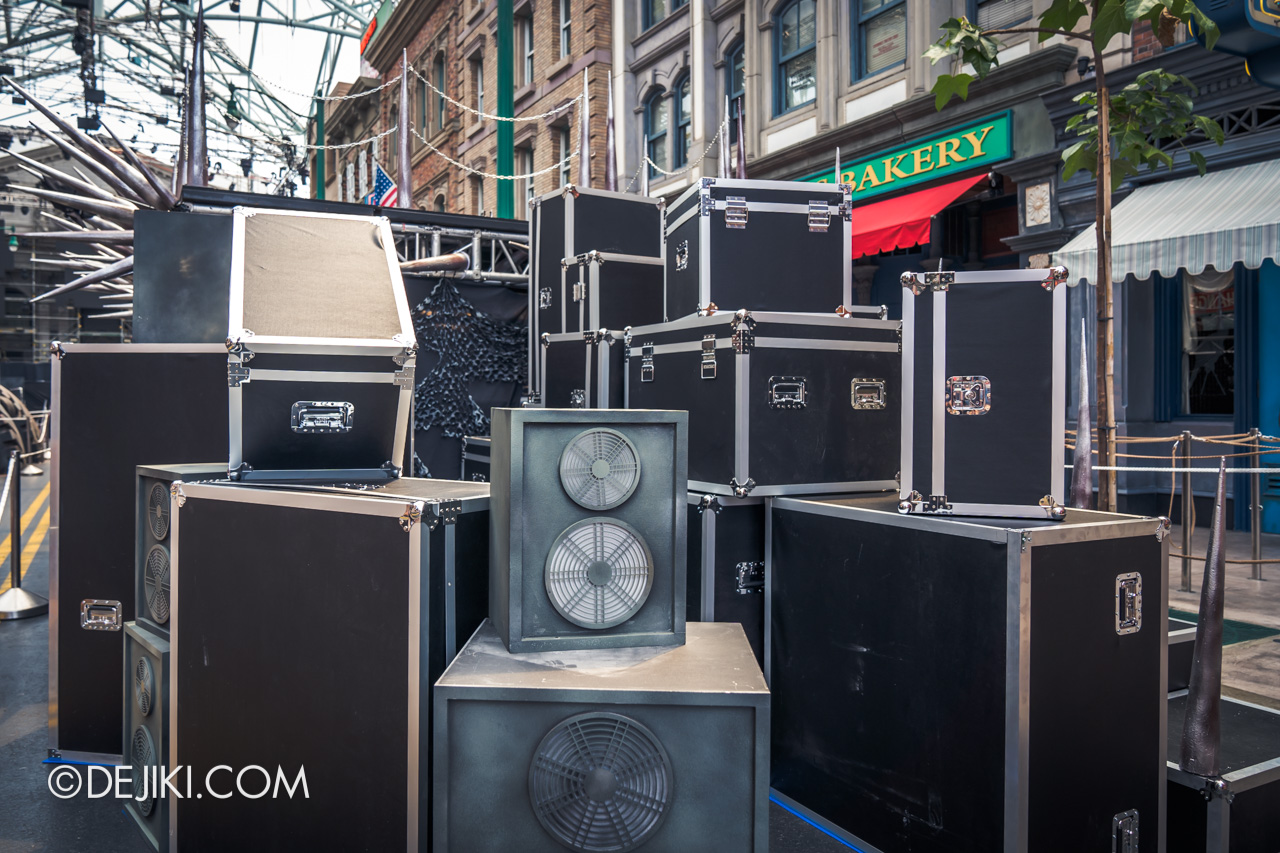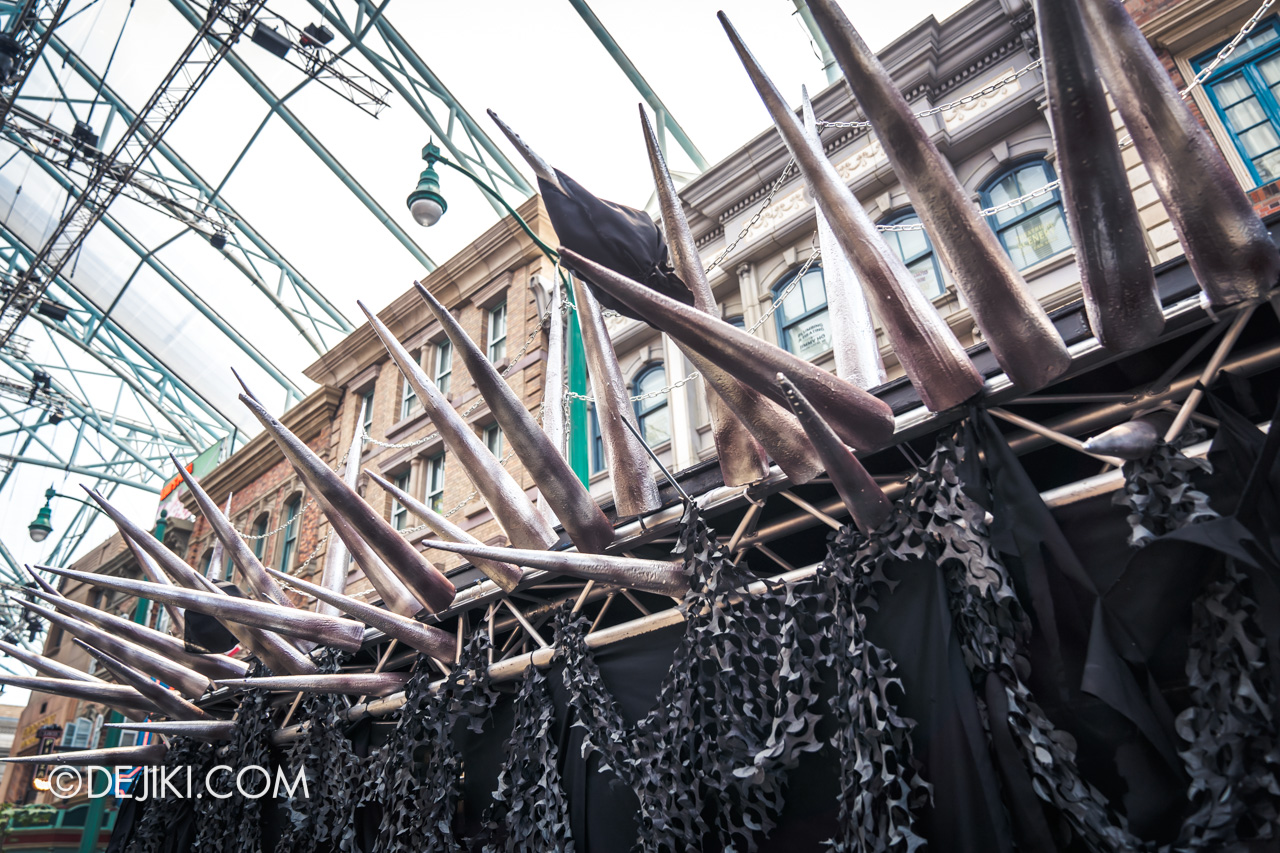 Those wrapped up parts? They're heads.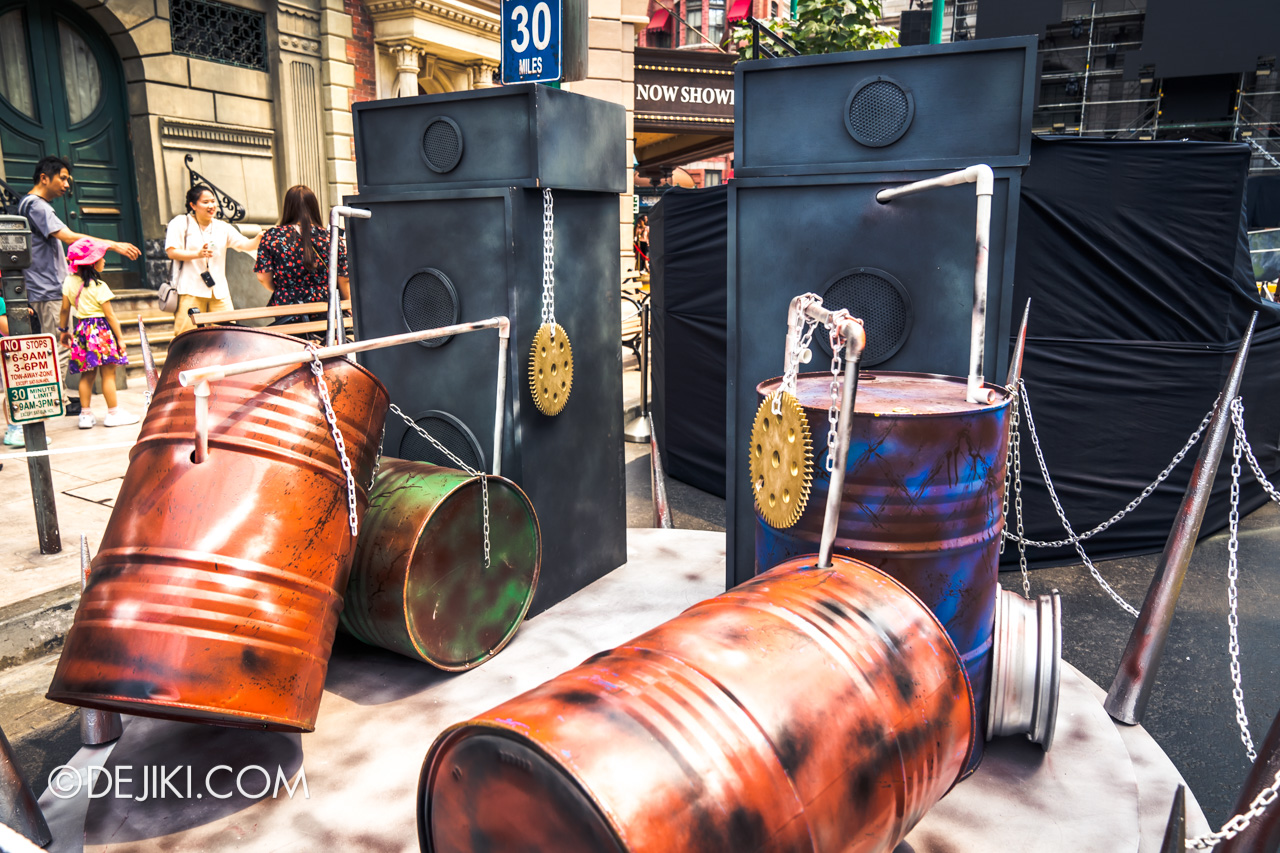 Next to the stage are a few smaller, and taller props, which looks likely to be floats for the Death Fest Live procession.
I guess we'll see Savage, the lead singer of the Death Trap band, go on a triumphant tour around the park. After all, he just got released from Hell Block 9 after serving a 9-year sentence.
(That is his official backstory, by the way)
If the stage isn't shaping up to be an epic concert experience…
…the lights above surely do.
Dead End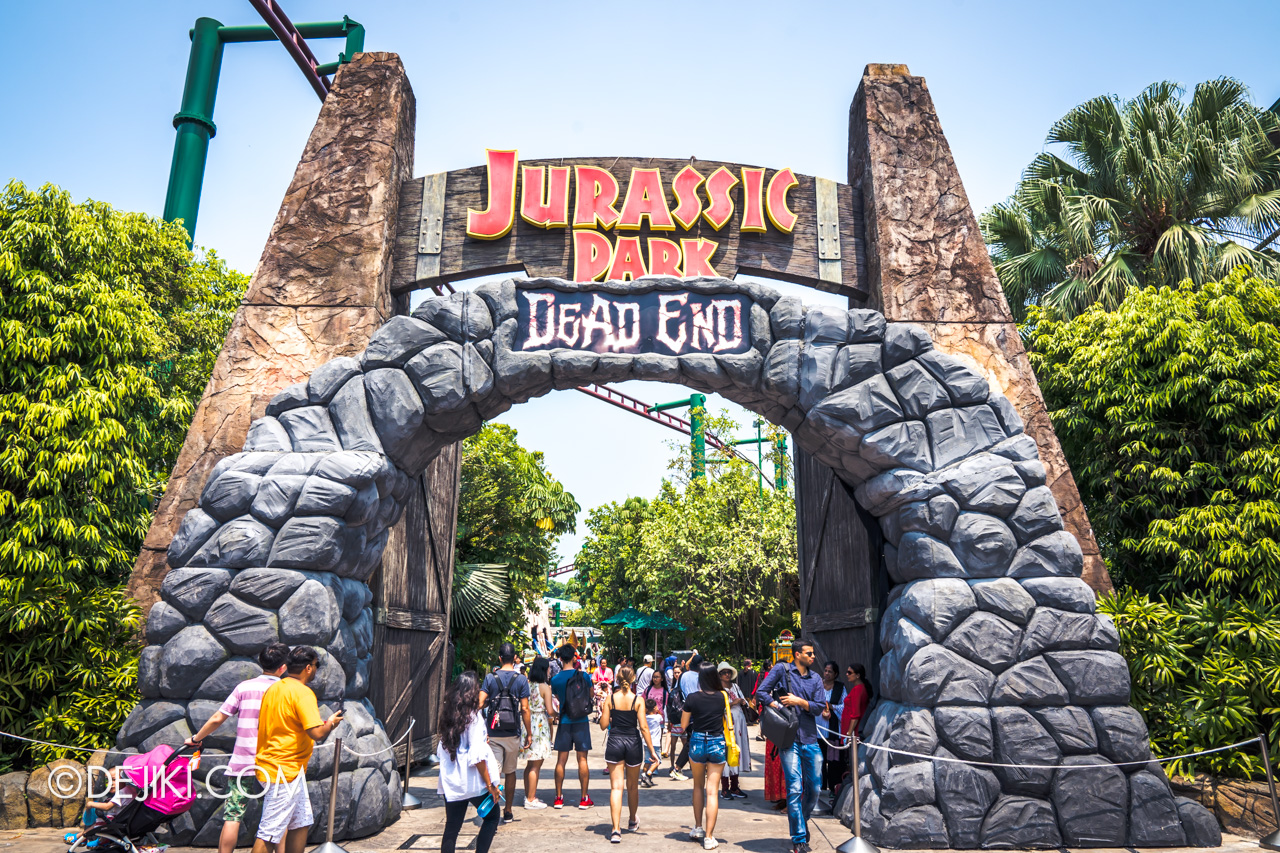 Here lies the stone archway into Dead End.
Look closely… and once you see it…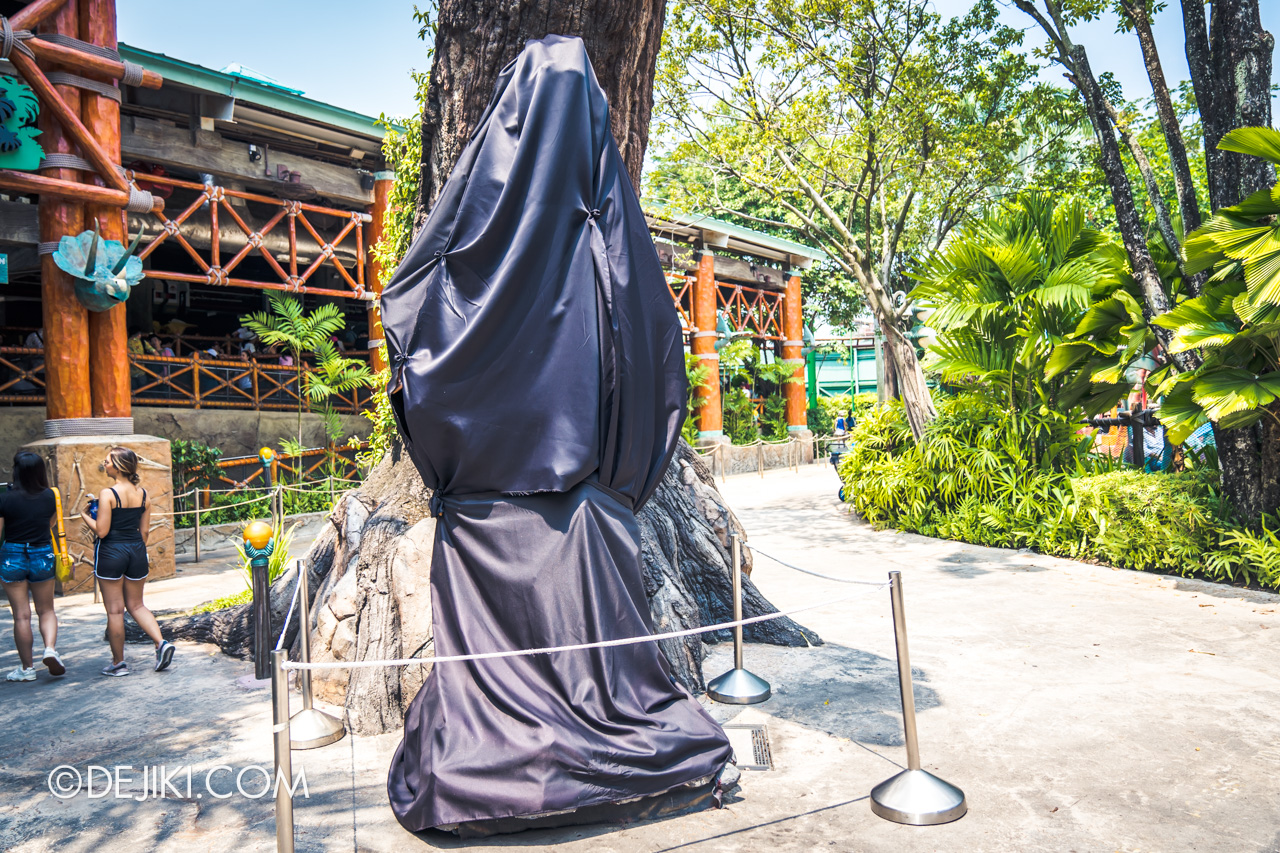 A rather tall prop was added this week, and from some angles I could see that it is likely a pillar made out of limbs or hands.
See it there?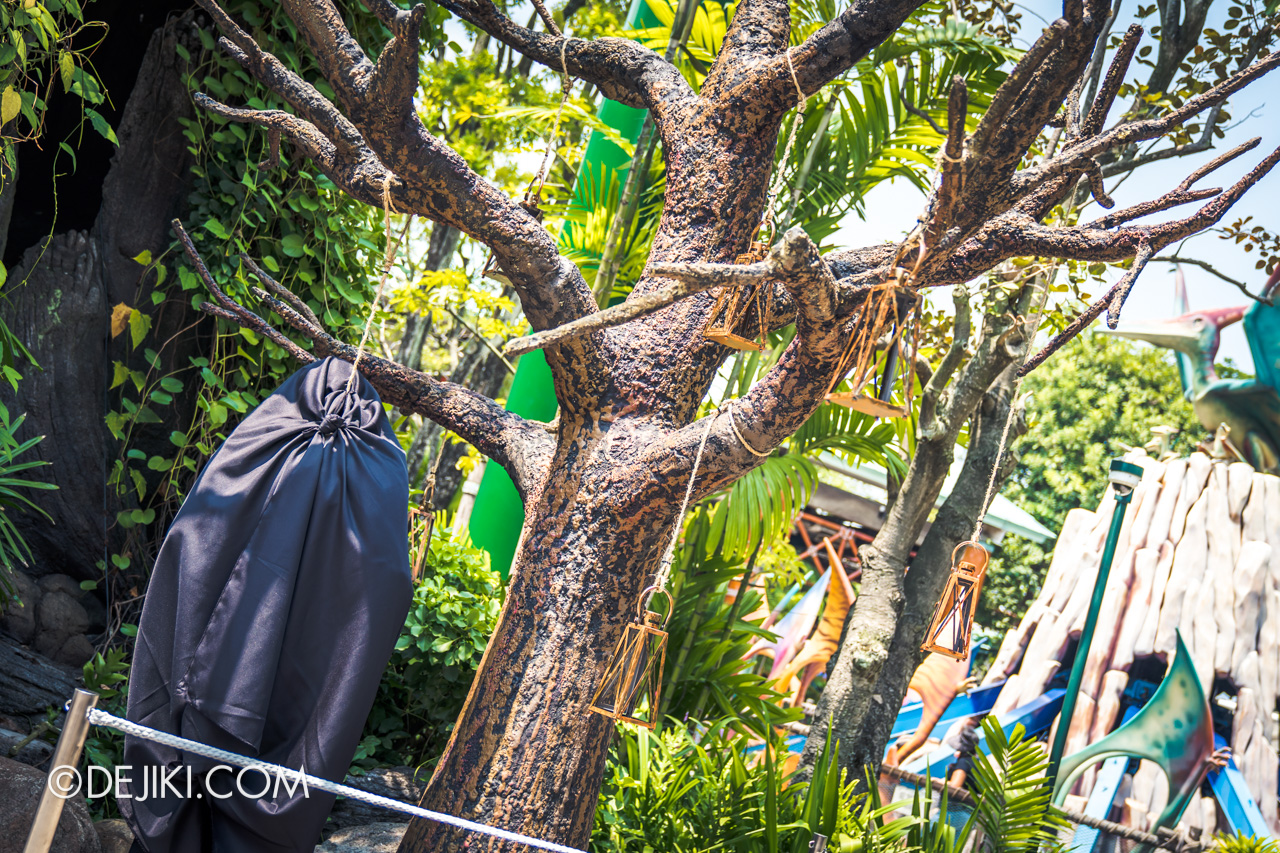 The dead trees are now adorned with lanterns and I assume someone's half body.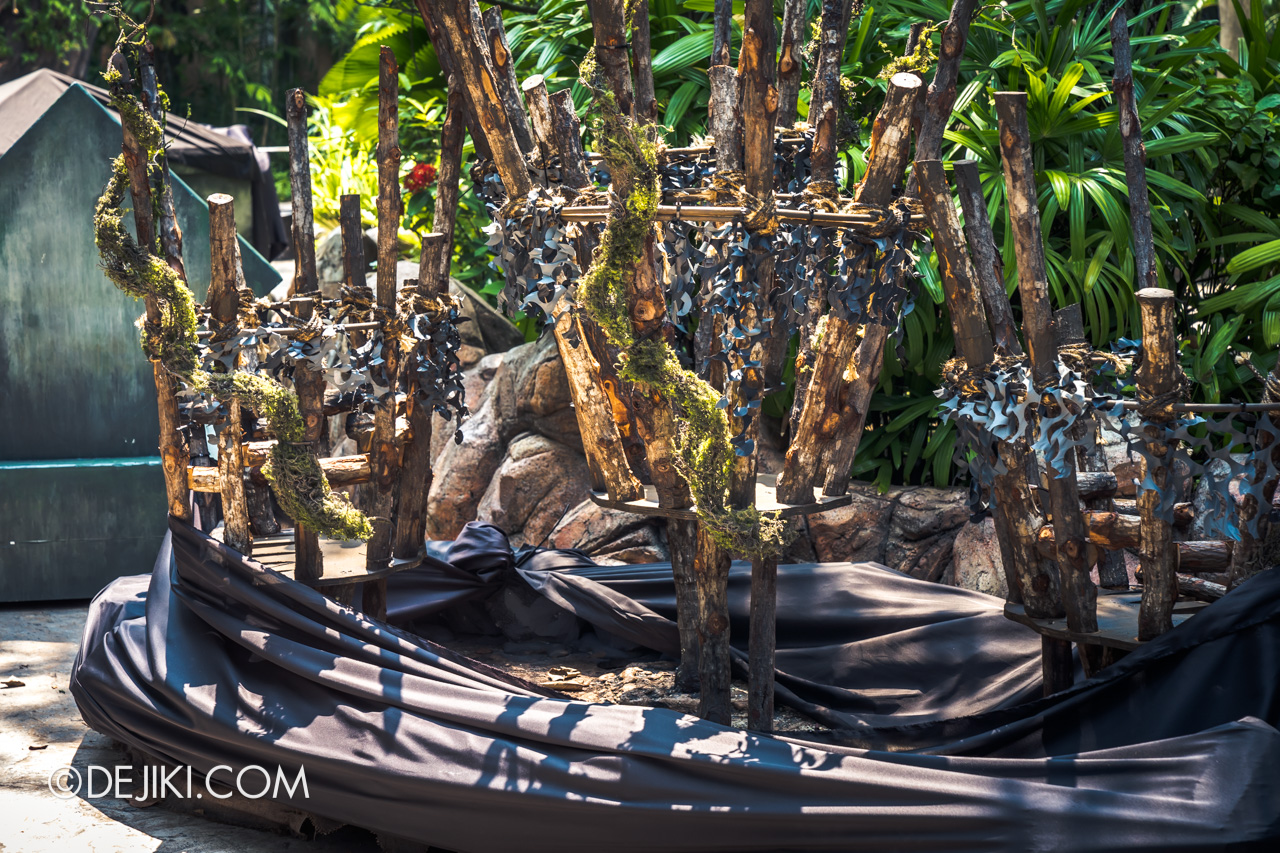 Baskets got more weathered and inhabited.
More furniture this way.
And then there's this random stone on a table. The most mysterious thing of them all.
Haunted House updates
The Chalet Haunting's marquee was unveiled for a brief moment during a media preview session. It's wrapped up now, to protect us from the Langsuir.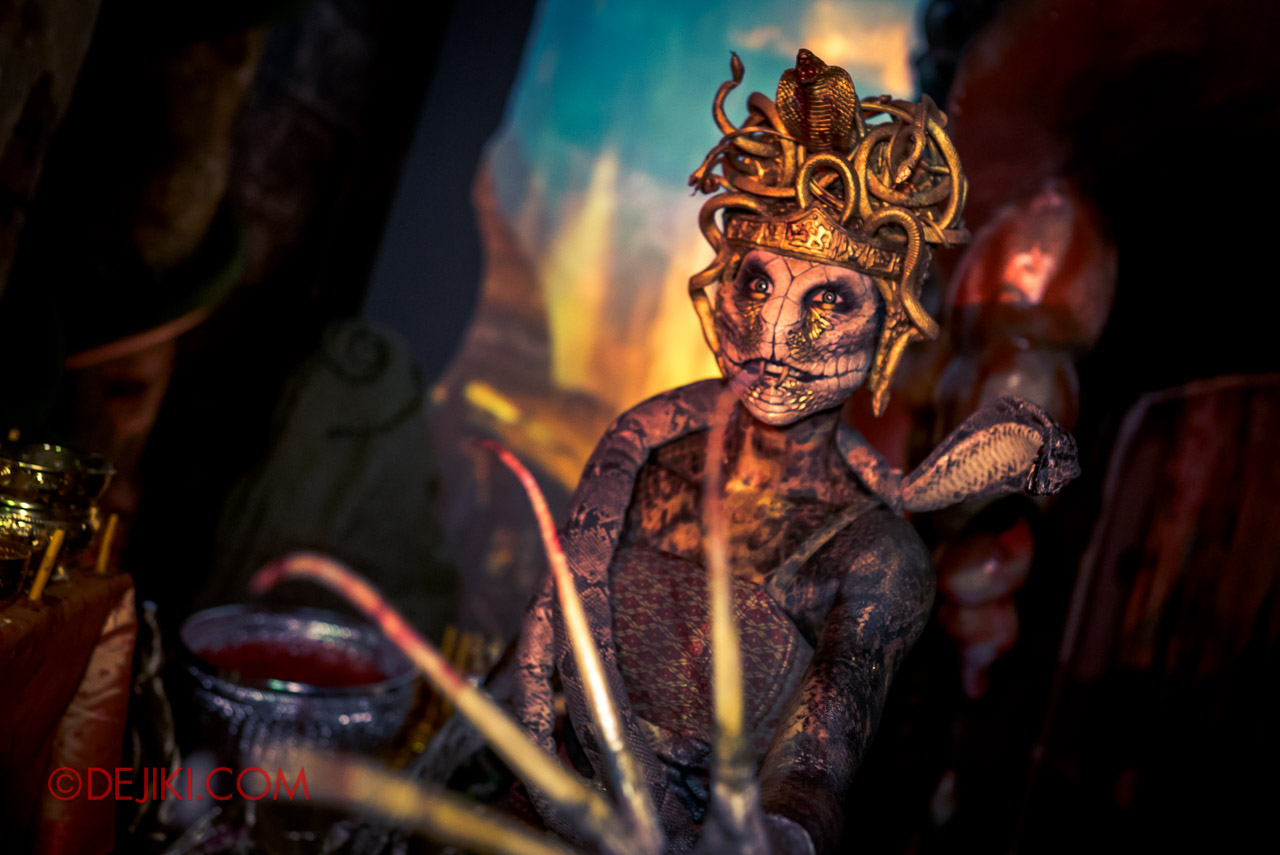 Don't miss your early peek at this year's most elaborate haunted house at my Curse of The Naga Sneak Preview article.
HHN9 Frequent Fear Pass
If you can't wait to get your Frequent Fear Pass, you can create your pass card now at the park's membership lobby. Frequent Fear Pass is non-transferrable and each card is personalised with the member's photo at the back. Also, to process your pass during the day and ahead of Halloween Horror Nights event nights (27 Sept), you need daytime admission to the park.
Since the card is not very useful until the 27th, I would suggest going to the Membership Lobby when Halloween Horror Nights 9 officially opens on 27 Sept.
HHN9 Roadshows
If you have not bought your tickets yet, consider visiting the HHN9 roadshows for better prices than at the park gate or official website. Students enjoy the best prices. Check here for roadshow venues and schedule.
At select roadshows, there are also special experiences, such as Meet and Greet with this year's iconic scare actors, and for the upcoming roadshows, a Horror Truck Escape Room experience that is based on Hell Block 9.
Here are some icons I met: Yumi from the Japanese-inspired Spirit Dolls house and Ring Leader Rusty, who teaches at the Twisted Clown University.
---
Get more Halloween Horror Nights updates
Follow me on Facebook and Instagram (@dejiki)
Prepare for Halloween Horror Nights 9
Get all the info you need on this year's event at my Halloween Horror Nights 9 Event Guide.
Halloween Horror Nights 10 (2022)
HHN10 REVEALED: Ticket and Event Guide
Halloween Horror Nights 10 MEGA Review: Photos of all Haunted Houses and Scare Zones
SPECIAL FEATURE: Behind the Scenes at HHN10 Haunted Houses
HHN10 RIP Tour (VIP Tour) Review

Features on Haunted Houses, Scare Zones and Experiences
The Silenced Auction (Opening Scaremony) | DIE-ning with The Dead | Monsters & Manifestations
Escape The Breakout | Killustrator: The Final Chapter | Hospitality of Horror
Operation: Dead Force | The Hunt for Pontianak | Dark Zodiac

Trick or Thrills (2021)
Halloween Horror Nights Exhibition
2021 Day and Night Halloween: DIE-ning with the Dead, Universal Monsters Scream Alley


Halloween Horror Nights – The Archives


Click to Expand and see all posts from past Halloween Horror Nights
Subscribe to Dejiki.com or Like my Facebook page for notifications of updates.
---