Indulge in the ultimate HHN11 Experience with the RIP Tour at Universal Studios Singapore's Halloween Horror Nights 11! Discover the highlights of the 2023 HHN VIP Tour in this review!
---
What is the HHN11 RIP Tour?
The Halloween Horror Nights 11 RIP Tour package offers a 4-hour adventure around the park during HHN11 event nights. Guests can enjoy a guided tour with VIP access to HHN11's new haunted houses. The 2023 RIP Tour package also includes the DIE-ning in Hell immersive dining experience, plus a premium viewing area for the Opening Scaremony show.
DIE-ning in Hell at Hollywood China Arcade
Is the HHN11 RIP Tour worth it?
Disclaimer: I paid for my own RIP Tour, and this is not a sponsored review.
Horror fans who wish to experience all that USS has to offer at this year's Halloween Horror Nights 11 should consider the RIP Tour Package, as it includes VIP access to all haunted houses, and unlimited use of the Universal Express lane after the tour, plus the DIE-ning in Hell experience which by itself costs S$128. There are also other perks which are featured in this article.
For those who prefer a self-guided adventure of the main HHN11 highlights (the 5 haunted houses) at a lower cost, then buying an Admission ticket with HHN Express Pass would be another option.
---
Vlog: Halloween Horror Nights 11 RIP Tour
Experience what it's like to go on tour in my HHN11 RIP Tour Vlog:
---
HHN11 RIP Tour (VIP Tour) Highlights
The RIP Tour Guide
Check in at the VIP Reception at the park entrance, where you will meet your RIP Tour Guide for the night. Each tour group (of up to 12 guests) will have its own guide who will make arrangements to ensure guests have an enjoyable night out at the park.
HHN11 Exclusive RIP Tour Lanyard and Credential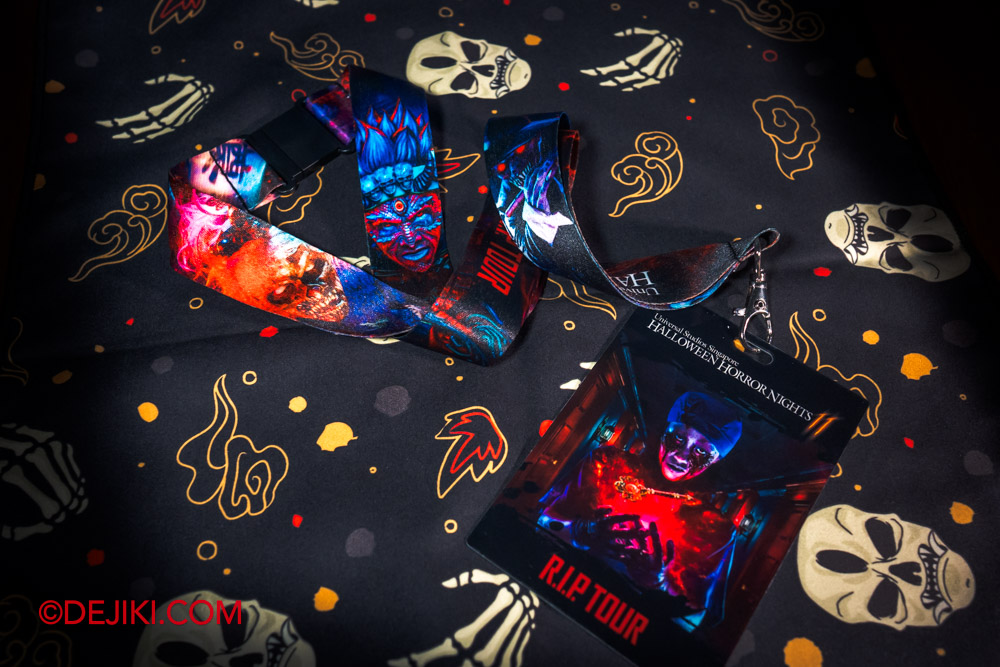 You will receive your HHN11 Lanyard and Credential, which has a unique design this year. The lanyard features the three original icons of HHN11: King Yama, The Matriarch, and Pied Piper, while the RIP Credential has the RIP Tour guide as part of the design, for the very first time in 11 years.
Also included with the lanyard is the HHN11 Interactive LED wristband, which may enhance your experience in scare zone as it lights up in different colours.
---
DIE-ning in Hell (Special Experience)
DIE-ning in Hell is a 3-course "multi-sensory" dinner in a heavily themed environment, with show segments interspersed throughout dinner, which lasts about 70+ minutes, and is considered part of the 4-hour RIP Tour.
During this feast in the Underworld, King Yama will challenge you with three courses of torture: Fire, Blade and Blood.
Throughout dinner, you may be disturbed by some of the demons from Hell.
Here are two out of three courses: Blade (Fleshy Cut) and Fire (Salad of Despair), on the skull. To see the dessert course, Dish of Darkness (Blood), watch the YouTube video linked above.
Which RIP Tour and DIE-ning in Hell timeslot is better?
DIE-ning in Hell seating time is dependent on the tour start time chosen at time of booking. Here are the advantages and tradeoffs:
RIP Tour starting at 6:00PM / DIE-ning in Hell at 6:00PM
Dinner starts at a more usual time, but it could rushed and the dining venue might be crowded. You may also not be in the first few rows of the Scaremony viewing area if you leave the dining venue late. However, you get an interrupted guided tour right after the Scaremony, and likely more free time to enjoy the park after the tour concludes.
RIP Tour starting at 7:30PM / DIE-ning in Hell at 9:20PM
Your night will start off with the Scaremony show, which you may get a better view closer to the front if you arrive early and enter the park when it's offered to you. However your tour will have a 70-90 minute interruption in the middle; it might feel like you have less time for VIP access. The timing for dinner may not be ideal for some people, being sandwiched between adrenaline rush.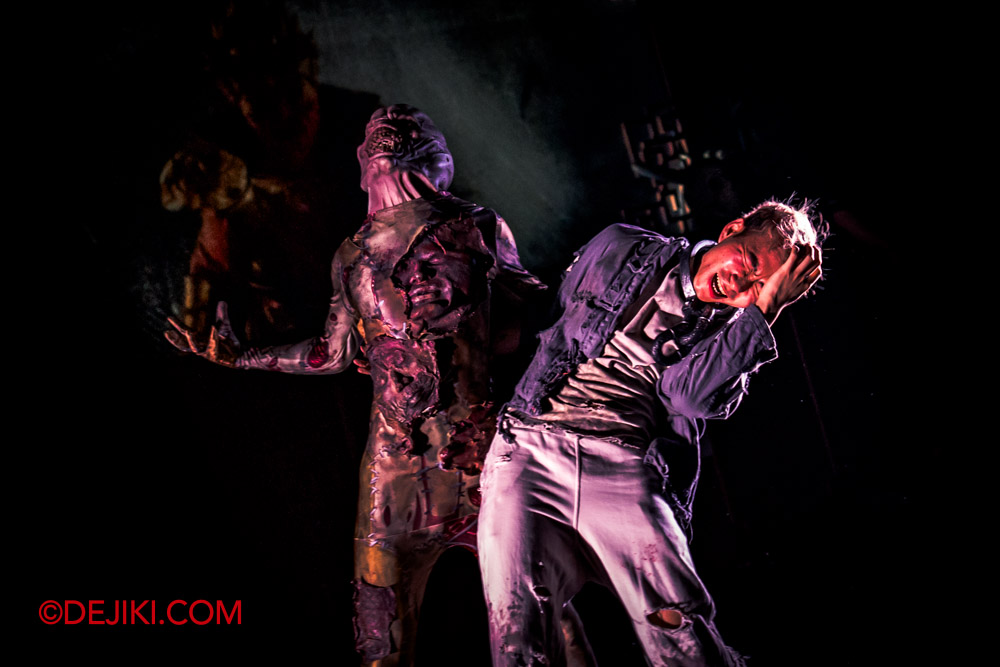 ---
Note: Please inform the park early if you have dietary restrictions
If you have any dietary requirements, you need to inform RWS via an online form after booking your tour. There is a Vegetarian menu available at DIE-ning in Hell, with the main course recreated with 'Impossible' Beef. Halal option is only available as a set meal from Mel's Drive-In (takeaway and dine at Hollywood China Arcade). While the park states "the menu served is no pork no lard only", do note that the venue is not Halal-certified.
---
Judgement Day Opening Scaremony show (Front Viewing Area)
All RIP Tour guests can access the viewing area closer to the front and enjoy views of Judgement Day Opening Scaremony and see all the action up-close.
After the show ends, you can depart the viewing area without rushing. Everyone else will have to wait for you to leave, before they sprint to their first haunted house.
Note: If there are clients invited by the park in attendance for the Opening Scaremony, the RIP Tour guests viewing area may be shifted back. RIP Tour guests will still be in front of two other sections: The Stay and Scream group, and the General Admission group further back.
---
VIP Access to Haunted Houses and Attractions
During the guided tour (approx. 3 hours), you will enjoy front-of-line VIP access via shortcuts that are closed to all other guests. This drastically reduces waiting time and walking, and you can quickly "complete" all the houses and zones, with time for more attractions before your tour ends.
During the tour, your RIP Guide will also explain the stories of all the haunted houses and scare zones, along with other cool facts about USS and its attractions.
---
Halloween Horror Nights Express Unlimited
As an RIP Tour Guest, you will get the Halloween Horror Nights Express Unlimited wristband, offering unlimited use of the Universal Express Lane. This privilege is not sold at the park, as HHN Express Passes are good for one use at each attraction*.
*All formats of HHN Express Passes are not valid for use at front row of Battlestar Galactica HUMAN vs CYLON, Treasure Hunters, and Waterworld
---
Private Meet and Greet with an HHN11 Icon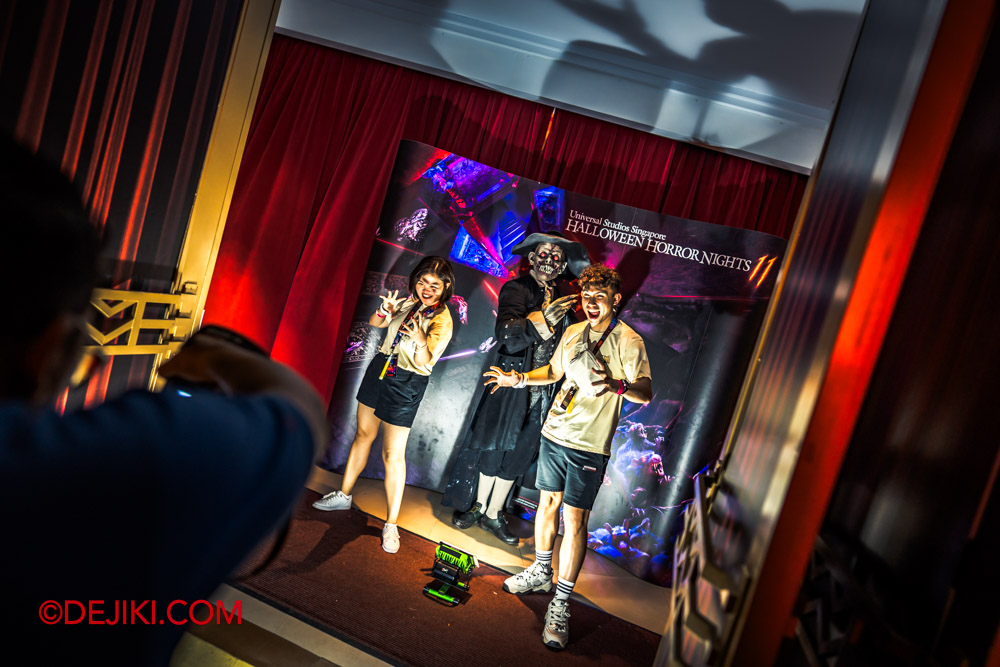 During your tour, you will visit the Pantages Hollywood Theater Foyer for a private Meet and Greet with an HHN11 Icon. Same like in 2022, RIP Tour guests will get a 6R printed photo as part of their package. Pick up your photo at The Dark Room retail store.
Apart from this venue, you can also meet two other icons at the Scaremony stage. Photos taken here are not eligible for the free 6R photo print as part of the RIP Tour package.
---
Discount at Retail Store
HHN11 RIP Tour guests also enjoy 10% discount off merchandise at the Universal Studios Store, which is great if you're intending to grab some of the new and exclusive HHN11 and The Weeknd XO merchandise.
---
How to book HHN11 RIP Tour?
When you're ready, place your booking for the HHN11 RIP Tour online via official ticketing partners such as Klook, or at the RWS website directly.
Category
Price
(Non-Peak)
Price
(Peak)
Halloween Horror Nights 11

RIP Tour


+ Halloween Horror Nights Admission Ticket
+ DIE-ning in Hell Dining Experience
+ HHN Express Unlimited
+ Private Meet and Greet and 1x 6R Souvenir Print
+ RIP Tour Lanyard
+ Interactive LED wristband
+ 10% Discount Voucher for merchandise

from

$349


Klook»

from

$349


RWS»
---
Halloween Horror Nights 11: Select Nights 29 Sep – 4 Nov
Halloween Horror Nights 11 MEGA Review by DEJIKI
Read my full review and see photos from this year's haunted houses, scare zones, the Opening Scaremony show, and DIE-ning in Hell special experience.
Halloween Horror Nights 11 EVENT GUIDE
Stay prepared. Get essential info in my Halloween Horror Nights 11 Event Guide, including event calendar, tickets and add-ons prices, plus Tips & Tricks.
Get more HHN updates
More photos from this year's HHN attractions will be published on my Instagram (@dejiki), Tiktok and on this website as special features. Follow me on Facebook for updates.

---
Halloween Horror Nights 11 (2023)
HHN11 REVEALED: Ticket and Event Guide
Sneak Preview: DIYU: Descent Into Hell, Rebirth of the Matriarch, Icons and more
Halloween Horror Nights 11 MEGA Review: Photos of all Haunted Houses and Scare Zones
HHN11 RIP TOUR (VIP Tour) Review

Features on Haunted Houses, Scare Zones and Experiences
Grimm Encounters | The Weeknd: After Hours Til Dawn Nightmare
Judgement Day (Opening Scaremony) | Netflix's All of Us Are Dead
DIYU: Descent Into Hell | Rebirth of the Matriarch
Dead Man's Wharf | The Cursed Kiramam
The Hacker + The Hacker: GAME OVER

Universal Studios Japan (USJ) 2023
Halloween Horror Nights 2023/ HAHAHA! Halloween Party! Event Guide


Halloween Horror Nights – The Archives


Click to Expand and see all posts from past Halloween Horror Nights