Experience a perilous journey in Thailand, leading to forsaken villages and a hidden temple at Universal Studios Singapore's Halloween Horror Nights 9.
SPOILER WARNING
Photos of Curse of The Naga, a haunted house attraction at USS Halloween Horror Nights 9, are featured here to showcase its design and atmosphere. This is also a page for fans to share their thoughts.
Photography and video recording is not permitted inside any Haunted Houses at Universal Studios Singapore during Halloween Horror Nights.
Overview and Thoughts
Woah, this will be the third article I've written about this haunted house.
Curse of the Naga marks the park's first collaboration with Thai horror directors Parkpoom Wongpoom and Paween Purijitpanya, the creators of blockbusters Shutter and 4Bia. The team has created an original story, one about Man versus Nature, with the Naga spirit taking revenge for our harmful actions against her kind. Horror fans will experience first-hand, as tourists, the curse's powerful effects and bear its consequences.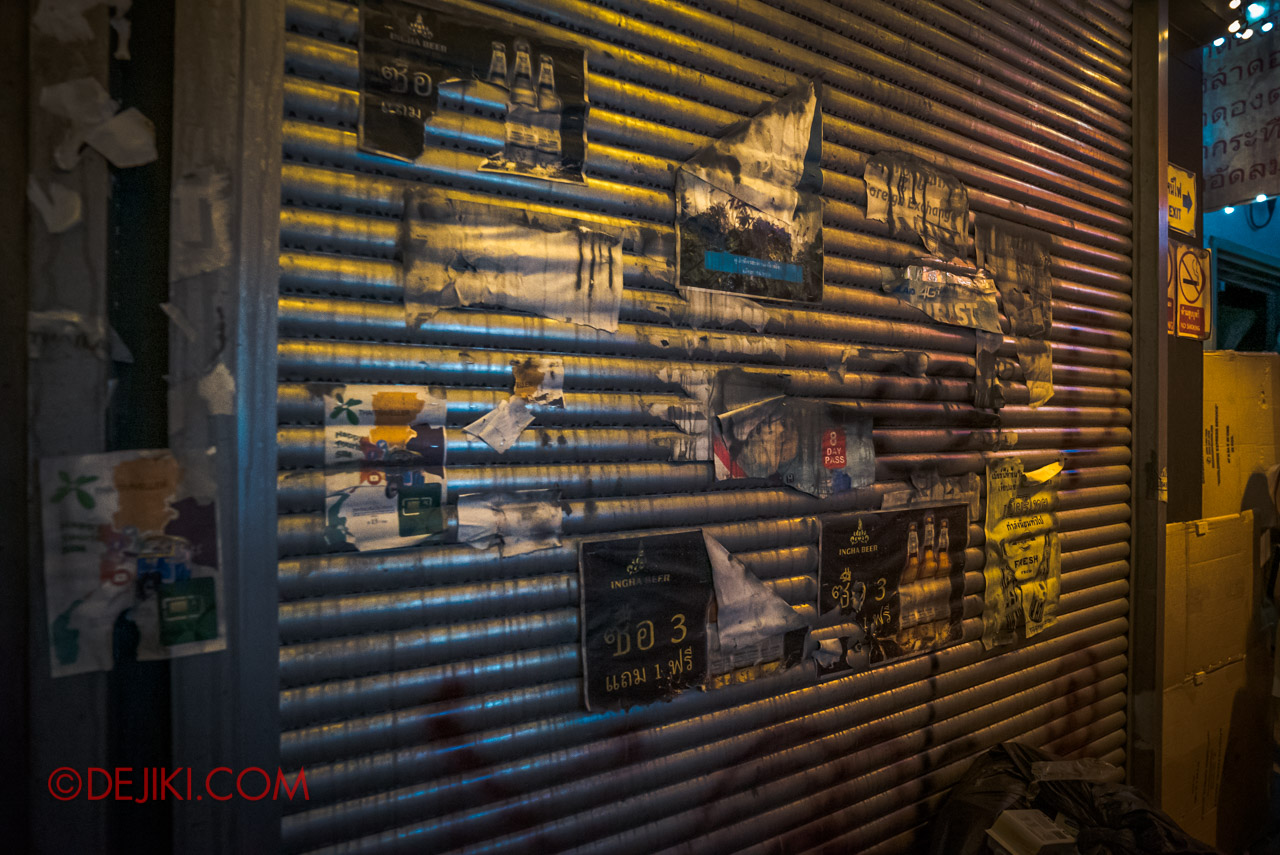 In the first sneak preview article, we've already seen how the Curse of The Naga features unusual scenic design: from the cavernous Crossing with giant snakes to the crumbling passage leading to Naga's Temple. To achieve high authenticity, the house has nearly 80% of its props, costumes and accessories sourced from Thailand.
It is definitely a beautiful production, and the experience of walking through this house can be easily described as 'cinematic'. Whether it is scary or not is quite subjective. While it did have a few surprises through blink-and-miss stunts and tricky effects, I wouldn't say it was a very terrifying house. Instead I was captivated by the design, props and costumes – it's a lot to drink in.
Despite being the most elaborate house this year, there are some moments that could be improved, such as the transition from the night market to the jungle: from the messy alley with snakes being drained, falling under the curse, to 'waking up' around the trees. This is probably the weakest part of this house and causes much confusion for first timers at the beginning.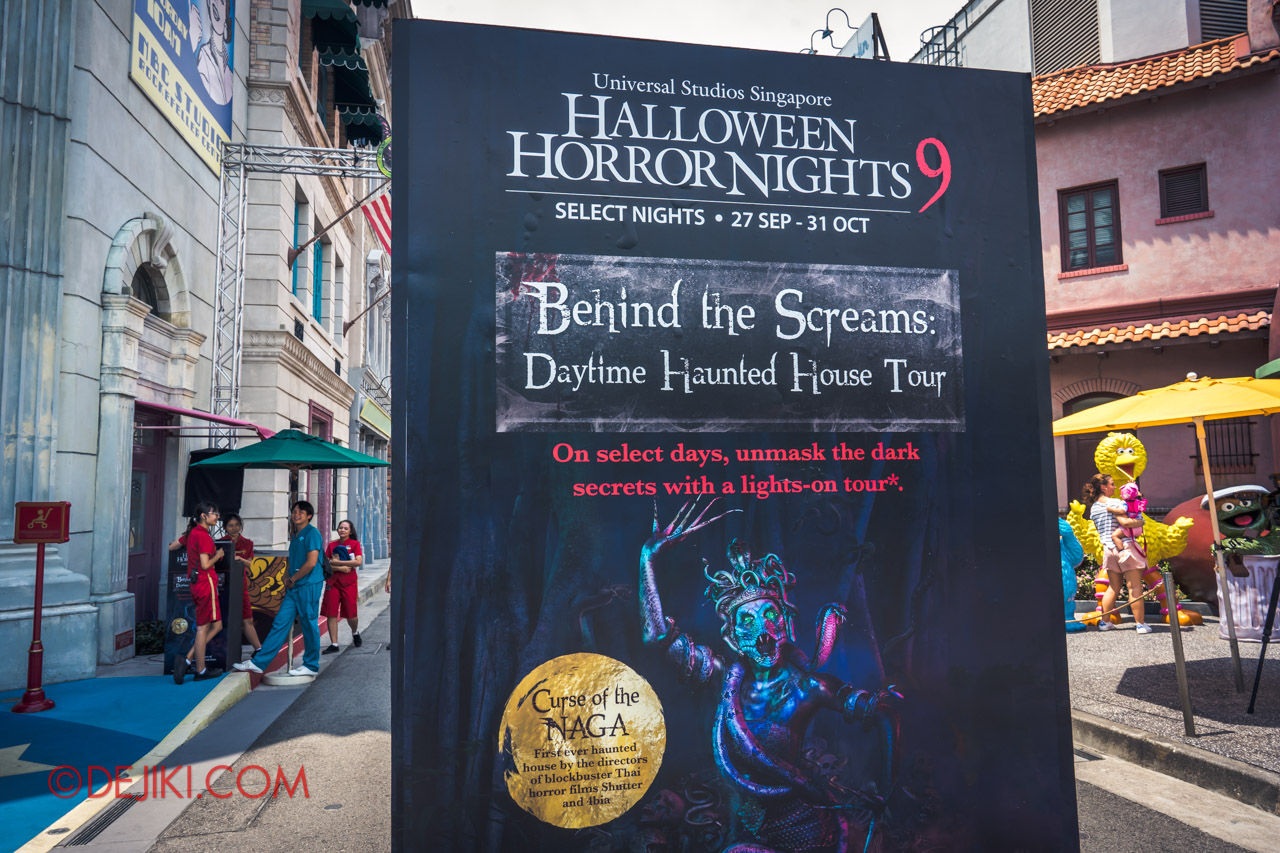 Universal Studios Singapore is offering Behind The Screams as a Daytime Haunted House Tour that all park guests can experience with a $10 add-on. USS Passholders can enjoy a discounted rate of $5. The tours are available on all days except Wednesdays, from 12PM to 4PM on HHN9 event dates, and 12PM to 6PM on non-event dates. The lights-on house tour lasts about 15 minutes and you will get to learn the story behind every scene, along with secrets of the house and other fun facts on the effects and props in some scenes that are easily missed.
---
The story begins late at night within the night markets of Bangkok. In a quiet lane where most stalls are already closed, one remain mysteriously open…
A drink stall owner offers you a drink. Will you take it?
You stumble into a messy alley, with snakes hanging above you – they're being drained for blood.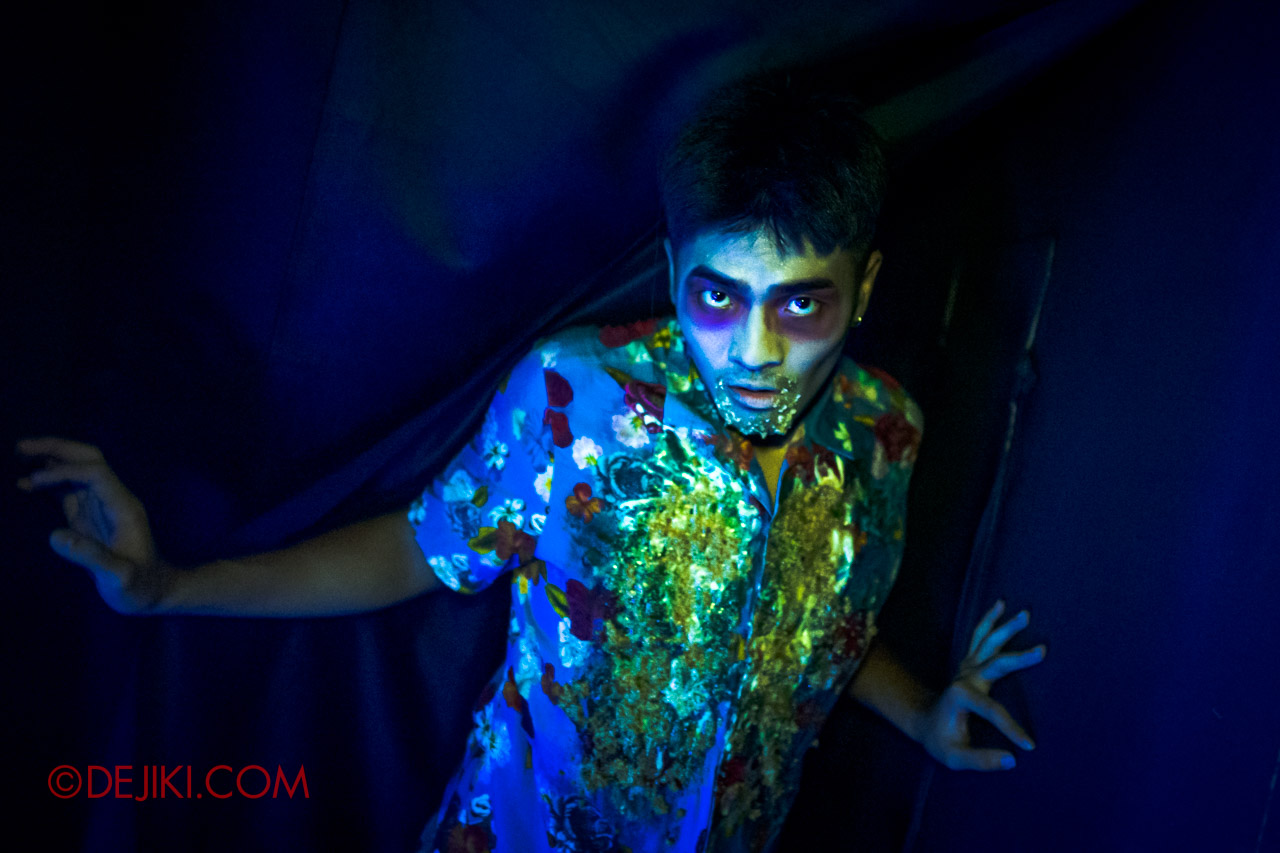 Something in the alley is moving – it's just a tourist… in a trance.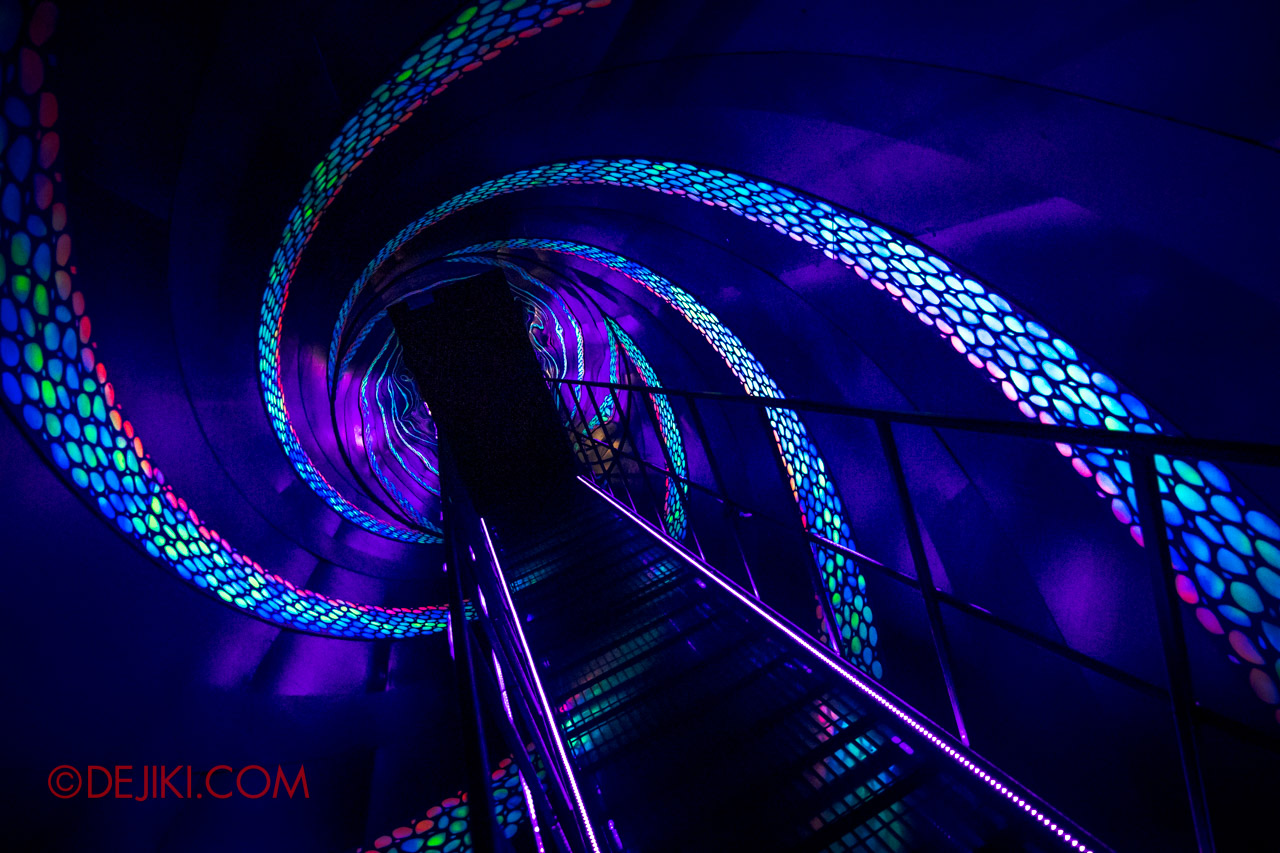 The dizziness intensifies, and you find yourself waking up in a jungle.
Spirit houses and trees start to move. You can't quite see them, but can definitely hear voices.
You walk under a giant banyan tree, and find a shrine for the Naga Spirit.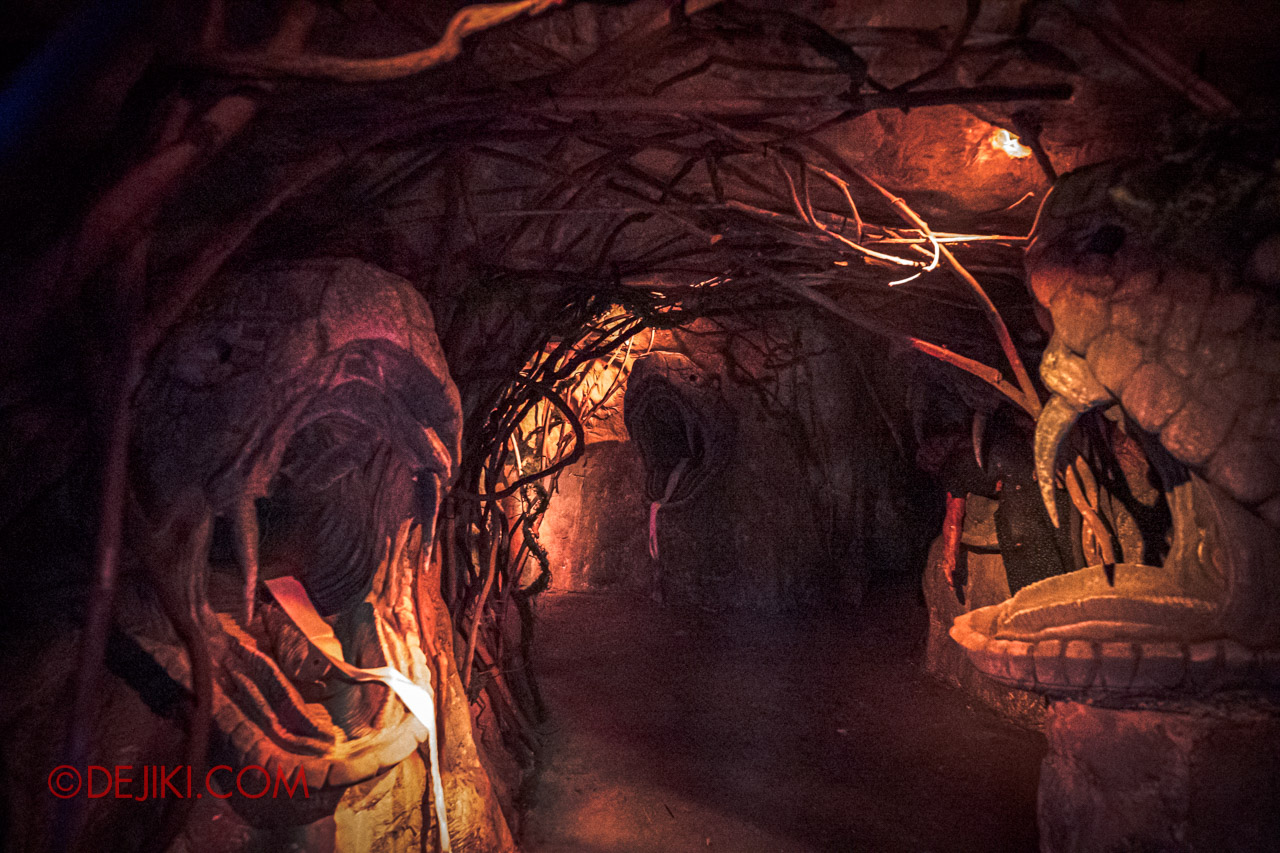 The roots part, revealing a cavernous crossing filled with giant snakes, and victims.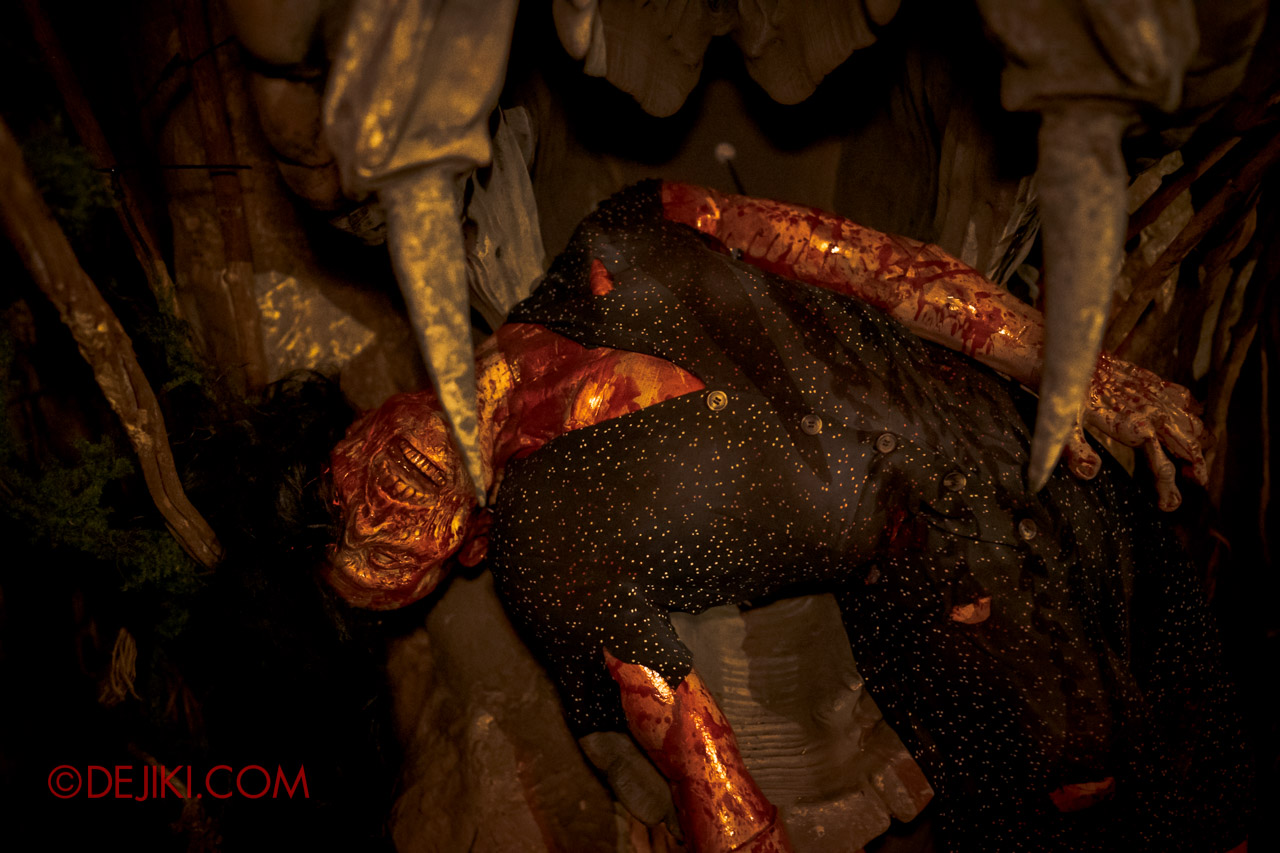 Walking out to the other side, you find yourself in a village ravaged by the mythic beast.
The few survivors cry for help, while others don't take your sudden appearance kindly.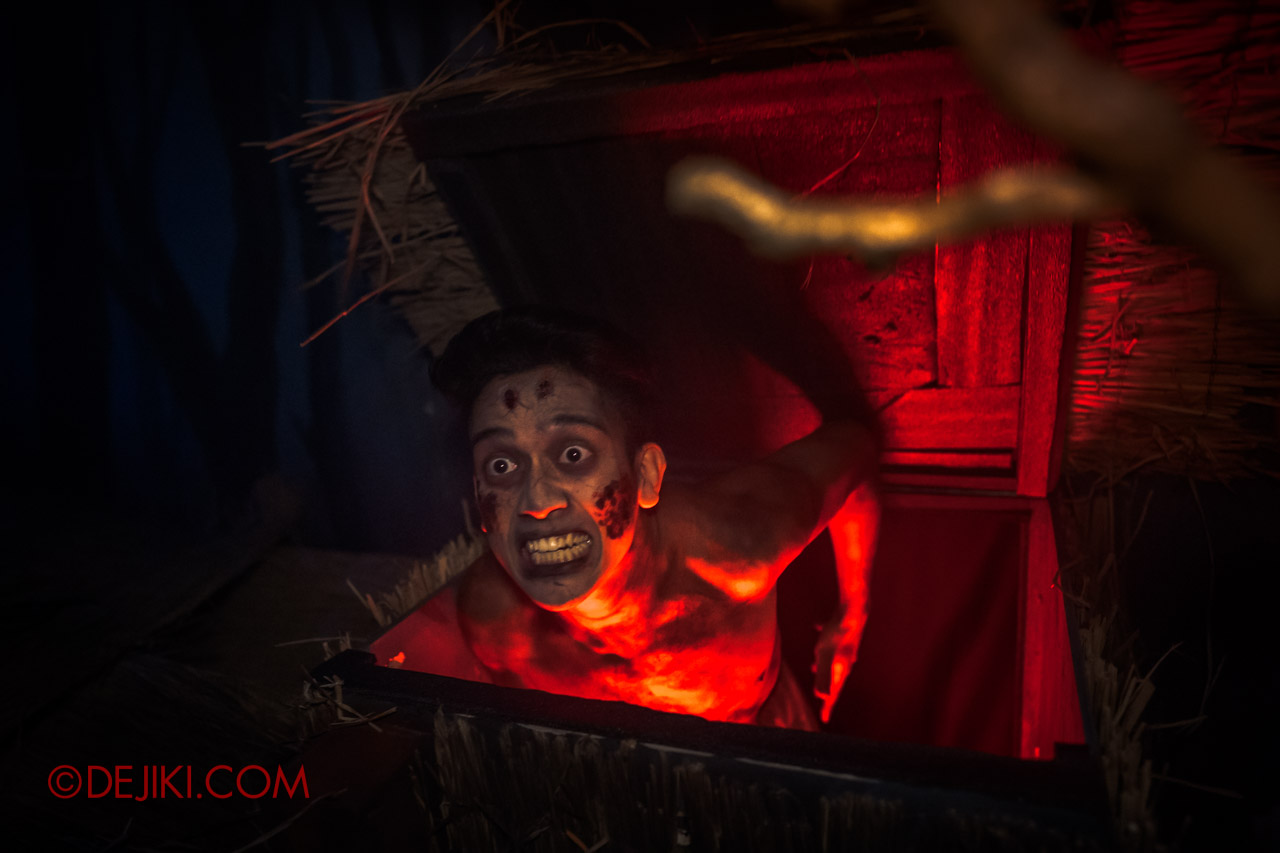 You walk inside the hut, and discover yourself within a dance hall. Here, you discover how the dancers are slowly converted into servants of the Naga.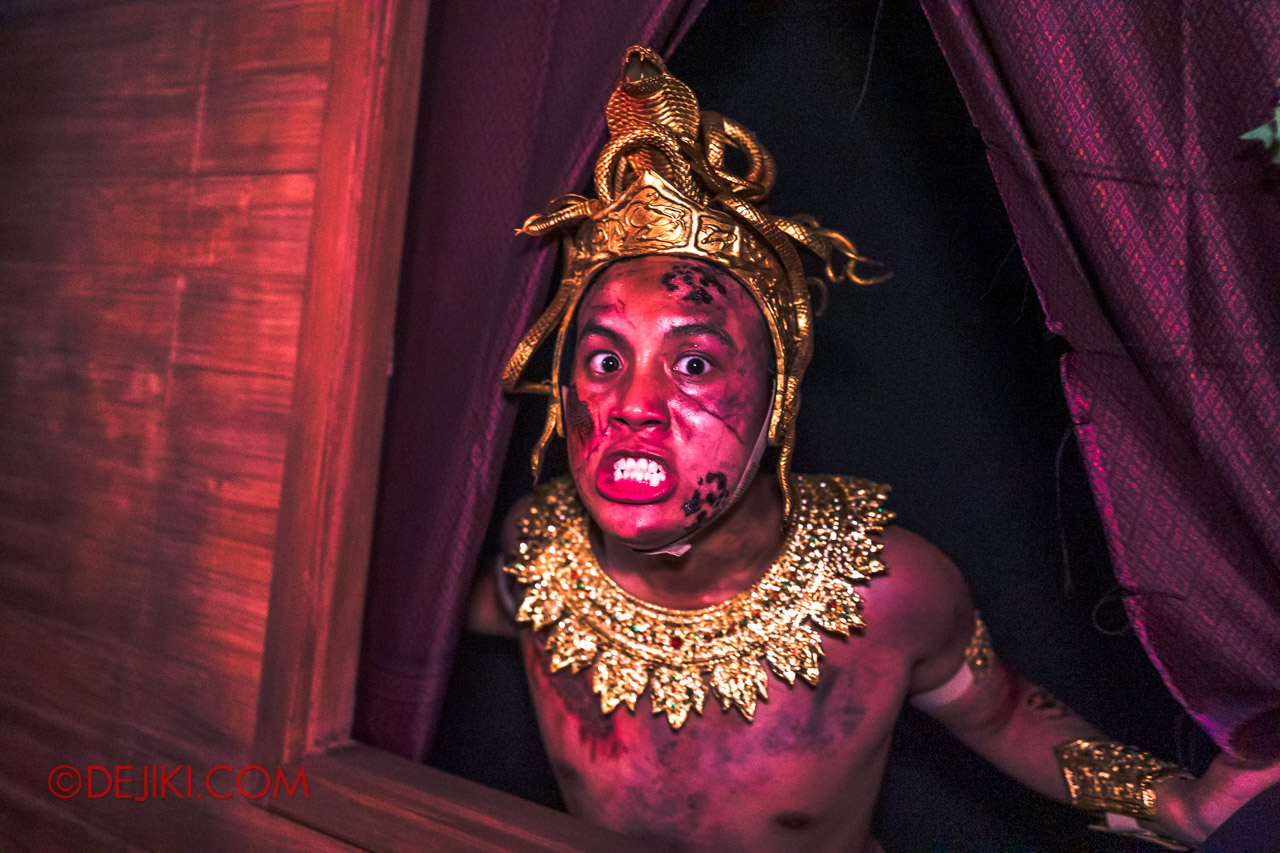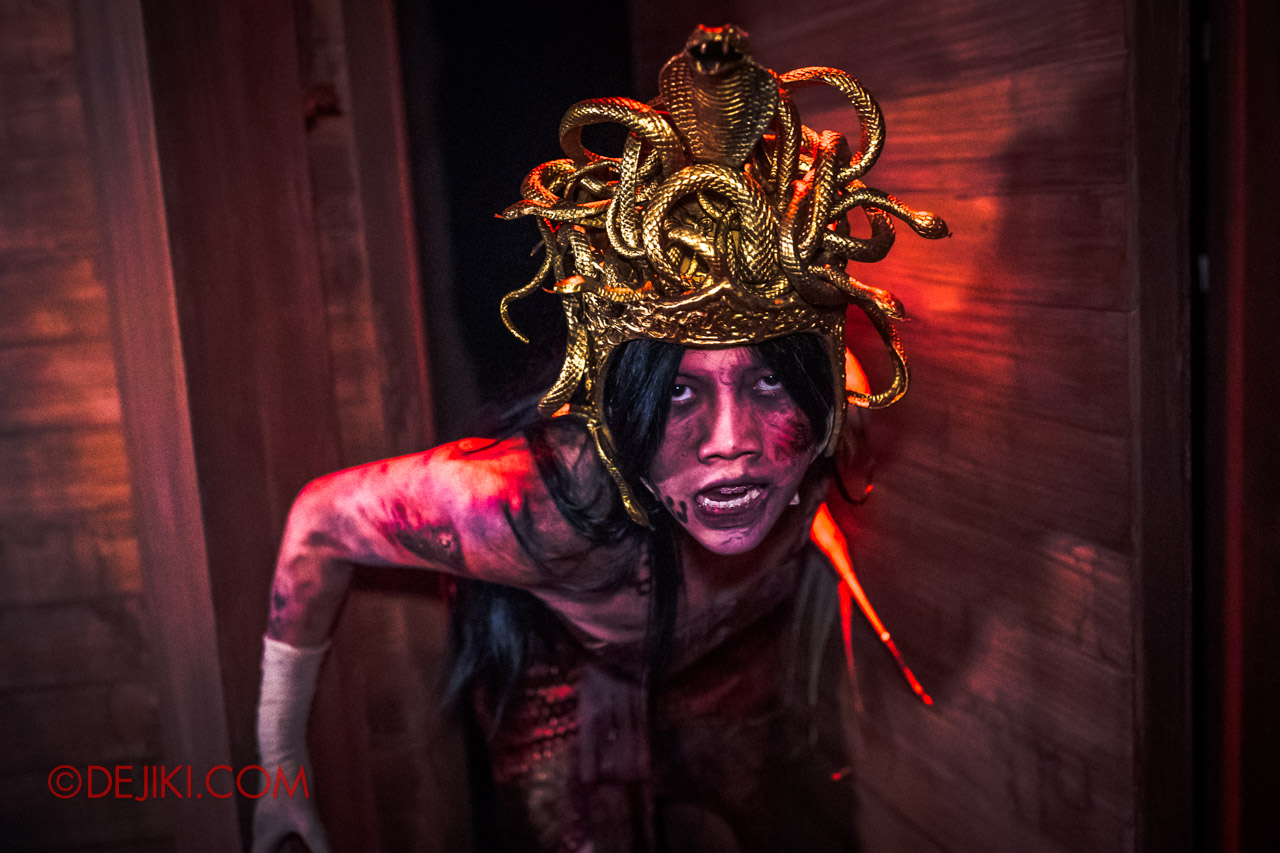 After a few close encounters, you are taken into the Bloodletting Corridor.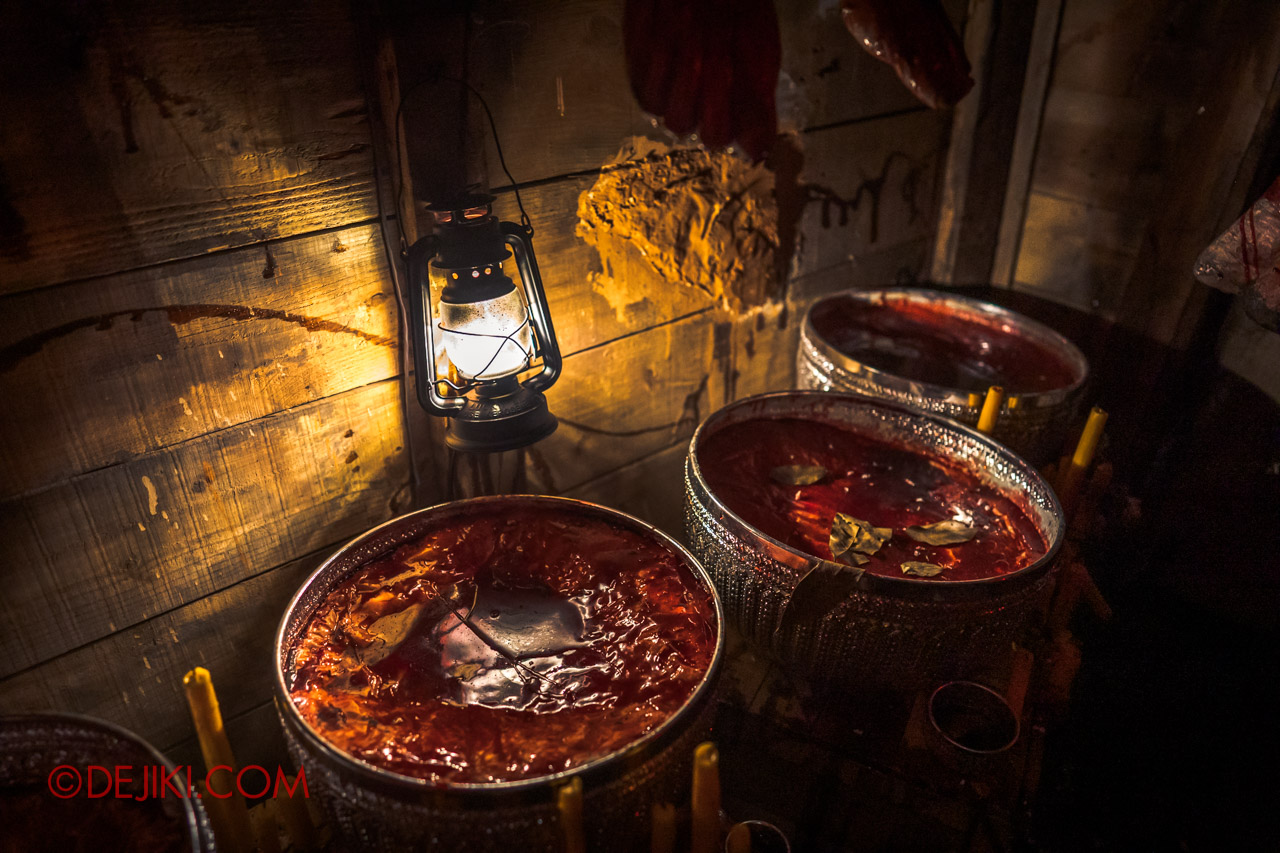 Naga's victims are skinned, and their blood is drained and collected.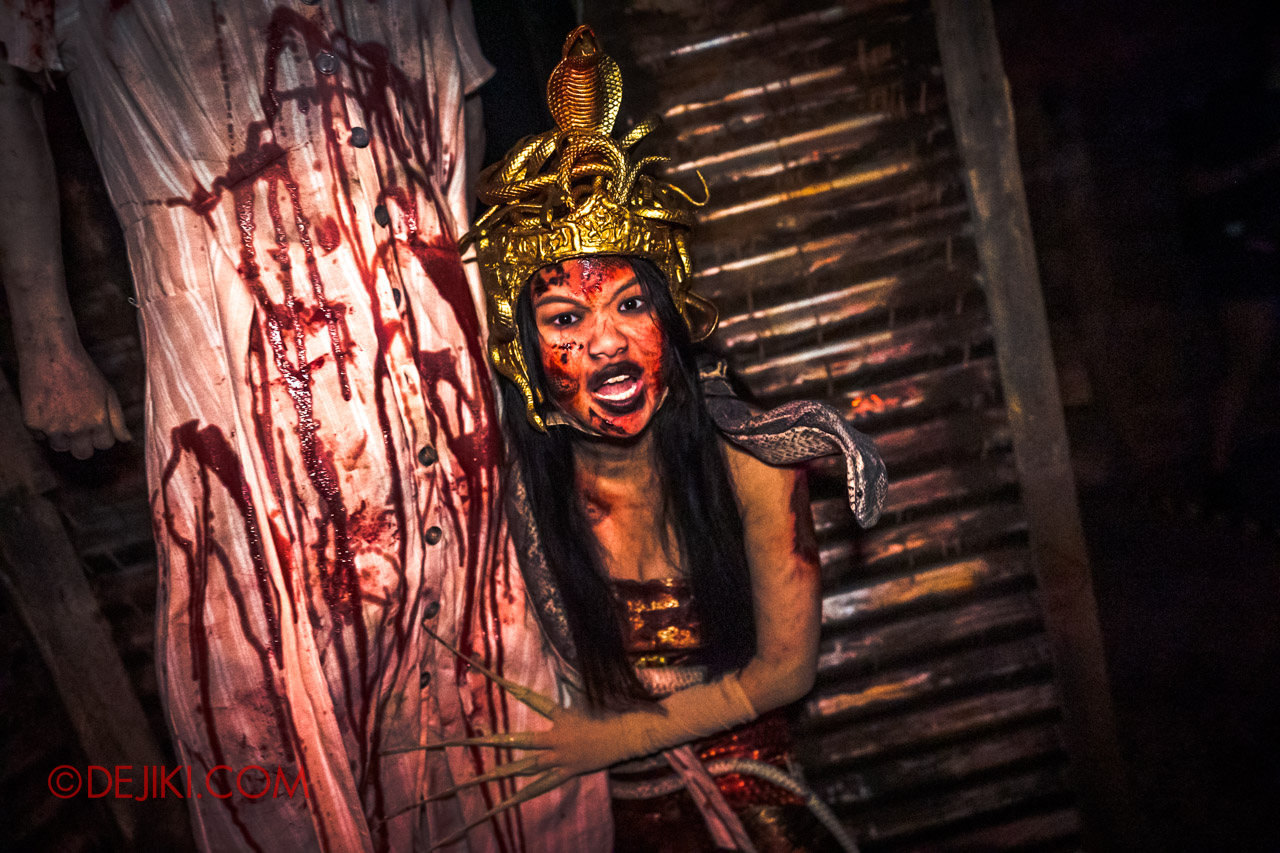 While you barely escape from the Serpentine spirits lurking in the corridor, you emerge to a thunuderstorm outside.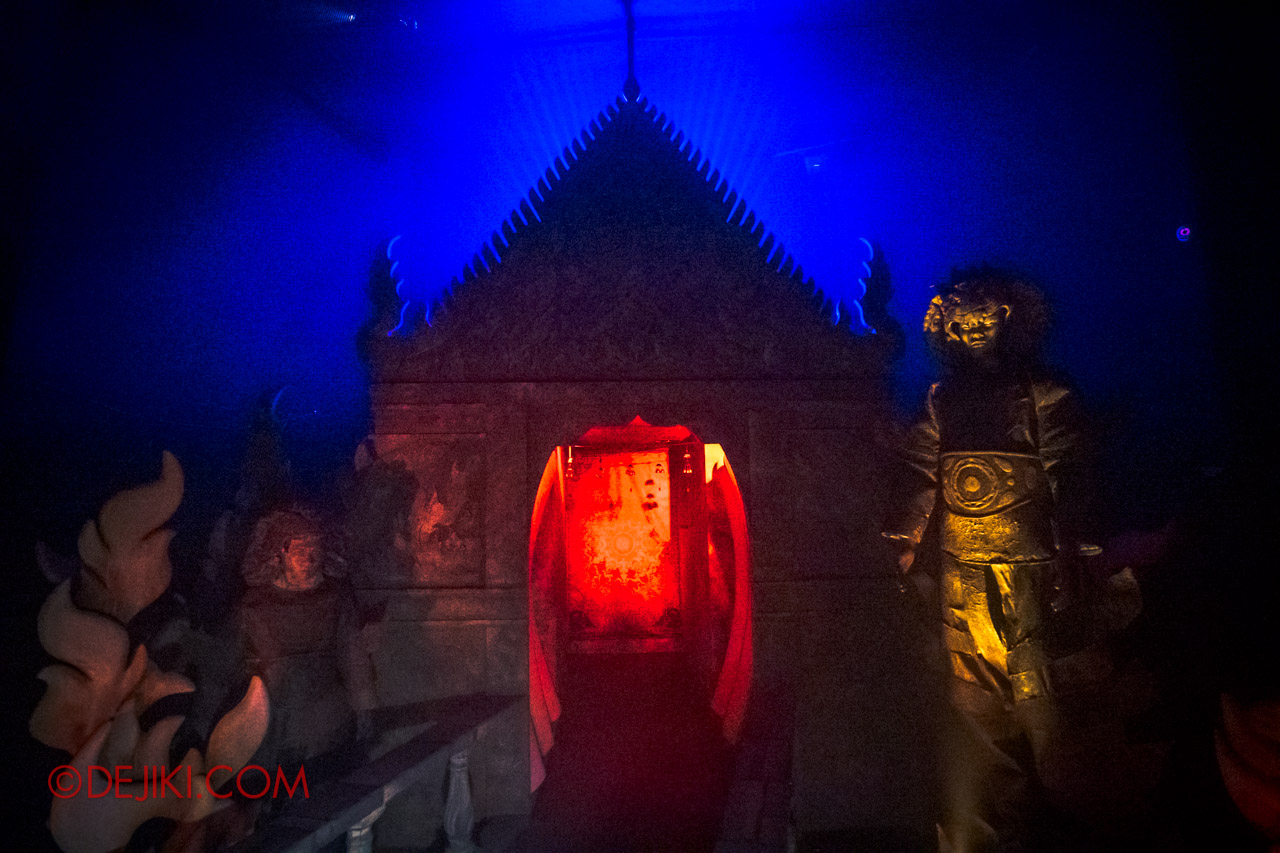 The only way out of the storm.. is to enter Naga's Temple.
You find another victim who is still alive – she's too shaken to move, or even respond to you.
Inside the Temple, you have to face Naga herself. Countless snakes coil on the pillars and offerings.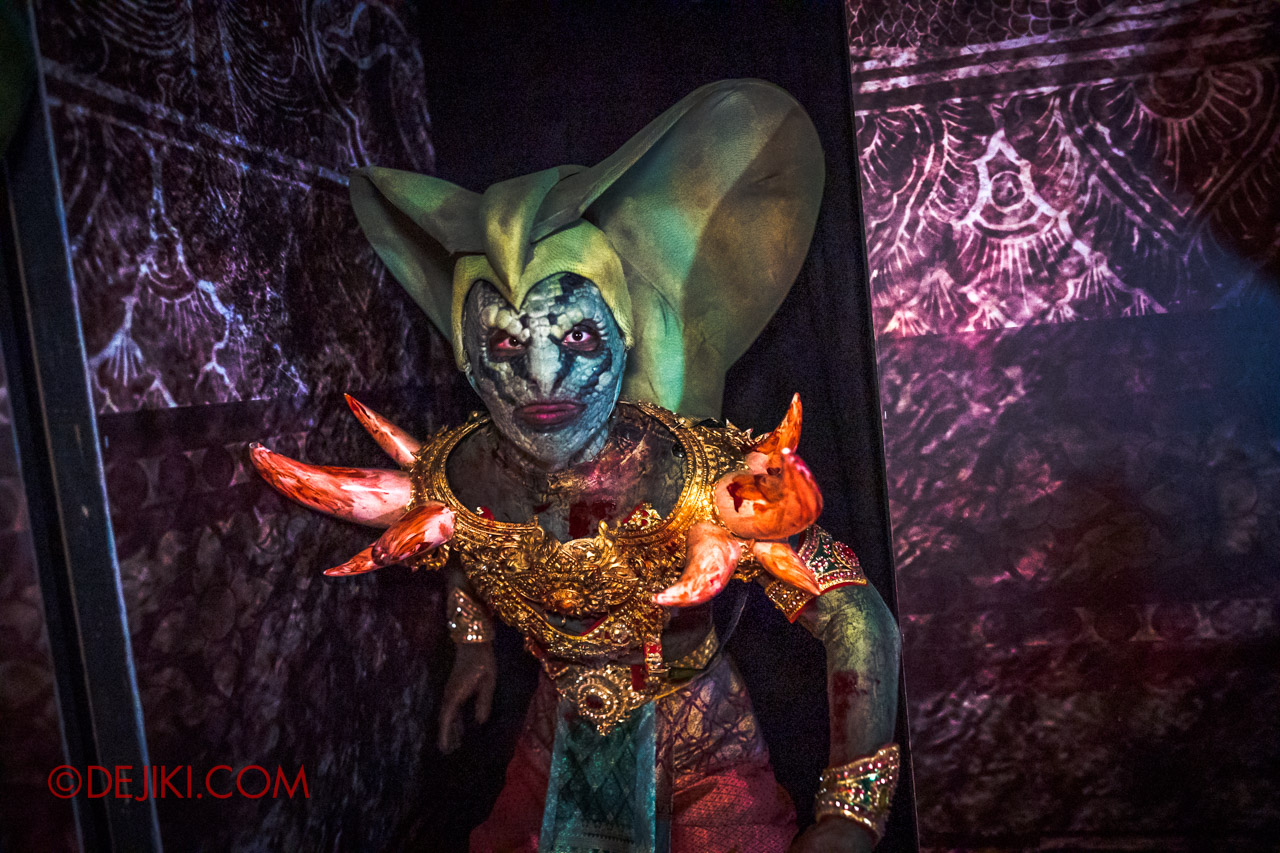 The Serpentine Guard blocks the exit, there's no turning back now.
Another dancer lures you closer to the giant Serpent, into her jaws.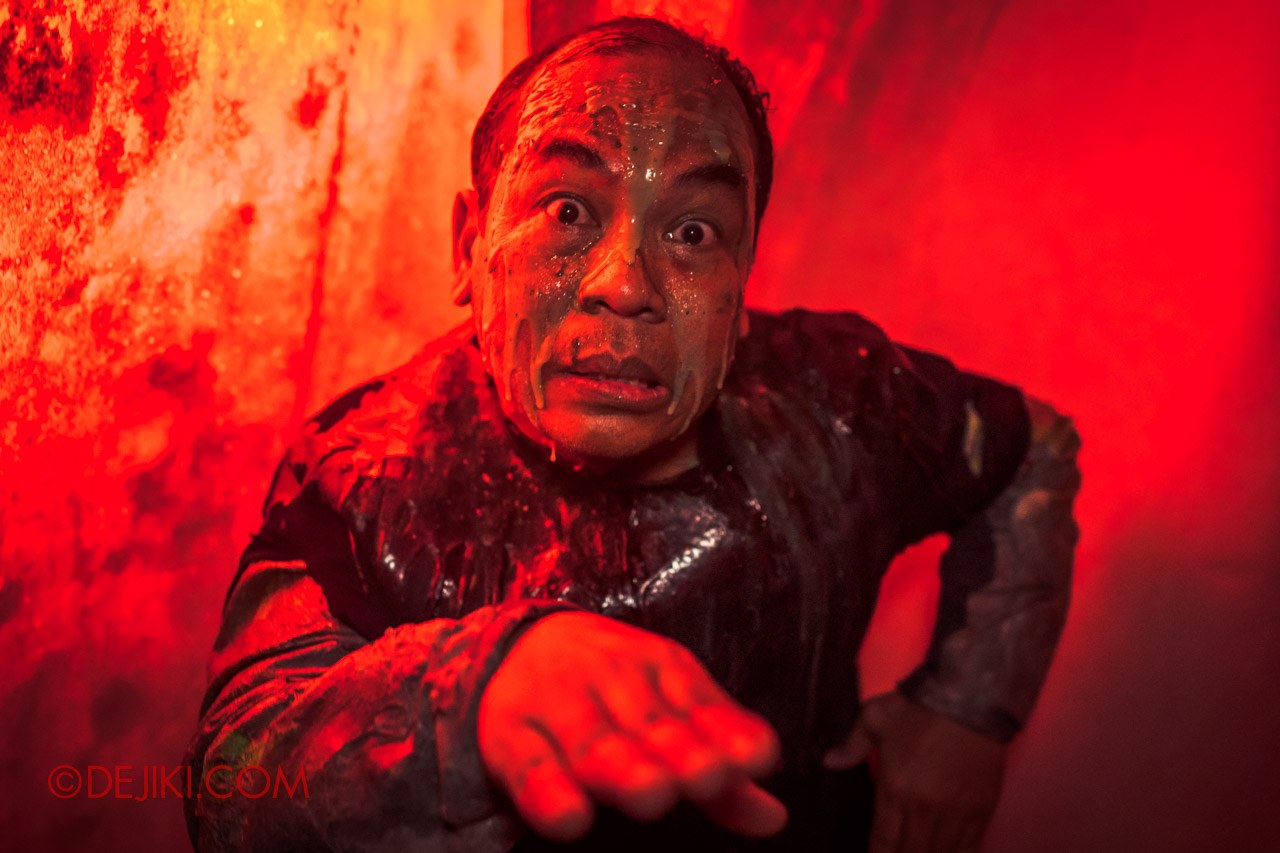 Other victims linger within Naga, barely alive, but out of their minds.
It only leads to further darkness, as the curse consumes you completely.
---
Halloween Horror Nights 9: Select Nights 27 Sep – 31 Oct
Prepare for the event: Get all the info here
You can get all essential info you need at my Halloween Horror Nights 9 Event Guide. Tickets are available online at halloweenhorrornights.com.sg, or you can also buy them via my Klook link.
Get more HHN9 updates
More photos from the haunted houses will be published on my Instagram (@dejiki) and on this website as special features. Follow me on Facebook for updates.
---
Halloween Horror Nights 10 (2022)
HHN10 REVEALED: Ticket and Event Guide
Halloween Horror Nights 10 MEGA Review: Photos of all Haunted Houses and Scare Zones
SPECIAL FEATURE: Behind the Scenes at HHN10 Haunted Houses
HHN10 RIP Tour (VIP Tour) Review

Features on Haunted Houses, Scare Zones and Experiences
The Silenced Auction (Opening Scaremony) | DIE-ning with The Dead | Monsters & Manifestations
Escape The Breakout | Killustrator: The Final Chapter | Hospitality of Horror
Operation: Dead Force | The Hunt for Pontianak | Dark Zodiac

Trick or Thrills (2021)
Halloween Horror Nights Exhibition
2021 Day and Night Halloween: DIE-ning with the Dead, Universal Monsters Scream Alley


Halloween Horror Nights – The Archives


Click to Expand and see all posts from past Halloween Horror Nights