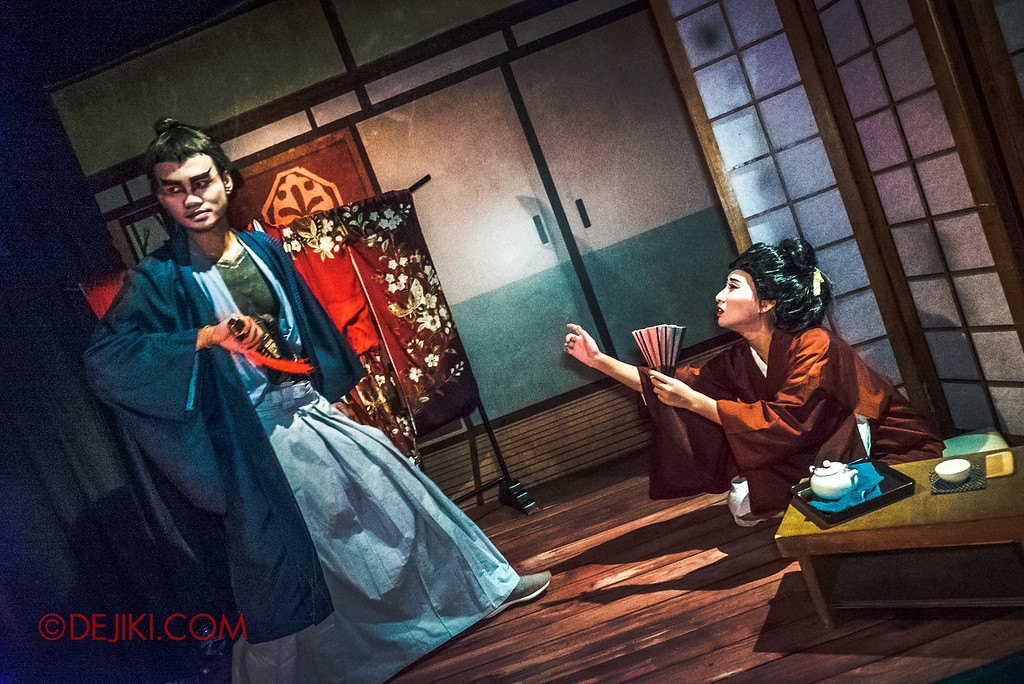 Witness a tale of tragic betrayal in The Haunting of Oiwa, a Japanese-themed haunted house at Universal Studios Singapore's Halloween Horror Nights 8.
SPOILER WARNING
Photos of The Haunting of Oiwa, a haunted house attraction at USS Halloween Horror Nights 8, are featured here to showcase its design and atmosphere. This is also a page for haunt fans to share their thoughts.
Photography and video recording is not permitted inside any Haunted Houses at Universal Studios Singapore during Halloween Horror Nights.
Overview and Thoughts
After visiting Shanghai, South Korea, we're finally seeing Japan at Halloween Horror Nights. And it's not just any old story, but the most famous Japanese horror tale of all time, Yotsuya Kaidan (四谷怪談). This story has had numerous adaptations, and left a lasting influence on Japanese horror, including well-known modern films like Ringu (The Ring). Given the rumoured taboos, Universal Studios Japan has (unsurprisingly) not touched their own folklore, although they've had a J-Horror scare zone some years ago, along with that hair-raising Tatari maze.
Given that this is the Singapore team's own retelling of a lengthy 5-act kabuki play, many of the scenes are merged and characters scrapped or combined, so that key story moments can be experienced when walking through the house in mere minutes. The site in Ancient Egypt usually holds the smallest haunted houses, so surprisingly (by some creative theme park magic) there are still many distinct scenes. I was particularly surprised by the outdoor sets and the iconic telescoping corridor with trick shoji doors and eerie lanterns fluttering above.
Oiwa appears several times as scare actors, including one with the use of a sliding mask. The other apparitions use mirror tricks and 'hologram technology' that is actually spinning LED fans. They all don't look convincing, unfortunately, for various reasons. Conventional projections and strobe lighting effects might've worked better. There are also several human dummy props that look quite 'cartoon' and broke the immersion.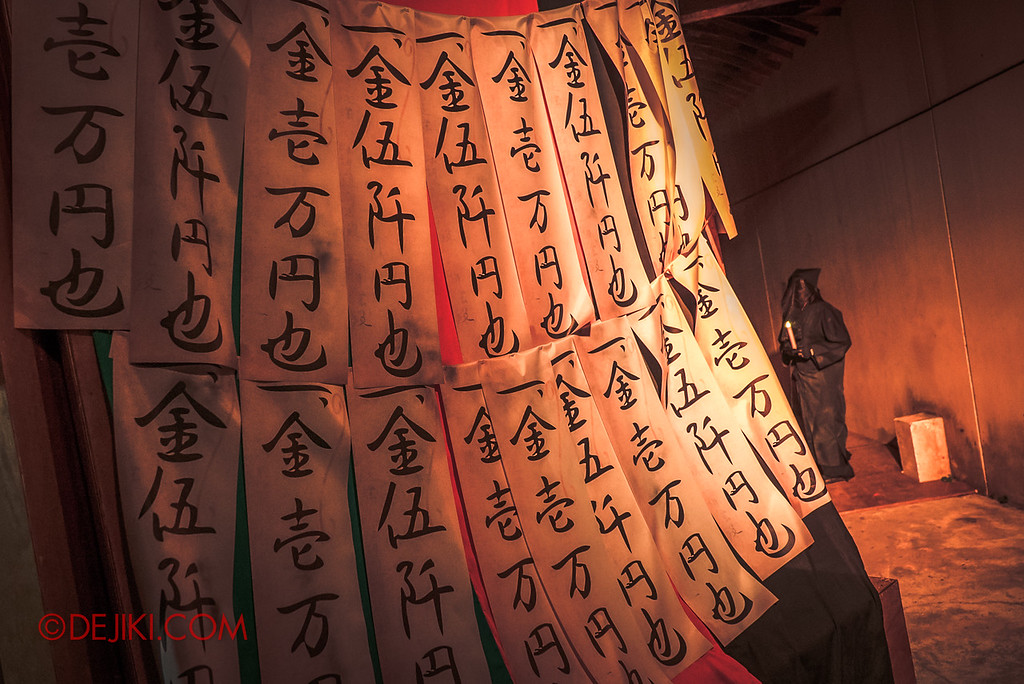 The story can be quite confusing, so while waiting in the queue, remember to read the boards summarising 5 acts of the tale:
The Haunting of Oiwa – story summary
1. The Betrayal
Iemon and Oiwa's marriage is not as it seems. Wanting to escape his mundane life and marry his mistress, Oume, Iemon hatches a poisonous plot.
2. Oiwa's Death
Poisoned by Iemon and left horribly disfigured, Oiwa takes her own life. Iemon unceremoniously disposes of her corpse.
3. The Wedding
Oiwa's restless spirit begins to haunt Iemon as he prepares to marry Oume. In his desperate attempt to fight Oiwa's apparition, Iemon slays his new bride and everyone in attendance at the ceremony.
4. Madness
The haunting continues and Iemon's madness intensifies.
5. Death of Iemon
Iemon meets his own bloody end at the hands of Oiwa's avengers.
---
A spooky, yet well-kept kabuki theatre (seemingly adapted from the famous Nakamura-za in Edo) invites you to a twilight showing of Yotsuya Kaidan…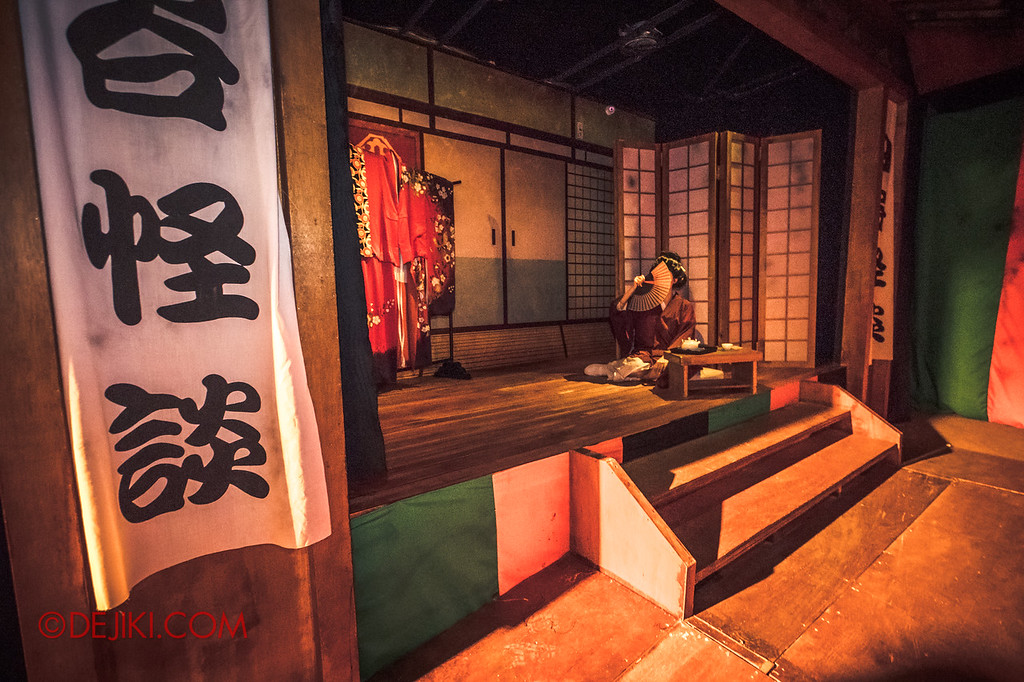 The side of the theatre opens up into a stage, where we see the first scene of the play introducing Tamiya Iemon and Lady Oiwa.
After observing the couple's heated exchange, Iemon brandishes his katana, and orders us to step on stage… and into the play.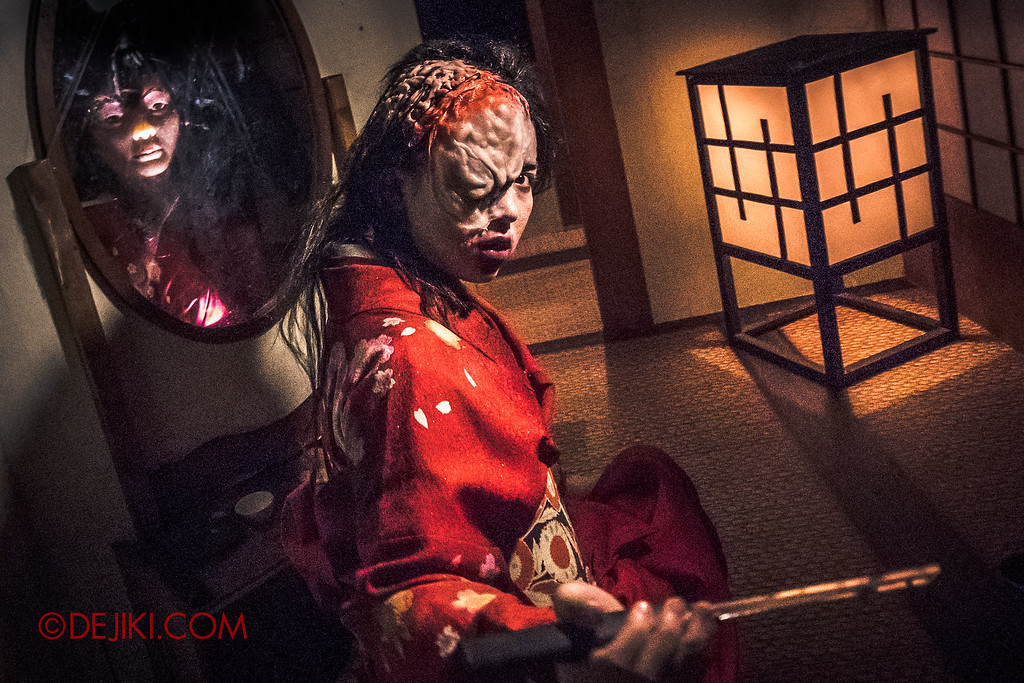 Poisoned by Iemon, Lady Oiwa becomes disfigured. She takes her own life.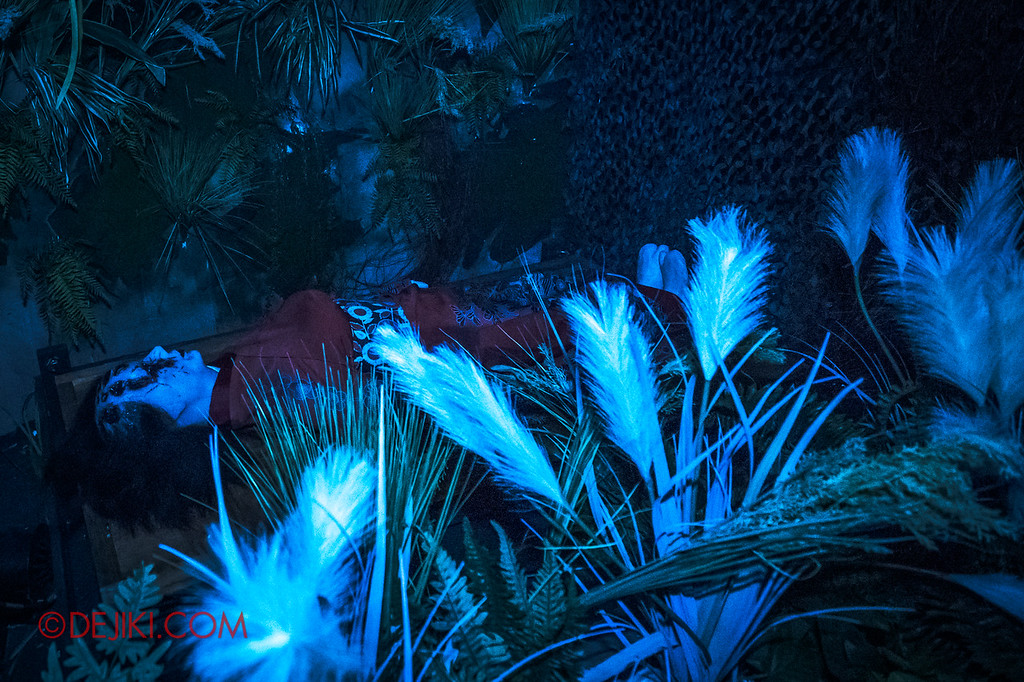 We leave the house into the chilly outdoors, and see Lady Oiwa's corpse disposed outside.
But very quickly, Oiwa returns to haunt Iemon, starting the chain of unending nightmares.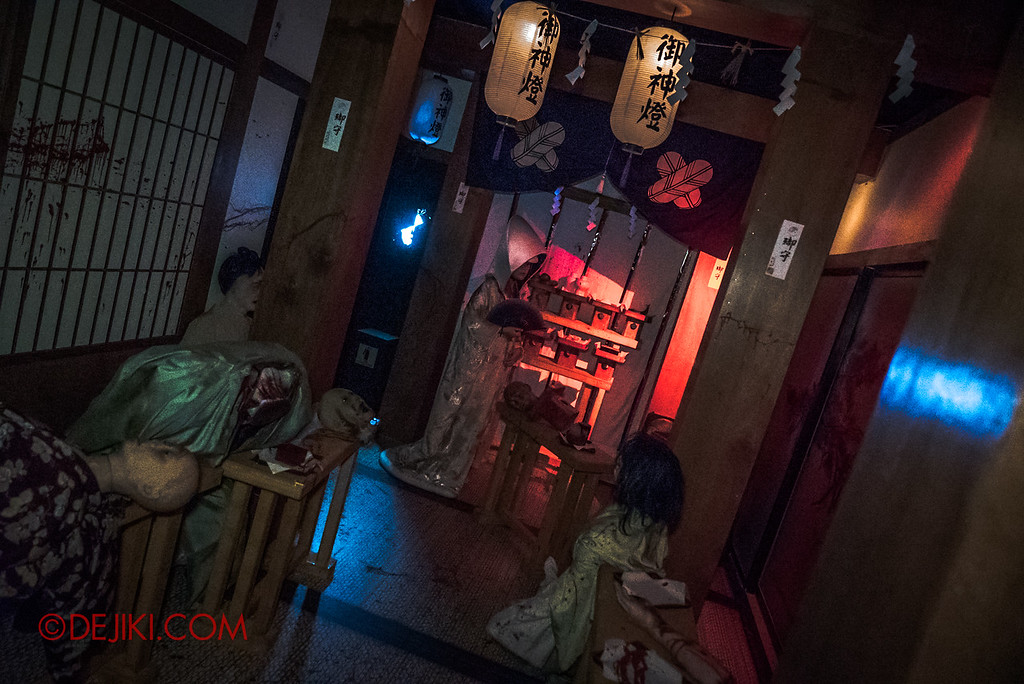 We jump into the third act of the play. It was supposed to be a wedding…
Haunted by Oiwa's face which appears everywhere, Iemon turns the ceremony into a massacre.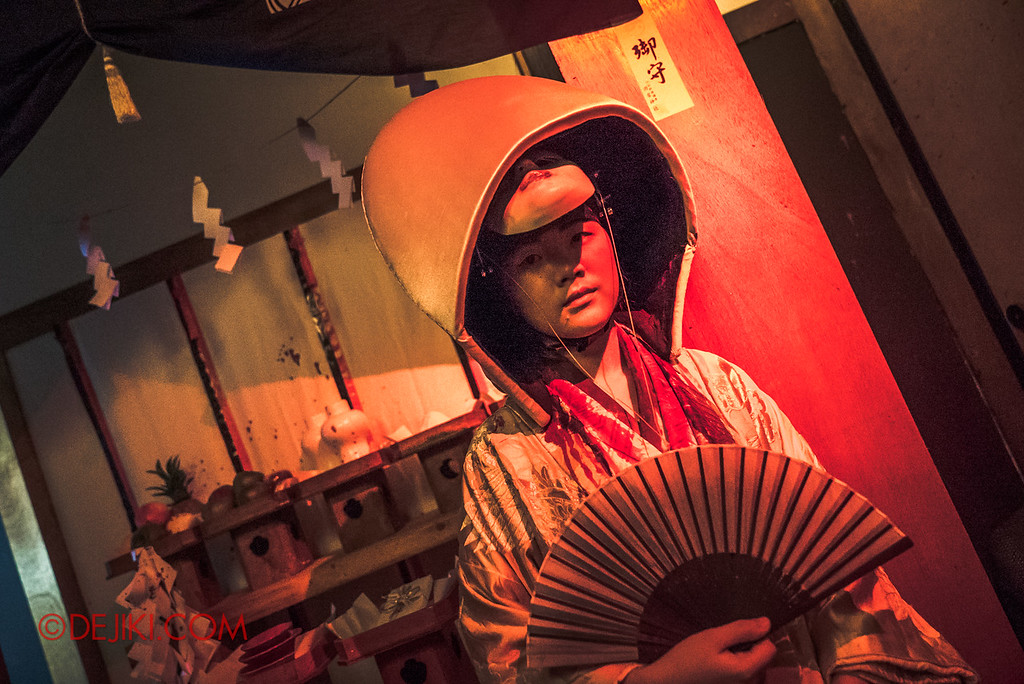 Victims include his new bride, Itō Oume.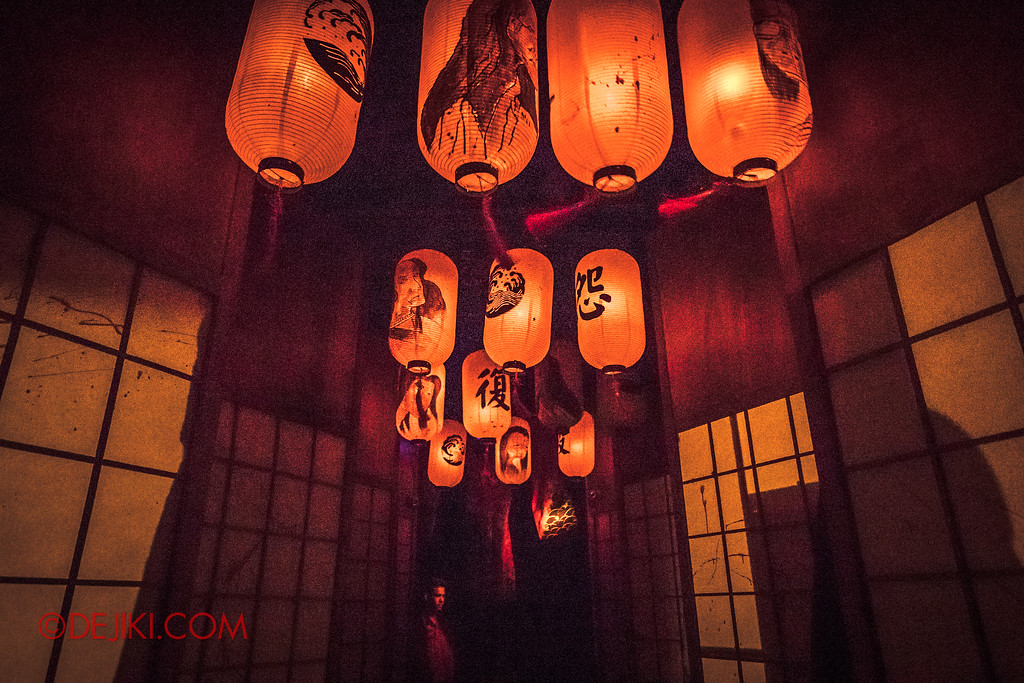 The hauntings intensify, with Oiwa appearing in the hallways… on the lanterns..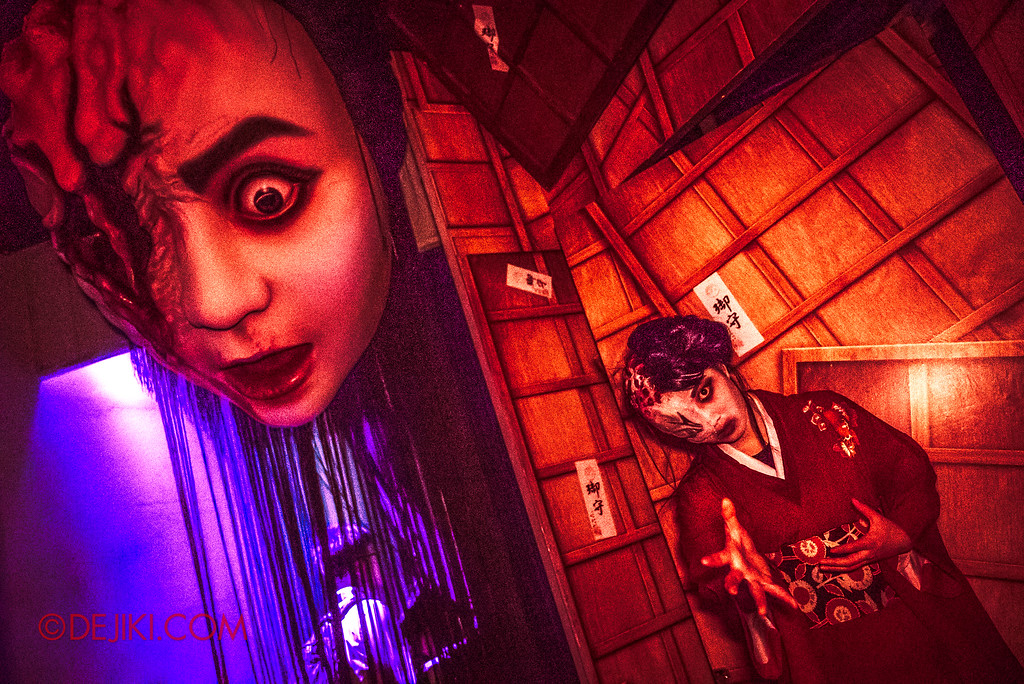 Her apparitions also become more dramatic, and in terrifying proportions.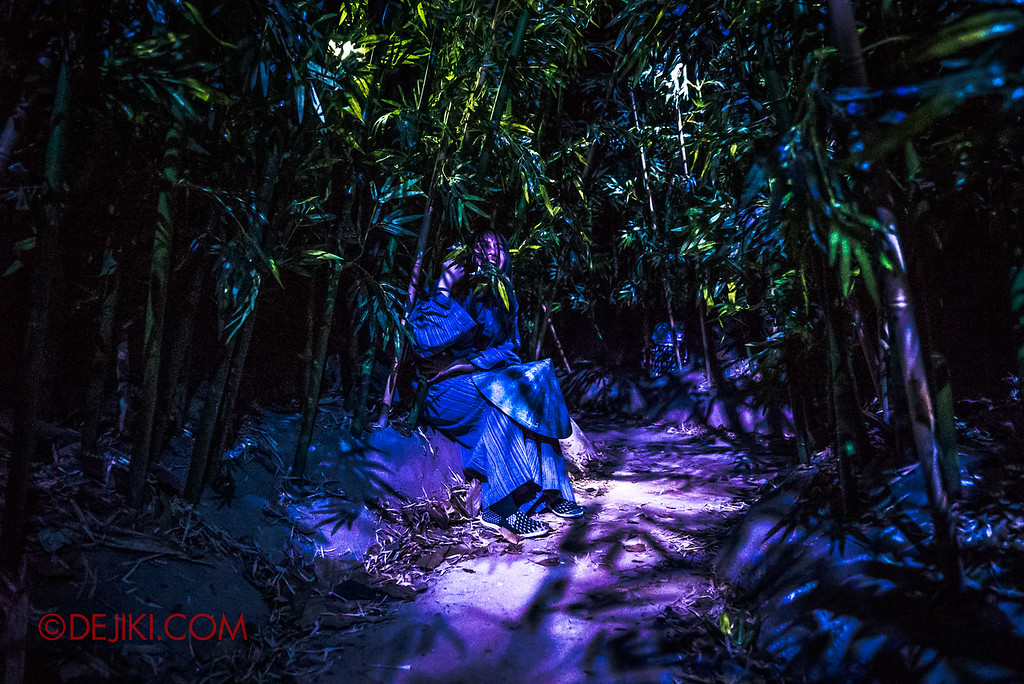 Oiwa's sister, Osode, also appears in a bamboo forest, pleading for forgiveness.
As Iemon finds an ending to his madness through death, Oiwa and her avengers turn their attention to us.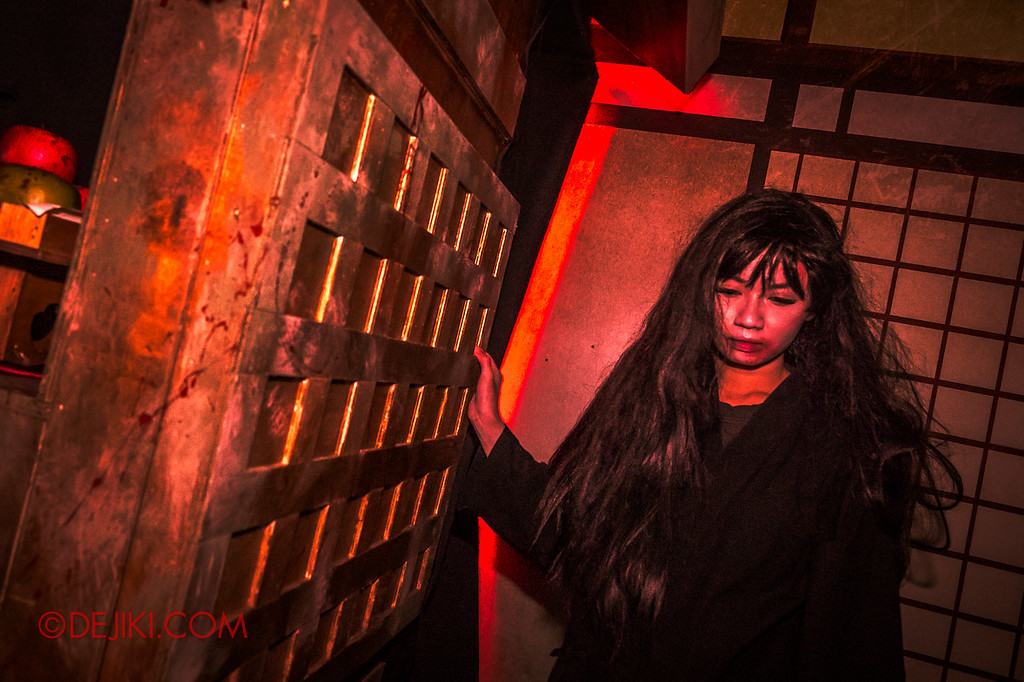 May we all find peace.
Face your fears
Universal Studios Singapore's Halloween Horror Nights 8 is held from 27 Sept through 31 Oct 2018 on select nights. Tickets are available online at halloweenhorrornights.com.sg, or you can also buy them via my Klook link.
Halloween Horror Nights 8 – coverage presented by Dejiki
Check back throughout October for extended event coverage on Halloween Horror Nights – only on Dejiki.com! Like the FB page and share with your friends:

Halloween Horror Nights 9 (2019)
HHN9 REVEALED: Ticket and Event Guide

Halloween Horror Nights 9 MEGA REVIEW
SURVIVAL GUIDE for Halloween Horror Nights 9
HHN9 RIP Experience (VIP Tour)

Features on Haunted Houses, Scare Zones and Experiences
The Chalet Hauntings Revisited | Spirit Dolls | Hell Block 9
Curse of The Naga Revisited | Twisted Clown University
Dead End | Death Fest + Death Fest LIVE
2019 Opening Scaremony (The Undertaker)

SNEAK PREVIEW: Curse of The Naga | The Chalet Hauntings | Behind The Scenes of HHN9
HHN9 Construction Updates (BEFORE DARK)
Part 1 | Part 2 (with Daytime Halloween event) | Part 3 (Horror Truck) | Part 4


Universal Studios Japan (USJ) 2019
Universal Surprise Halloween/ Halloween Horror Nights 2019 Event Guide

---
Halloween Horror Nights – The Archives
Click to Expand and see all posts from past Halloween Horror Nights