Survive a zombie outbreak at Zombie Laser Tag 2018, Halloween Horror Nights 8's 'VIP zone' attraction that has returned with upgrades.
When darkness falls at Universal Studios Singapore's Jurassic Park, the iconic themed area is transformed into creepy jungle overrun with the undead.
You and your friends will form a platoon for the adventure, with a minimum party size of 4, and maximum of 8.
Gear up with your own Battle Rifle Pro, and you're ready to face the apocalypse. Use your ammo wisely, as there's no unlimited supply, and you'll need to find a reload point if you run out of ammo.
A drill sergeant steps out from the shadows:
"Alright listen up! The containment hatch that houses a deadly virus has just leaked. Whatever you're about to see is extremely dangerous. Your mission is to go in there, shut down the containment hatch and bring an end to the deadly virus."
"Do not touch the zombies. If you do, you might die."
"Your weapon – point and shoot. It's that easy. Do you understand?"
"Keep moving, keep moving!"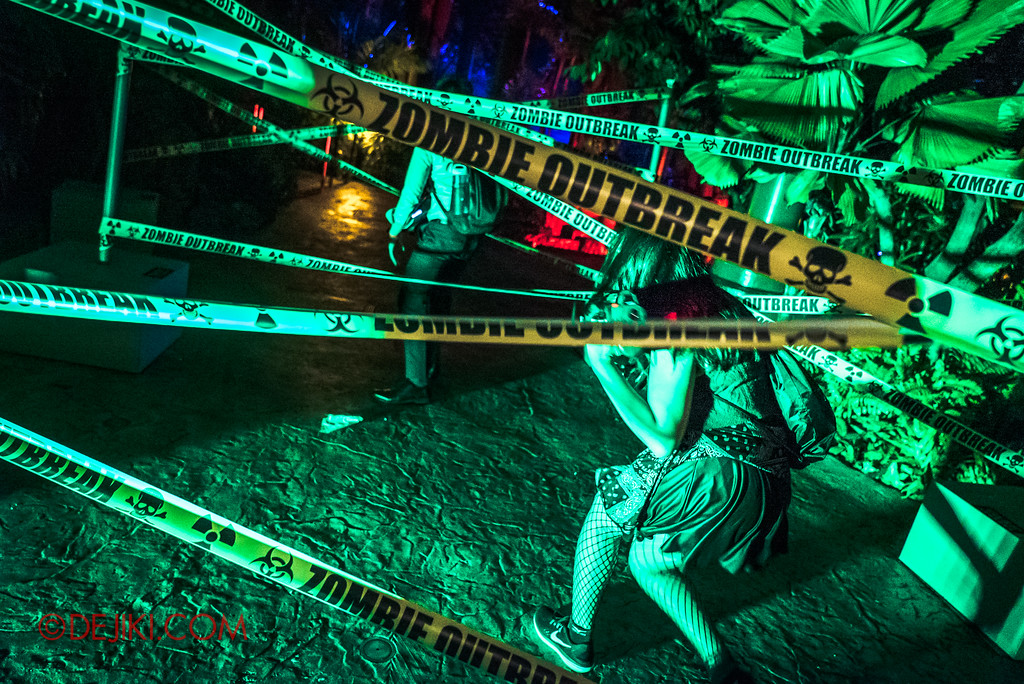 After a thrilling slew of sprints and mini obstacle courses, you'll meet another soldier.
"Don't shoot! I'm not infected – I'm the only surviving member of my team. I need your help to find the transmission code.
There's not much time – your team will need to split up and search for the code.
"Open up the boxes if you have to, I'll cover you!"
"Now that you have the code, you need to get to the gate as quickly as possible."
"The fate of the world is in your hands! I'll stay behind and safeguard the area."
"Go recruits, GO GO GO!"
The most exhilarating moments of ZLT come in bursts during the race to the finish. Zombies jump from very well-hidden spots. Shoot deftly, and don't forget your mission. Use the code at the final gate to end the outbreak.
The zombie nightmare is over, for now. You can check how well you did at the scoreboard.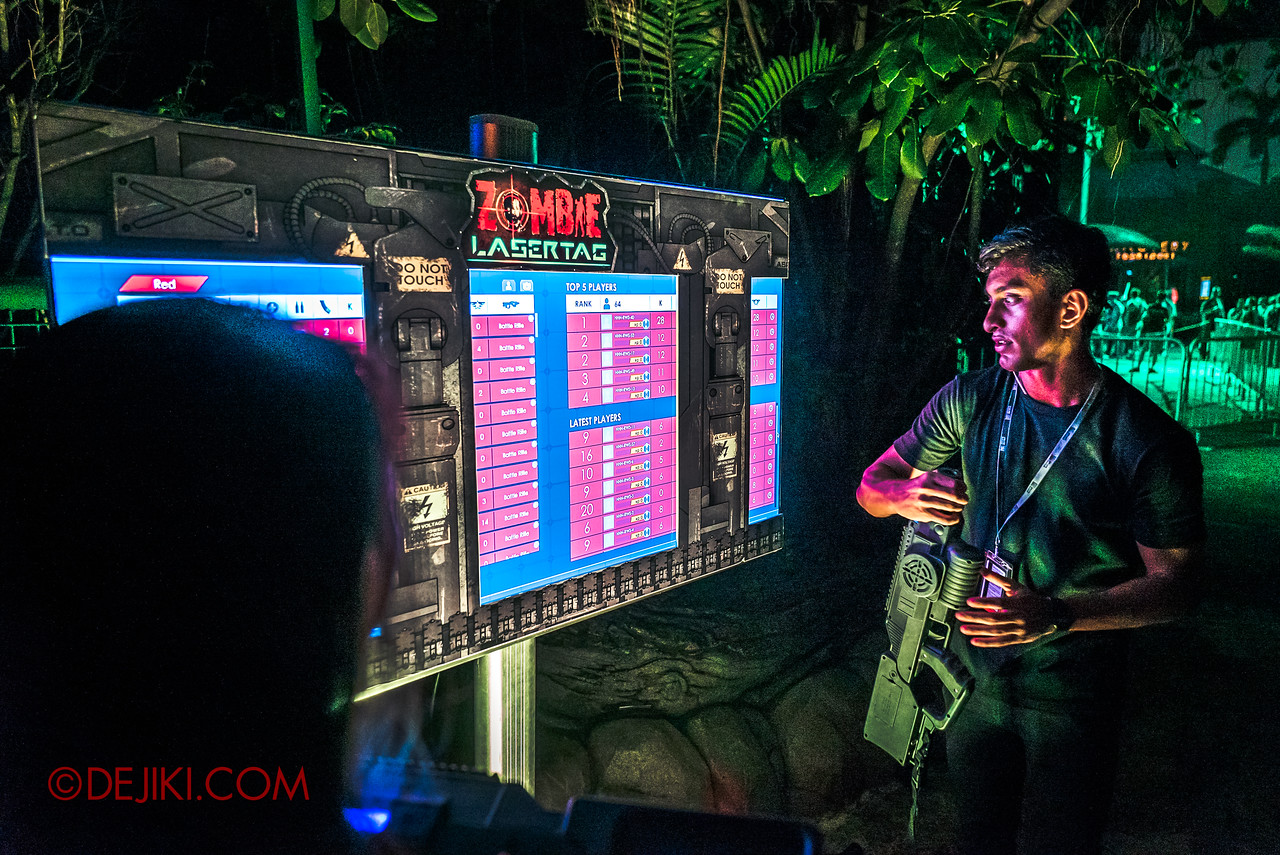 Zombie Laser Tag 2018 review
Zombie Laser Tag is a must-do attraction for thrill seekers and fans who need exciting zombie encounters to round off their Horror Nights experience. With teething issues from last year's edition fixed, the 'VIP zone' had no delays affecting gameplay.
On the overall, it's a short but thrilling experience. While Jurassic Park offers a game arena double the size of last year's, the whole game wasn't twice as long. With the new drill sergeant character, the pace of the game was kept very brisk, and there are ample wide spaces to rush through safely. There were minimal maze-like areas, which meant that some spaces could potentially be revisited, or there could even be an open arena space for a more traditional 'laser tag' game.
Perhaps in future editions the park may consider – apart from using an even larger space (somehow) – getting equipment that offers tactile feedback for the zombie scare actors, so that their performance could be more believable when they are 'shot' by the laser rifles. There is clearly some delay because they could only react after seeing the lights on their headbands change, and they sometimes miss it. The finale also needs a stronger kick, because it felt like "Well done pressing the right button. Please return your rifles and exit to your right." At least you can take a photo with a zombie at the exit – don't forget this exclusive photo op!
If you have played Zombie Laser Tag 2018, let me know your thoughts.
---
Zombie Laser Tag at Halloween Horror Nights 8
Zombie Laser Tag is a separately ticketed experience. It is not included with any HHN Admission Ticket or the RIP Tour. Guests will need to purchase tickets for a specific timeslot and arrive at Jurassic Park entrance gate punctually to experience this attraction. Get your tickets at HHN website or at the Zombie Laser Tag entrance.
Guests need to be at least 13 years old to experience this attraction. Participants are recommended to wear covered shoes for safety and comfort.
Price
Halloween Horror Nights 8 –

Zombie Laser Tag

$38
Halloween Horror Nights 8 –

Zombie Laser Tag (Discount)


Discounted price for Frequent Fear Passholders, RIP Tour Guests, and Maybank cardholders.
$30
Face your fears
Universal Studios Singapore's Halloween Horror Nights 8 is held from 27 Sept through 31 Oct 2018 on select nights. Tickets are available online at halloweenhorrornights.com.sg, or you can also buy them via my Klook link.
Halloween Horror Nights 8 – coverage presented by Dejiki
Check back throughout October for extended event coverage on Halloween Horror Nights – only on Dejiki.com! Like the FB page and share with your friends:

Halloween Horror Nights 10 (2022)
HHN10 REVEALED: Ticket and Event Guide
Halloween Horror Nights 10 MEGA Review: Photos of all Haunted Houses and Scare Zones
SPECIAL FEATURE: Behind the Scenes at HHN10 Haunted Houses
HHN10 RIP Tour (VIP Tour) Review

Features on Haunted Houses, Scare Zones and Experiences
The Silenced Auction (Opening Scaremony) | DIE-ning with The Dead | Monsters & Manifestations
Escape The Breakout | Killustrator: The Final Chapter | Hospitality of Horror
Operation: Dead Force | The Hunt for Pontianak | Dark Zodiac

Trick or Thrills (2021)
Halloween Horror Nights Exhibition
2021 Day and Night Halloween: DIE-ning with the Dead, Universal Monsters Scream Alley


Halloween Horror Nights – The Archives


Click to Expand and see all posts from past Halloween Horror Nights