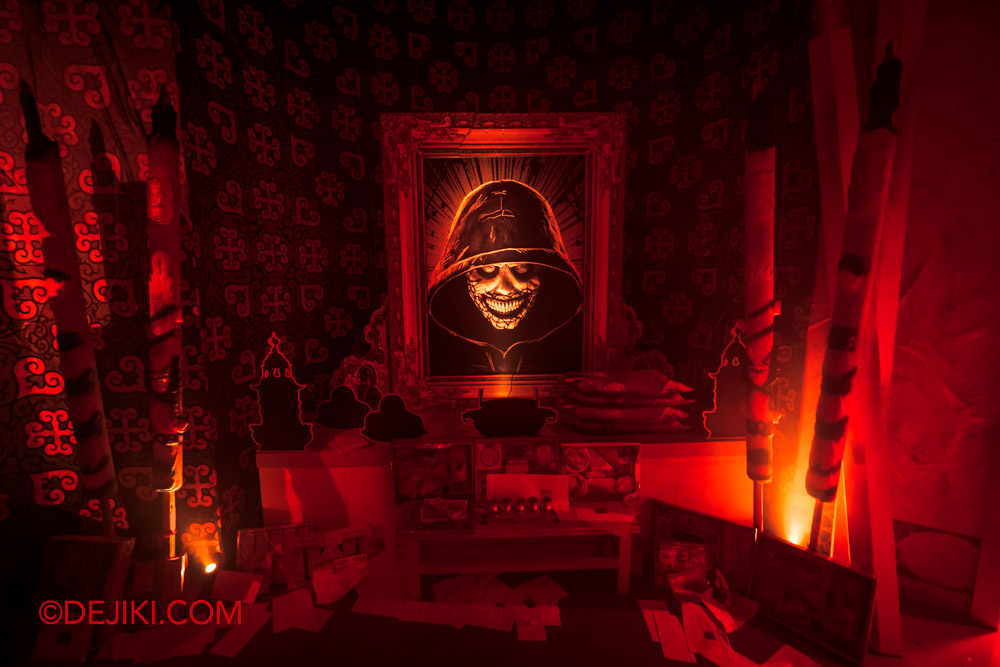 Step into Killustrator: The Final Chapter, a world where horrors from the past are redrawn in even more twisted ways, inside this haunted house at Universal Studios Singapore's Halloween Horror Nights 10.
---
WARNING
Photos of Killustrator: The Final Chapter, a haunted house attraction at USS Halloween Horror Nights 10, are featured here to showcase its design and atmosphere. This article contains spoilers.
Copyright Note: All photos on this website, including Halloween Horror Nights photos cannot be reuploaded anywhere without my permission.
---
Overview and Thoughts
It's no surprise that this is the top house at HHN10, given that it has the best space (Soundstage 28) to build anything. Beyond that, it's the unique story and world revolving around one icon, along with numerous scenes and cameos from past events, that make this house shine.
The Killustrator is the first "human" icon, and also "the biggest fan of Halloween Horror Nights". There is even a Opening Scaremony show introducing his story and explaining his presence at HHN10. It's all really, a love letter to HHN fans, and a tribute to the last decade of Horror Nights in Singapore.
The return of 3 houses from HHN9 (Curse of the Naga, Twisted Clown University, The Chalet Hauntings), and 2 from HHN5 (TSGS: The MRT and Hell House) seemed oddly specific, but seemed to have worked well as these were more memorable for fans, plus they are all USS originals.
As you walk through this house and its 'chapters', there are less obvious references to past HHN houses. The corridor from the start? A callback to Siloso Gateway Block 50. The head-shaped door opening that leads you… Inside The Mind (2017)? The list goes on.
'The Final Chapter' scene concludes with the Killustrator being in total control of reality, and with past icons destroyed as his comics pages and giant books dominate this new world. Apart from providing a fiery entrance deeper into the Killustrator's nightmare realm, this may also reflect the park creative's new direction – a new era of Halloween Horror Nights without being tied to the past.
---
Killustrator: The Final Chapter – Haunted House Photo Tour
Your journey starts off in dark alleys that lead to the Killustrator's home. It seems like he lives alone, but his neighbours are upset with what he has been doing.
Inside his home, you find a messy studio, where many works are in the midst of being created.
A covered figure is resting on the bed in this messy bedroom.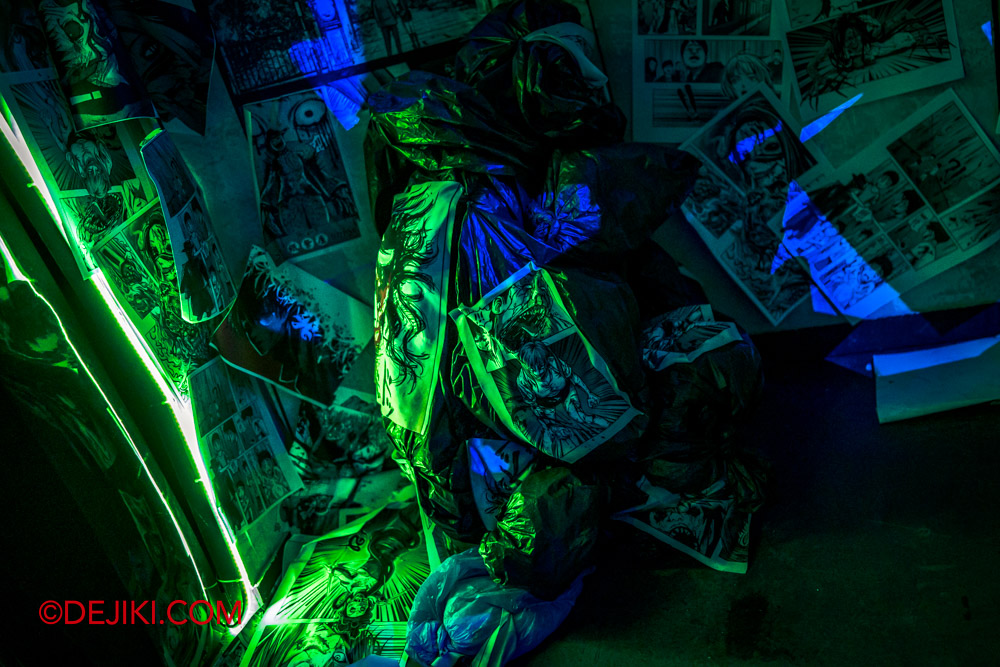 The comic pages appear to float, drawing you into a portal at the back where the pages appear to grow.
Amid giant comic book pages, the lines and frames slowly break apart. The pages start to flip, pulling you in…
Stepping out of a page, you find yourself in Chapter 1: The MRT, and almost struck by an approaching train.
Some things look the same, but it feels a bit different…
The Killustrator appears on the train windows, scoffing at your attempt to visit his world.
The windows flicker, as if phasing between reality and paper. Illustrated zombies fill the windows.
Zombies start to emerge from the train station. The Killustrator has rewritten the story, combining it with a zombie apocalypse. Your only way forward is to crawl under the wreckage and into another page.
The scenery changes – and you find yourself in Chapter 2: Curse of the Naga, taking place in a jungle in Thailand.
Just like before, the jungle is filled with spirit houses.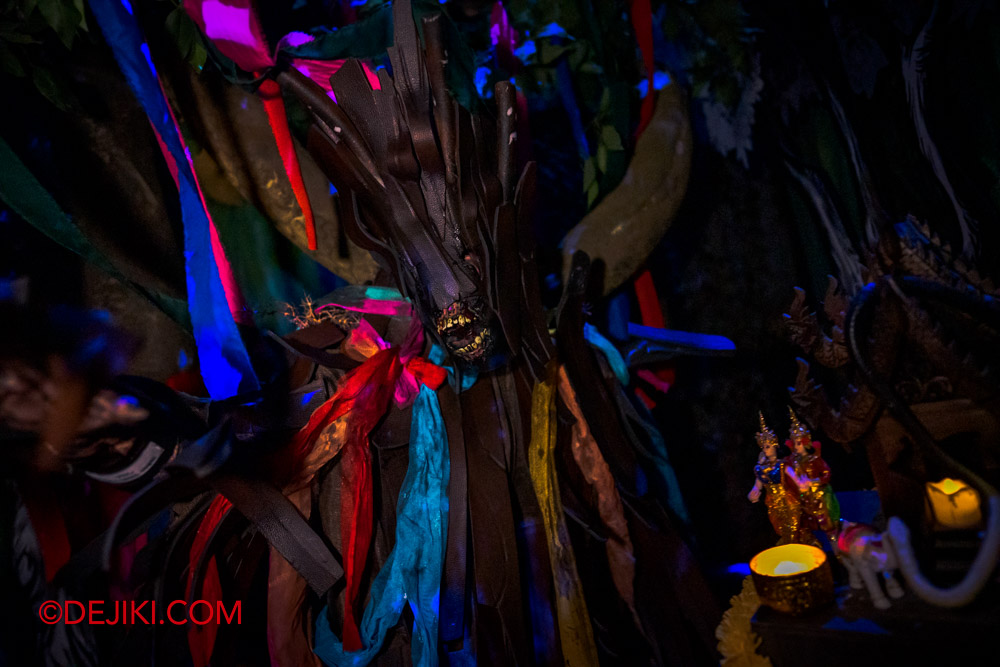 As you walk through this too-quiet, misty jungle, the spirits come alive.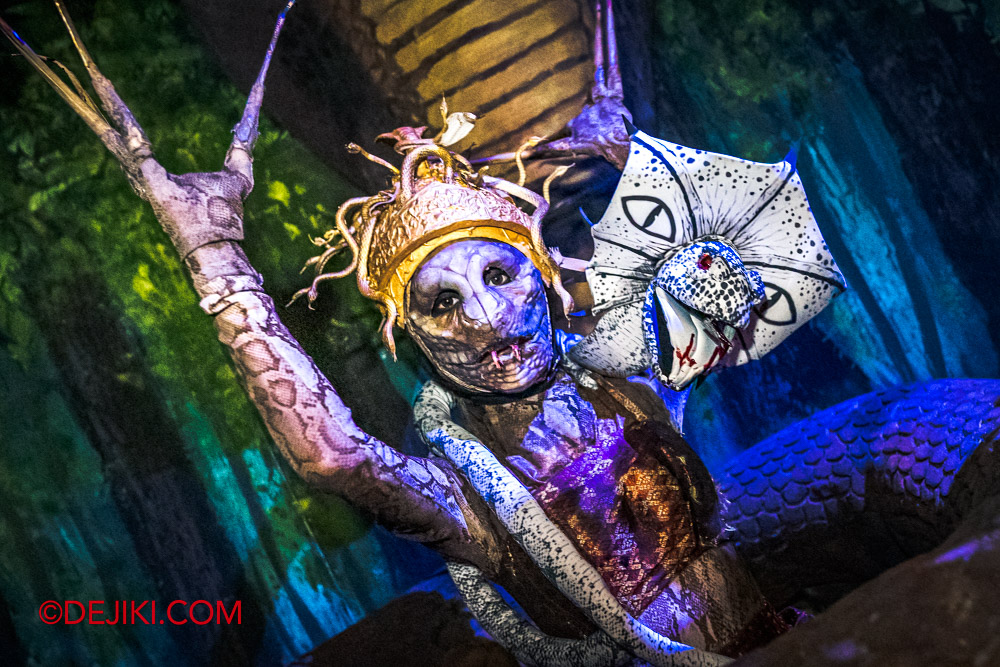 The Serpentine Spirit, now sporting a new snake lunges out from a giant coiled snake. You run, dashing through an opening in the book.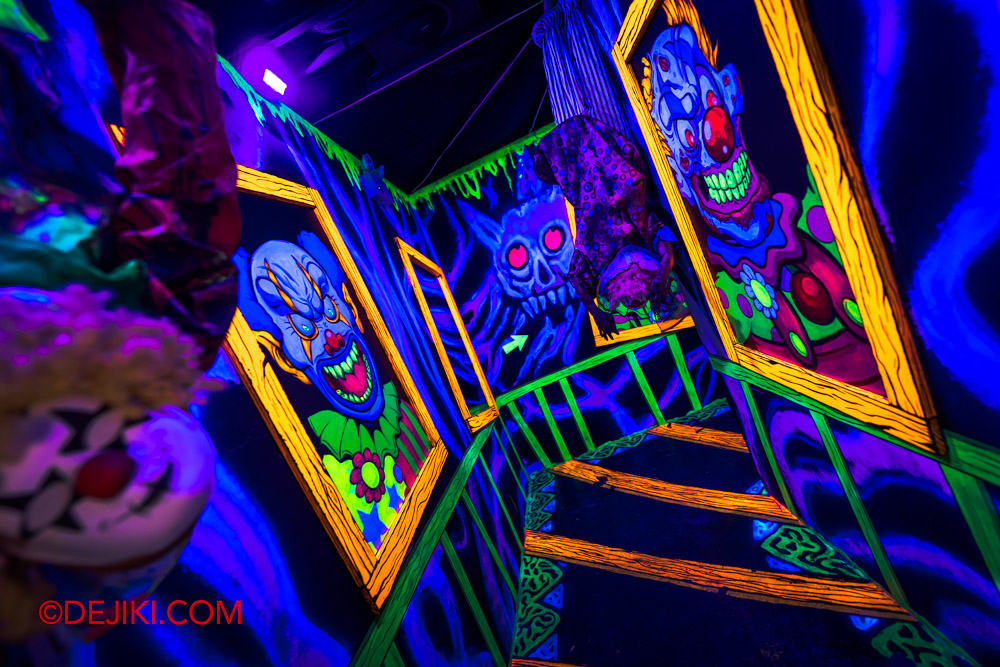 The pages open into Chapter 3: Clowns – a twisted, whimsical world that brings you back to Jack's 3-Dementia.
As a clown jumps out of the frame, you dash the other way…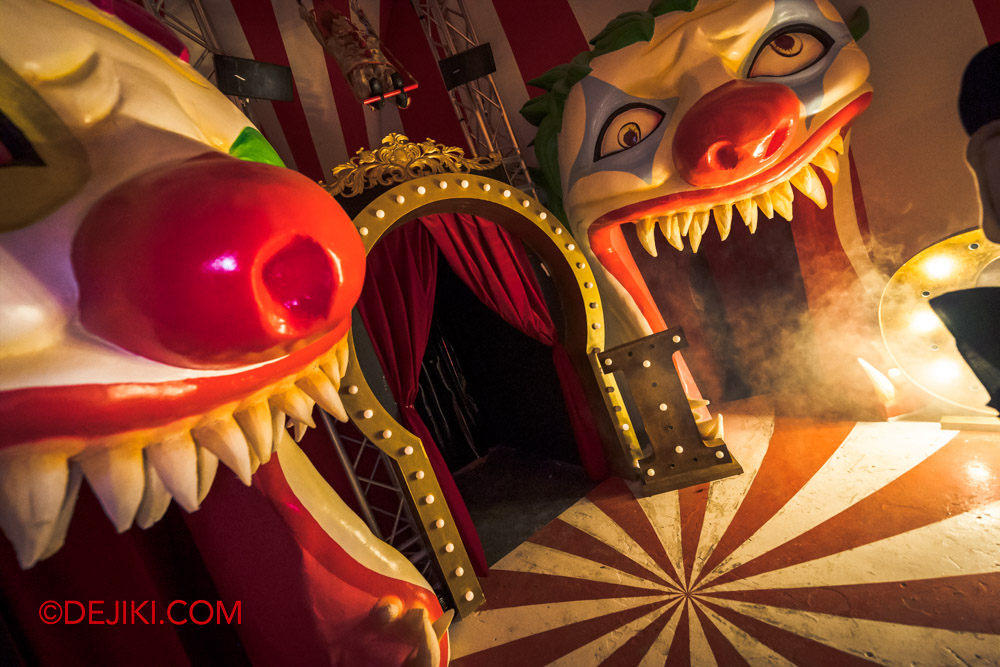 And run into an actual circus tent.
Ringleader Rusty pops out from a giant clown, taunting you to return to his University where killer clowns are trained.
Your only escape is to dash into Chapter 4: The Chalet Hauntings – A surreal space which is completely illustrated. As the room warps and gradually turns upside down, you see through the windows and find the Killustrator outside – in the real world.
The ghosts and victims of this haunted Chalet spook you, driving you out of this chapter.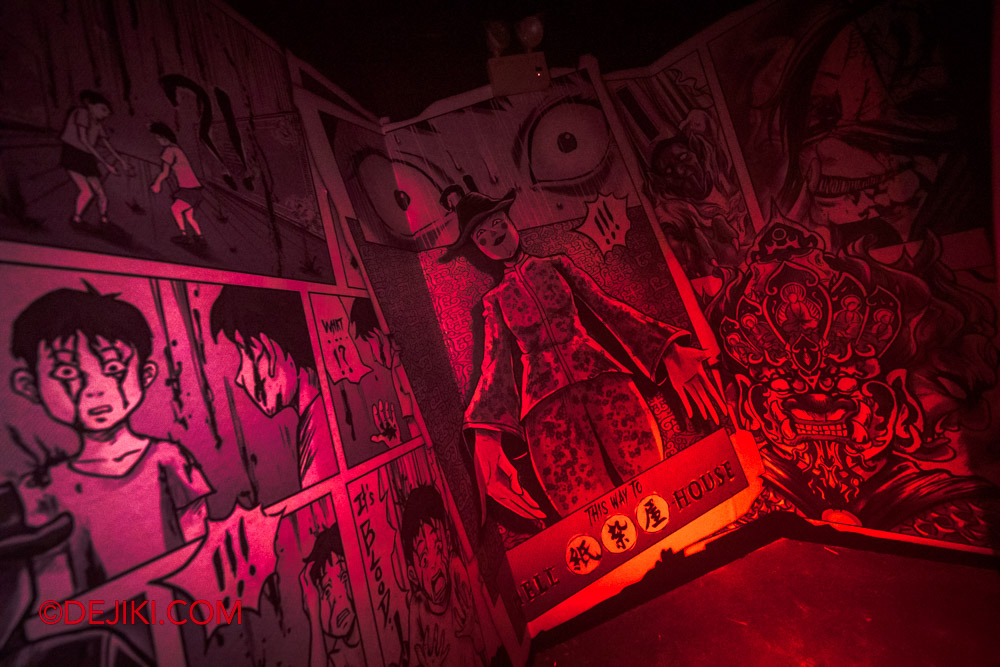 Chapter 5: Hell House – leading you right into a hall filled with tall, menacing paper effigies.
These paper dolls are now burnt, and seems to be wearing the hat of The Undertaker.
You finally meet the Killustrator in the flesh. Horrified and shocked, you quickly run into your only way out – into the furnace.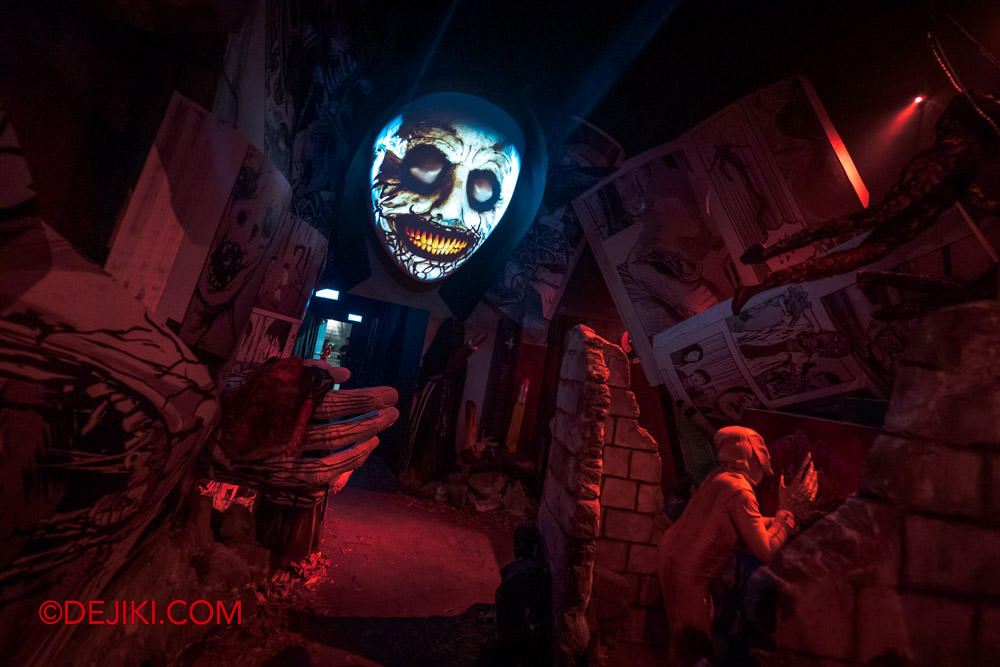 The flames opens up into The Final Chapter – Burnt pages break apart into this nightmarish landscape that is both surreal, and destroyed.
Ghouls emerge from the bleeding pages, and you find that you're not alone.
Victims trapped in this nightmare have lost their minds.
The icons of horror from the last decade of Halloween Horror Nights were also obliterated, speared by giant pencils and fountain pens.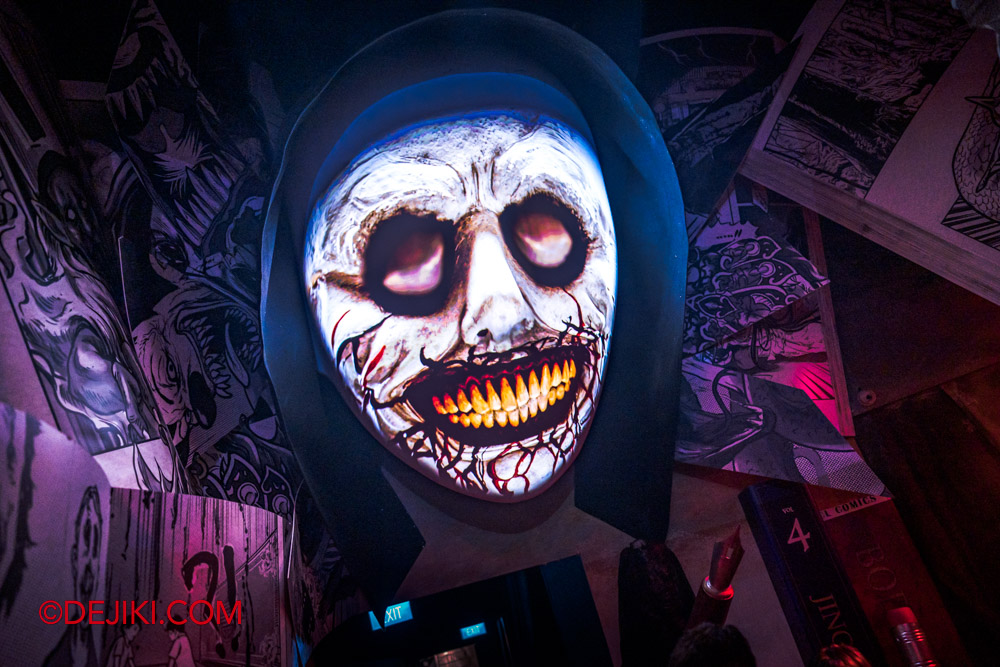 The Killustrator now has total control of this new world of horror, where demons from his drawings run wild, and his twisted stories are no longer held back by ink and paper.
---
Halloween Horror Nights 10 runs on select nights from 30 Sept to 5 Nov 2022.
Halloween Horror Nights 10 MEGA Review by DEJIKI
Read my full review and see photos from this year's 3 haunted houses, 2 scare zones, the Opening Scaremony show, and other special experiences.
Halloween Horror Nights 10 EVENT GUIDE
Get all the info you need about Halloween Horror Nights 10 in my Event Guide, including event calendar, ticketing options, add-ons and the RIP Tour prices.
Halloween Horror Nights 11 (2023)
HHN11 REVEALED: Ticket and Event Guide
Sneak Preview: DIYU: Descent Into Hell, Rebirth of the Matriarch, Icons and more
Universal Studios Japan (USJ) 2023
Halloween Horror Nights 2023/ HAHAHA! Halloween Party! Event Guide
Halloween Horror Nights – The Archives
Click to Expand and see all posts from past Halloween Horror Nights