Journey into the supernatural realms at the Pagoda of Peril, where the Yin Demon awaits.
SPOILER WARNING
Photos of Pagoda of Peril, a haunted house attraction at USS Halloween Horror Nights 8, are featured here to showcase its design and atmosphere. This is also a page for haunt fans to share their thoughts.
Photography and video recording is not permitted inside any Haunted Houses at Universal Studios Singapore during Halloween Horror Nights.
Overview and Thoughts
The house at Waterworld is often the 'confusing' one. Pagoda of Peril is said to be a prison for spirits and ghouls. At every scene (or realm), I felt like I had disturbed the demons' final resting place and was being chased away. The element of losing my way and getting trapped in the Pagoda is also missing – with minimal (or no) physical tricks done here to simulate any of those feelings.
So I felt a bit let down, especially after watching the amazing animated short film by AMIEN that teased a certain supernatural-fantasy experience. I had hoped to learn more about the story of the Pagoda of Peril and malevolent Yin Demon, but apart from two scenes where he demonstrated his power, there wasn't much to add on. It is also unavoidable to feel that elements from last year's TERROR-Cotta Empress were repeated, with some scenes looking quite familiar.
There are however, some pretty good scenes – the first one being the expansive "prayer hall" with its disorientating strobe lighting (and Hell House throwbacks); climbing "up" the Pagoda with a neat trick; and the second Yin Demon encounter which was a colourful spectacle. Then there were some rooms that didn't make much sense (the altars and "jade" maze), especially the last scene that left a lot to be desired.
What did you think about this haunted house?
---
Step inside the derelict Tianlong Temple (or 天龙寺, Temple of Sky Dragon) as you find your way to the Pagoda.
An old attendant rings a bell constantly in the prayer hall. As the lights flicker, spirits start to emerge.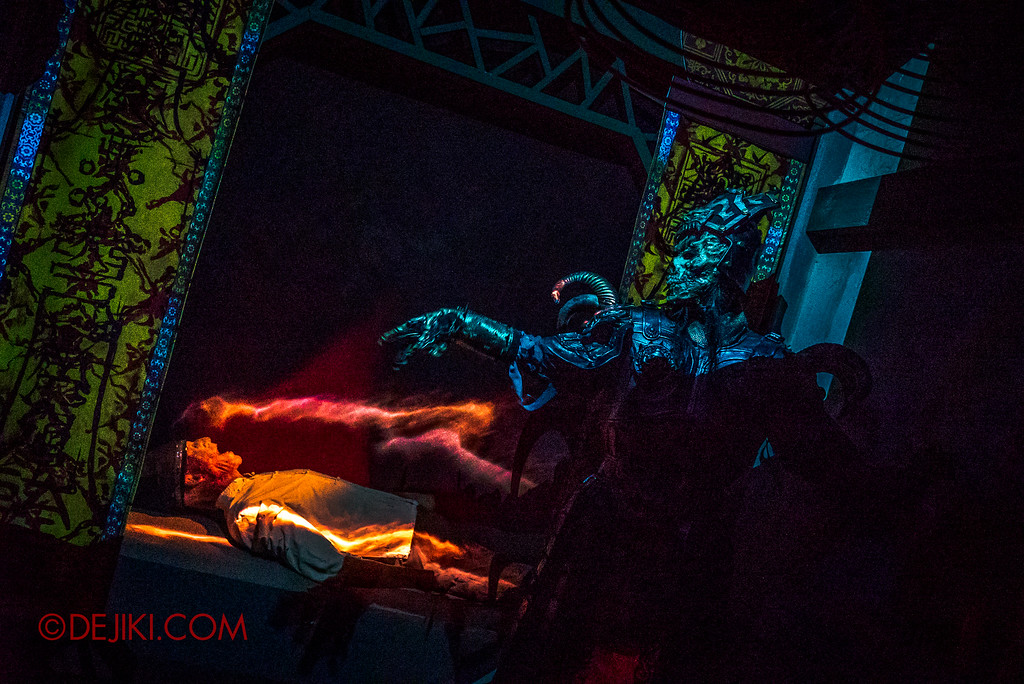 A lady in red floats around the overflowing boxes of incense and offerings.
Dancing below coils of incense, she tempts you to enter the Pagoda.
After a brief detour onto the Pagoda's balcony area, you find yourself in a messy chamber crammed with altars and offerings. And demons.
Your path takes a turn into a Jade maze, with lingering spirits in the shadows.
Yin makes another apperance again in a torture chamber, making sure that you witness his supreme powers.
It's a surreal sight of colourful, dazzling violence.
He commands you to step through another demonic gate.
The drifting sound of wind chimes gradually drown into deep echoes.
In this final realm, lights, smoke and sound disorientate you, while spirits make their final attempts to ensnare you.
Dashing past a deranged Lady in Red, you can finally find a way out of the Pagoda prison.
Face your fears
Universal Studios Singapore's Halloween Horror Nights 8 is held from 27 Sept through 31 Oct 2018 on select nights. Tickets are available online at halloweenhorrornights.com.sg, or you can also buy them via my Klook link.
Halloween Horror Nights 8 – coverage presented by Dejiki
Check back throughout October for extended event coverage on Halloween Horror Nights – only on Dejiki.com! Like the FB page and share with your friends:

Halloween Horror Nights 10 (2022)
HHN10 REVEALED: Ticket and Event Guide
Halloween Horror Nights 10 MEGA Review: Photos of all Haunted Houses and Scare Zones
SPECIAL FEATURE: Behind the Scenes at HHN10 Haunted Houses
HHN10 RIP Tour (VIP Tour) Review

Features on Haunted Houses, Scare Zones and Experiences
The Silenced Auction (Opening Scaremony) | DIE-ning with The Dead | Monsters & Manifestations
Escape The Breakout | Killustrator: The Final Chapter | Hospitality of Horror
Operation: Dead Force | The Hunt for Pontianak | Dark Zodiac

Trick or Thrills (2021)
Halloween Horror Nights Exhibition
2021 Day and Night Halloween: DIE-ning with the Dead, Universal Monsters Scream Alley


Halloween Horror Nights – The Archives


Click to Expand and see all posts from past Halloween Horror Nights