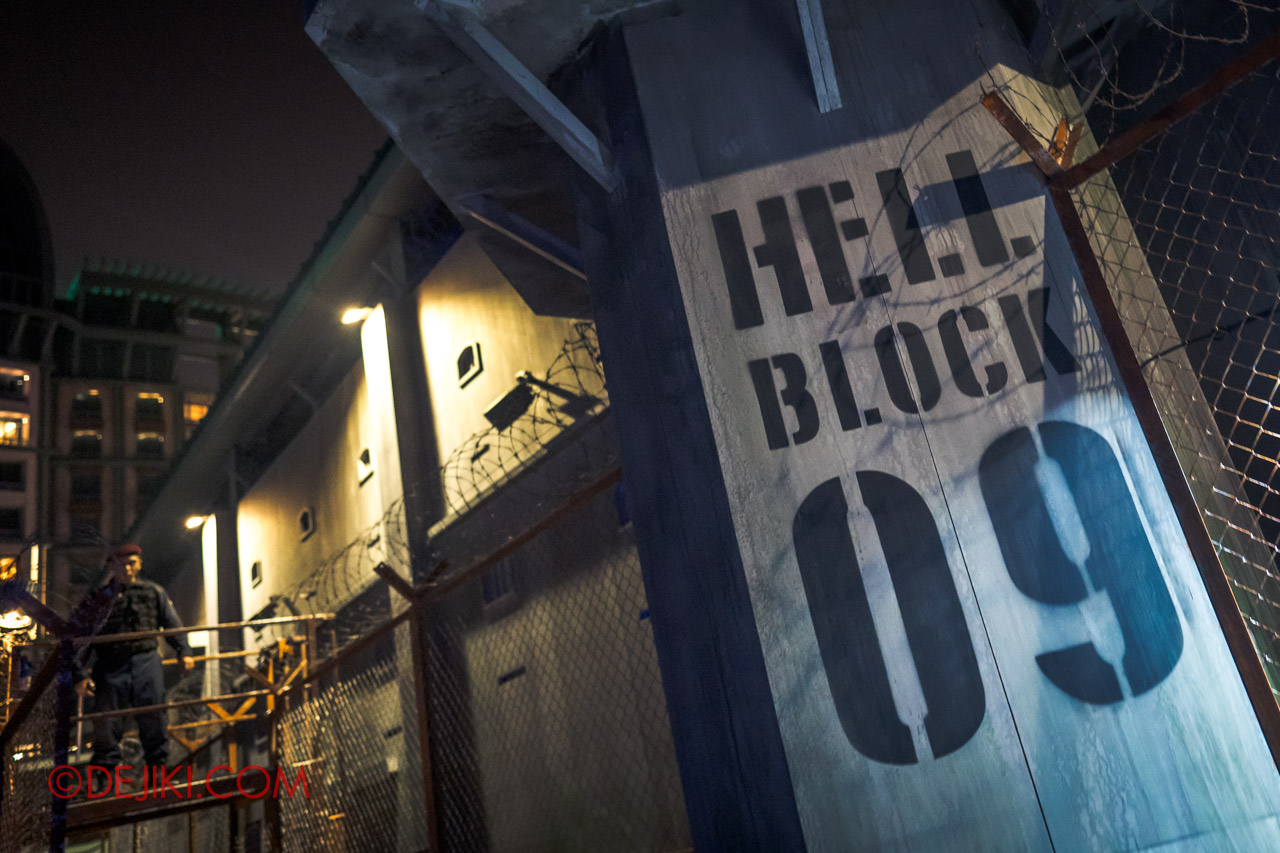 Beware of ruthless wardens and crazy inmates when you enter this terrible, hellish prison at Universal Studios Singapore's Halloween Horror Nights 9.
SPOILER WARNING
Photos of Hell Block 9, a haunted house attraction at USS Halloween Horror Nights 9, are featured here to showcase its design and atmosphere. This is also a page for fans to share their thoughts.
Photography and video recording is not permitted inside any Haunted Houses at Universal Studios Singapore during Halloween Horror Nights.
Overview and Thoughts
Most people I've spoken to said that Hell Block 9 is the scariest haunted house this year. Or that it is their favourite. Unlike the nearby houses, which are about curses, ghosts and spirits, Hell Block 9 is basically horror in a raw, physical form. It's filled with violent acts (safely simulated), harsh lighting and startling sound effects.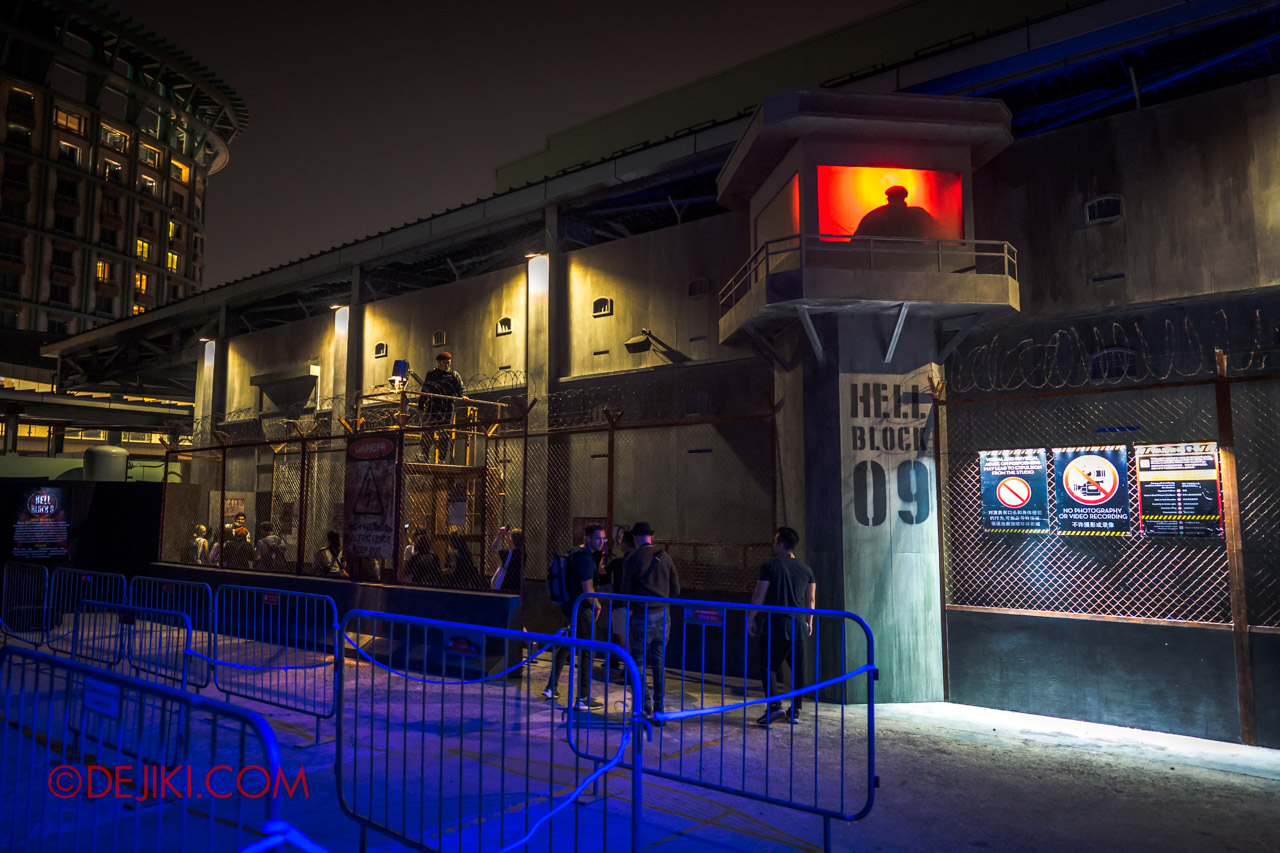 Houses built at this section of the park usually have impressive facades. While not as tall as last year's Stranger Things logo, the entrance to Hell Block 9 is probably the largest '3D' entrance of its kind. This time there's even a prison warden who will stand at the fence. You'll get to see him hurl taunts and use a searchlight on guests to intimidate them.
Walking through this hellish prison can be mentally draining because of the dramatic effects used. Every scene is filled with either blinding light, loud noises, or inmates getting dangerously close (but no touching!) You'll feel assaulted, that's the whole point. Every 45 minutes, inmates will gather at the canteen scene to terrify unlucky guests even further as they are all caught in a prison riot.
One flaw of this house is possibly that beyond its brute-force style of horror, there isn't much to its story, and the inmates feel repetitive after a while – everyone ends up shouting at you to scram, and they're also very helpful to point the way. The house's icon, the Executioner, also lacks proper airtime, with just a surprisingly tepid encounter towards the end. His gang of wardens also make fleeting appearances. Perhaps a few vignettes showing how the characters interact with one another, rather than targeting guests all the time, would've polished the experience.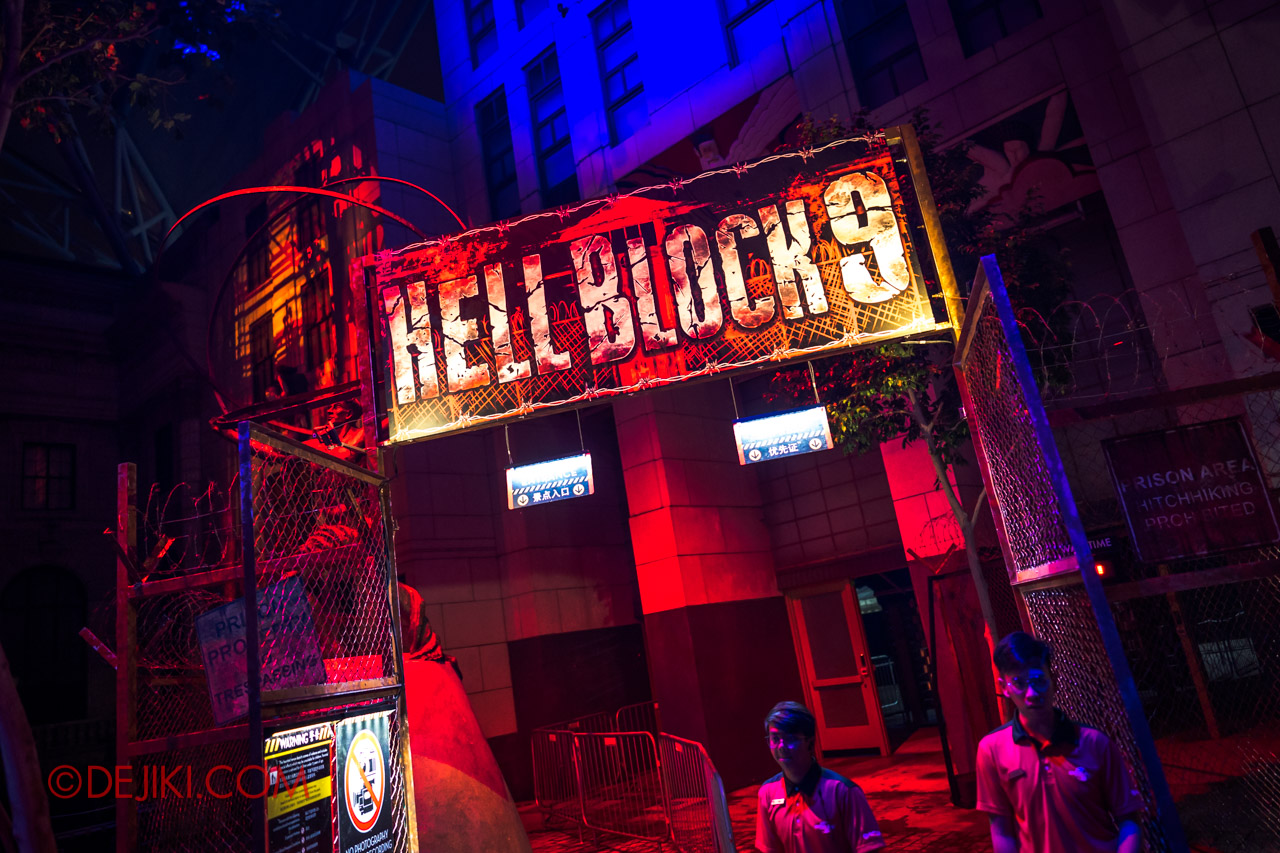 ---
Welcome to Hell… Block 9.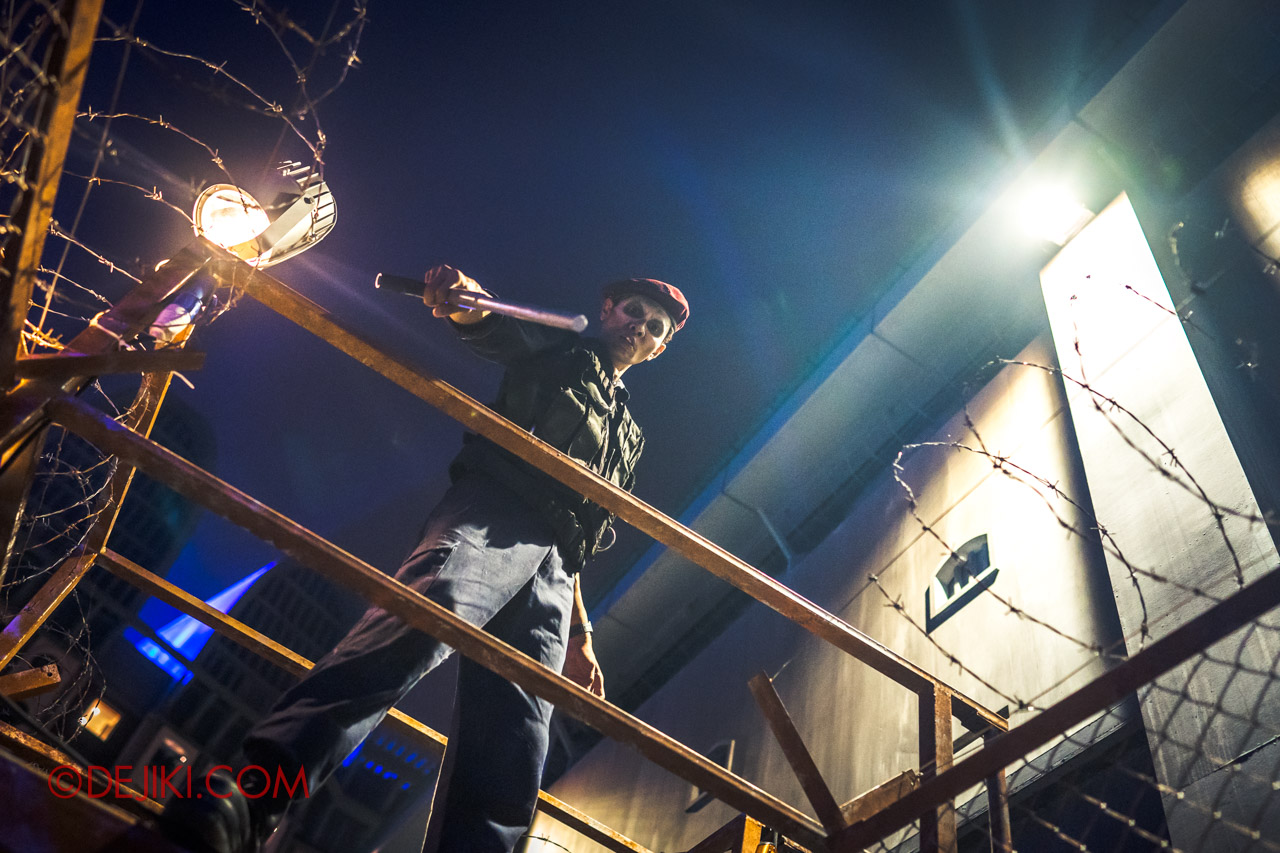 An impatient warden berates you to stop taking your time. Get inside. NOW.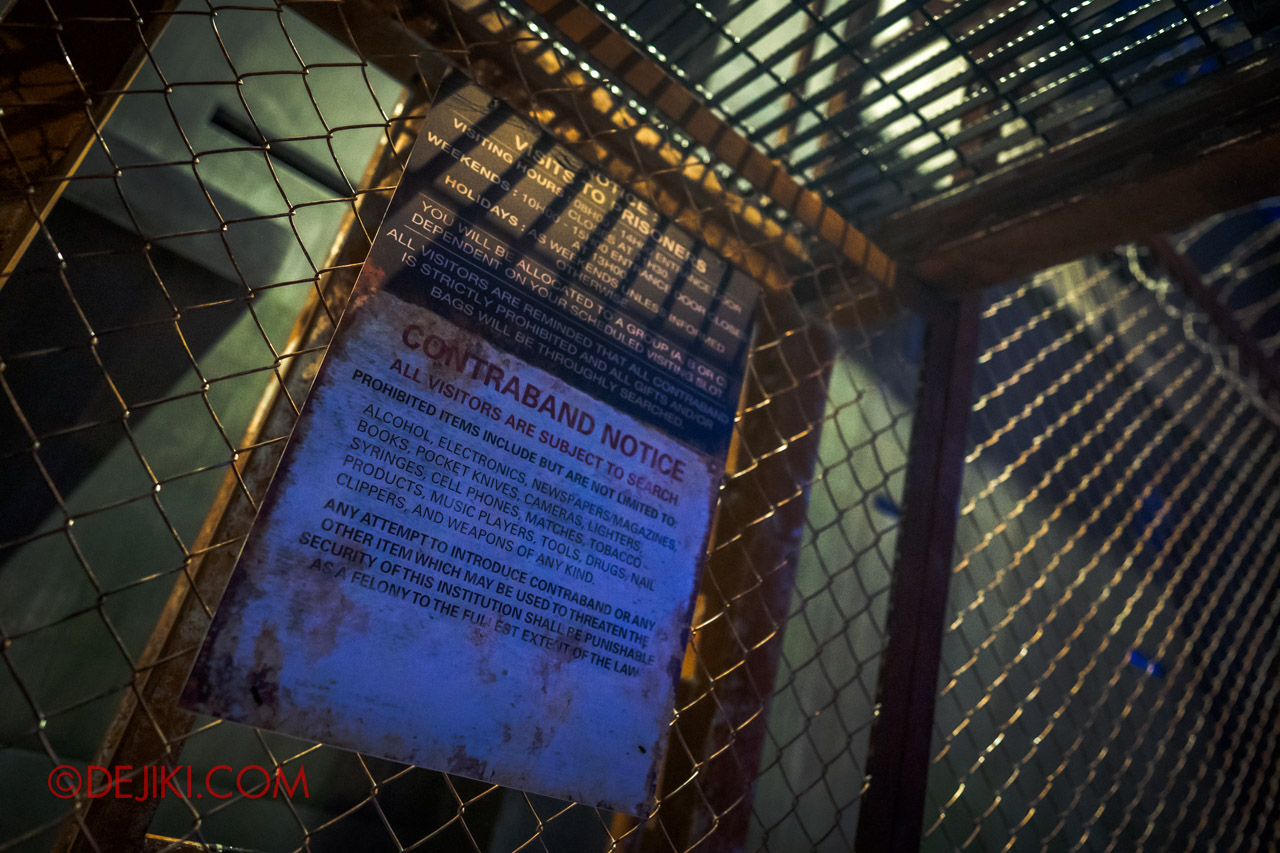 All visitors are subject to search. Hopefully you aren't sneaking in any contraband.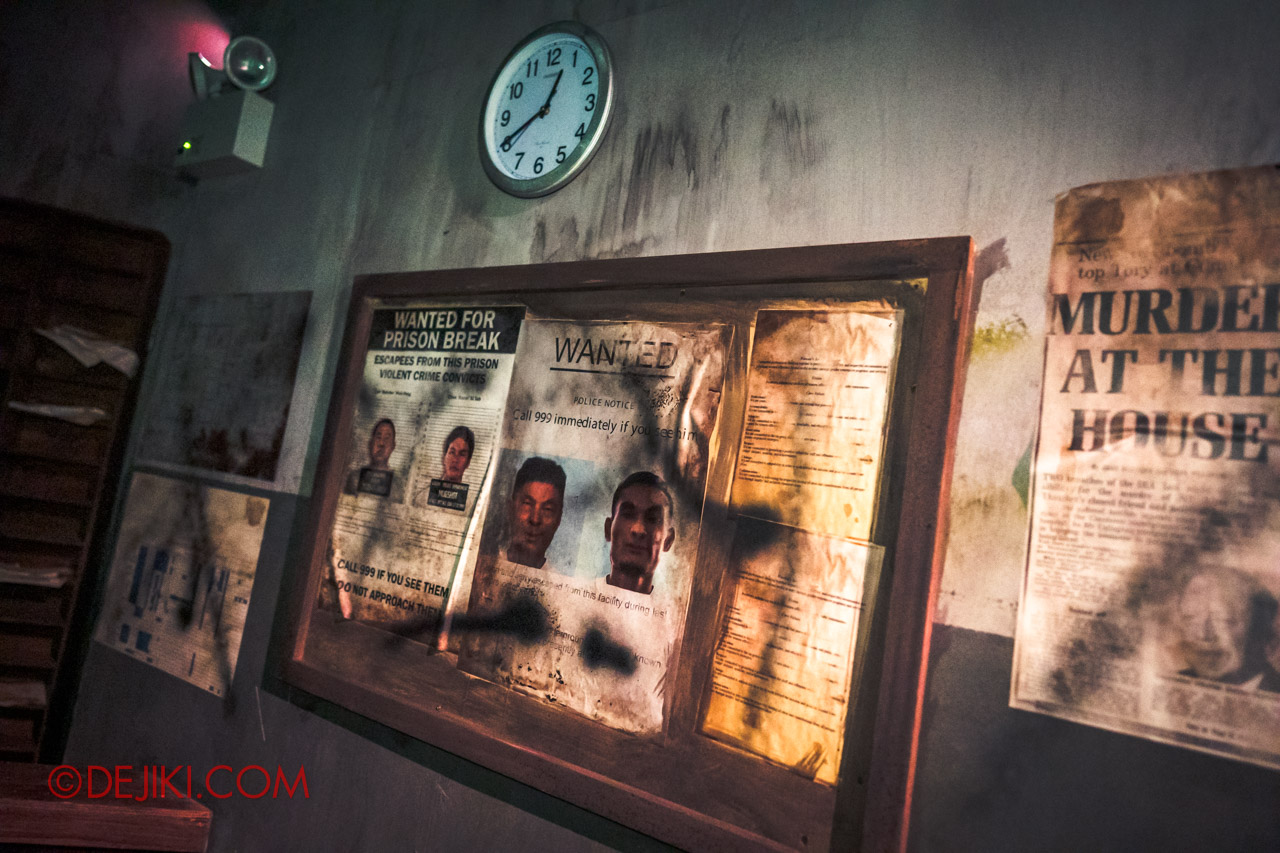 Once inside, prisoners and officers spare no opportunity to boss you about.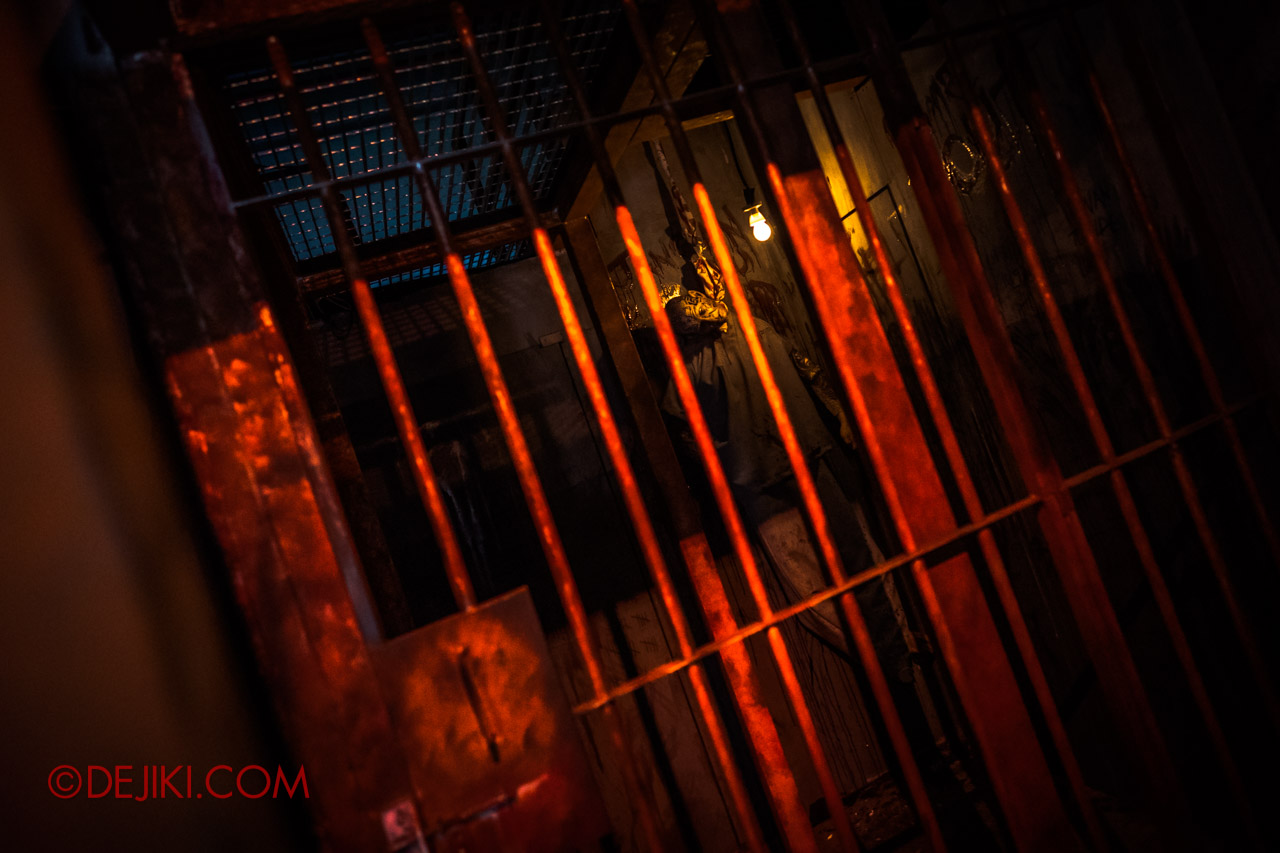 After some frightful welcomes, you are allowed to walk near the cells.. do look closer.
An inmate slams onto the gate, startling you.
A cell is open, and you unwittingly walk inside. Wrong choice.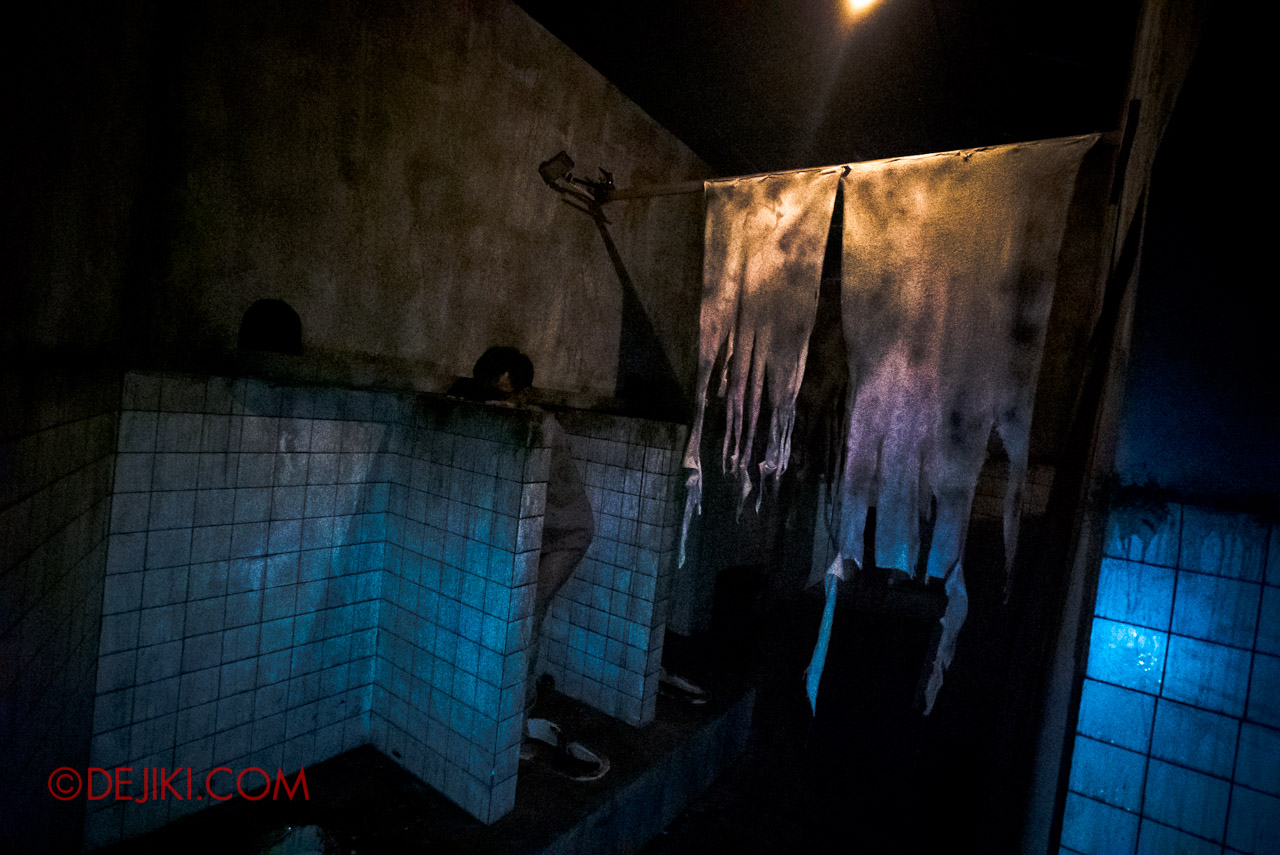 The gate on the other end lead you to some dirty toilets.
Nobody likes to be disturbed here.
You get chased out, only to find yourself in a chaotic canteen.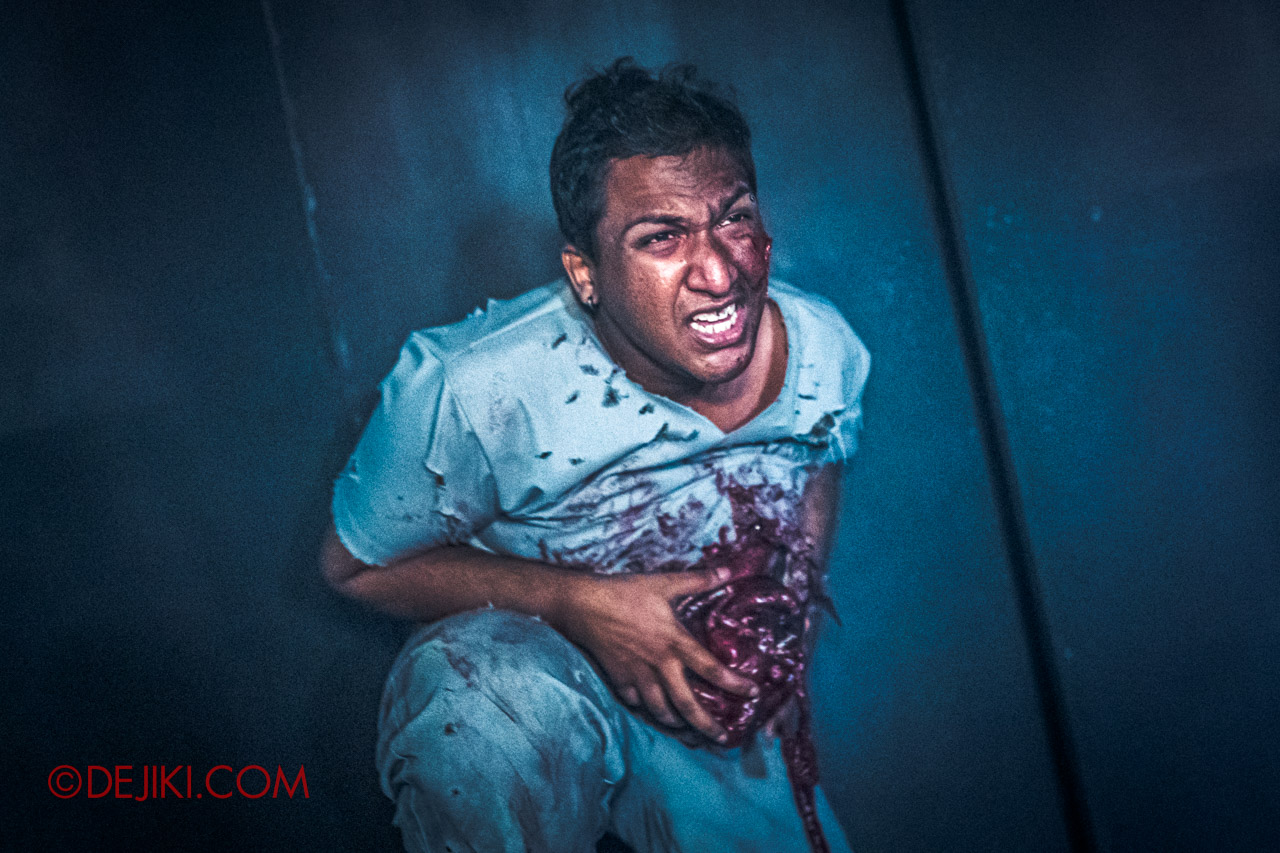 The unsanitary food and broken fixtures aren't the only repulsive things, because you're heading to the torture chambers next.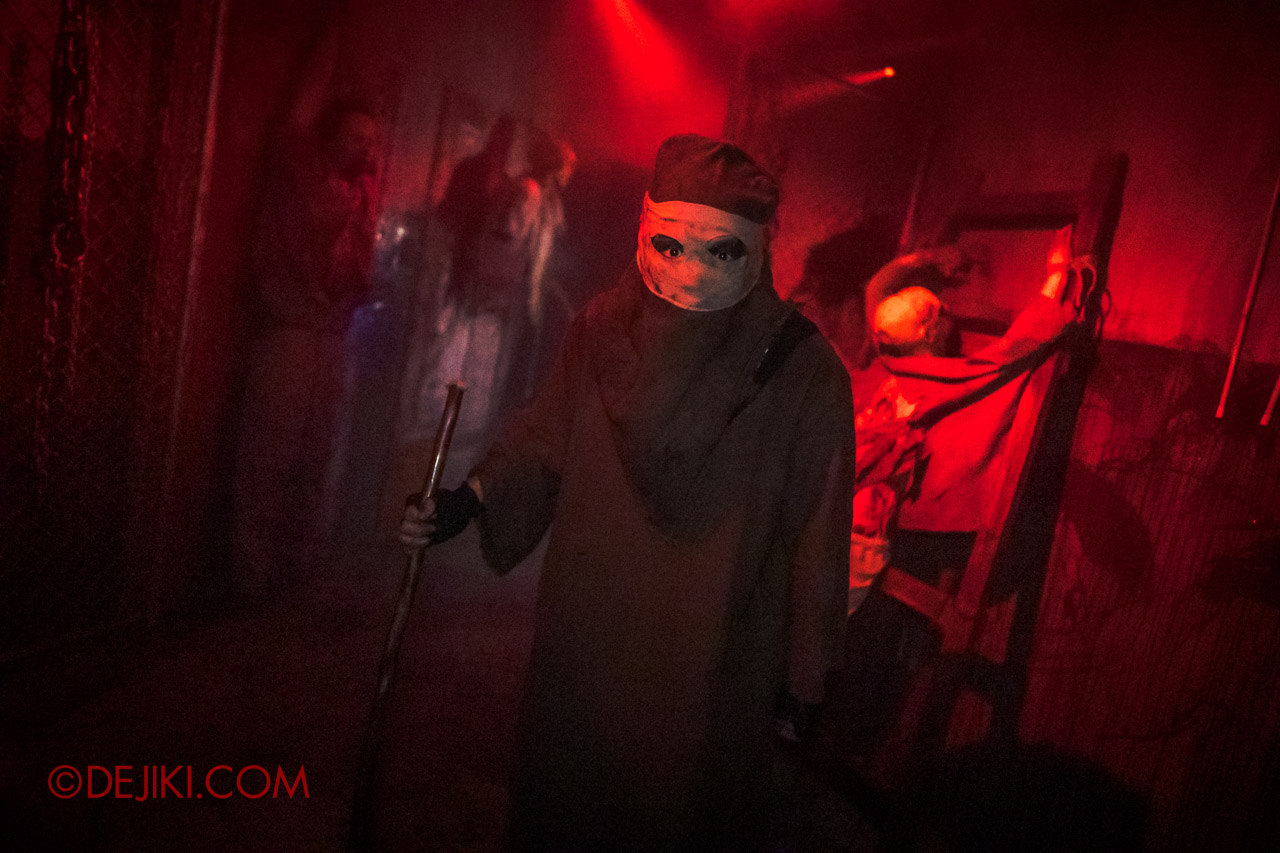 Don't squirm when you see prisoners getting punished.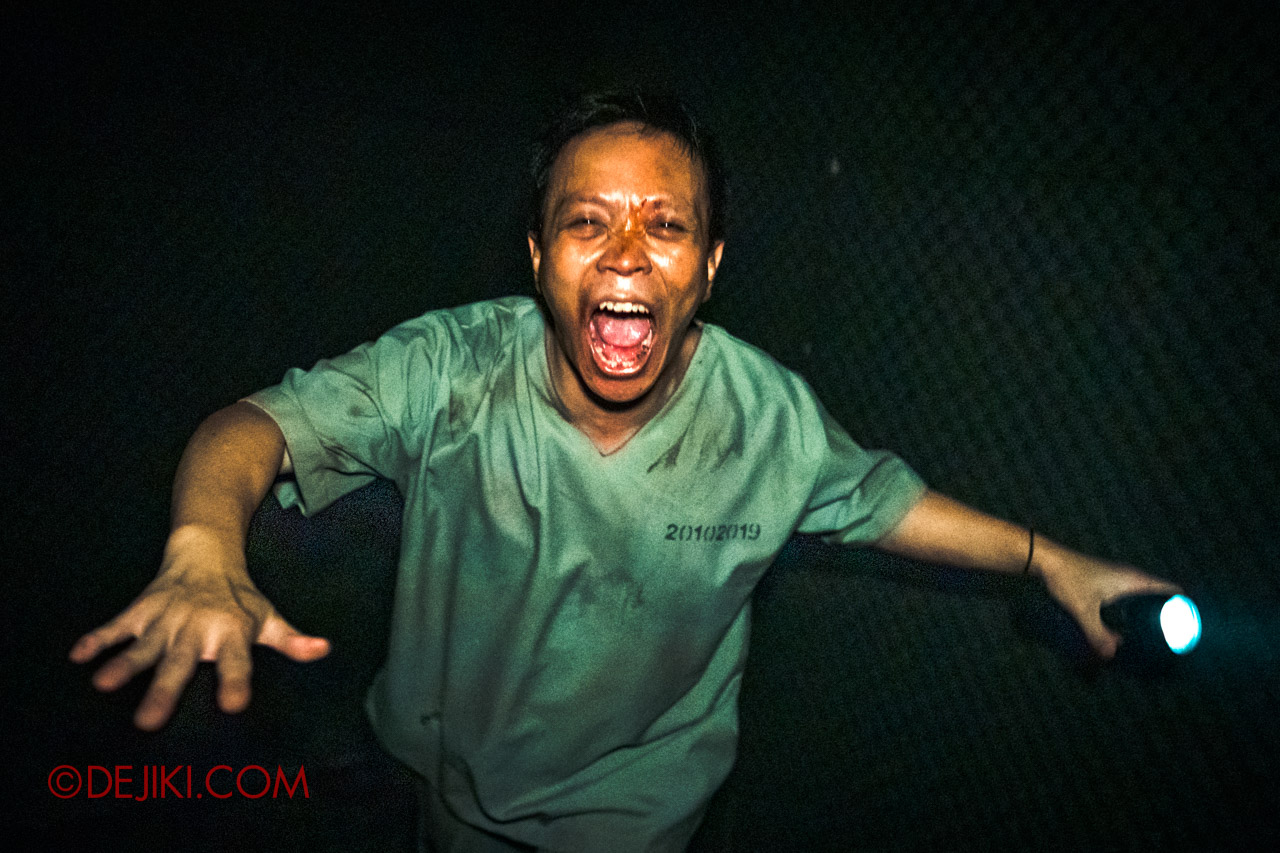 While some others will try to haunt you.
You've made it to the Death Row. From here onwards, you may meet the Executioner. Rumour has it that he was a corrupt cop before becoming the maniacal ruler of Hell Block 9.
Tread carefully, as violent prisoners here may want you to take their place…
One inmate makes a fatal break out of Hell Block 9.
At the very end, the Executioner may actually let you walk out unharmed, if only to serve as a warning for others.
---
Halloween Horror Nights 9: Select Nights 27 Sep – 31 Oct
Prepare for the event: Get all the info here
You can get all essential info you need at my Halloween Horror Nights 9 Event Guide. Tickets are available online at halloweenhorrornights.com.sg, or you can also buy them via my Klook link.
Get more HHN9 updates
More photos from the haunted houses will be published on my Instagram (@dejiki) and on this website as special features. Follow me on Facebook for updates.
---
Halloween Horror Nights 10 (2022)
HHN10 REVEALED: Ticket and Event Guide
Halloween Horror Nights 10 MEGA Review: Photos of all Haunted Houses and Scare Zones
SPECIAL FEATURE: Behind the Scenes at HHN10 Haunted Houses
HHN10 RIP Tour (VIP Tour) Review

Features on Haunted Houses, Scare Zones and Experiences
The Silenced Auction (Opening Scaremony) | DIE-ning with The Dead | Monsters & Manifestations
Escape The Breakout | Killustrator: The Final Chapter | Hospitality of Horror
Operation: Dead Force | The Hunt for Pontianak | Dark Zodiac

Trick or Thrills (2021)
Halloween Horror Nights Exhibition
2021 Day and Night Halloween: DIE-ning with the Dead, Universal Monsters Scream Alley


Halloween Horror Nights – The Archives


Click to Expand and see all posts from past Halloween Horror Nights