Venture inside this underground bunker, where the secret Operation: Dead Force is underway to eradicate a zombie outbreak. Will you survive the apocalypse at Universal Studios Singapore's Halloween Horror Nights 10?
---
WARNING
Photos of Operation: Dead Force, a haunted house attraction at USS Halloween Horror Nights 10, are featured here to showcase its design and atmosphere. This article contains spoilers.
Copyright Note: All photos on this website, including Halloween Horror Nights photos cannot be reuploaded anywhere without my permission.
---
Overview and Thoughts
Zombies have been a popular staple at Horror Nights. The very first HHN in Singapore had a zombie apocalypse scare zone at the park's New York zone. They've then come back a couple of times as a side theme, even in a locally-themed haunted house, and most notably in their own upcharge attractions, Zombie Laser Tag (2017) and then returning in a bigger space a year later. In 2022, they have a new house to call their own, again!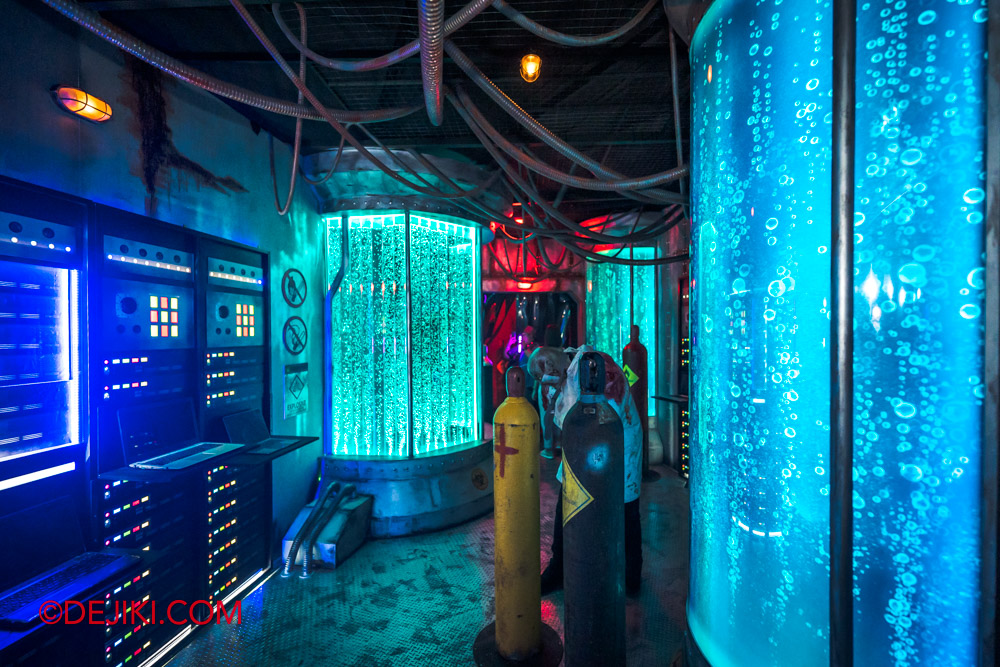 Walking inside Operation: Dead Force feels like stepping into a movie set – pushing you right into a Sci-Fi horror film. This time, it's Human vs Zombies, although like all zombie movies, things go out of control very fast.
This house also reminds me of The L.A.B. (2014) – it even has a circular room which may be at the exact same spot. As with past houses built at the Waterworld queue, this secret bunker is filled with long corridors and wider, expansive rooms to explore, including the cargo plane that you get to board to escape from the zombies.
The only part which I felt fell short is probably the start and the end – where there seems to be no follow-through with the publicised storyline. The final scene also seemed quite rushed – with what appears to be unfinished walls representing the aftermath of a plane crash.
---
Operation: Dead Force – Haunted House Photo Tour
According to classified files, the Special Forces Against the Dead (S.F.A.D) was formed 25 years ago to defend the world against a possible zombie apocalypse. Known as Operation: Dead Force, experiments were held at a secret location to create a nerve agent called N-ZX. By taking this nerve agent, subjects become zombie mutants, able to fight against hordes of undead.
Today, with the zombie situation worsening, Operation: Dead Force is actively recruiting, and its lab location has been disclosed.
As you step inside the underground bunker, an S.F.A.D officer berates you for being late. You are to report to the Lab immediately.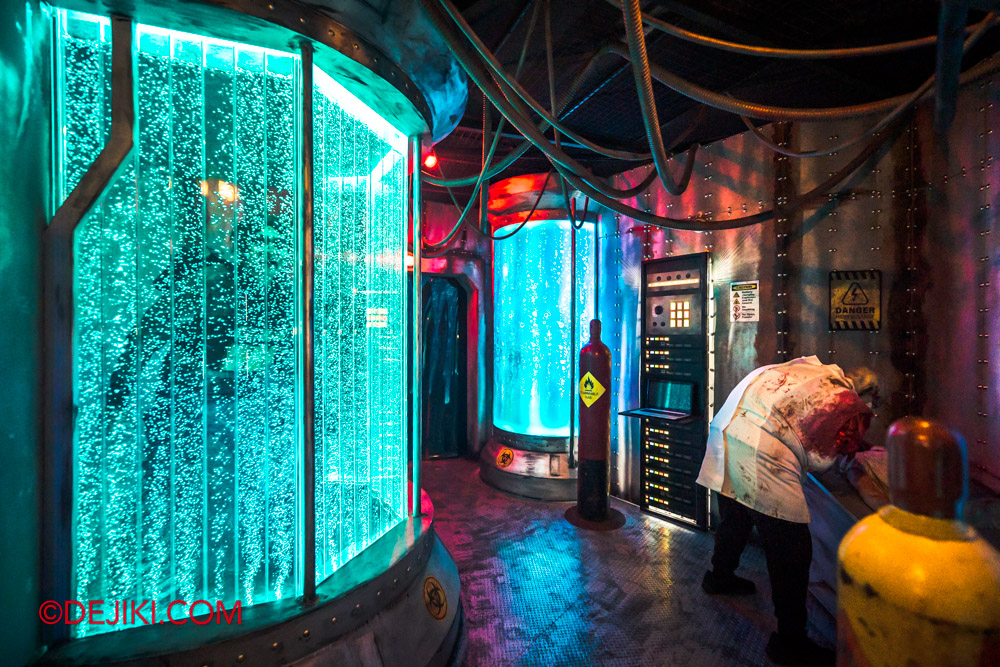 In the lab, many experiments are being held concurrently. But there's a lot going on.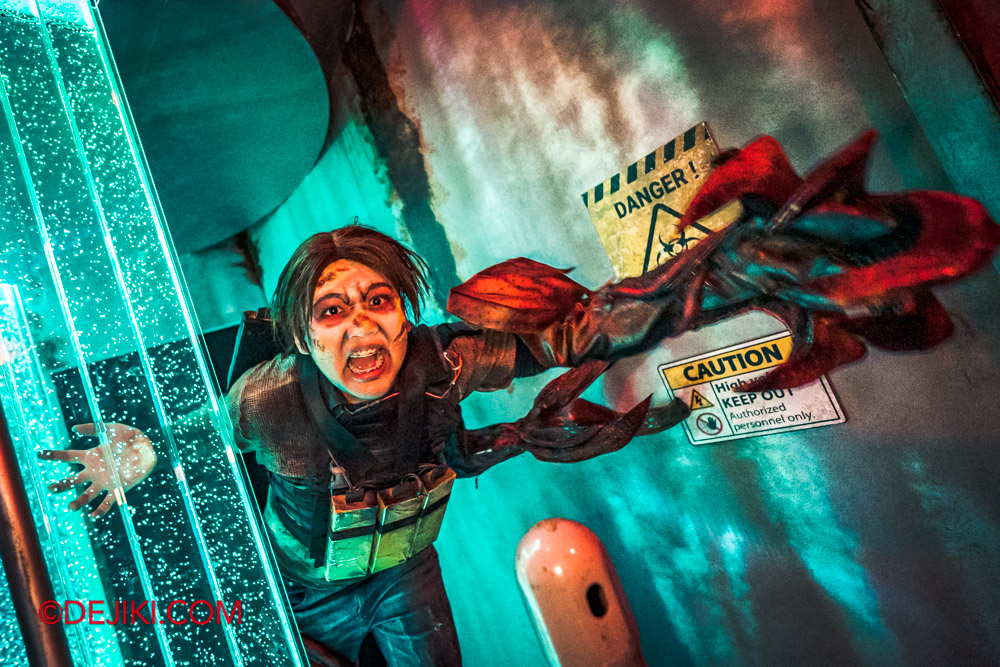 Some experiments were more successful than others.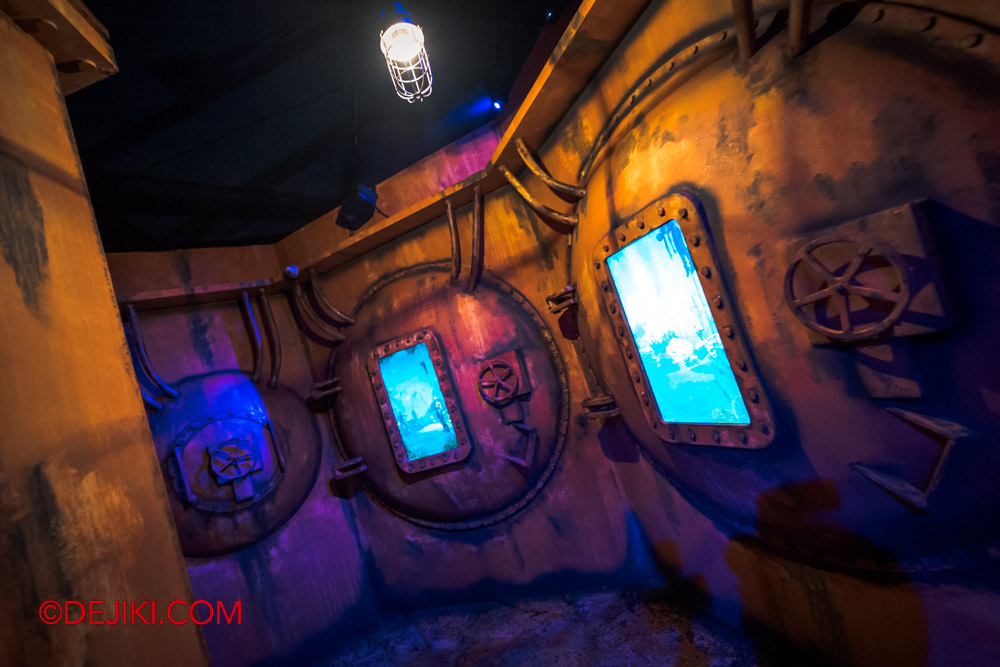 As the zombie chase you out of the labs, you turn into a corridor of containment tanks, where you see zombies capable of breathing underwater.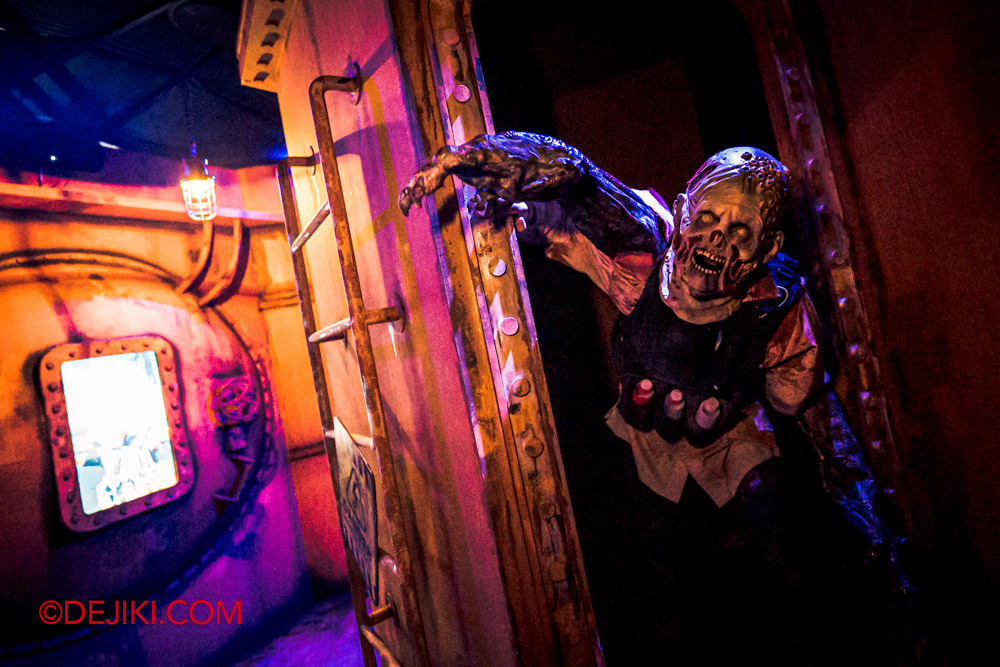 More zombies have broken out, spreading the infection.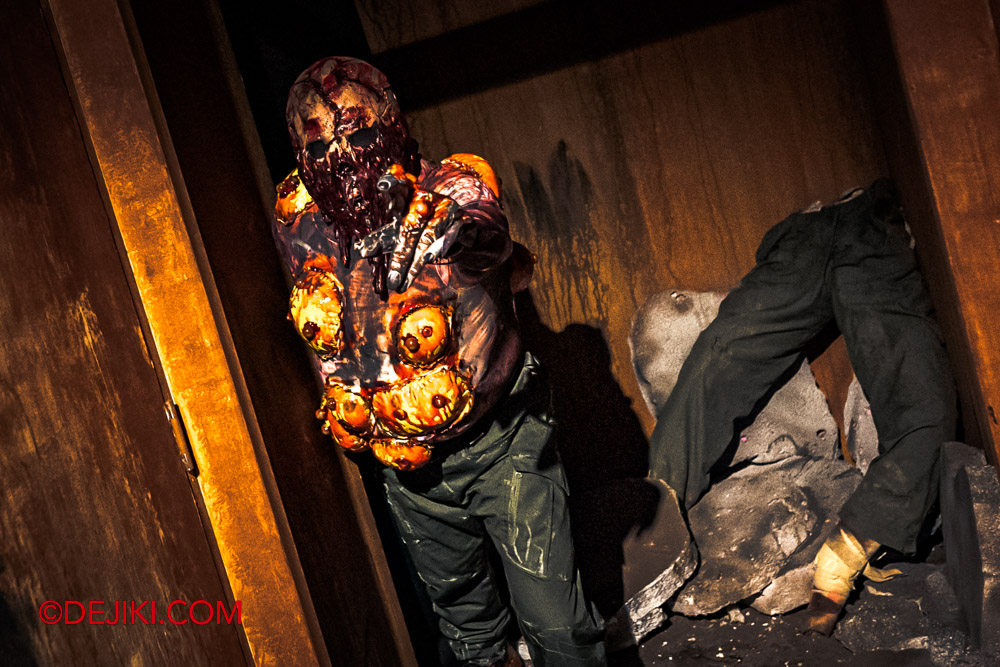 The mutation goes out of control – you turn around and run down corridors hoping to escape from the zombies chasing you.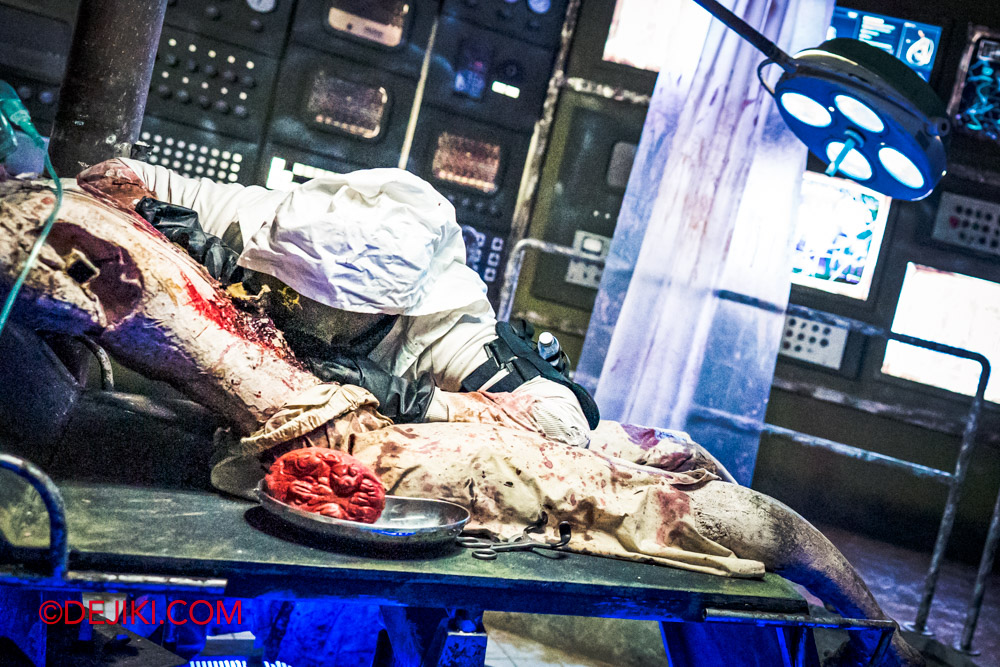 You find yourself in another lab, where autopsies on failed experiments seem to be taking place…
But zombies don't die, do they?
An infected scientist pushes you out of the chamber.
While the chaos builds up, your journey in the bunker brings you through dangerous environments, such as a room with toxic waste…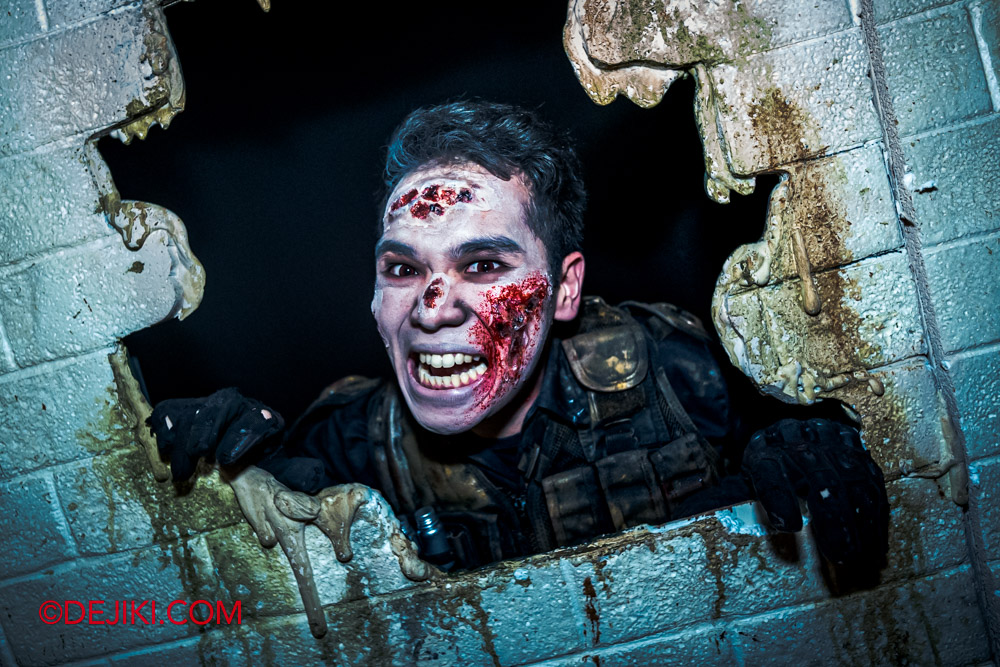 You dash past mutated soldiers, through a gun tower where zombies are being shot down, ending up at a hangar, where a cargo plane appears to be taking off.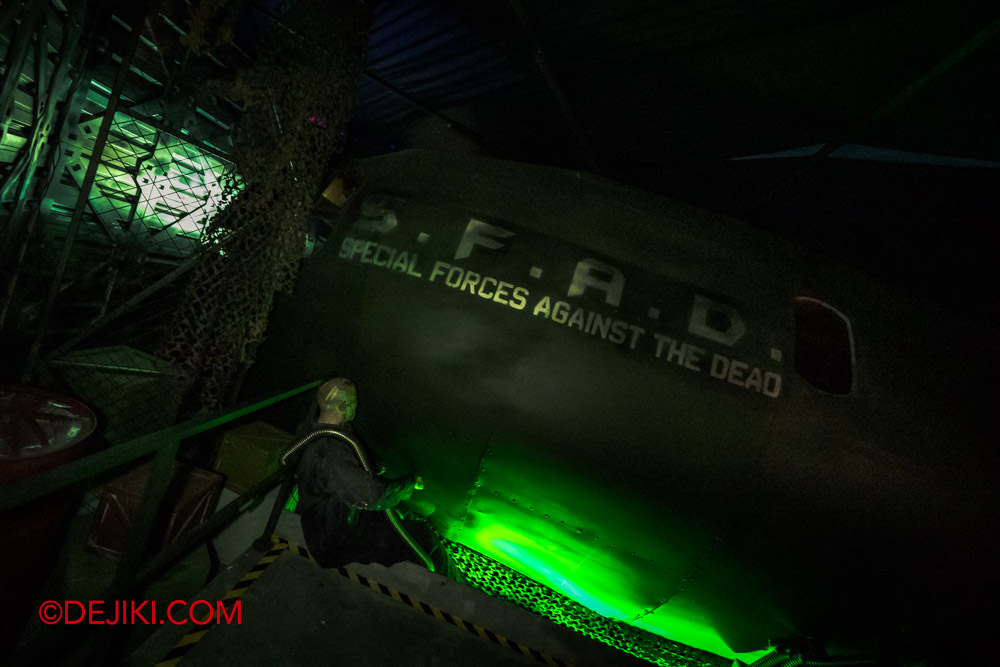 Once you get in, the plane starts to move, leaving most of the zombies behind… but there are some already on board.
Barely lifting off the ground, the plane crashes!
The furious pilot throws you out of his plane.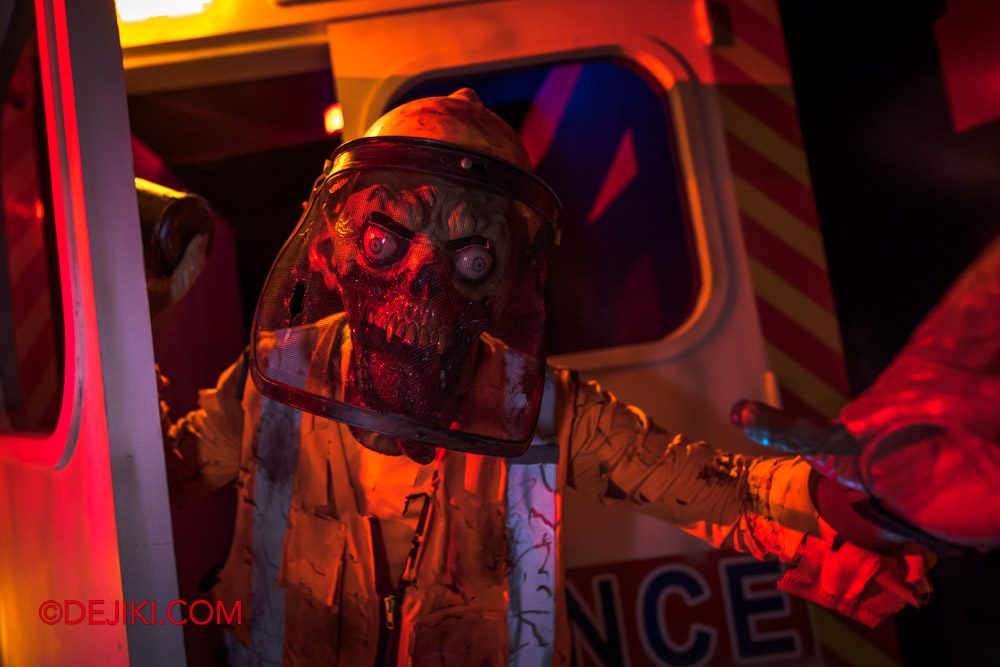 Recovering from the shock and loud noises, you walk out of the wreckage to an even more catastrophic sight – the base has been consumed by flames, and zombies. Even the ambulance that arrives is overrun.
---
Halloween Horror Nights 10 runs on select nights from 30 Sept to 5 Nov 2022.
Halloween Horror Nights 10 MEGA Review by DEJIKI
Read my full review and see photos from this year's 3 haunted houses, 2 scare zones, the Opening Scaremony show, and other special experiences.
Halloween Horror Nights 10 EVENT GUIDE
Get all the info you need about Halloween Horror Nights 10 in my Event Guide, including event calendar, ticketing options, add-ons and the RIP Tour prices.
Halloween Horror Nights 11 (2023)
HHN11 REVEALED: Ticket and Event Guide
Sneak Preview: DIYU: Descent Into Hell, Rebirth of the Matriarch, Icons and more
Universal Studios Japan (USJ) 2023
Halloween Horror Nights 2023/ HAHAHA! Halloween Party! Event Guide
Halloween Horror Nights – The Archives
Click to Expand and see all posts from past Halloween Horror Nights