Get the blood-red carpet treatment with the RIP Experience at Universal Studios Singapore's Halloween Horror Nights 9! Read to find out about the Horror Nights VIP Tour in this review!
What is the RIP Experience?
It is the park's popular Rest In Peace (R.I.P) Tour with a new name. This tour product at USS Halloween Horror Nights offers an immersive and stress-free adventure that will bring you to all haunted houses, scare zones, shows, plus select rides – all with minimal wait.
This year, I'll let the vlog show you what the RIP experience can be all about:
Vlog: HHN9 RIP Experience
HHN9 RIP Experience (VIP Tour) Highlights
The RIP Experience Tour Guide
Meet your surgeon – your personal guide to the haunting attractions at Halloween Horror Nights. The surgeon assigned to your tour group (non-exclusive, up to a maximum of 12 guests*) will take care of the group's preferences and handle the necessary arrangements throughout the 4-hour tour.
* a booking of 12 guests will form an exclusive tour group.
Dinner before the Event
Start your night early with an option to have dinner at Loui's Pizza Parlor in the New York zone. This allows you to enter the park when it is closed for the changeover, while most guests are being swept out. The restaurant's usual menu of popular pizzas and pasta dishes will be available, along with a Halloween-exclusive lasagna dish called Rest in Pieces (S$18).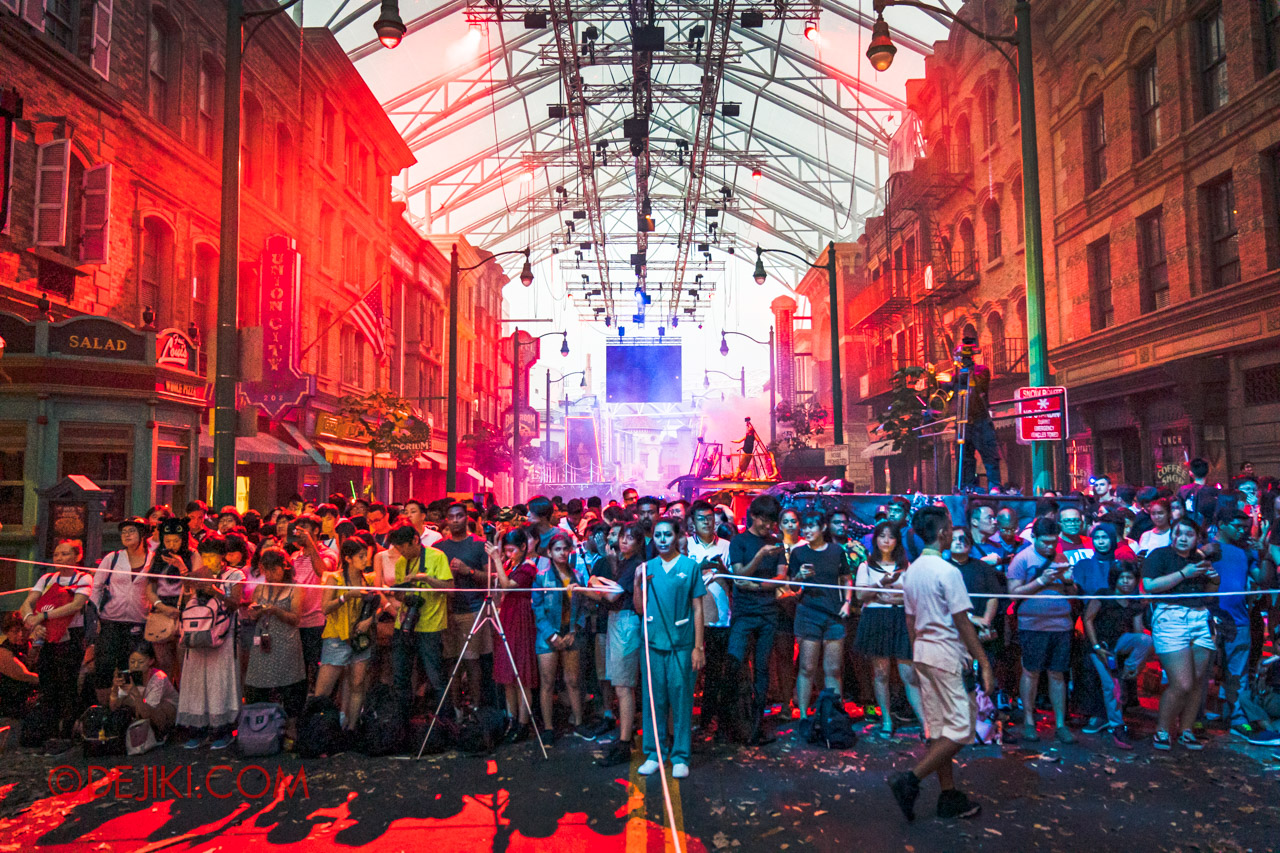 Opening Scaremony VIP viewing area
Get up-close with the theatrics of the Opening Scaremony show in the viewing area made available only for RIP Experience guests!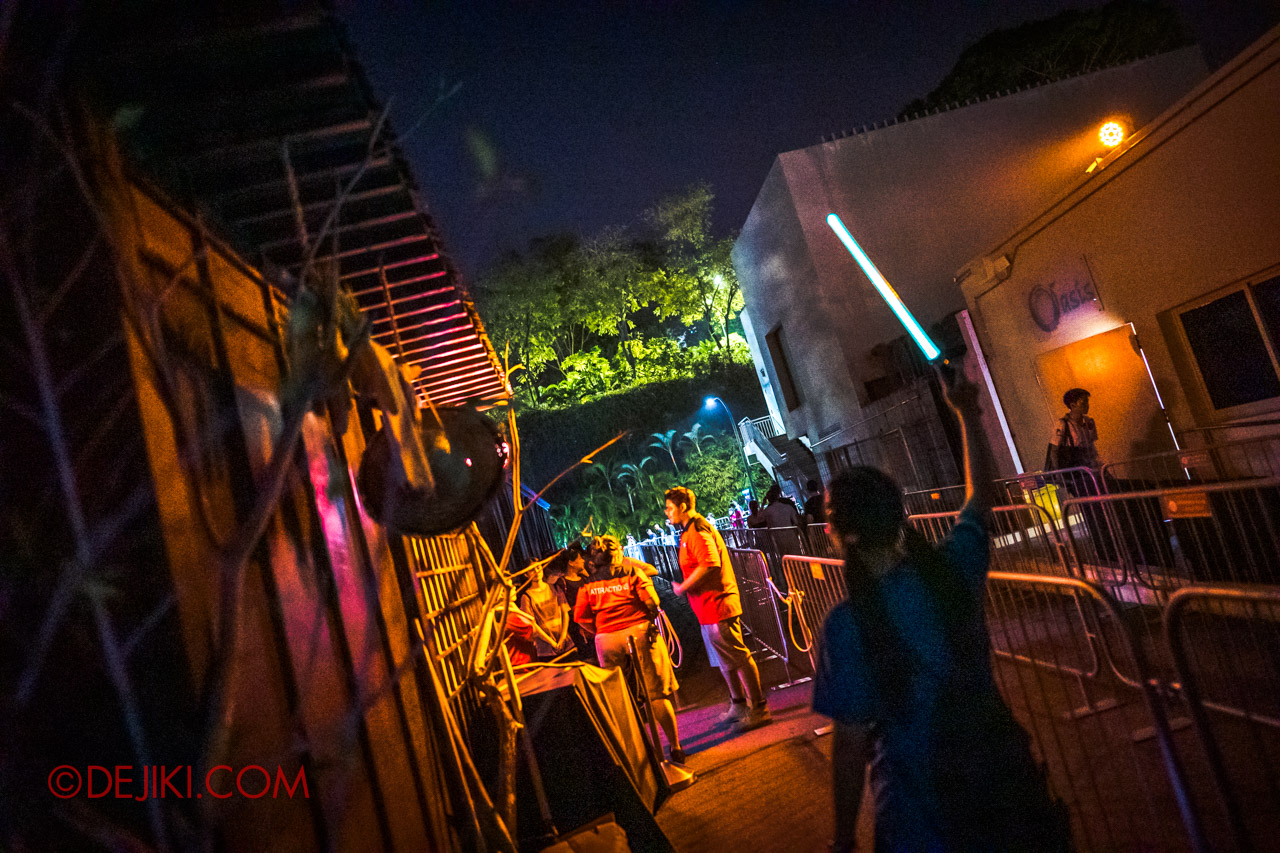 VIP Access to Attractions
Cut the queue, literally, with front-of-line VIP access to all attractions during tour time. Your tour guide will also help to reserve the best seats at Skin & Bones show. You will also have an opportunity for a private Meet and Greet with an icon, in the air-conditioned comfort of the Pantages Hollywood Theater Foyer. Your particular icon will not appear outside for the public during your tour night.
If you are really lucky, then you can meet a unique version of the Undertaker wearing his top hat. This Undertaker only makes a brief appearance during the Opening Scaremony show.
Edit: This is no longer exclusive: The Undertaker may now also appear at Mel's Stage outside for all park guests.
Learn the stories, and some secrets of HHN9
Along the way, your guide will share the backstories – and maybe even some secrets – of the various haunted houses, scare zones and shows. Some of the more experienced guides may even have stories to share from past events.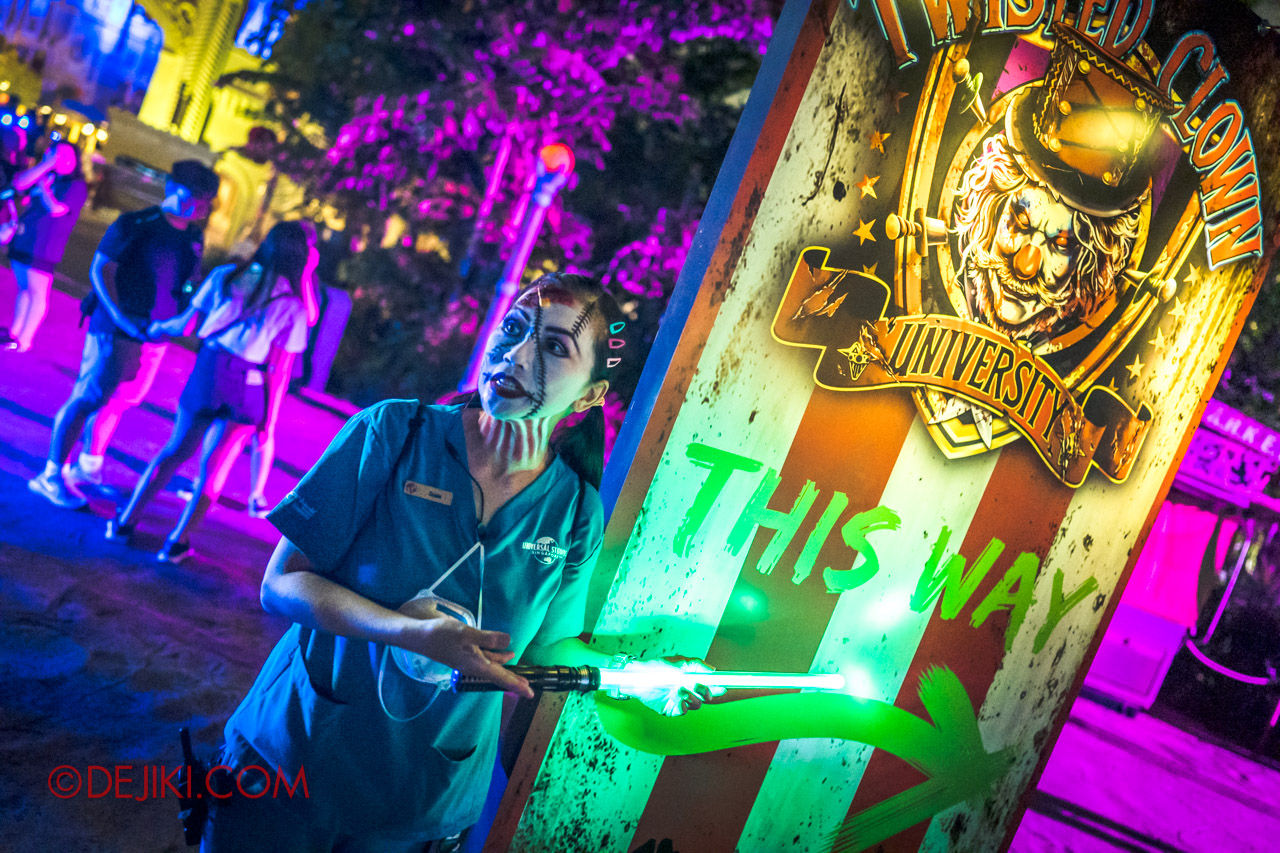 License to Thrill: HHN Express Unlimited
Enjoy endless frights after the tour with unlimited Express access to all 5 haunted houses, plus select rides and attractions. The Halloween Horror Nights Express Pass Unlimited wristband is exclusive for guests on the RIP Experience.
*Not valid for use at front row of Battlestar Galactica HUMAN vs CYLON, or Pantages Hollywood Theater.
How to book HHN RIP Experience?
Email RIPExperience@rwsentosa.com to make your reservation. Klook is also selling RIP Tours online from $198 (Non-Peak) and $258 (Peak). Check out all the tour price options below.
Same-day bookings and walk-ins during HHN9 event nights may be available, subject to availability. Advance booking is recommended as the tour may sell out due to high demand.
Tours begin from 7:30PM, with subsequent tours departing every half hour. For tours that start later, guests can check-in at the VIP Reception and enter the park earlier, then meet their Tour Guide later.
NOTE ON REQUESTING FOR GUIDES: Requests for RIP Experience tour guides are subject to availability and the park is not obliged to accede to any requests. Many tour slots are already sold out and some guides are overbooked. The park reserves the right to manage the allocation of their guides.
---
HHN9 RIP Experience: The details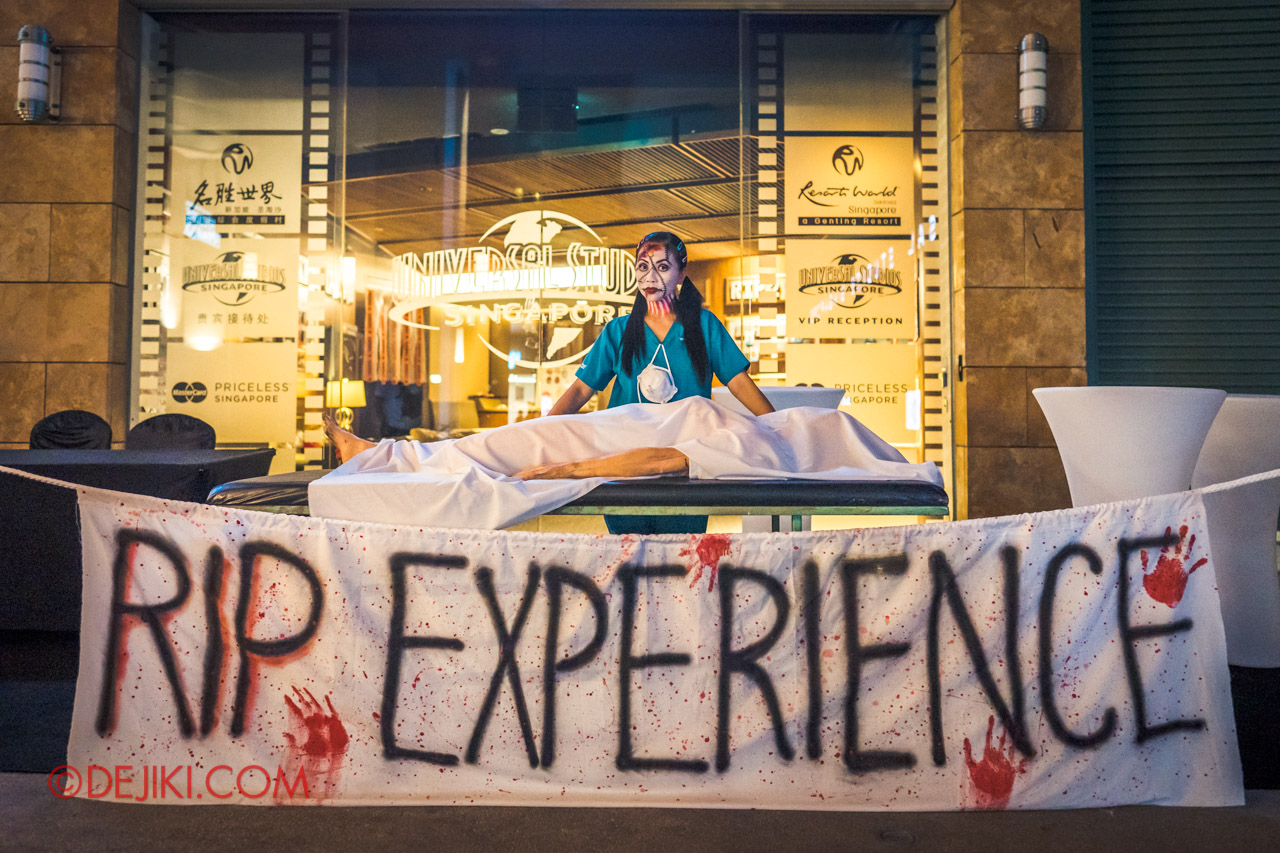 RIP Tours can accommodate up to 12 guests per tour group. For exclusive tour options, please contact the USS RIP Experience Team at RIPExperience@rwsentosa.com.
RIP Tour Entitlements
• VIP access to ALL haunted houses, scare zones and select attractions
• 1 x Admission ticket to Halloween Horror Nights 9
• 1 x Halloween Horror Nights Express Unlimited Pass
• 1 x R.I.P. Tour credential, lanyard and glow stick
• Meal vouchers, valued at $25 in total, usable at select F&B carts and outlets
• Private meet and greet with an iconic character
• 10% off select merchandise at Universal Studios Singapore retail outlets
• 10% off total bill at select Universal Studios Singapore F&B outlets
• One-for-one promotion on photo prints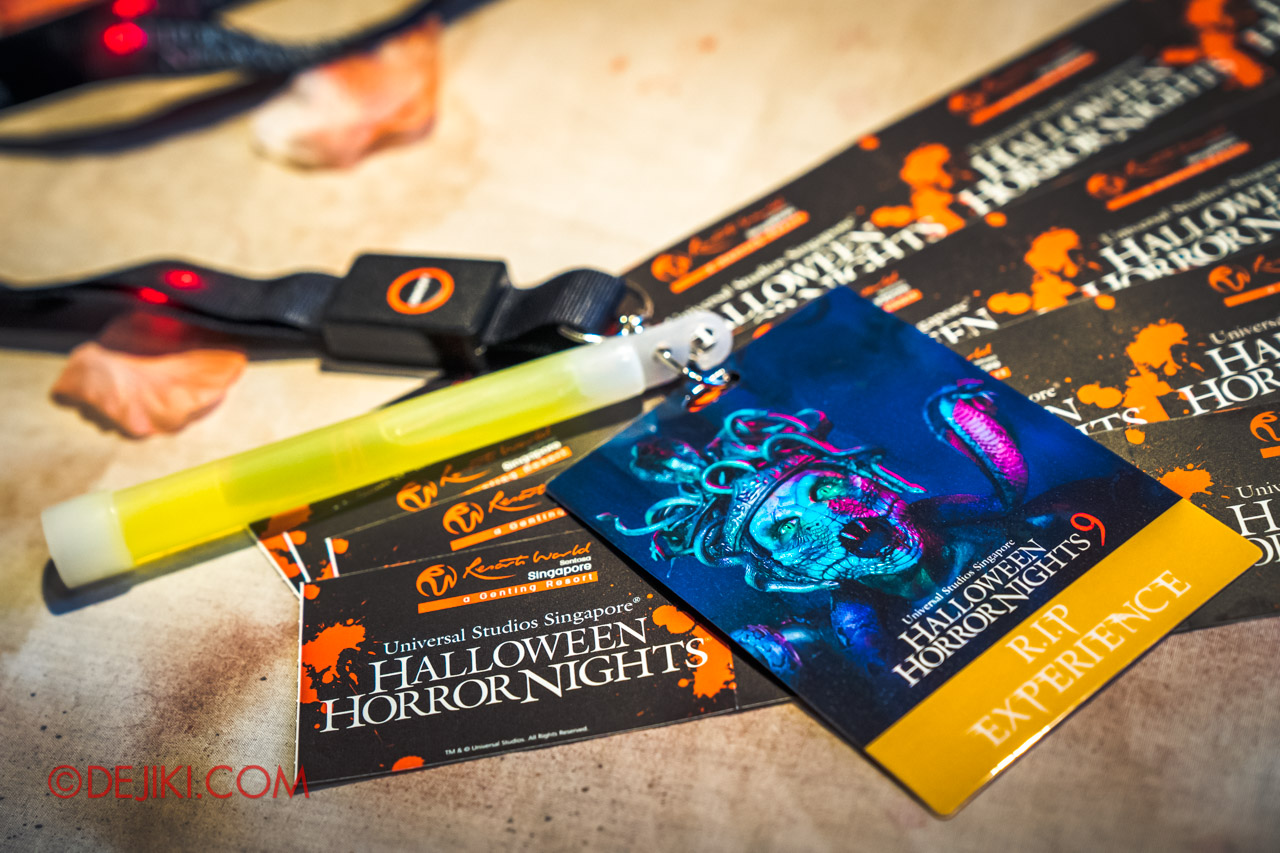 RIP Experience guests will receive an exclusive tour credential, lanyard (battery operated lights) and glowstick.
---
2019 HHN9 RIP Experience Price List
Category
Price
(Non-Peak)
Price
(Peak)
Halloween Horror Nights 9 RIP Experience
(aka RIP/ VIP Tour)
Enjoy a guided tour and VIP access to houses and selected attractions during your tour, along with various VIP privileges.
$198
$258
HHN9

RIP Experience

for Mastercard Cardholders
$188
$248
HHN9

RIP Experience

for Maybank Cardholders
$178
$238
HHN9

RIP Experience

for RWS Invites Members and Students
$168
$218
HHN9

RIP Experience

for RWS Attractions Annual / Season Pass Holder
$168
$218
HHN9

RIP Experience

for Returning Tour Guest

Special discounted rate for guests who have been on the 2018 RIP Tour or the USS VIP Experience.

$158
$208
All promotional rates are subject to verification of respective cards and memberships. Other terms and conditions may apply.
Reservations are highly recommended for RIP Experience as tour slots sell out fast. Email RIPExperience@rwsentosa.com for enquiries and bookings. You may also book through Klook or from the official website.
---
Halloween Horror Nights 10 (2022)
HHN10 REVEALED: Ticket and Event Guide
Halloween Horror Nights 10 MEGA Review: Photos of all Haunted Houses and Scare Zones
SPECIAL FEATURE: Behind the Scenes at HHN10 Haunted Houses
HHN10 RIP Tour (VIP Tour) Review

Features on Haunted Houses, Scare Zones and Experiences
The Silenced Auction (Opening Scaremony) | DIE-ning with The Dead | Monsters & Manifestations
Escape The Breakout | Killustrator: The Final Chapter | Hospitality of Horror
Operation: Dead Force | The Hunt for Pontianak | Dark Zodiac

Trick or Thrills (2021)
Halloween Horror Nights Exhibition
2021 Day and Night Halloween: DIE-ning with the Dead, Universal Monsters Scream Alley


Halloween Horror Nights – The Archives


Click to Expand and see all posts from past Halloween Horror Nights