Investigate The Chalet Hauntings NOW in this sneak preview of this Asian-themed haunted house at USS Halloween Horror Nights 9!
The Chalet Hauntings will let local park guests relive the experiences of paranormal sightings at holiday chalets. While the Langsuir is getting star billing here, this haunted house will also feature an ensemble of ghosts and spirits from Southeast Asia.
This also marks the first house at Universal Studios Singapore's Halloween Horror Nights to be sponsored by a third-party – Traveloka, an online travel platform.
NOTE: This is a partial photo tour of an attraction that is still a work in progress. Roughly less than half of the house was shown during the media preview. Scenes, characters and special effects are subject to change.
---
The Chalet Hauntings haunted house photo tour
We've all heard the tale: Five teenagers went missing at the ██████ Chalet. It happened at Block E, at the end of Frangipani Road.
It's been closed for a long time.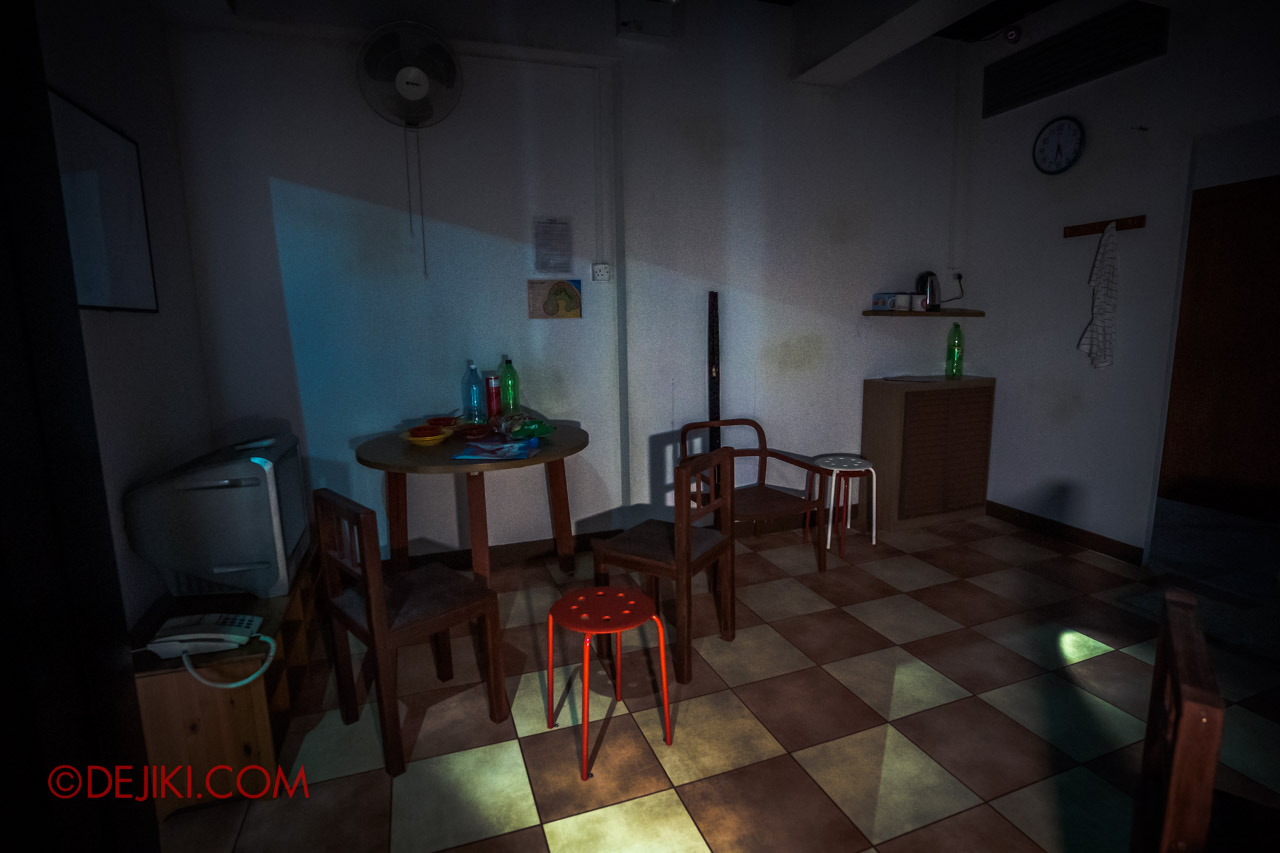 Things look… fairly normal when you step inside.
The TV flickers on, and scattered flashlight beams start to trace around the room. Objects appear to be moving on its own – or is it the trick of the light?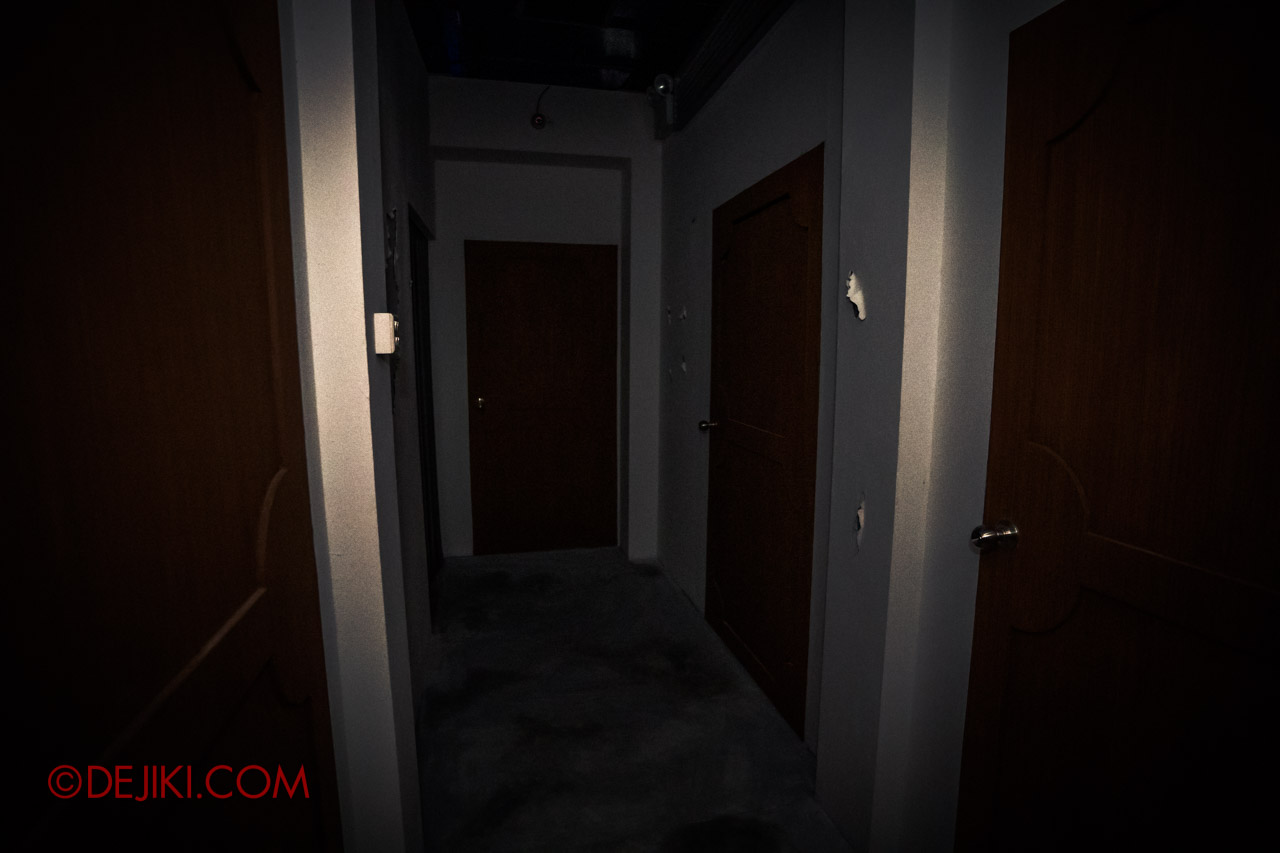 Feeling brave, you decide to explore the chalet. Most of the rooms are locked, and there's nothing much in the corridors except peeling paint and broken fixtures. The last door creaks open.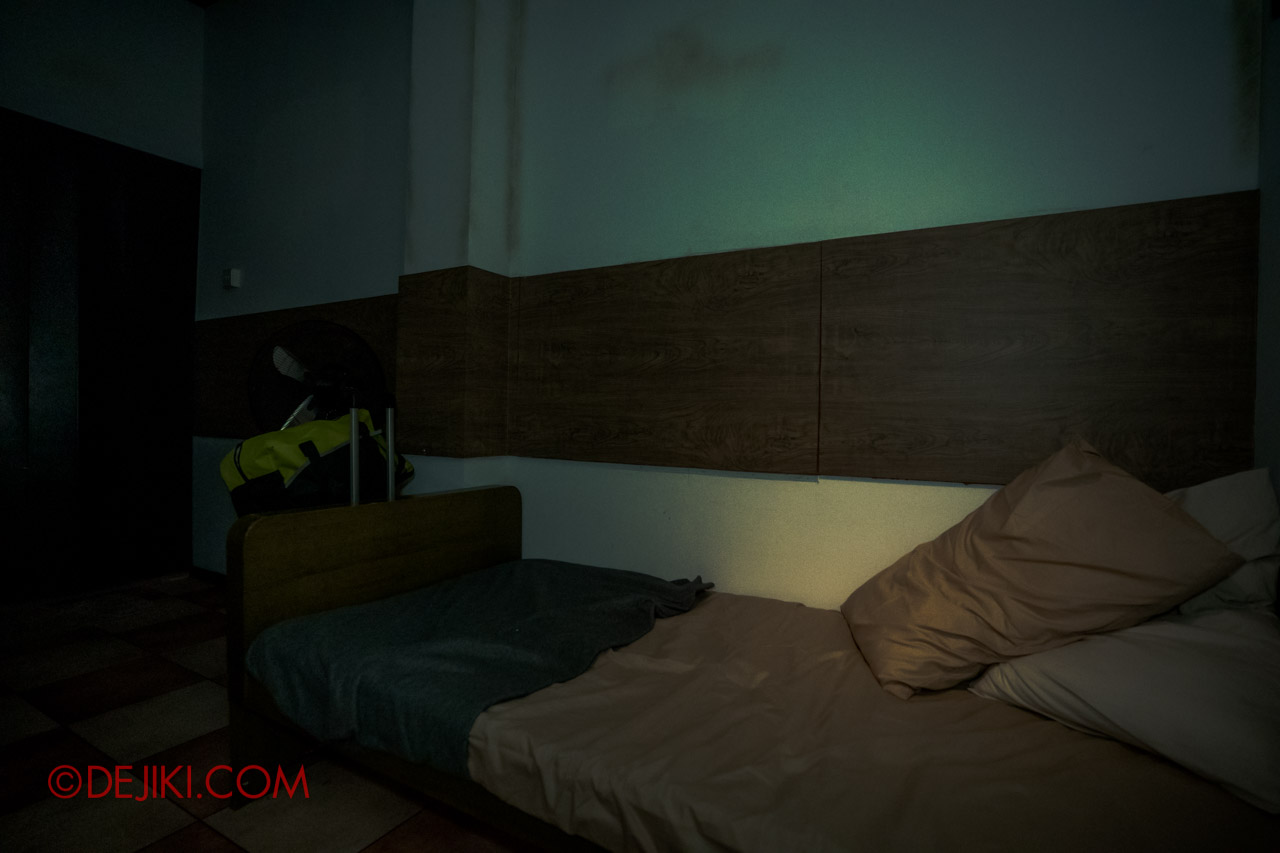 Okay, it is just a bedroom. You feel like someone is watching – there's an odd, muffled breathing sound, coupled with a strange knocking, no, it's sounds more like soft thuds.
A wall breaks open. It's a pocong.
You run, right into another dark room. A lamp flickers, revealing the room's decrepit state, and… roaches bursting out of the walls and ceiling.
After frantically sweeping the roaches off, you find an orang minyak standing at the corner, staring right back.
Lucky for you – it ran away before you could react.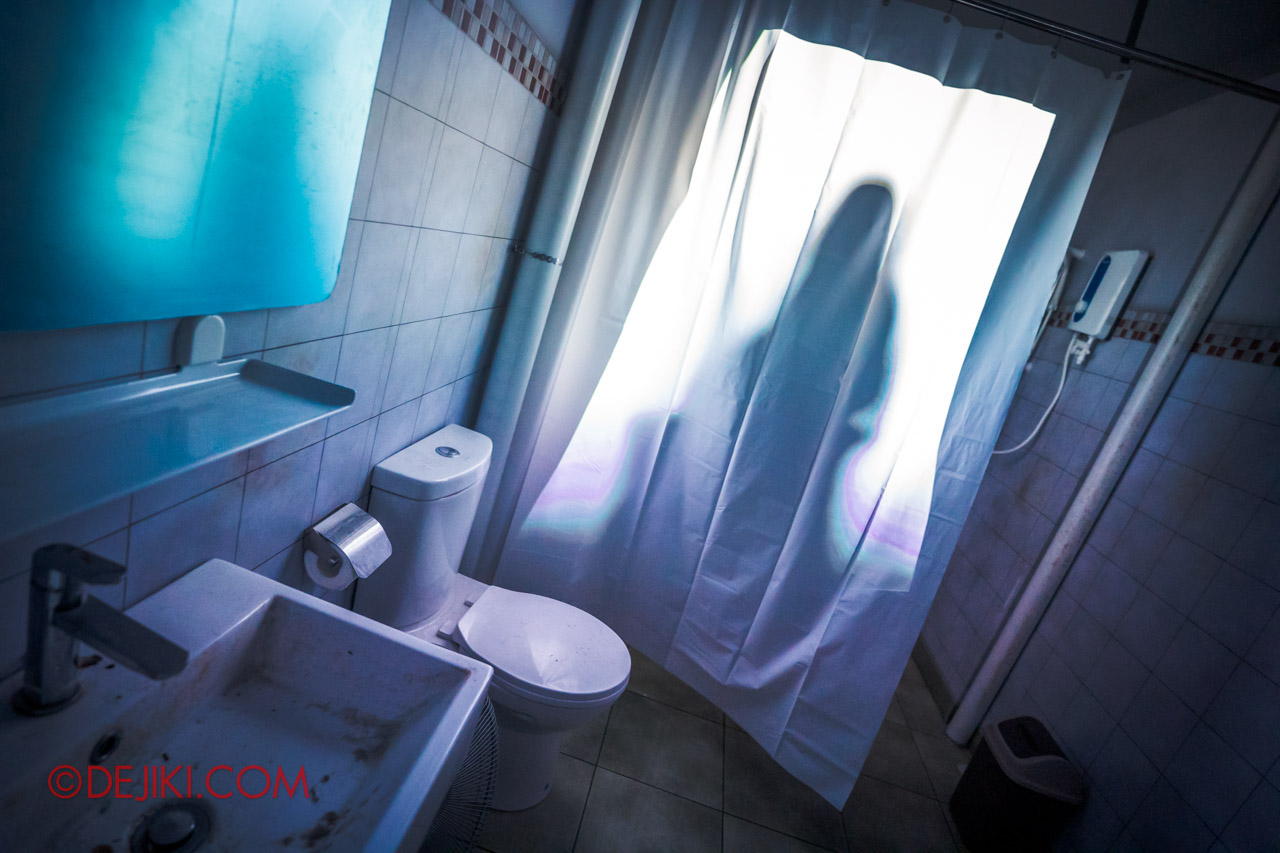 You find the bathroom next – and it seems to be occupied. The curtain starts to draw on its own… but there's no one there. The shadow disappears.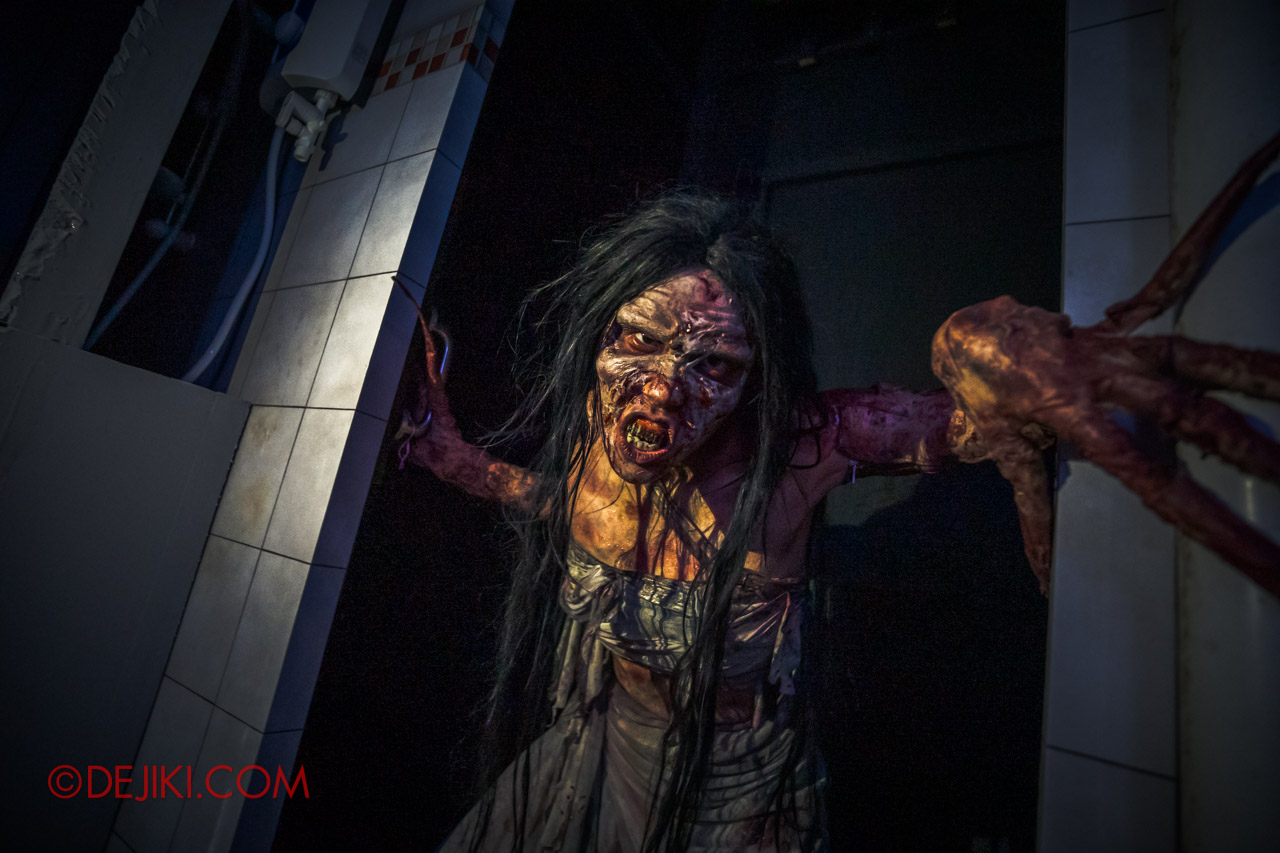 Out of nowhere, a Langsuir appears. You barely dodge her claws.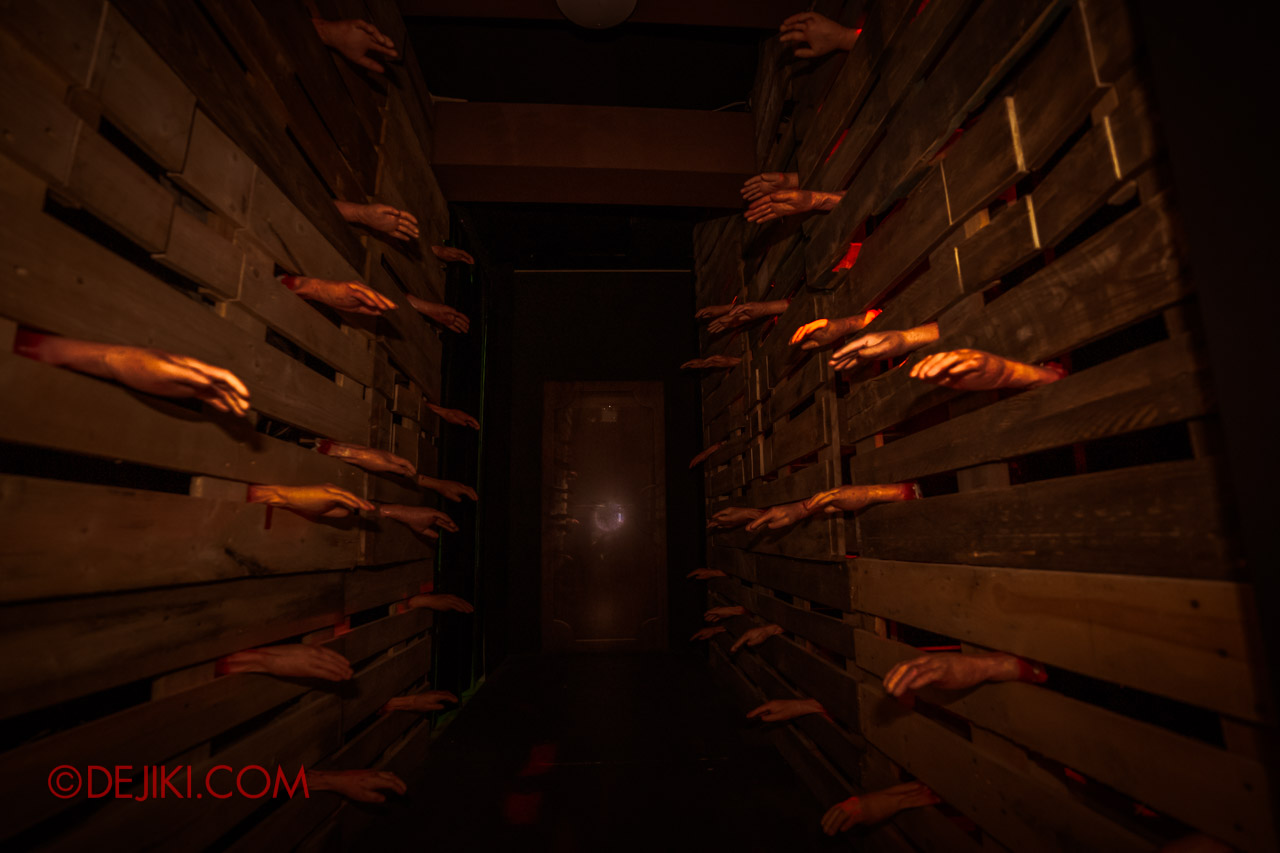 The bathroom peels apart, leading you to a dark corridor that is somehow between the walls in this strange chalet. Hands between the boards appear to grab you.
There's a door at the end, and it pulses, drawing closer, and closer…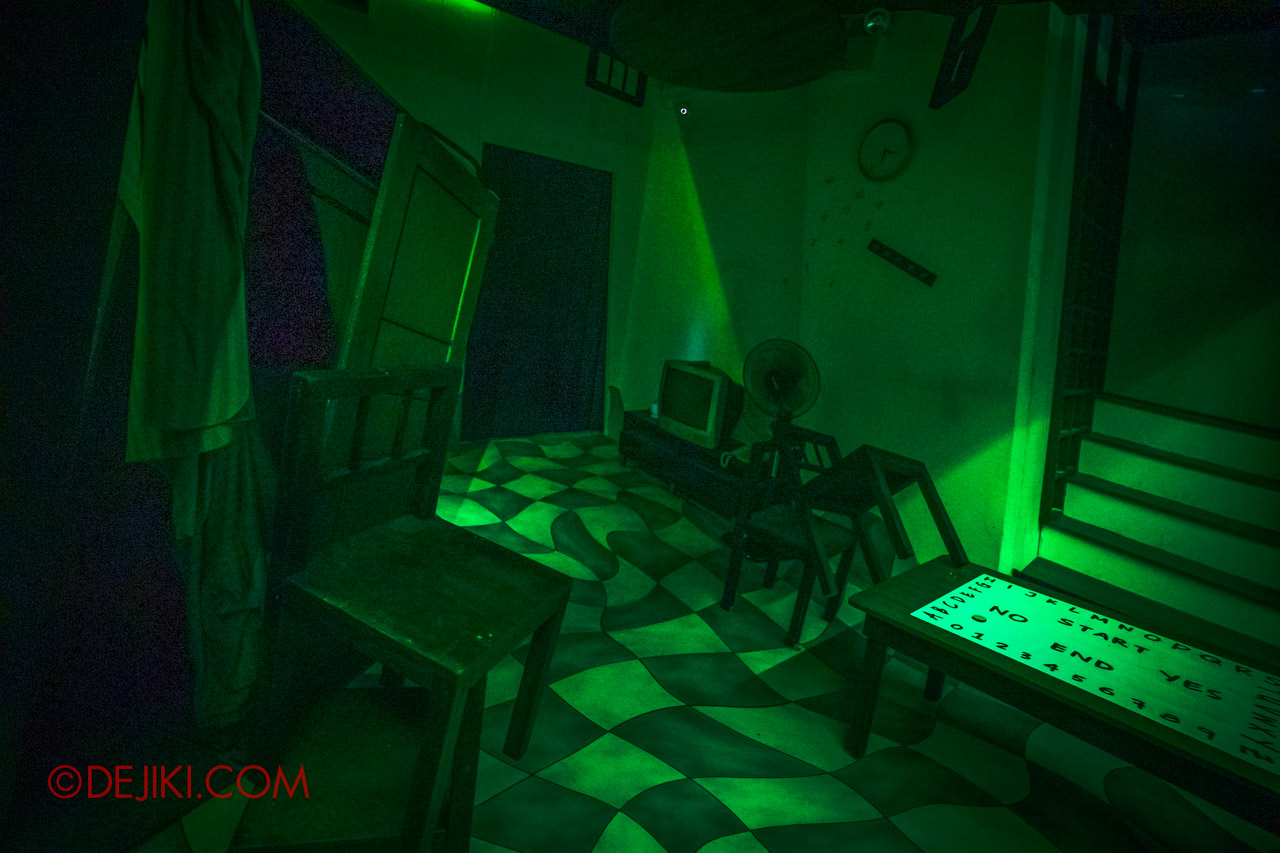 You step through, and find yourself back at the living room… Huh? except it's… not the same.
Nowhere close to answers, but many more questions now.
To be continued… when you explore this chalet at Halloween Horror Nights 9
---
Uncover secrets of this year's Halloween event in the next part of the HHN9 SNEAK PREVIEW series, as I bring you on a tour behind the scenes at Universal Studios Singapore.
---
Get more HHN9 updates
Follow me on Facebook and Instagram (@dejiki)
Prepare for Halloween Horror Nights 9
Get all the info you need at my Halloween Horror Nights 9 Event Guide.
Halloween Horror Nights 11 (2023)
HHN11 REVEALED: Ticket and Event Guide
Sneak Preview: DIYU: Descent Into Hell, Rebirth of the Matriarch, Icons and more
Universal Studios Japan (USJ) 2023
Halloween Horror Nights 2023/ HAHAHA! Halloween Party! Event Guide
Halloween Horror Nights – The Archives
Click to Expand and see all posts from past Halloween Horror Nights
Subscribe to Dejiki.com or Like my Facebook page for notifications of updates.
---