Face new terrors at Universal Studios Singapore's Halloween Horror Nights 11, the region's ultimate Halloween event. Uncover the HHN11 line-up of 5 haunted houses, 3 scare zones and more in this mega photo review.
Halloween Horror Nights 11 Mega Review by DEJIKI
Fans can enjoy an exciting night out at Universal Studios Singapore's Halloween Horror Nights 11, with a full slate of five haunted houses, two of which are highly-anticipated IPs – Netflix's All of Us Are Dead, and The Weeknd: After Hours Til Dawn Nightmare.
Three original haunted houses offer haunts with both local and western horror themes. The iconic Matriarch from Singapore's first HHN makes her return, bringing you deeper into the dark secrets in her home. DIYU offers a harrowing, cinematic journey to the courts of Hell inspired by Chinese mythology. Grimm's tales, corrupted even further, manifests in the last haunted house, offering intense encounters with the Pied Piper, and unusual environments right out of a fantasy world.
Three scare zones complete the mix of horrors through scenic spaces depicting a haunted village set in a dark jungle, a harbour overrun by mutated pirates, and a blinding, hellish cyberspace – which would also make for great spaces to capture memories of this year's Horror Nights.
Now I invite you to discover the terrors with the rest of the review.
Note: This is a developing story based on the media preview. Content will be updated in the days and weeks ahead. Special Feature articles, photos and videos will also be published on DEJIKI.COM and DEJIKI on Instagram, YouTube and Tiktok.
Shortcuts
Haunted Houses | Scare Zones | Shows
DIE-ning in HELL Dining Experience
---
Warning – Spoilers
Photos of Halloween Horror Nights 11 are featured here in this article to showcase the event.
Copyright Note: All content on this website, including Halloween Horror Nights photos and writeups cannot be reuploaded onto other websites without my permission.
---
HHN11 Haunted Houses review
The Weeknd: After Hours Til Dawn Nightmare
As one of the headliners at HHN11, The Weeknd: After Hours Til Dawn Nightmare brings you through a nightmarish journey with haunting music by The Weeknd.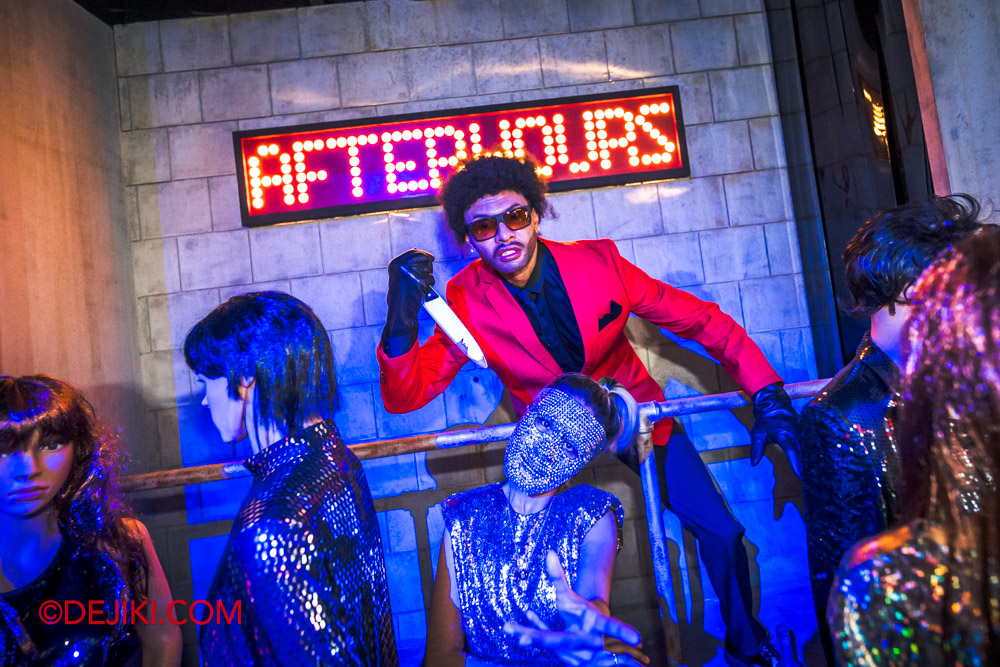 Singapore's version starts right at the After Hours nightclub, where you will breeze through scenes inspired by 'In Your Eyes', and then meet the bandaged women from 'Too Late' who have created their perfect partner. Through a dark alley and into 'Blinding Lights', scenes manifest the hallmark high-speed ride around Sin City.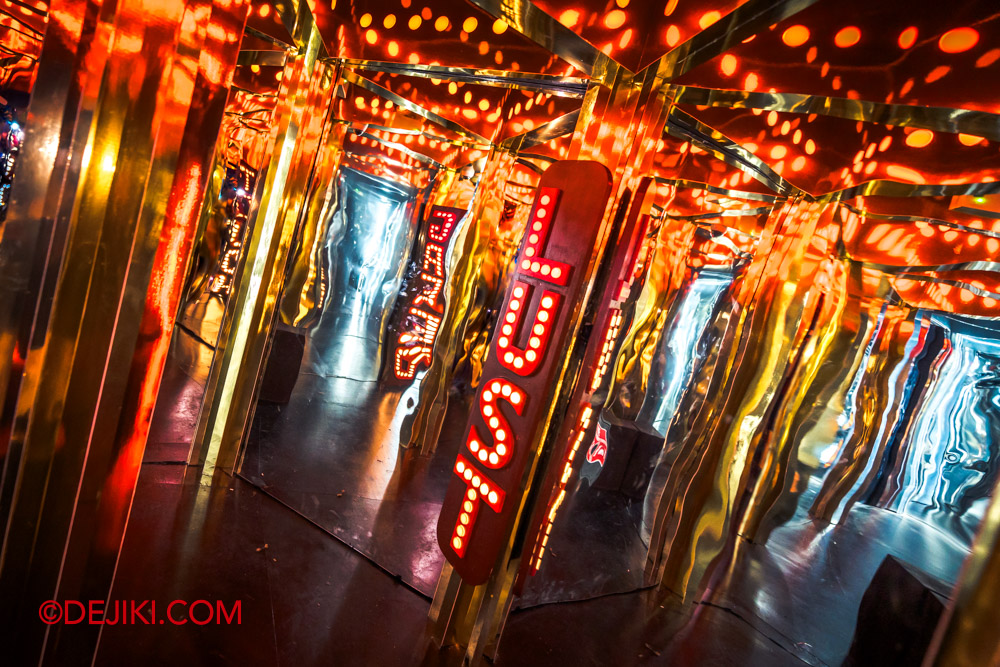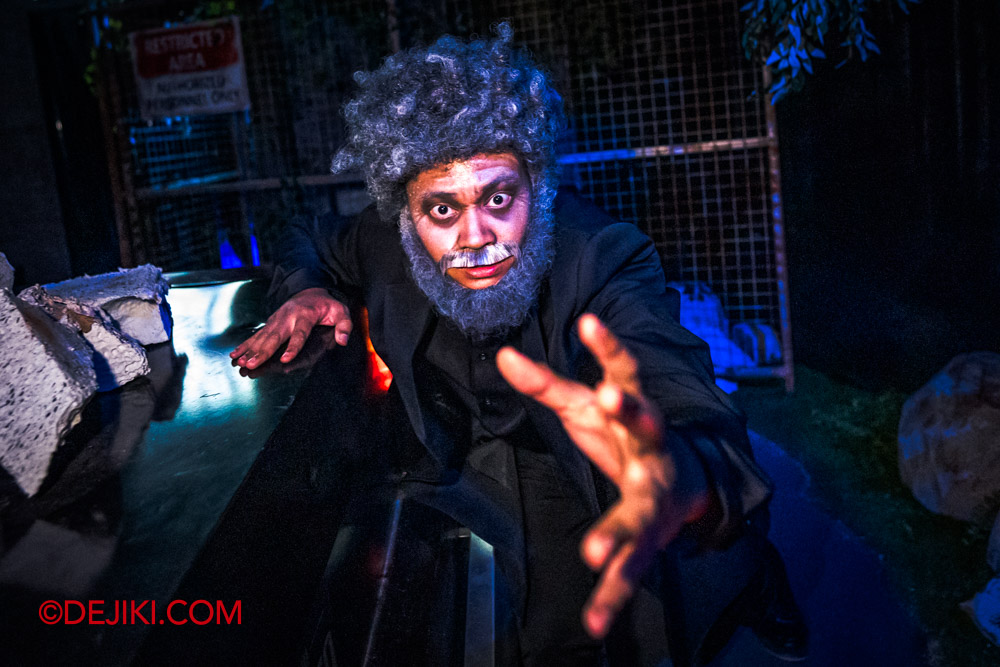 The road takes a sudden turn when the car crashes, revealing The Weeknd that has rapidly aged. From here onwards are all-new scenes not seen in previous The Weeknd houses. You then continue into Dawn FM Club, and walk through spaces inspired by songs such as 'Take My Breath' and 'Sacrifice', expressing the album's restlessness and deathly imagery.
Fans of The Weeknd will enjoy this house, the visual references and distorted remixes within constructing a journey through his musical purgatory. With its twisted nightclub experience, this can also be the most 'enjoyable' house where you can vibe and sing along to the music.
Explore the purgatory of pain in The Weeknd: After Hours Til Dawn Nightmare Haunted House Tour article →
House entrance location: Near Waterworld
Presentation: ★★★★★★
Horror Level: ★★★☆☆
---
Netflix's All of Us Are Dead
Zombies have always been a fan favourite during Horror Nights, and Netflix's All of Us Are Dead offers something very unique to USS, being the world's first and exclusive adaptation of the hit horror series.
You start off breaking into the Science Teacher's lab, and witness where the outbreak begins unraveling in the medical bay.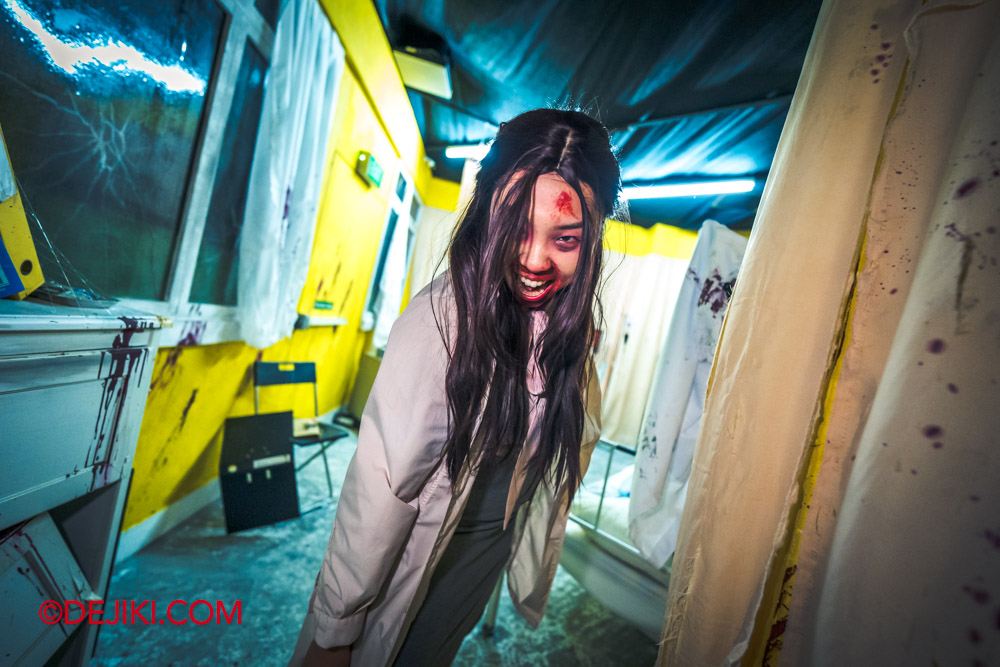 Interestingly, the costumes are screen-accurate, such as the 'Cone Foot' zombie wearing the nametag of the actual character, Hong Dae-won.
Fans will be thrilled to experience many scenes in this house: from the earlier important story moments, down to the library and chaotic canteen where the outbreak spins out of control. There's also an interesting take on the sports equipment mobile barricade segment, and the park's creatives made it possible to "climb" outside of the school, and onto the rooftop where crucial scenes happened.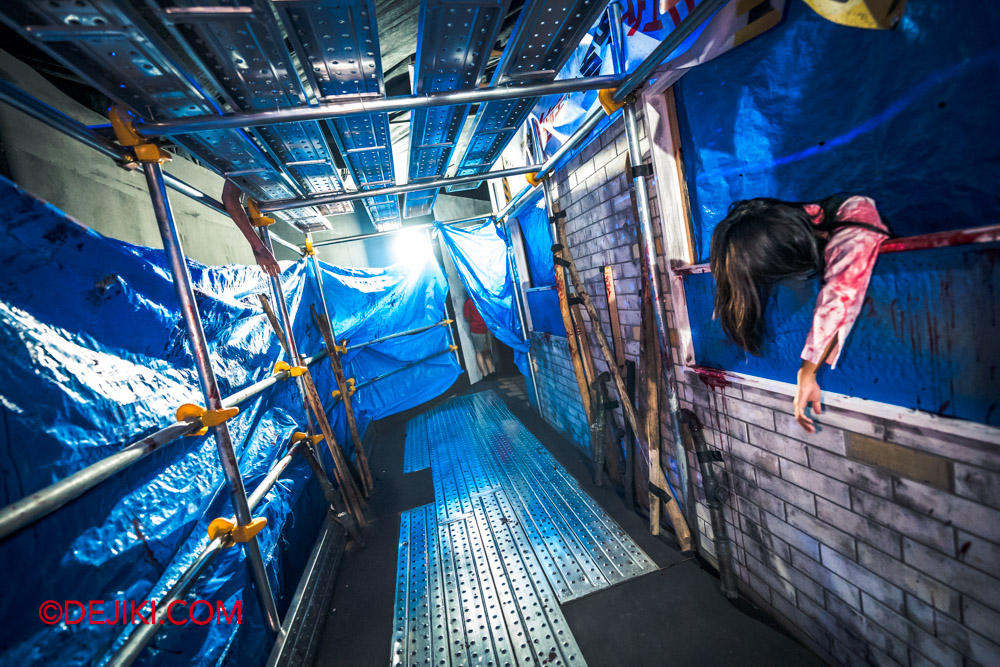 Similar to Stranger Things (2018) haunted house, many scenes are compressed, but with the use of highly accurate costumes, scenic design and props, the house offers an authentic experience for you to relive moments from the show, as you escape the zombie-ridden Hyosan High.
Venture into Hyosan High in my Netflix's All of Us Are Dead Haunted House Tour article →
House entrance location: New York zone, beside New York Library stage
Presentation: ★★★★★★★
Horror Level: ★★★★☆
---
DIYU: Descent Into Hell
Akin to a Hollywood reimagining of 'Ten Courts of Hell', DIYU: Descent Into Hell brings you into the depths of the netherworld inspired by Chinese mythology.
The journey to Hell starts slow, with seemingly uneventful scenes at the start that slowly peels away…
…revealing the second half which is very unsettling – with lots of graphic horror, dark caves, and other surprises.
A grand throne room where the Wheel of Reincarnation floats above – this is where King Yama delivers his final judgement on your soul.
Meng Po, a supernatural entity, meets you at journey's end, to wipe away memories of your journey in Hell and your past life in the living world.
Despite being built in the park's only Soundstage space, DIYU could have been a longer experience with more rooms. There were a few great moments in there, but on the overall, it felt a bit like separate houses stitched together.
Sink into the depths at the DIYU: Descent Into Hell Haunted House Tour article →
House entrance location: between Hollywood and New York
Presentation: ★★★★★
Horror Level: ★★★★★
---
Rebirth of the Matriarch
Over a decade after Vengeance of The Matriarch, the first haunted house created by Universal Studios Singapore, the Peranakan theme returns with a darker twist, as the secrets of the Matriarch's family are uncovered as you walk into her family home.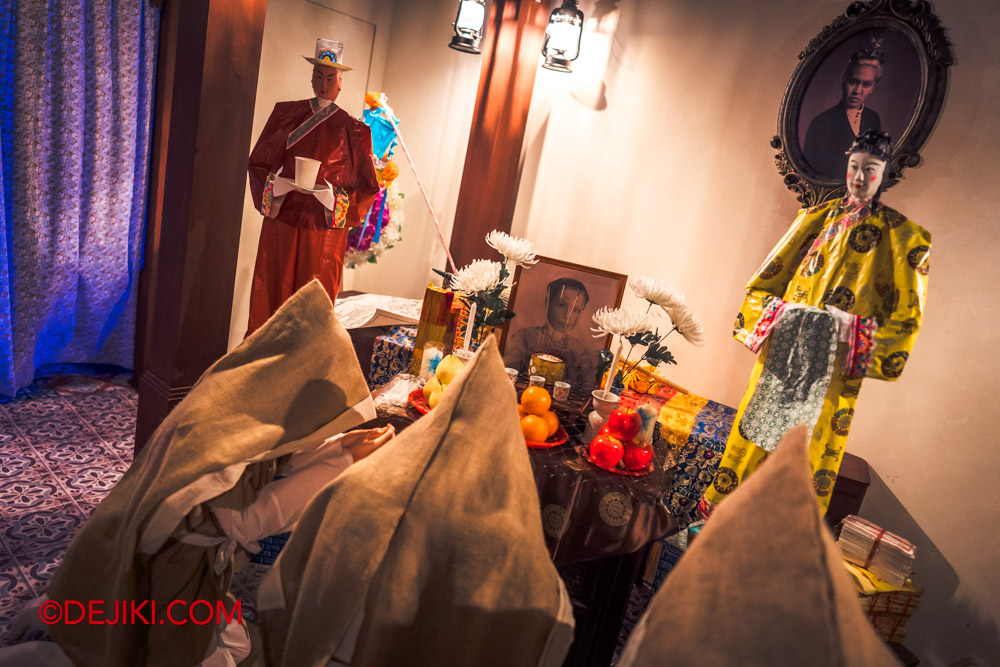 Her story in Rebirth of the Matriarch is further expanded and you get to explore other parts of the mansion, which was converted into a funeral parlour. Drawing fresh blood (and souls) into her home, where she awaits sacrifices for an impending resurrection ritual.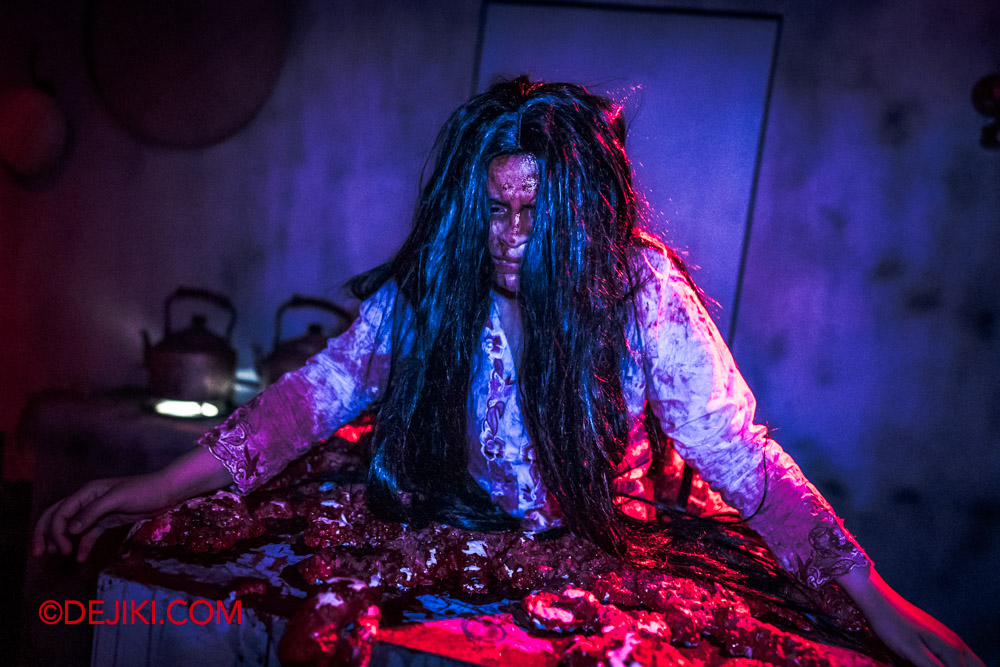 I'm sure not many readers have visited the original mansion, but this sequel does not disappoint. While some props such as the altar table was from the original, I was hoping that even more rooms to return. However, the reimagining brings a darker and more occult spin which fits better with the rest of the HHN11 lineup.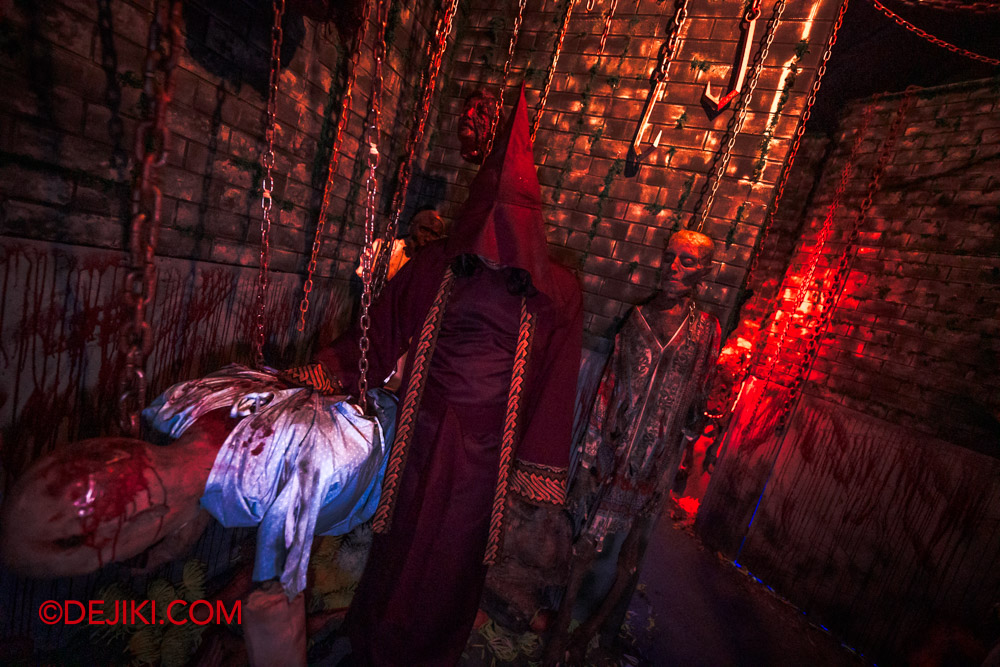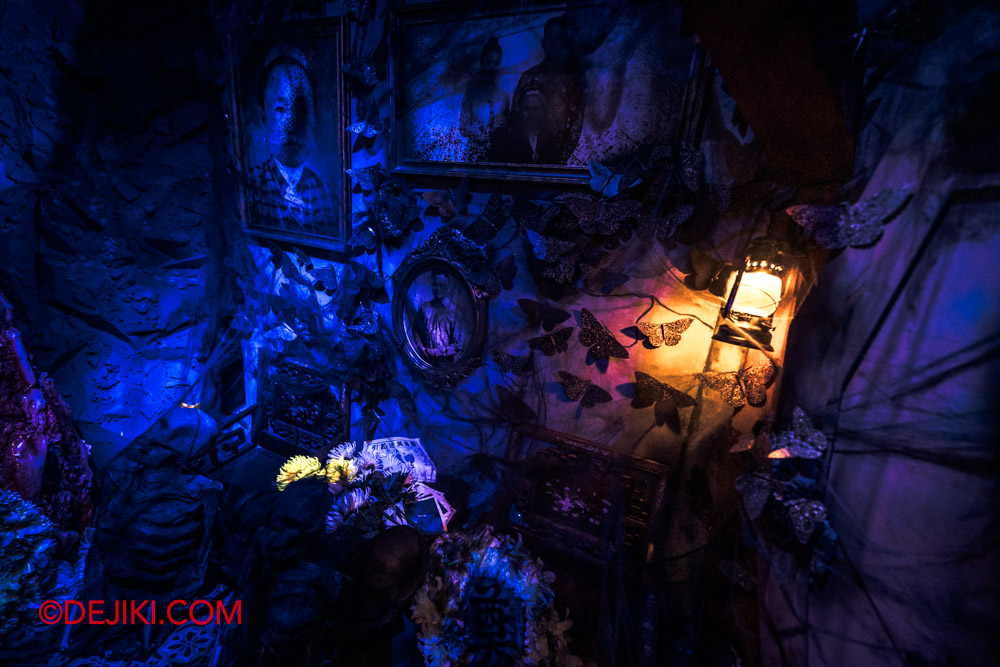 Surreal scenes, inspired by moths draw you deeper into the mansion's dark corridors as you witness her rebirth, and your end, at the close.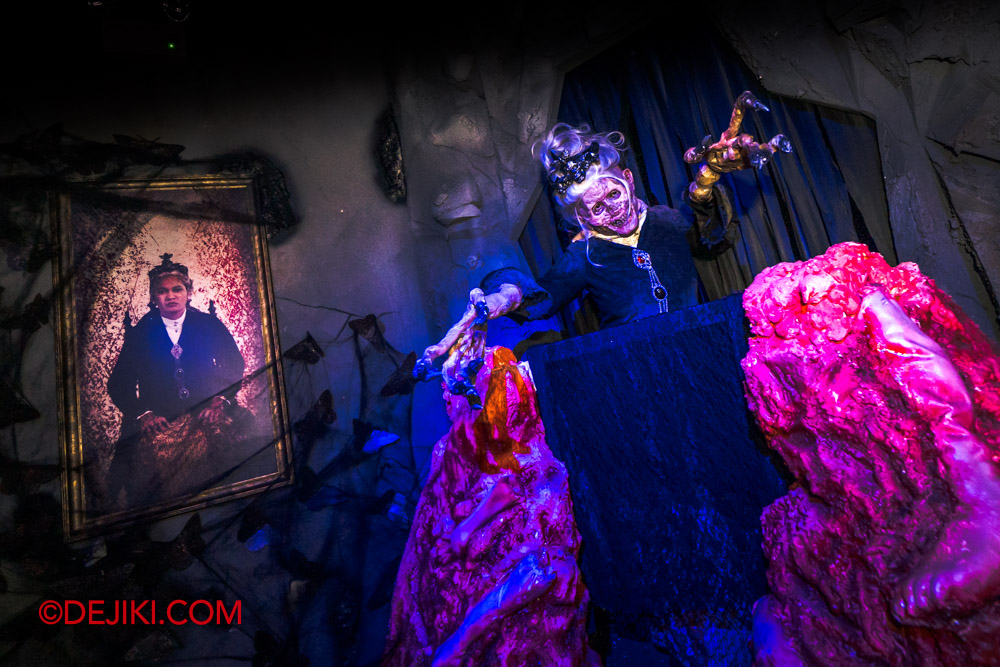 It is perhaps one of the most beautifully styled haunted house with authentic props, and unusual, almost dream-like design when the ritual begins. Definitely not to be missed!
Witness her dark return at the Rebirth of the Matriarch Haunted House Tour article →
House entrance location: between Jurassic Park and Ancient Egypt
Presentation: ★★★★★★★
Horror Level: ★★★★★★
---
Grimm Encounters
Step into the land of fairy tales inspired by Grimm's – with an even darker twist than before, now that the Pied Piper rules over the realm with his evil music.
Unlike the other houses, in Grimm Encounters you meet the Pied Piper right in the first scene, where he lures you into a Gingerbread House.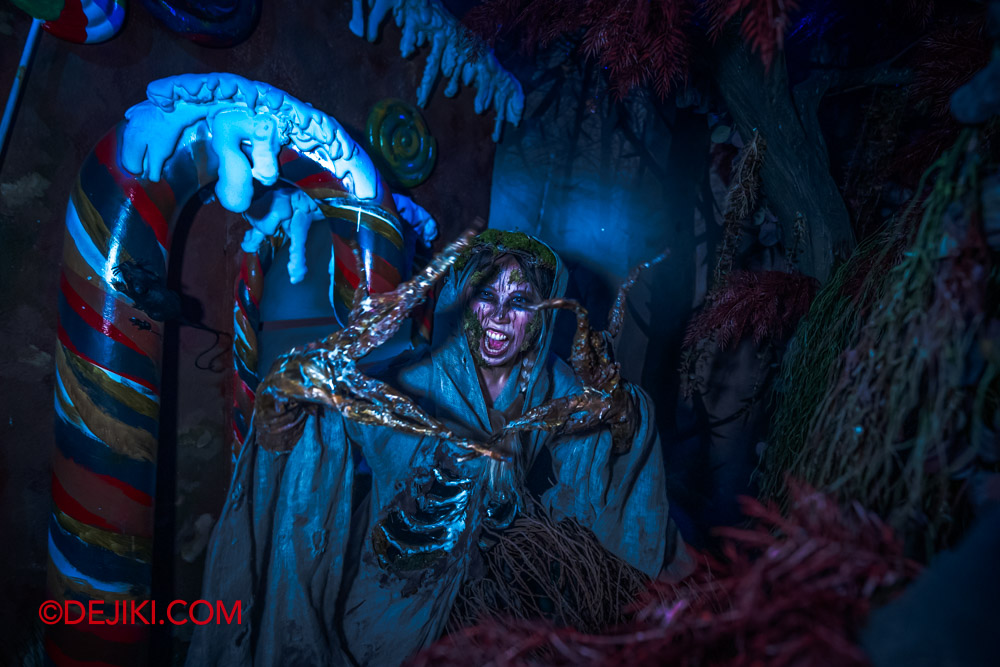 As much as you try to run away, you end up encountering the Pied Piper or witness the evil corrupting the realm. Rats can be found lurking everywhere, signifying his evil power spreading all over the land.
Clearly the park tried their best to pack in as much as they can within a small footprint. There's barely any space for transition corridors, so you will be passing through a handful of fairy tale scenes, some of which are very uniquely designed. Don't walk too quickly or you'll miss the special touches and some hidden scares.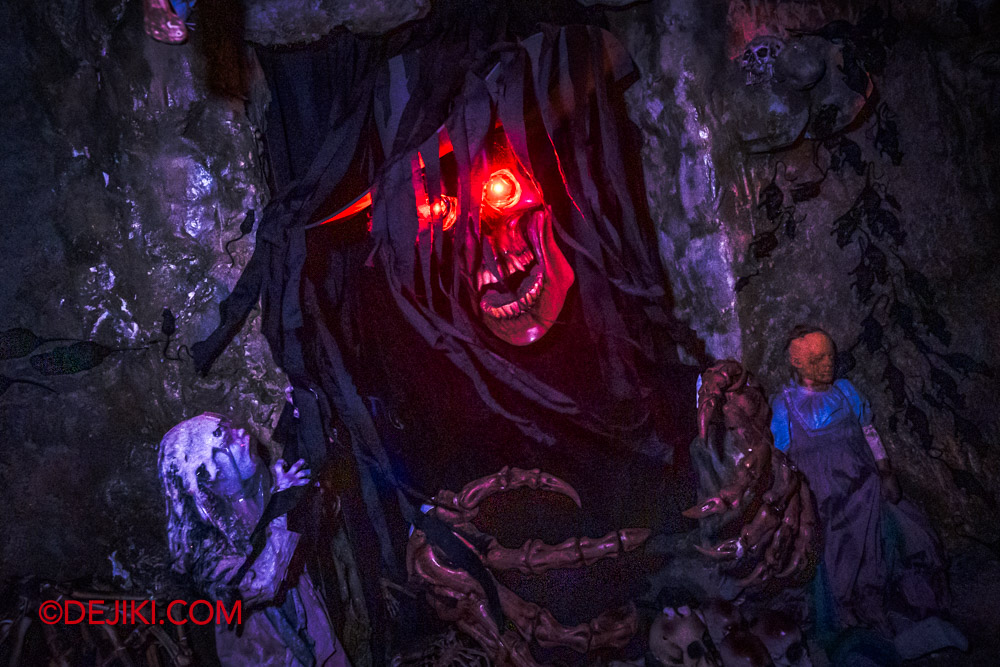 The Pied Piper leads you through all the dark fairy tales and eventually, into his lair where there is no escape.
Grimm Encounters also felt like a more elaborate and intense version of Scary Tales (2014) which also featured fairy tales gone evil.
Discover the twisted stories in the Grimm Encounters Haunted House Tour article →
House entrance location: between Sci-Fi City and Ancient Egypt
Presentation: ★★★★☆
Horror Level: ★★★★☆
---
HHN11 Scare Zones review
The Hacker
Wander into a dazzling cyberpunk, action-packed street of New York as you witness The Hacker and her army steal the souls and bodies of players to build her human body.
The moment I stepped into this scare zone, a few victims wearing headsets quickly stopped me, warning me not to go further, and to never look into the big screen. The Hacker is using it to invade our minds. It's already too late for some people.
During the preview, the zone felt a bit too open with just a few pairs of victims and the Army roaming around, which might be different on actual nights when the zone will be much crowded as it serves as the only path to the All of Us Are Dead haunted house. Looking past that – the zone looks and sounds awesome with its game-like and glitchy electronic soundtrack.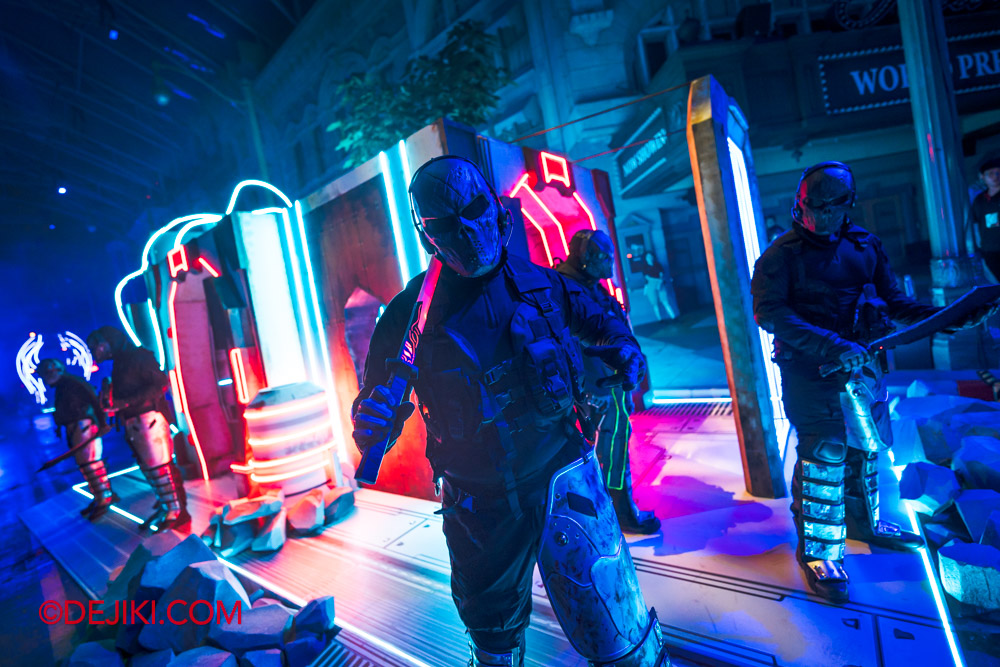 As a lead up to the zone's show, sometimes the victims will all be rounded up and detained within the 'prison cell' in the zone. The Army stands guard, preventing any escape from The Hacker.
Enter the dark future in The Hacker Scare Zone Feature article →
Location: New York zone
Presentation: ★★★★☆
Horror Level: ★★☆☆☆
---
The Cursed Kiramam
Venture into a village trapped under a dark curse, where only the bewitching sacrificial bride, Agni, may be the key to appeasing the demon god, or risk unleashing further torment and damage.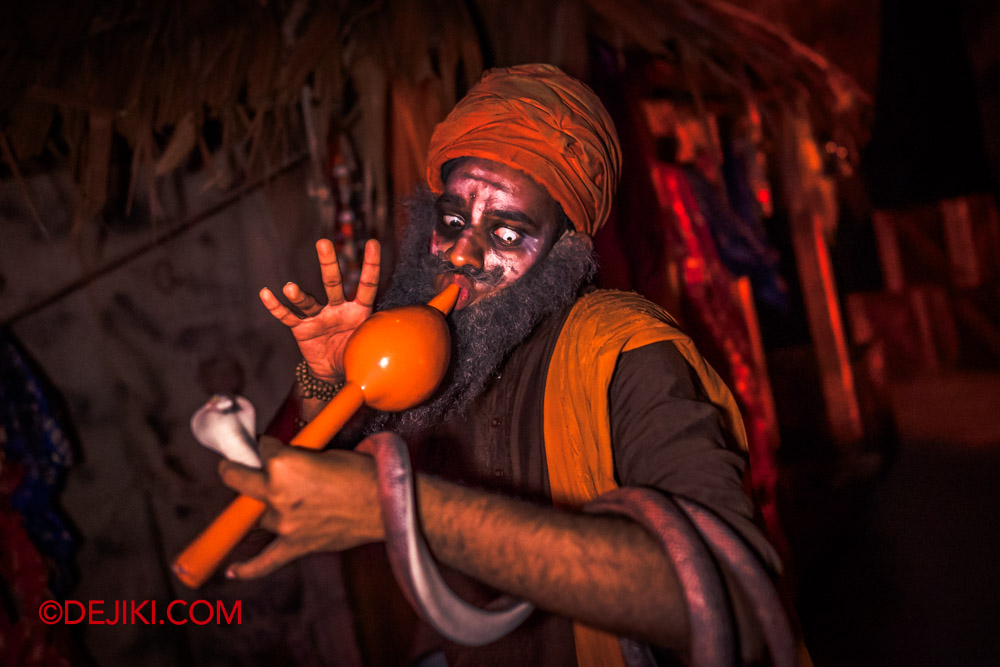 The Village-style design has always worked well for the Jurassic Park zone, given that the area already looks quite scary in the dark.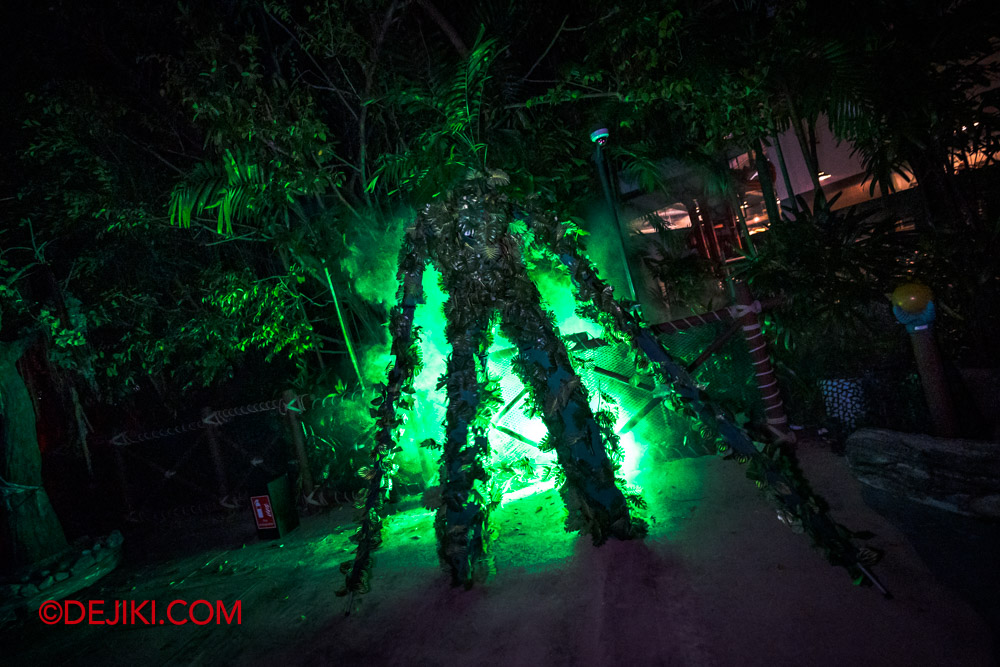 This time, there is a lot of uncertainty in this area because of the incredible sound design and placement of scenic elements, for more open pathways compared to past years. Perhaps the park has found an effective solution for all the overcrowding problems that plagued the past scare zones.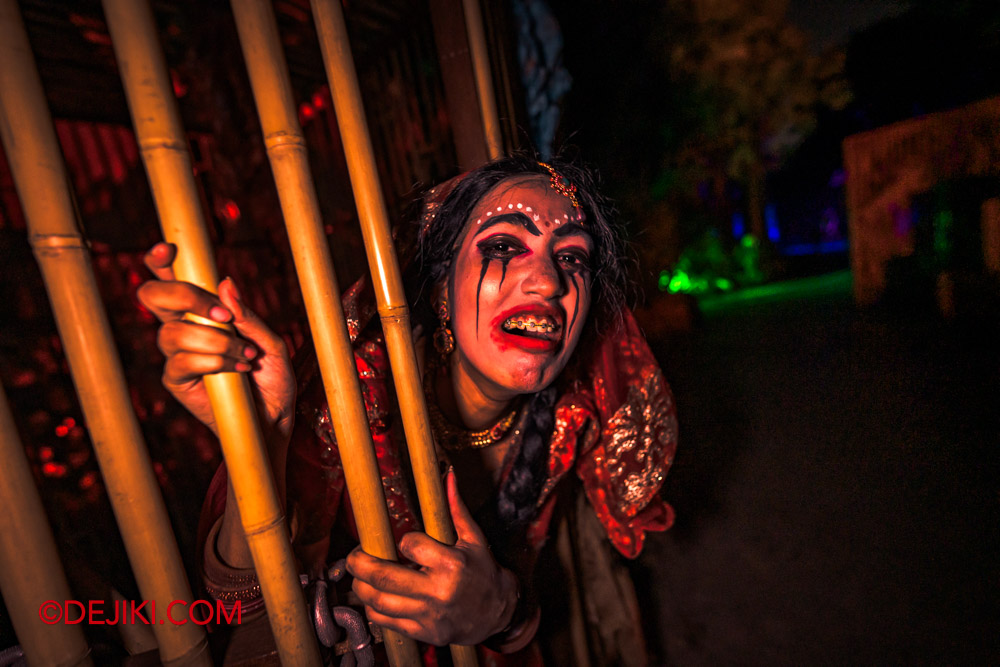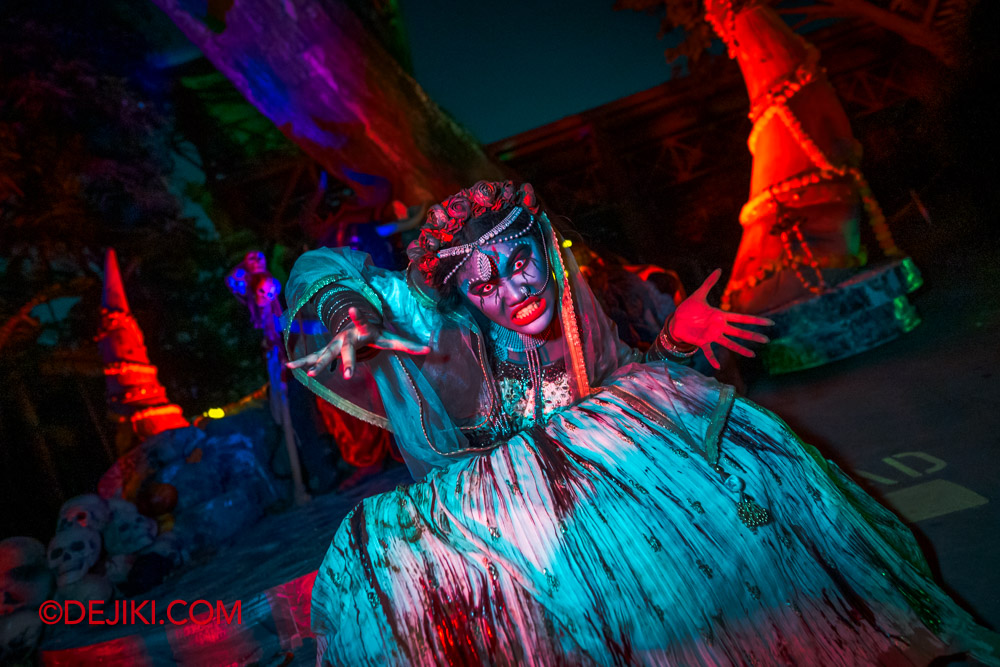 Your journey in the village comes to an end when you meet the demonic god and Agni, the sacrificial bride, who is trapped in a trance-like state. Endure the torment at The Cursed Kiramam Scare Zone Feature article →
Location: Jurassic Park zone
Presentation: ★★★★★
Horror Level: ★★★★★★
---
Dead Man's Wharf
Explore a black marketplace and dingy harbour, where mutated pirates and courtesans hide in the darkness for their next prey.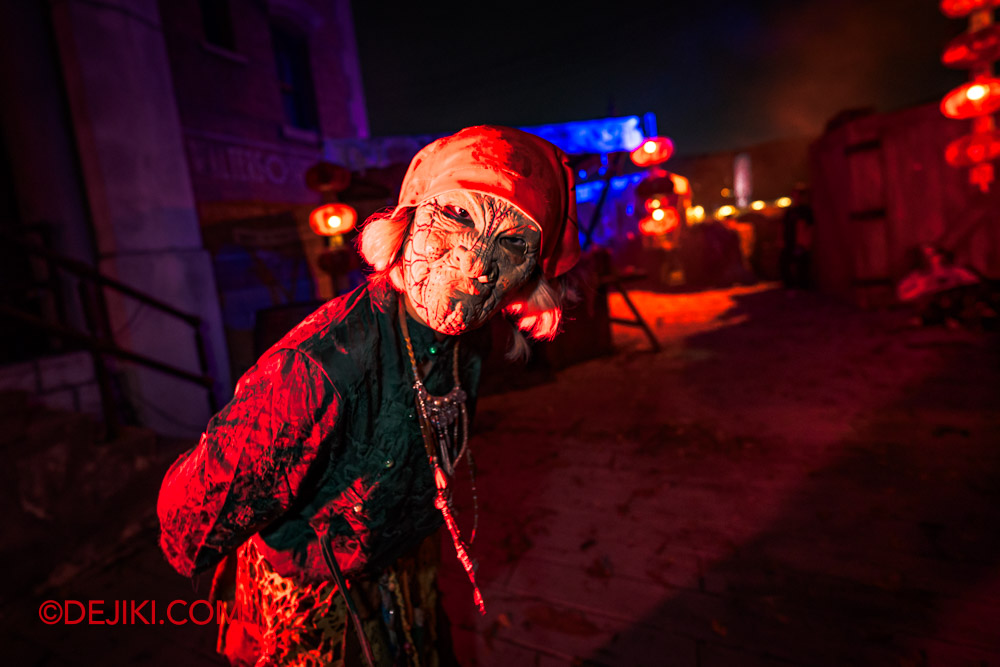 The moment you step in, you'll be ambushed by a fortune teller and black market dealer. Quickly break away, or you may be on a losing end of a deal.
After years of absence, it's great that Sting Alley and New York Harbour is home to a scare zone once again. I thought this would be like a pirate film set in Asia (though the backdrop is actually of New York), and it did not disappoint. The park also managed to make this the longest walking experience so far with a new route design.
As you dive past suffering victims and a shady alley where illegal businesses are being conducted, you find yourself treading deeper into the den of Madame Dragon.
You'll get to meet Madame Dragon herself, the immortal ruler of the Wharf, and beg for your life and safe passage out of her turf.
Dead Man's Wharf is a one-way experience, offering intense experiences with its maze-like design, with elements not seen in past zones staged in this area. Unfortunately the last part within Sting Alley is very cramped and would likely remain a bottleneck during event nights. I would recommend visiting this area either early or at the very end of event hours for the best experience.
Uncover your destiny in the Dead Man's Wharf Scare Zone Feature article →
Location: New York zone (NY Harbour and Sting Alley)
Presentation: ★★★★★
Horror Level: ★★★★☆
---
HHN11 Shows and Dining Experience review
Judgement Day Opening Scaremony
Halloween Horror Nights 11 starts with an Opening Scaremony show, where you witness a soul attempting to pick one of the doors leading to a Hellscape, and eventually had to run from his executioners.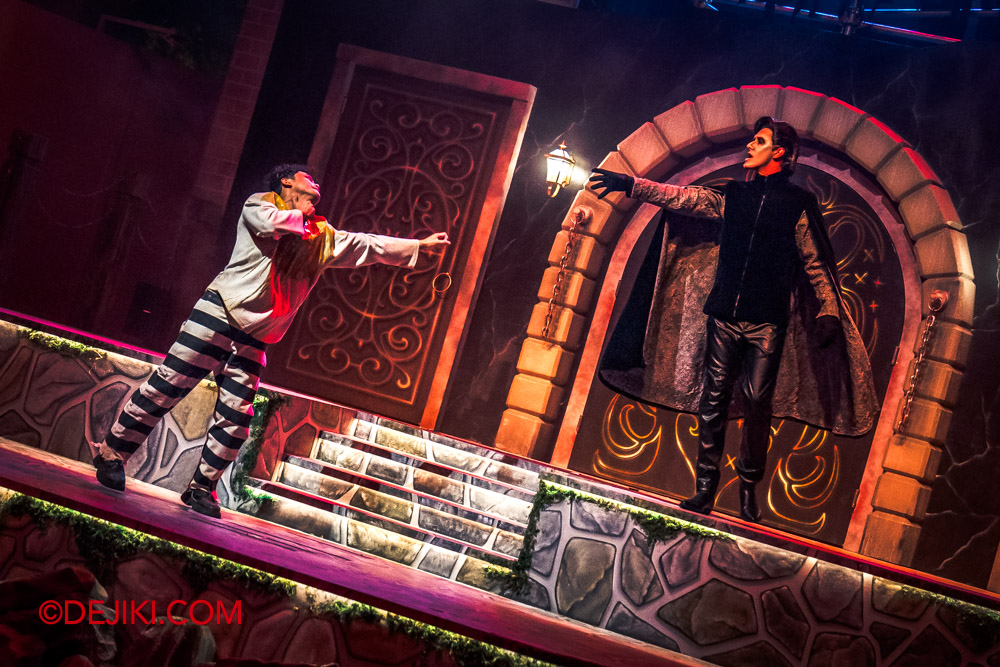 No matter which door he tries, it brings him on an endless loop and he fails to escape his executioners.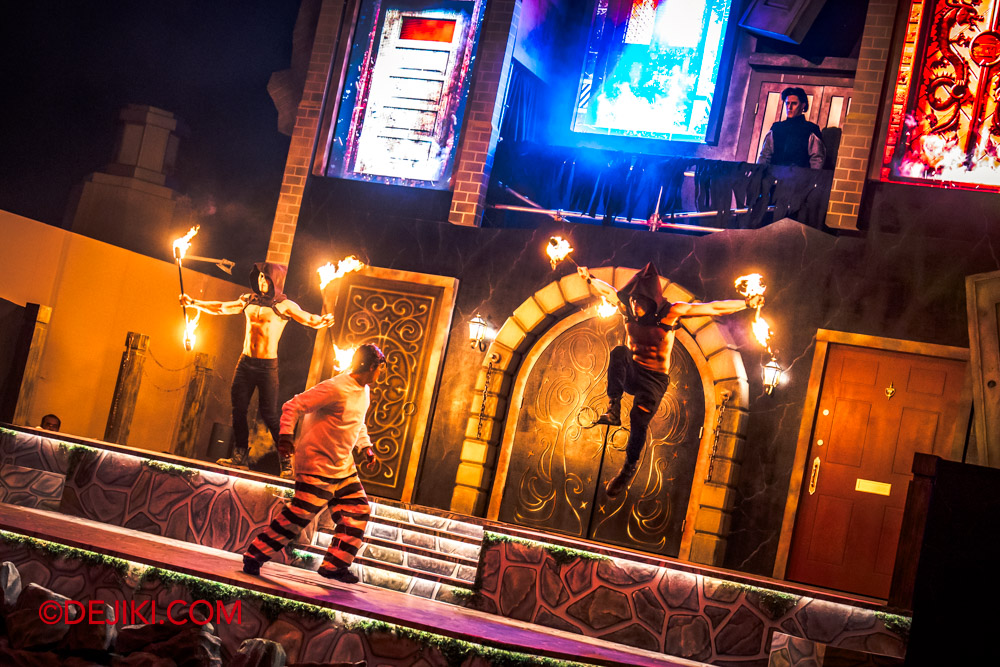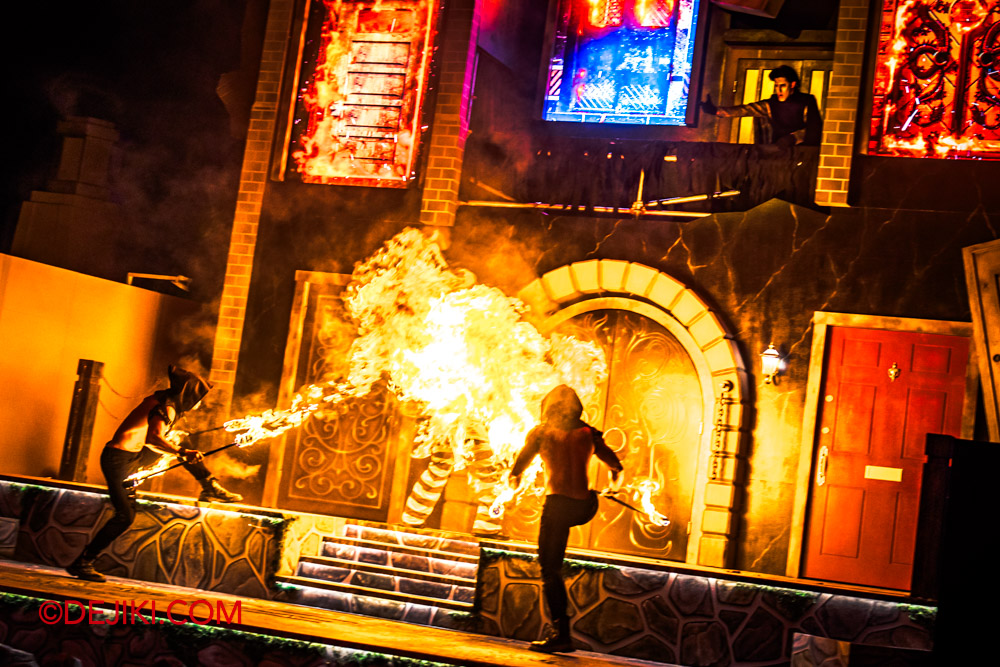 In the end, the soul is set on fire – in perhaps one of the most dramatic moments happening at this very place so far.
These year's icons take the stage, officially opening the night: King Yama, Agni, Pied Piper, The Matriarch (plus Gwi-Nam, The Hacker and Madame Dragon on screens above)
Judgement Day – Opening Scaremony lifts the curtain for the horrors of HHN11 and should not be missed if you can make it for the showtime at 7:30PM.
See more photos and watch the full show video in the Judgement Day Opening Scaremony Show article →
Location: Hollywood Lagoon stage
Presentation: ★★★★★
Horror Level: ★★★☆☆
---
The Hacker: Game Over Show in scare zone
Watch the destructive sentient A.I., known as The Hacker, as she invades the minds of her victims, bringing them to their doom.
Three unwilling humans were brought to play The Hacker's videogames: A high-speed race, a zombie shooter, and a rock-climbing simulation. Unfortunately, The Hacker doesn't play fair, and all players were harvested to "build" The Hacker. I was surprised at the performance – it's unlike past years' where 'the show' is meant to be a more dramatic way for the scare actors to swap. This time, the show itself is rather important and I would say, form the core of the scare zone's experience and story.
With special effects, choreography conveying an athletic and digital aesthetic, The Hacker: Game Over is an entertaining spectacle. This show happens 3 or 4 times nightly, and should not be missed. Arrive at the scare zone early and please follow instructions from the park's event crew.
Read more in The Hacker Scare Zone Feature article →
The Hacker: Game Over Show Times
Non-Peak Nights: 8:30PM, 10:00PM, 11:30PM
Peak Nights: 8:30PM, 10:00PM, 11:30PM, 1:10AM
Location: New York zone
Presentation: ★★★★★★
Horror Level: ★★☆☆☆
---
DIE-ning in Hell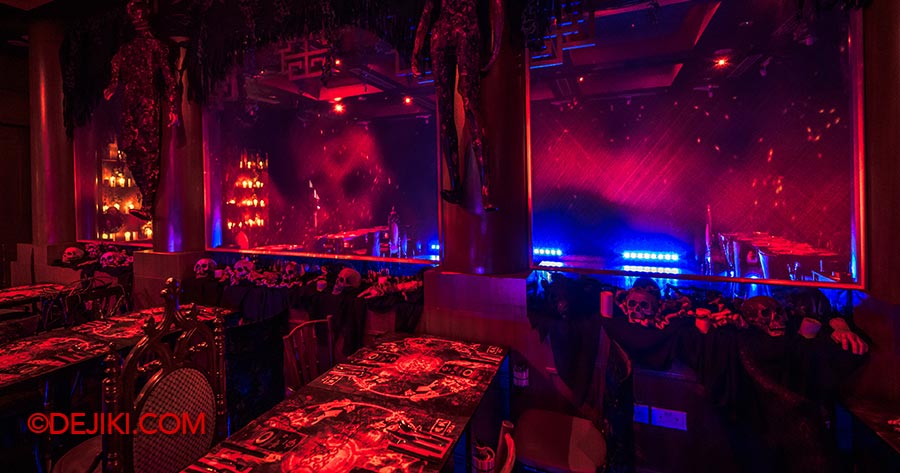 Brave guests can complete their HHN11 experience with the DIE-ning in Hell add-on. The entire experience is thematically linked to DIYU: Descent Into Hell, with King Yama appearing several times.
An upgrade to 2022's DIE-ning with The Dead, HHN11's feast in Hell offers a much darker, scarier and entertaining experience. Unlike in HHN10 where some tables could feel left out due to the unfortunate layout of the restaurant, DIE-ning in Hell's seating plan ensures that all guests will not have an uneventful meal. It is in Hell, after all. Be prepared to be disturbed by ghouls and other supernatural happenings throughout dinner service.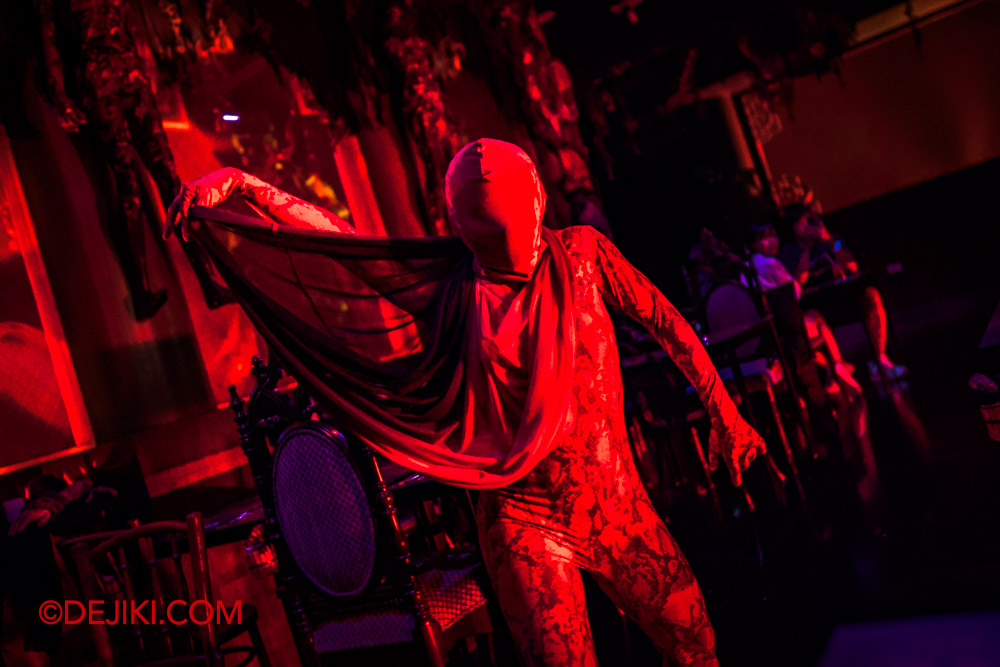 Now onto the food. From Hell's Kitchen, three courses will be served throughout the 80-minute session filled with performances.
The first course, themed to Fire, is spicy Salad of Despair atop a skull, which you will have a chance to set it on fire. The second course, themed to Blade, is the Fleshy Cut, a scrumptious beef short rib on a pool of parsley risotto. Vegetarian option in the form of 'Impossible Beef' is also available.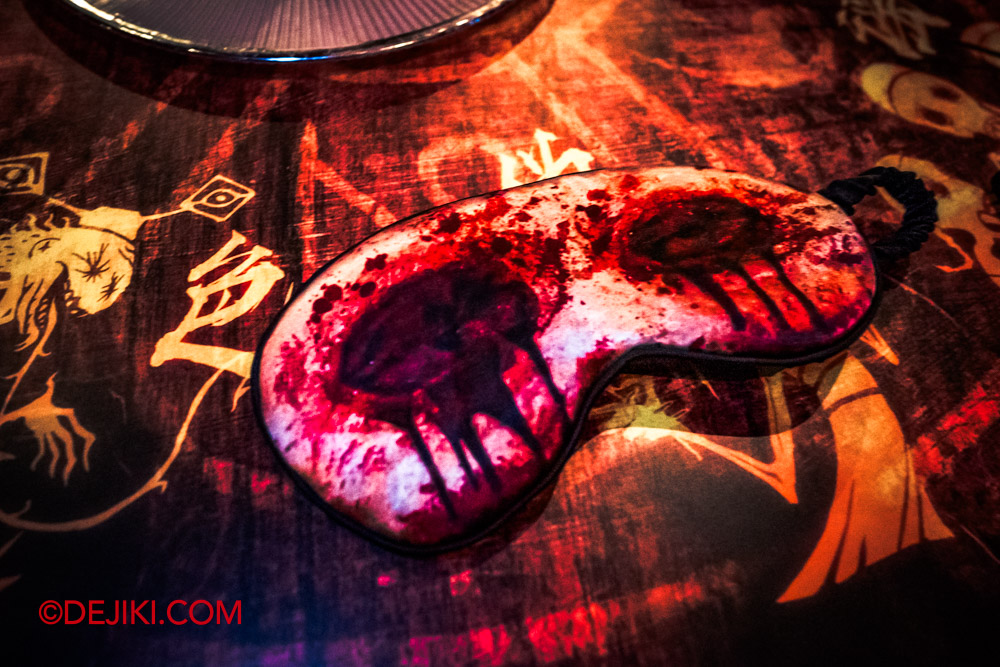 After two delicious, but gruesome courses, the last Dish of Darkness is a secretive platter filled with a "sinful assortment" which guests have to eat while blindfolded. I will update this article with the final dish later on in the season to keep the surprise…
Location: Hollywood China Arcade, Hollywood zone
Presentation: ★★★☆☆
Horror Level: ★★☆☆☆
---
Video Highlights of Halloween Horror Nights 11
Glimpse into the horrors with highlights footage captured in HHN11's haunted houses and scare zones.
Subscribe to DEJIKI YouTube channel for more updates.
---
Halloween Horror Nights 11: Select Nights 29 Sep – 4 Nov
HHN11 Event Guide: Get all the info here
Stay prepared. Get essential info in my Halloween Horror Nights 11 Event Guide.
Get more HHN updates
More photos from this year's HHN attractions will be published on my Instagram (@dejiki), Tiktok and on this website as special features. Follow me on Facebook for updates.
---
Note: This review is based on the preview night. Your experience at the park may vary, depending on dynamic park crowd conditions and creative adjustments. Special Thanks to Resorts World Sentosa for the invitation to the HHN11 Media Preview.

---
Halloween Horror Nights 11 (2023)
HHN11 REVEALED: Ticket and Event Guide
Sneak Preview: DIYU: Descent Into Hell, Rebirth of the Matriarch, Icons and more
Halloween Horror Nights 11 MEGA Review: Photos of all Haunted Houses and Scare Zones
HHN11 RIP TOUR (VIP Tour) Review

Features on Haunted Houses, Scare Zones and Experiences
Grimm Encounters | The Weeknd: After Hours Til Dawn Nightmare
Judgement Day (Opening Scaremony) | Netflix's All of Us Are Dead
DIYU: Descent Into Hell | Rebirth of the Matriarch
Dead Man's Wharf | The Cursed Kiramam
The Hacker + The Hacker: GAME OVER

Universal Studios Japan (USJ) 2023
Halloween Horror Nights 2023/ HAHAHA! Halloween Party! Event Guide


Halloween Horror Nights – The Archives


Click to Expand and see all posts from past Halloween Horror Nights