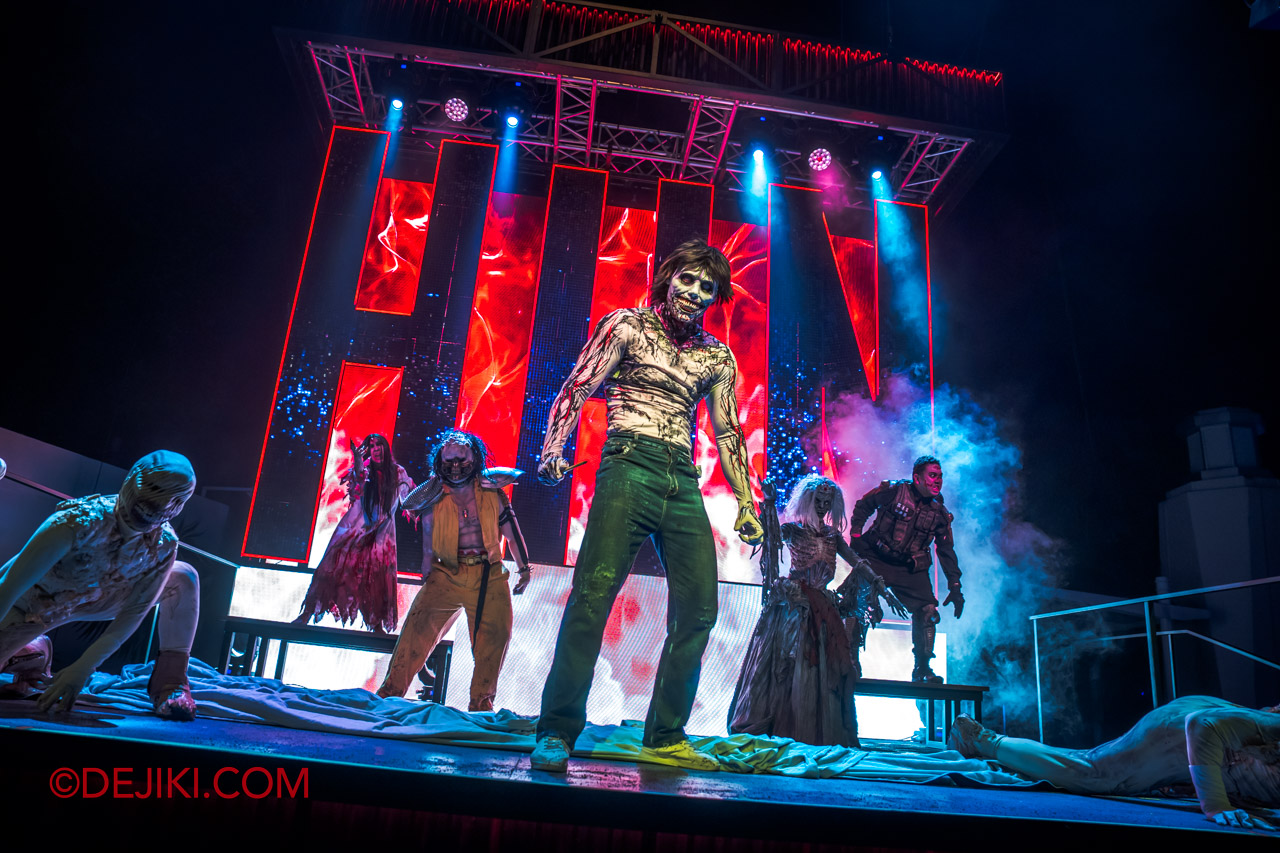 The region's biggest Halloween event returns, marking a decade of immersive horror and the start of a new era at Universal Studios Singapore.
Halloween Horror Nights 10 Mega Review by DEJIKI
The return of Halloween Horror Nights at USS is likely as highly anticipated as the opening of the theme park back in 2010. Fans will be thrilled at this year's houses, with the headlining house 'drawing' pivotal moments from past HHN events with a vivid reimagination by the Killustrator. Check into a luxury hotel with a sinister past, which quickly unravels during your stay. Lastly, a zombie-laden secret bunker pushes you right into an action-packed Sci-Fi horror film.
While the trio of houses are stellar, the zones are at a different kind of energy. The Hunt for Pontianak thrives on suspense and an invisible dread, while Dark Zodiac can be said to be more of a warped fashion show, with the astrological signs dressed in outlandish costumes.
Despite having less houses than 2019, the event has 9 different things (3 houses, 2 zones, 1 show, 3 special experiences) this year, with 3 of them being add-ons that are separately charged. Thrill-seekers can attempt a hair-raising escape from dangerous criminals at the redesigned Laser Tag experience. You can also peek behind the curtain of HHN10 through an engaging 'Behind the Scenes' tour conducted with heavy thematic touches. Rounding off the HHN10 experience is an otherworldly dining experience at KT's Grill, where your meal will be disturbed by the dead and undead.
Note: This is a developing story. Content will be updated in the days and weeks ahead. Special Feature articles, photos and videos will also be published on DEJIKI.COM and DEJIKI on Instagram, YouTube and Tiktok.
Shortcuts
Haunted Houses | Scare Zones | Shows and Special Experiences
HHN10 Haunted Houses review
Haunted Houses are walkthrough attractions with special effects and performers.
Killustrator: The Final Chapter
Like a love letter to HHN fans in Singapore, the Killustrator house recalls many memorable horrors from the past, with them becoming even more twisted than before.
Your journey begins as you are lured into the Killustrator's home in a derelict neighbourhood.
Amid the mess and shambles, the floating glowing pages lead to a portal.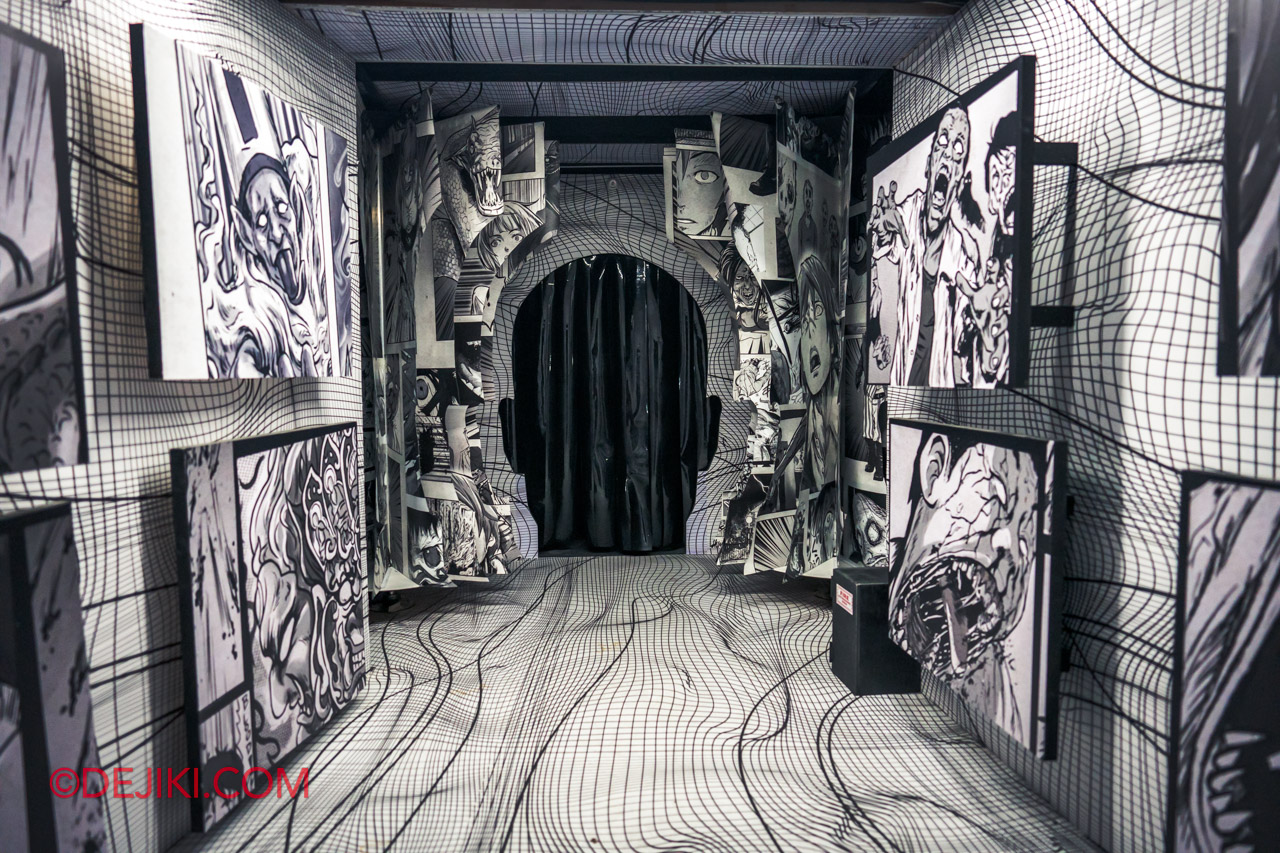 In this dream-like room, the giant pages pull you into the world of horror comics.
Drawing inspiration from past events, the Killustrator's reimagined world comes alive – literally lunging out of the gigantic pages. The scenes fade between giant illustrations to real environments, with many unconventional transitions.
The Killustrator is also present in every scene, always watching…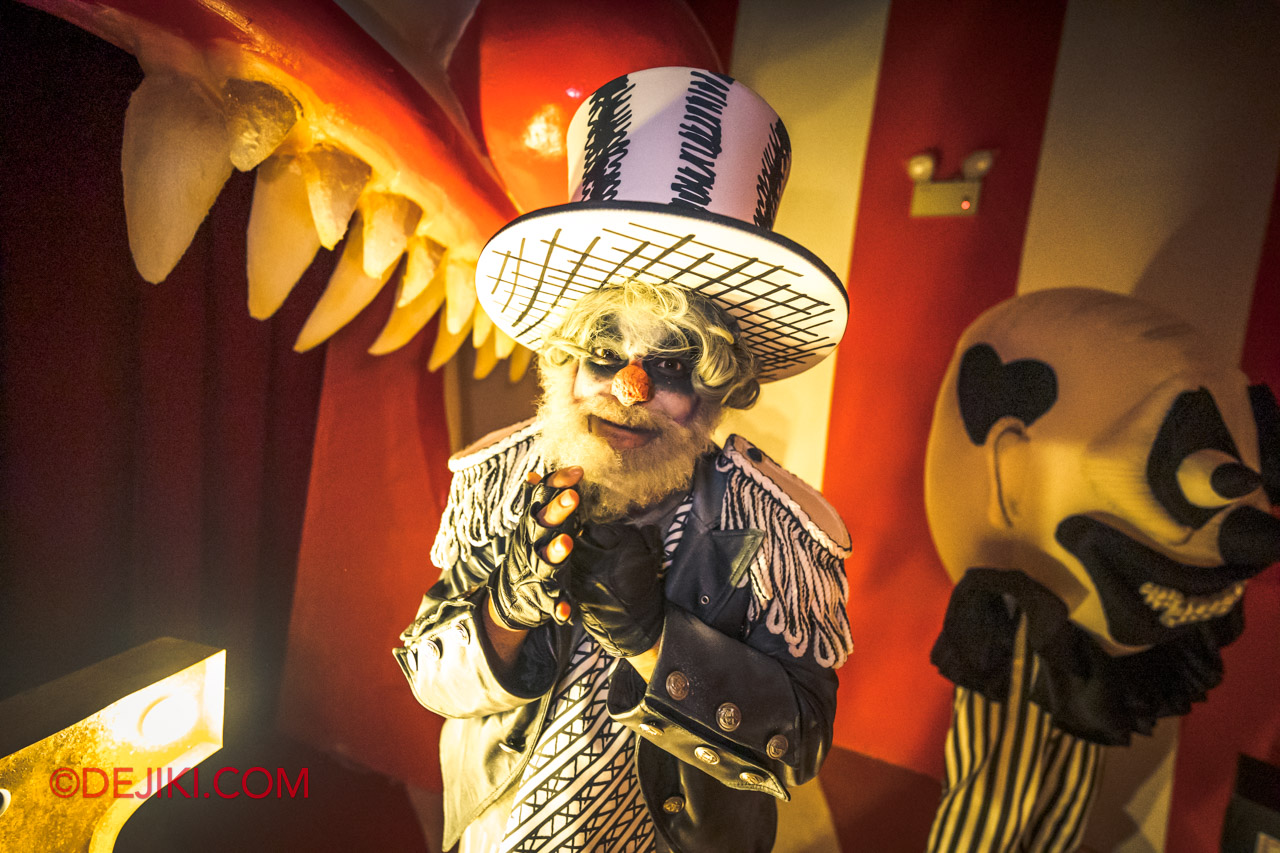 Fans of HHN events will enjoy all the easter eggs planted in the rooms, and witness how scenes from the past are reinvented.
While you marvel (or wince in fear) at his new world, he presents his final chapter – where all the former icons are completely dominated and destroyed, heralding the new era of horror crafted by the Killustrator.
See more photos of this haunted house in this special feature →
House entrance location: between Hollywood and New York
Presentation: ★★★★★★★
Horror Level: ★★★★★★
---
Hospitality of Horror
Spoil yourself with a staycation at Hotel Golden Monument, where luxury knows no bounds.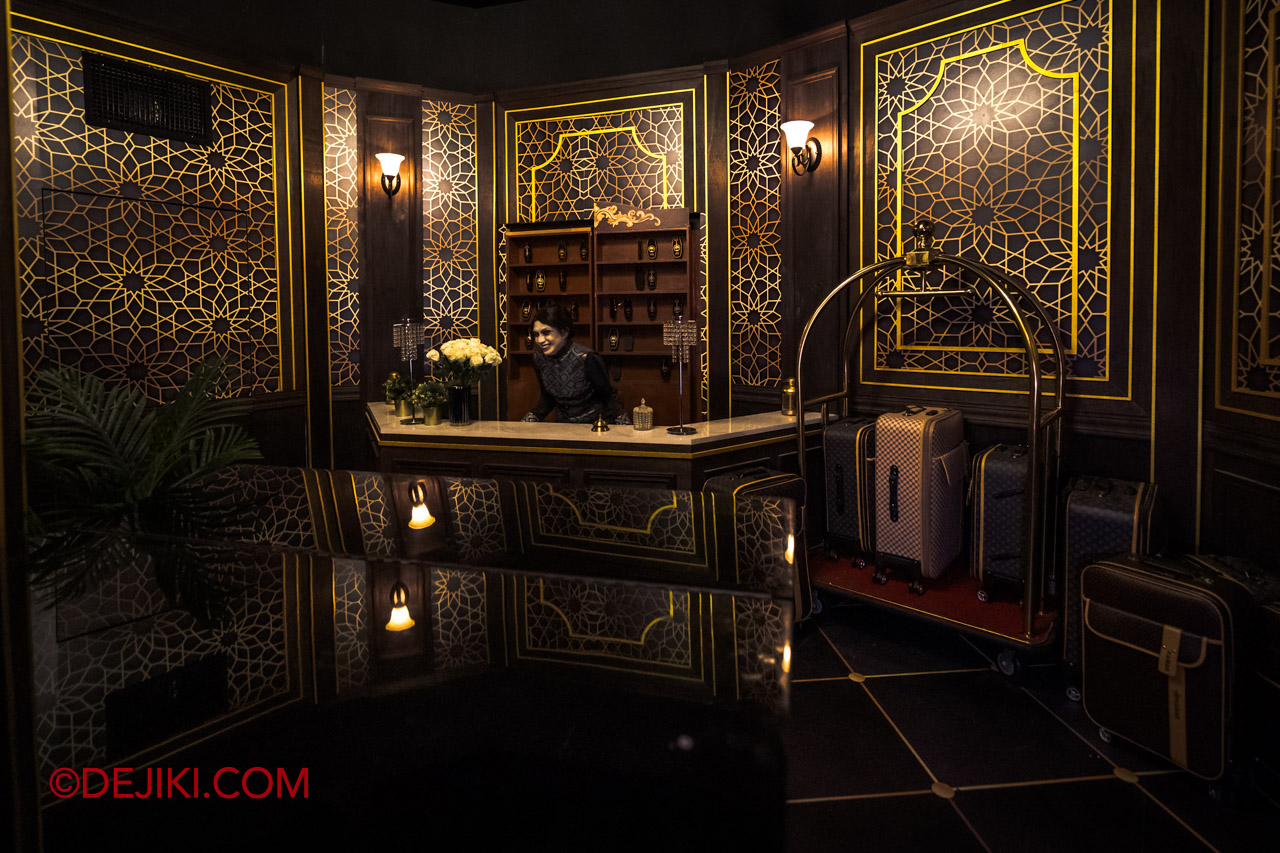 Built by the region's richest tycoon for his favourite wife, this historic manor was left abandoned for decades. Recently, with borders reopening and travel resuming, a developer refurbished the manor, transforming it into a swanky hotel.
However, the ghostly Mistress still 'lives' there. She begins to haunt you at every corner of the hotel, driving you out of the posh suites and into the less pleasant spaces underground.
As you explore the boiler rooms and delve deeper into the catacombs, you realise that the Mistress is actually a Sorceress, harvesting the bodies of unfortunate guests to stay alive.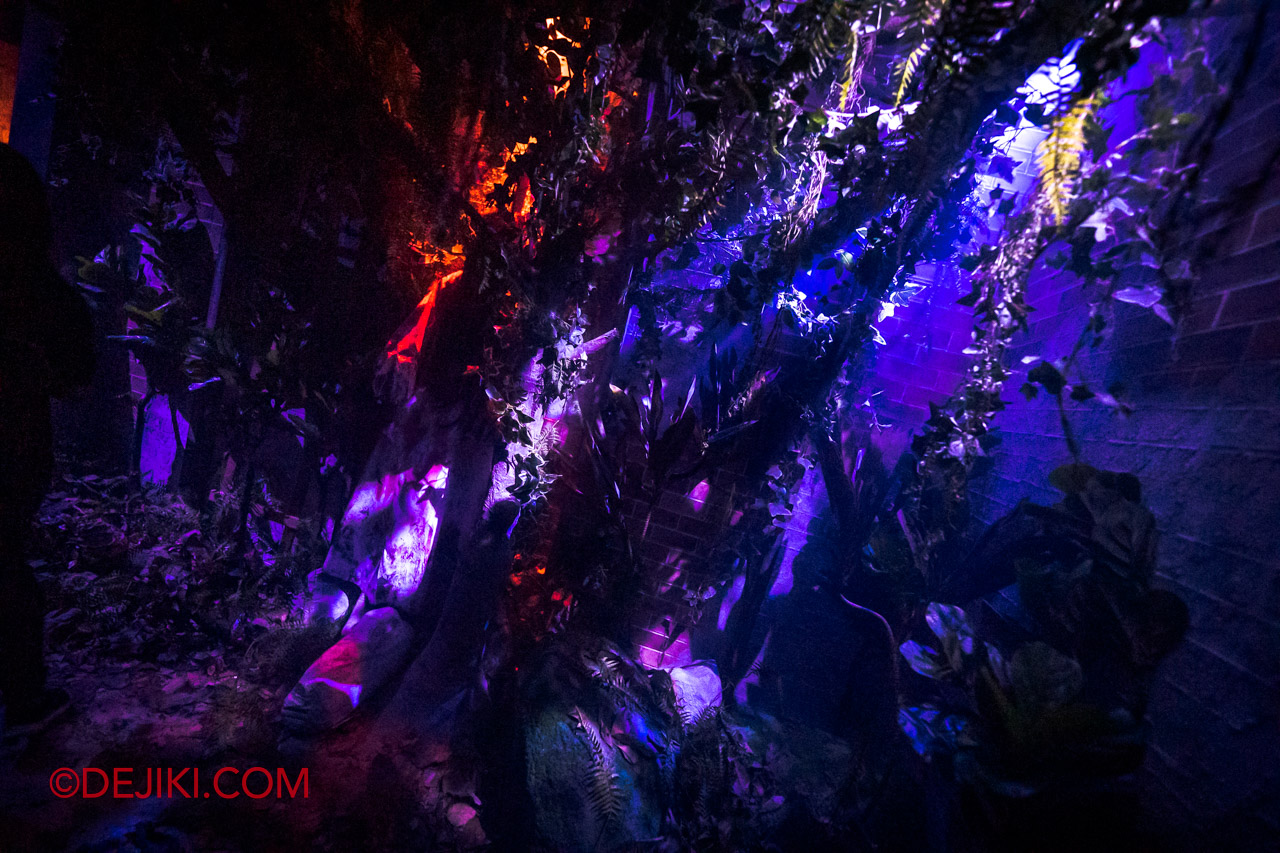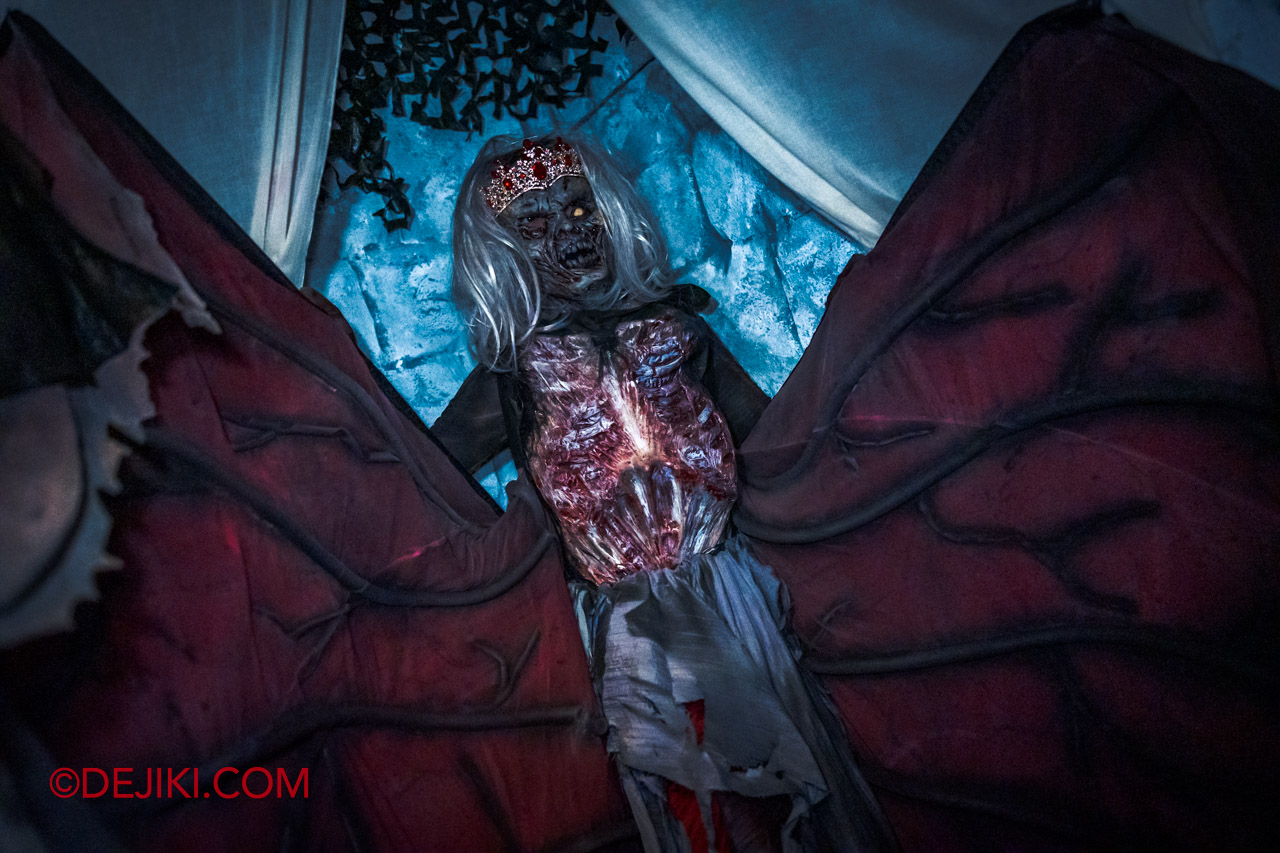 Just as you thought you made it out, the Sorceress takes one last swipe – ensuring that your stay at Hotel Golden Monument is an eternal one.
See more photos of this haunted house in this special feature →
House entrance location: between Jurassic Park and Ancient Egypt
Presentation: ★★★★★★
Horror Level: ★★★★★★
---
Operation: Dead Force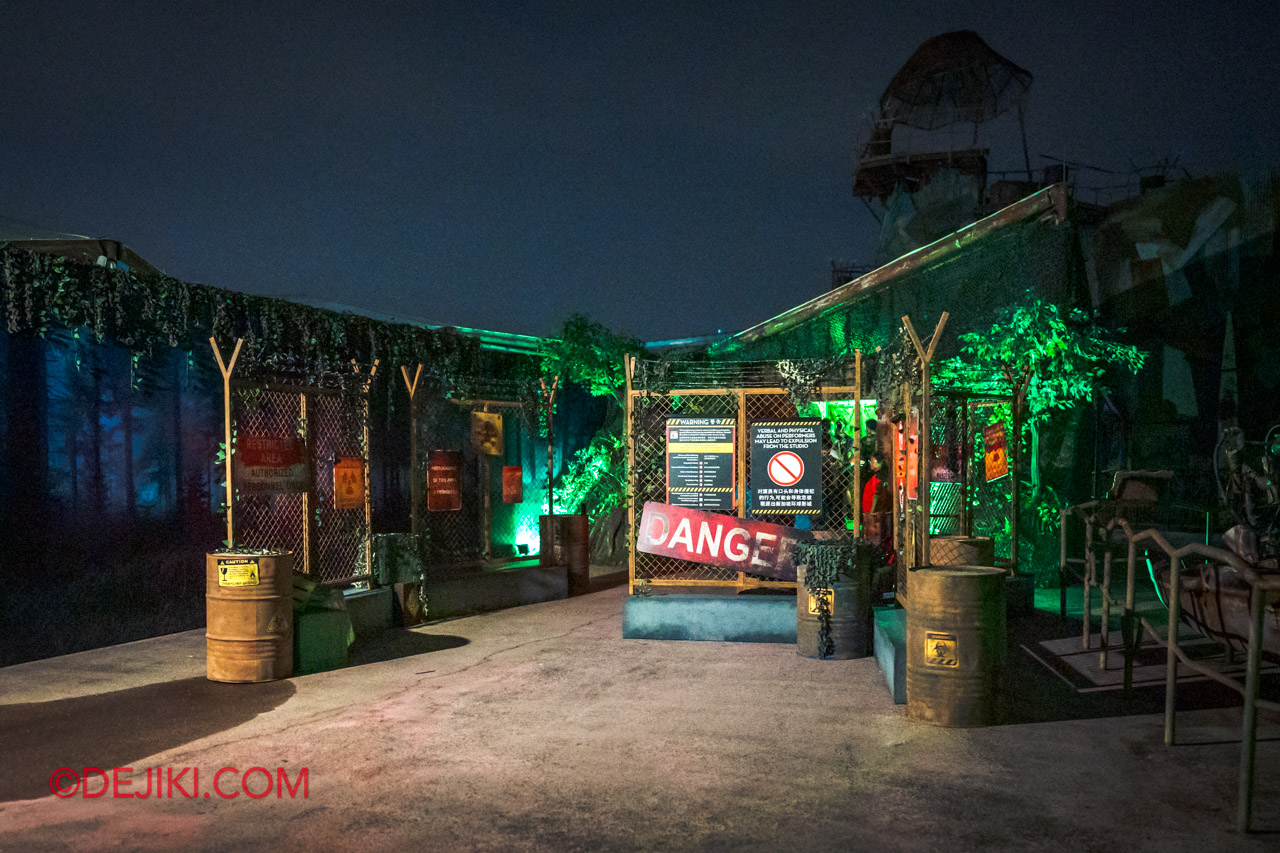 Brace yourself for a thrilling Sci-Fi horror adventure at Operation: Dead Force, which kickstarts the moment you step inside this secret underground bunker.
As you explore the base's lab and corridors, the Operation takes a drastic turn – you're recruited into the Special Forces Against The Dead (S.F.A.D.) and injected with the N-ZX agent to give you superhuman "undead" capabilities.
As not all experiments are successful, it might be the scares that set your heart racing instead.
Suddenly, the mutation goes out of control and zombies break out of containment.
It's as if you have stepped into a zombie survival video game – narrowly escaping from attack at every corner.
Your last chance to escape is via an S.F.A.D. cargo plane – hop on!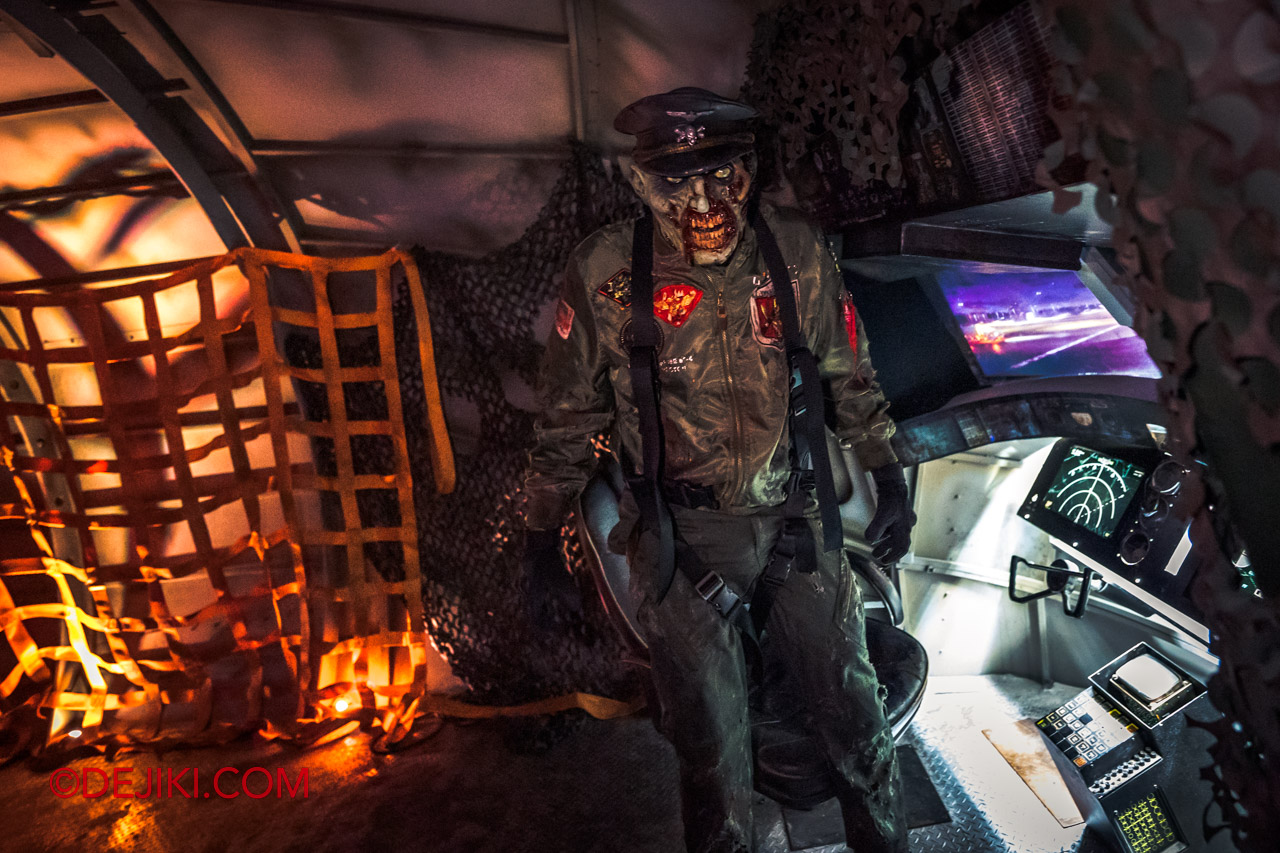 But who's flying the plane?
I enjoyed this house for its unconventional elements and dramatic set designs – From the mysterious labs to a daring escape out of cargo plane, it's nonstop rush of fear at this zombie-infested haunted house.
See more photos of this haunted house in this special feature →
House entrance location: Waterworld
Presentation: ★★★★★★★
Horror Level: ★★★★★
---
HHN10 Scare Zones review
Scare zones are open, dynamic walkthrough areas where performers and guests may roam freely.
Dark Zodiac
At the Dark Zone scare zone, witness the prophesy of the Blood Moon as the sinister astrological signs are summoned to roam this dark castle.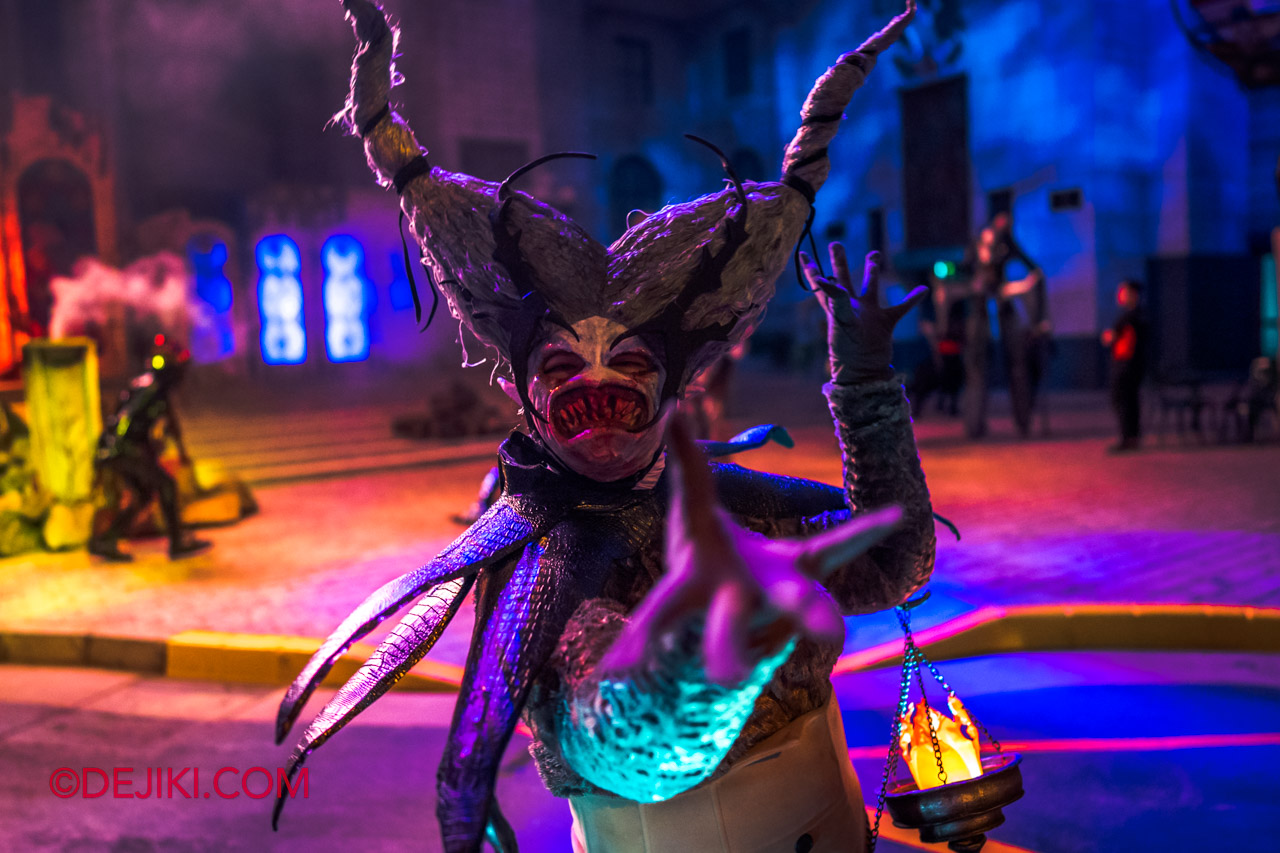 As the moon glows menacingly in this zone, the dark Zodiac signs roam silently in the abandoned castle. This is Libra, balancing her fiery scales.
Meet the twisted Aries. You can meet 6 roaming zodiac signs in the castle at any time.
Take photos with Scorpio (above), and Aquarius (below).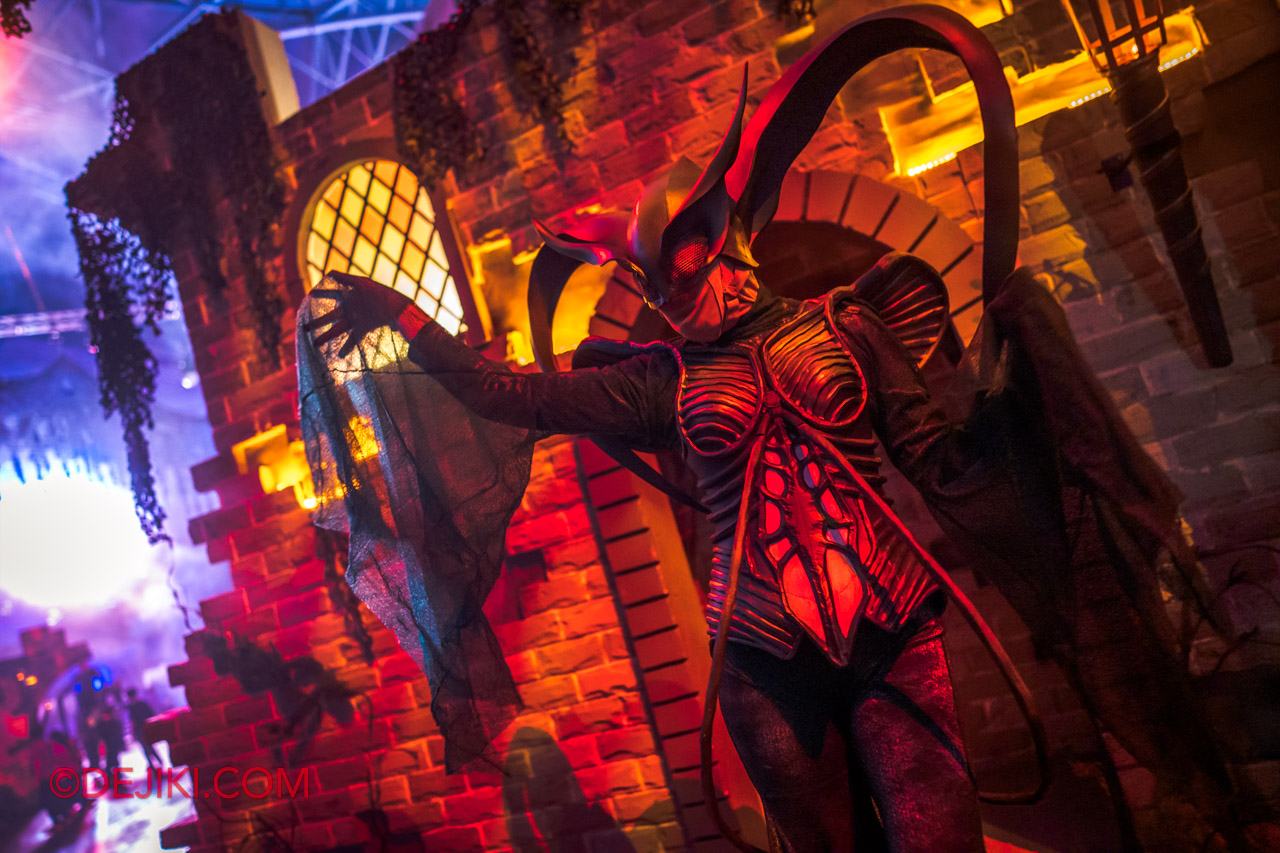 The Zodiac signs will take turns to haunt the castle. But return at specific timings to witness an ancient ritual.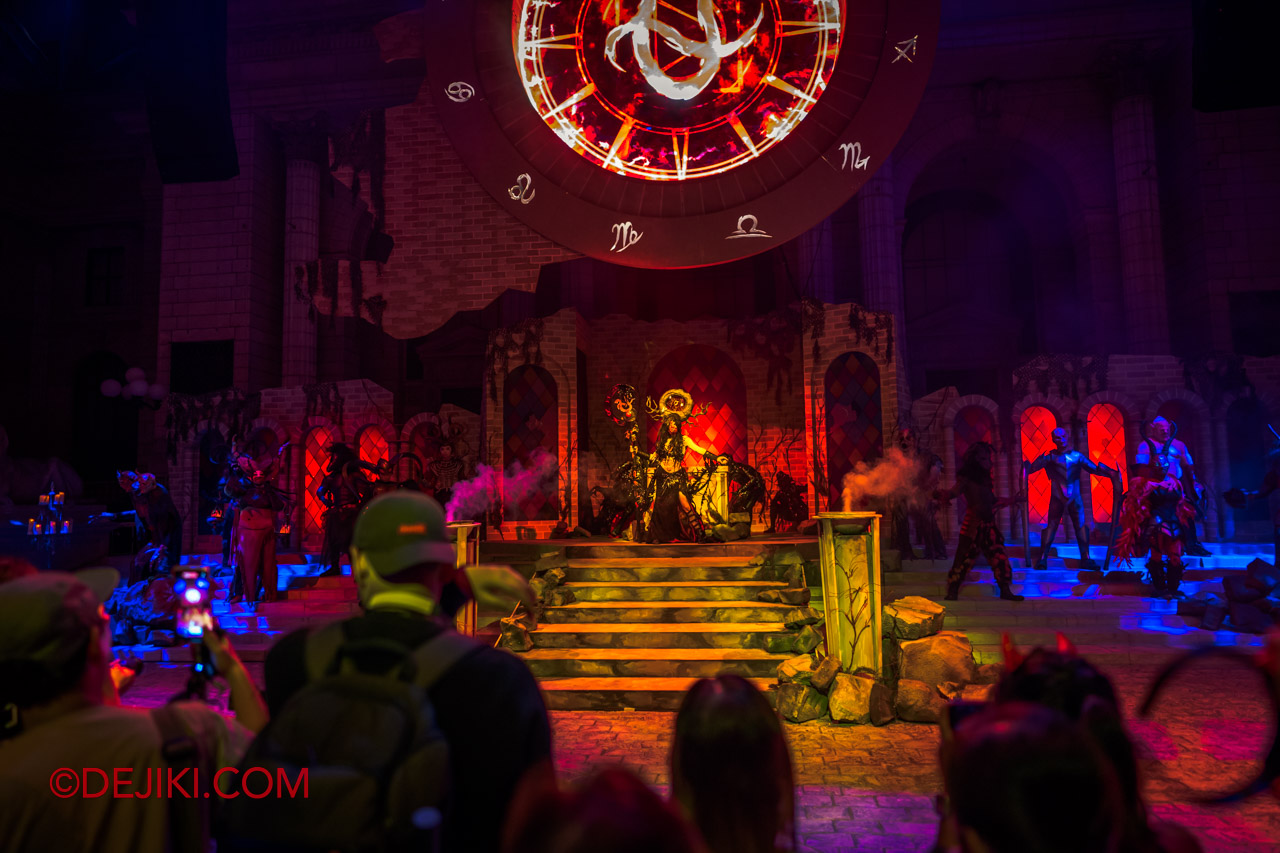 The Resurrection of the 13th Zodiac occurs during this ceremony, where all Zodiac signs assemble, and the Horrorcle rises.
Dark Zodiac feels like a mix between scare zones staged in New York, like March of the Dead (2016) and Pilgrimage of Sin (2017), where the atmosphere is mostly an eerie one. Much attention is spent on the elaborate costumes for all the Zodiac Signs, and apart from them, a handful of 'tar' creatures roam the castle. All of these, together with the zone's ruined castles, would make great photo opportunities.
Location: New York zone
Presentation: ★★★★★
Horror Level: ★★★☆☆
---
The Hunt for Pontianak
In this haunted jungle, trace the steps of several "influencers" who foolishly attempt to hunt the Pontianak.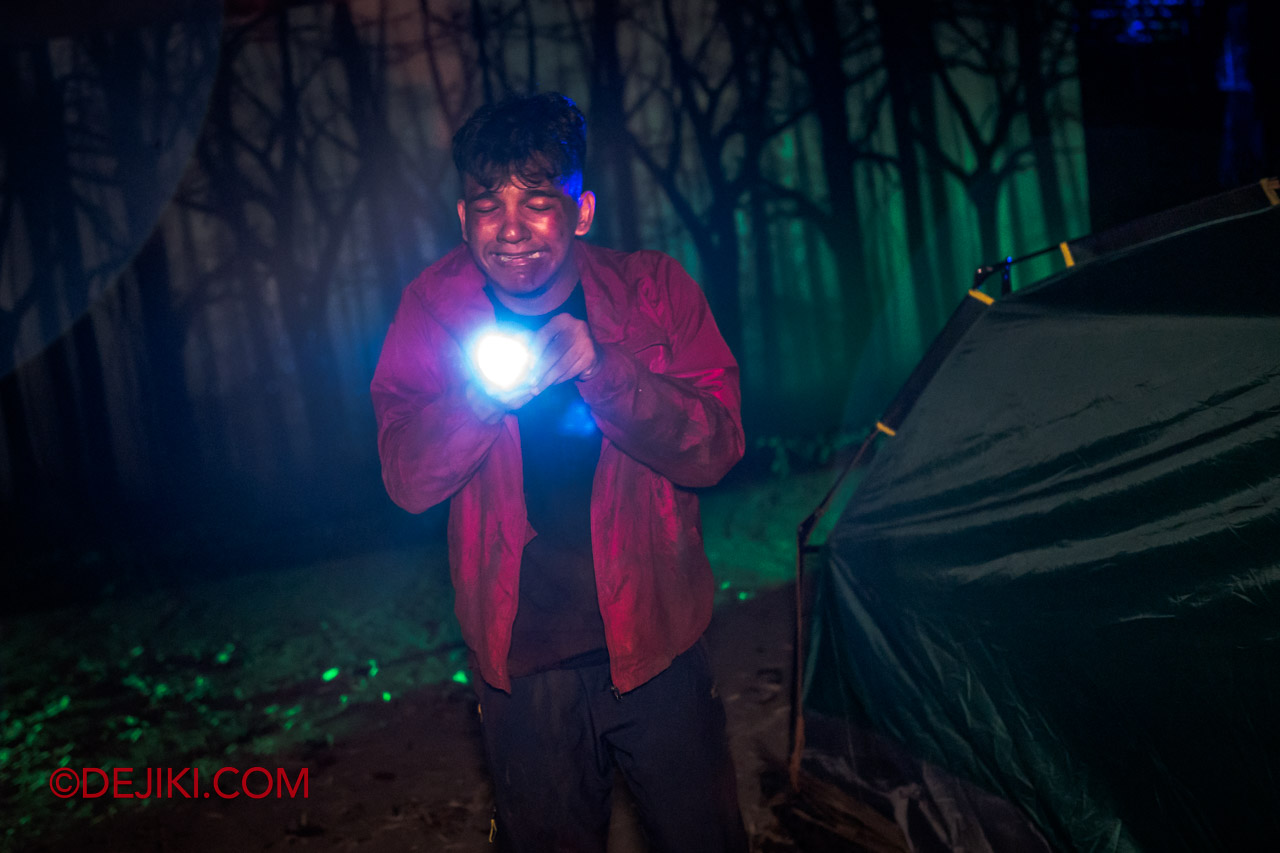 Very quickly, the hunters become the hunted.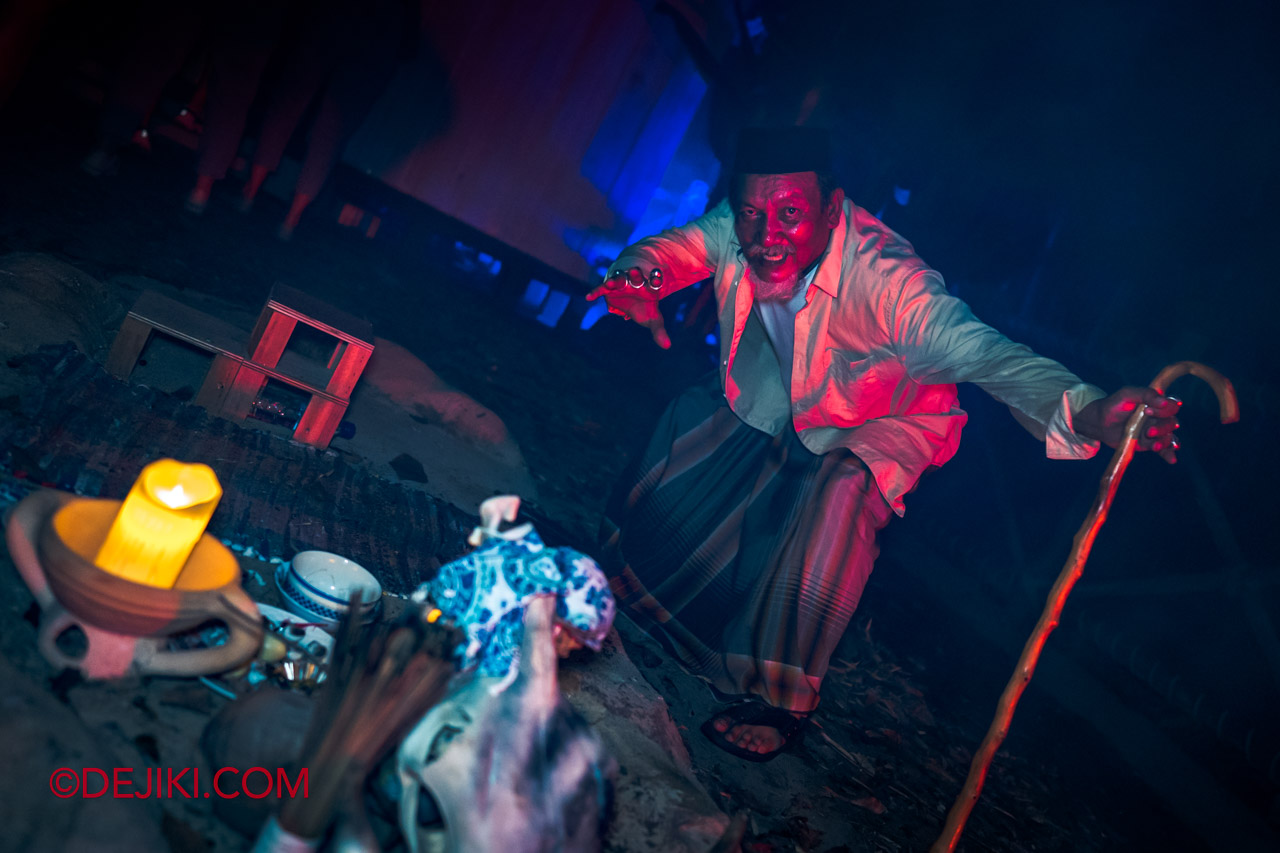 A mysterious medium berates you for trekking in the cursed forest, but not without pushing you into a hut of occult objects.
Very soon, you meet more victims who have suffered attacks from unseen forces, but not without…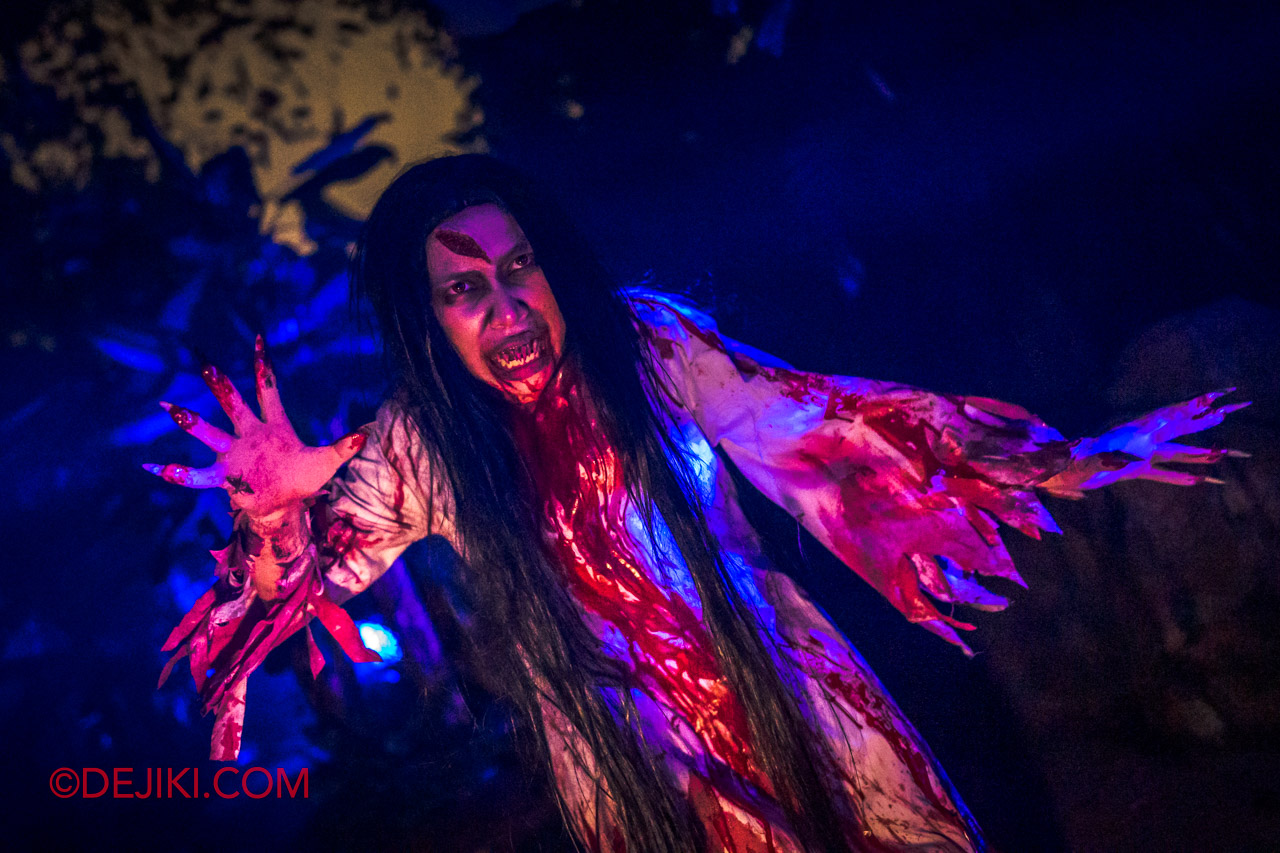 Meeting the Pontianak. at every turn.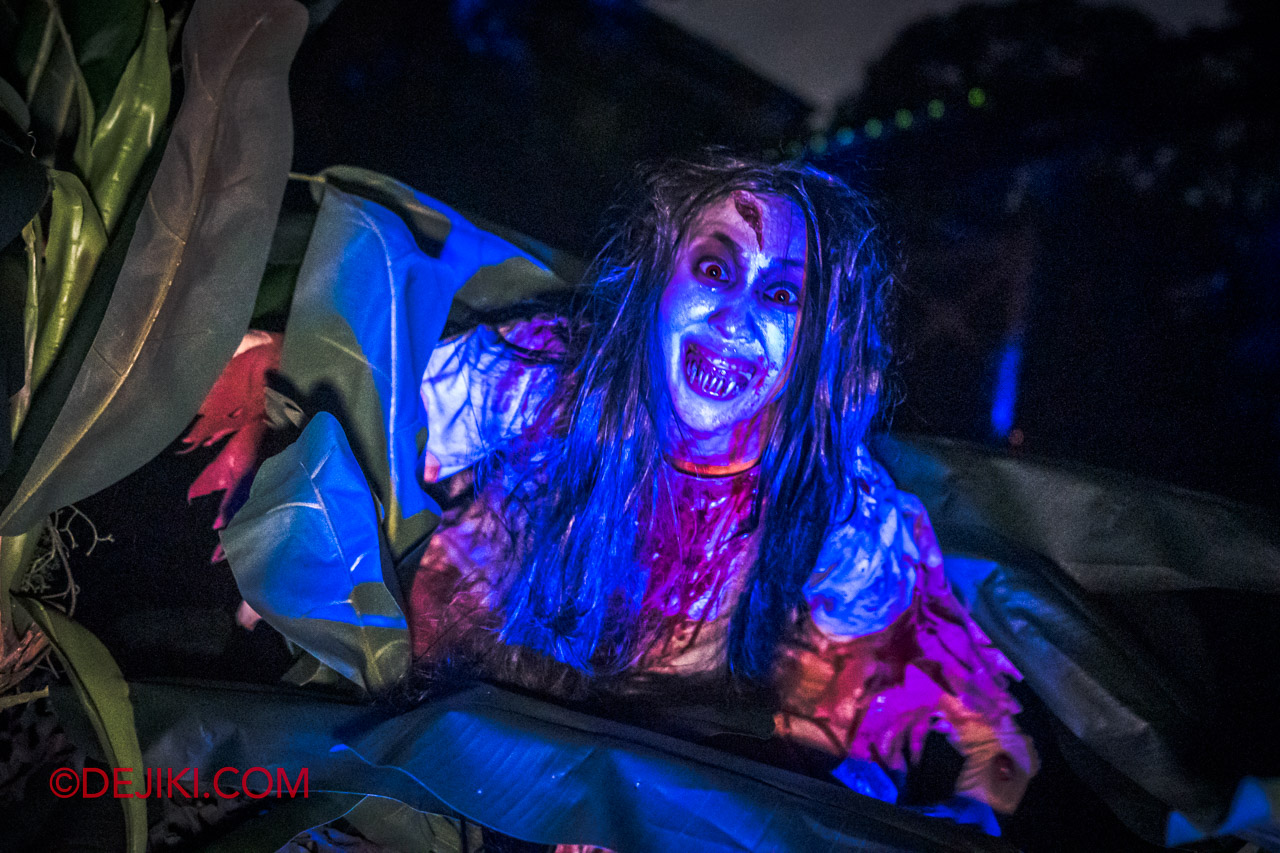 The Pontianak has been a staple spirit since the earliest Halloween Horror Nights events. She already had her own haunted house back in 2018, which traces her origins. This 2022 scare zone brings the story of the Pontianak to the current times.
This scare zone has a one-way, no backtracking design, which should help with crowding, but because of this it lacks the effect of "feeling lost", and the scares might not work when the zone gets very crowded.
See more photos of this scare zone in this special feature →
Location: Jurassic Park zone
Presentation: ★★★★☆
Horror Level: ★★★★★★
---
HHN10 Shows and Special Experiences review
The Silenced Auction – Opening Scaremony
The Opening Scaremony returns to Hollywood, with the Killustrator making his dramatic, and very unexpected entrance.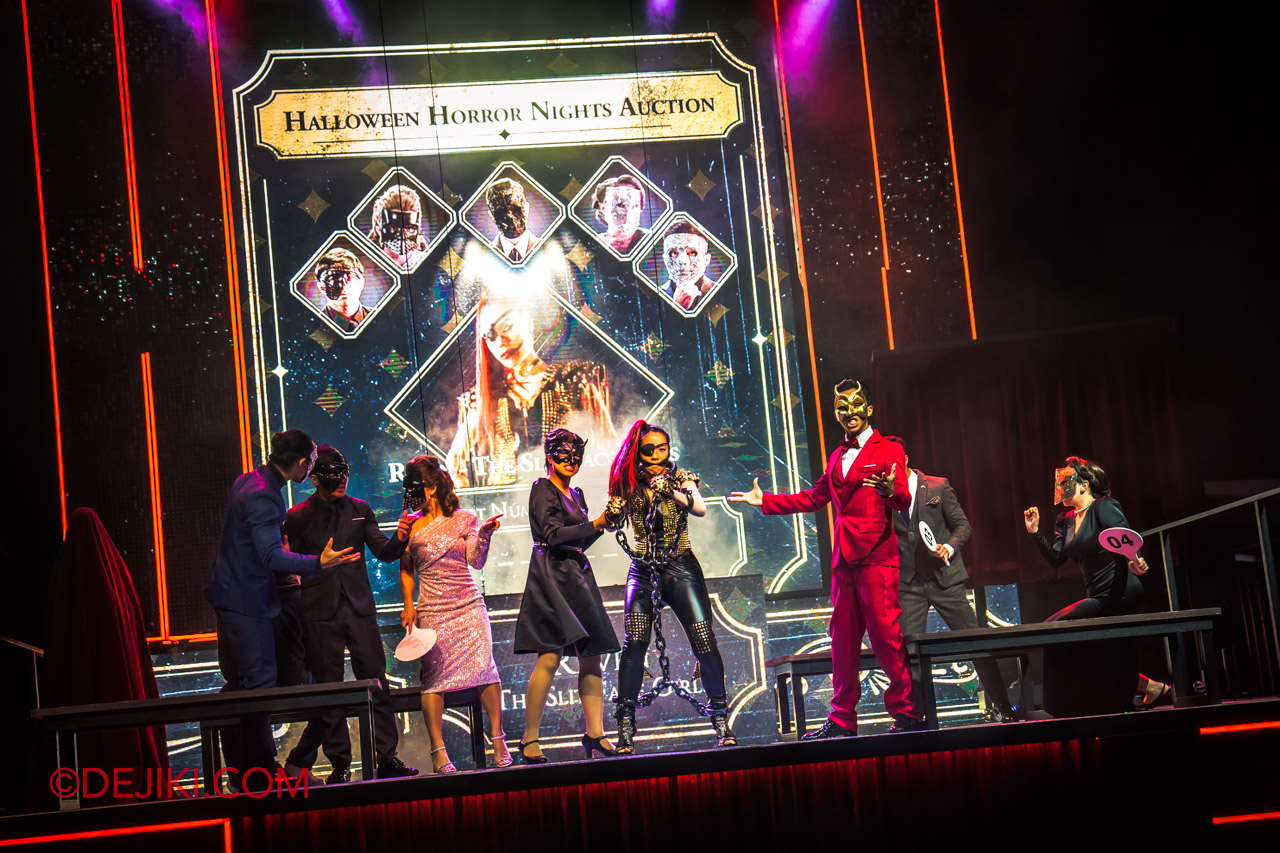 In what appears to be a secretive auction, prized artefacts and even icons from Halloween Horror Nights history are being sold. A mysterious painting, Lot 666, was ridiculed by the bidders for not being true HHN 'art'.
The Killustrator reveals himself as the creator of the work, and quickly kills off his critics. He strips off his iconic hoodie – revealing distinctive ink marks that run all over his body.
Using the blood of his victims for a new work, he paints a horrific tapestry, which breaks open to reveal…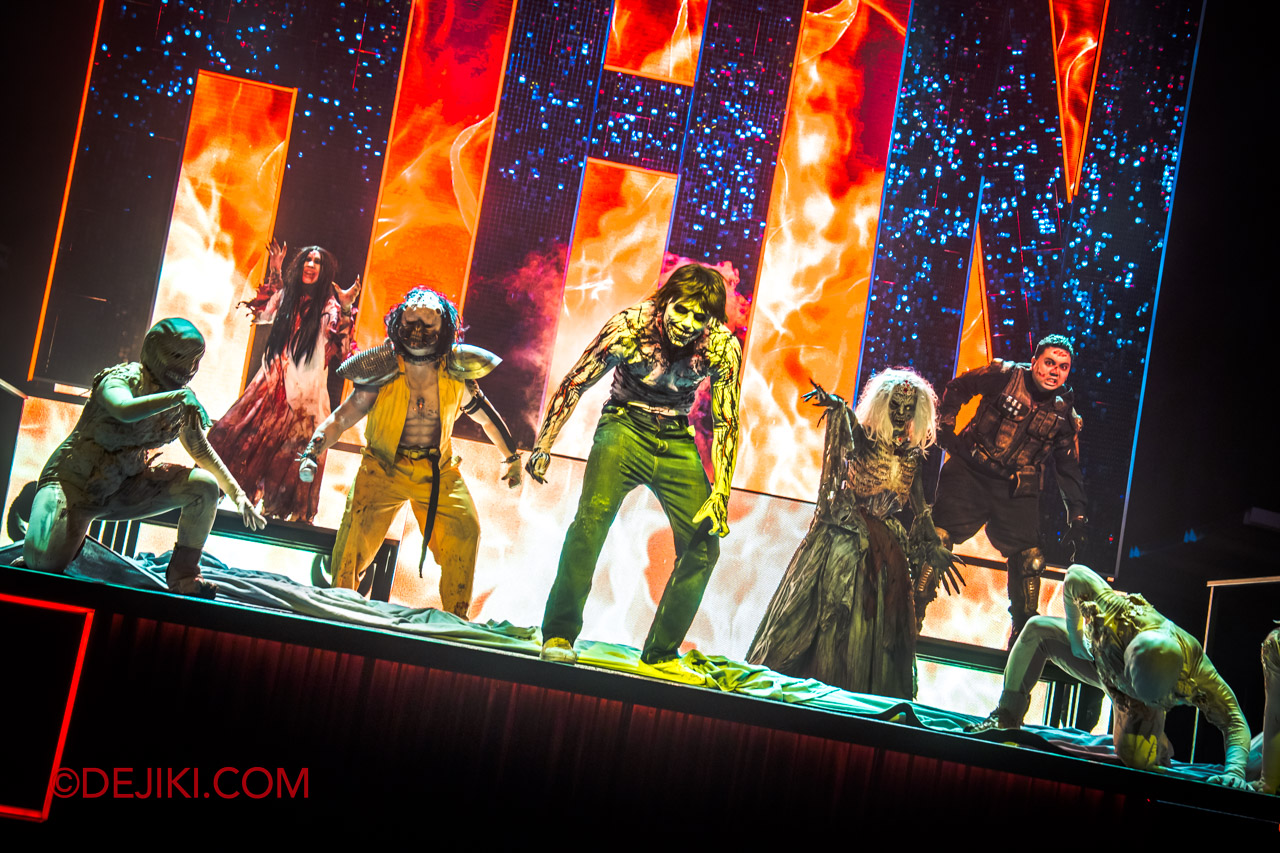 The completed HHN stage, complete with this year's icons: Pontianak, The Reaper, Killustrator, Sorceress, and Bitten Zombie.
See more photos and watch the Opening Scaremony in this special feature →
Location: Hollywood stage
Presentation: ★★★★★★
Horror Level: ★★★☆☆
---
Escape The Breakout! Laser Tag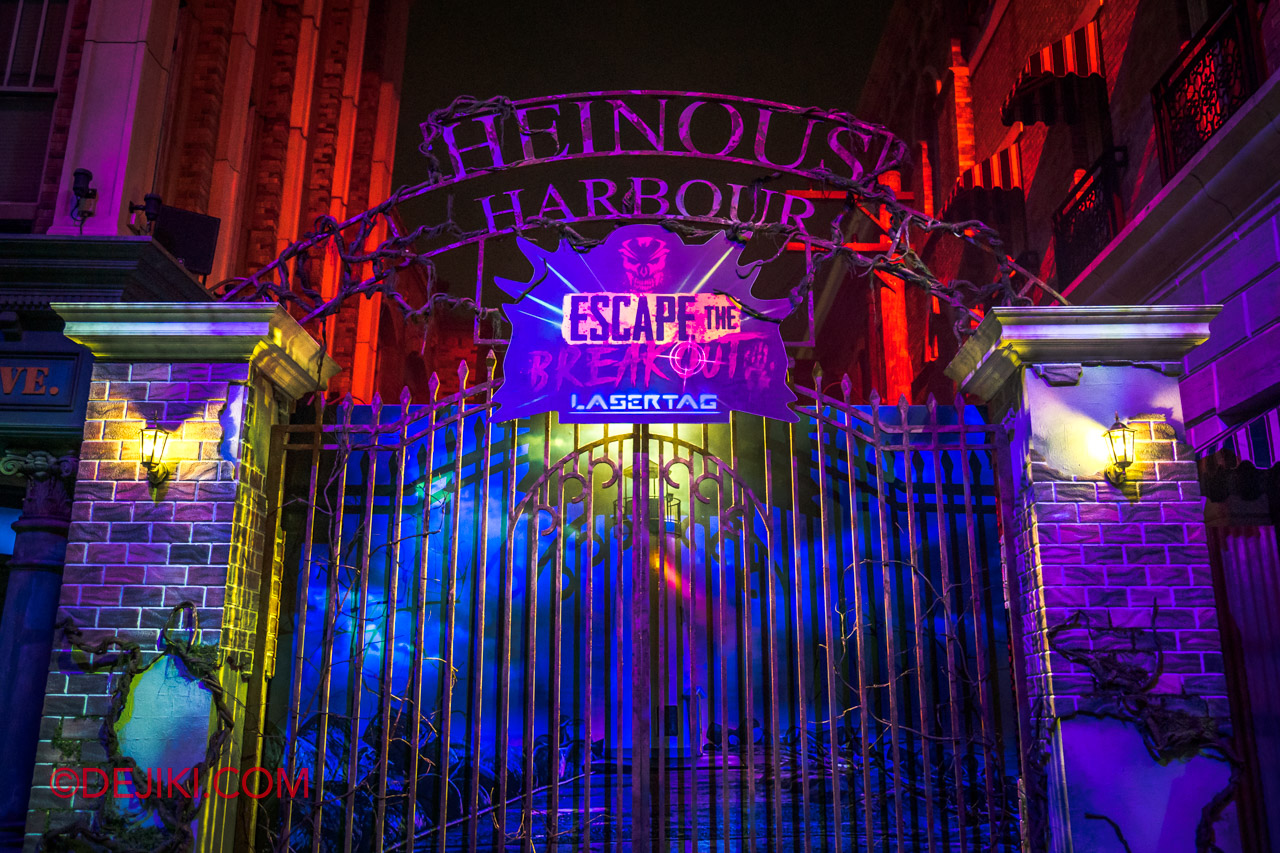 The brave will enjoy a perilous laser tag game at Heinous Harbour. Here, you will use laser tag rifles to temporarily stun the prisoners that have broken out, while solving puzzles to escape the harbour yourself.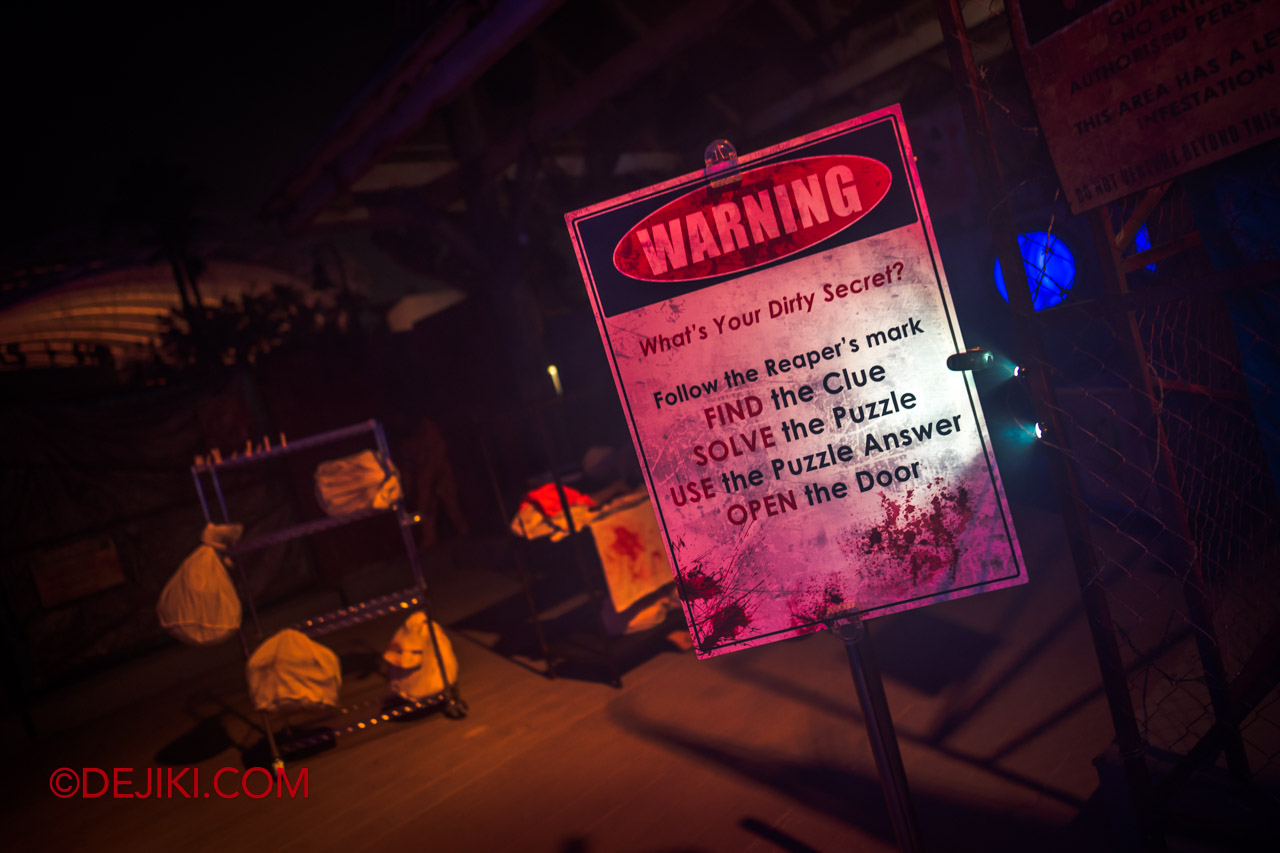 This 15-minute experience feature a few stages – a mix between action segments, mazes, and then the puzzles.
Deranged and dangerous, the psycho criminals lurk at every corner, challenging you to stun them before they catch you.
There will be small tasks that you (or your teammate) will need to do in order to break out!
It's a short but thrilling experience, but I felt that more could be done to pace the flow, or at least make it feel less obvious that there is only one way forward.
Location: New York zone
Presentation: ★★★☆☆
Horror Level: ★★★☆☆
---
Monsters & Manifestations
Come inside this new "three-in-one" interactive experience, which is hosted by The Keeper. It's described as a backstage tour, but there's no actual 'backstage' – everything happening is part of the 'show'.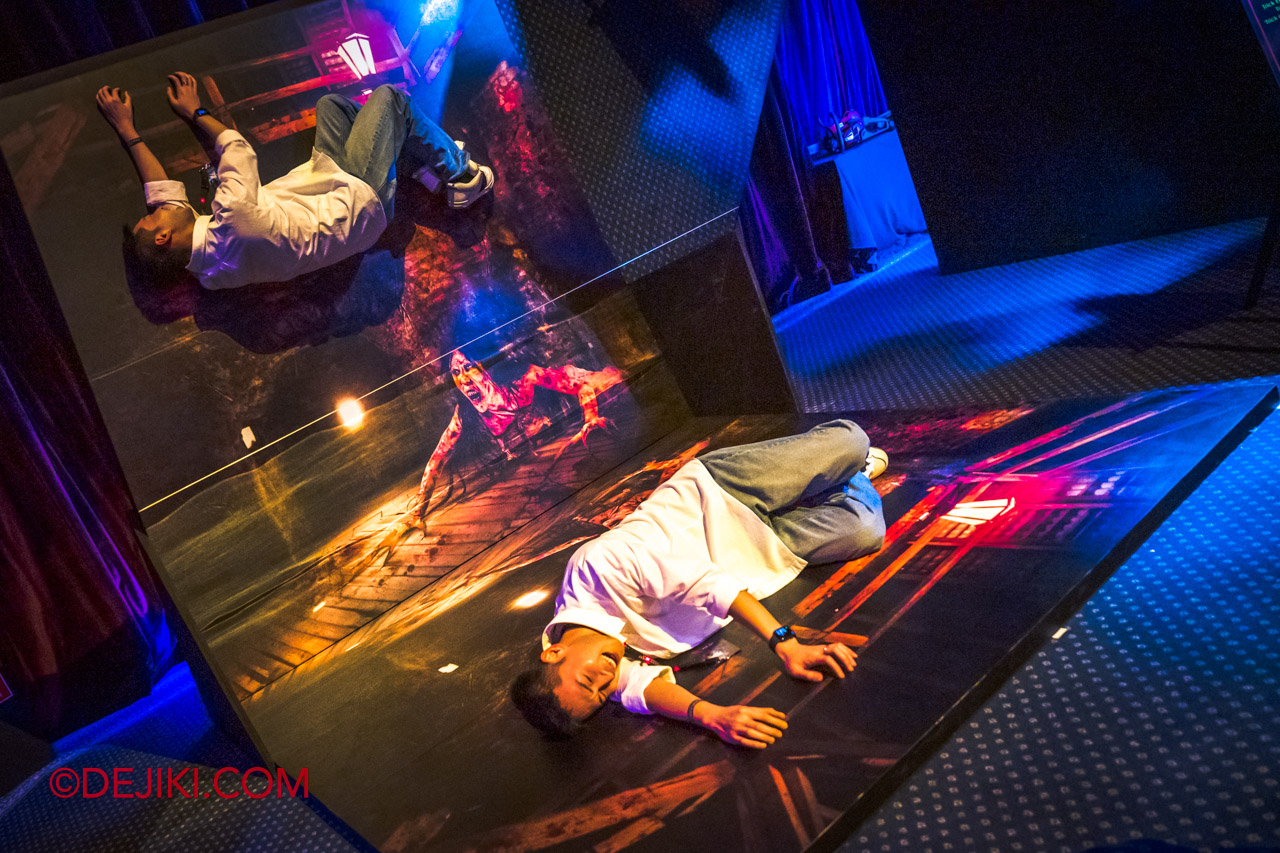 The Keeper will introduce (and taunt you) to explore the exhibits, many of which are interactive, such as this trompe-l'oeil backdrop which you can take a photo with the dangerous Langsuir.
The next stop is the Monstrous Graveyard, with the dead emerging from their graves to put on their most spirited dance show.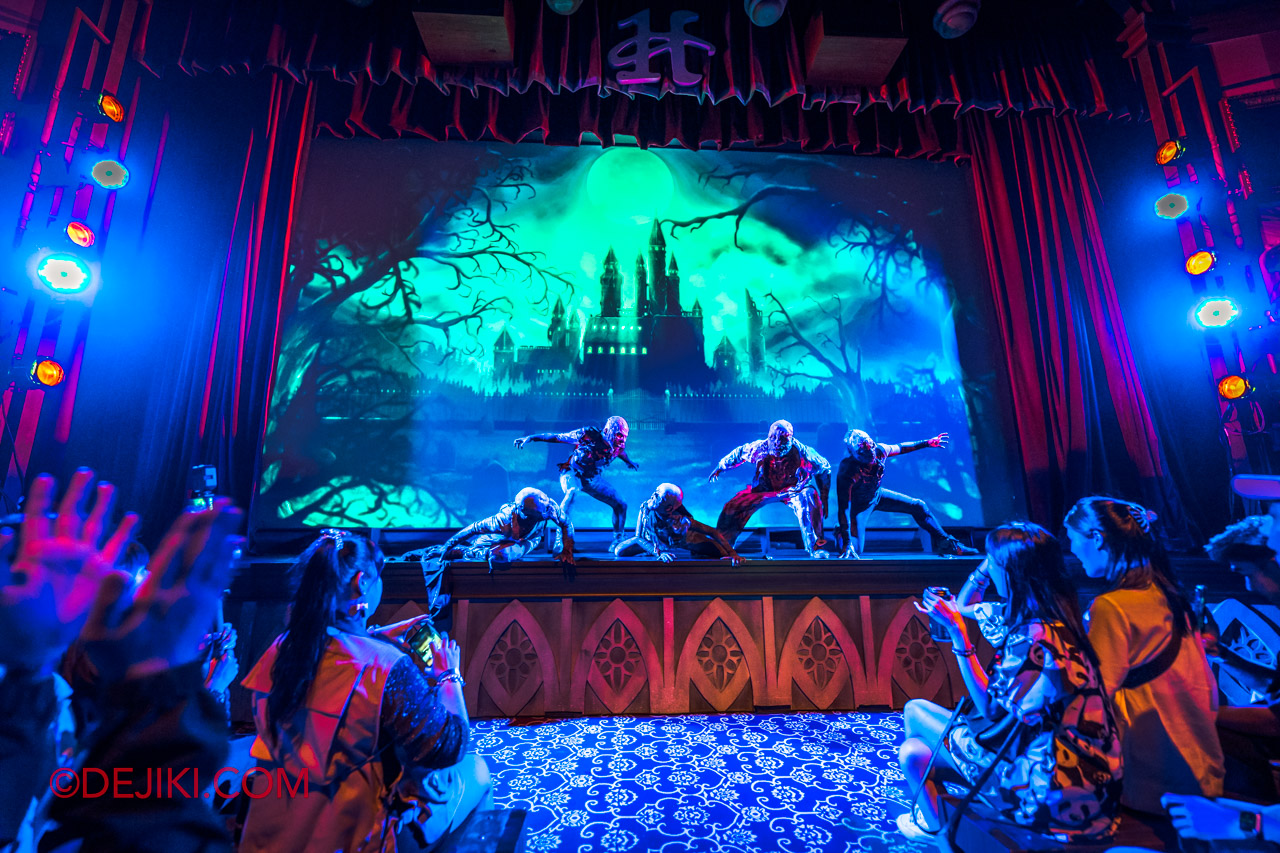 Lastly, to avoid being captured by the castle forever, you'll need to quickly make your way through the Malevolent Hallway, where more spirits could be hiding.
This experience is included with the RIP Tour, so technically RIP Tours get to experience 'another house' that's not quite a haunted house but still entertaining (and possibly scary). For other park guests, you can purchase tickets to Monsters & Manifestations for $38 at the park.
Location: Far Far Away
Presentation: ★★★★☆
Horror Level: ★★★☆☆
---
DIE-ning with the Dead
This experience was not available to me during my preview session. I have attended it during an event night and my review can be found here. It's certainly an entertaining dinner with gruesome (and delicious) food, and lucky for RIP Tour guests, it is included as part of the tour package. However, your experience may vary depending on how crowded the restaurant is, and where you are actually seated.
Location: KT's Grill, New York zone
Presentation: ★★★☆☆
Horror Level: ★☆☆☆☆
---
Video Highlights of Halloween Horror Nights 10
Come and see the horrors with highlights footage captured in HHN10's haunted houses, scare zones and attractions in this video log. This was filmed while taking photographs simultaneously, pardon the quality.
---
Halloween Horror Nights 10: Select Nights 30 Sep – 5 Nov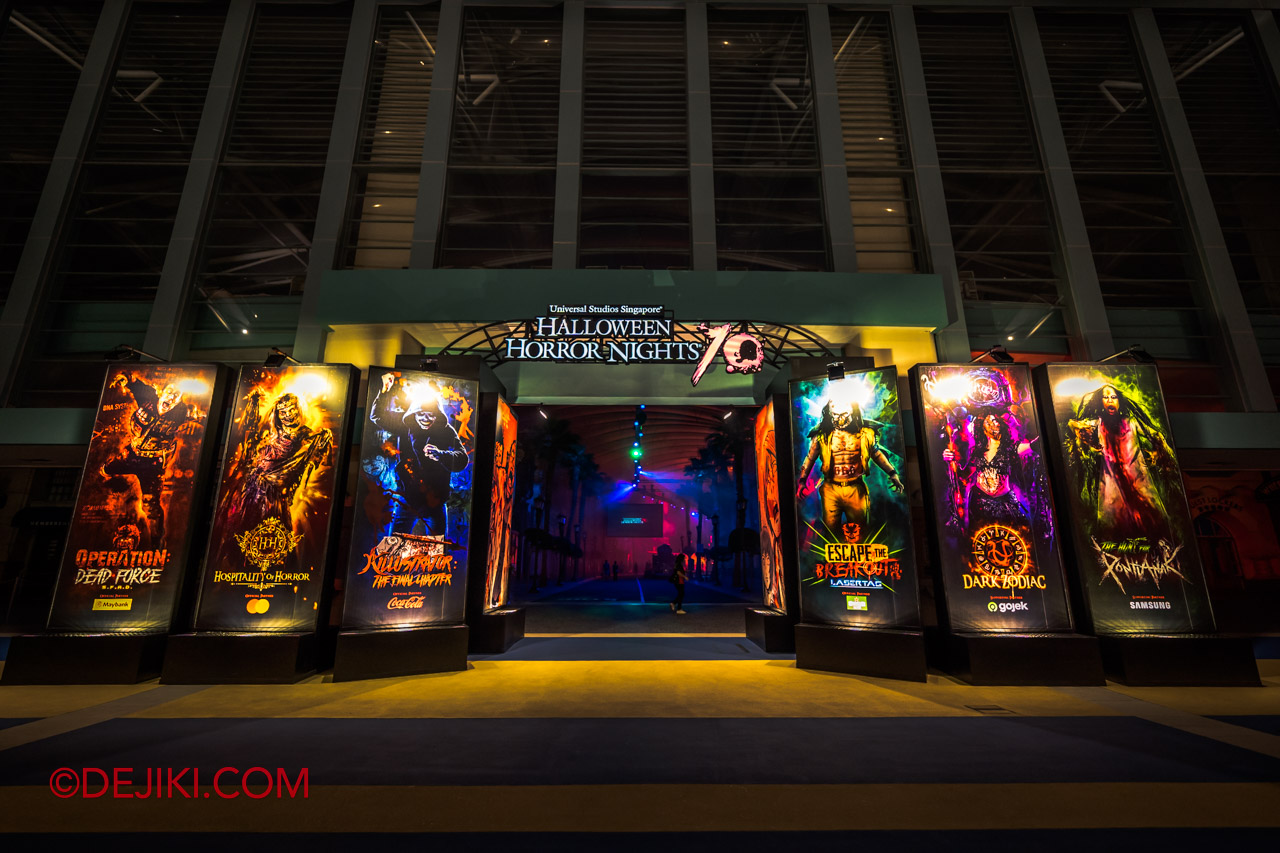 Prepare for the event: Get all the info here
You can get all essential info you need and buy your tickets from my Halloween Horror Nights 10 Event Guide.
Get more HHN10 updates
More photos from this year's HHN attractions will be published on my Instagram (@dejiki), Tiktok and on this website as special features. Follow me on Facebook for updates.
---
Note: This review is based on the preview night. Your experience at the park may vary, depending on dynamic park crowd conditions and creative adjustments. Special Thanks to Resorts World Sentosa for the invitation to the HHN10 Preview.

---
Halloween Horror Nights 10 (2022)
HHN10 REVEALED: Ticket and Event Guide
Halloween Horror Nights 10 MEGA Review: Photos of all Haunted Houses and Scare Zones
SPECIAL FEATURE: Behind the Scenes at HHN10 Haunted Houses
HHN10 RIP Tour (VIP Tour) Review

Features on Haunted Houses, Scare Zones and Experiences
The Silenced Auction (Opening Scaremony) | DIE-ning with The Dead | Monsters & Manifestations
Escape The Breakout | Killustrator: The Final Chapter | Hospitality of Horror
Operation: Dead Force | The Hunt for Pontianak | Dark Zodiac

Trick or Thrills (2021)
Halloween Horror Nights Exhibition
2021 Day and Night Halloween: DIE-ning with the Dead, Universal Monsters Scream Alley


Halloween Horror Nights – The Archives


Click to Expand and see all posts from past Halloween Horror Nights