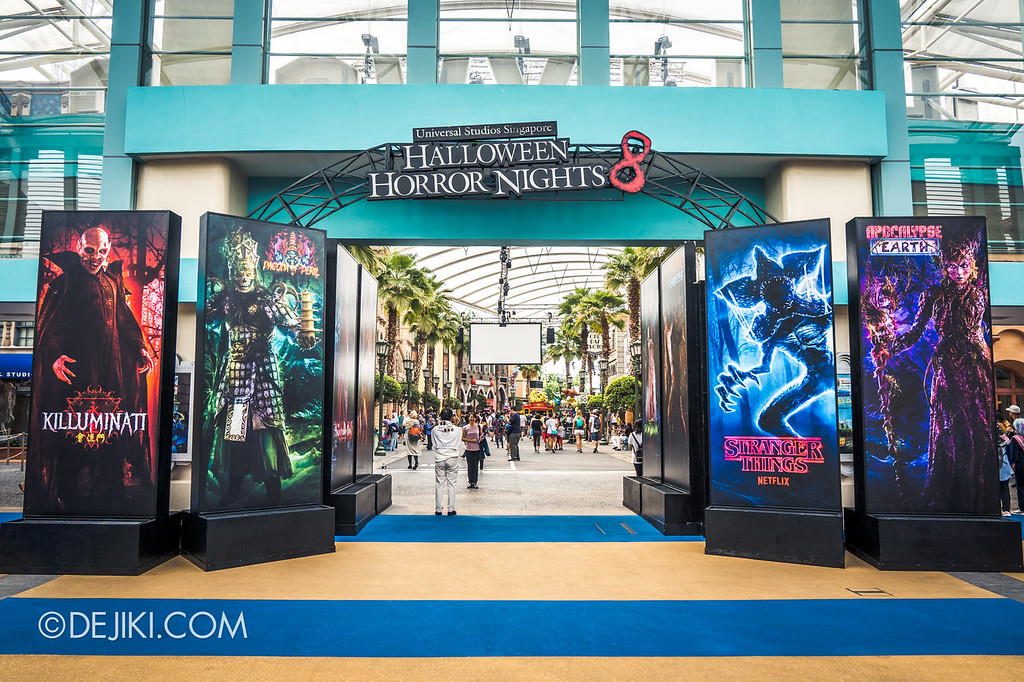 In this week's Halloween Horror Nights 8 update: Apocalypse: Earth, Cannibal, Zombie Laser Tag, new merchandise, and more!
HHN8 Icons at Park Entrance
Similar to last year's park entrance, 8 iconic characters from this year's horror attractions will welcome thrill seekers. As seen in the photo above, we have Lu Xi Fa from Killuminati, Yin Demon from Pagoda of Peril, the Demogorgon from Stranger Things, and then… who is that?!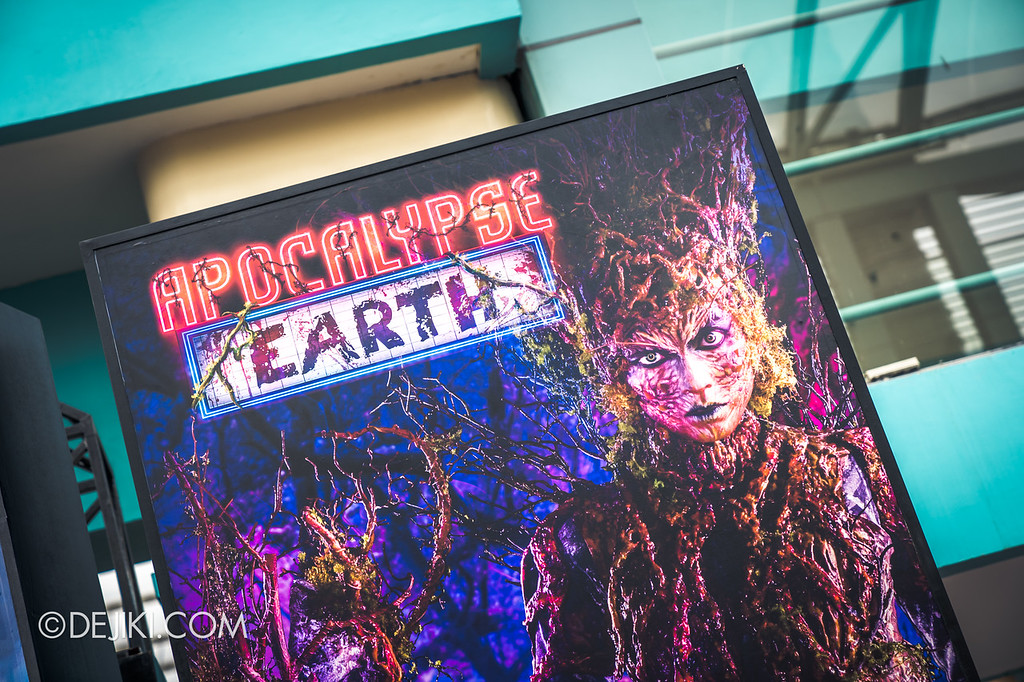 This is probably the first public reveal of Gaia, the icon of Apocalypse: Earth.
The Yin Demon is shown holding a different Pagoda of Peril from existing posters. This Pagoda resembles the tower structure seen at the haunted house construction site.
The other icons below the park's arch are: Pontianak representing her own haunted house, a Zombie from Zombie Laser Tag…
Lady Oiwa from The Haunting of Oiwa, and lastly, the leader of the Cannibal scare zone, the Cannibal Chief.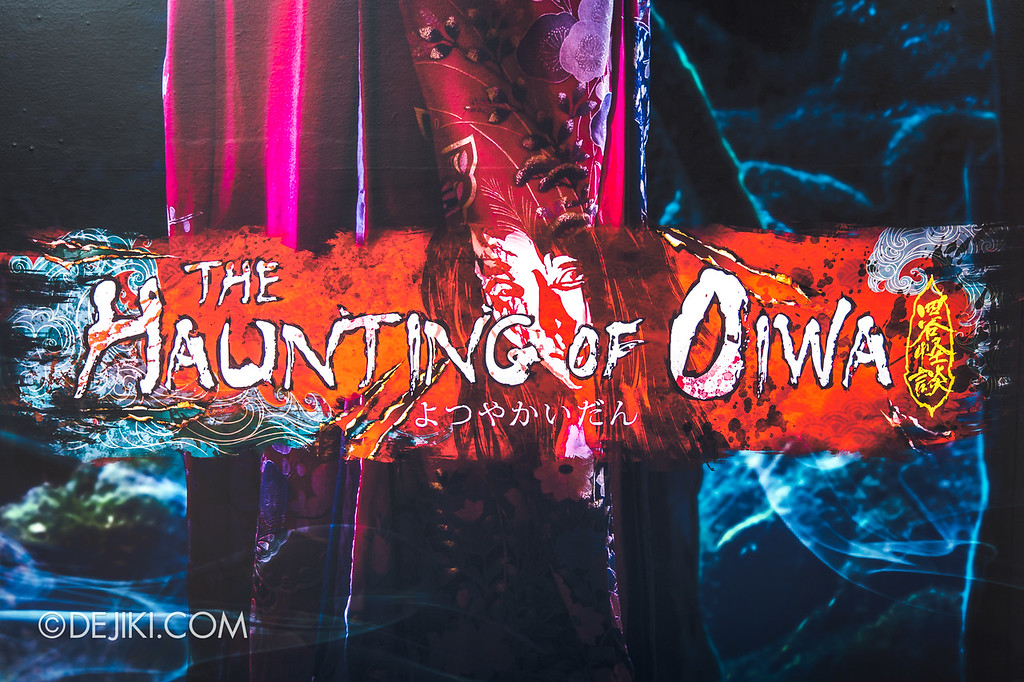 The character billboards also show the beautiful logos designed for the attractions. Take The Haunting of Oiwa for example: It included the original name of the story, Yotsuya Kaidan, in both Kanji (四谷怪談) and Hiragana (よつや かいだん).
Apocalypse: Earth
Even more unseen forces have taken root in New York.
The zone's dramatic marquee is now up, dangling precariously off a tree.
Ravaged by branches, the vehicles are further engulfed with much destruction.
Long and twisty vines hang high, along with six massive projectors.
The projections will mainly take place around this giant 'tree' face.
Cannibal
Cannibal scarezone has a massive arch, and this looks like one of the tallest props at this year's horror nights.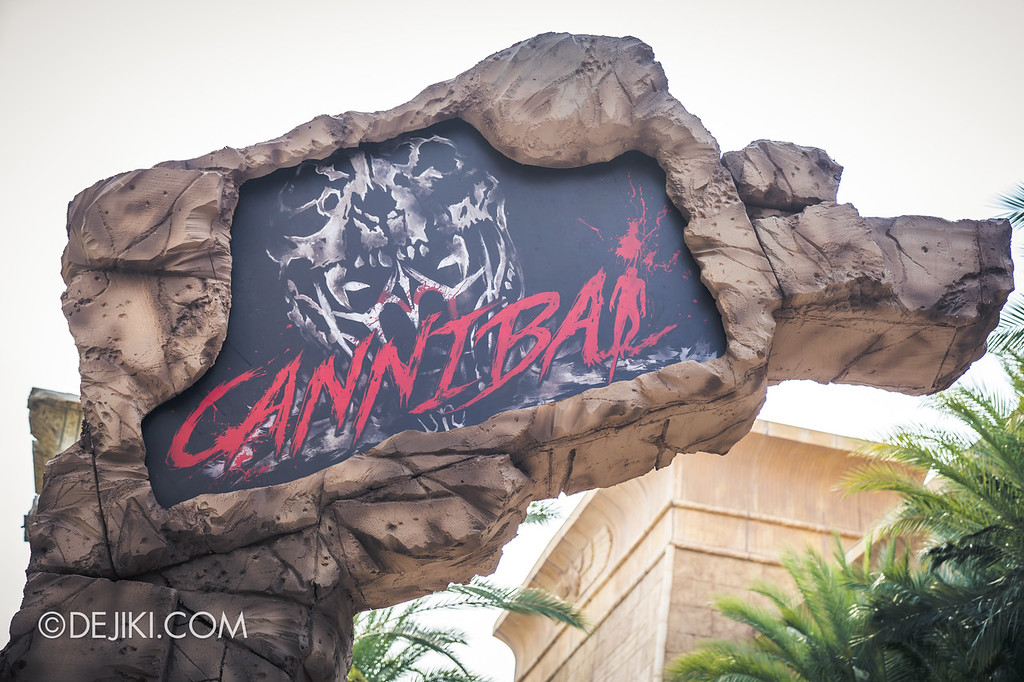 Let's look at the zone logo for a moment – the background is a drawing of the Cannibal Chief, and did you notice the letter 'L'?
New this week are many of these flat-ish props.
And lots of embellishments to the existing huts and props.
There's also this strange backpack which perhaps belongs to a non-tribesman.
Drapes are back in season – they've not been here since the Canyon of The Cursed (2014) days.
A table replaced the tree that was seen on the Blood & Bones show stage last week.
Some victims are peeking out of the covers.
Zombie Laser Tag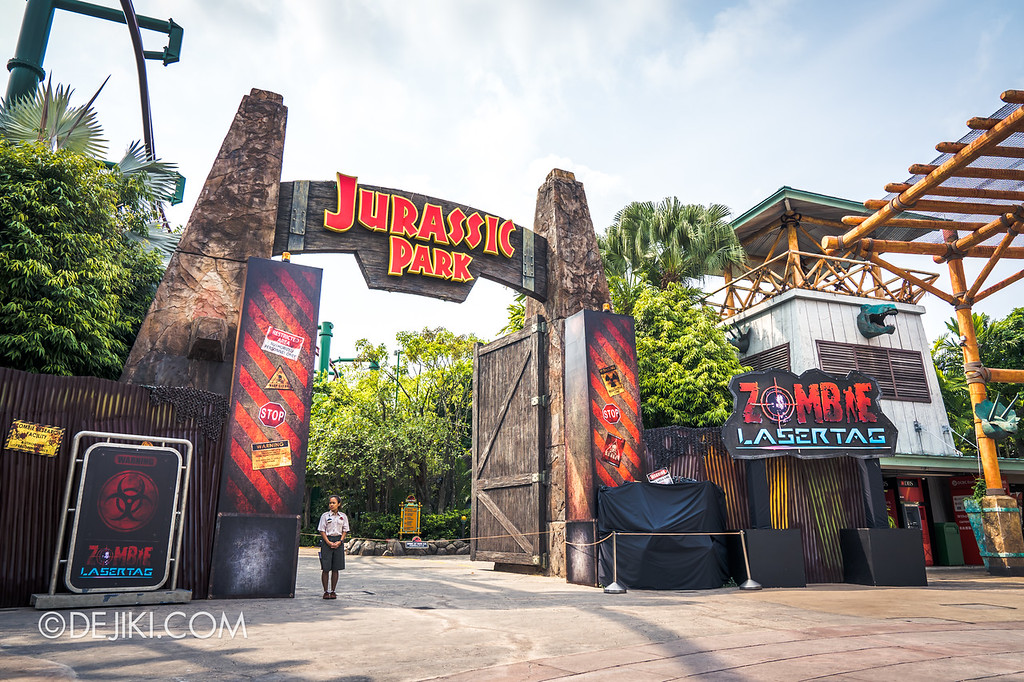 It's the return of the Zombie Laser Tag (ZLT) signboard!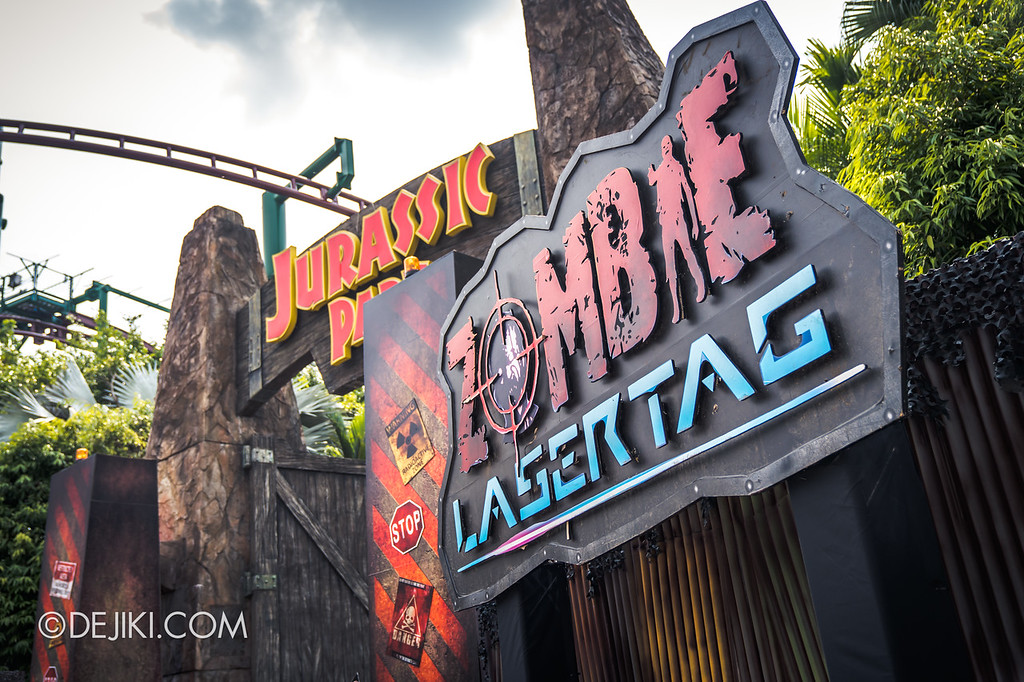 When I was taking photos, one of the park services crew shared with me enthusiastically about ZLT. Perhaps he might've found his true calling in Sales or VIP Tours.
This year's ZLT will use almost all of the area in Jurassic Park. So walls like this one will help separate the Pontianak haunted house queue from the game arena.
Many clusters of fences and boards are scattered around the zone this week. Looks like the zombies will have many hiding spots.
Heed the warnings!
New props, like these wheels and poles to hang stuff (possibly low-hanging nets), suggest that the game arena will be quite a thrilling one.
Infinite Fear / Opening Scaremony stage
Spotted this week at Eight Lakes Psychiatric Hospital are modifications for the display – the opening now is much wider. And I'm not sure if you notice, but the broken walls on both sides have light strips along the walls, so I guess they will make the outlines glow.
There's also covered hospital beds.
And fittings for pyrotechnics.
If you look carefully through the windows, you can see some props stashed there.
GV Hauntings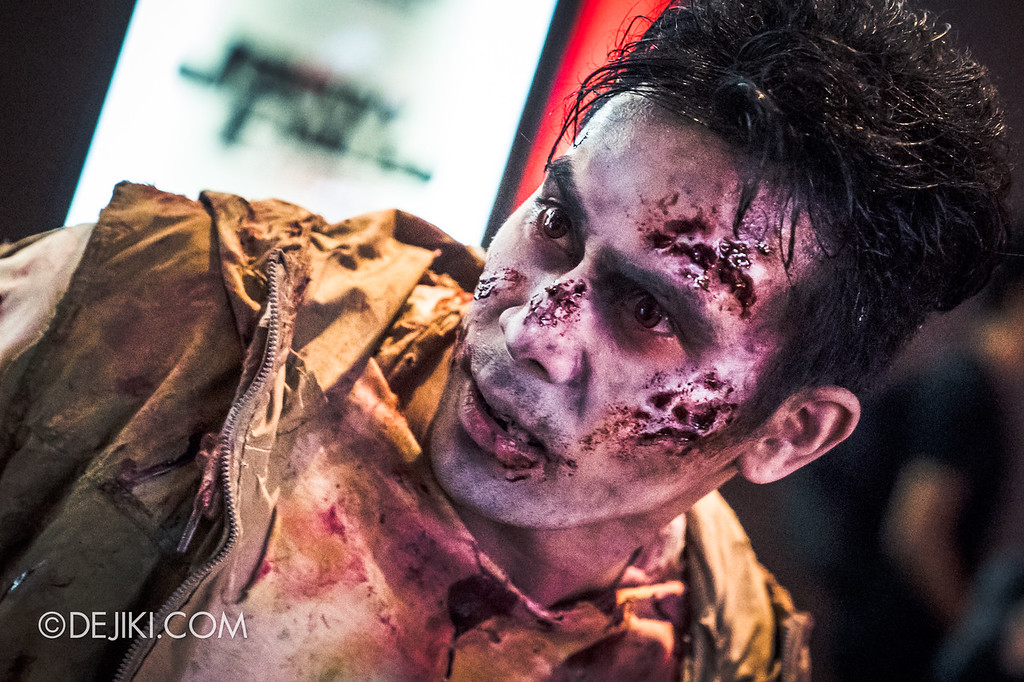 HHN8 characters were lurking at Golden Village cinemas – did you get to meet any of them?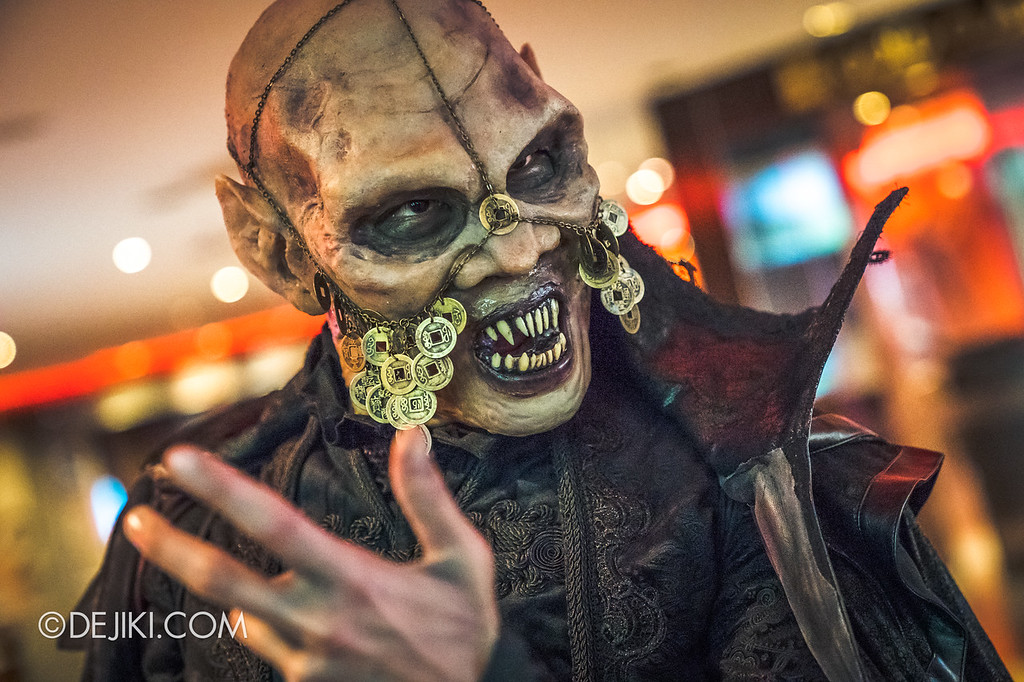 Additional Photos by TM and SN.
They aren't just frightening people – you can take part in an Instagram contest. Simply upload a selfie with any of the HHN8 characters or advertisements on Instagram (tagging @rwsentosa and #HHN8) for a chance to win event tickets or merchandise.
In case you don't know, there is a gigantic walkway ad at the Harbourfront Station (NE1/CC29) – you won't miss the Stranger Things and HHN8 icons.
Halloween themed merchandise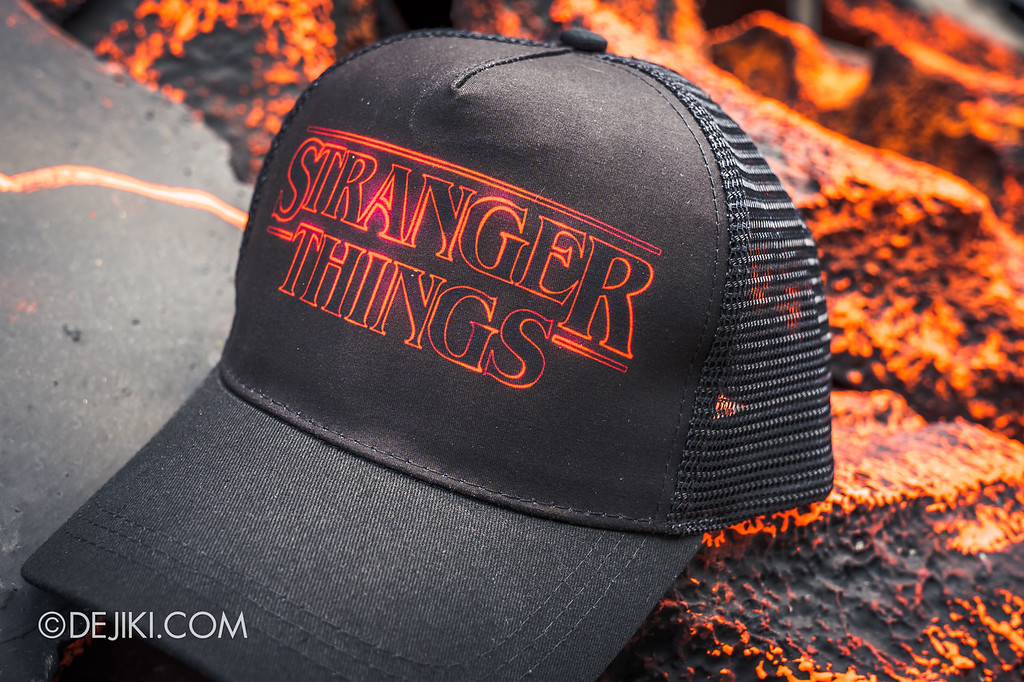 Stranger Things merchandise and other Halloween Horror Nights 8 goods are not available for sale in the park yet. But for those of you who bought tickets during the Limited Time Sale period (before 1 July 2018), you may be able to collect the HHN8 Stranger Things exclusive merchandise from the park. Here's the exclusive Stranger Things trucker cap.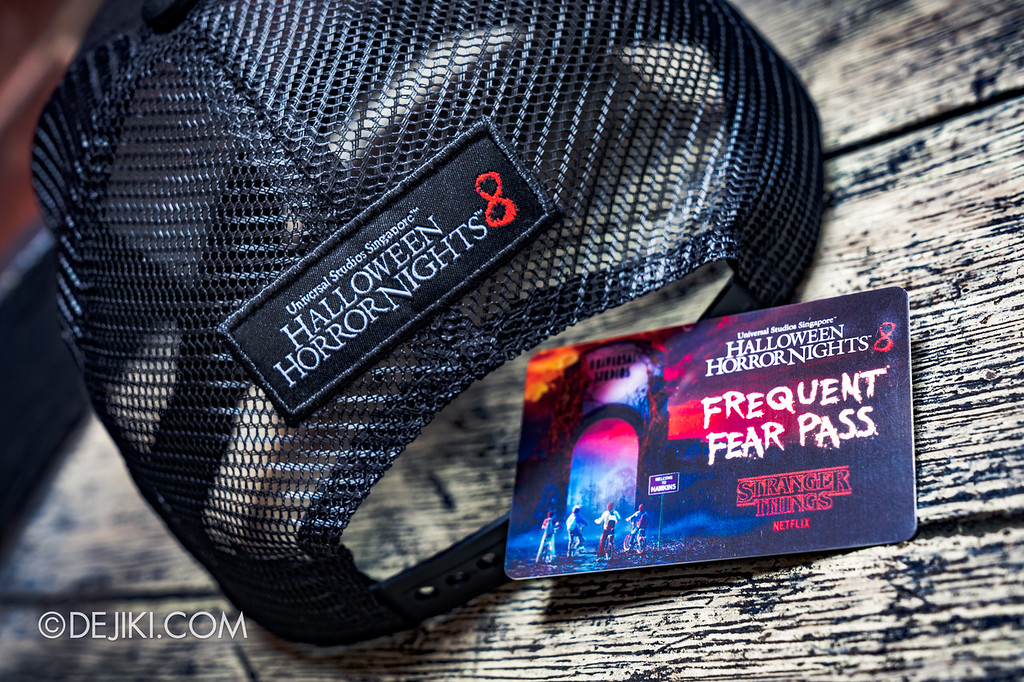 The cap has the Halloween Horror Nights 8 patch on the back. I was told the Stranger Things souvenirs for Limited Time Sale special are available while stocks last, and can be collected during HHN8 at these locations:
• For HHN8 Event Tickets, you can collect from Universal Studio Store.
• For HHN8 Frequent Fear Pass, you can collect from USS Membership Lobby when you process your pass.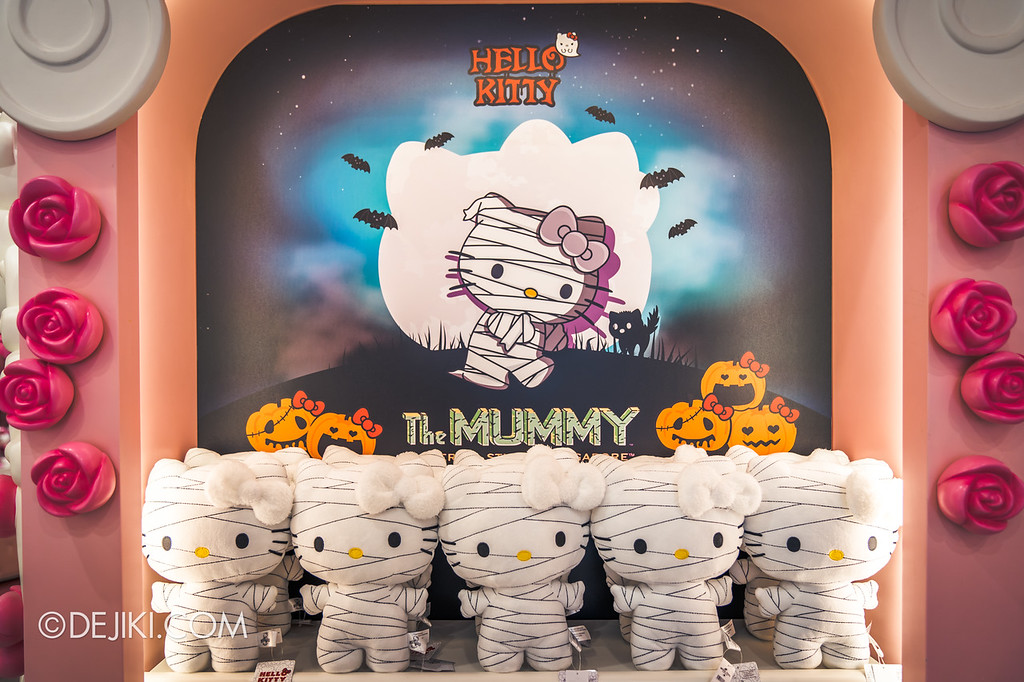 Otherwise, there's been a deluge of oddly-cute Halloween themed merch which you might be interested in. Like the Hello Kitty The Mummy collection. Hello Mummy??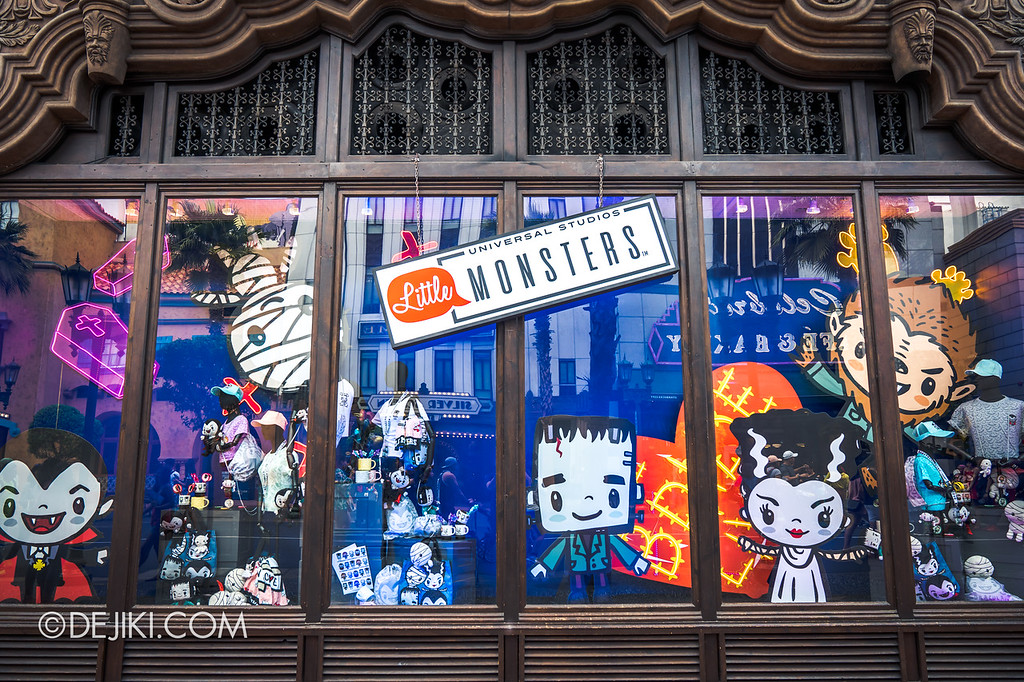 This year's Halloween-themed Store Window is all about the Universal Studios Little Monsters collection.
---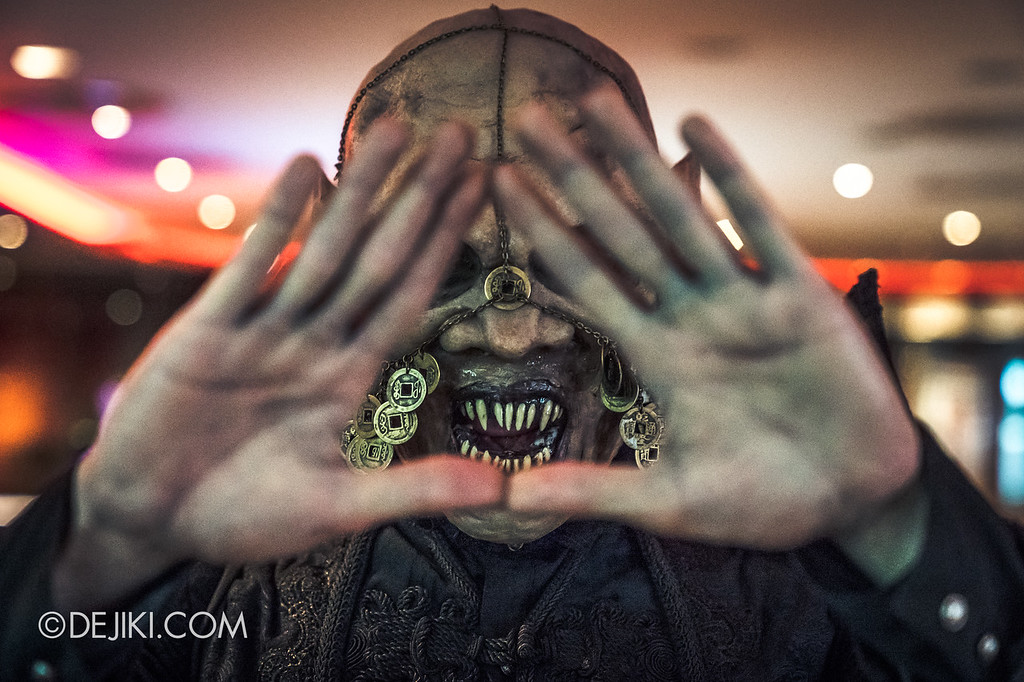 Check back next week again for more Halloween Horror Nights 8 updates.
More updates in the next BEFORE DARK article
Want more updates on Halloween Horror Nights?
Follow me on Facebook and Instagram (@dejiki)
Brace yourself for Infinite Fear
Get all the info you need on Halloween Horror Nights 8 at the Halloween Horror Nights 8 Tickets and Event Guide post.
Halloween Horror Nights 11 (2023)
HHN11 REVEALED: Ticket and Event Guide
Sneak Preview: DIYU: Descent Into Hell, Rebirth of the Matriarch, Icons and more
Universal Studios Japan (USJ) 2023
Halloween Horror Nights 2023/ HAHAHA! Halloween Party! Event Guide
Halloween Horror Nights – The Archives
Click to Expand and see all posts from past Halloween Horror Nights
Subscribe to Dejiki.com or Like my Facebook page for notifications of updates.
---