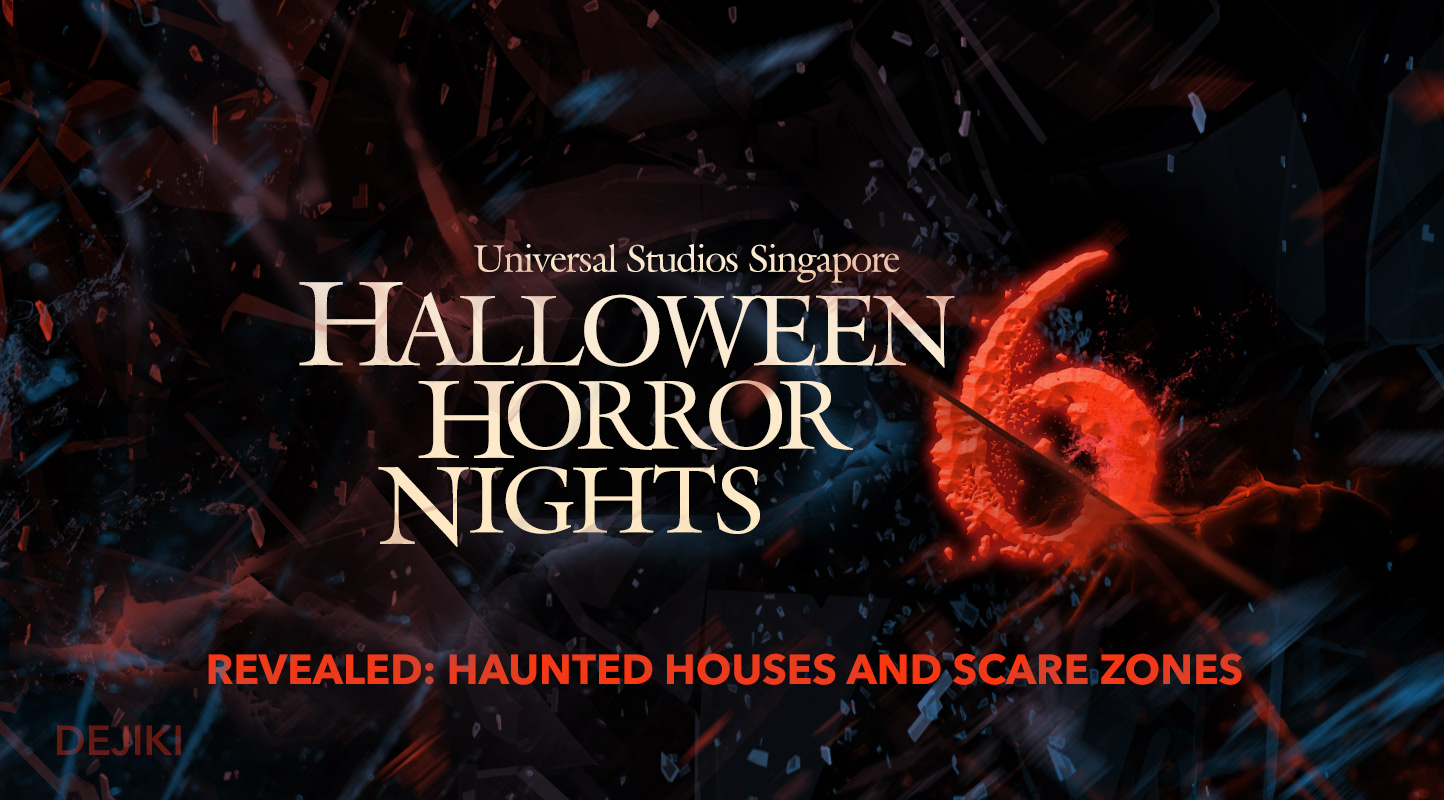 Evil returns to Universal Studios Singapore as Lady Death transforms the park into a land of nightmares with all-new haunted houses and scare zones. Read all about Halloween Horror Nights 6 here!
---
As HHN6 has already started, we are optimising this post so that you can find the details you need quicker.
Click to expand and read original post: HHN6 Line-up
◂ HHN6 Icon – Lady Death▸
After the strange replacement of the lead iconic character… with THE MOON in last year's HHN, we finally have a unique character that will be making USS her home this Halloween. She preys on the darkness within us. Is she far worse than the Minister of Evil?
With darkness brought by the mysterious Lady Death, Halloween Horror Nights 6 will feature 5 haunted houses and 2 scare zones – featuring all-new storylines and iconic characters that are unique to Singapore.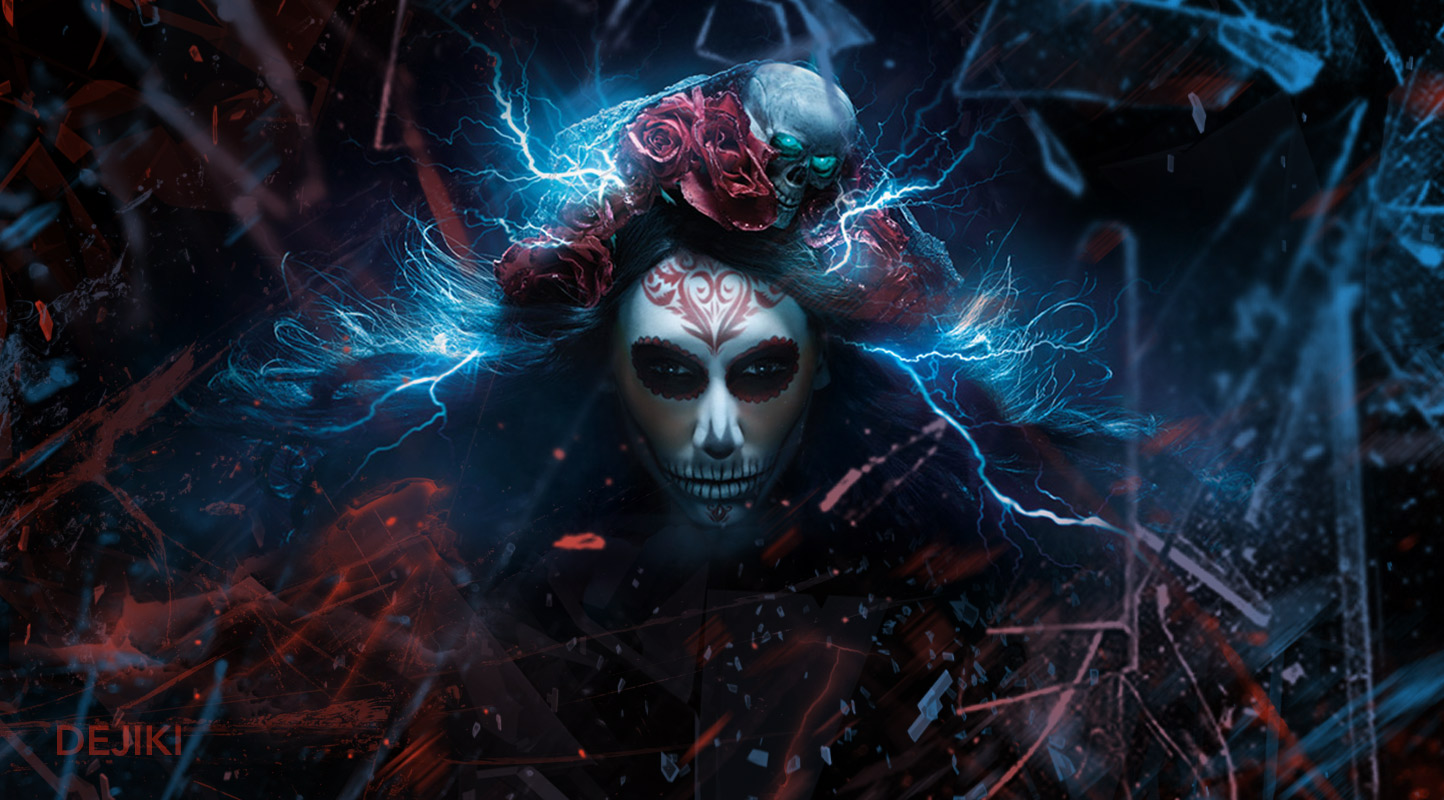 Lady Death – Dejiki edit, cause need to 'have the shattered feels' you know.
Dejiki: On this year's Icon

Lady Death looks pretty deadly. From her face tattoos, she is based on the 'Dia de los Muertos' (Day of the Dead) festival in Mexico. Her scare zone, 'March of the Dead' and the companion Procession show, are inspired by that festival.

Anyway, she may want to watch Lightseeker and find 'the light within'.

And I'm sure we would like to be dragged across haunted houses through her mirrors, because those queues at HHN can get very long!
Editor's Note: This entry is based on information revealed so far on the HHN6 and RWS websites. We will update it again as more details surface.
◂ HHN6 – 5 Haunted Houses ▸
Haunted Houses are enclosed walkthrough experiences taking place within intimate, 'maze-like' environments. Guests are required to queue for their turn to enter the houses.
Old Changi Hospital ("OCH")
One of Singapore's most 'haunted' places, and arguably the most famous. The original building was converted from British barracks into a prison camp during the Japanese occupation in the 1940s. Reportedly, there were torture chambers within the OCH complex at a time. *shudder*
Bodies of Work
A deadly exhibition on the art of evil, and possibly bodies reconstructed through gruesome rituals.
The Salem Witch House
The tables have turned when some witchcraft enthusiasts toy with ancient spells. We all know what happened that last time when some witches returned. Now we're knocking on their door.
Hu Li's Inn
For those easily overtaken by temptation – beware of the seductresses in Hu Li's Inn. Beauty is but an illusion.
Hawker Centre Massacre
Ah, the horrors have returned to the heartlands! Step out of the infected Siloso Gateway Block 50 and into a market of terror.
Dejiki: On Haunted Houses

It's no longer just places gone wrong because the End of the World is coming. This year, the hauntings seem quite serious and ubiquitous – even their names sound graphic. There are many regional stories to play with, and I'm sure the creative team will reimagine the best tales into the houses. It's also nice that these 'local' houses are paired with some traditional, and more open-ended horror narratives.

Old Changi Hospital – Army camps and hospitals are some notorious settings for hauntings. Now we have two in one, at the very immense tent where MATI CAMP and Hell House used to be at. Big shoes to fill!

Hu Li's Inn – Where the 狐狸精 (Hu Li Jing) – seductive 'vixen' spirits ply their trade? Oh my, sounds like it could be an spin-off story to the famous Lady in Red from last year's Hungry Ghosts.

Hawker Centre Massacre – Just desserts for all those wrapped around the recent foodie guide 'drama' – whoops.

Props to the creative team for crafting houses that are not tied to existing IP, yet again!

For those who are complaining… Well, there are people CONJURING things in Salem Witch House, and lots of WALKING DEAD in Lady Death's Procession – what more can we ask for?

Augusta DeFeo – One of the Three, waiting for you at the Salem Witch House
◂ HHN6 – 2 Scare Zones ▸
Scare zones are interactive experiences taking place at outdoors. It is always 'alive' throughout event nights and guests may walk through in at their own pace.
Suicide Forest
Lingering evil preys on those who venture into this dark forest. Sounds like an interpretation of the famous Aokigahara.
March of the Dead
Lady Death arises in her scare zone, a carnival celebrating the dead.
Dejiki: On Scare Zones

Scare zones are complex productions, and past years' concepts showed how much more work went into keeping them as dynamic and lively spaces. Hopefully this year's scare zones will be as memorable and fun as HHN5's outstanding concepts. I'm sure many will agree they were the among the best – great characters, great atmosphere, and bonus – awesome sets for photography!

This year we have one zone that offers a very chilling premise, like Forbidden Forest, and another that is a grisly carnival that will likely dazzle and enthrall.

Suicide Forest scare zone
◂ HHN6 – 2 Shows + Parade▸
There will be 2 shows this year, performed exclusively for HHN6.
Jack's Recurring Nightmare Circus
Jack the Clown will be back this year to set up shop at Pantages Hollywood Theater! Will we see the same oddballs from his Nightmare Circus again?
March of the Dead – Death March
A parade of death and beyond will go around the park in the other way: from Ancient Egypt to the March of the Dead scare zone.
March of the Dead – The Resurrection
This show will be performed at the March of the Dead stage.

Jack's Nightmare Circus (2014)
◂ Other Attractions open during HHN6 ▸
Battlestar Galactica: HUMAN vs CYLON roller coasters, Puss In Boots' Giant Journey, Accelerator, TRANSFORMERS: The Ride, Canopy Flyer, Enchanted Airways and Revenge of the Mummy will be available during Halloween Horror Nights 6. Shrek-4D Adventure will be screening the Scared Shrekless short film during event nights as well.

◂ HHN6 – Event Calendar ▸
◂ HHN6 – Ticketing Info ▸
Halloween Horror Nights is a ticketed event at Universal Studios Singapore. Universal Studios Singapore Day Pass, Annual/Season Pass do not include admission to Halloween Horror Nights. You will need to purchase a ticket for this event.
HHN6 tickets are available for sale at www.halloweenhorrornights.com.sg and Universal Studios Singapore ticketing counters. There will also be roadshows at schools, shopping malls and special events.
---
Please refer to the event calendar as the prices are different depending on whether you are visiting on a OFF-PEAK Night or
♦PEAK

night.
General Admission Tickets
Halloween Horror Nights 6 – General Admission is priced at $65 or $69 (♦PEAK). See below for discounts and deals.
Halloween Horror Nights 6 – Frequent Fear Pass is priced at $148. This pass allows unlimited entry to the park during HHN6 event nights.
Universal Express Passes
Express Passes are add-ons and do not include admission to HHN. Guests will need to have a HHN General Admission ticket to enter the park. Express Pass are dynamically priced according on demand, and are known to go up to more than $100 on sold out nights in past years.
Halloween Horror Nights 6 – Express Pass starts from $40. This 'house-only' pass allows use of the Express line, once per haunted house per pass. This option does not include Express for the park's rides.
Halloween Horror Nights 6 – Express Pass PLUS starts from $50. This pass allows use of the Express line, once per haunted house and ride per pass.
Please note that the prices for Universal Express Passes are subject to change and are known to sell at higher price when purchased in the park during event nights.
R.I.P. Tours and Behind the Screams
RIP Tour for Halloween Horror Nights 6 will be priced at $178 / $228 (♦PEAK) (early bird rates below). Enjoy a guided tour around the park and VIP access to all Haunted Houses and select attractions.
Behind the Screams Tour can be bundled with the RIP Tour for $238. Get an exclusive sneak peek into the haunted houses in the day… and return at night for a terrifying red carpet treatment!
Check out our review of last year's RIP Tour and Behind the Screams experience here!
---
◂ HHN6 – Discounts, Offers and Deals ▸
EARLY BIRD DEALS
From now till 28 August 2016, enjoy the following discounted rates!
Single Admission Ticket – $51 / $56 (♦PEAK)
Buy 3 Get 1 Free – $195 / $207 (♦PEAK)
RIP Tours – $148 / $188 (♦PEAK)

USS Annual/Season Passholders & RWS Invites Members
Lady Death is pleased to offer the following discounts for the resort's loyal customers!
Single Admission Ticket – $50 / $60 (♦PEAK)
Frequent Fear Pass – $118 (and a special gift, while stocks last)
RIP Tours – $148 / $188 (♦PEAK)
Student Special
Students get to enjoy these promotional prices. Please show your IDs at the park's ticketing counters.
General Admission – $51 / $56 (♦PEAK)
Frequent Fear Pass – $108
RIP Tours – $128
Shopback 6% Cashback
Receive a 6% cashback on top of card discounts (Maybank and MasterCard) and offers listed at RWS online booking site, when you buy HHN6 passes through Shopback! That applies for HHN Express Passes too!
Purchases have to be done through a Shopback link https://www.shopback.sg/halloween-horror-nights
Shopback Terms & Conditions apply.
Check back again…
We will update this section with more deals for HHN6!
---
Are you ready to meet Lady Death?
Dejiki.com Exclusive
Check out Singapore's most amazing archive documenting Singapore's most terrifying event here:
Halloween Horror Nights 10 (2022)
HHN10 REVEALED: Ticket and Event Guide
Halloween Horror Nights 10 MEGA Review: Photos of all Haunted Houses and Scare Zones
SPECIAL FEATURE: Behind the Scenes at HHN10 Haunted Houses
HHN10 RIP Tour (VIP Tour) Review

Features on Haunted Houses, Scare Zones and Experiences
The Silenced Auction (Opening Scaremony) | DIE-ning with The Dead | Monsters & Manifestations
Escape The Breakout | Killustrator: The Final Chapter | Hospitality of Horror
Operation: Dead Force | The Hunt for Pontianak | Dark Zodiac

Trick or Thrills (2021)
Halloween Horror Nights Exhibition
2021 Day and Night Halloween: DIE-ning with the Dead, Universal Monsters Scream Alley


Halloween Horror Nights – The Archives


Click to Expand and see all posts from past Halloween Horror Nights
Subscribe to Dejiki.com or Like my Facebook page for notifications of updates.
---