Universal Studios Singapore's Halloween Horror Nights 10 offers three Special Experience add-ons to extend your night of terrors beyond haunted houses and scare zones. Are they all worth the upgrade?
HHN10 Special Experiences (Add-Ons)
Apart from the line-up of 3 haunted houses and 2 scare zones, thrill-seekers can extend their HHN10 experience with 3 Special Experiences which are separately charged. Bookings are required in advance, though there may be slots available for walk-in at the park. HHN10 Admission Ticket is required to attend all special experiences. To book special experiences tickets, visit this page on the RWS website (scroll down to 'Tickets', then click 'Add-Ons').
Two of these special experiences are included for guests going on the RIP Tour, with the last one, 'Escape The Breakout' Laser Tag experience requiring a separate booking and RIP Tour guests can enjoy a discounted rate.
Disclaimer: I went to Escape The Breakout and Monsters & Manifestations as part of the HHN10 Media Preview. DIE-ning with The Dead was part of my RIP Tour which I paid in full. This is not a sponsored review, all opinions are of my own.
DIE-ning with The Dead
KT's Grill restaurant has been set up for the Séance Supper, where you can enjoy a dining misadventure. DIE-ning with the Dead has 3 seating times available: 6:30PM*, 7:45PM and 9:00PM.
*For the 6:30PM timeslot, you can enter the park earlier with both your HHN10 Admission and DIE-ning with the Dead tickets.
For guests with dietary restrictions: If you have any dietary requirements, please inform the staff at the reception. There is an alternate Vegetarian menu available at DIE-ning with the Dead. Halal option is only available as the 'Maggoty Bolognese Stew' set meal from Mel's Drive-In (takeaway and dine at KT's Grill). Do note that KT's Grill is not a Halal-certified venue.
You will either be entertained or horrified by the antics of the these undead henchmen.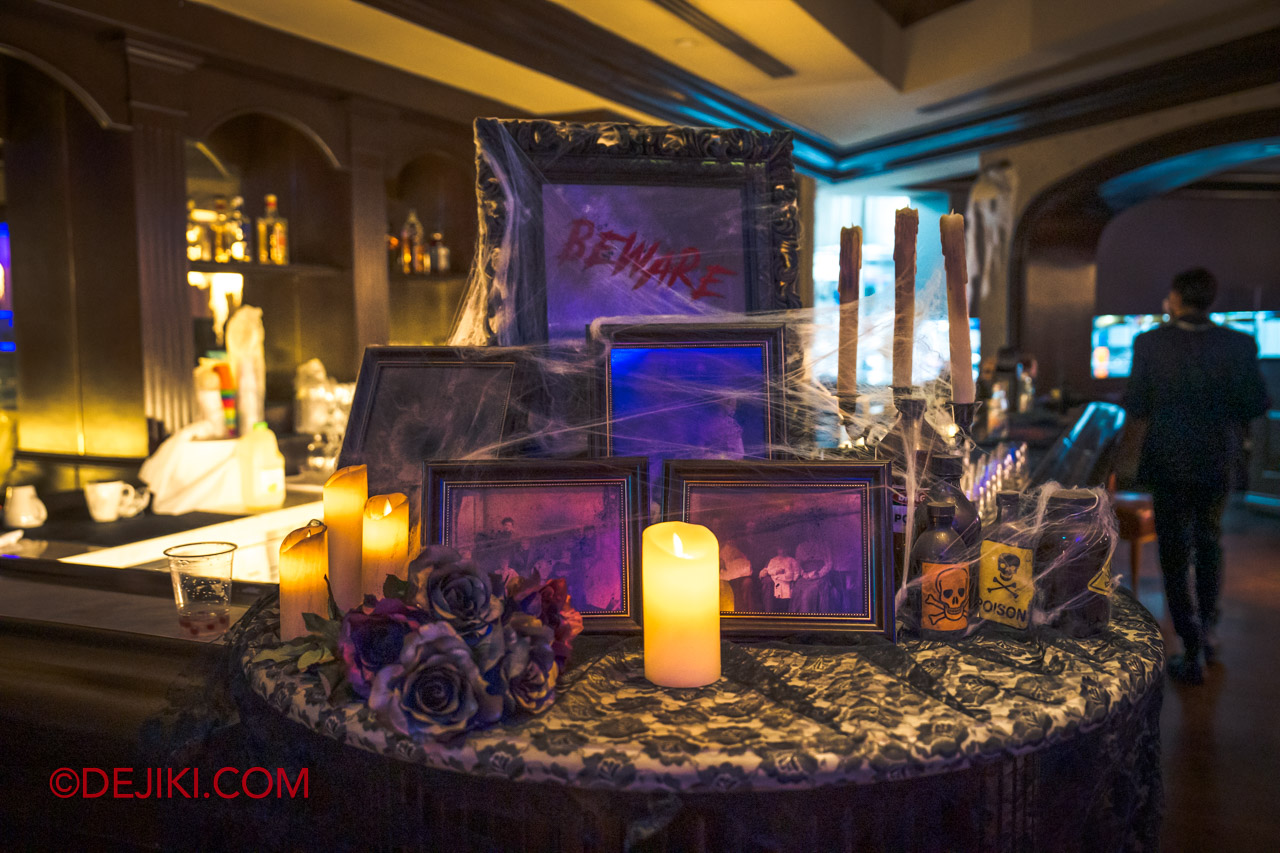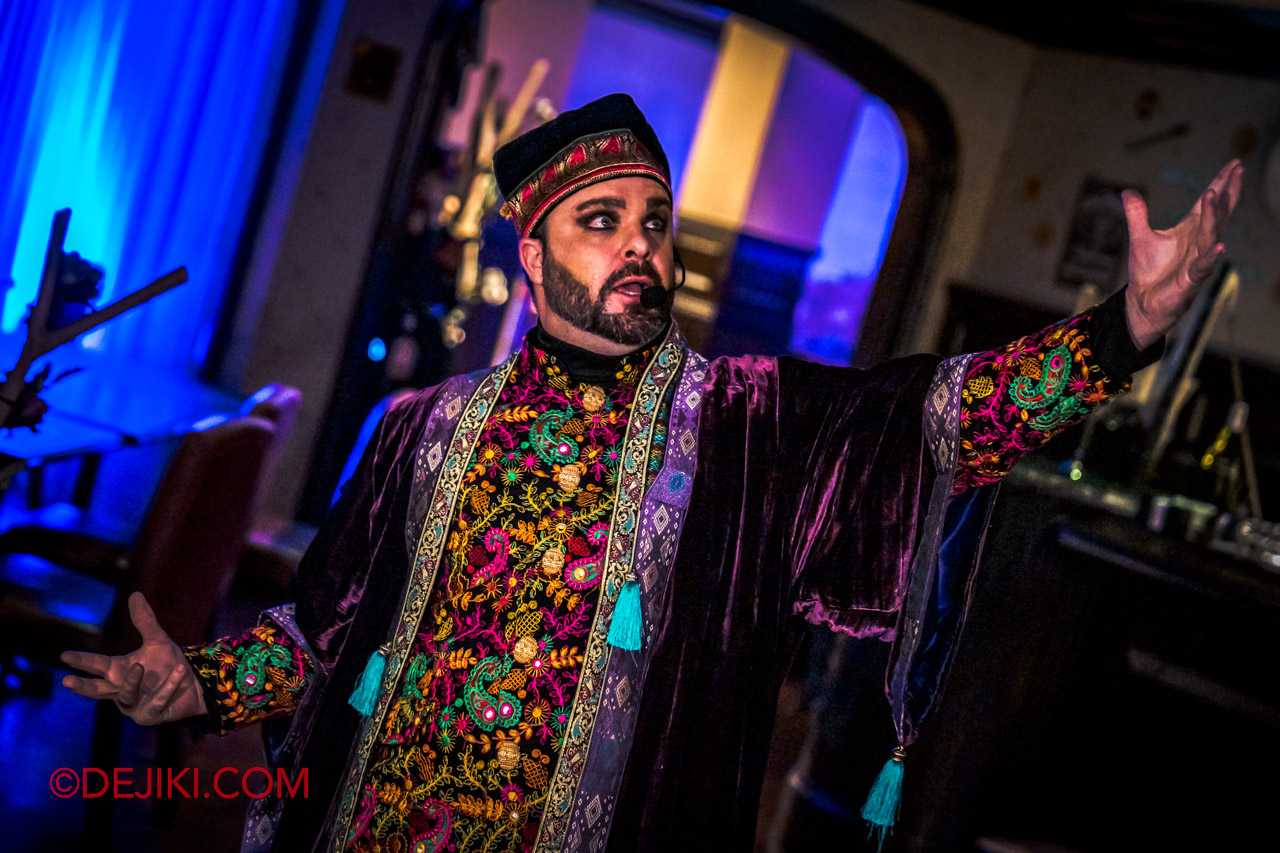 The Spirit Medium will open the Séance Supper and attempt to summon MissFortune, a ghost that brings wealth and luck.
Undead Short Ribs served in a skull shot glass: Slow-braised short ribs topped with smooth cauliflower puree, crisp puffed rice and syrup.
This had an unusual texture of soft, melty beef that ended with the 'maggots' crunch.
Despite his claims of fame and skill, the Spirit Medium's attempts to summon MissFortune was largely unsuccessful, instead he brought into the restaurant some rather terrifying spirits, such as The Lady in Black. Rather than turning the restaurant into a haunted house, you'll be amused by the barrage of physical comedy as the situation becomes more chaotic.
Séance Salad on an Ouija board: Scallops, prawn and octopus marinated in soy sauce, accompanied with fresh caviar, fava beans, tomatoes and black garlic.
It's a tasty seafood salad that will summon your tastebuds for the next course, and leave your lips blood red.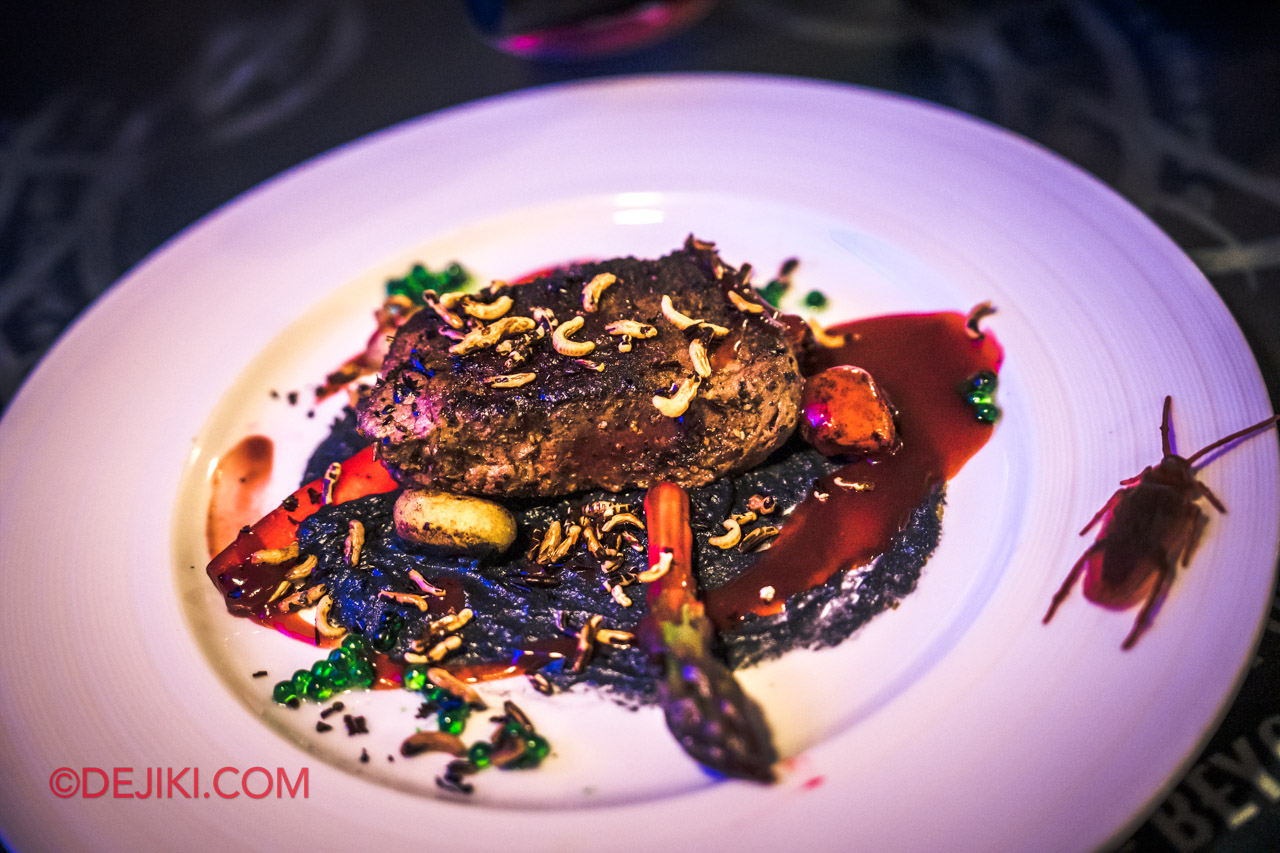 Bloody Steak Bites: Australian beef tenderloin dry aged for 120 days, slow-cooked and seared to tender perfection. Served with truffle mash, gnocchi, asparagus, and embellished with other creepy touches such as puffed rice 'maggots', olive caviar and herb jus.
I quite liked this course as the beef was rare (and bloody) as described. Very tender and juicy. Plating was horrific, complete with a cockroach.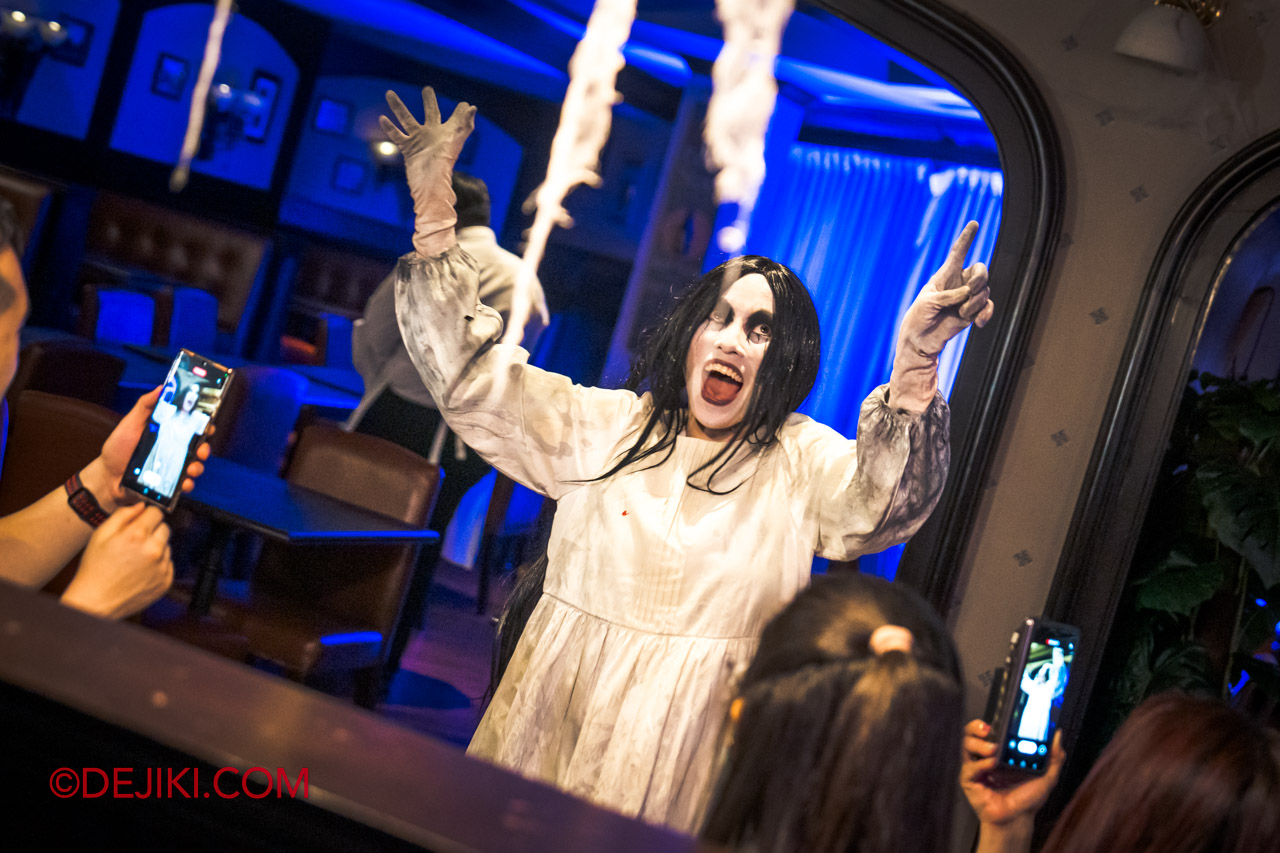 As they say, "third time's the charm", and finally MissFortune makes her appearance to the Séance Supper. Something happens during this point of the experience – of which diners can take part in MissFortune's gamble and receive a gift should they be lucky enough.
After that, the Séance concludes, and you can dine without any otherworldly disruptions.
Yummy Oozy Brain: A delicious brain-shaped cake made from ash chocolate mousse, with popping candies, pumpkin supreme and hazelnut praline inside. Covered in Morello cherry compote for a gruesome glaze.
A deliciously sweet ending to the DIE-ning experience, which most people in my RIP Tour had to gobble down like hungry zombies, in order to make it for the Opening Scaremony.
Don't forget to take some pictures with the haunting decor backdrops at the backdrop before leaving!
Compared to the 2021 DIE-ning with the Dead, this year's experience is much more complete, although I would say the restaurant's size, layout and lighting is not ideal for such an experience – only a handful of tables would get a good view of the action.
Watch some highlights of DIE-ning with The Dead in this YouTube video.
Location: KT's Grill, New York zone
Presentation: ★★★☆☆
Horror Level: ★☆☆☆☆
Halloween Horror Nights 10 Special Experience
Price
DIE-ning with The Dead 2022
Séance Supper with a 4-course meal and supernatural events
Seating Times: 6:30PM, 7:45PM, 9:00PM
Duration: Approx. 50 minutes
$105
---
Monsters & Manifestations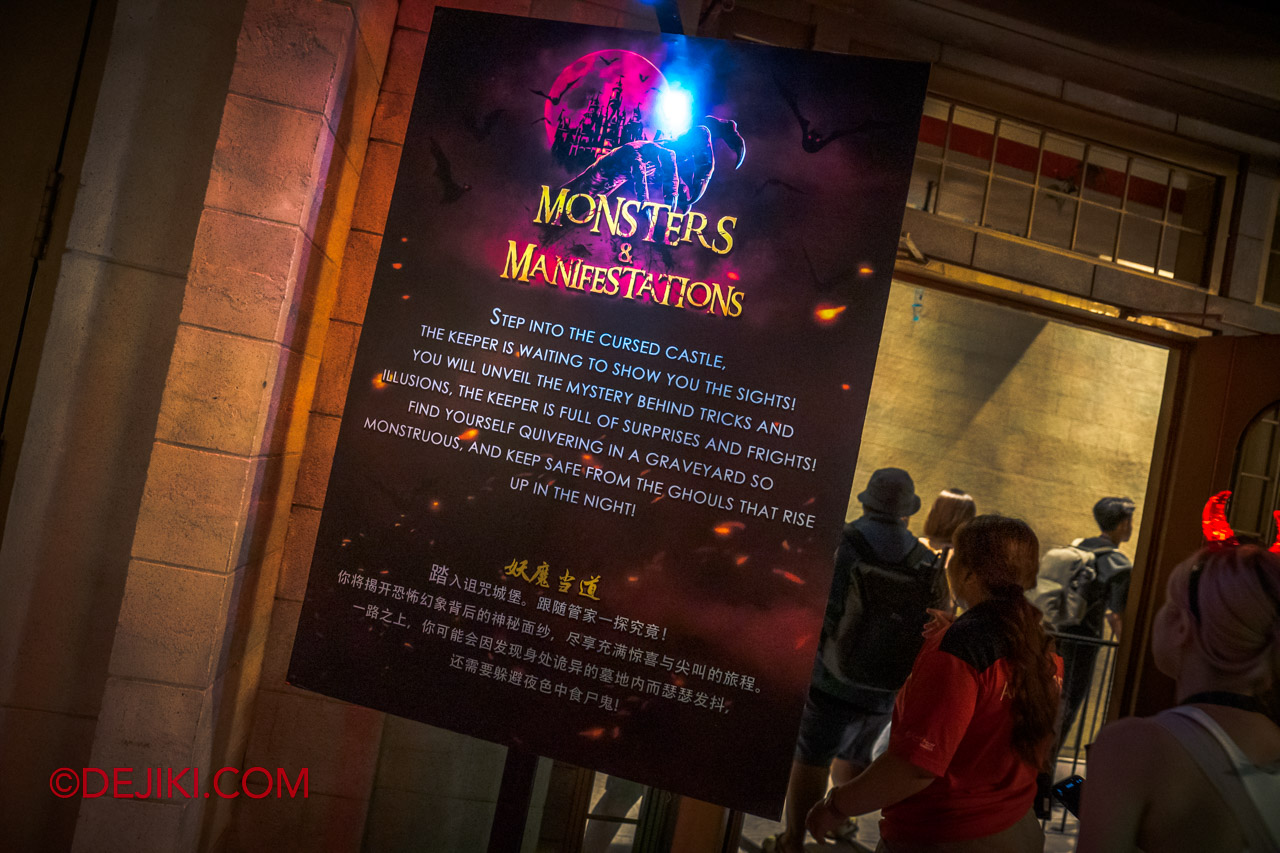 This all-new Monsters & Manifestations is a combination of an interactive 'behind the scenes' tour, stage show and haunted walkthrough. There is no similar offering from past events.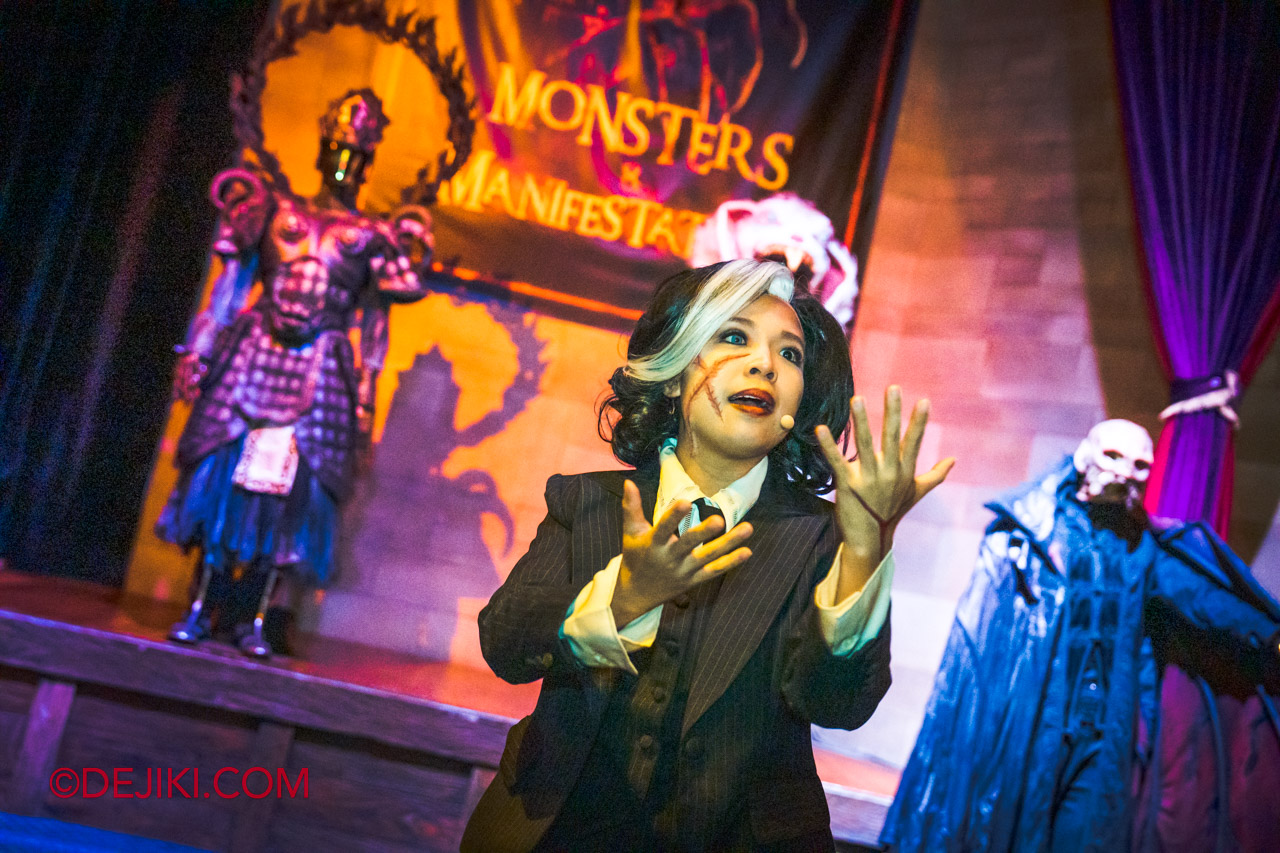 You will meet The Keeper, your host and guide in the Cursed Castle.
In the first room, you'll get a behind the scenes look at how some special effects in haunted houses are achieved, through literal smoke and mirrors, shadow play and more.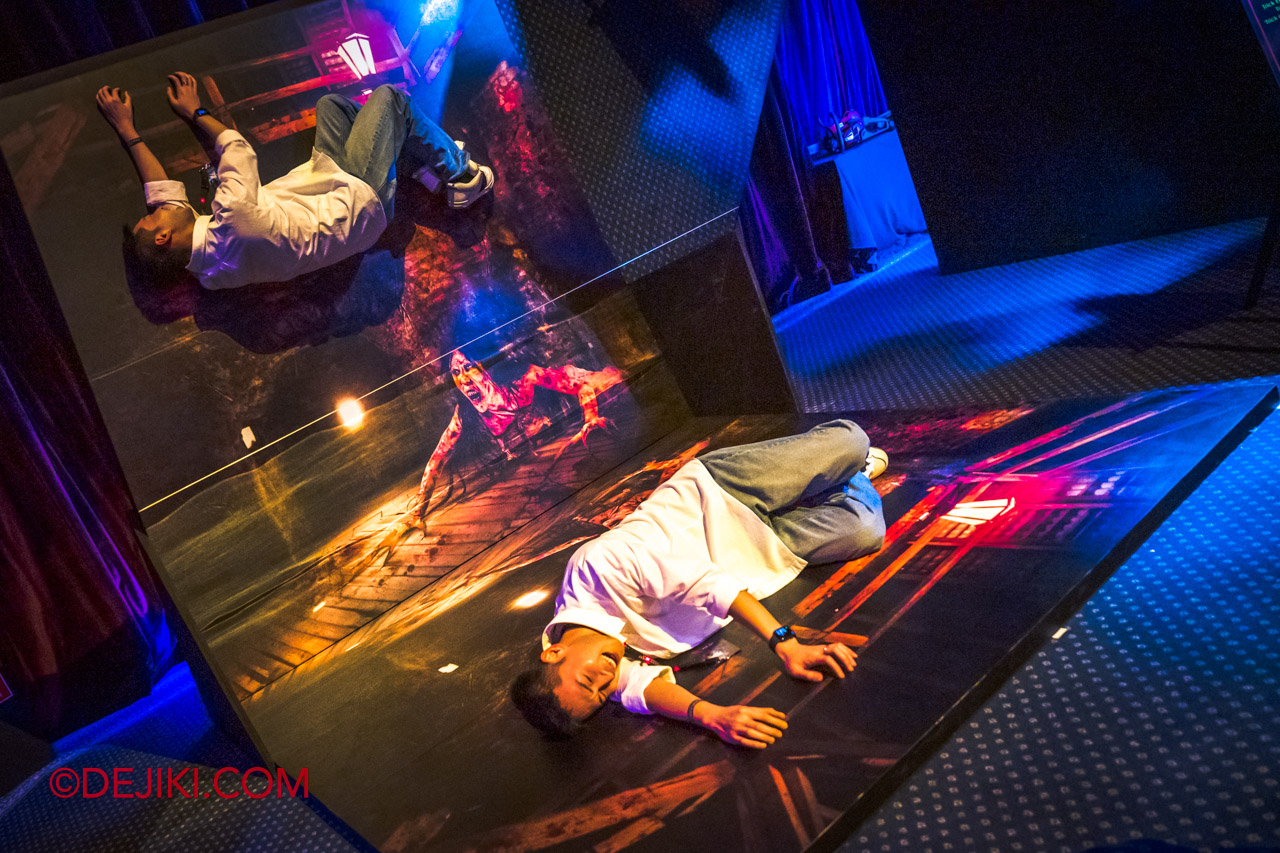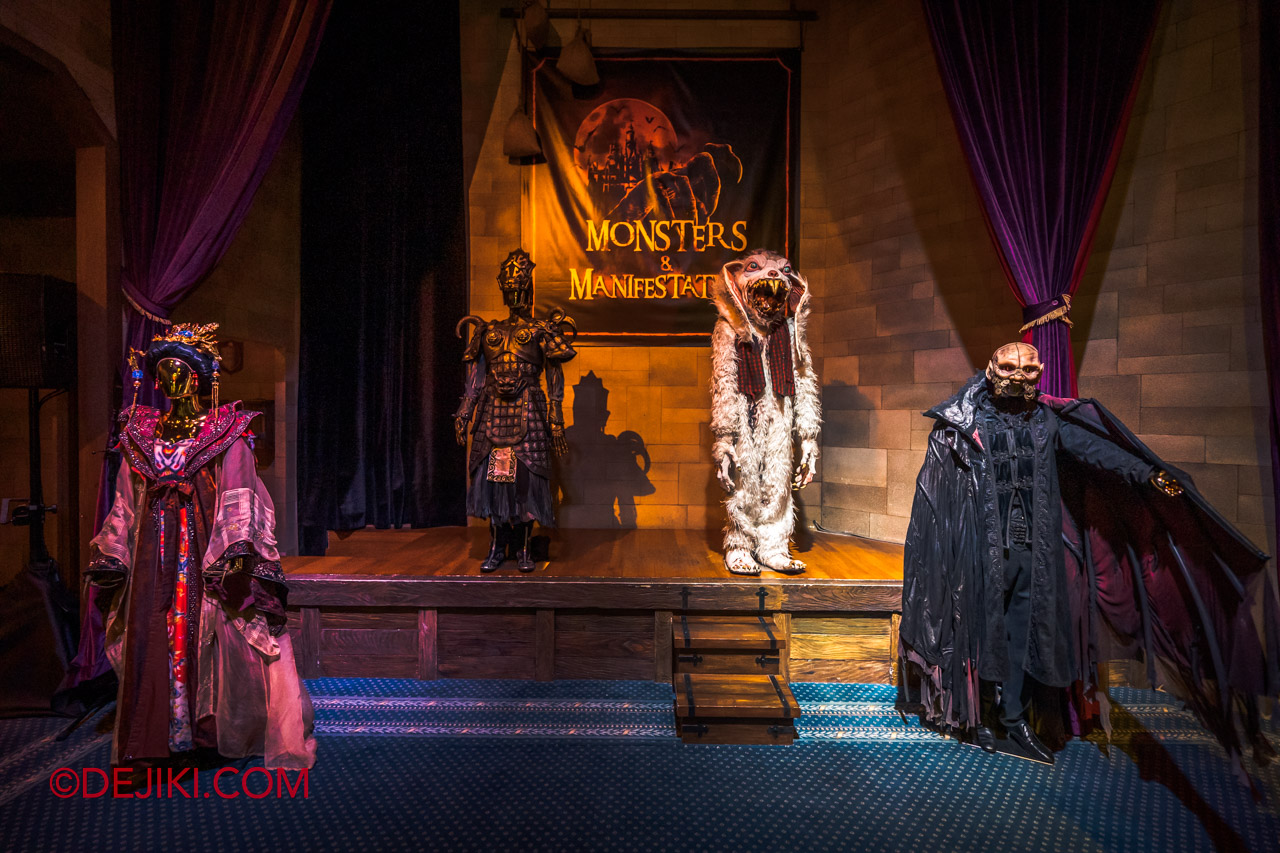 Take a bow in front of these past icons on display (from left): The TERROR-cotta Empress, Yin Demon, Bloody Bunny, and Lu Xi Fa.
Discover the scentscapes – a key element that builds on the multi-sensory effect, making haunted houses feel more immersive at Halloween Horror Nights.
The Keeper guides everyone to the Monstrous Graveyard, and offers you a can of Monster Energy. With a collective toast, you will raise the undead.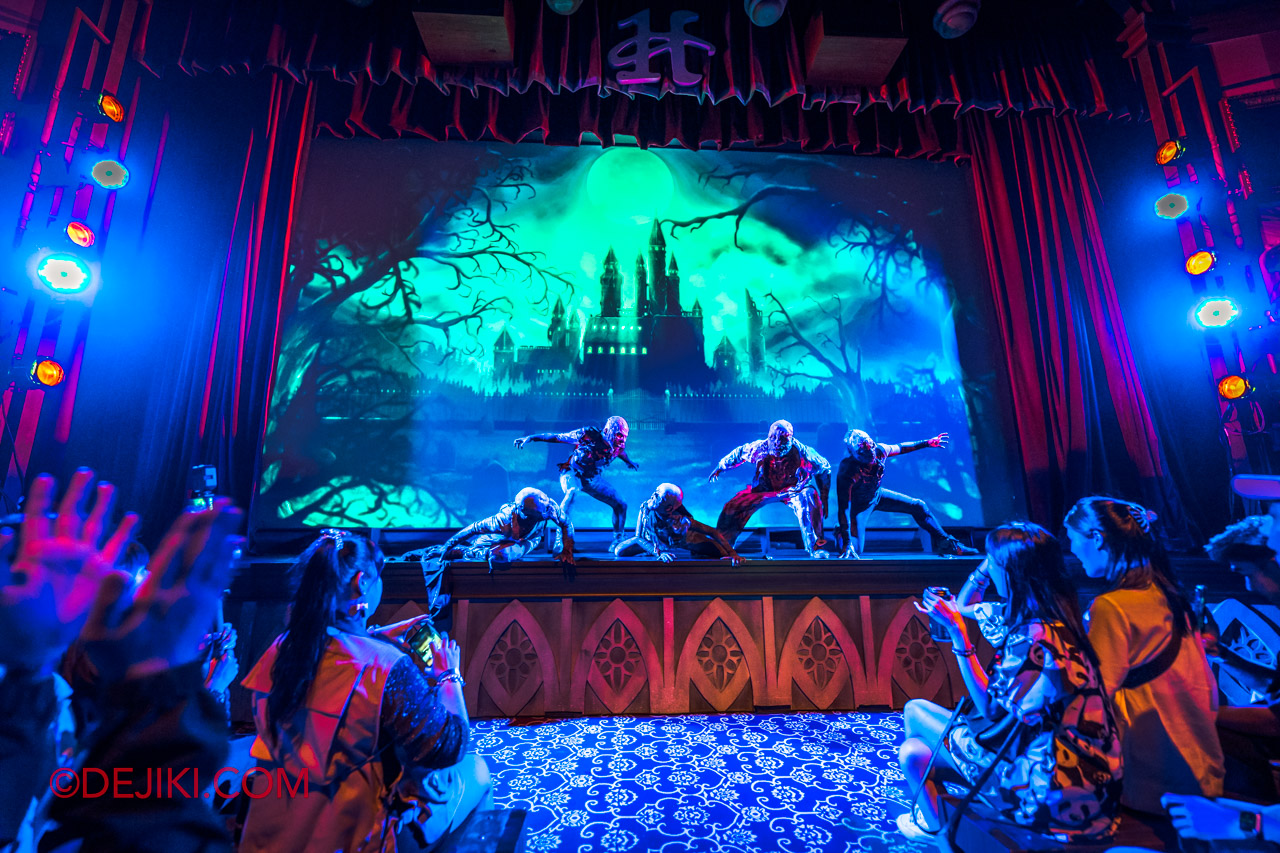 The zombies put on a wicked show, but The Keeper warns not to linger in the graveyard any longer.
Finally, your misadventure in the Cursed Castle culminates to… your escape to the living world outside.
Walking through the haunting Malevolent Hallway is your only way out.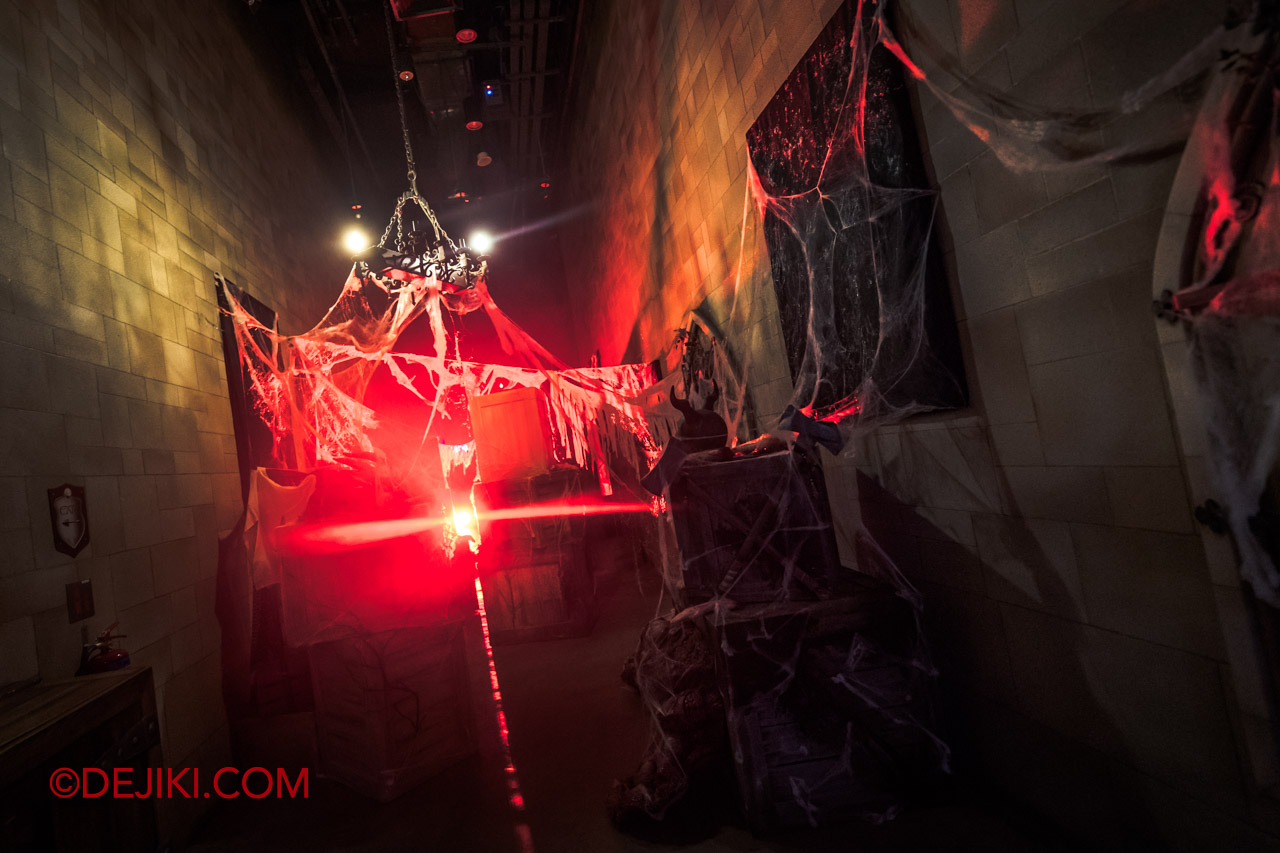 Perhaps the closest product to Monsters & Manifestations that I can recall is Universal Studios Japan's TRAUMA 3, which was an interactive and themed tour through a lab.
Out of all 3 HHN10 special experiences, I'd say that this is the one that is worth splurging for. Book your tickets early!
Watch some highlights of Monsters & Manifestations in my HHN10 Highlights YouTube video and RIP Tour vlog.
Location: Far Far Away
Presentation: ★★★★☆
Horror Level: ★★★☆☆
Halloween Horror Nights 10 Special Experience
Price
Monsters & Manifestations 2022
Interactive Tour and Show in the Cursed Castle
Show Times: Every 30 minutes from 8PM
Duration: Approx. 30 minutes
$38
---
Escape The Breakout (Laser Tag Experience)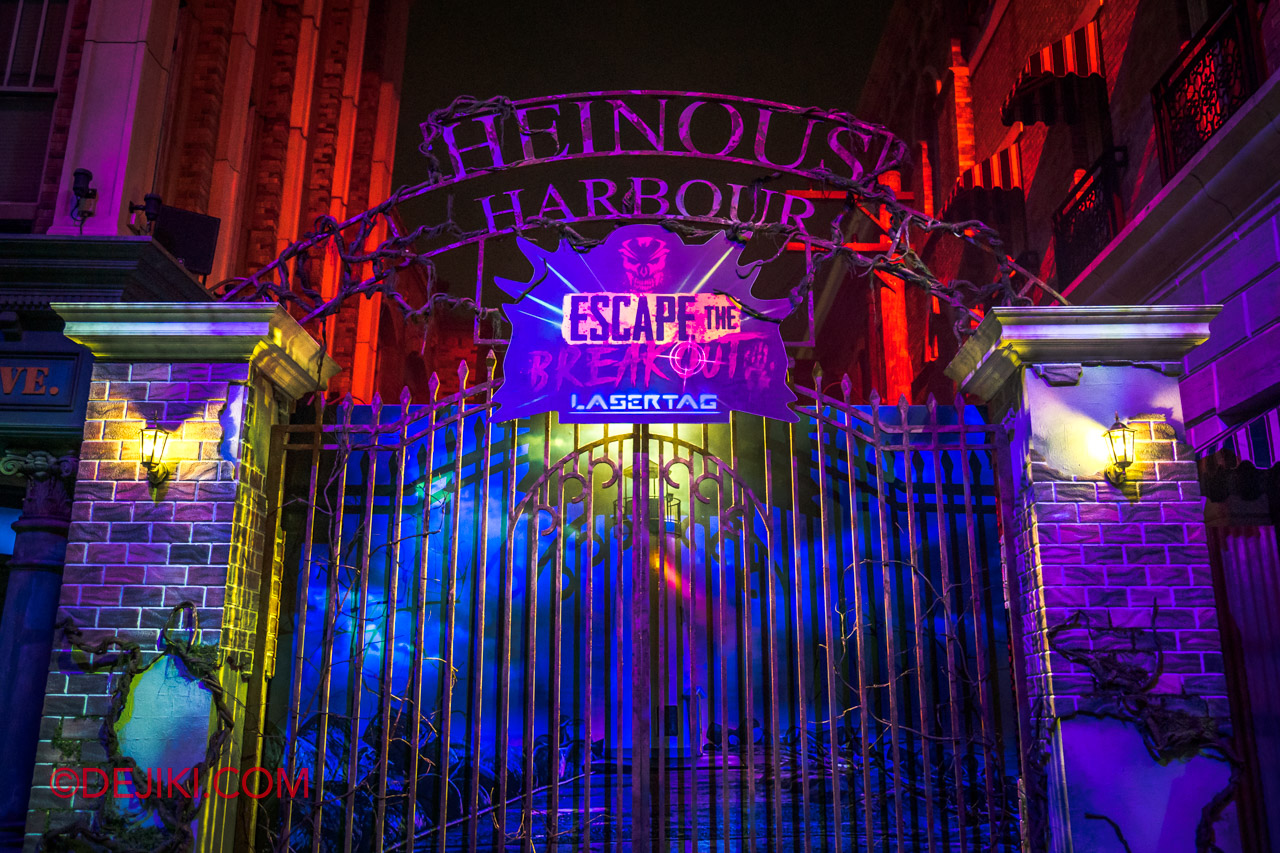 Laser Tag returns to Halloween Horror Nights, but this time you'll be escaping from criminals at Heinous Harbour, rather than fighting zombies.
This is the successor to the 2018 Zombie Laser Tag (Jurassic Park) and the original experience in 2017 that was also staged in Sting Alley/ New York Harbour area.
Upon checking-in at New York zone, you will meet Kristof Krook, who introduces his patented Behaviour Modification Technology integrated into the Tazer (laser tag rifle).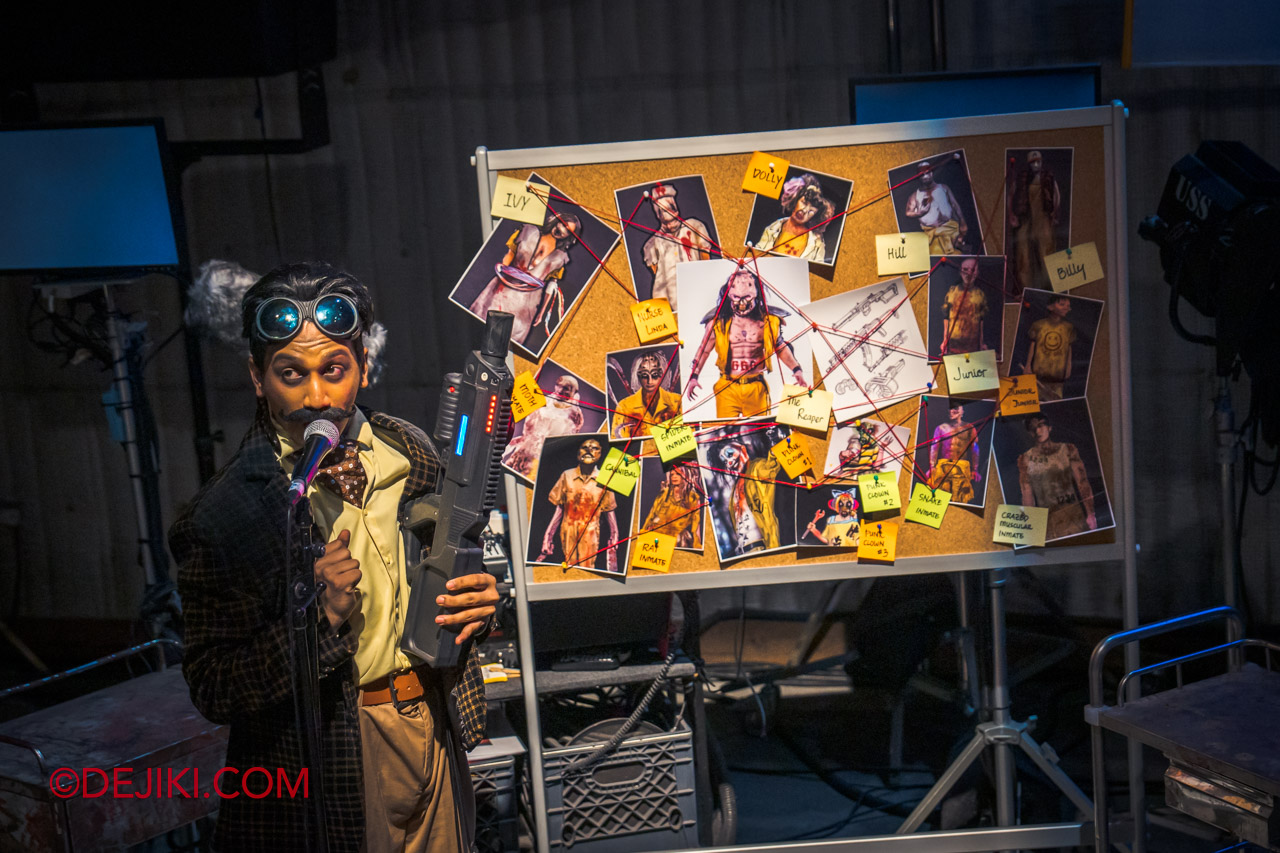 Each shot from the Tazer will generate a jolt of 500,000 volts, stunning the target for about 2 seconds. Repeated exposure can induce a state of happiness.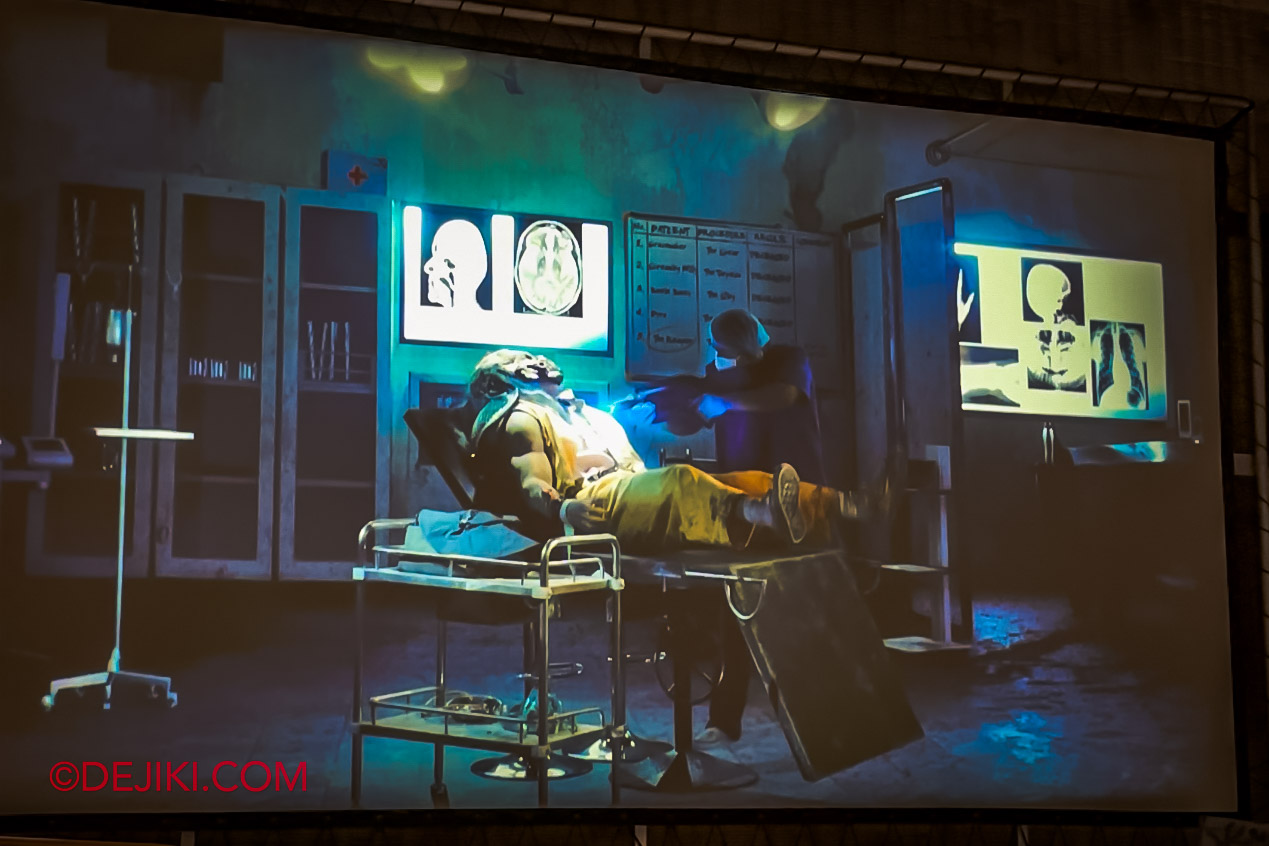 Kristof demonstrates the Tazer on the Reaper, which backfires, inadvertently causing the breakout.
As the breakout sets off chaos at Heinous Harbour, you are also locked in.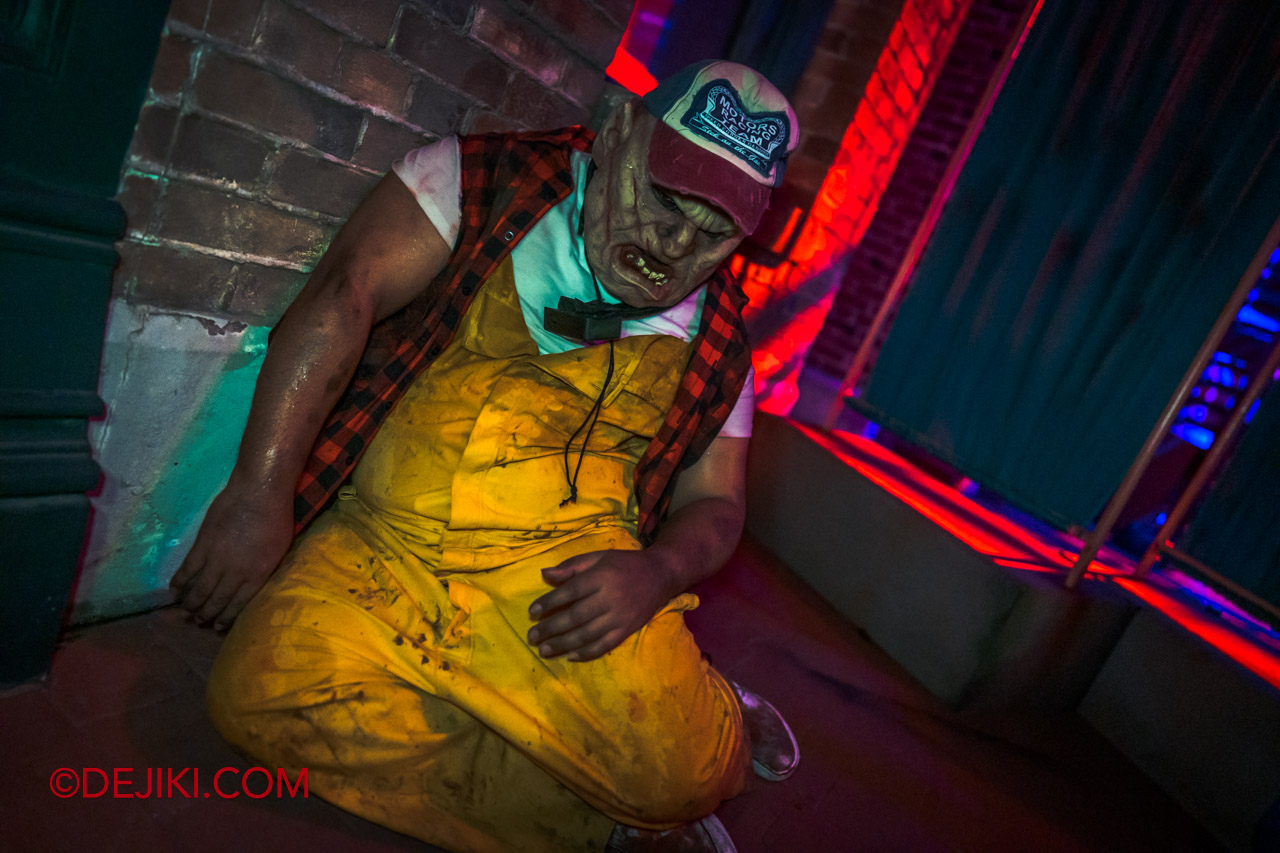 Now you have to escape the breakout, using Kristof's Tazer!
Through small, separated maze-like environments, you'll have to use the tazers to fend off criminals, as you figure out the games that the Reaper has created for you.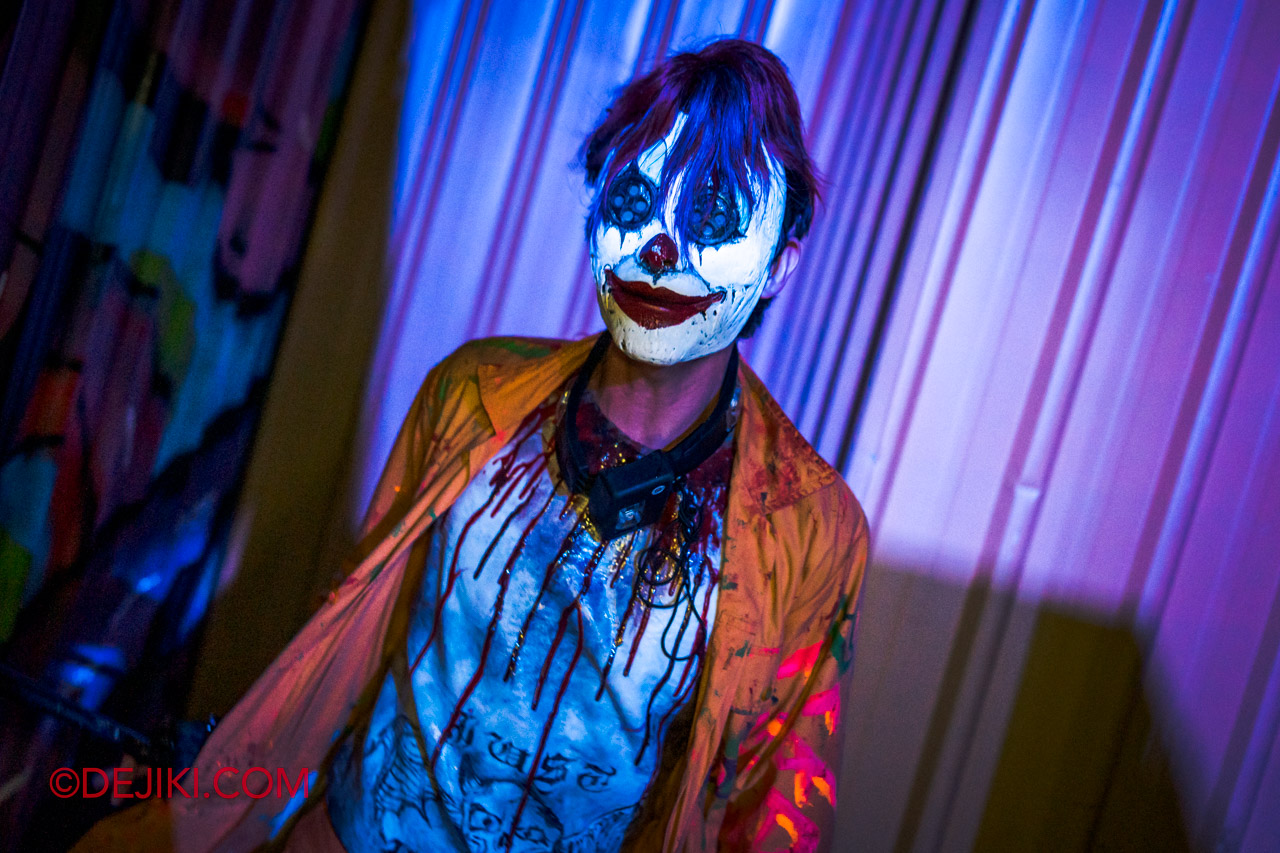 Each criminal look dangerously styled, each with their own unique look and behaviour.
Lastly, you'll meet the Reaper himself, and he offers you a final challenge – solve it and you can finally escape from Heinous Harbour!
Escape The Breakout started off strong – a cool pre-show experience explaining its story and well-developed cast of unique characters, each with its own costume (see the photo of the pinboard above). Sadly, the experience felt lacking after that as I exited the pre-show room and collected the rifle from the crew managing the laser rifles – obviously outsourced vendor.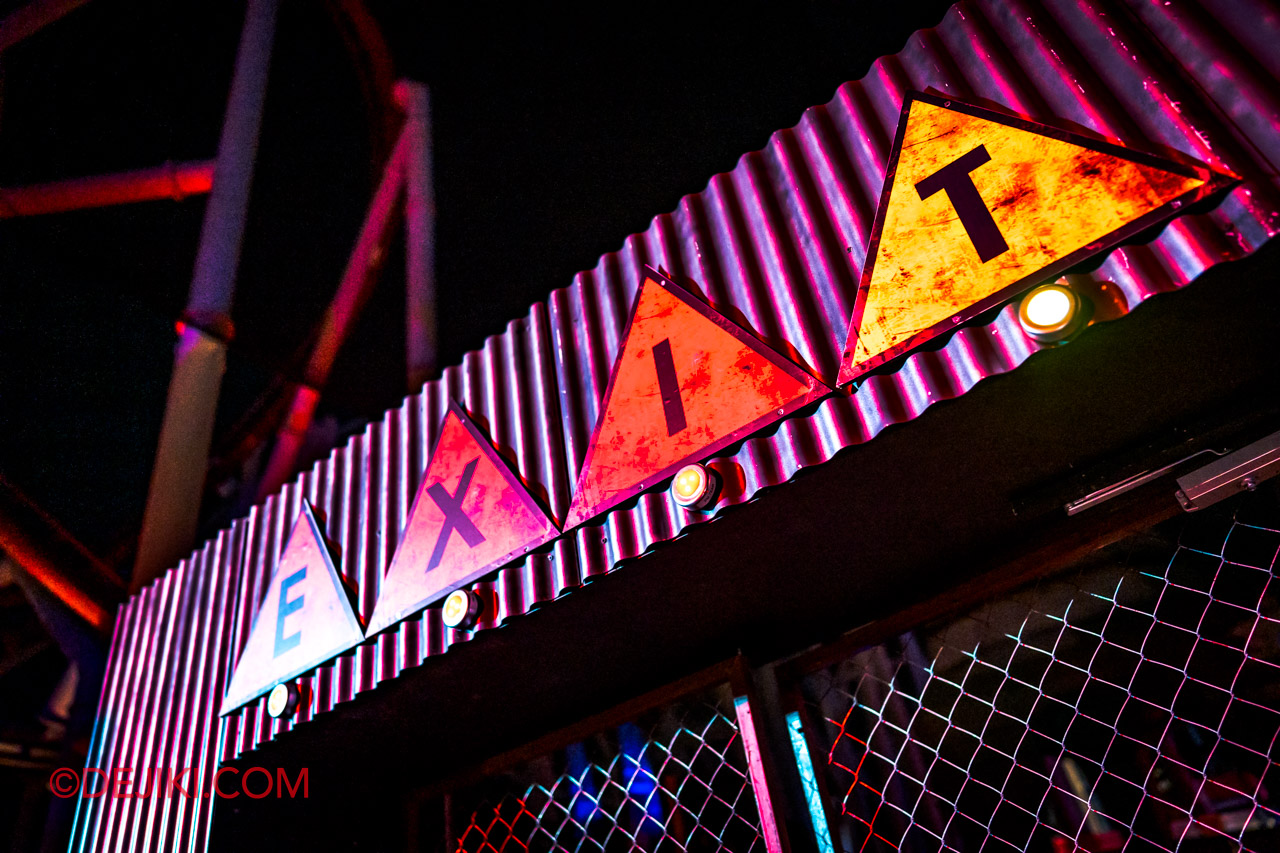 It also wasn't as fun as I thought it would be – the puzzles are also reminded me of first-gen escape rooms. It almost felt like this was developed first as something else – a zone or house, and the game elements were shoehorned in.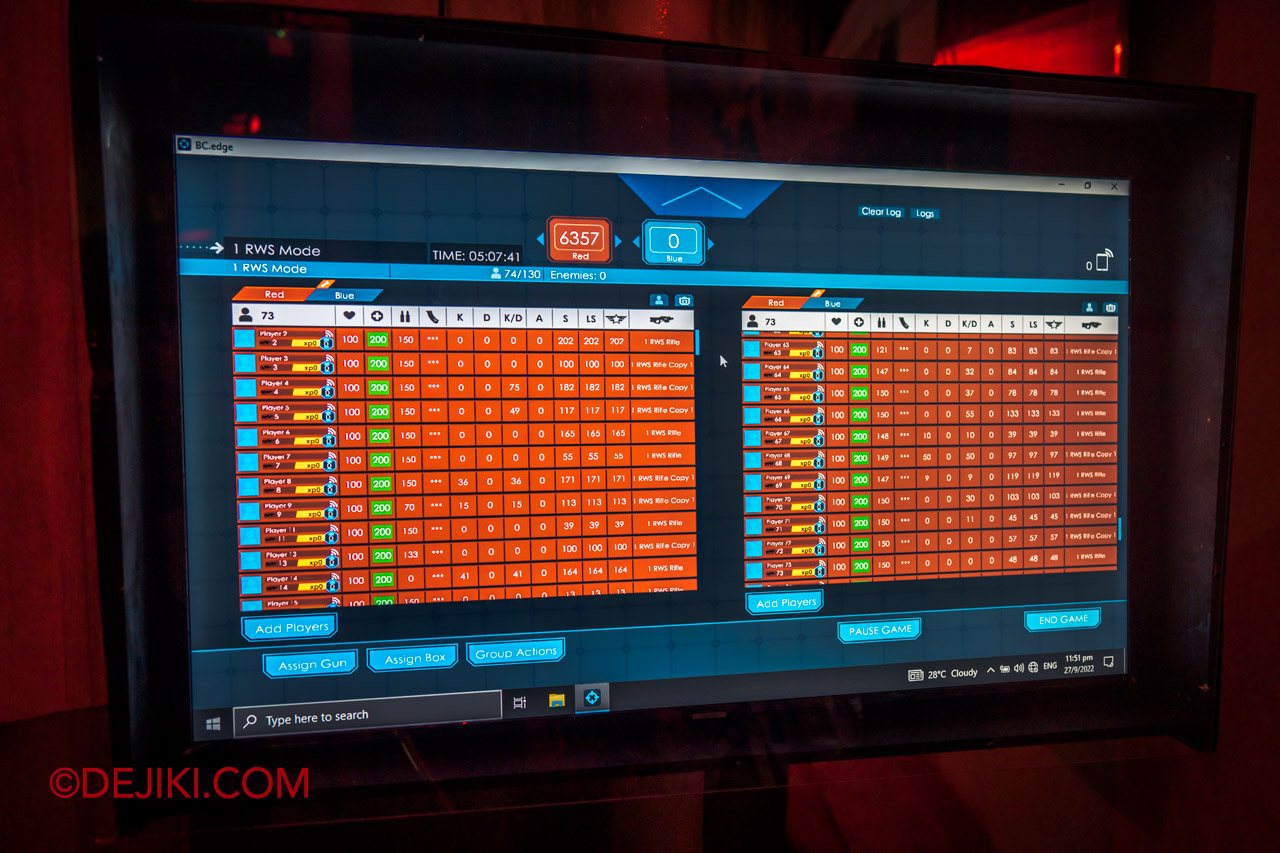 After completing the last task, it's all about walking back through the generic queues (of Lights, Camera, Action) to return the rifles and check the scores off this very generic table. Wait, we've been keeping scores?
There is no themed debrief or even some proper closure on what has happened. All the effort in storytelling at the pre-show and main experience just evaporated. Even a simple video clip of the Reaper taunting the players, or Kristof's closing remarks would have helped.
Watch a short clip from Escape The Breakout in my HHN10 Highlights video.
Location: New York zone
Presentation: ★★★☆☆
Horror Level: ★★★☆☆
Halloween Horror Nights 10 Special Experience
Price
Escape The Breakout (Laser Tag Experience 2022)
Laser Tag and Escape Room-style Game at Heinous Harbour
Maximum 5 players per group
Game Timeslots: Every 15 minutes from 8PM
Duration: Approx. 15 minutes
$38
---
Halloween Horror Nights 10 runs on select nights from 30 Sept to 5 Nov 2022.
Halloween Horror Nights 10 MEGA Review by DEJIKI
Read my full review and see photos from this year's 3 haunted houses, 2 scare zones, the Opening Scaremony show, and other special experiences.
Halloween Horror Nights 10 EVENT GUIDE
Get all the info you need about Halloween Horror Nights 10 in my Event Guide, including event calendar, ticketing options, add-ons and the RIP Tour prices.
Halloween Horror Nights 10 (2022)
HHN10 REVEALED: Ticket and Event Guide
Halloween Horror Nights 10 MEGA Review: Photos of all Haunted Houses and Scare Zones
SPECIAL FEATURE: Behind the Scenes at HHN10 Haunted Houses
HHN10 RIP Tour (VIP Tour) Review

Features on Haunted Houses, Scare Zones and Experiences
The Silenced Auction (Opening Scaremony) | DIE-ning with The Dead | Monsters & Manifestations
Escape The Breakout | Killustrator: The Final Chapter | Hospitality of Horror
Operation: Dead Force | The Hunt for Pontianak | Dark Zodiac

Trick or Thrills (2021)
Halloween Horror Nights Exhibition
2021 Day and Night Halloween: DIE-ning with the Dead, Universal Monsters Scream Alley


Halloween Horror Nights – The Archives


Click to Expand and see all posts from past Halloween Horror Nights