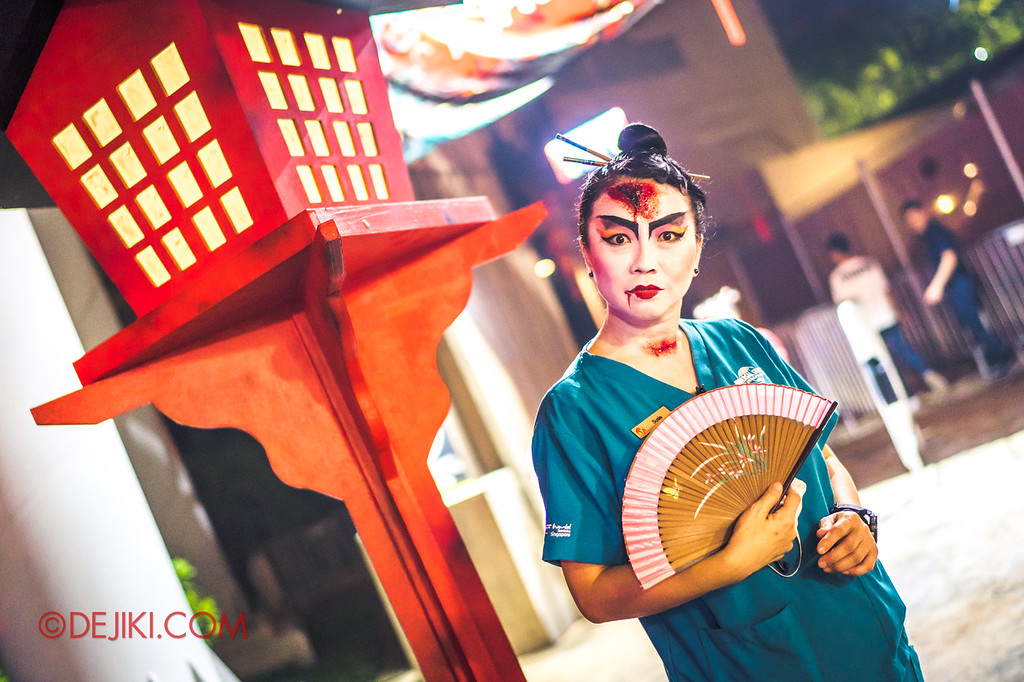 Conquer your greatest fears like a VIP at Halloween Horror Nights 8! Read to find out about the HHN8 RIP Tour and 2018 Behind the Screams (BTS) Tour in this review!
What is the RIP Tour?
As the name Rest In Peace (R.I.P) Tour suggests, this is the premium tour product at USS Halloween Horror Nights. The guided tour covers all haunted houses, scare zones, shows, plus select rides. To enhance guest experience, this year the tour time is extended by an hour to 4 hours.
The popular Behind the Screams backstage tour has returned as a Mastercard exclusive bundle for 2018. This article and review covers both experiences. I've also produced a quick vlog to let you experience some highlights of my BTS and RIP Tour.
Vlog: HHN8 BTS and RIP Tour
HHN8 Behind The Screams (BTS) Tour
Available exclusively as a bundle for Mastercard cardholders, the BTS Tour is a combination of lights-on tours inside the Killuminati and Stranger Things haunted houses, followed by a presentation on costume technology and makeup. The tour starts at 5PM and has to be redeemed on the same night as an RIP Tour booking.

Using the handy wireless headset introduced last year, the BTS Tour Guide will offer comprehensive intros to this year's theme and line-up as you leisurely strolled to the 2 haunted houses. Cool stuff like the secret rooms and stunt acts of the Killuminati house are explained in detail. At Stranger Things, you'll learn about the 12 iconic scenes and special techniques used to create the immersive environments in each room.
If you thought you could take photos inside the 2 haunted houses during the tour, you might be disappointed to know that photography is not allowed this year.
The second half of the tour, Costume Technology and Makeup Demo, is held at Princess Fiona's Royal Parlor inside the Far Far Away castle.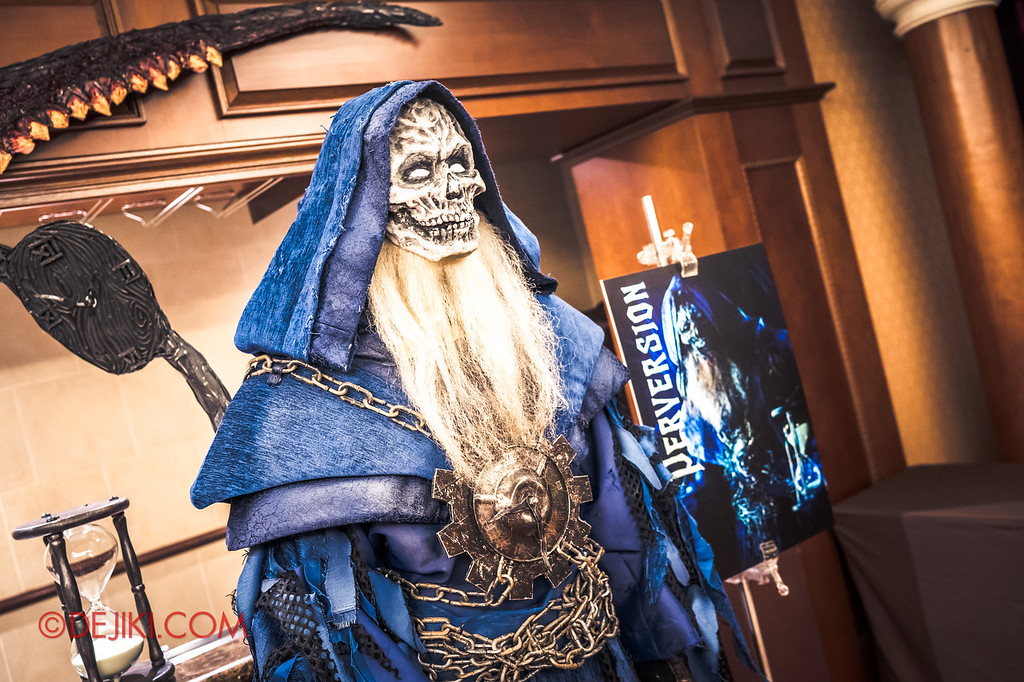 On display this year are costumes of the iconic 7 Sinisters from last year's event.
Time for revision…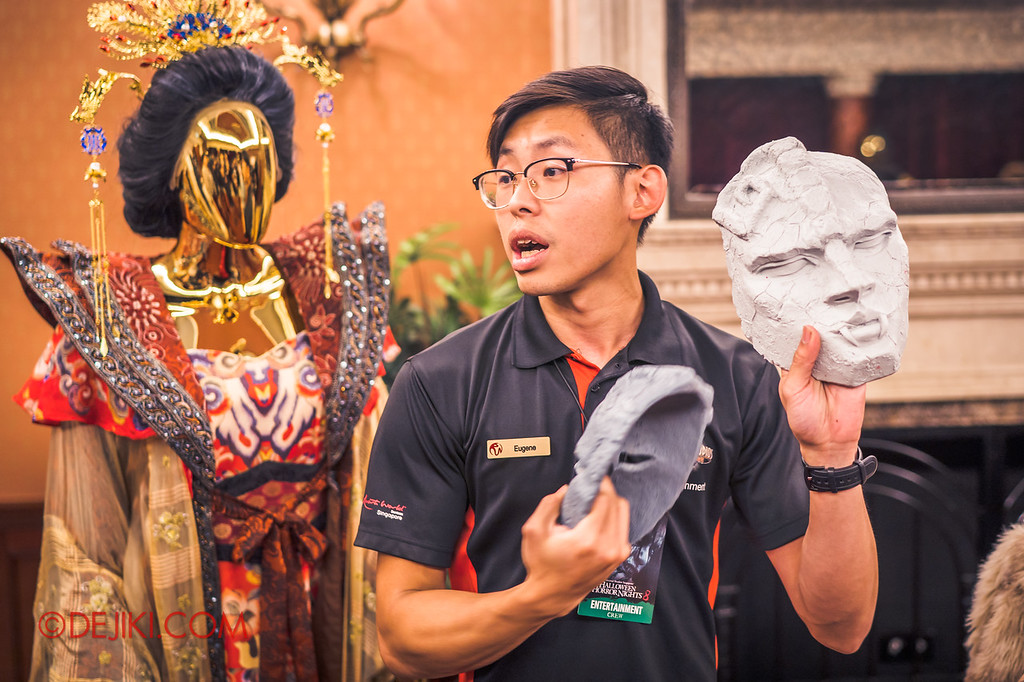 Here you'll learn all about the different materials and techniques used to create the masks, props and effects for characters at Singapore's Halloween Horror Nights. Most of them are created in-house.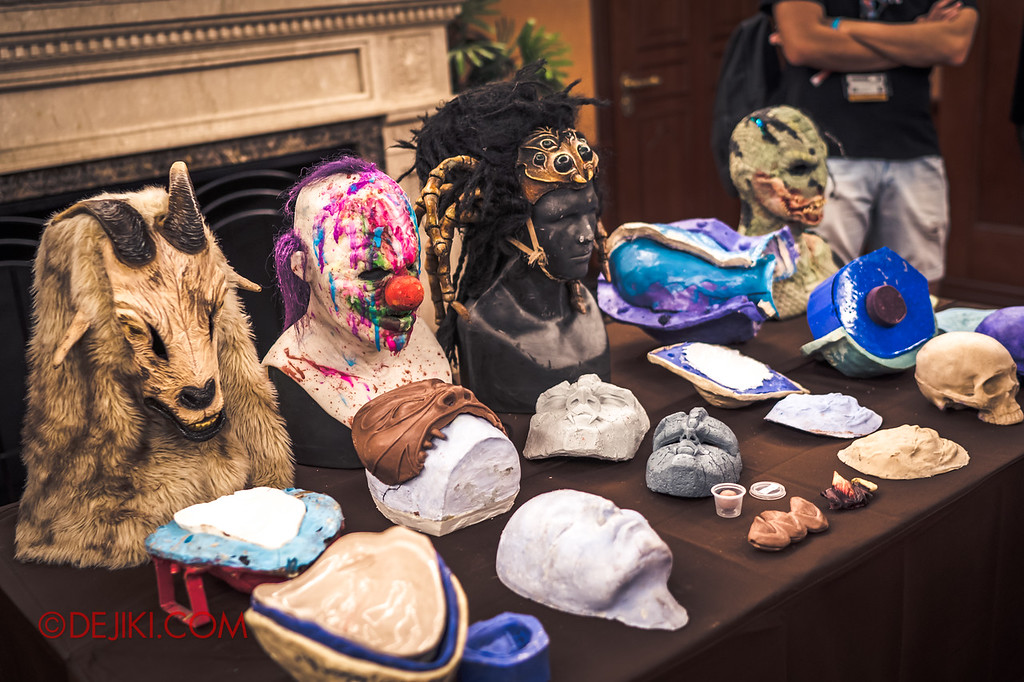 You can get some wounds and boils applied here too… if you dare.
What's this? Post a comment if you know the answer.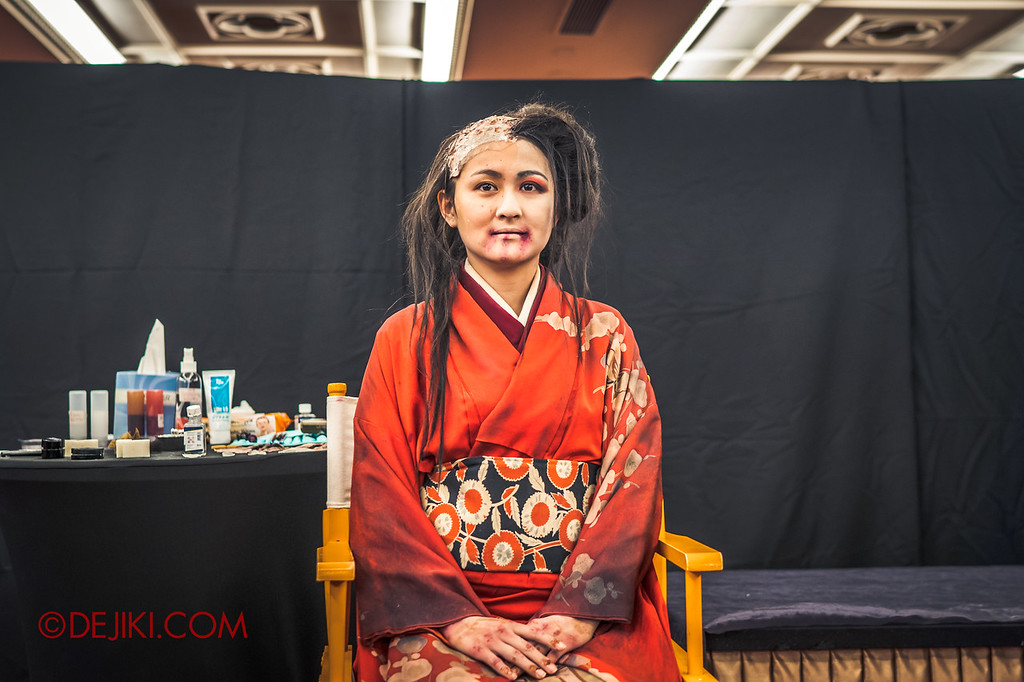 For the makeup demonstration, you'll get to see the transformation of Lady Oiwa, one of this year's many icon. Yoroshiku Onegaishimasu.
For the icon-tier characters that appear on the Hollywood stage, their makeup is more elaborate and can take several hours to complete. The most complex makeup this year is the tree-like Goddess Gaia who appears in the Apocalypse: Earth scare zone.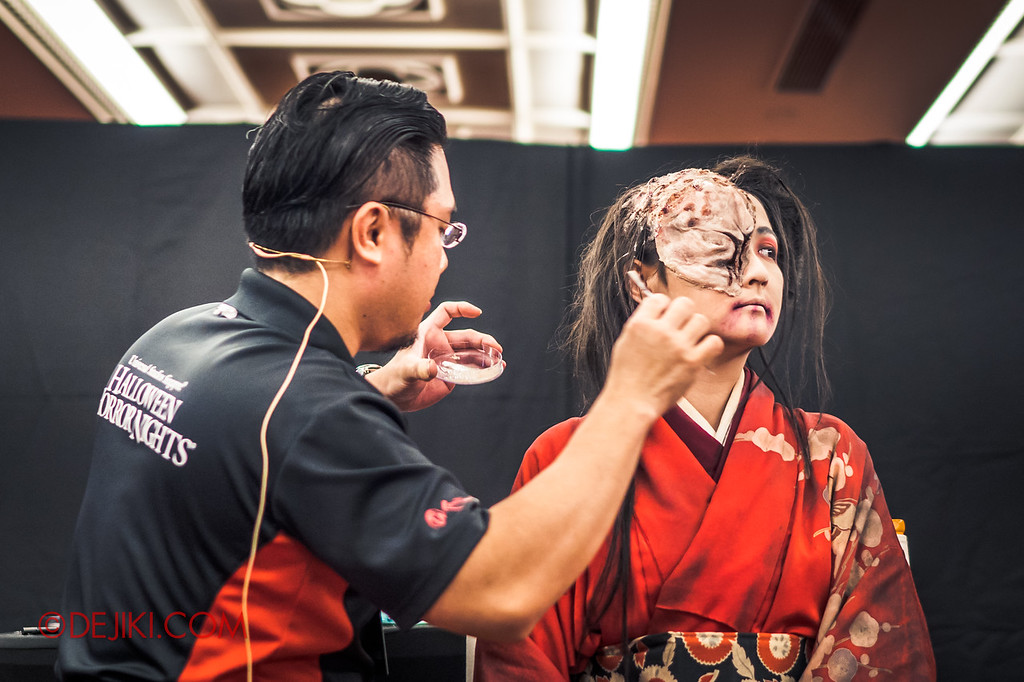 The makeup demo is a great opportunity to get your dying questions about HHN8's costumes, makeup and effects answered.
After the presentation, you can take selfies with Lady Oiwa, before departing for the ala-carte dinner.
Ala-carte dinner at Loui's
The RIP Tour includes a $25 meal voucher, which can be redeemedat Loui's NY Pizza Parlor during the pre-event ala-carte dinner. Arrive at the USS VIP reception by 6PM so you have ample time to enjoy your meal before the INFINITE FEAR Opening Scaremony Show. Alternatively, this meal voucher can also be used at select F&B carts and outlets during your tour night.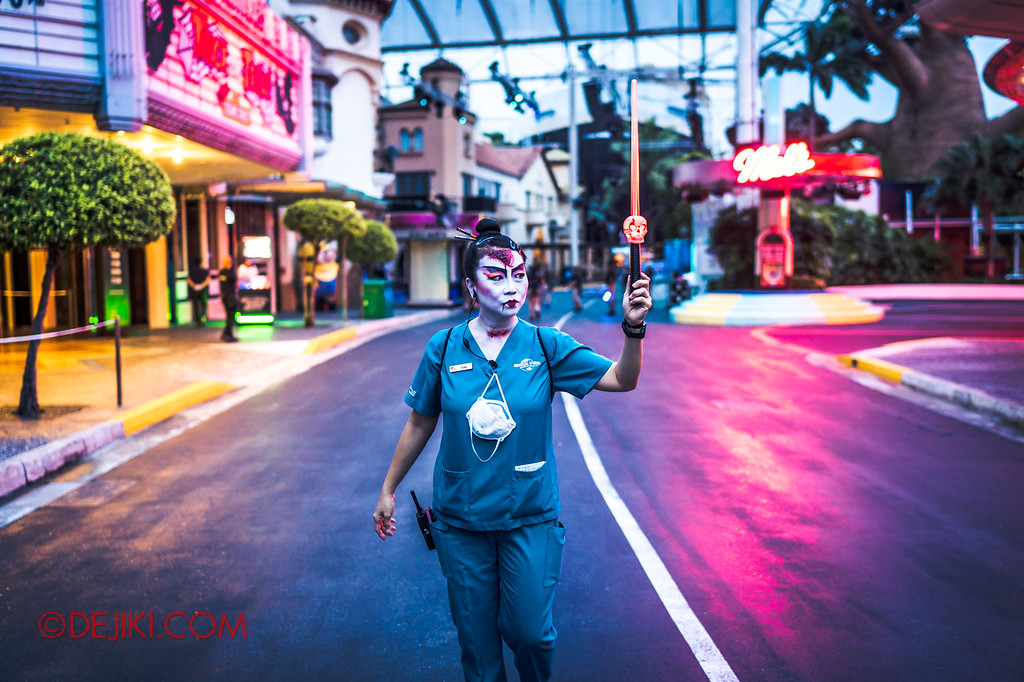 After all these appetiser experiences, you are ready for the main event when darkness falls.
HHN8 RIP (VIP) Tour
Enjoy front-row views of the INFINITE FEAR Opening Scaremony, starting your night of frightful fun.
Front of Line Access
Once the show ends, you'll be the first to walk out of Hollywood Boulevard and your tour officially begins. No running required.
Usually most tour guests would want to prioritise the haunted houses, but often many who come on tour are visiting the park for the first time as well, so they may want to do rides along the way. The RIP Tour Guides will do their best to mix and match everyone's preferences.
Get jealous looks (or "dagger eyes") from guests in the queues.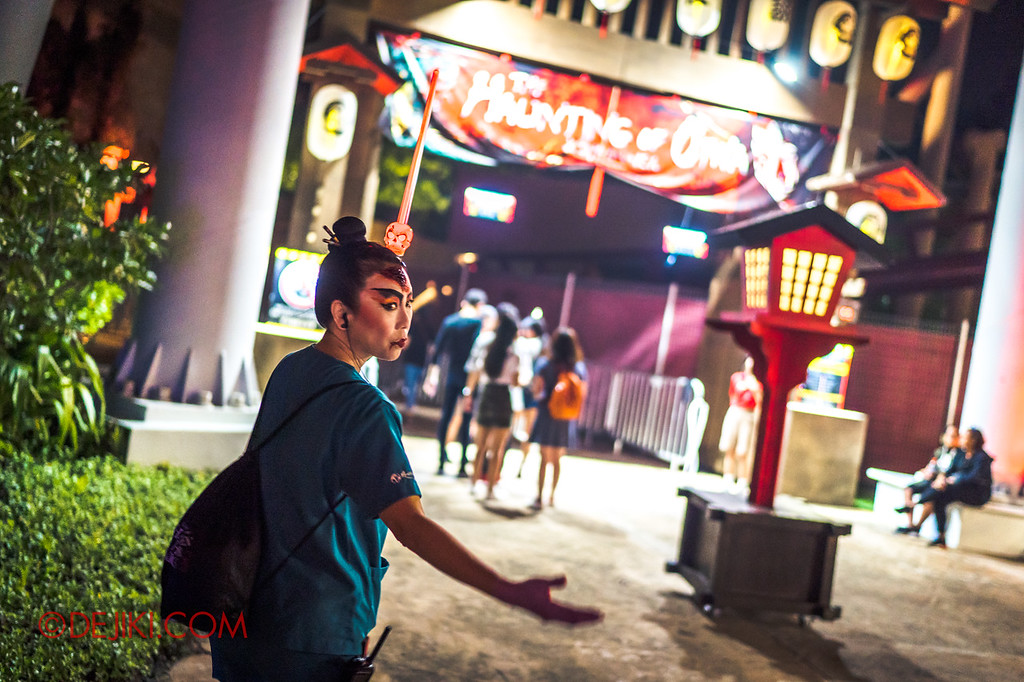 VIP access bypasses everything, even the Express Pass line, bringing you to the front of the lines at the houses.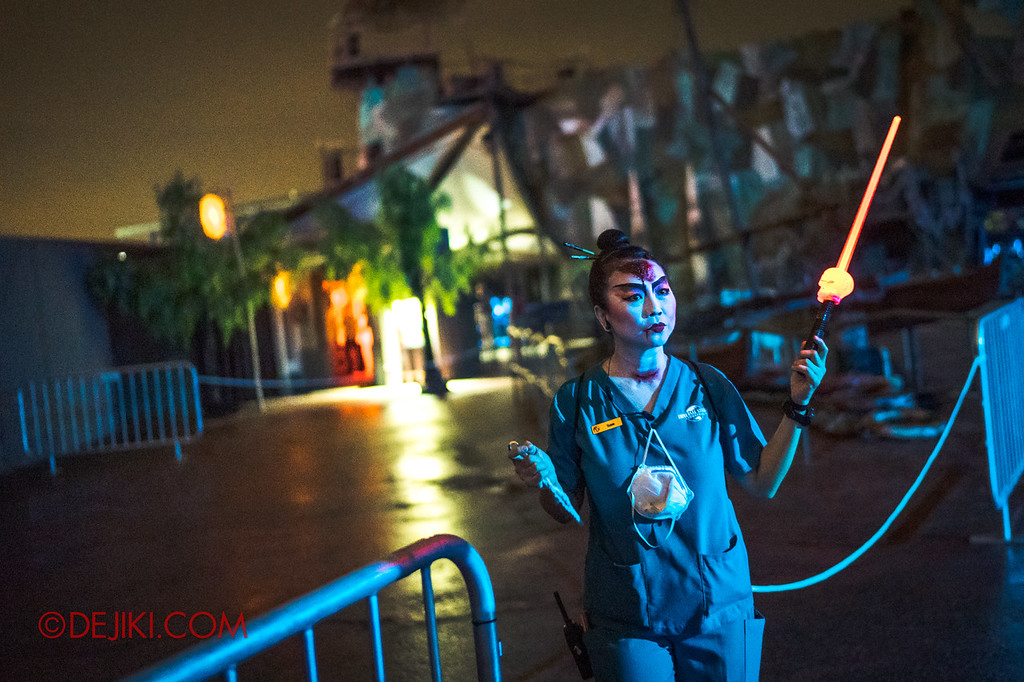 It might be too fast, too furious for some people! Maybe you can ask your tour guide to accompany you into the houses.
Get a quick break from your stroll around the park at Pantages Hollywood Theater. Here, the VIP seating area offers the best front-row views of the DEAD Talks show.
During your tour, you'll also get an exclusive Meet and Greet with one of 4 icons at the Theater's Foyer. This icon will not appear on the Hollywood stage during your tour night.
Your tour guide can also help you book VIP access for the Meet and Greet spot at Hollywood. Just let them know who you're dying to meet.
As this year's tour is 4 hours long, the pacing was very comfortable and we went through 4 of the 5 houses twice with VIP access. As everyone in my tour group didn't want to go on any rides, we could let our tour guide know to prioritise the haunted houses.
So for those who want to enjoy Horror Nights without running, waiting, or even worry about the rain, considering going on an RIP Tour. Not only do you save a lot of time and energy, but the guided tour experience alone is worth it for the immersive storytelling and other amusing quips.
The typical HHN Express Passes start from $60 ($80 for Express PLUS Pass, valid for haunted houses and select rides), but the park price is around $90 (for houses) and $110 (for houses and rides). In comparison, RIP Tours offer even better value, because along with the HHN Express Unlimited, you will also have guaranteed VIP access to attractions during your guided tour around the park. The tour guide will also keep track of the ever-changing situation (weather, high crowds) to ensure that you have a comfortable journey and don't miss any key experiences.
After RIP Tour: Use HHN Express Unlimited Pass
Another exclusive perk for RIP Tour guests: Enjoy countless screams after the tour with Halloween Horror Nights Express Unlimited access using your exclusive wristband at the participating attractions* all night long!
*Not valid for use at front row of Battlestar Galactica HUMAN vs CYLON, or DEAD Talks.
How to book HHN RIP Tour?
Email VIPExperience@rwsentosa.com or call +65-65776077 to make your reservation. Klook is also selling RIP Tours online for $178 (Non-Peak) and $248 (Peak). Check out all the tour price options below.
Same-day bookings and walk-ins during HHN8 event nights may be available, subject to availability. Advance booking is recommended as the tour may sell out due to high demand.
---
HHN8 RIP Tour: The details
RIP Tours can accommodate up to 12 guests per tour group. For exclusive tour options, please contact the USS VIP Experience Team at VIPExperience@rwsentosa.com.
RIP Tour Entitlements
• VIP access to ALL haunted houses, scare zones and select attractions
• 1 x Admission ticket to Halloween Horror Nights 8
• 1 x Halloween Horror Nights Express Unlimited Pass
• 1 x R.I.P. Tour credential, lanyard and glow stick
• 1 x $25 meal voucher usable at select F&B carts and outlets
• Private meet and greet with an iconic character
• 10% off select merchandise at Universal Studios Singapore retail outlets
• 10% off total bill at Universal Studios Singapore F&B outlets
• One-for-one promotion on photo prints
---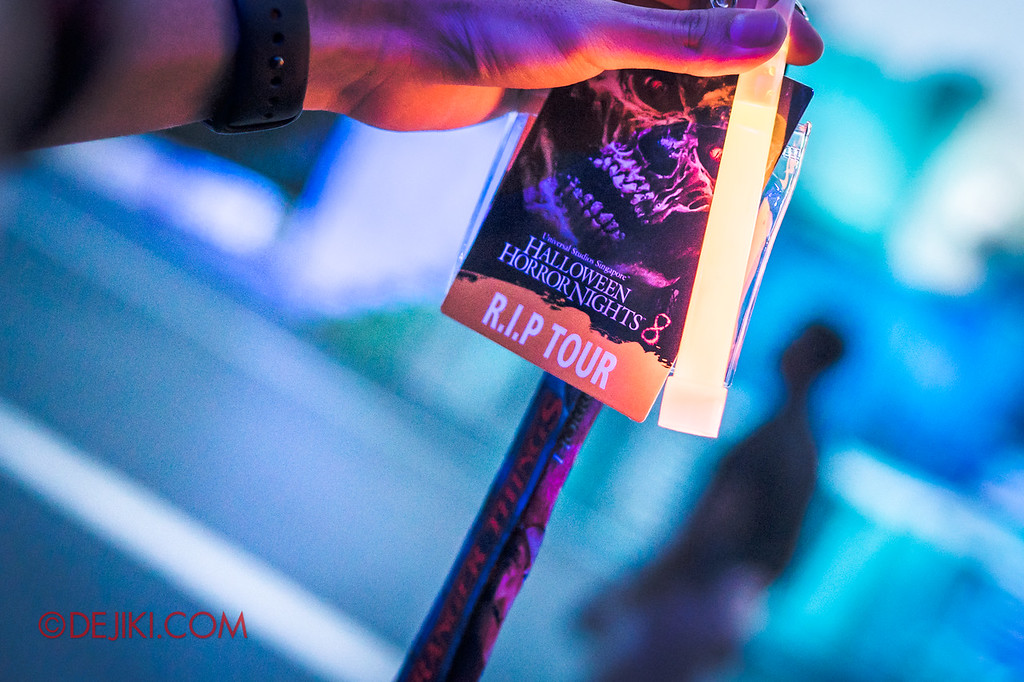 Another bonus: For the RIP lanyard, you could get the exclusive HHN Stranger Things design! Available while stocks last. All RIP Tour lanyards are not for sale separately in USS.
2018 R.I.P. Tour and Add-ons Price List
Category
Price
(Non-Peak)
Price
(Peak)
Halloween Horror Nights 8

RIP (VIP) Tour


Enjoy a guided tour and VIP access to houses and selected attractions during your tour, along with various VIP privileges.

Mastercard Exclusive: Mastercard Cardholders can book the tour at this rate and enjoy a complimentary Behind-The-Screams Tour on the same day, and a free drink with any meal purchase during HHN8.

$178
$248
HHN8

RIP Tour

for Maybank Cardholders
$168
$238
HHN8

RIP Tour

for RWS Members and Students

Special discounted rate for RWS Invites Members, Attractions Annual and Season Passholders. Students with valid Student ID may also purchase the tour at this rate.

$148
$218
HHN8

RIP Tour

for Returning Tour Guest

Special discounted rate for guests who have been on the 2017 RIP Tour or the USS VIP Experience.

$128
$198
HHN8

Zombie Laser Tag (ZLT) Add-on


Add a round of Zombie Laser Tag before or after your RIP Tour.
$30
HHN8

Behind the Screams Tour Add-on


Visit selected haunted houses with the lights on during the day, and unmask some horrors before your RIP Tour at night.
BTS Add-on is complimentary for Mastercard Cardholders who purchase the RIP Tour at $178/

$248

.
Reservations are required for RIP Tours and add-ons.
Email VIPExperience@rwsentosa.com or call +65-65776077 for enquiries and bookings.
---
Halloween Horror Nights 10 (2022)
HHN10 REVEALED: Ticket and Event Guide
Halloween Horror Nights 10 MEGA Review: Photos of all Haunted Houses and Scare Zones
SPECIAL FEATURE: Behind the Scenes at HHN10 Haunted Houses
HHN10 RIP Tour (VIP Tour) Review

Features on Haunted Houses, Scare Zones and Experiences
The Silenced Auction (Opening Scaremony) | DIE-ning with The Dead | Monsters & Manifestations
Escape The Breakout | Killustrator: The Final Chapter | Hospitality of Horror
Operation: Dead Force | The Hunt for Pontianak | Dark Zodiac

Trick or Thrills (2021)
Halloween Horror Nights Exhibition
2021 Day and Night Halloween: DIE-ning with the Dead, Universal Monsters Scream Alley


Halloween Horror Nights – The Archives


Click to Expand and see all posts from past Halloween Horror Nights