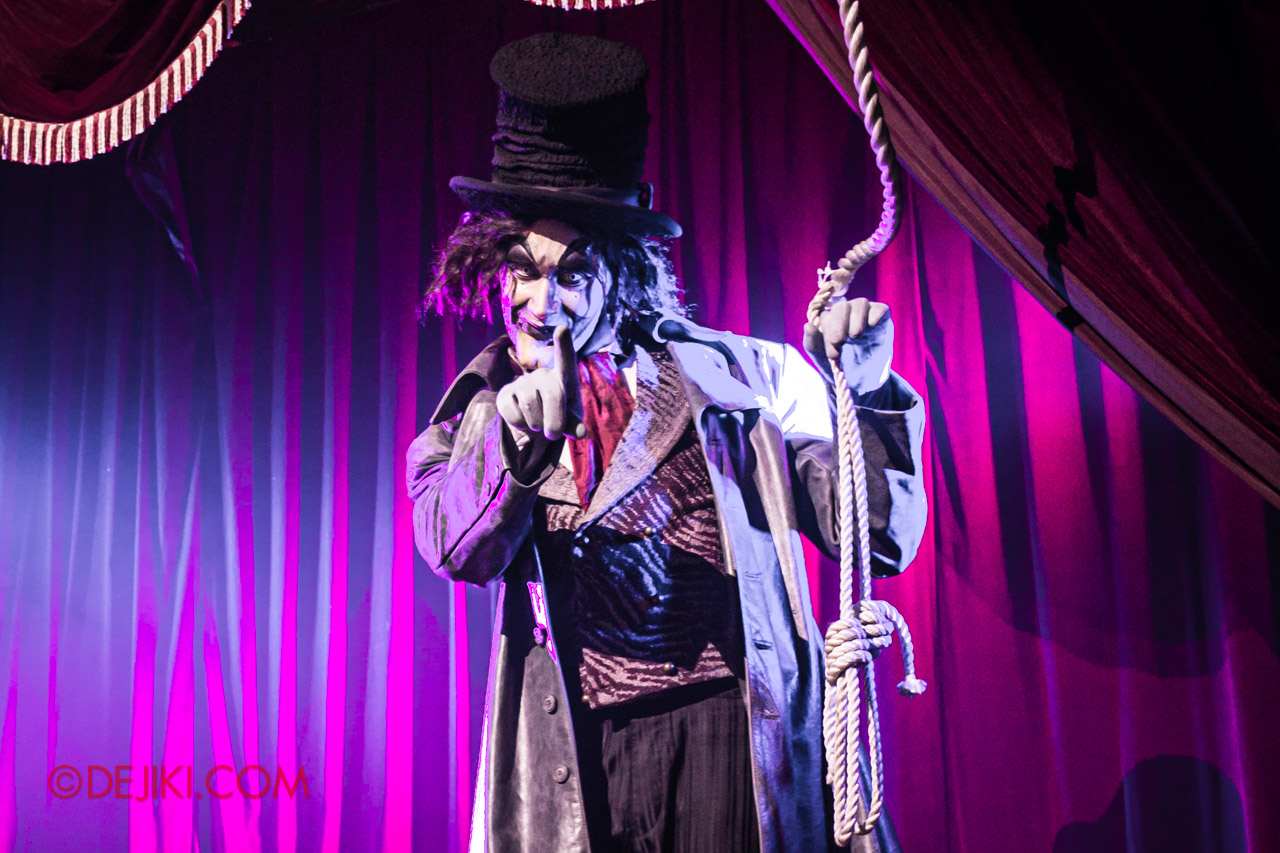 Universal Studios Singapore's Halloween Horror Nights 2 returns to offer a dark playground of thrills and scares. This year, The Puppet Master and his Legion of Evil has transformed several areas of the park into fearful domains, where nightmares never end.
Halloween Horror Nights 2 Review – Museum Edition
As part of Museum of Horror Nights, this revamped article now features enhanced photos and edited write-ups.
HHN2 Haunted Houses review
Similar to last year, the haunted houses are located at Soundstage 28 (behind New York), and at the New York Lagoon and Sting Alley. Also, the park used the Waterworld queue area for a haunted house.
Dungeon of Damnation
Dungeon of Damnation will transport you into a fallen castle run by the Undertaker. Your journey begins from a cave (as seen in Before Dark 3), which leads you into the drawbridge leading into the Dungeon. Almost too quickly, the Undertaker appears, directing you into one of two paths. (Both actually lead to the same corridor of skeletons).
As the theme of this haunted house is about torture and suffering, the scenes are overrun with graphic imagery. It is meant to depict a realm of death, after all. There is a corridor of skeletons, and another chamber with a lot of disembodied, talking heads. Then another with rotating spike pillars, floors strewn with "maggots", and a big rotating grinder (be aware of the wheel's spokes that may tragically break up groups of friends). Be prepared for numerous tight passageways filled with dangling heads and body parts.
My favourite part is the "jump and glide" stunt character. There's also a room where the walls will give you a surprise. I'll leave you to find out what and where these are, but let me just say this: You should always be careful, and look in all directions before walking around in the Dungeon of Damnation.
Rating
Story: ★★★★★
Presentation: ★★★★★★
Scare Factor: ★★★★★★★
(Yes, that's right, 7 stars!)
The Insanitarium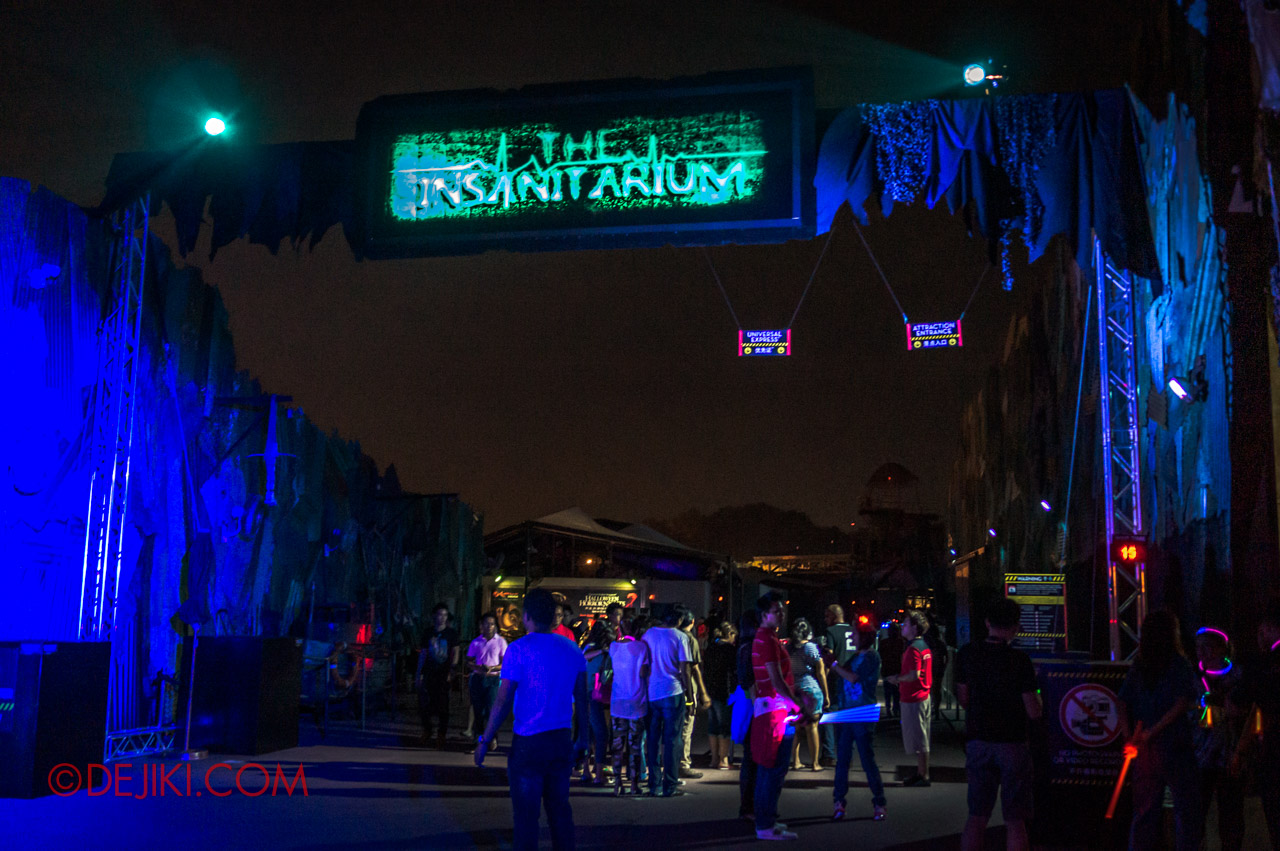 Doctor Dementia runs The Insanitarium, a horrifying institution for cruel therapies and gruesome experiments. The house starts off in the prison section, with some encounters with the "criminally insane" inmates. Some scenes include a morgue, electric chair chamber, a video surveillance room, Doctor Dementia's room (which is very cramped!), a disorienting padded cell and a few rooms with haunted tables.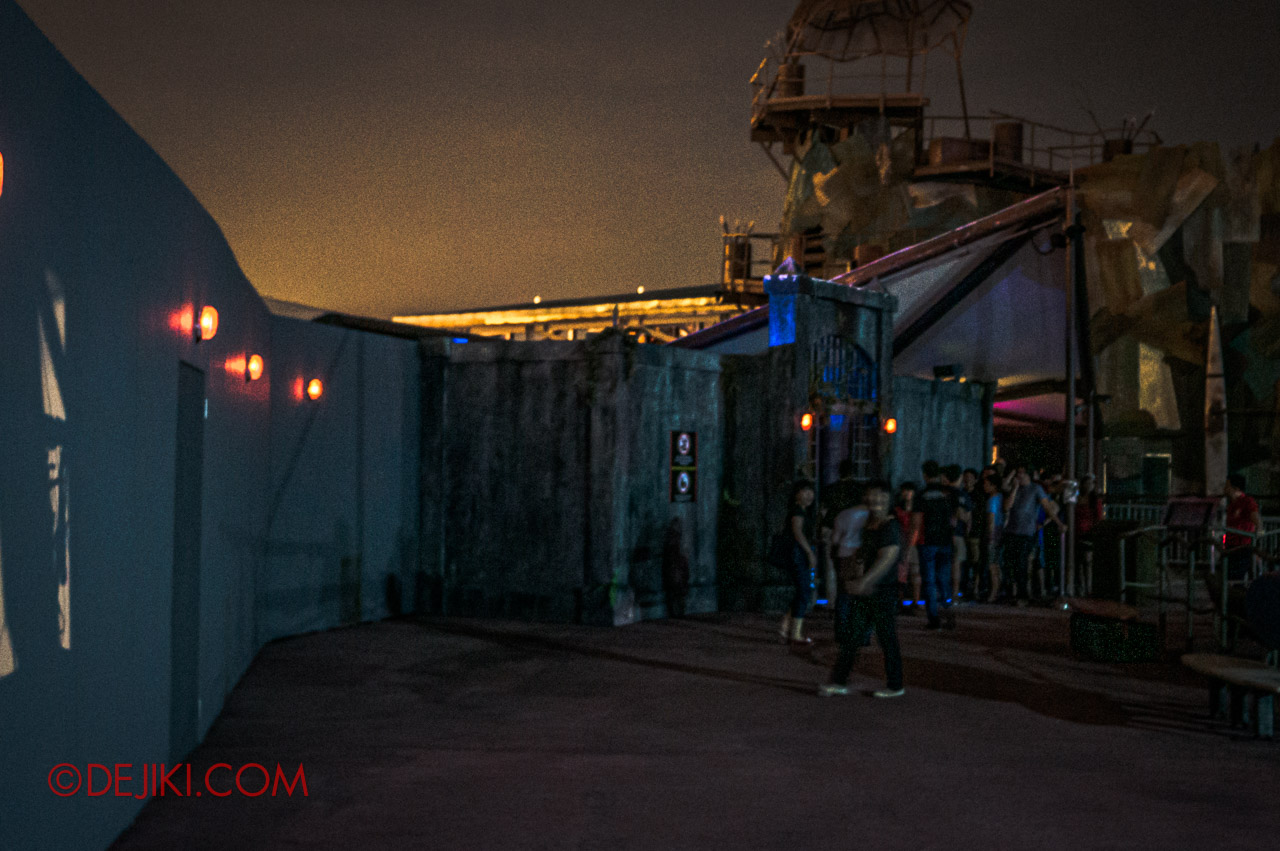 As this is hospital-prison (or an asylum trying to be a hospital), expect graphic imagery galore: cuts on skin and well, random parts of bodies scattered around. There is A MAJOR water effect in one of the rooms here.
I felt that this Haunted House was really long. There were countless rooms and it never seemed like it was going to end. Definitely an abundance of scare actors here, and they attack from all directions. My favourite room in this haunted house is actually the final room filled with several locked doors, each with an exit sign above it. Suddenly, all the lights start to flicker… as if taunting victims that there is no escape.
Occasionally, some escaped inmates will linger outside of the Insanitarium.
Death Alley
Death Alley takes place in New York zones's harbour area, leading towards Water Street, also known as Sting Alley. Given the compact layout of the area, plus an abundance of characters ready to attack, it offers nothing but intense scares – thankfully a short one. Your trip into Death Alley starts from a street food bazaar, filled with twisted hawkers, eventually leading into a shady street away from the bustle. There, the morbid Pleasure Inn welcomes new customers, soon to be enchanted and turned victims by its grotesque courtesans.
To add on to the atmosphere, a very foreboding and slow remix of "Waiting for your Return" (等著你回來) by Bai Guang (白光) is played at Death Alley and its queue. Have a listen to the song that is often associated with Chinese horror films here:
It was a fair attempt to build another haunted house in this area. All was fine until the Pleasure Inn scene, where the amount of scares and props dropped to barely anything. There was too much happening in the first half of this haunted house.
Rating
Story: ★★★★☆
Presentation: ★★★★☆
Scare Factor: ★★★★☆
HHN2 Scare Zones review
There are three scare zones this year, taking place at Hollywood, New York and Ancient Egypt. The Lost World area (leading towards Waterworld) acts as a mini scare zone with random encounters with scare actors dressed as mental patients.
House of Dolls
As the 'mandatory' scare zone welcoming guests to HHN2, House of Dolls comprised multiple sets and showpieces – each filled with freaky abominations crafted by The Puppet Master. He is the Lead Icon of Halloween Horror Nights this year. Guests will meet several roaming 'creations', from the twisted porcelain dolls to the life-size puppets, and some "almost perfect" figurines.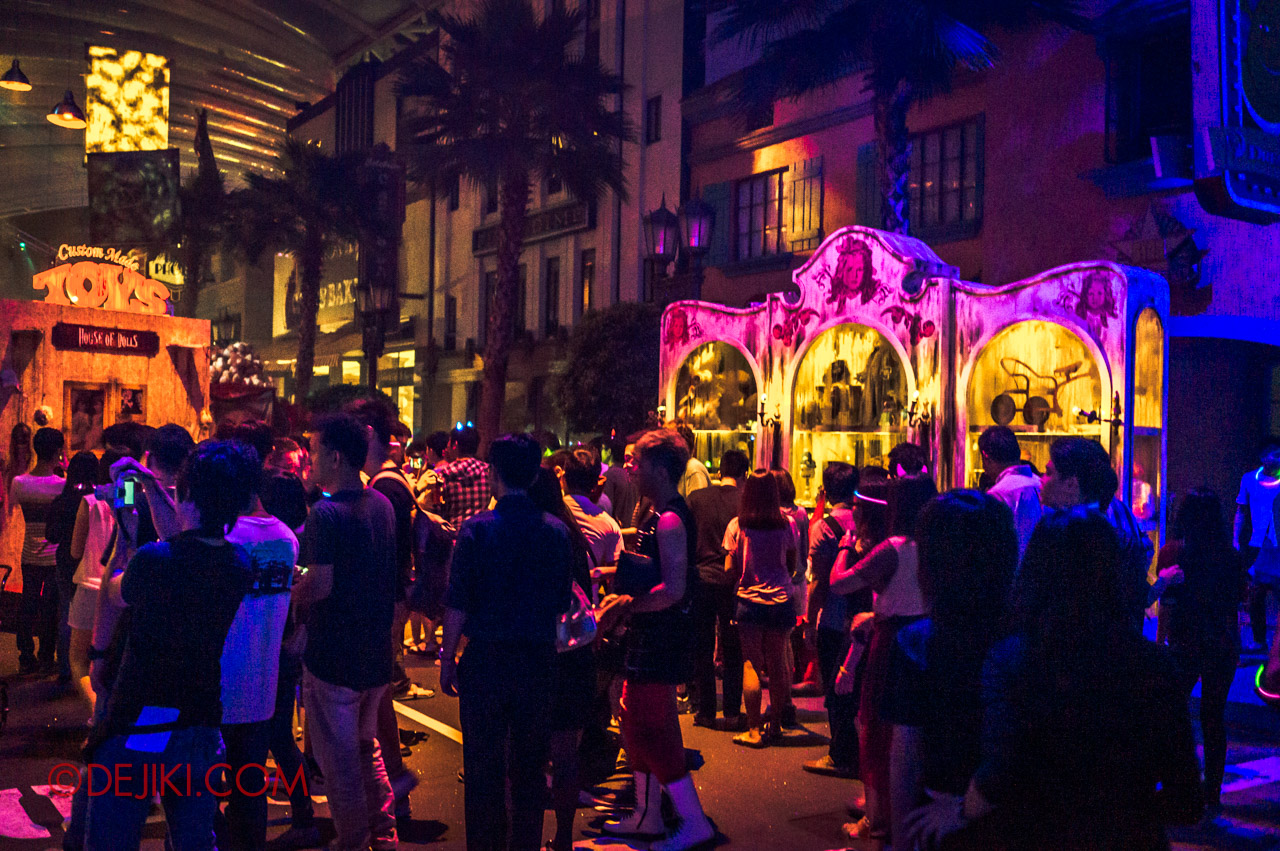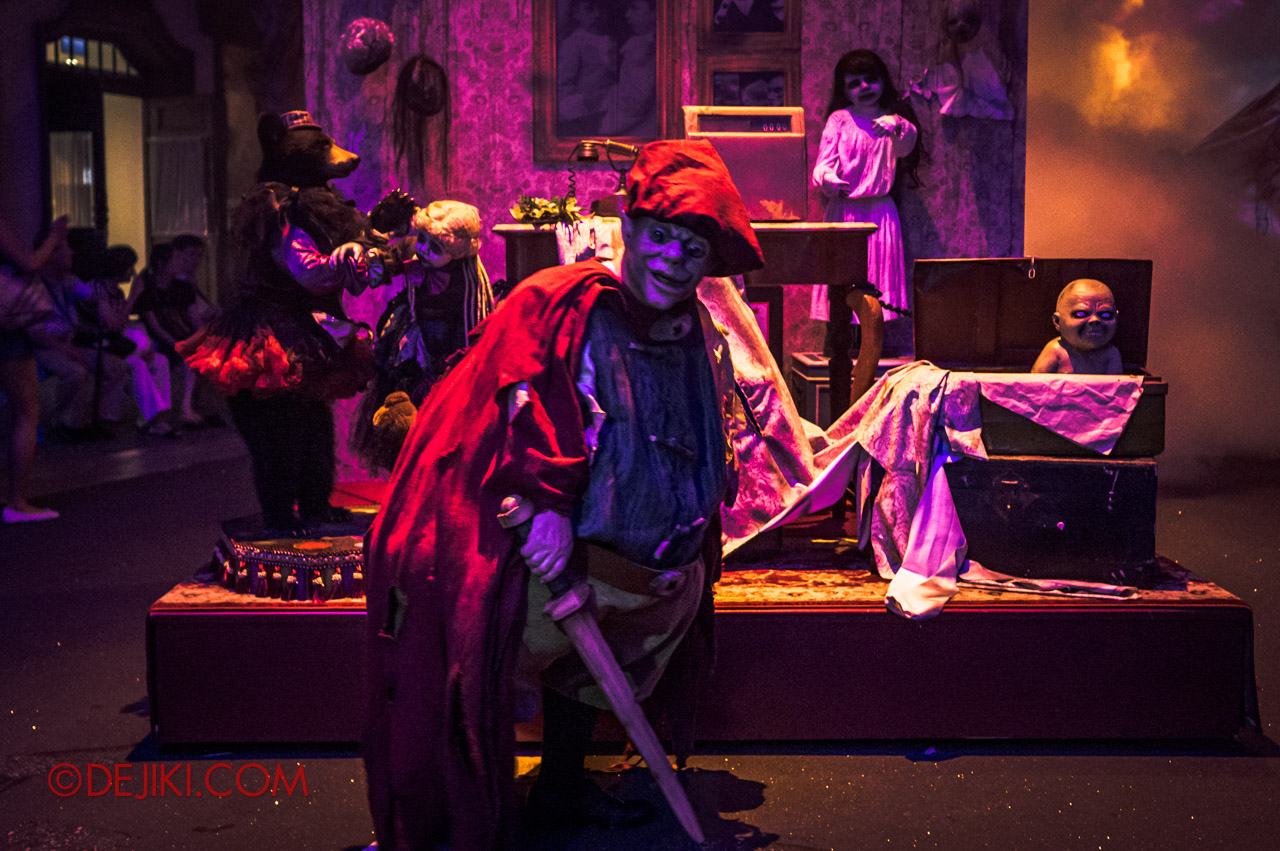 The Puppet Master's fascination for perfection hides the terrible secret behind his life-like dolls – easily explained by disappearing visitors that ventured into his workshop. There are also morbid toys displayed in the creepy cabinets, and strange objects that you probably won't find a child playing with.
At the end of the scare zone, a "Now Showing" stage is where guests can finally meet The Puppet Master. This is where he, and his aide, strings up and traps his latest victims (for souvenir photos).
Overall, this zone is an impressive undertaking of the classic 'killer toys' genre of horror – with a mash-up with the Puppet Master's obsession to craft "perfect human-like dolls", that is a nod to the film "Dead Silence". There are several talented scare actors here that are pretty convincing 'dolls' – watch out for the one on the 'clockwork' set.
Rating
Story: ★★★★★
Presentation: ★★★★★
Scare Factor: ★★★☆☆
Total Lockdown
The streets of New York were once again bathed in chaos – with lawless destruction and leaking radioactive waste causing further damage. Demented civilians, shell-shocked by the disaster, prowl the streets and scream from the pain caused by the radiation poisoning. Some mourn for their loved ones. The military and police patrol the street, enforcing an emergency quarantine.
I felt that this scare zone could've been a lot more. The props were more impressive, but the scare actors were not as scary as the infected ones in last year's zone. However, as these characters could talk, run and react a lot faster than zombies, it offered a different dynamic through their interactions with guests. Although most of them would just run away most of the time.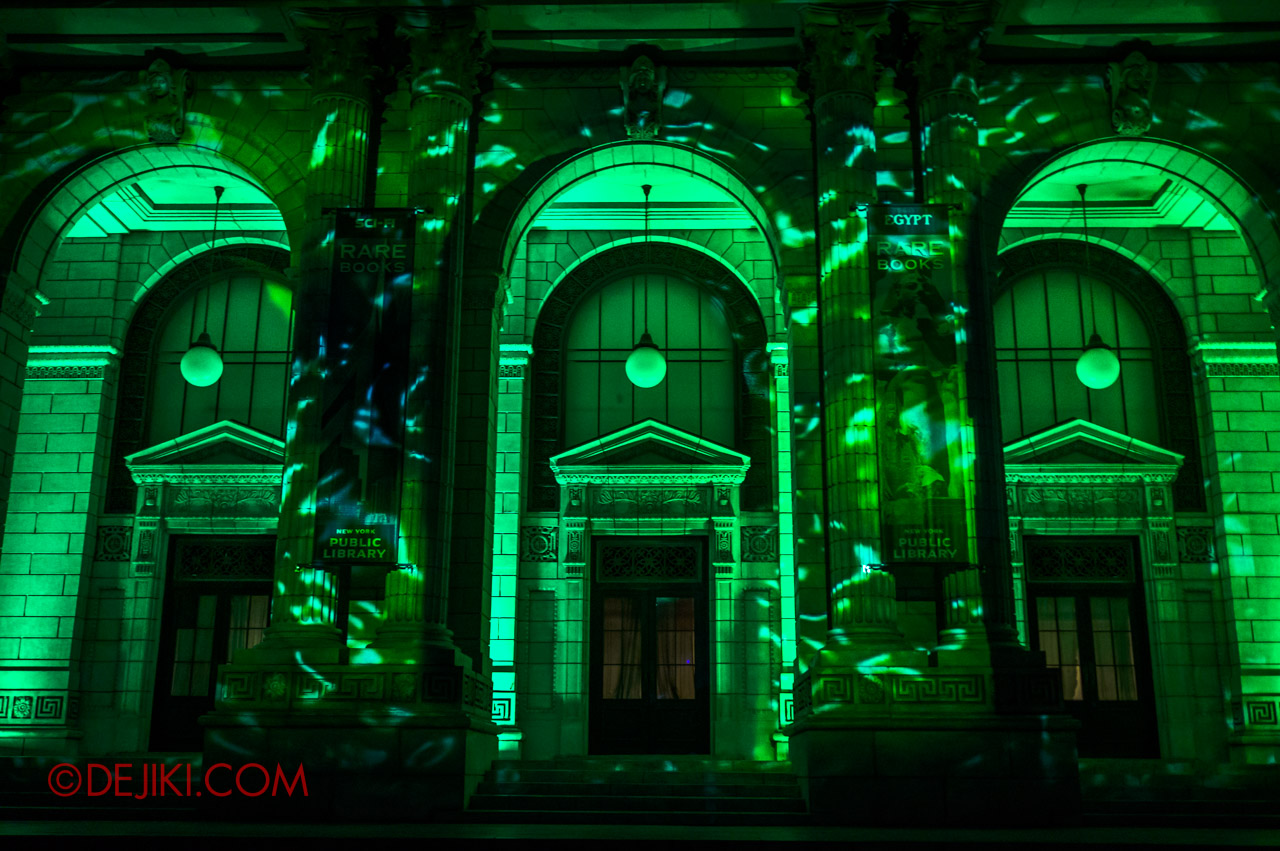 At first glance, this zone does appear to lack scare actors. However, there could be the same number as roaming zombies last year, but as the cast here is split into "victims" and "quarantine enforcement" groups (that don't quite interact with park guests), the streets may seem empty. In fact there isn't much going on in front of the New York Library, unlike last year. Alternatively, the lack of engaging scare actors and lowered amount of interaction in Total Lockdown could be part of the disaster/ quarantine storyline.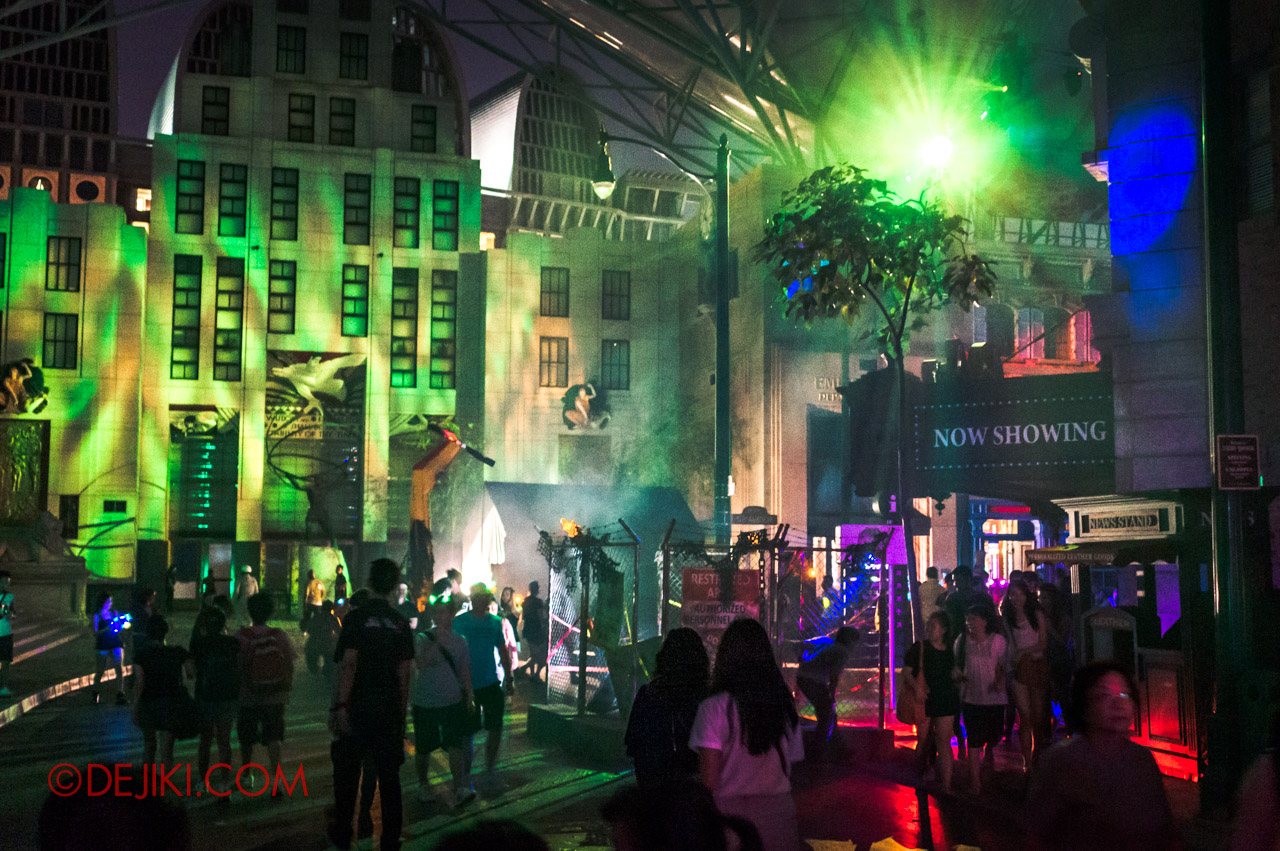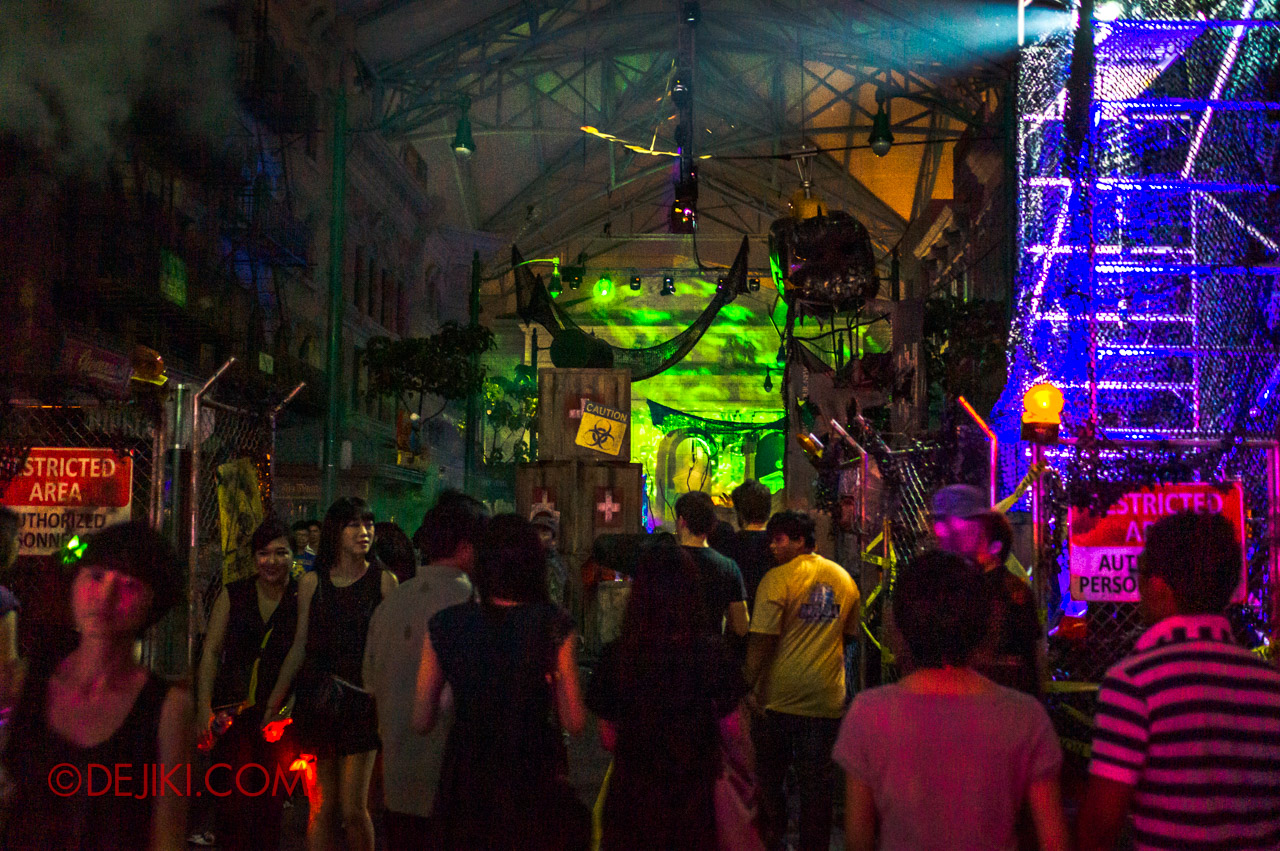 This zone also looks like a sequel to last year's Post-Apocalyptic Rage – or rather, a prequel as it portrays an ongoing disaster scenario, whereas the 2011 zone could be what happens after – a zombie outbreak.
Rating
Story: ★★★★☆
Presentation: ★★★★★
Scare Factor: ★★★★☆
Bizarre Bazaar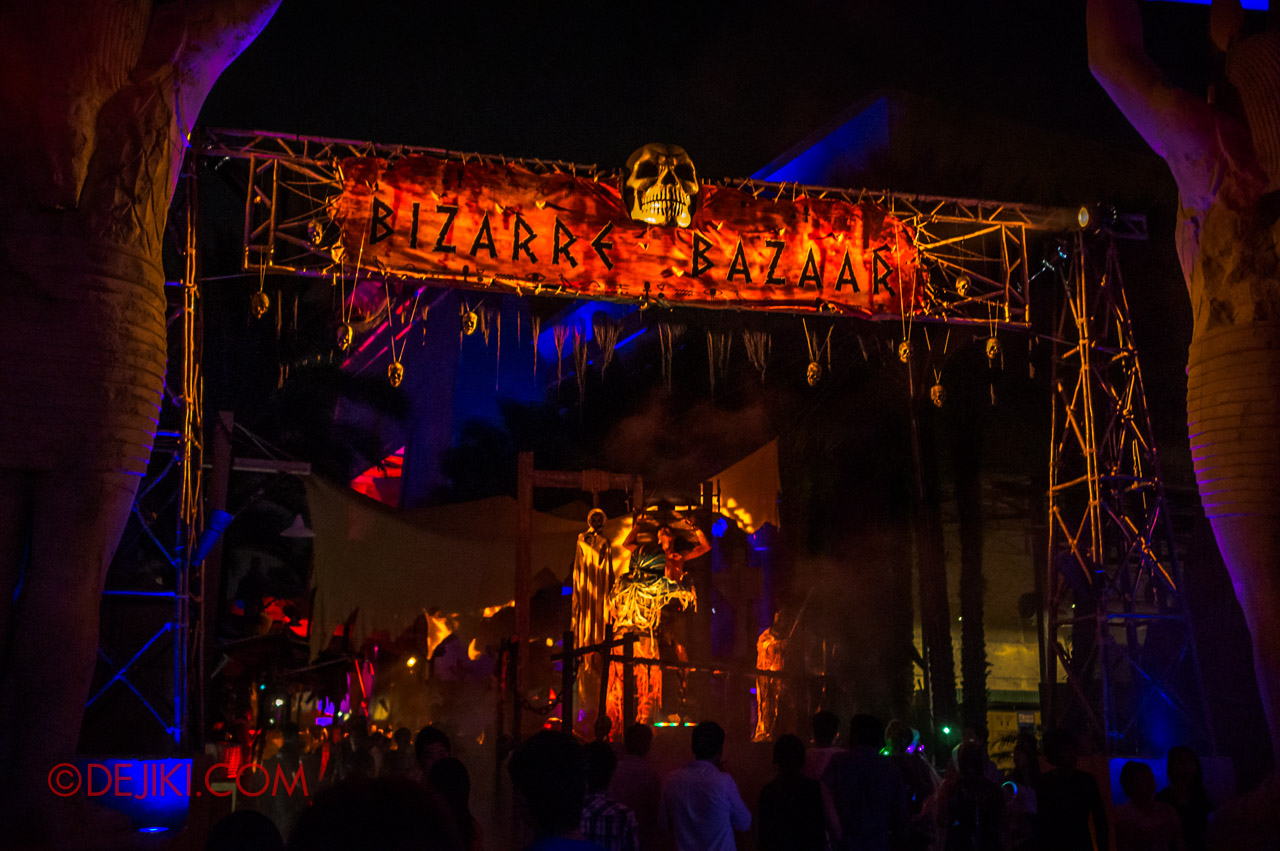 Last year, Ancient Egypt area had The Edge of Darkness and 44 Sins – two scare zones that did not seem thoroughly executed. I even thought that it was the "edge where the budget went dry". In 2012, the park brought a true scare zone to this area.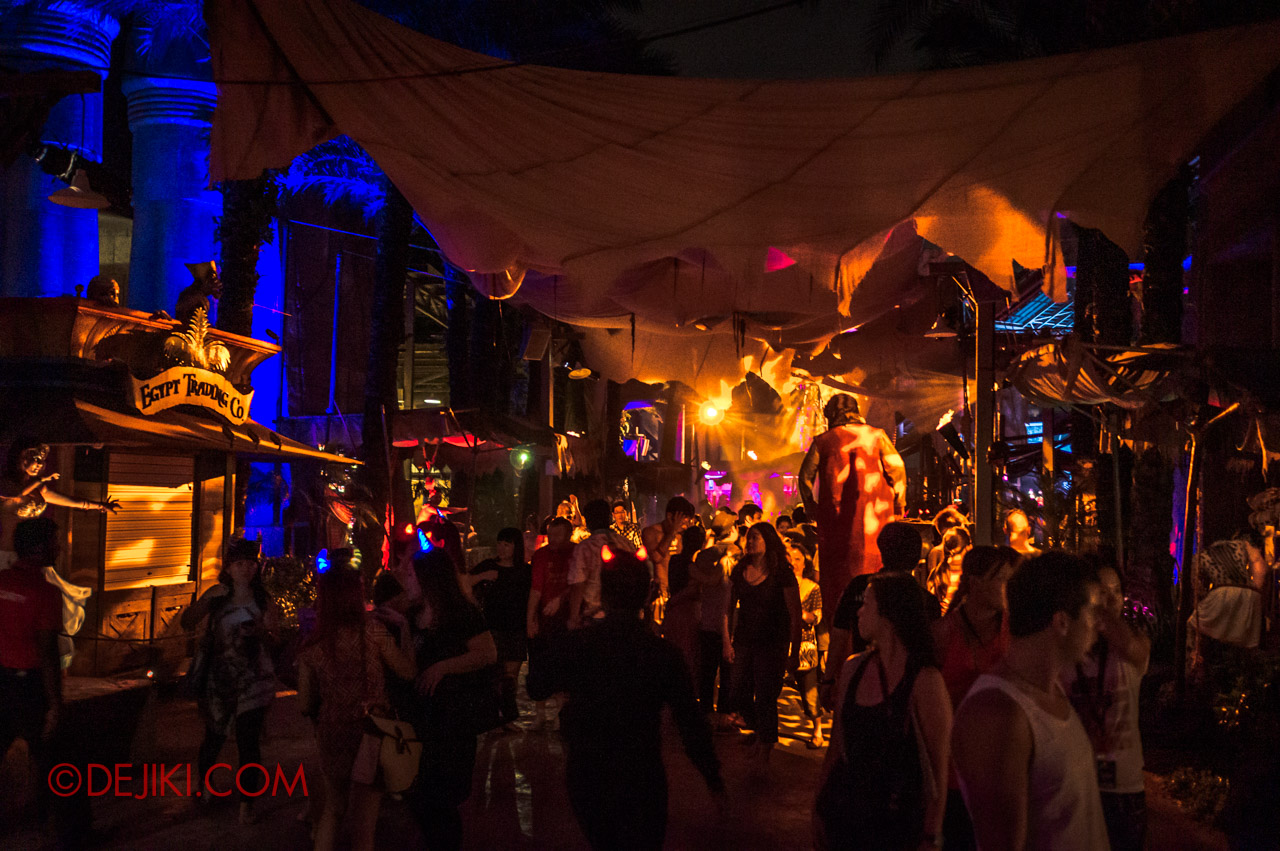 There's all sorts of weird things happening, a cart full of body parts (not even bodies!) and bizarre objects and even more eccentric characters. There is a snake woman, an anthropomorphic seer and some peddlers selling… well, stranger things. It almost feels like an Ancient Egypt adapted last year's Carn-Evil for an even more foreign market.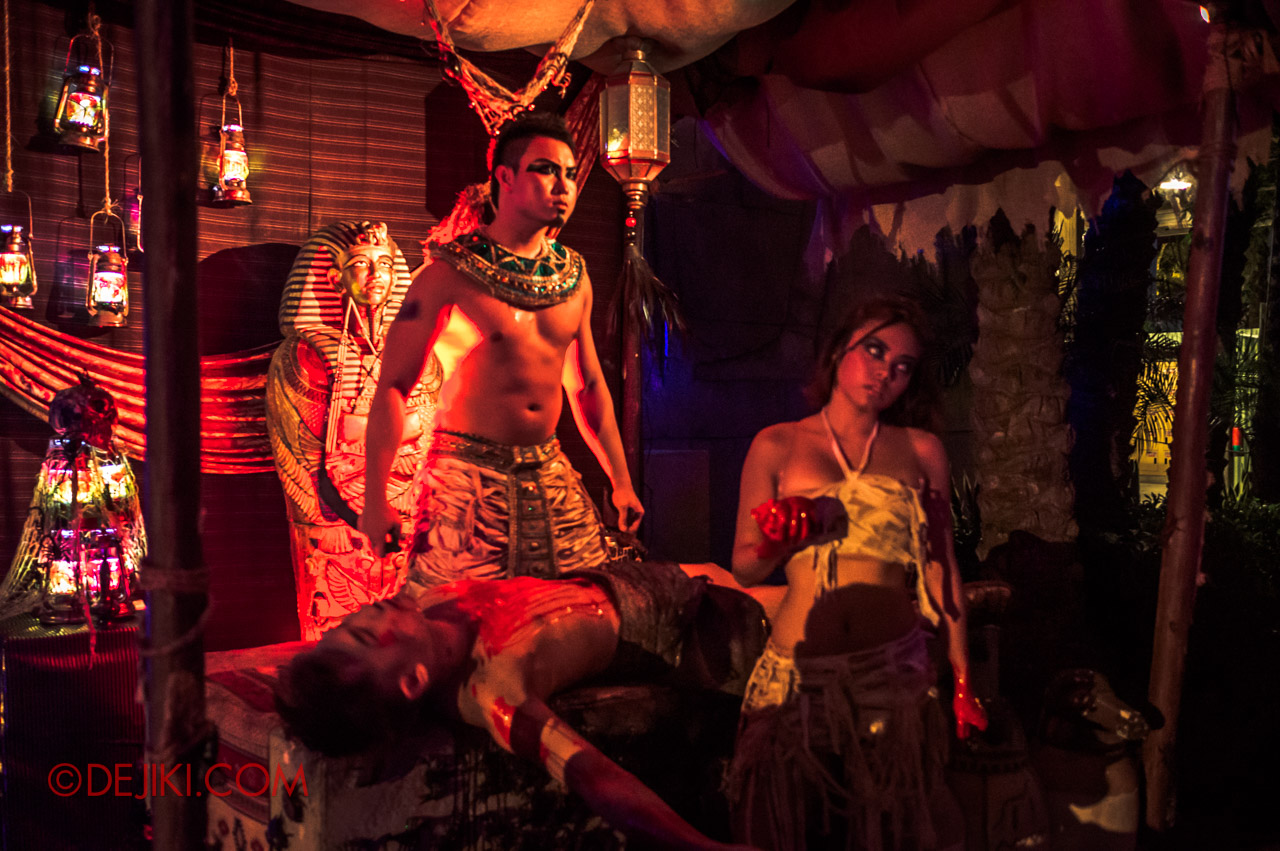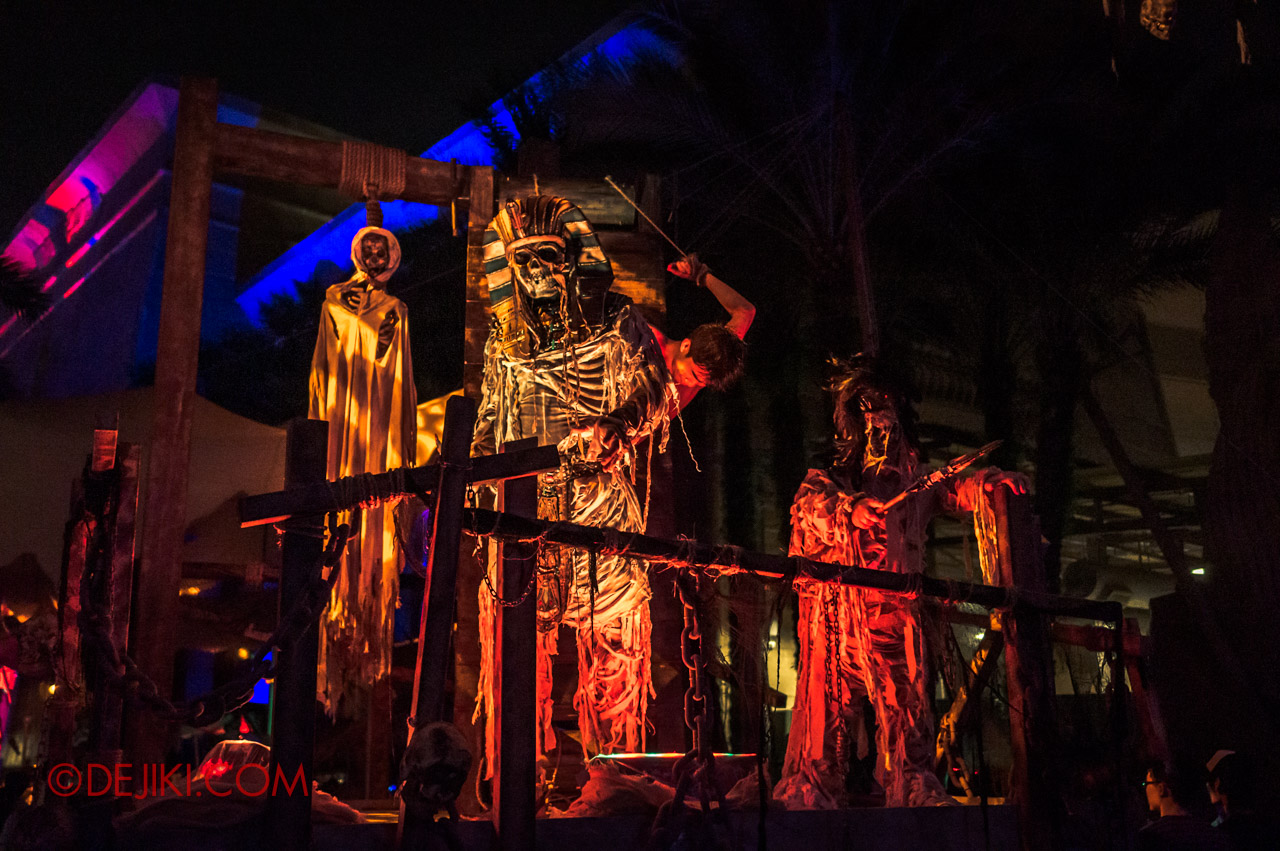 However, this zone is extremely cramped (and rather small and short) so it is difficult to really see what's going on. Better hit this area early or save it for last.
Rating
Story: ★★★☆☆
Presentation: ★★★★☆
Scare Factor: ★★☆☆☆
Updated Review and Trip Report
The following section contains the rewritten review, plus original trip reports and documentation.
HHN2 Event Review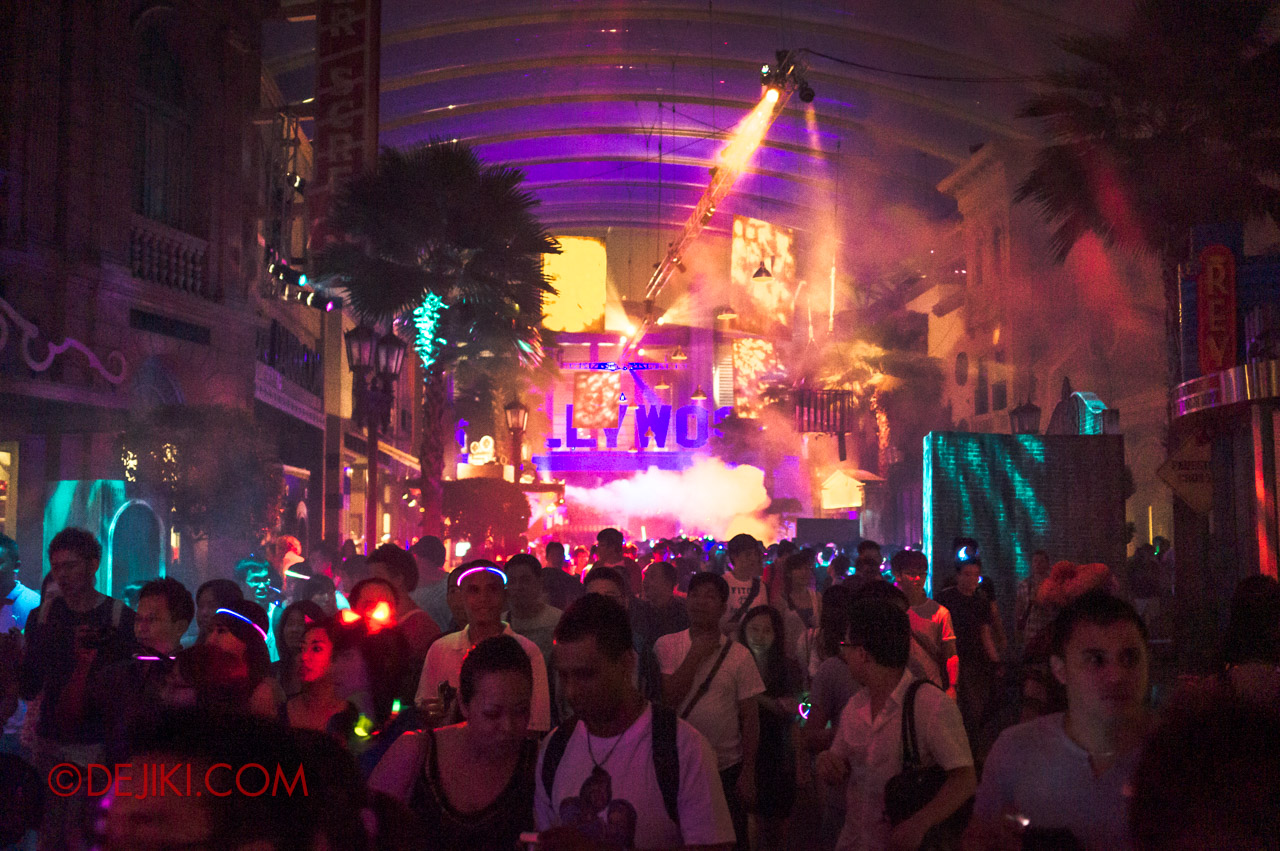 The entire park is open this year, with 10 attractions running and 3 new Haunted Houses to experience. The Dreamworks zone (Far Far Away and Madagascar) do not have Halloween programming, but offer a direct route to The Insanitarium Haunted house. Scare zones this year are extremely elaborate – clearly a great deal of effort went into production. I felt that all of them surpassed the original scare zones in 2011, except for Total Lockdown.
While it is Singapore's second Halloween Horror Nights, the park has yet to tap on existing IP, such as characters, themes and elements from existing films and video-games. Instead, Universal Studios Singapore developed its own characters and themes.
All three haunted houses this year looked and felt incredible, and the scare level definitely went up by a few notches. Death Alley was built within a compact area, but still offered a satisfying walk through Chinatown-inspired sets. The other houses this year used a lot of effects, including water as well, so be prepared.
The concept this year feels a little scattered compared to 2011. Having the Director and "The Final Cut" are very safe ideas, but placing guests as victims of multiple "horror films" (scare zones and haunted houses) works naturally with the concept of a Universal Studios theme park. The Puppet Master is the Lead Icon that also "controls" the other three – but it is hard to see any connection beyond his House of Dolls. After walking out of the first zone, the other houses and mazes appear to be exist independently. He does have a very short (and VERY easily missed) appearance in another scare zone.
RWS advertised that there will be a "a frightful maze of five highly immersive scare zones" and three haunted houses, but there were only three scare zones: House of Dolls, Total Lockdown and Bizarre Bazaar. On the Event Guide, they are grouped together with Haunted Houses as 6 "Haunted Attractions". This is quite mystifying, because there is no theming or scare actors at Sci-Fi City and The Lost World. There is no explanation for the two missing scare zones.
Another complaint this year is that the park has started selling flashy accessories – from lighted wands to swords – that guests could bring into the haunted houses. Light from these items were bright and they ruined the special effect and scenic design in the Haunted Houses. Some of the park crew have asked the guests to switch these lights off, but I saw that it was not strictly enforced.
Crowd control could also been better. The House of Dolls was very difficult to walk around because props were scattered all over the street. There were also some crowding in the Dungeon of Damnation, causing guest flow to slow to a halt even from the very first scene. With she short event hours (4 hours), many guests would obviously be very conscious (or even upset) of the long waiting time. I feel that the park should start Halloween Horror Nights from 6:30pm or 7:00pm, just like the parks in America.
Additional Information & Updates
Edit 21/10/2012 5:00pm
Halloween Horror Nights 2 event hours will be extended. The event now runs from 8:00PM~1:00AM on 25/10/2012 to 28/10/2012.
On Crowd levels (Click to expand)
Crowd levels
Opening Night was not a sold-out night, but the park already felt very packed. Wait times for attractions peaked at 90-120 minutes. It might be wise to get Halloween Horror Nights Express passes, but they go for $40 this year – the price doubled from last year's $20 as the Express Pass now includes 10 attractions and 3 haunted houses. While event ends at 12AM, the queues for attractions only close at 12AM (sharp!), so you may still have some extra time to enjoy the park's attractions and haunted houses.
---

Complaints on short event hours and long waiting time for attractions (Click to expand)
Edit 20/10/2012 4:00pm
I have received feedback that HHN2 was very crowded and there was barely enough time to even visit all of Haunted Houses. During my own trips to the park, I waited in line for more than 90 minutes for the Dungeon of Damnation. So when some guests felt cheated that they could not experience all the attractions that were open – I could see why they held such opinions. Though frankly, this is to be expected in any theme park. Some guests said that they were only able to visit one Haunted House after queuing for more than 2 hours.
I felt that the crowds and waiting times were still manageable on 19/10/2012, but on 20/10/2012 things were totally different. It was announced to be sold-out and there were rumours that over 15,000 guests attended the second night. The heavy rain before 8PM meant that some areas of the park were wet and remain temporarily closed for guests. Wait times for Haunted Houses were very long, up to 2.5 hours. The queues had to close at 12AM sharp as there was still a long backlog of guests waiting in line. This means that many would be unable to experience more than one Haunted House during 4 hours of the event.
Perhaps the park should not have sold so many tickets when the event hours are short, and the Haunted Houses are unable to accommodate the immensely large crowds. If you do not intend to get an Express pass, you must have some sort of plan (and alternate plans) when you visit the park during Halloween Horror Nights, or you will fall victim to the long queues and end up not being able to experience much.
---
Edit 20/10/2012 2:00pm
Some people have said that there aren't as many scare actors as last year's event. Here is a very rough list of characters that I could recall or see from my huge set of photographs.
RWS claims that there are 350~400+ scare actors this year, but take note that most characters are played by multiple actors (usually two actors to each role), and they take turns to perform. Not all characters are available at the same time, so you will need to revisit a scare zone to find them all.
List of characters / scare actor roles (click to expand)
House of Dolls (18+ characters)
1. Round (Roly-Poly) bald doll
2. Porcelain face doll, Grey dress
3. Porcelain face doll, Blue dress with hat (as the House of Doll's cashier/receptionist)
4. Female wind-up doll, white hair
5. Male doll, distorted face
6. Human victim, bound on chair
7. "Automaton" doll (sitting at the set with spinning gear)
8. Killer clown (x2)
10. Zipper-face doll
11. Ballerina
12. Jumping clown (x2)
14. Male doll, cracked face
15. Twin Sisters
17. Puppetmaster
18. Puppetmaster's aide (played by a little person)
19. Dancing couple
21. Elf creature, with sword
22. Male doll, bald, with cracked face
23. Ragdoll
24. Killer Teddy Bear
Total Lockdown (20-21+?? characters *VERY hard to count here)
1. Man in coveralls
2. Lost young girl
3. Grieving woman
4. Man with crowbar
5. Woman suffering from burns, running (x3)
8. Man suffering from burns, running (x3)
11. Man walking with arms clutching his body
12. Man wearing hoodie
13. Girl wearing hazmat mask
14. Military (x3)
17. Police (x3)
20. Medic
Bizarre Bazaar (26+ characters)
1. High Priest
2. High Priest's assistant
3. Ritual victim
4. Anthropomorphic Seer/Fortune teller/Mystic
5. Mummy (2x)
7. Snake woman
8. Snake man (wearing Cobra-like headgear)
9. Snake woman's stall victim
10. Snake woman's stall owner/master
11. Coffin/corpse seller
12. Body parts peddler (wearing a red headgear)
13. Male ritual master (cuts and takes out victim's heart)
14. Female ritual master (with #12)
15. Ritual victim (with #12)
16. Leopard man
17. Leopard woman
18. Leopard duo's victim
19. Dancer
20. Female fire dancer
21. Male fire dancer
22. Skulls and bones peddler
23. Insects peddler (female)
24. Man standing on stone block
25. Man on stilts with turban
26. Creature with black feathers
27. Warrior/Guard with bronze armor
28. Wandering woman (beggar?)
The Insanitarium Entrance
– About 10 "insane" inmates roam the entrance. Some travel in pairs.
---
HHN2 event coverage
View more Halloween Horror Nights 2 contents in other articles on Dejiki.com
Halloween Horror Nights 2 – scare zone features
The Domains of Fear articles showcase more photos and videos of mayhem captured during Halloween Horror Nights 2.
House of Dolls | Total Lockdown | Bizarre Bazaar
Halloween Horror Nights 2 – Before Dark
Part one | Part two | Part three
See how Universal Studios Singapore gradually transforms into five scare zones and three haunted houses. This mini-series showcases photos of the park in the day, before terror strikes!
---
Halloween Horror Nights 10 (2022)
HHN10 REVEALED: Ticket and Event Guide
Halloween Horror Nights 10 MEGA Review: Photos of all Haunted Houses and Scare Zones
SPECIAL FEATURE: Behind the Scenes at HHN10 Haunted Houses
HHN10 RIP Tour (VIP Tour) Review

Features on Haunted Houses, Scare Zones and Experiences
The Silenced Auction (Opening Scaremony) | DIE-ning with The Dead | Monsters & Manifestations
Escape The Breakout | Killustrator: The Final Chapter | Hospitality of Horror
Operation: Dead Force | The Hunt for Pontianak | Dark Zodiac

Trick or Thrills (2021)
Halloween Horror Nights Exhibition
2021 Day and Night Halloween: DIE-ning with the Dead, Universal Monsters Scream Alley


Halloween Horror Nights – The Archives


Click to Expand and see all posts from past Halloween Horror Nights
Subscribe to Dejiki.com or Like my Facebook page for notifications of updates.
---