Uncover the secrets and theatrical magic happening behind the scenes of Halloween Horror Nights 9 in this exclusive backstage photo tour!
Halloween Horror Nights 9 Behind The Scenes
Earlier this month, I had an exclusive opportunity to tour two of this year's haunted houses, Curse of The Naga and The Chalet Hauntings, and meet the park's creative team producing Halloween Horror Nights 9 to learn more about this year's event.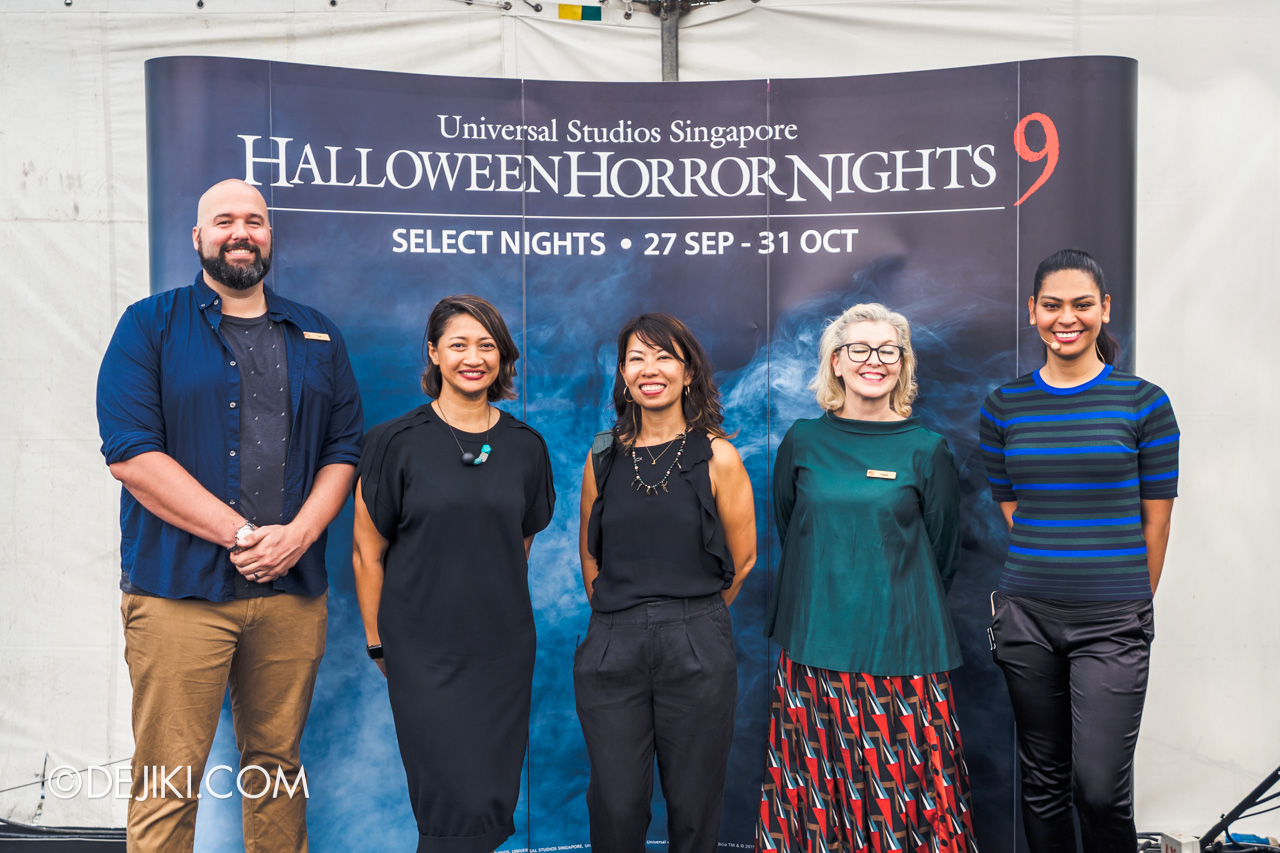 Some members from Universal Studios Singapore's Halloween Horror Nights 9 creative team (from left to right): Del Wynegar (Show Director), Waheedah Osman (Project Director), Michele Klyne (Assistant Project Director), Claire Loh (Costume Director), and Rally San Mateo (Hair & Make-up Supervisor, Creative Costuming).
Halloween Horror Nights 9 Themes and Icons
The session started with an introduction of this year's new themes, which were created with guests' feedback in mind. Many fans surveyed have asked to see the return of clowns, dolls and regional ghost stories. So now you know what to do if you have a wishlist for HHN10.
The Undertaker rules the Dead End, a realm between the living and the dead. With a raven-like appearance, this death reaper harvests souls by gouging eyes from fresh corpses.
Also known as the 'God of Destruction', Savage is the lead singer of the Death Trap band. As a death metal star, he sports sleeve tattoos and has greasy long hair. The Death Fest scare zone will be filled with much of his fans, celebrating his release from Hell Block 9 with a death metal music fest like no other. Savage will also be part of the Death Fest LIVE procession – a parade around the park.
The terrifying Langsuir is the star spectre at The Chalet Hauntings. Unlike the Pontianak, she is much more vicious and swift – her outfit is cut tighter and shorter, exposing more skin, and is far more shredded. She also has longer nails and teeth. Beware.
We've also met the other icons at roadshows, such as the Executioner – a once-corrupt cop turned ruthless warden of Hell Block 9. Note his skeletal face and lean, muscular build.
On the right is Ring Leader Rusty, a very motivated educator (spot the tie!) who aspires to groom, and torture, students into the best killer clowns at the Twisted Clown University.
Yumi is an evil spirit residing in Spirit Dolls, a haunted house set in a Japanese village filled with life-sized dolls. After she died, Yumi's parents attempted to bring her back by using black magic and stuffing her corpse into a doll which looks like her. Unfortunately, it backfired. Now in the form of a vengeful doll, she cursed the entire village to share the same fate.
There were also several masks and costume tech on display. Some of these are used in the Curse of The Naga.
Elements of a twisted clown…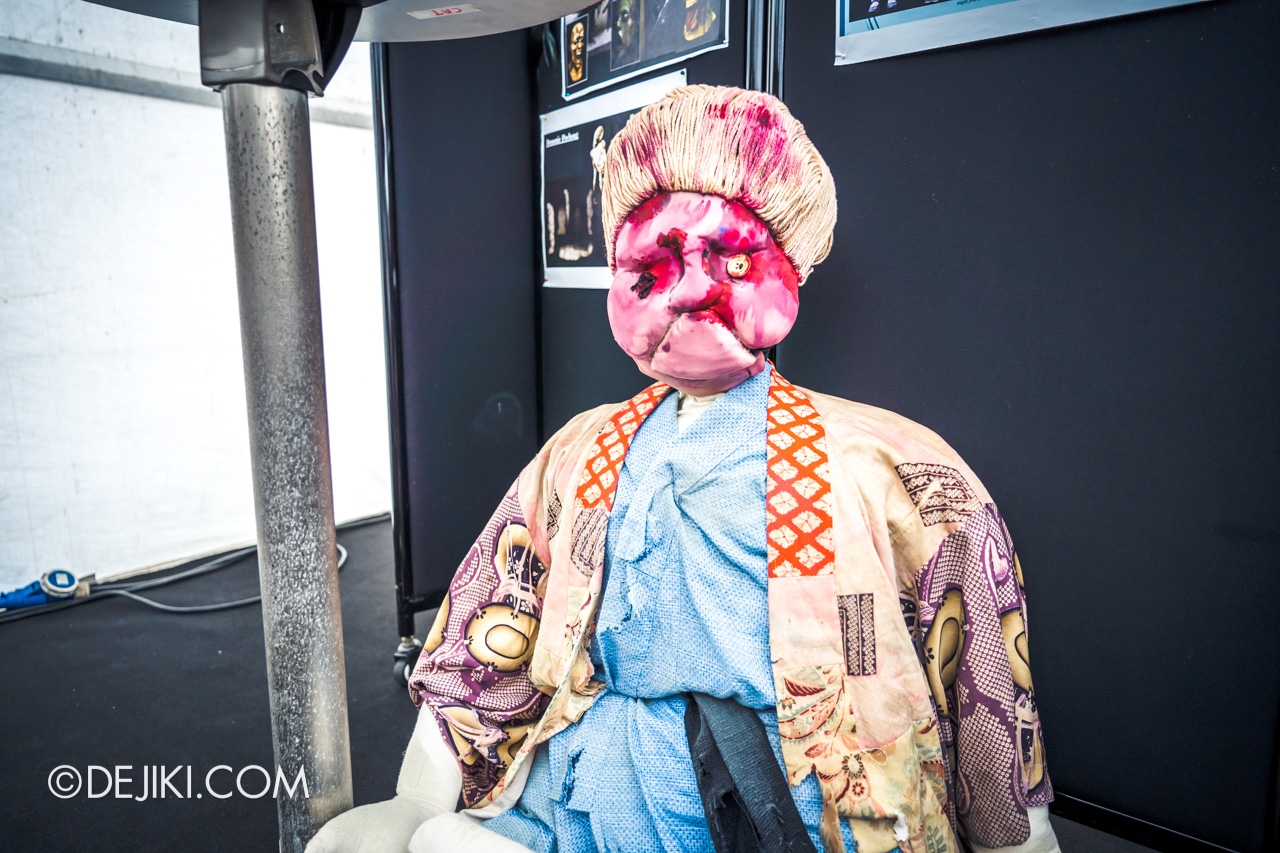 Cursed dolls, that are a lot scarier than those in the real-life village.
We're missing one particular icon in this article so far, and that's because…
Creating the Serpentine Spirit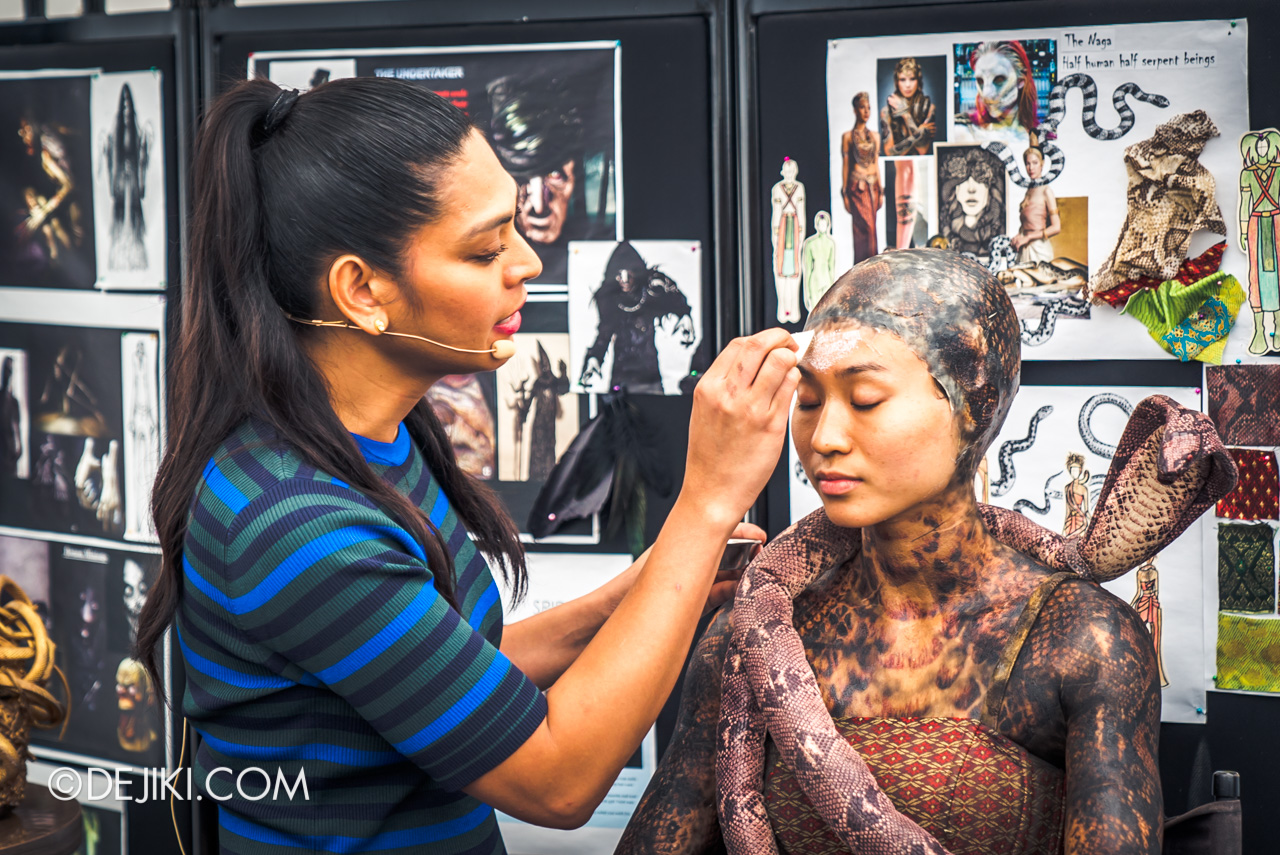 Rally, from Universal Studios Singapore's Hair, Make-up and Creative Costuming unit, explained the various mediums and techniques used at this year's HHN event.
To bring the park's ensemble of scary characters to life, a staggering variety of masks and special effects makeup techniques are created and used by the park. This year will see an increase in temporary tattoo application – notably at Death Fest and Hell Block 9 – for obvious reasons. There will also be a clown with tattoos in Twisted Clown University.
The Serpentine Spirit is a new icon created by Universal Studios Singapore and Thai horror film directors Parkpoom Wongpoom and Paween Purijitpanya.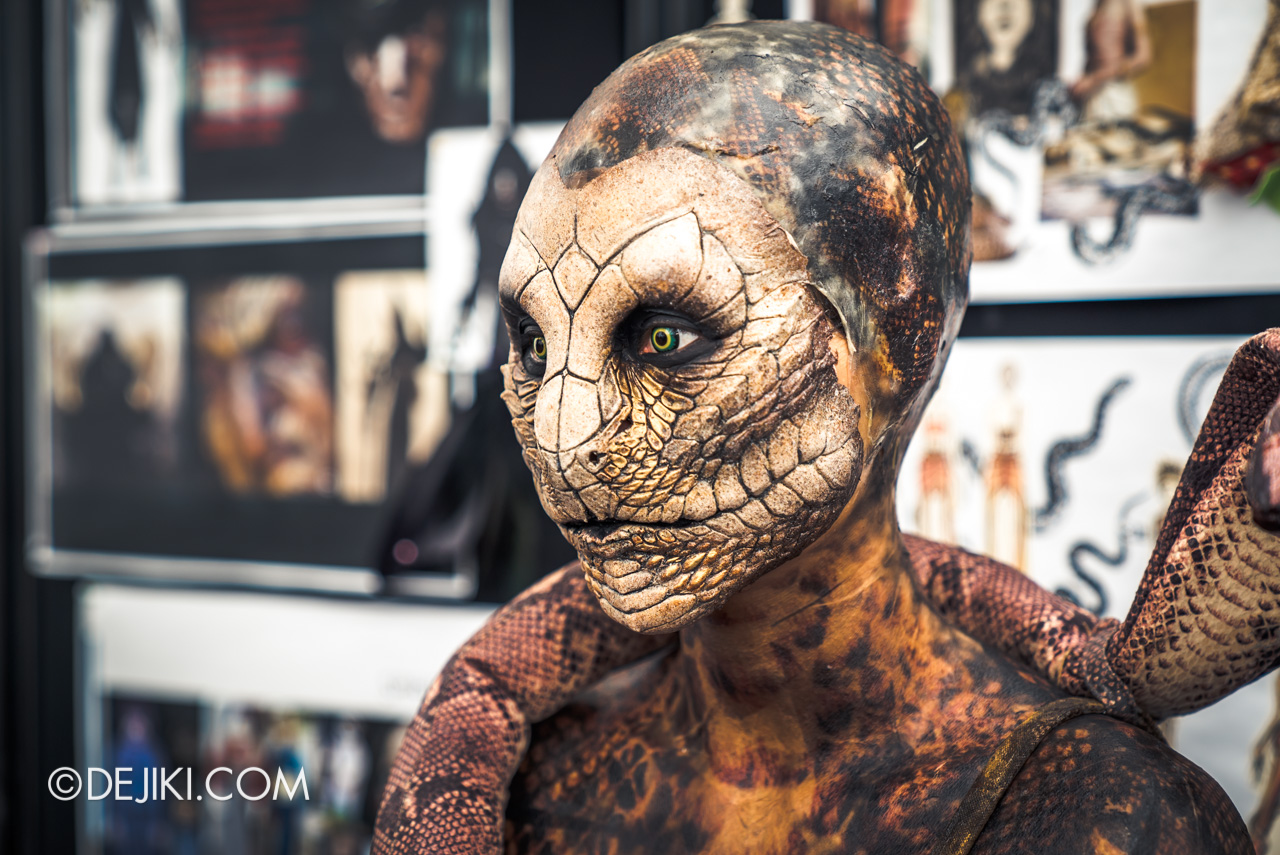 For this particular Serpentine Spirit, elaborate makeup techniques were used to create her supernatural appearance, with scales covering her entire body. It is a time-consuming process. Her upper body is covered with manually applied tattoos. I only got to see the middle portion of the process, such as the application and blending of the foam latex prosthetic mask.
Serpentine Spirit's costumes were produced by a vendor in Thailand. The fabrics also came from Thailand, enhancing the authenticity of the dancer's dress. Snakes coil around the bodice, completing the look.
The next step is to apply her fangs, golden crown and the traditional brass nail extensions.
---
Now you get to enjoy these rare lights-on photos from two of this year's haunted houses.
Behind The Scenes at The Chalet Hauntings
Michele, Assistant Project Director of Halloween Horror Nights 9, showed my media group around The Chalet Hauntings and explained: "For Singaporean teenagers, (staying at chalets) is a rite of passage. They spend the night telling ghost stories, playing the spirit coin games, and invariably someone gets possessed…"
If you've been to the real one, then this house's facade is pretty unsettling to look at. "We wanted to pick a Colonial-style chalet because we thought that would be a lot creepier." Michele also shared that to heighten the overall creepiness of this haunted house, quite a number of the scare effects can't actually be seen.
At this particular chalet, a group of teenagers checked in and then mysteriously vanished overnight. Now you – as a curious passerby – will go under the police tape… and try to solve the mystery. During event nights, the chalet will be very dark when you enter. Scattered lights, from flashlights, can be seen tracing around the living room – as if you're exploring the house holding it.
The TV flickers on, filling the chalet with white noise. Add the sounds of teenagers playing the spirit coin game. Furniture in the room begin to move by itself.
During your (mis)adventures inside, you'll learn that the teenagers have somehow opened a portal into another realm – and that is drawing all the supernatural creatures and ghosts to this chalet.
You'll have to visit this chalet to find out what happens next.
See more paranormal activity at The Chalet Hauntings SNEAK PEEK article.
---
Behind The Scenes at Curse of The Naga
The Curse of The Naga house is this year's most elaborate haunted house. Waheedah, Project Director of Halloween Horror Nights 9, shared with me much insights on the work that has gone into making the story come alive.
Collaborating with the Thai film directors marked a new creative process for the team at Universal Studios Singapore. The initial story concept from the directors came in the form of a script. The creative team had to break it down into physical spaces, and put together elements that could tell the story. They then had to create a scene-by-scene treatment showing how each scene would be designed and built, and how the scares would work.
At the start, guests will be transported to the alleys of a night market in Thailand – one that resembles the narrow lanes in Chatuchak market. Designers from the park's creative team went to Thailand for research, and also to procure props and materials for scenic design in this house.
Over 80% of the props used in this house are bought overseas – from the spirit houses, candles, outfits and ornate accessories. In this jungle scene, visitors will see several spirit houses decorated with flowers and small items, and cloth bands tied on the trees.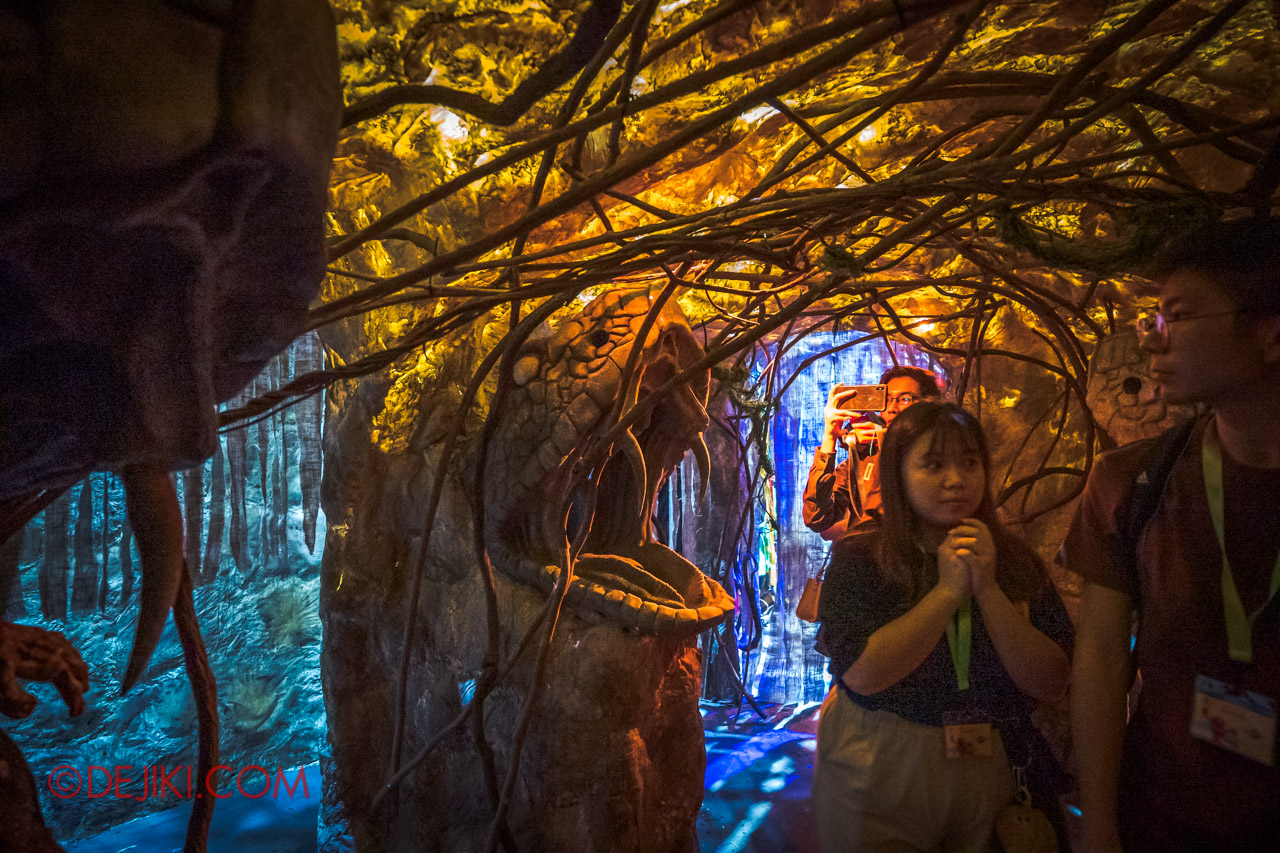 "The Naga is a well-known creature in Thailand, with several movies and TV stories about her. She is a protective spirit that can also become a destructive force if you cross her. For our haunted house, it's a story about Man versus Nature. Essentially what would happen if we keep consuming."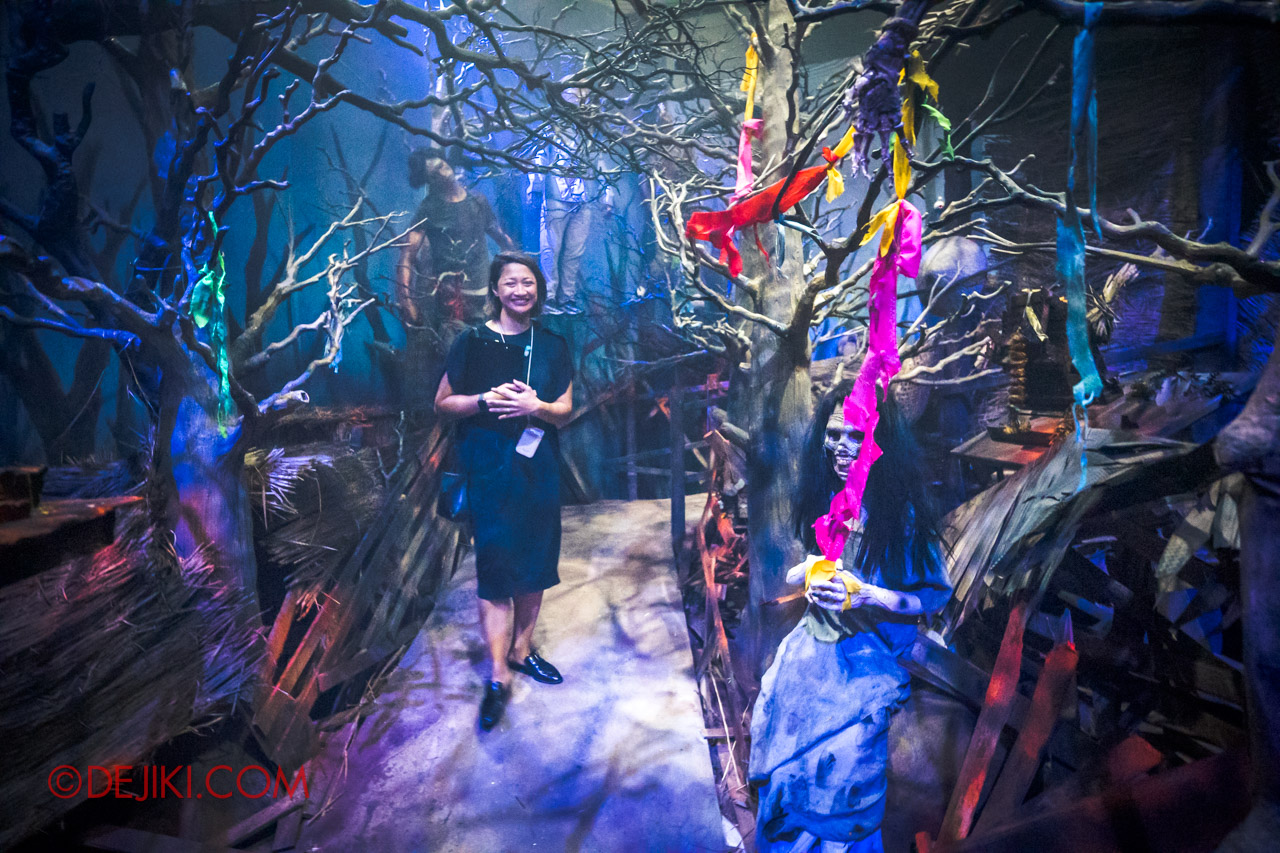 The burned down village scene shows consequences of angering the Naga.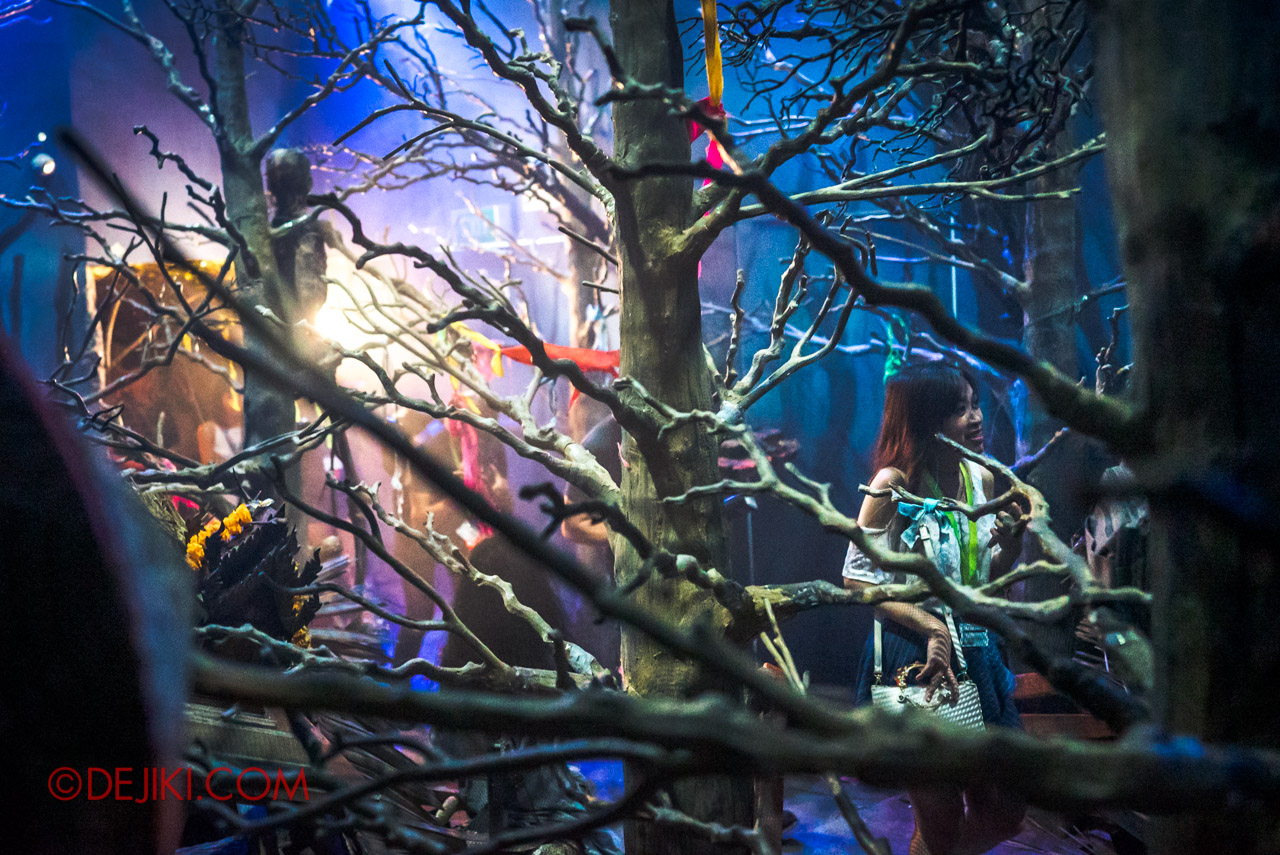 With the work lights on during the tour, I could see the details that has gone into the scenic design. It transforms into an immersive world with the show lights and full effects, and much consideration is also put into planning the scares. In every room there are well-placed props to distract guests, making the scare actors' performance much more effective when they catch guests off guard.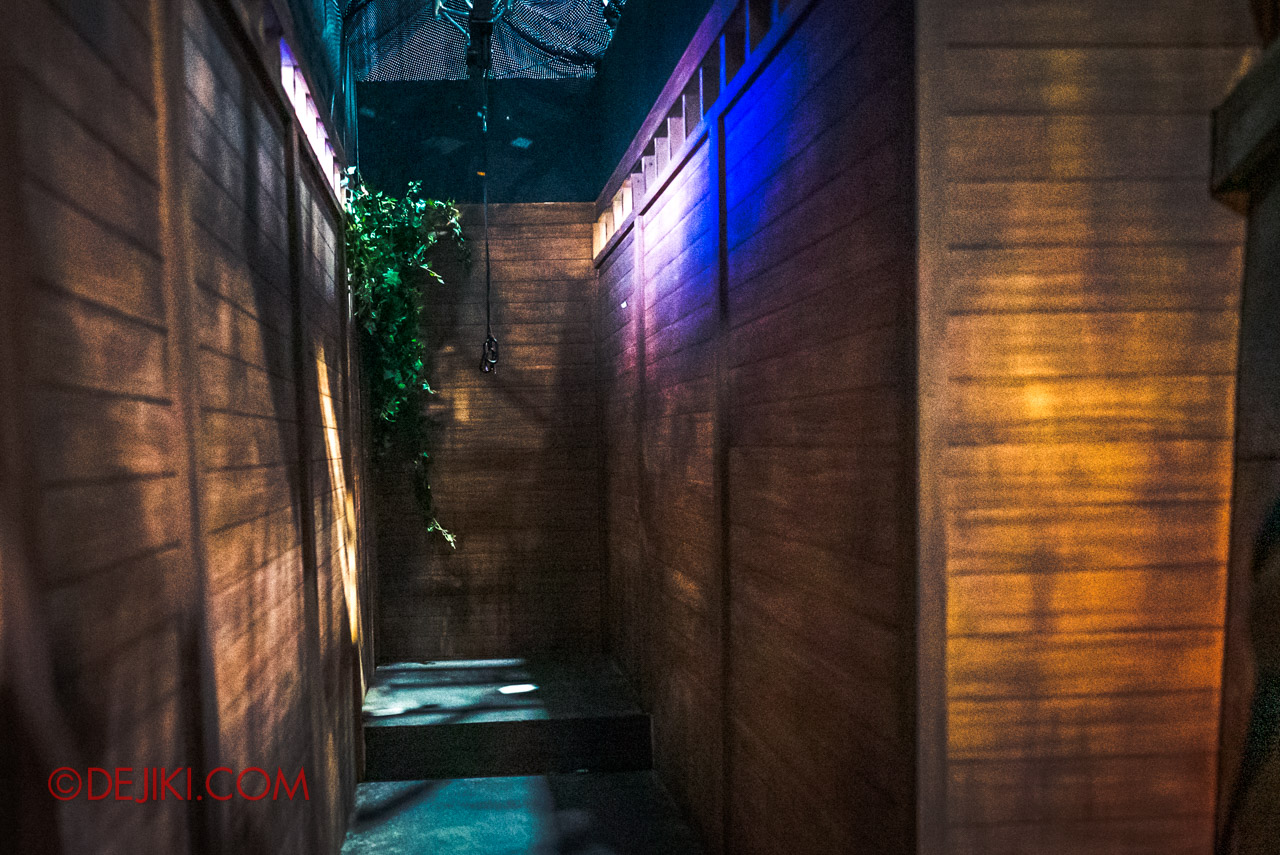 If going through dramatic environments aren't enough, you can look forward to some stunts in this house.
In the scenes that follow, the power of the curse intensifies: Blood is drained in the Bloodletting Corridor, and the brave ones that have survived will become the next sacrifice at Naga's Temple.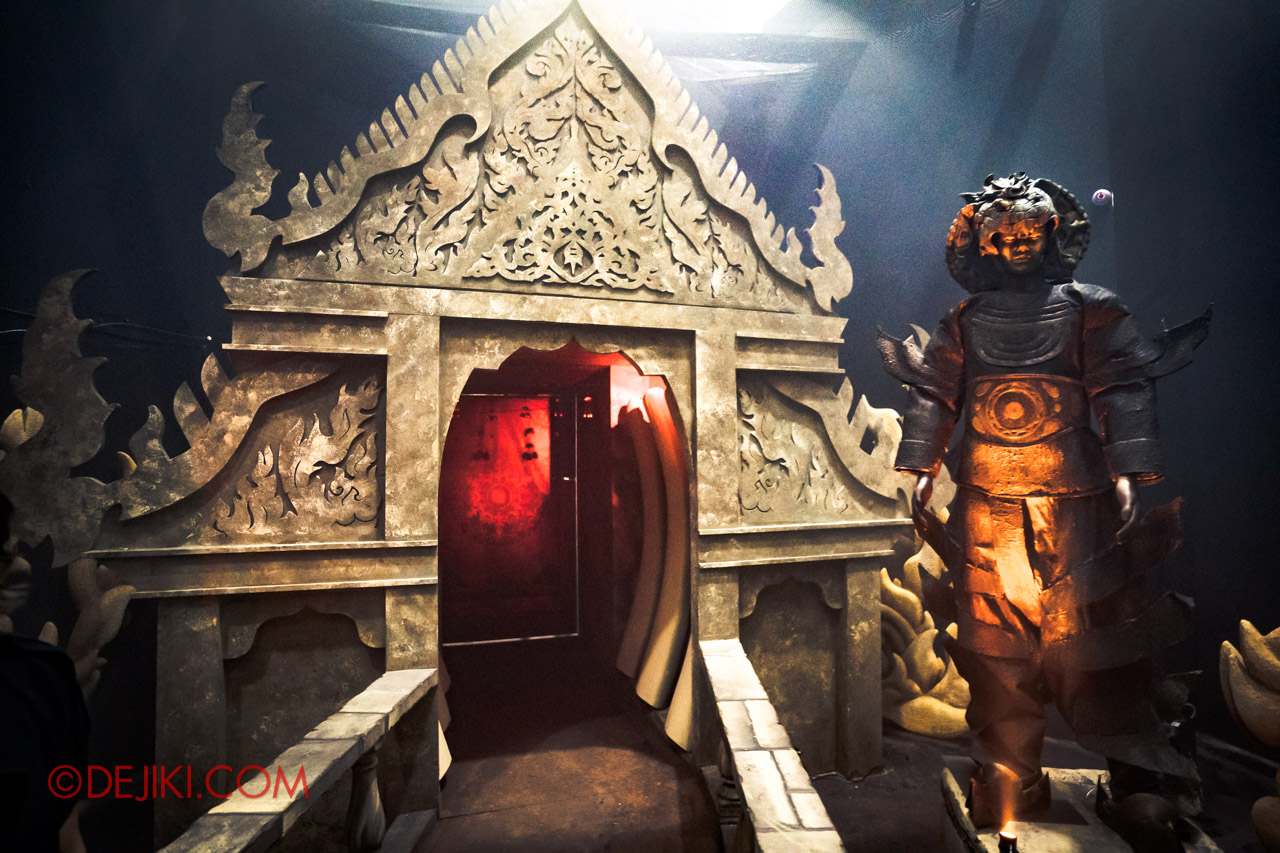 The fiery encounter with Naga is created with a projection wall, the largest USS has ever done indoors, set within an elaborate Temple chamber that includes massive pillars and snakes all over the props.
Transport yourself to the Thailand now at my Curse of the Naga SNEAK PREVIEW article.
There is no Behind The Screams (BTS) for Halloween Horror Nights 9, but there are good news: If you have daytime park admission, you can join the 'Curse of The Naga' House Day Tour to see all of the scenes in this haunted house yourself, with the lights on, and without performers.
HHN9 'Curse of The Naga' House Day Tour
For the first time, Universal Studios Singapore is opening up a haunted house during the day for park guests to visit on a guided walkthrough tour. Tickets will be sold on-site at the park. Tours are available from 12PM till 4PM on dates with HHN9 event nights, and from 12PM till 6PM on non-event days, except on Wednesdays.
Category
Price
Halloween Horror Nights 9

'Curse of The Naga' Daytime Haunted House Tour


Enjoy a guided tour through the Curse of the Naga haunted house. Daytime park admission required.
$10
Halloween Horror Nights 9

'Curse of The Naga' Daytime Haunted House Tour

for USS Passholders
Universal Studios Singapore Annual and Season Passholders may purchase tour tickets at half price! Simply buy your tickets at the entrance of Curse of the Naga during the day.
$5
Special Thanks to Resorts World Sentosa
---
Get more HHN9 updates
Follow me on Facebook and Instagram (@dejiki)
Prepare for Halloween Horror Nights 9
Get all the info you need at my Halloween Horror Nights 9 Event Guide.
Halloween Horror Nights 11 (2023)
HHN11 REVEALED: Ticket and Event Guide
Sneak Preview: DIYU: Descent Into Hell, Rebirth of the Matriarch, Icons and more
Halloween Horror Nights 11 MEGA Review: Photos of all Haunted Houses and Scare Zones
HHN11 RIP TOUR (VIP Tour) Review

Features on Haunted Houses, Scare Zones and Experiences
Grimm Encounters | The Weeknd: After Hours Til Dawn Nightmare
Judgement Day (Opening Scaremony) | Netflix's All of Us Are Dead
DIYU: Descent Into Hell | Rebirth of the Matriarch
Dead Man's Wharf | The Cursed Kiramam
The Hacker + The Hacker: GAME OVER

Universal Studios Japan (USJ) 2023
Halloween Horror Nights 2023/ HAHAHA! Halloween Party! Event Guide


Halloween Horror Nights – The Archives


Click to Expand and see all posts from past Halloween Horror Nights
Subscribe to Dejiki.com or Like my Facebook page for notifications of updates.
---