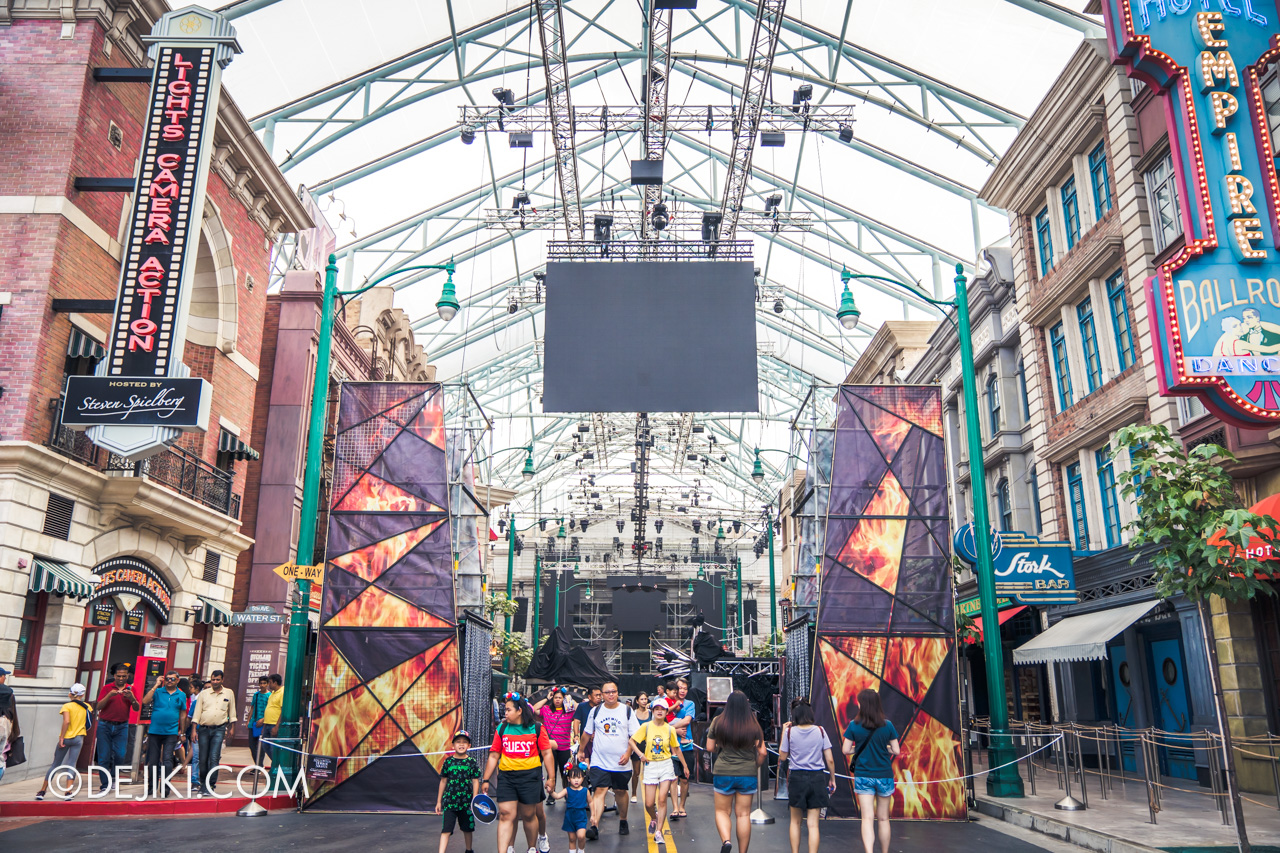 Final arrangements are being made for the region's most terrifying event. See it all in Halloween Horror Nights 9: BEFORE DARK 4.
This will be the last BEFORE DARK article for Halloween Horror Nights 9, as the opening weekend draws near.
HHN9 Anticipated Crowds
At time of writing, Friday, 4 Oct 2019 has been designated as a 'sold out' night. This means that new tickets specific to this night is no longer available for sale online via the official HHN (or RWS) website. Tickets may still be available onsite and via official travel partners such as Klook and Traveloka.
I guess that the park is expecting higher crowds based on their attendance projections derived from sales of fixed date tickets. If you are holding on to a open-dated ticket, you may wish to make other plans to avoid very long wait times. Interestingly, this is supposed to be an non-peak night, and the only Friday night that is marked as such.
Coffins at the park entrance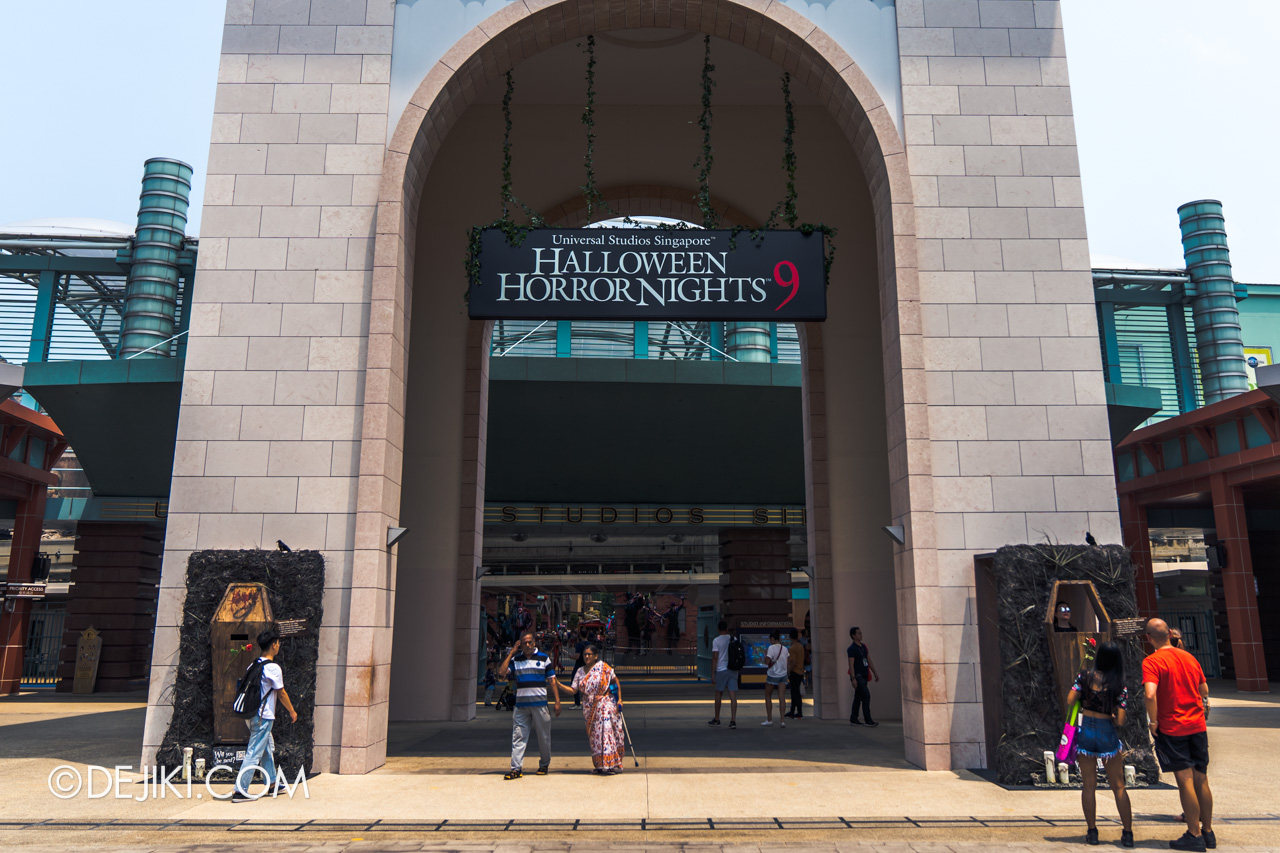 Two coffins have appeared at the entrance arch of Universal Studios Singapore. One of them is a fun photo set where you can snap photos for free drinks as part of a promotion.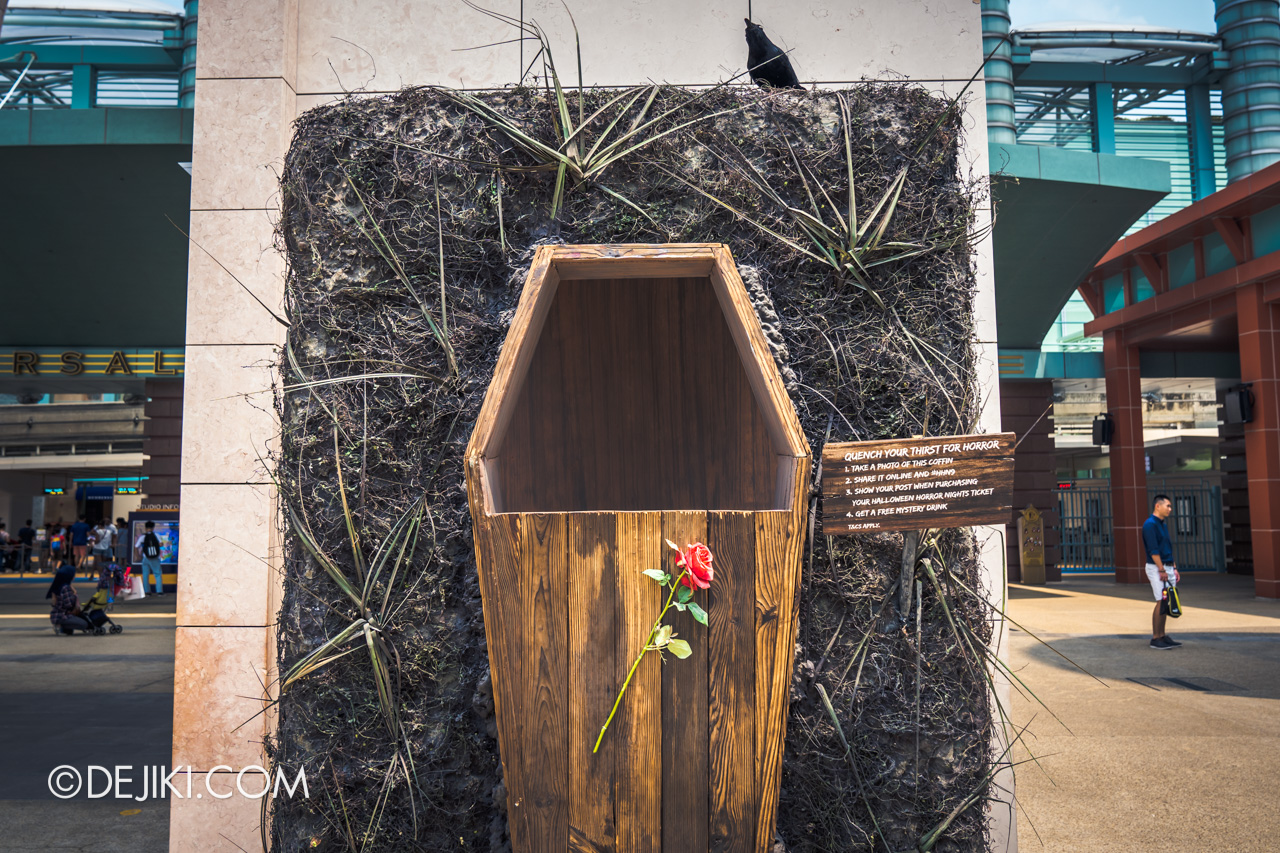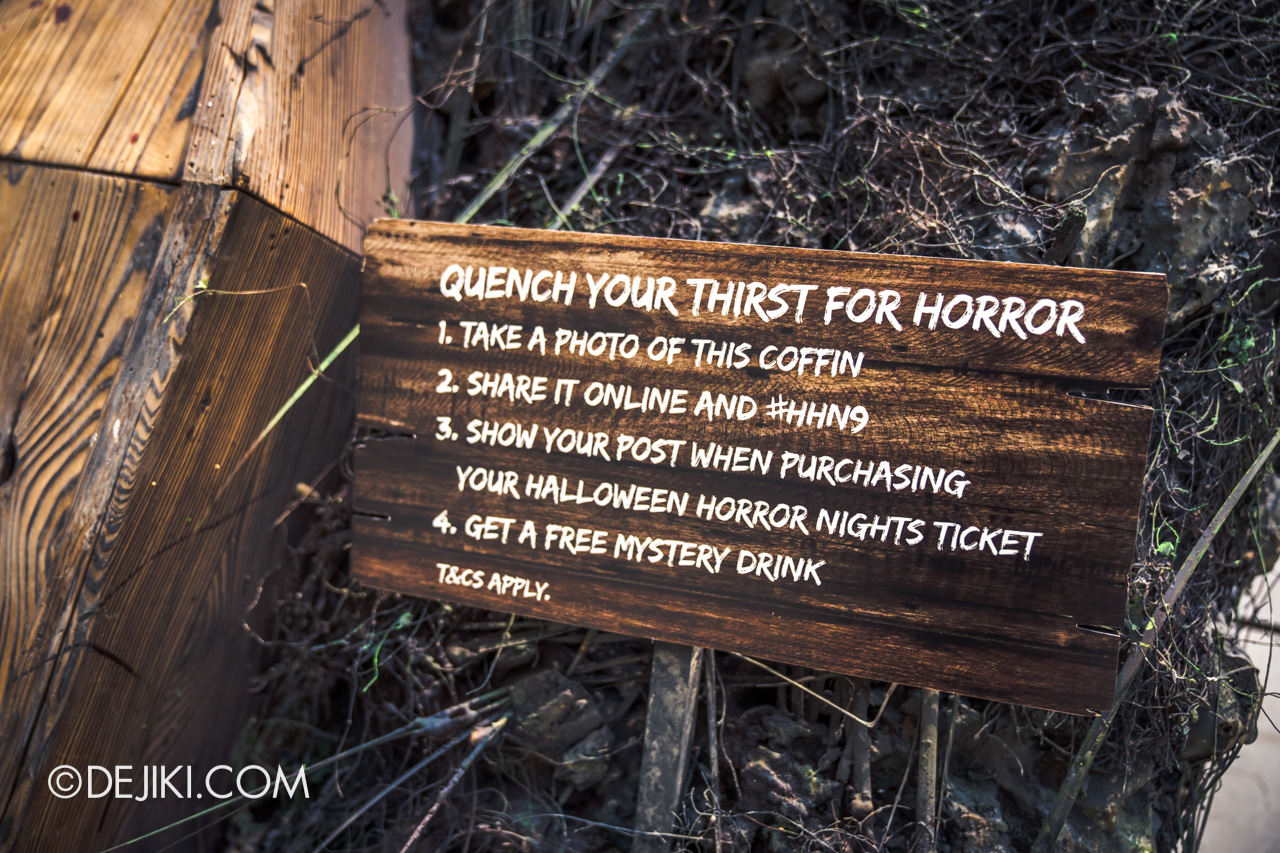 Note that you will need to do this before buying your tickets at the park's ticketing counters.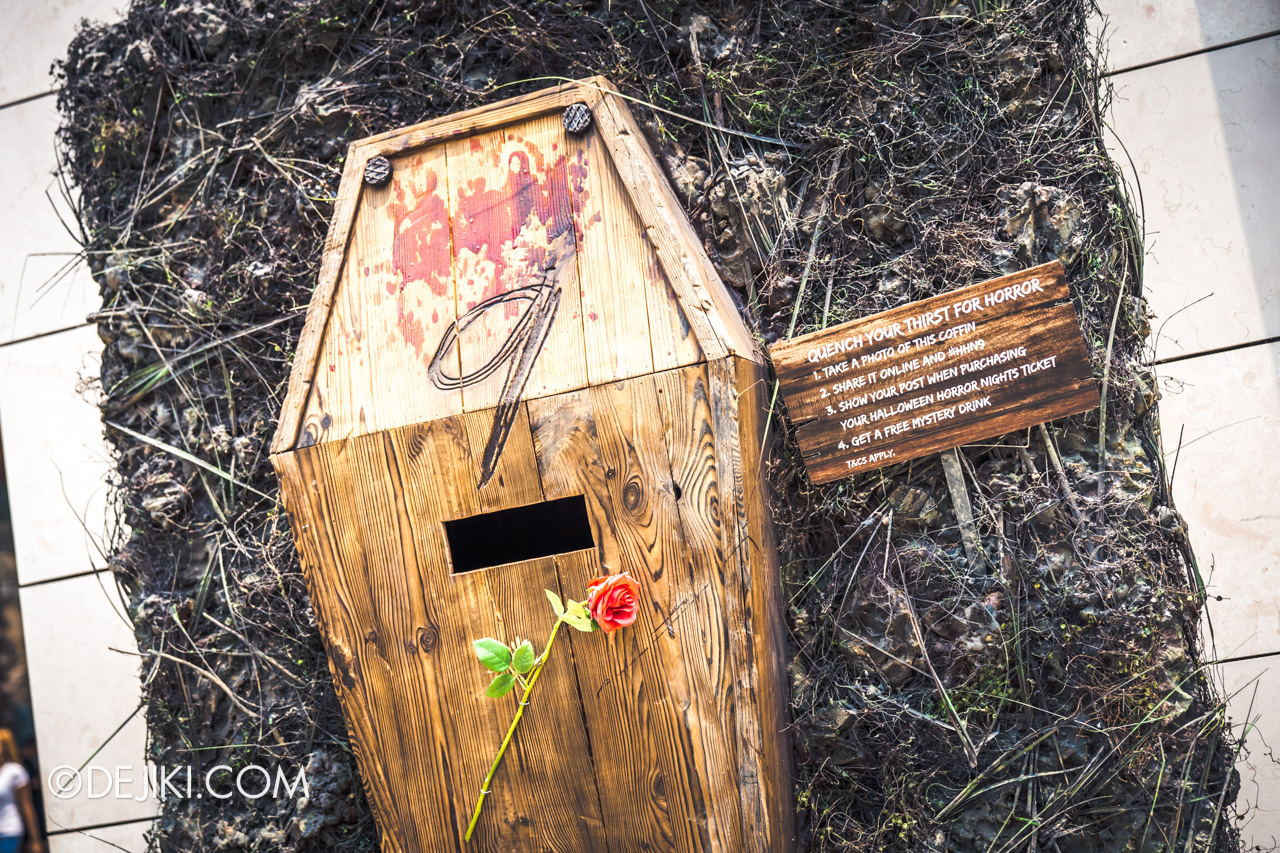 The other… has a surprise waiting inside if you dare to peek in.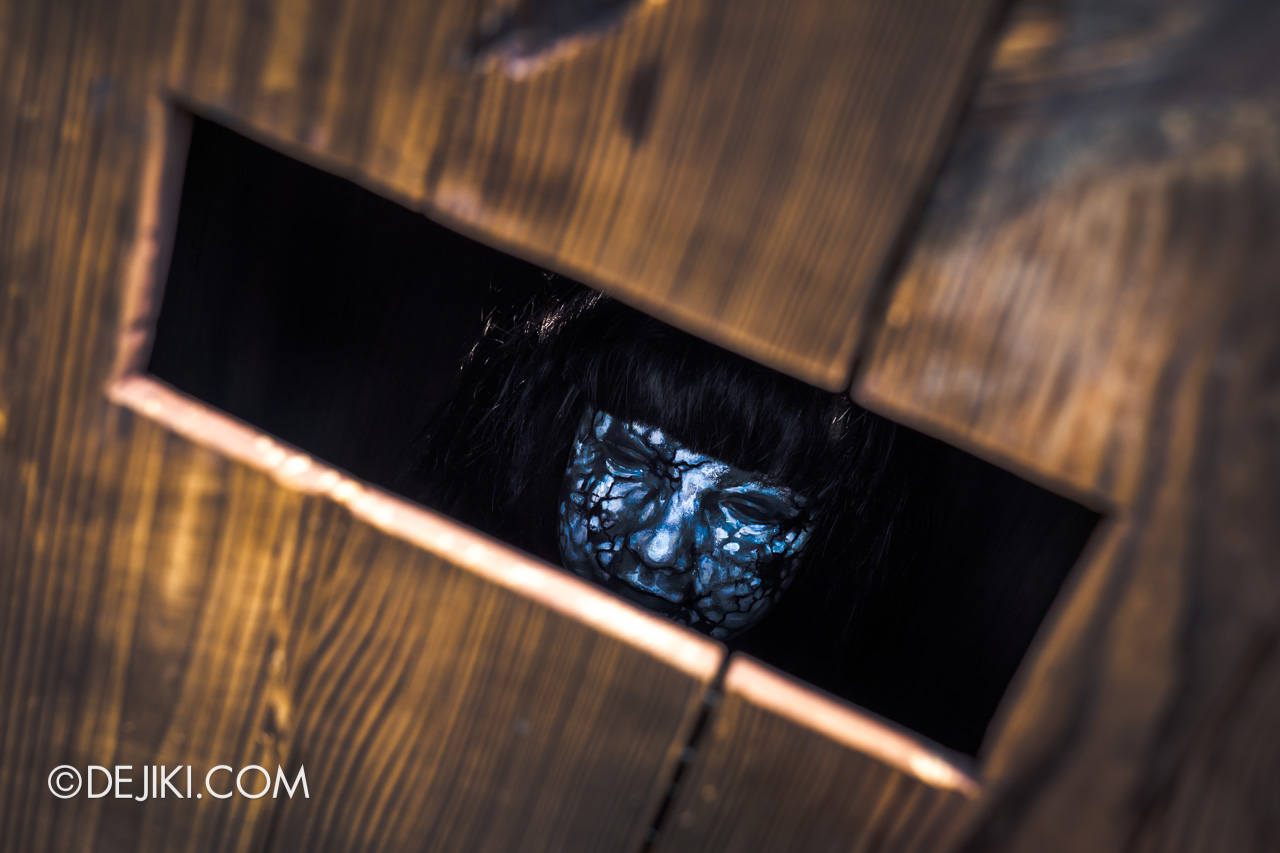 HHN9 merchandise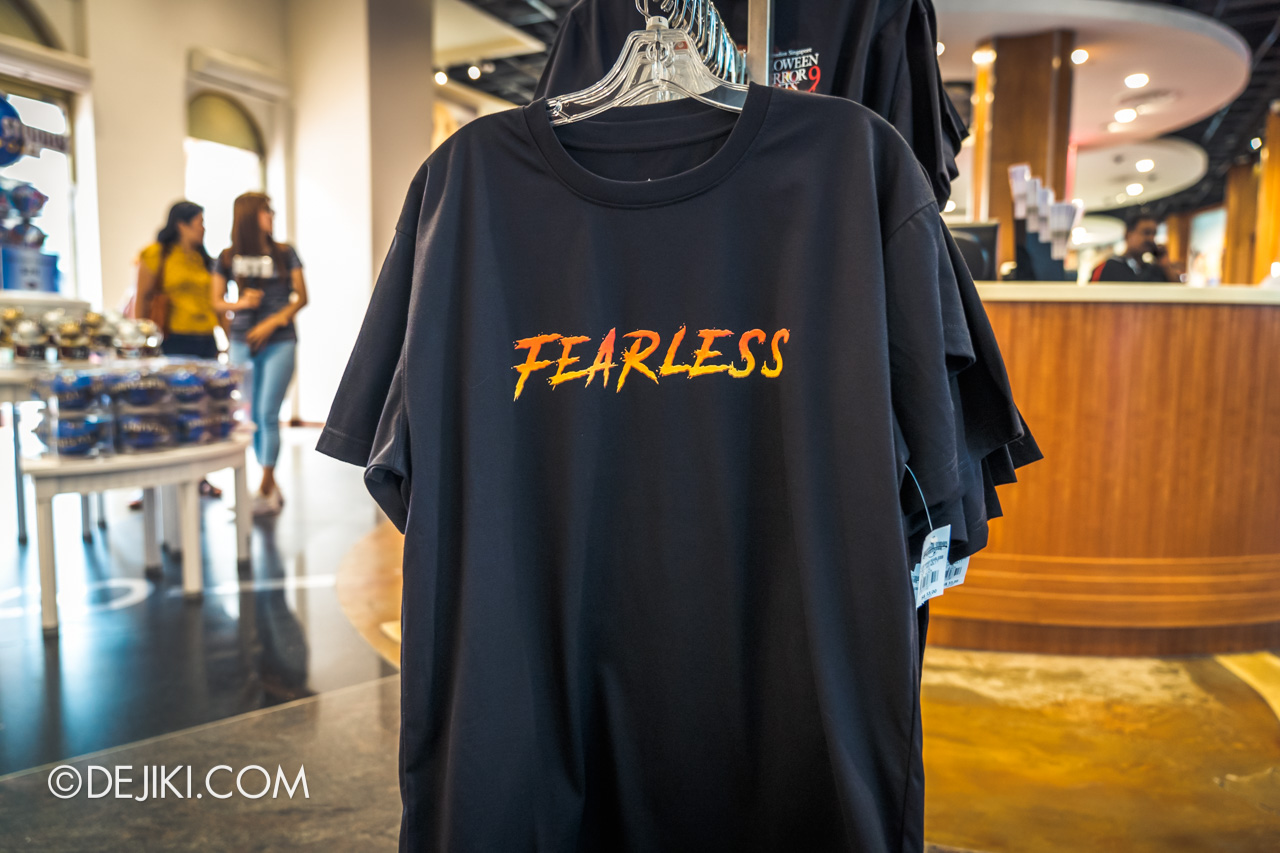 Be FEARLESS and grab the Halloween Horror Nights 9 T-Shirts, now retailing for S$33. If you buy it with other items in the store, you can enjoy a discounted price of S$25.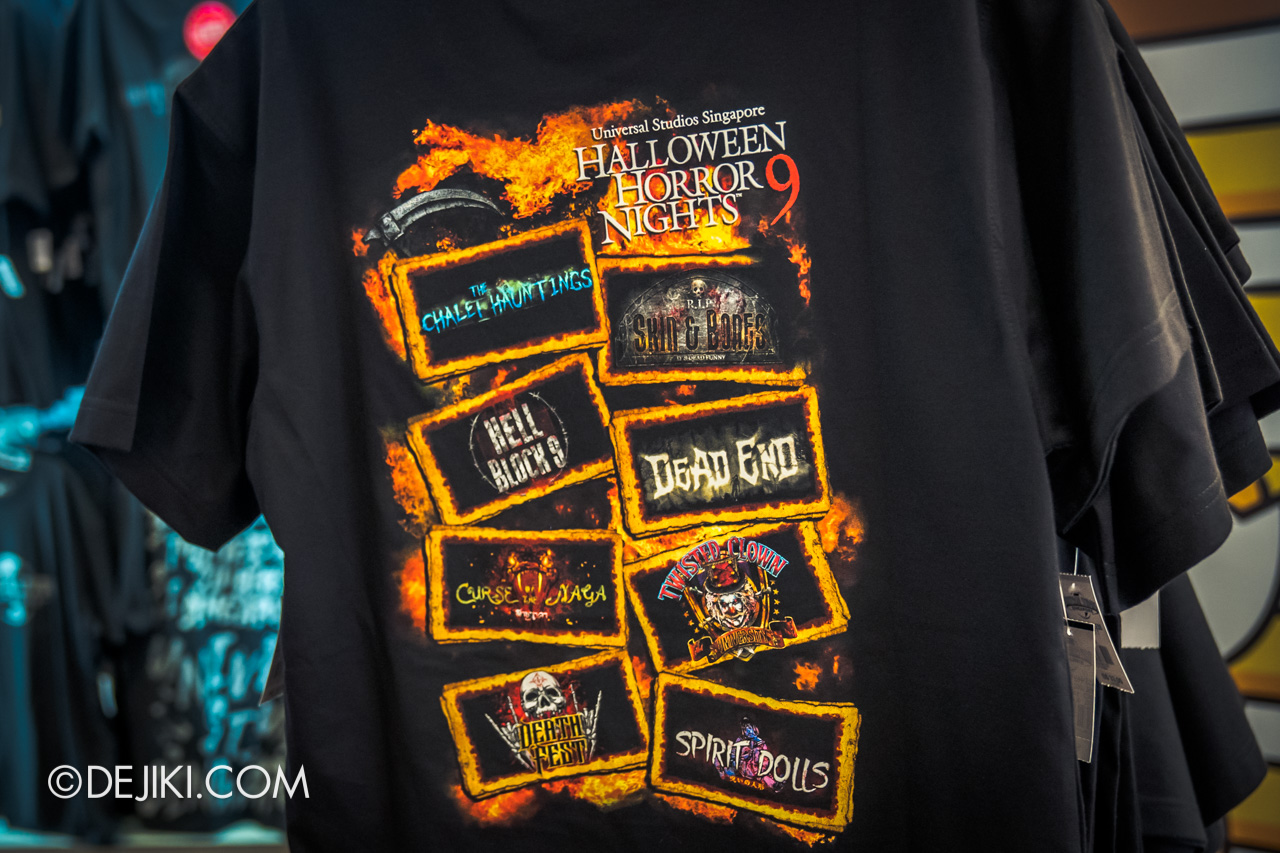 The back of the T-shirt features 8 highlights of Halloween Horror Nights 9. Death Fest LIVE is the 9th item in the line-up that isn't part of the design.
Haunted Houses
More haunted house entrances are up. To recap: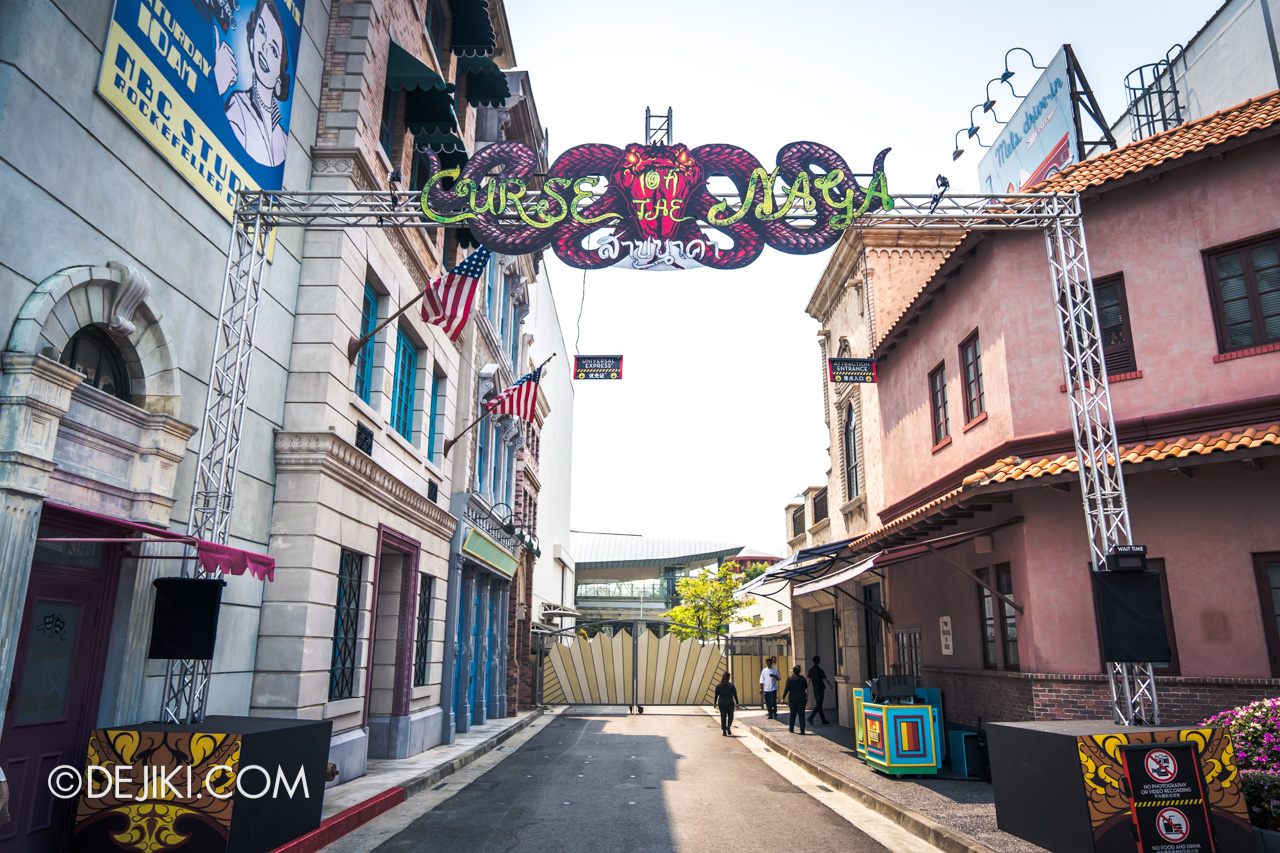 The entrance to Curse of The Naga is right before the New York zone, beside the Sesame Street Spaghetti Space Chase ride building.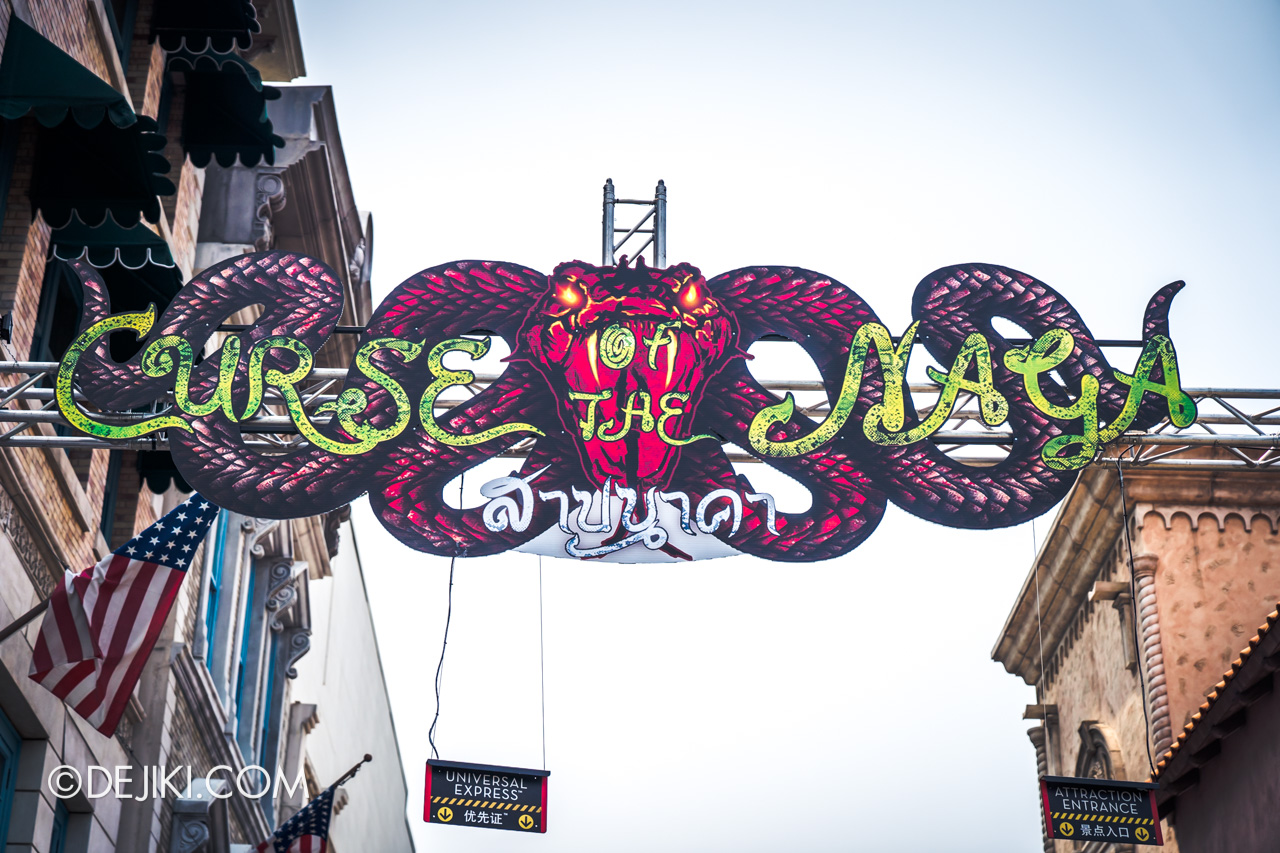 Closeup of the sign – the Thai writing is a direct translation.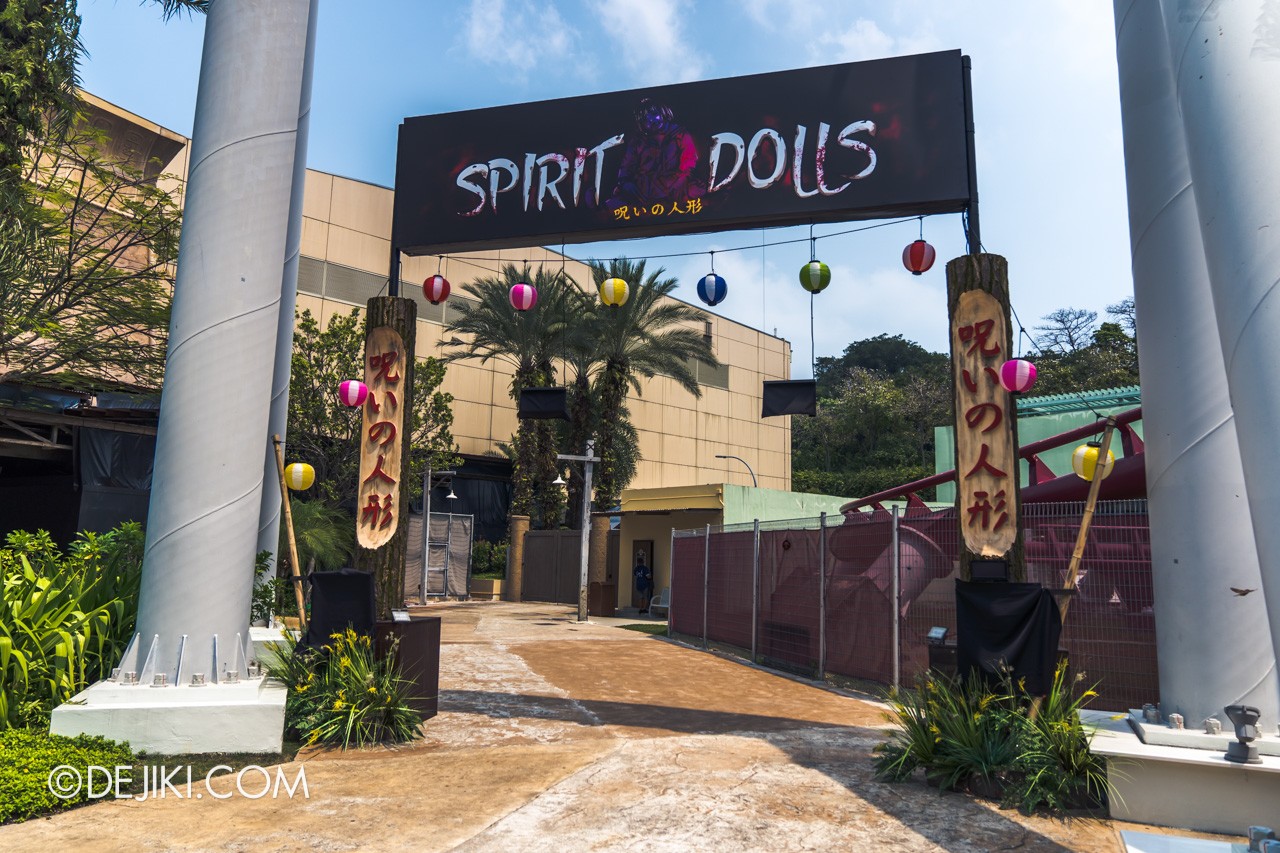 Meet Yumi and other cursed dolls in the Japanese-themed Spirit Dolls house, tucked between Ancient Egypt and Sci-Fi City.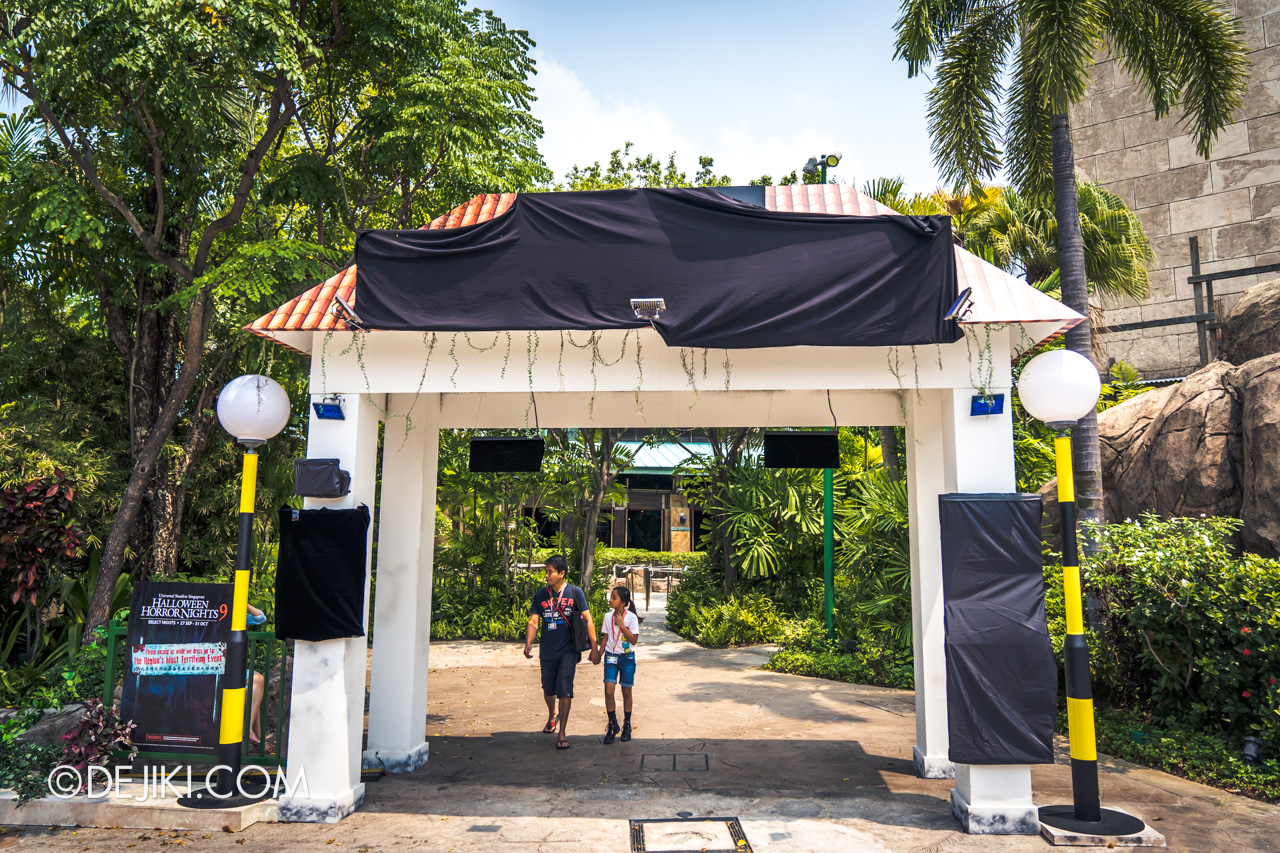 The Langsuir and other regional ghosts await you at The Chalet Hauntings, this year's haunted house inspired by local paranormal tales.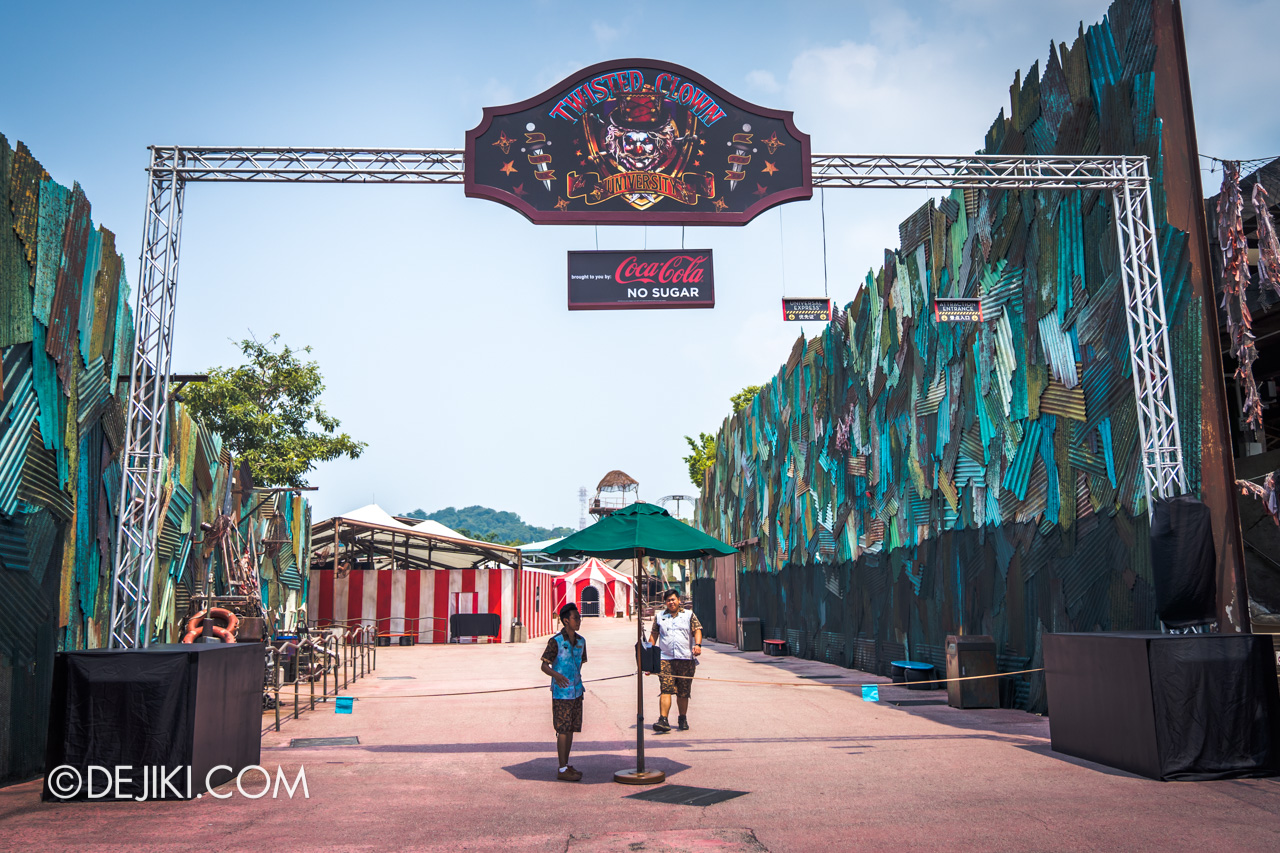 Learn the Killer Clown method in Twisted Clown University, a massive house taking shape in the Waterworld queue.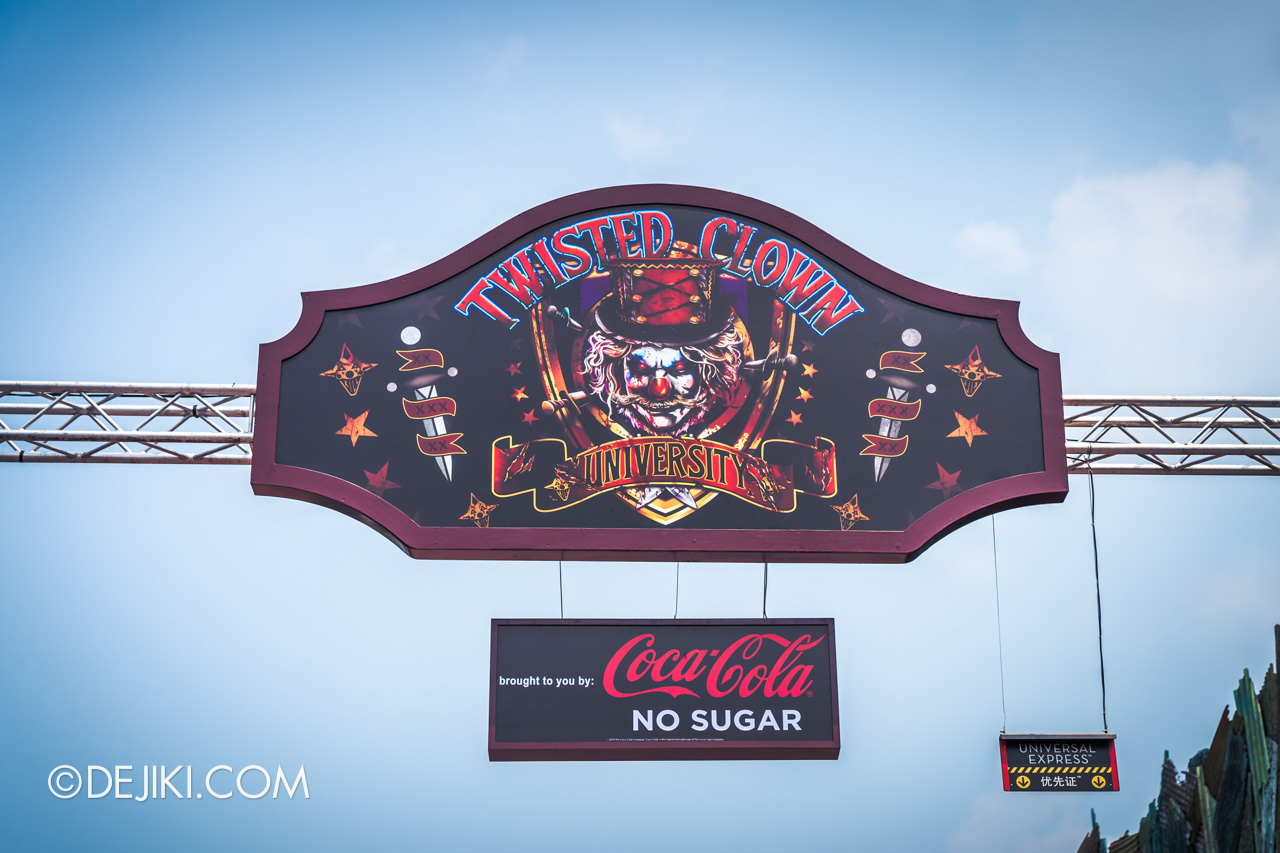 Now brought to you by Coca Cola – no sugar. And here's a closer look at the tent.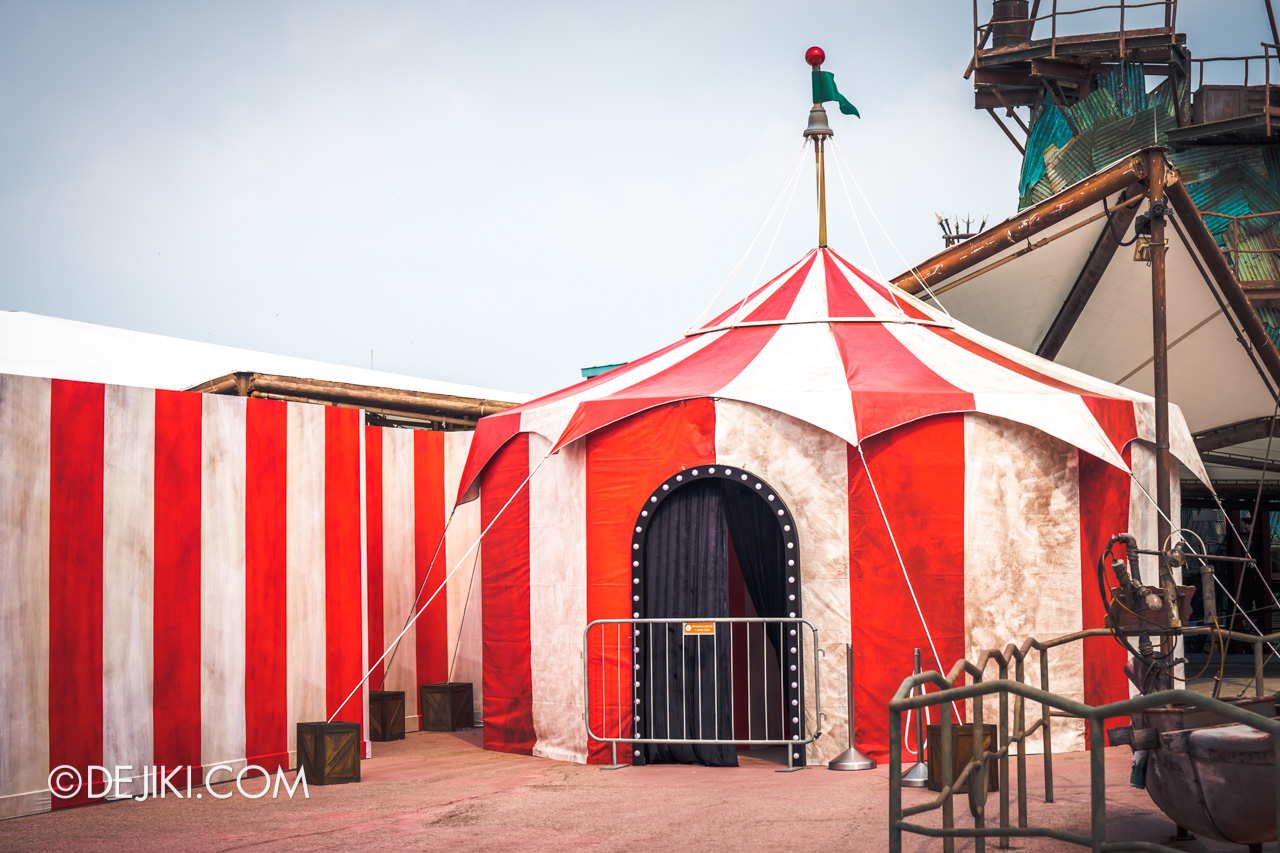 Lastly, the gates to Hell Block 9 is expected to appear at the Rockerfeller building facade in New York, right beside the stage in the Death Fest scare zone.
Death Fest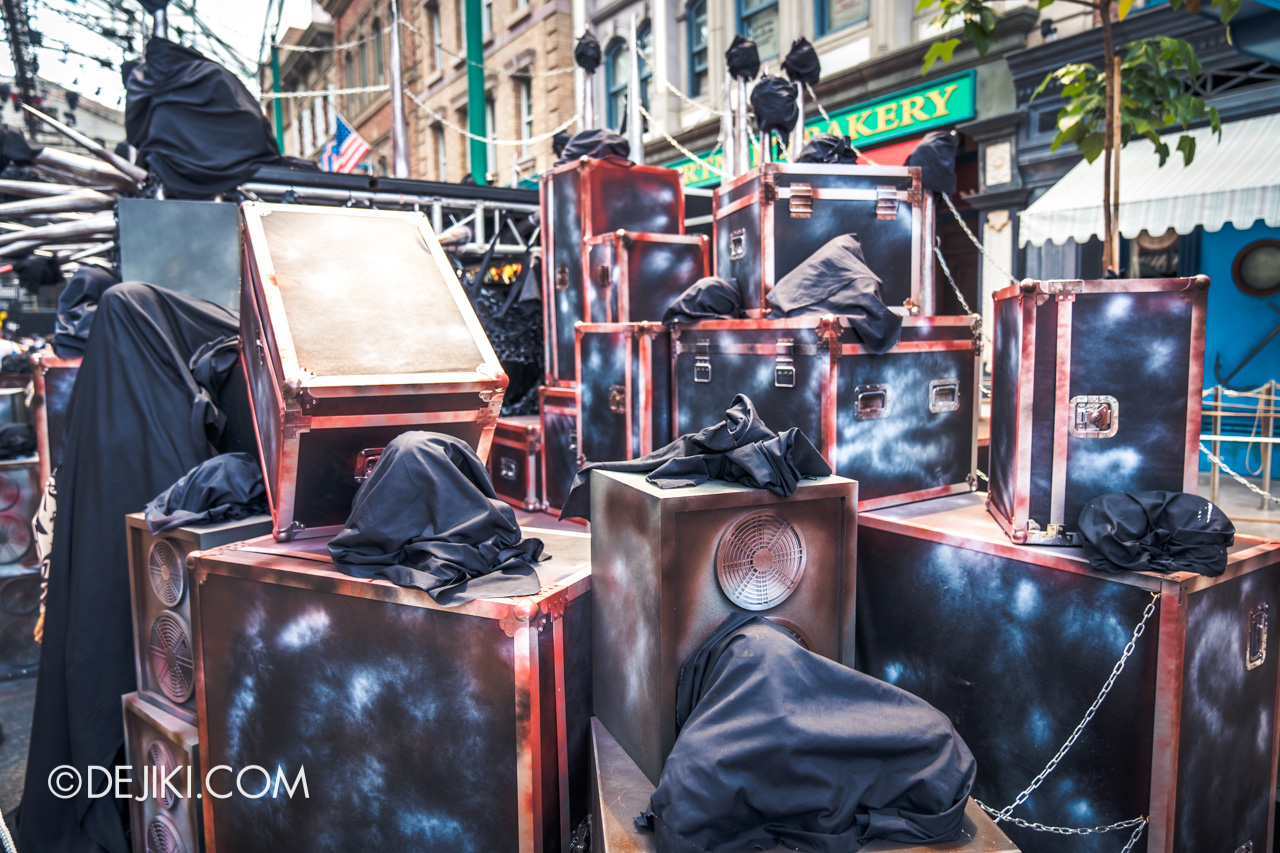 Looks like Death Fest zones's major set pieces have all arrived. It's just more blood, weathering, and more details added in the last week.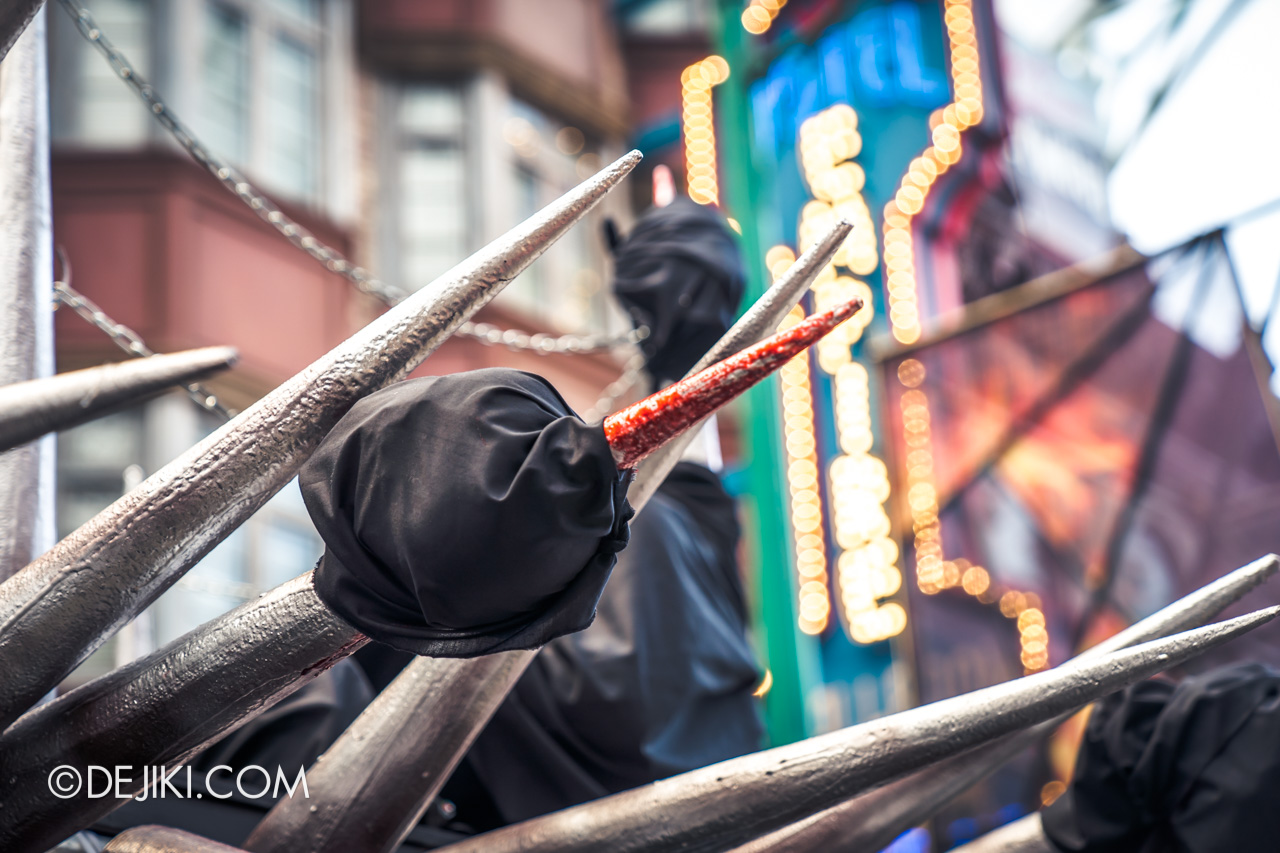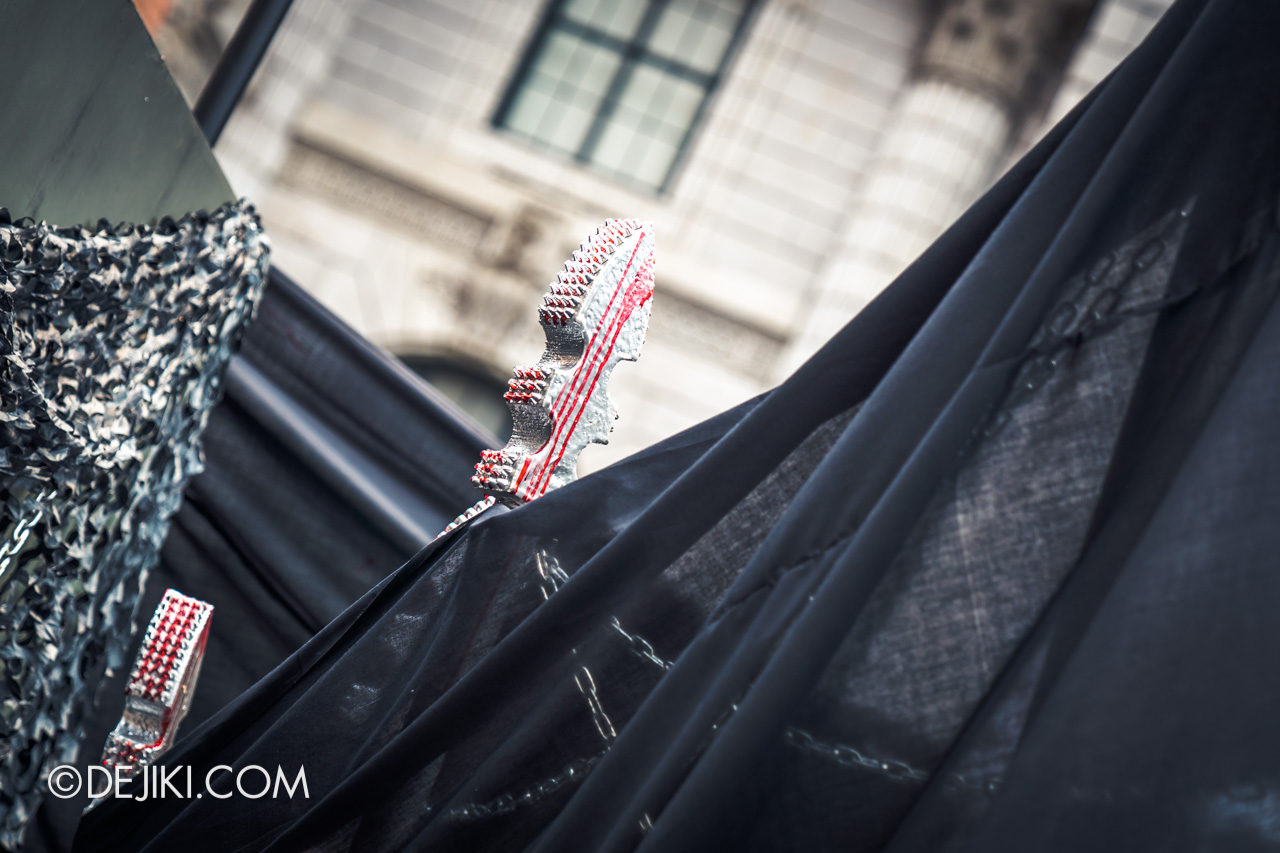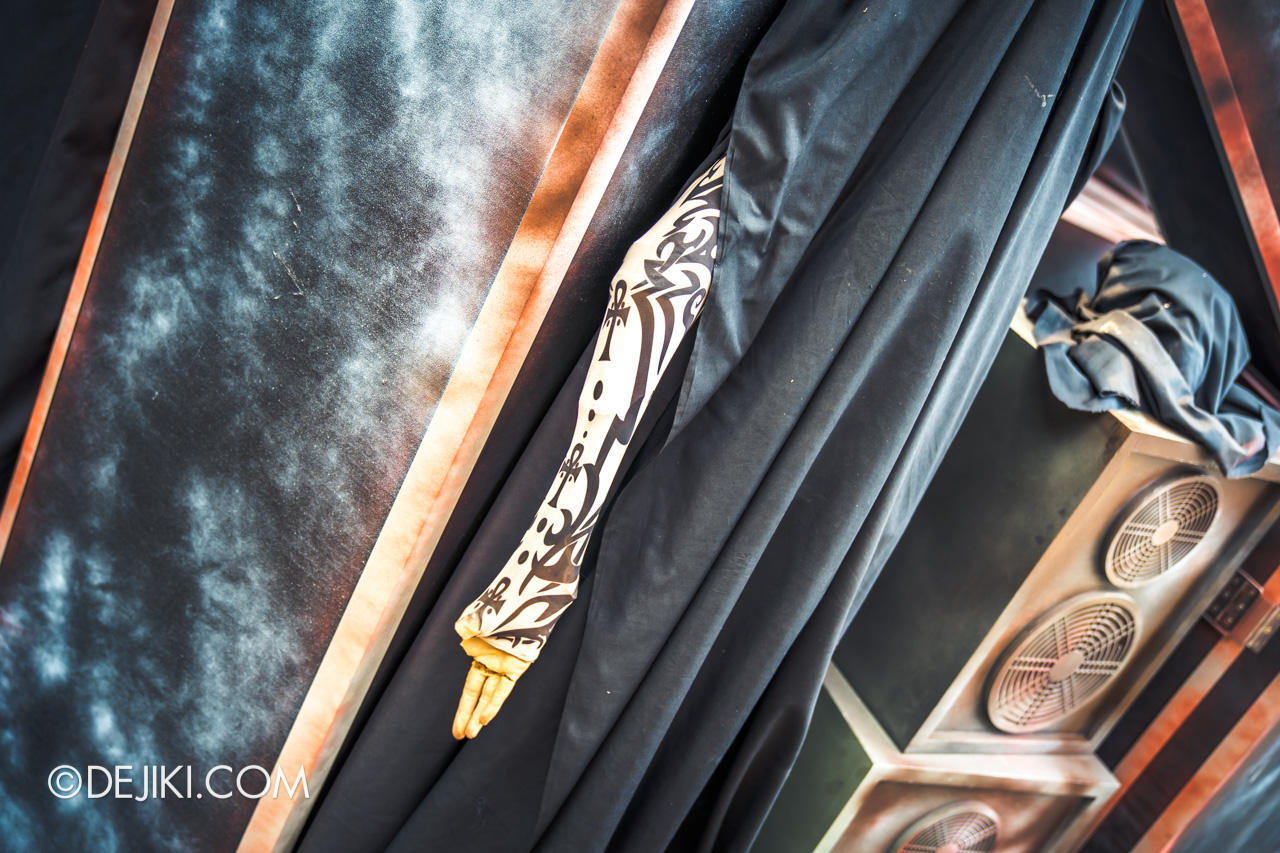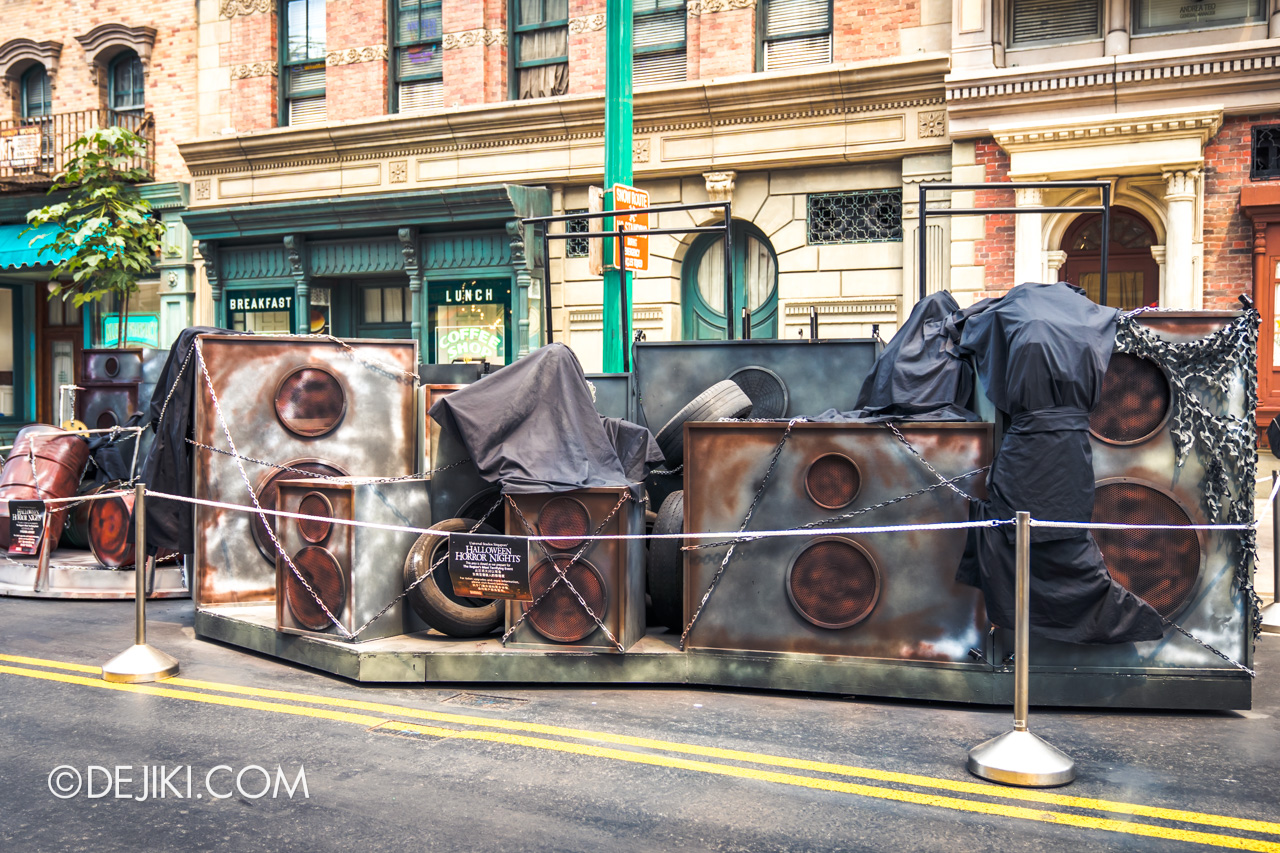 As confirmed weeks ago, this stage will be used for the Opening Scaremony show.
HHN9 Opening Scaremony speculation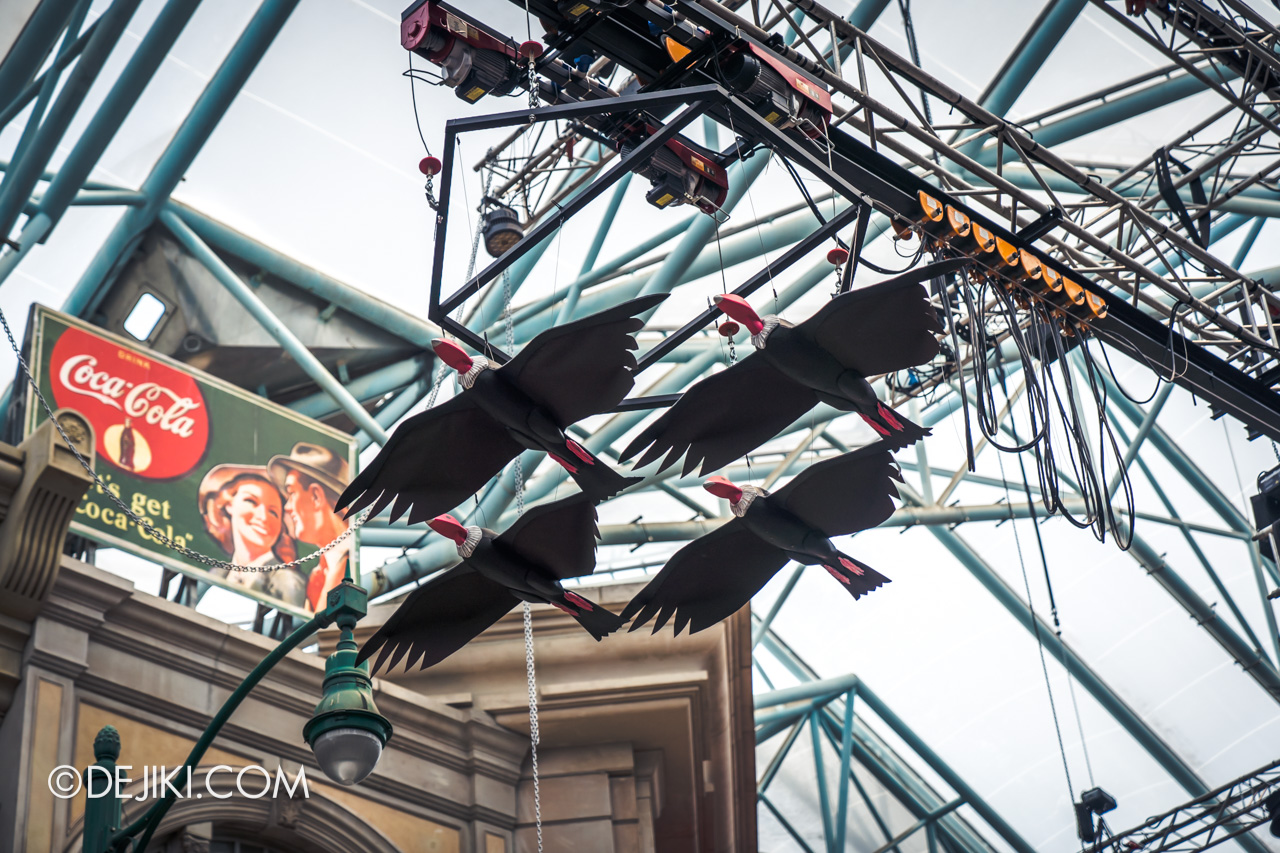 An interesting prop was added to the structure hanging over the scare zone. This is a small flock of birds, possibly vultures, in a motorized rig that would likely make the birds glide and swoop down towards guests.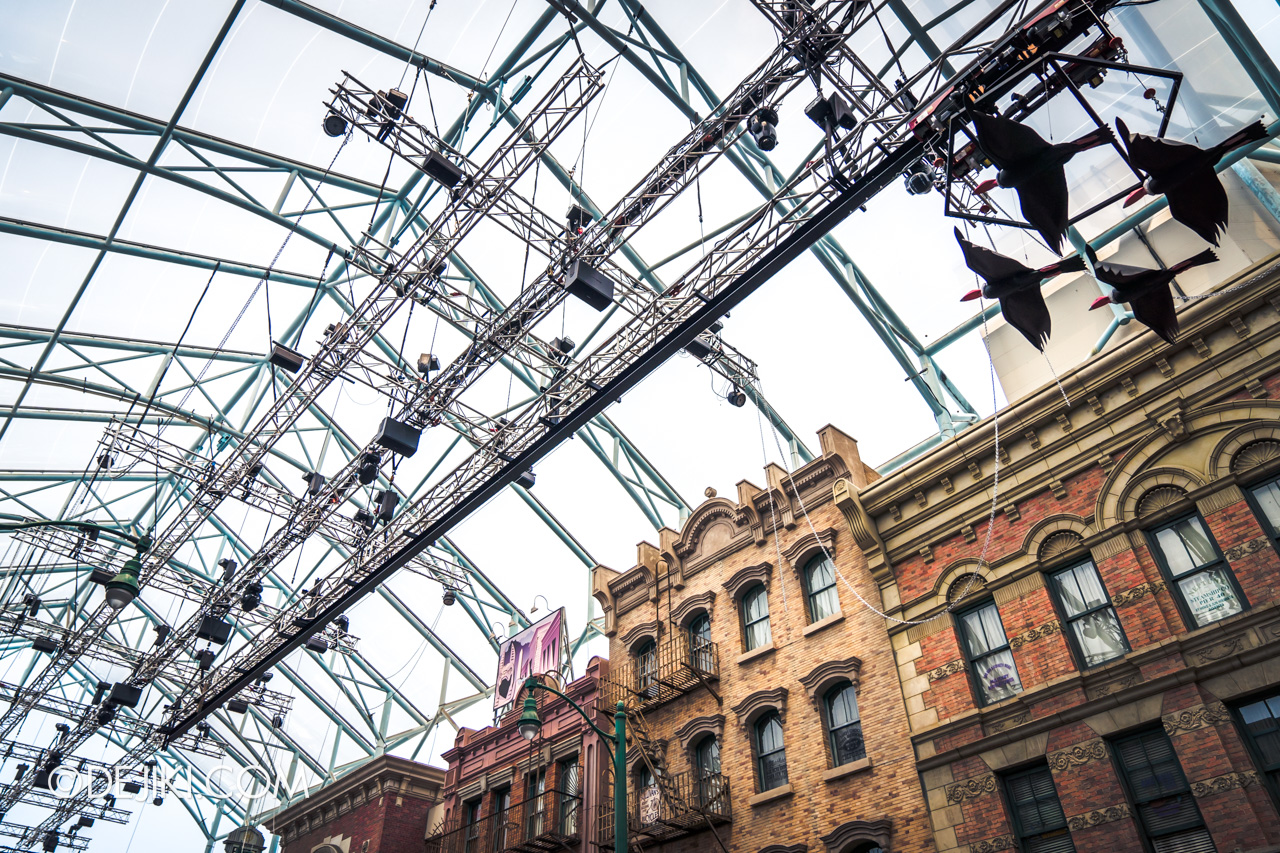 Given that the birds are a symbol of the Undertaker, the lead icon of this year's event, I am guessing that the Opening Scaremony show will be based on elements from the Dead End scare zone. The birds seem unrelated to Death Fest, which being a 'death metal' music festival, clearly has other visual motifs.
That means we might see funeral rites being done, coffins and I don't know, maybe a hearse and other undead things being brought out. Would it be like 'The Resurrection' from March of the Dead (2016)?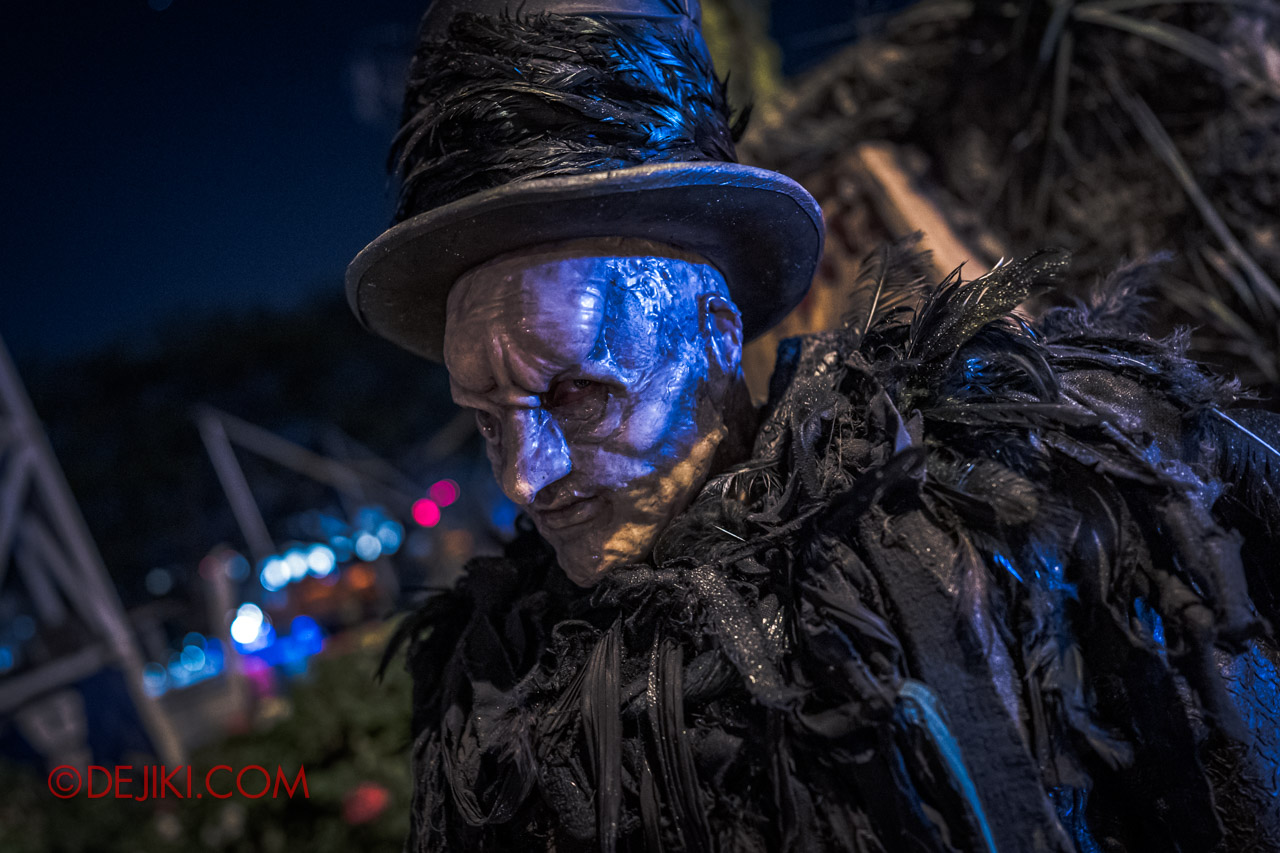 Eye gouging might be part of the opening act since that's how The Undertaker harvests souls.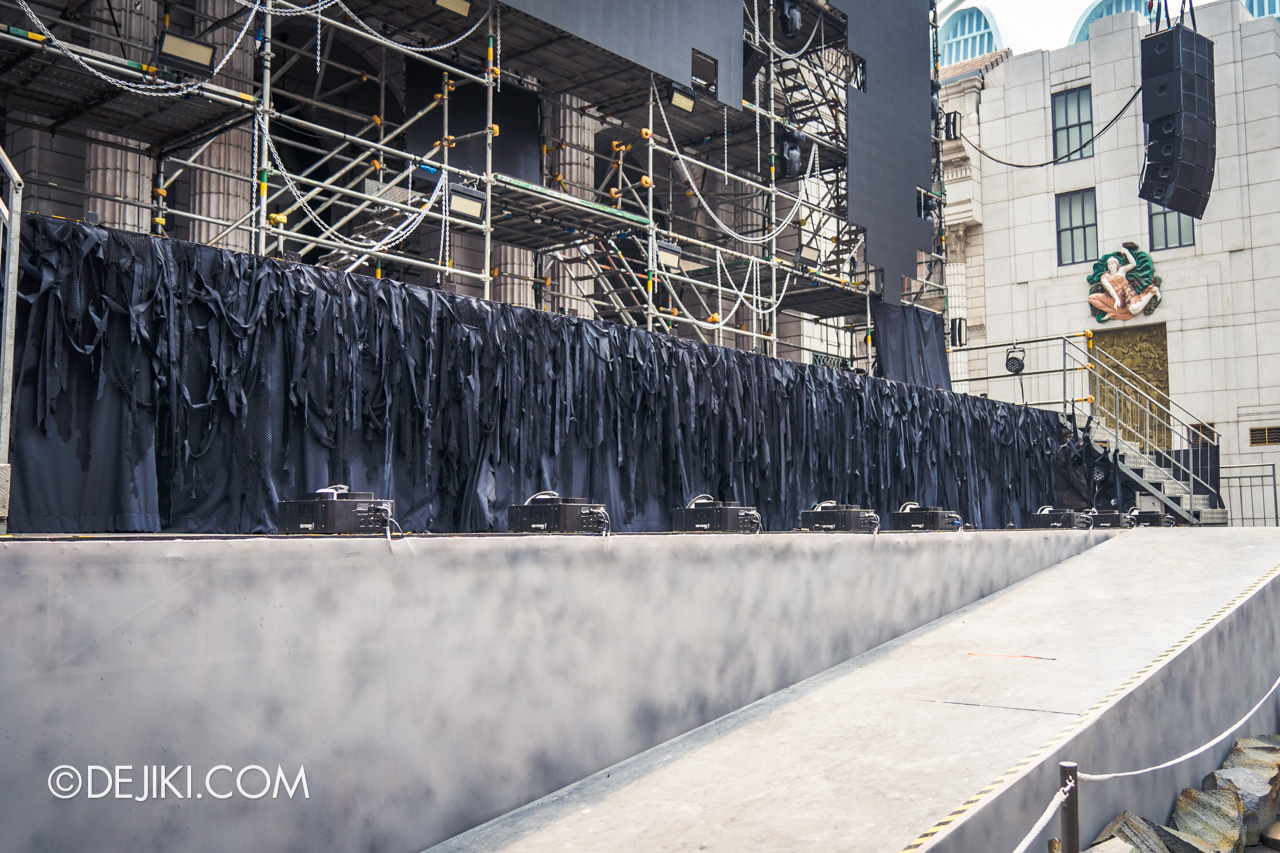 The stage doesn't have curtains and drop screens on the upper tiers, unlike the one used in HHN7, so it is likely that the icons (same as the ones from the park entrance) will dash from behind this row of ragged cloth. Cue ALL the pyros.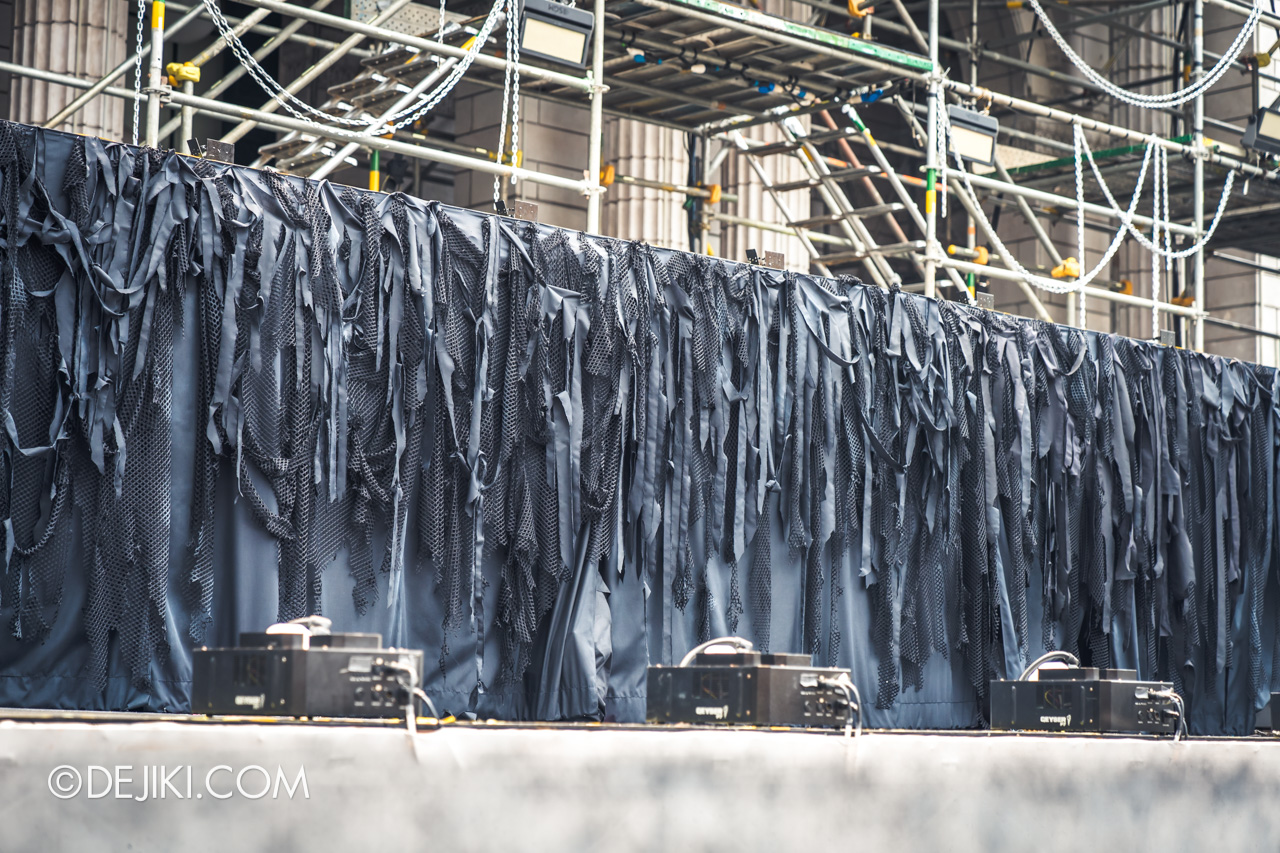 As for how the zone will transform into Death Fest, no idea. Maybe Savage will take over after 'Power Glove' fades out and the icons "depart" for their houses and zones.
Dead End
The entrance to the Dead End now has a light strip woven into the crevices of the stones.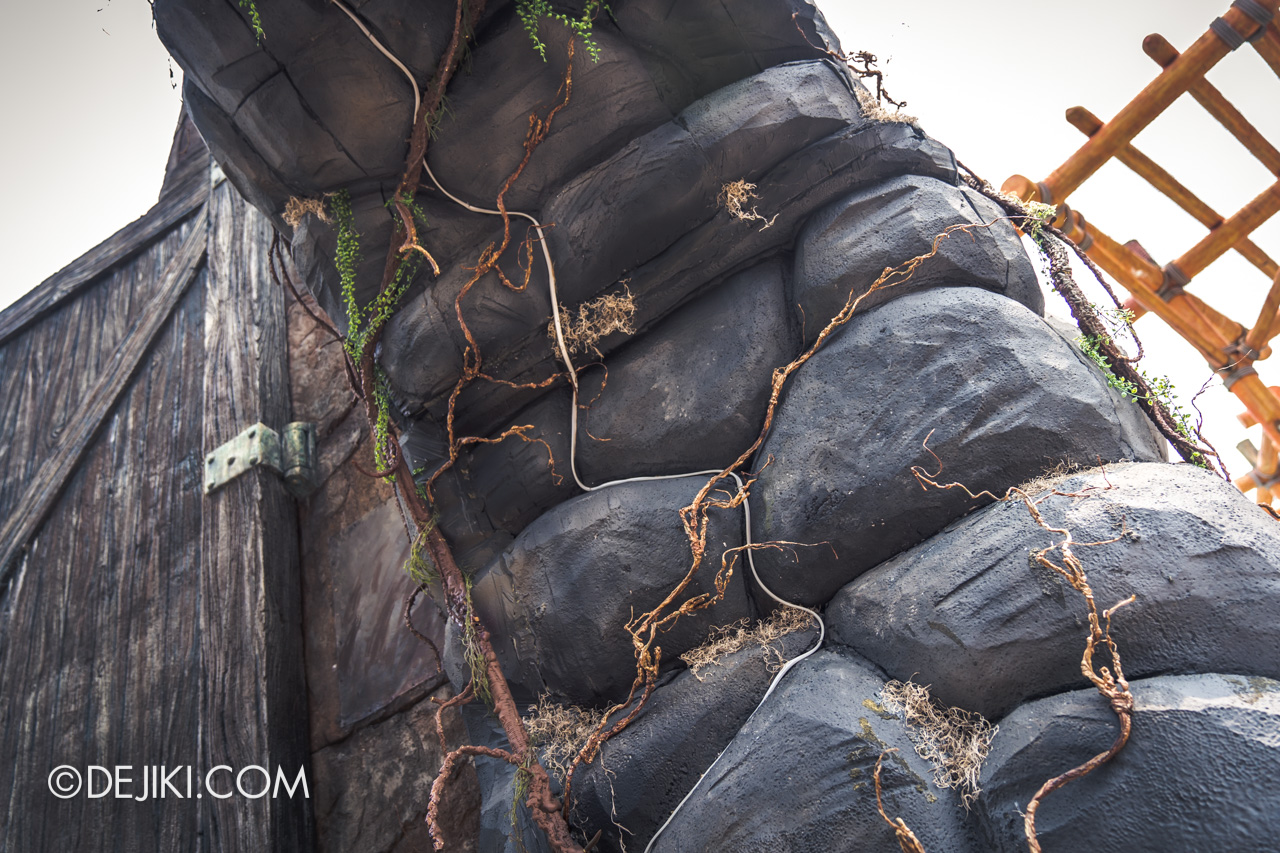 It's probably a cool glowing effect at night.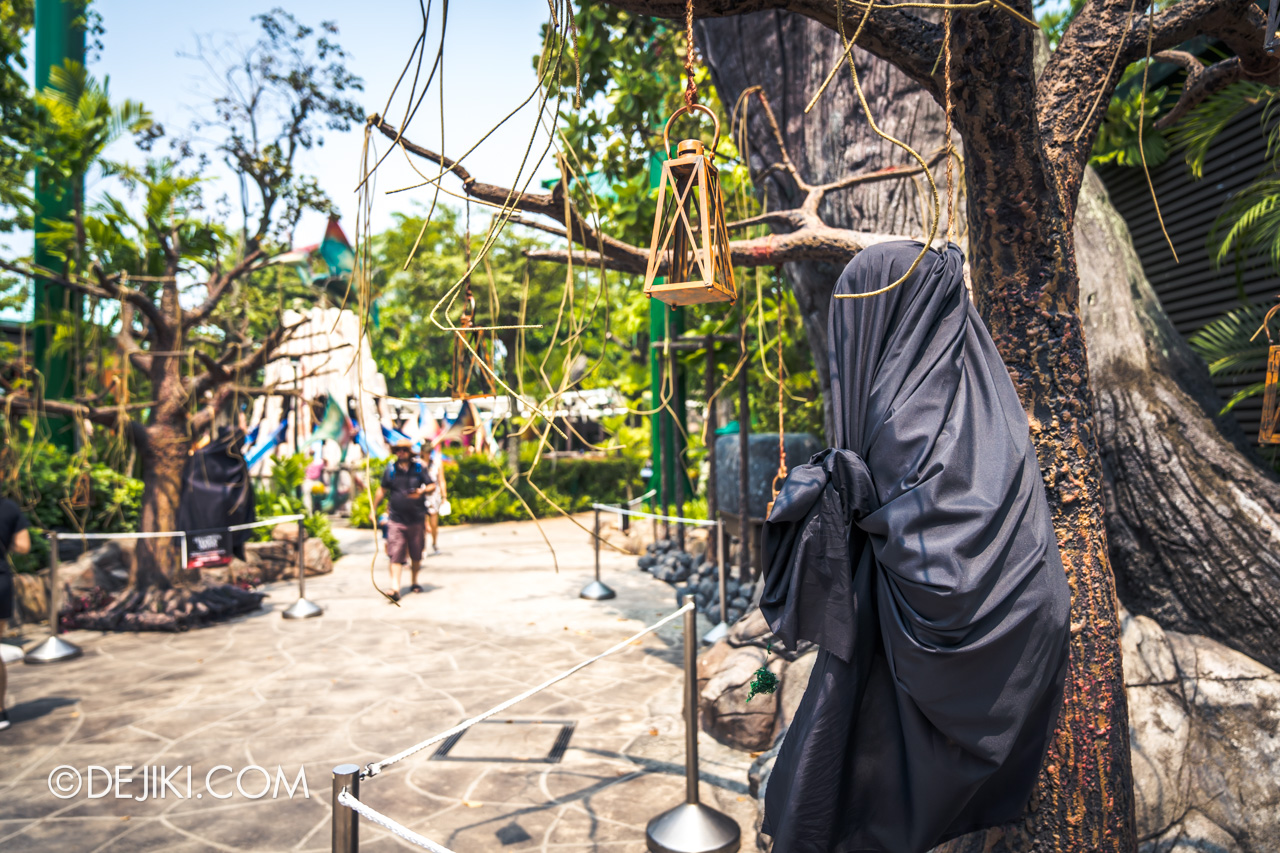 Same like the Death Fest scare zone, it seems like most of the big pieces have already arrived. Likely because the props keep getting shifted around during rehearsals, we sometimes get to see them partially exposed.
Graves, thrones and more.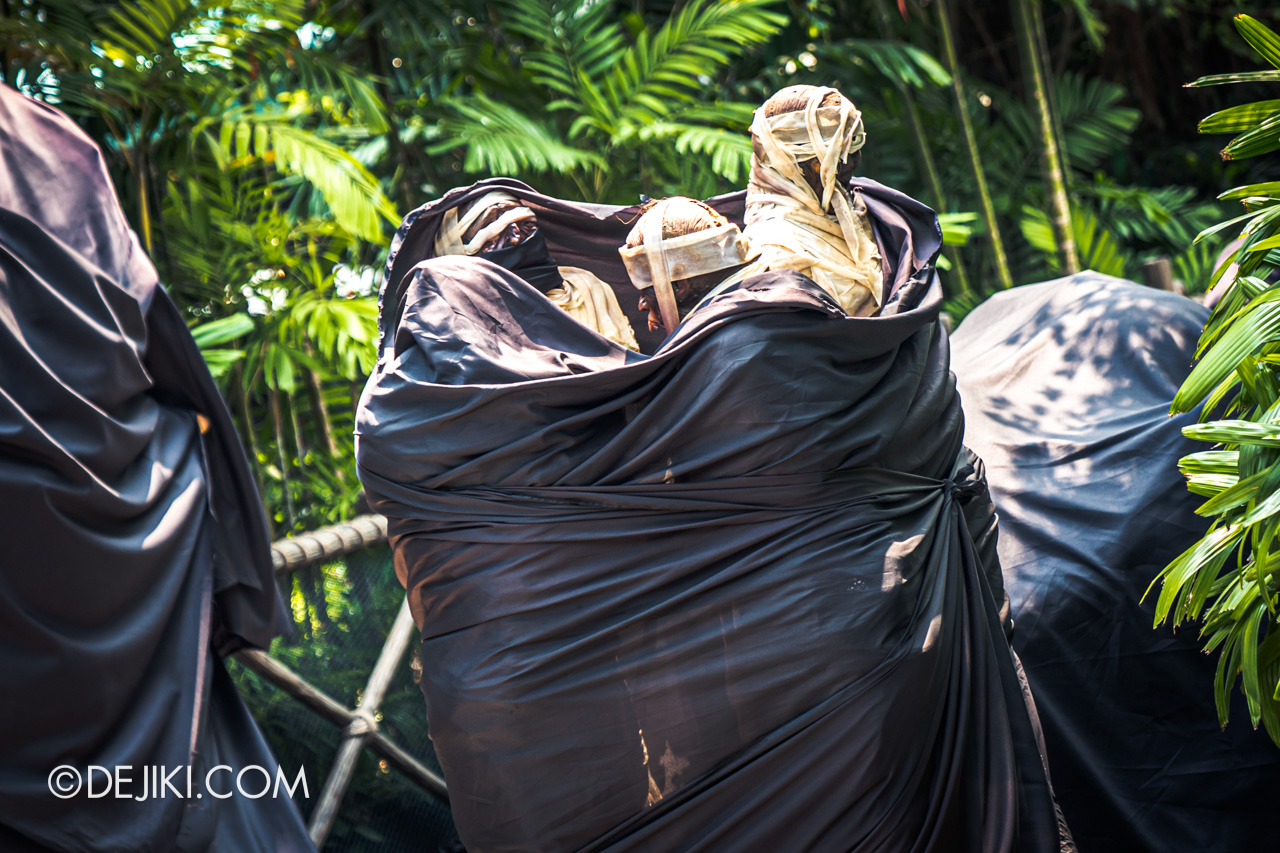 Mummies wrapped together.
Charred bodies in these baskets.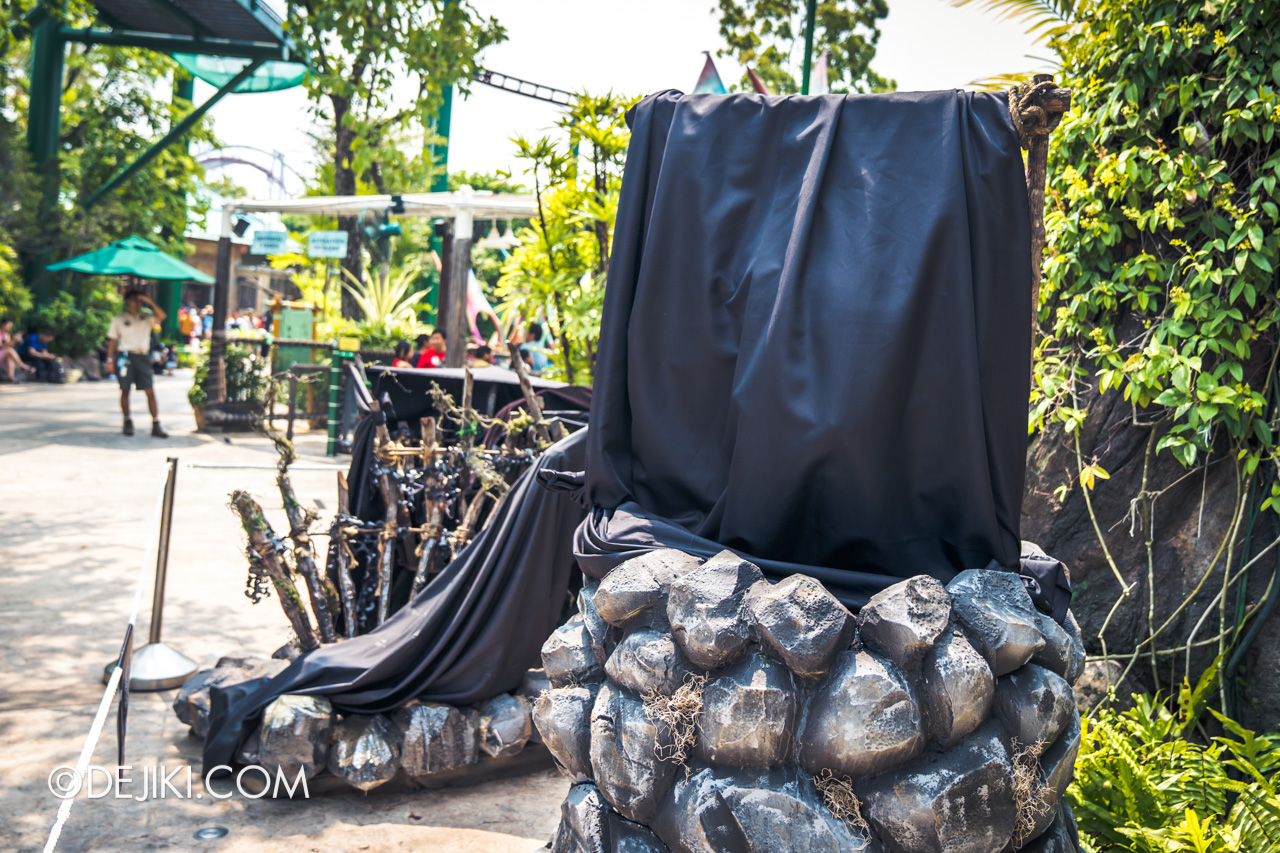 Some body hanging off a "well"-like thing, I guess.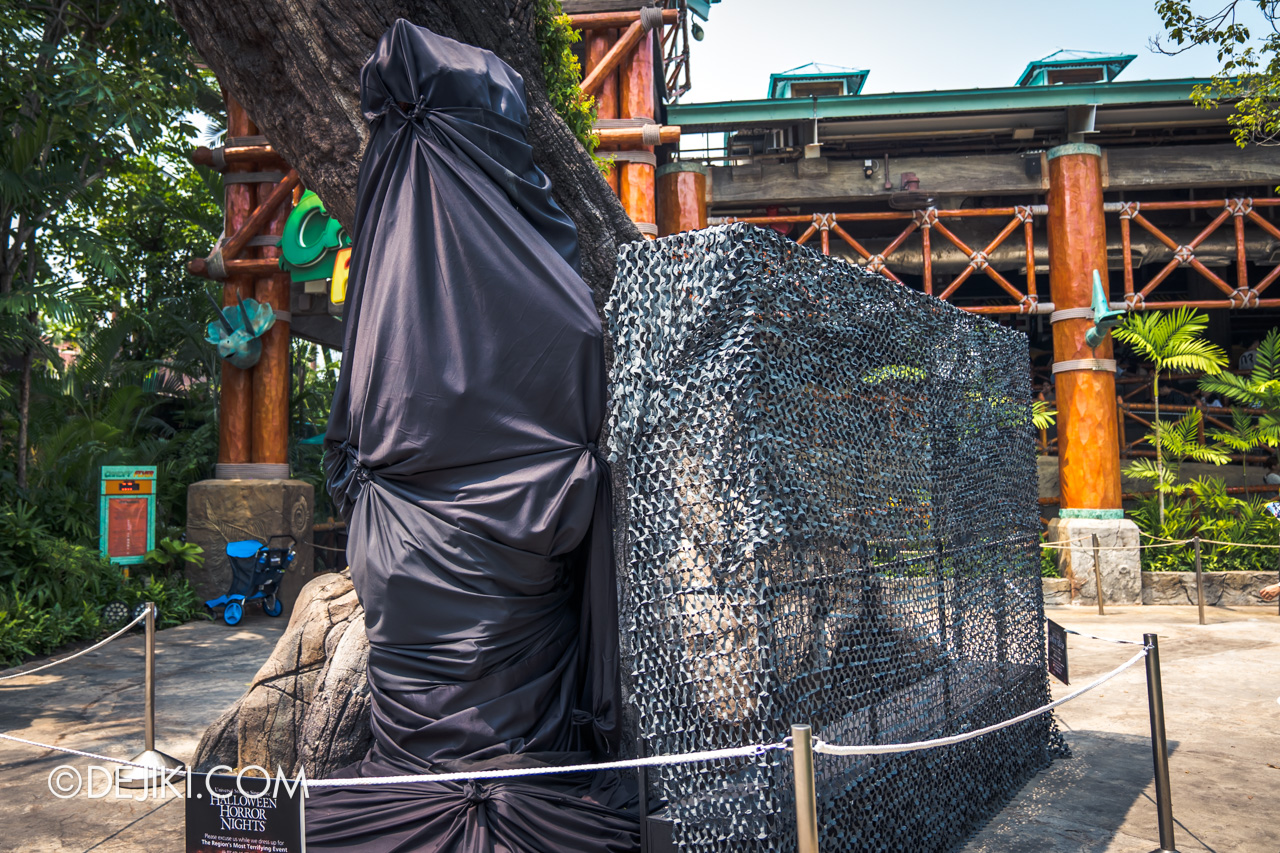 Walls with netting and prints – these are probably used to block off areas like entrances to attractions which will not be open during HHN event nights, such as Canopy Flyer and Jurassic Park Rapids Adventure.
HHN9 Vlog: Full park daytime walkthrough
I've also filmed a vlog during the same trip to the park. Stay tuned for more vlogs filmed at night.
Upcoming Articles
So we've come to the end of this year's BEFORE DARK series. In case you missed any articles, now's a good time to review them before the event begins:
BEFORE DARK 1: A first look at this year's scare zones
BEFORE DARK 2: Halloween Fun For All event, Halloween Carnival, icons and more
BEFORE DARK 3: Horror Truck Experience
BEFORE DARK 4 is this article. You are here now!
SNEAK PREVIEW 1: Curse of The Naga walkthrough tour
SNEAK PREVIEW 2: The Chalet Hauntings sneak peek walkthrough
SNEAK PREVIEW 3: Magic Behind The Scenes and lights-on tour of haunted houses
The next articles on Dejiki.com will be:
Halloween Horror Nights 9: MEGA REVIEW NOW LIVE! Read it now! →
Halloween Horror Nights 9: SURVIVAL GUIDE
More updates will also be posted on my Instagram (@dejiki), including in-park updates and other (hopefully fun) spontaneous things like quizzes. I've always wanted to do an online trivia quiz about HHN. Maybe it'll be called Horror Rumble. Or Hor-Real.
In October 2019, more features on this year's attractions and experiences may be published. It all depends on how the photos/ videos turned out, availability of resources, and lastly, my energy level and mood after attending the event nights.
Thought you ought to know.
---
Miscellaneous Daytime Halloween Park Updates
Some small updates that's not related to Halloween Horror Nights 9: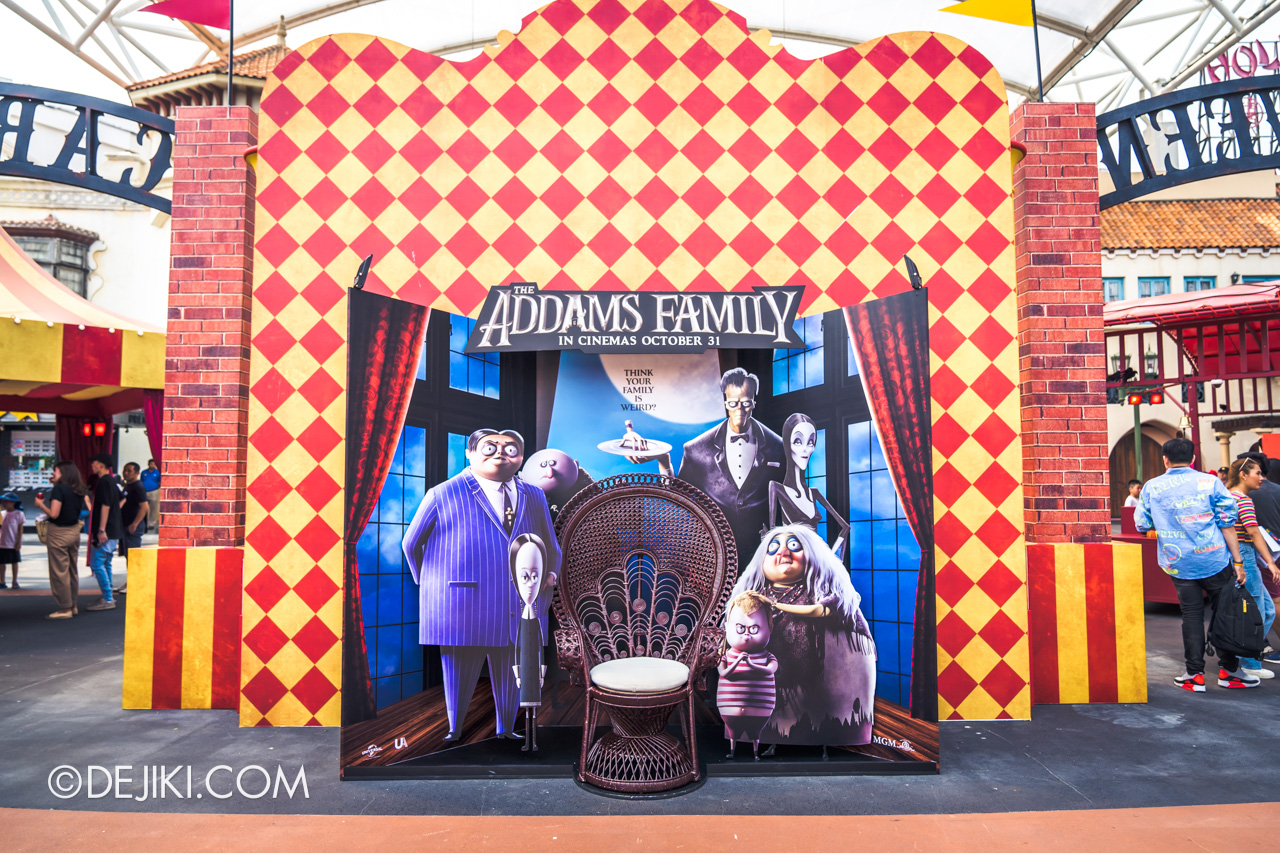 You can now find a photo set themed to the upcoming Adam's Family animated film. This is within the Halloween Carnival area, directly behind the stage.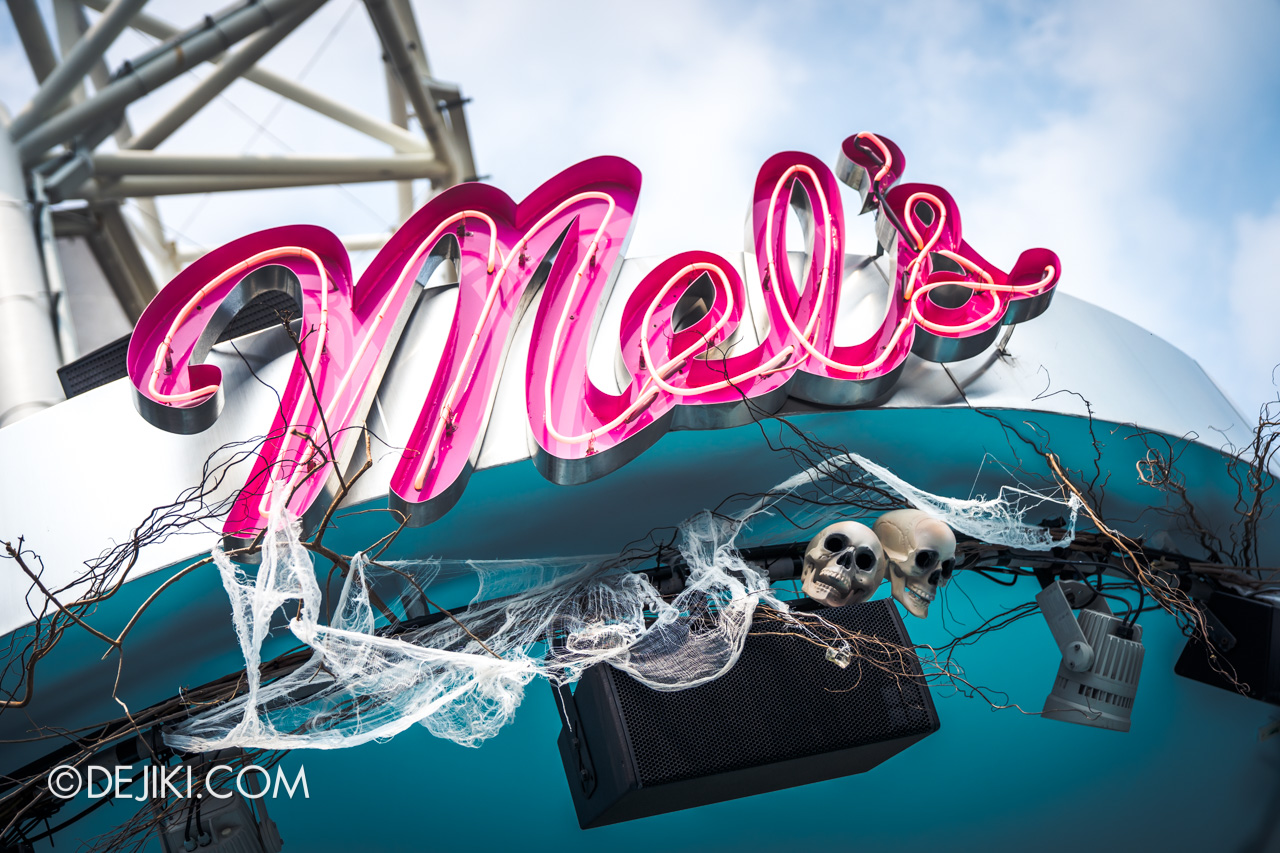 Mel's Stage now sports a spooky decor.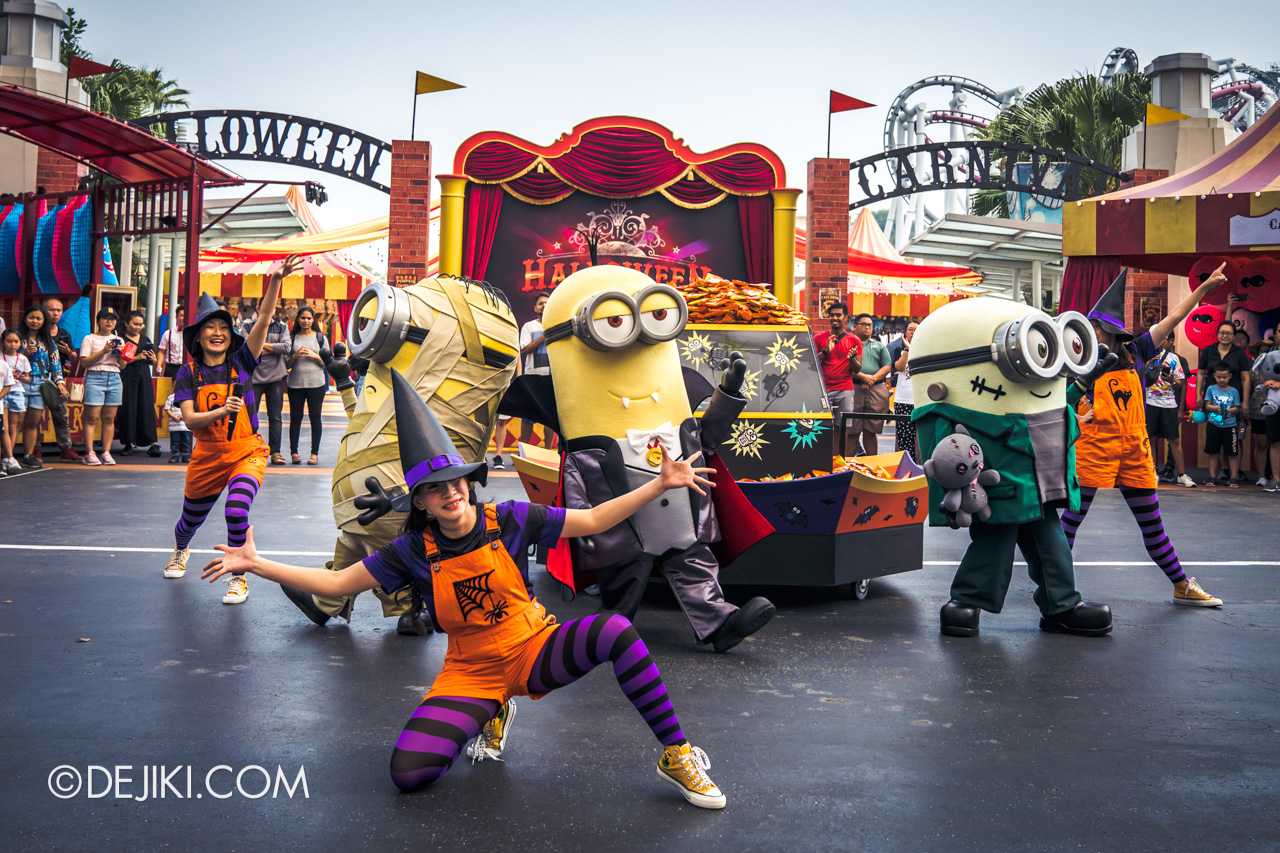 I finally managed to catch the Minion Monsters Tricky Treats with all 3 Minion Monsters appearing.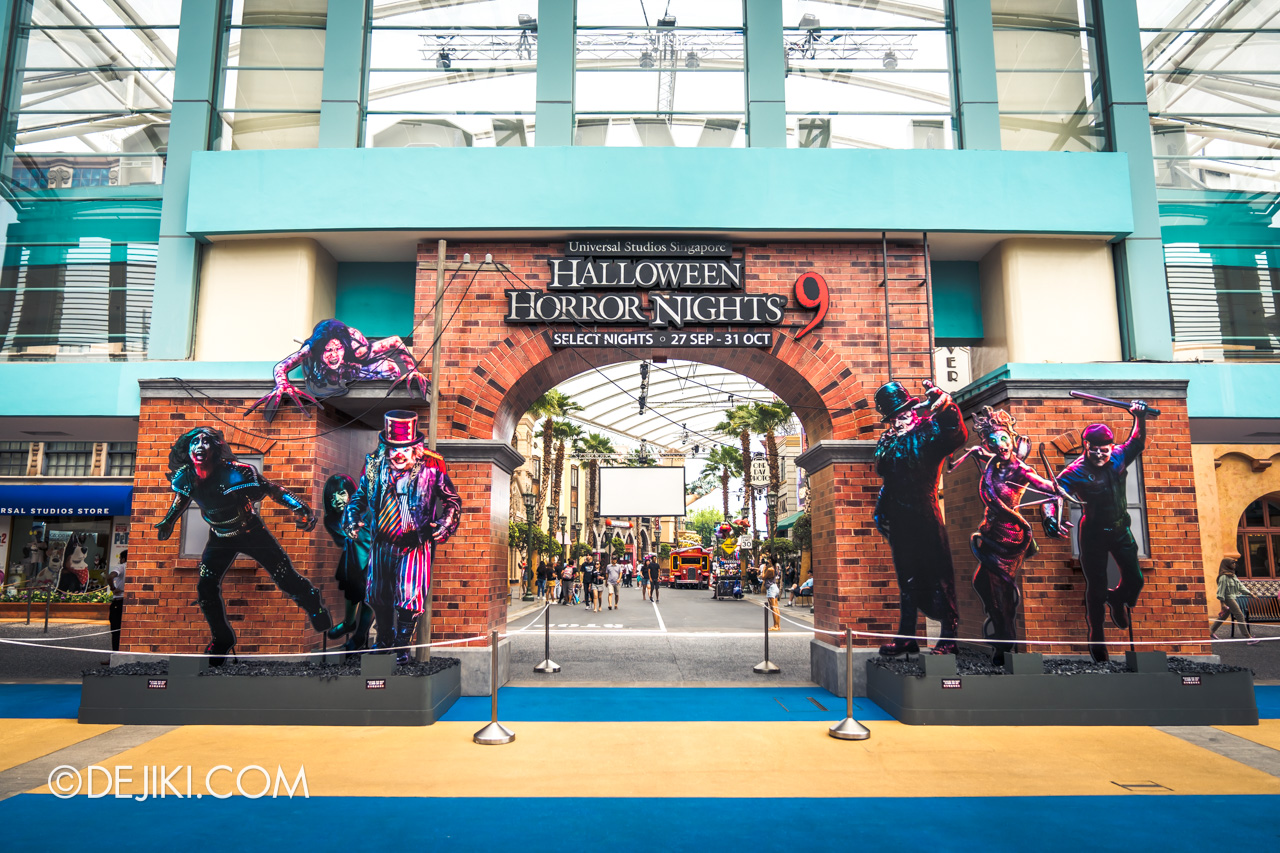 Just a few more days before the event starts!
---
Get more Halloween Horror Nights updates
Follow me on Facebook and Instagram (@dejiki)
Prepare for Halloween Horror Nights 9
Get all the info you need on this year's event at my Halloween Horror Nights 9 Event Guide.
Halloween Horror Nights 10 (2022)
HHN10 REVEALED: Ticket and Event Guide
Halloween Horror Nights 10 MEGA Review: Photos of all Haunted Houses and Scare Zones
SPECIAL FEATURE: Behind the Scenes at HHN10 Haunted Houses
HHN10 RIP Tour (VIP Tour) Review

Features on Haunted Houses, Scare Zones and Experiences
The Silenced Auction (Opening Scaremony) | DIE-ning with The Dead | Monsters & Manifestations
Escape The Breakout | Killustrator: The Final Chapter | Hospitality of Horror
Operation: Dead Force | The Hunt for Pontianak | Dark Zodiac

Trick or Thrills (2021)
Halloween Horror Nights Exhibition
2021 Day and Night Halloween: DIE-ning with the Dead, Universal Monsters Scream Alley


Halloween Horror Nights – The Archives


Click to Expand and see all posts from past Halloween Horror Nights
Subscribe to Dejiki.com or Like my Facebook page for notifications of updates.
---