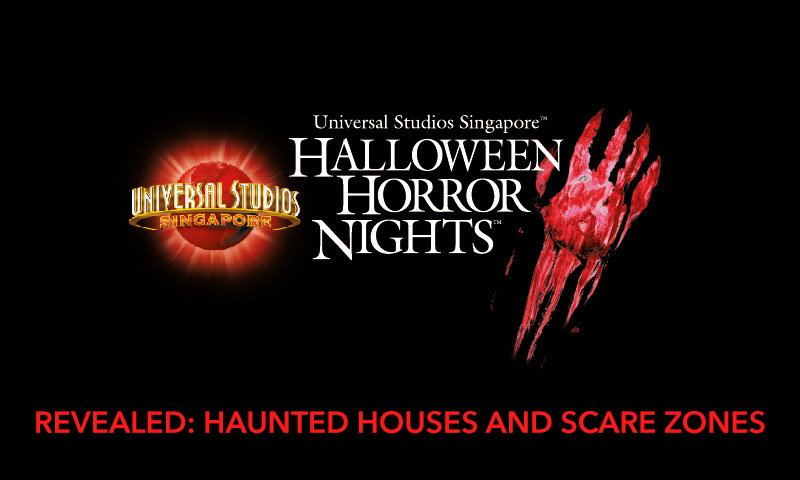 Universal Studios Singapore has revealed their uniquely Singapore masterplan for Halloween Horror Nights 5. When the Blood Moon rises this October, Evil will return with 4 chilling haunted houses and 3 terrifying scare zones! READ ABOUT IT HERE!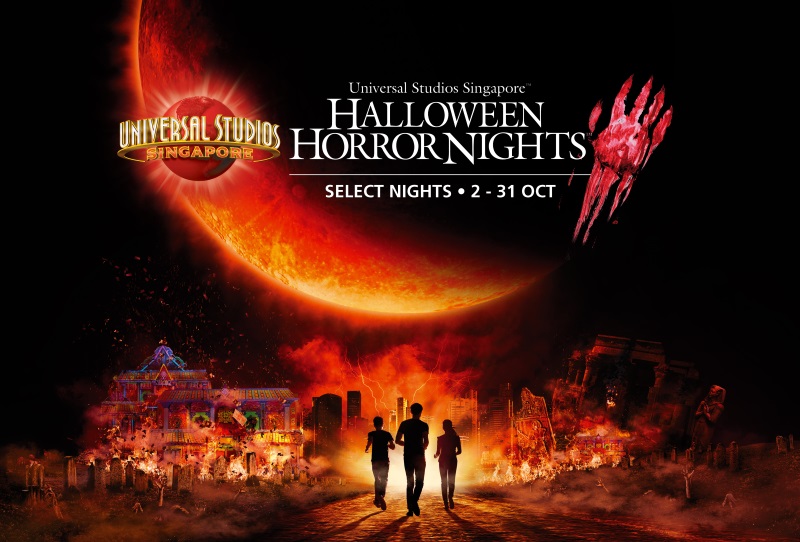 ◂ HHN5 – The Rise of The Blood Moon ▸
Clouded with the malicious glow of the Blood Moon, Halloween Horror Nights 5 will feature 4 haunted houses and 3 scare zones – with a uniquely Singapore twist. That's right, we'll be able to experience horror attractions influenced by Singapore-themed stories and concepts.
Last year's Halloween Horror Nights was successful because it preyed on the common genres of fears – of clowns, military camps, schools, and aliens. This time, the park is bringing the horrors home – where your heart… and deepest fears live.
◂ HHN5 – 3 Scare Zones ▸
Scare zones are interactive experiences taking place at outdoor street areas of the park. It is always 'alive' throughout event nights and guests may walk through in any direction.
Hungry Ghosts
The Lost World area will soon transform into a hidden village filled with villagers cursed to go through the rites and prayers for all eternity. Are they trapped in an unending nightmare of the 7th Month Hungry Ghost festival? Will it be as haunting as the Forbidden Forest?
The Invaders
Aliens have taken over New York when a meteor-like alien space probe crashes into the street. This sounds like an expanded experience of The L.A.B merged with Demoncracy, two very popular concepts last year!
ConTERMINATED
Taking place in Sting Alley, the diseased fight for survival as they are trapped inside a quarantined sector of the city.
It'll be interesting if the park decides to run this zone the same way as Bogeyman (2014), which was as good as a haunted house.
Dejiki: On Scare Zones
A Sci-Fi concept for a scare zone in New York has not been done before, although this whole 'crash and conquer' is similar to Total Lockdown (2012) and Demoncracy (2014). Scare zones in The Lost World have been very successful with the 'village in the forest' concept, and I can imagine Hungry Ghosts to be as terrifying as the Forbidden Forest (2012).

This also marks the first year the Ancient Egypt area isn't used for a scare zone. And it feels like USS might be keeping some tricks (and perhaps the origin of the Blood Moon) secret until later. Is the Blood Moon this year's icon? Or will there be something else?.

Track Fault – Demoncracy, 2014
◂ HHN5 – 4 Haunted Houses ▸
Haunted Houses are indoor walkthrough experiences taking place in a purpose-built 'maze-like' environment. Guests are required to queue for their turn to enter the houses.
True Singapore Ghost Stories: The MRT
Developed in collaboration with local ghost writer Russell Lee, The MRT will be a new chapter in the famous True Singapore Ghost Stories. Now this is interesting, because it is inspired by stories of paranormal activity on the train. Regional ghosts such as Pontianak and Toyol will make an appearance – so this will be the first haunted house offering the Ride the (Horror) Movies experience at Singapore's Halloween Horror Nights.
While the concept is novel and certainly intriguing, I can't but wonder how the park is going to build 'The MRT' the experience. Just think of what the creative team will need to construct! Paranormal sightings on Singapore's trains are much untold, as there are far more stories on the haunting experiences of train breakdowns. So, will this train be delayed due to… track faults?
Tunnel People
This will be the first 'dark house' for Halloween Horror Nights in Singapore. Ever heard of 'Dining in the Dark'? What about escaping from a tunnel without sight?
I'm sure you won't be running around blind in this haunted house, so expect to slow down to a crawl (or maybe.. just crawl?) as you feel your way through the dark fortress of the Tunnel People. Some people have already walked through past haunted houses with their eyes closed.
Siloso Gateway Block 50
A virus outbreak turned residents of this neighbourhood into flesh-ravaging vultures. This haunted house will distort the peaceful sights and sounds of home.
The name, hmm. It reminds me of the old chalets at Sentosa. Not sure if they did exist before. Is this a jab at Sentosa Spooktacular?
Hell House
Dominated by paper effigies of servants, this unsettling 'house' will lead guests straight to the Underworld.

Hell House – concept visual
If you've been watching what RWSentosa has been uploading on their social media platforms, you'll notice the creepy doll-like 'paper servant' lingering in the background. Those were clues to this (and perhaps the Hungry Ghost scare zone). Maybe at Hell House we will see and walk past, or even through.. paper offerings and joss papers. Thank goodness 七月 (Seventh Month) will be over when HHN5 opens.
I've got no idea how far this concept will be taken to, but from experience – you can always expect a high quality production from USS – great sets, costumes, props and effects. So, if that particular room in Songs of Death spooked you, then you may want to bring some 风油精, Tiger Balm or smelling salts. In case you feel faint, or worse – start seeing things that shouldn't exist.
Dejiki: On Haunted Houses

Wow, I'm quite surprised at the Singapore-themed concepts this year! After all the feedback from guests asking for The Walking Dead, I'm glad that USS stuck to their guns to offer unique HHN experiences that can't be found overseas!

I've seen Tunnel People under construction a few weeks ago. It's taking place at the location of Jing's Revenge. It's definitely an interesting design, but I hope the park has the capacity planned well.

All these locally themed concepts reminds me of something. Singapore's first Halloween Horror Nights. I still remember the experience of the Vengeance of the Matriarch haunted house. I'd be happy if the park brings this one back some day – even if the design is repeated. It had an incredible level of detail – it's a shame I didn't have the opportunity to document it for the archives. There were also many memorable moments and tricks. Since this year's haunted houses aim to 'go local', who knows, perhaps the mansion's spooks would return.

Also, thankfully this year's local concepts did not come with a SG50 logo. phew.

The Maiden's Swansong – Songs of Death, 2013
◂ Other Attractions open during HHN5 ▸
Select rides and attractions, including the recently relaunched Battlestar Galactica: HUMAN vs CYLON roller coasters, Puss In Boots' Giant Journey, TRANSFORMERS: The Ride, will be available during Halloween Horror Nights 5. Shrek-4D Adventure will be screening the Scared Shrekless short film during event nights as well.
◂ HHN5 – Ticketing Info ▸
Halloween Horror Nights is a separately ticketed event at Universal Studios Singapore. You will need to purchase a ticket for this event.
The following passes do not include admission to Halloween Horror Nights:
– Day pass to Universal Studios Singapore
– Universal Studios Singapore Season Pass
– Universal Studios Singapore Annual Pass
– RWS Invites Attractions Membership Pass
HHN5 tickets are available for sale at www.halloweenhorrornights.com.sg and Universal Studios Singapore ticketing counters. There will also be roadshows at schools, shopping malls and special events.
---
General Admission Tickets
Halloween Horror Nights 5 – General Admission is priced at $68. Get it for only $55 with the early bird discount (from now till 31 August 2015).
Halloween Horror Nights 5 – Stay and Scream Upgrade is a $55 top up if you have a paid theme park day pass of the same date as an event night. Enjoy one-time express access to one haunted house or attraction.
Halloween Horror Nights 5 – Frequent Fear Pass is priced at $118. This pass allows unlimited entry to the park during HHN5 event nights.
Universal Express Passes
Halloween Horror Nights 5 – Express Pass is priced from $50. This add-on pass allows use of the Universal Express queue, once per attraction per pass. Express Passes do not include admission to HHN. Guests will need to have a General Admission ticket to enter the park.
Please note that the price of Universal Express Passes are subject to change and are known to sell at higher price when purchased in the park during event nights.
Also, as of 28 Jul, the RWS Reservation website is showing Express Passes selling at prices from as low as $20 to as high as $120, reflecting on the park's expectations for increased attendance throughout the season this year. Prices are now restored and start from $50-60 range.
Special
RIP Tour for Halloween Horror Nights 5 will be priced at $198. Enjoy a guided tour around the park and VIP access to all Haunted Houses and select attractions.
Behind the Screams Tour for Halloween Horror Nights 5 can be bundled with the RIP Tour for $238. Get an exclusive sneak peek into the haunted houses in the day… and return at night for a terrifying red carpet treatment!

City on Fire – Demoncracy, 2014
Discounts and Early Bird Offers
Early Bird – Limited Time Offer!
Tickets are available at discounted prices for a limited time until 31st August 2015!
HHN5 General Admission – $55
HHN5 RIP Tour – $158
Student's Special
HHN5 General Admission – $55 (peak nights) / $50 (off-peak nights)*
HHN5 Frequent Fear Pass – $98
*Please refer to calendar below to see which nights are peak and off-peak.
Discounts for SAF / SPF / DSTA / SCDF / SAFRA
HHN5 General Admission – $55 (peak nights) / $50 (off-peak nights)*
*Please refer to calendar below to see which nights are peak and off-peak.
RWS INVITES member privileges
RWS INVITES, RWS INVITES Attraction members enjoy special ticket price of $55 and priority admission into the park via a designated turnstile. Also, they can purchase the HHN5 Frequent Fear Pass for $106.
Maybank Cardholder privileges for HHN5
HHN5 General Admission Early Bird – $50 (now till 31st August 2015)
HHN5 Frequent Fear Pass – $106
Mastercard Cardholder privileges for HHN5
Purchase tickets onsite at USS ticketing counters with your MasterCard and enjoy 10% off Halloween Horror Nights 5 Event Tickets
Purchase tickets online at RWS website with your MasterCard and enjoy 10% off Halloween Horror Nights 5 Event Tickets and receive a S$5 USS meal voucher.
---
◂ HHN5 – Event Calendar ▸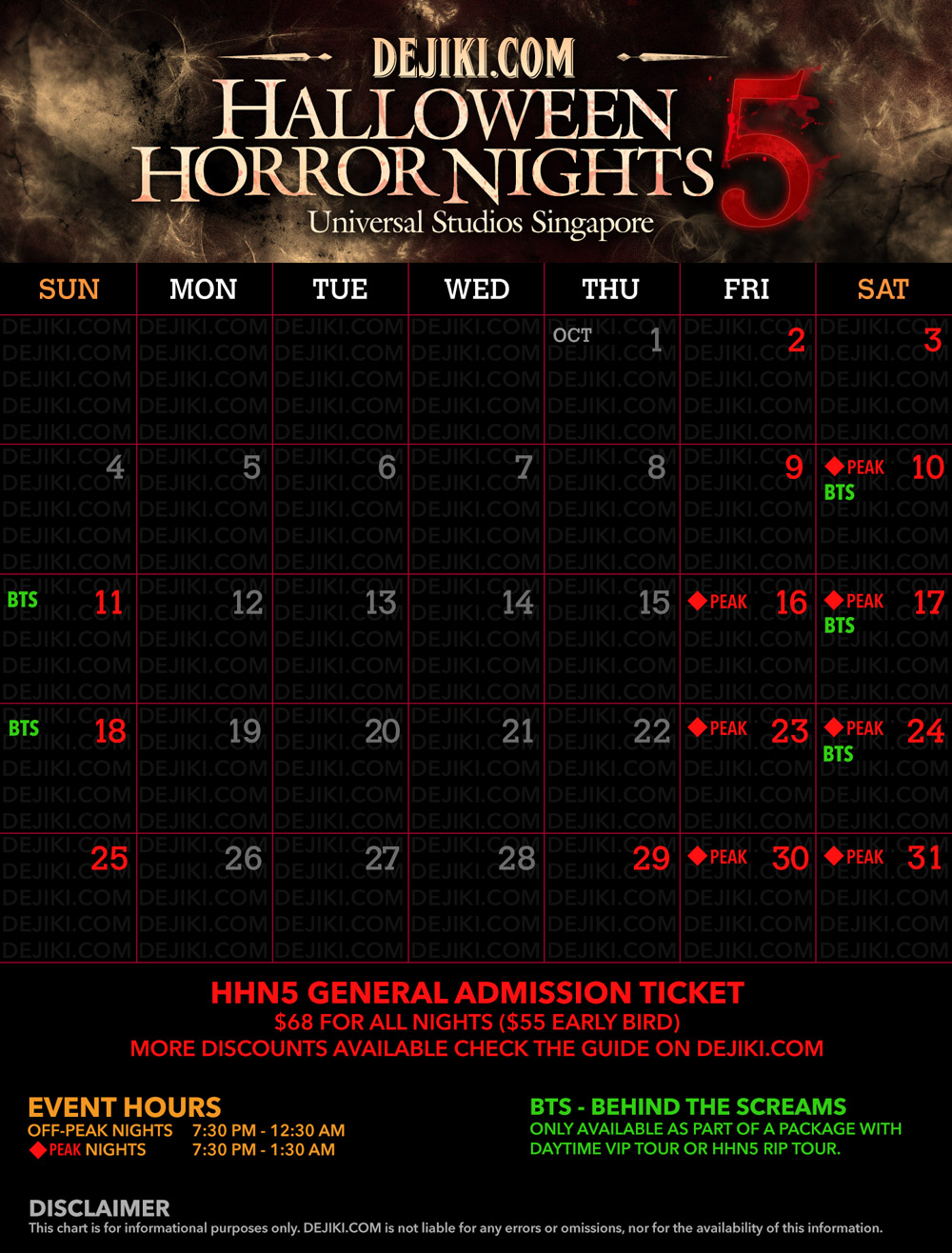 Off-Peak Nights?
Check the red dates not marked with the ♦PEAK icon in the calendar.
Tickets are available for sale at www.halloweenhorrornights.com.sg.
HHN5 Branding (First two images of this post) – Universal Studios Singapore® & © Universal Studios. All Rights Reserved.
Are you ready for HHN5?
Dejiki.com Exclusive
Check out Singapore's most amazing archive documenting Singapore's most terrifying event here:
Halloween Horror Nights 10 (2022)
HHN10 REVEALED: Ticket and Event Guide
Halloween Horror Nights 10 MEGA Review: Photos of all Haunted Houses and Scare Zones
SPECIAL FEATURE: Behind the Scenes at HHN10 Haunted Houses
HHN10 RIP Tour (VIP Tour) Review

Features on Haunted Houses, Scare Zones and Experiences
The Silenced Auction (Opening Scaremony) | DIE-ning with The Dead | Monsters & Manifestations
Escape The Breakout | Killustrator: The Final Chapter | Hospitality of Horror
Operation: Dead Force | The Hunt for Pontianak | Dark Zodiac

Trick or Thrills (2021)
Halloween Horror Nights Exhibition
2021 Day and Night Halloween: DIE-ning with the Dead, Universal Monsters Scream Alley


Halloween Horror Nights – The Archives


Click to Expand and see all posts from past Halloween Horror Nights
Subscribe to Dejiki.com or Like my Facebook page for notifications of updates.
---