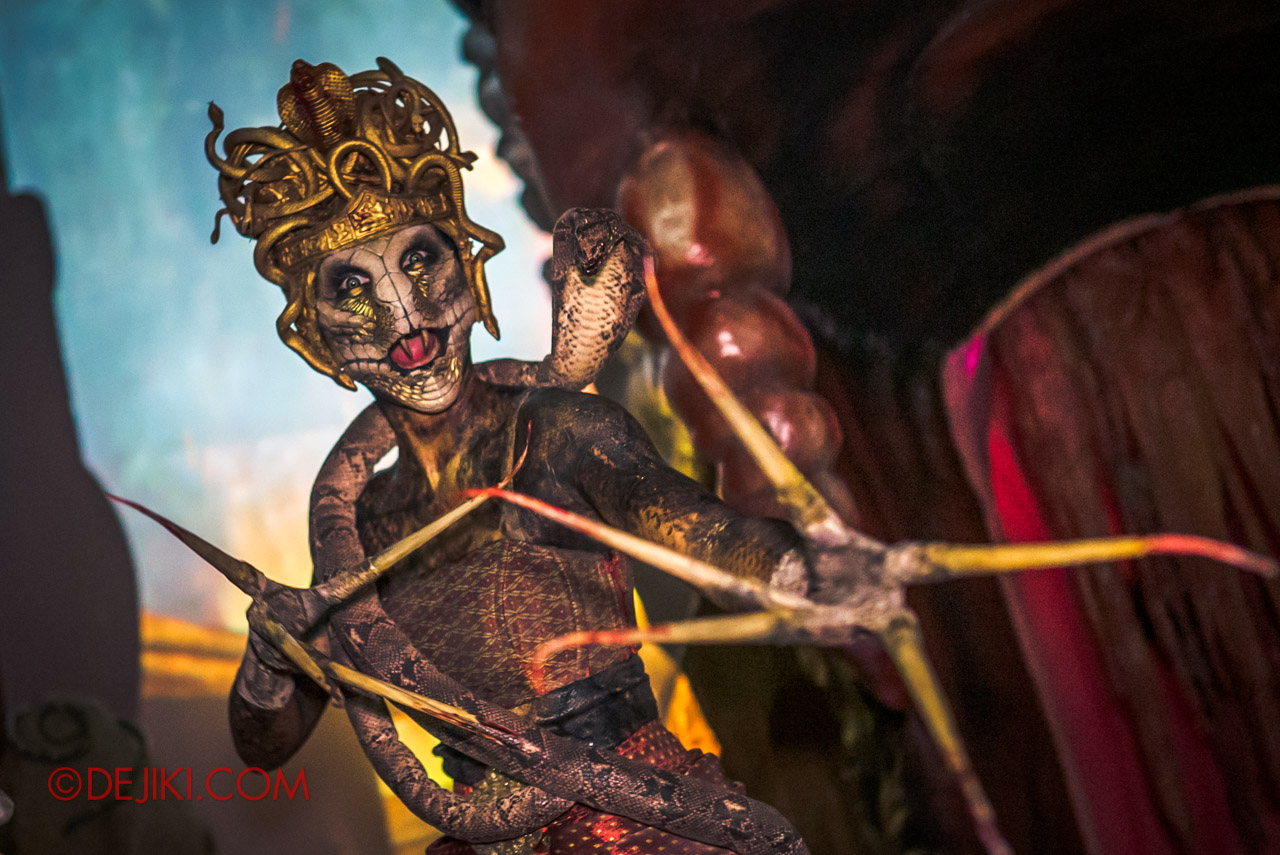 Get your first look NOW inside this year's highly anticipated Curse of the Naga haunted house at USS Halloween Horror Nights 9!
Curse of the Naga marks the first time Universal Studios Singapore is collaborating with Thai horror filmmakers, Parkpoom Wongpoom and Paween Purijitpanya, the creators of blockbusters Shutter and 4Bia. The result is an original story and haunted house unique to Halloween Horror Nights 9.
NOTE: This is a photo tour of an attraction that is still a work in progress. Scenes, characters and special effects are subject to change.
---
Curse of the Naga haunted house photo tour
In this haunted house, guests will experience the journey of a tourist who has fallen under the Curse of the Naga and has to bear its consequences. This perilous trip is filled with many dramatic twists and intense moments.
The story begins in the alleys of a Talad (market) in Bangkok. In a quiet lane, you meet a mysterious drink stall owner who offers a shot of Snake Blood.
After drinking the shot, you feel dizzy.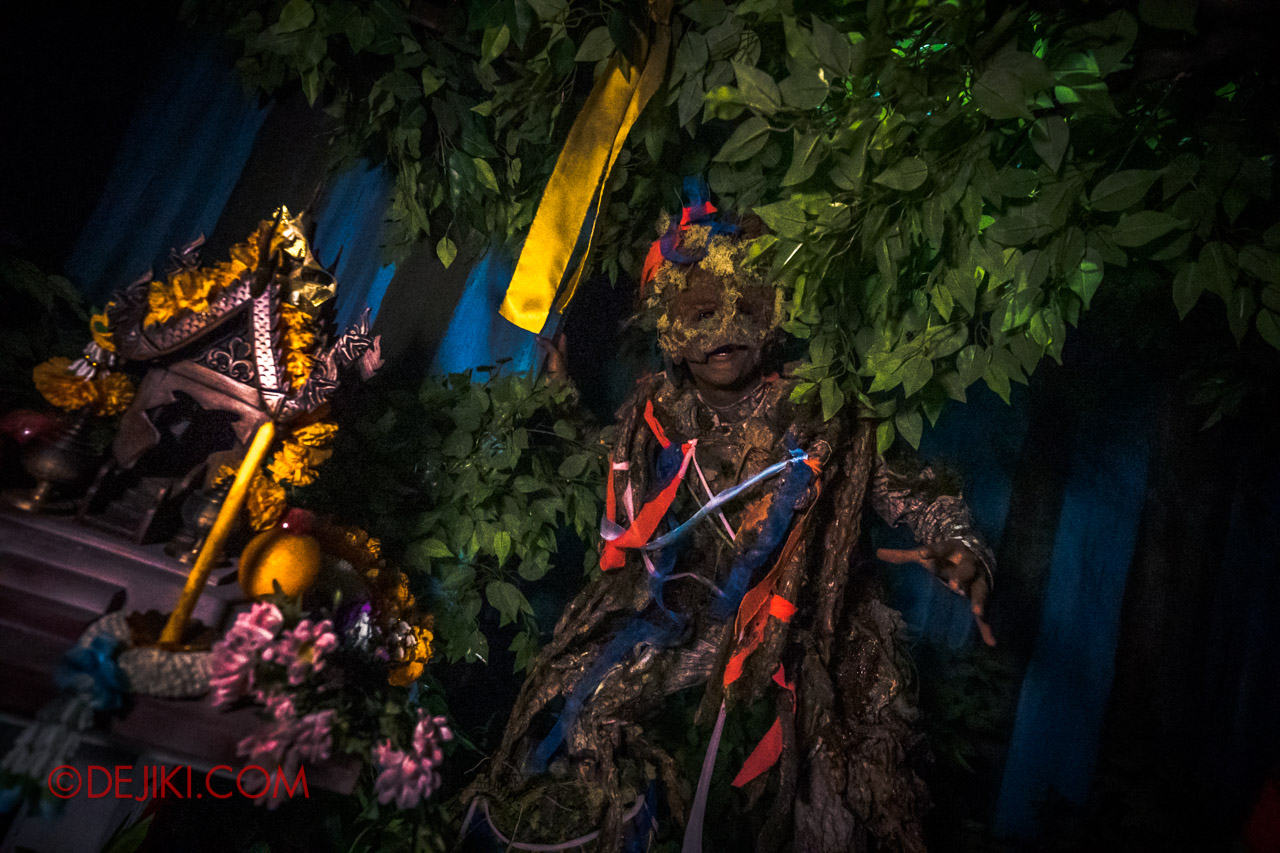 You wake up in a jungle filled with Spirit Houses. The trees stir alive.
Below a great tree adorned with colourful bands and offerings, is a Shrine for Naga. A path between the roots leads you deeper underground. Through the caverns, you discover an abandoned village filled with much death and destruction.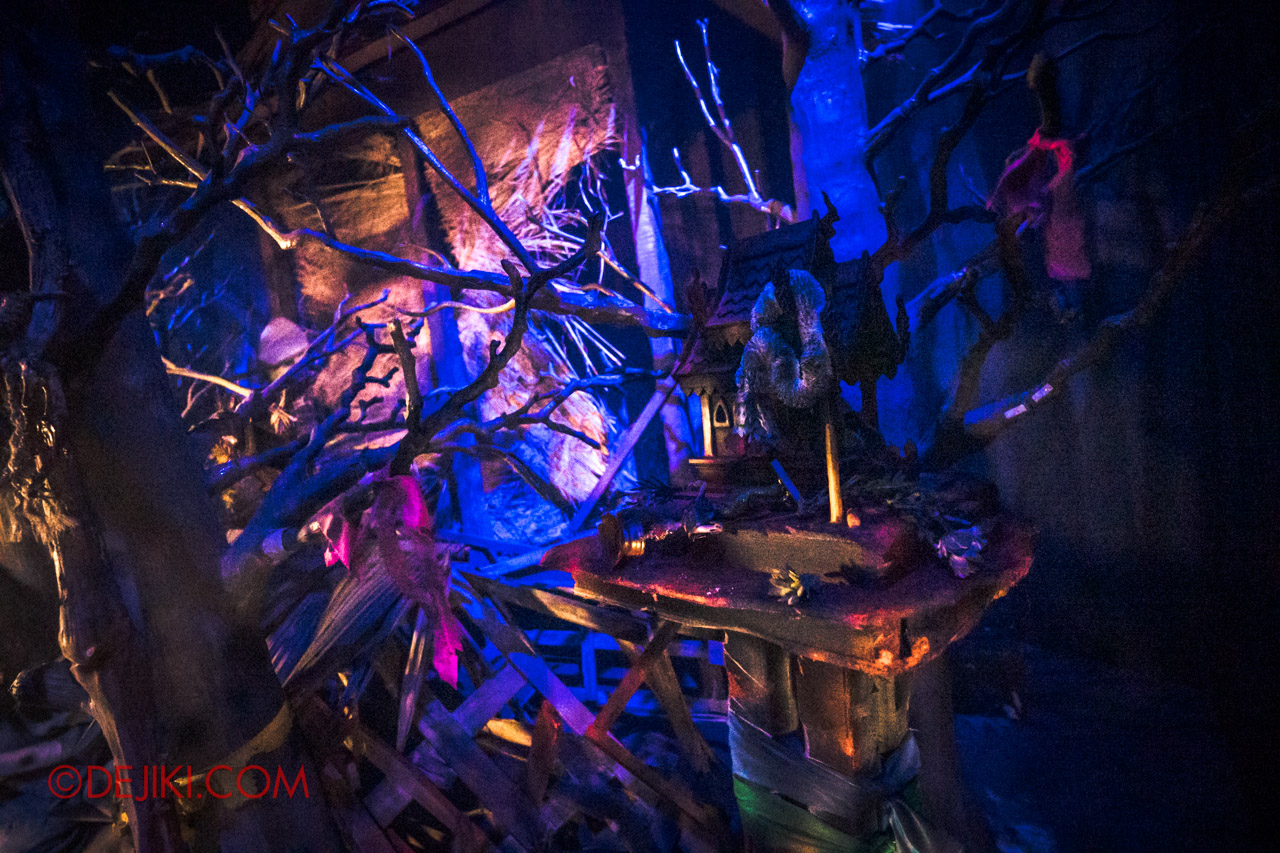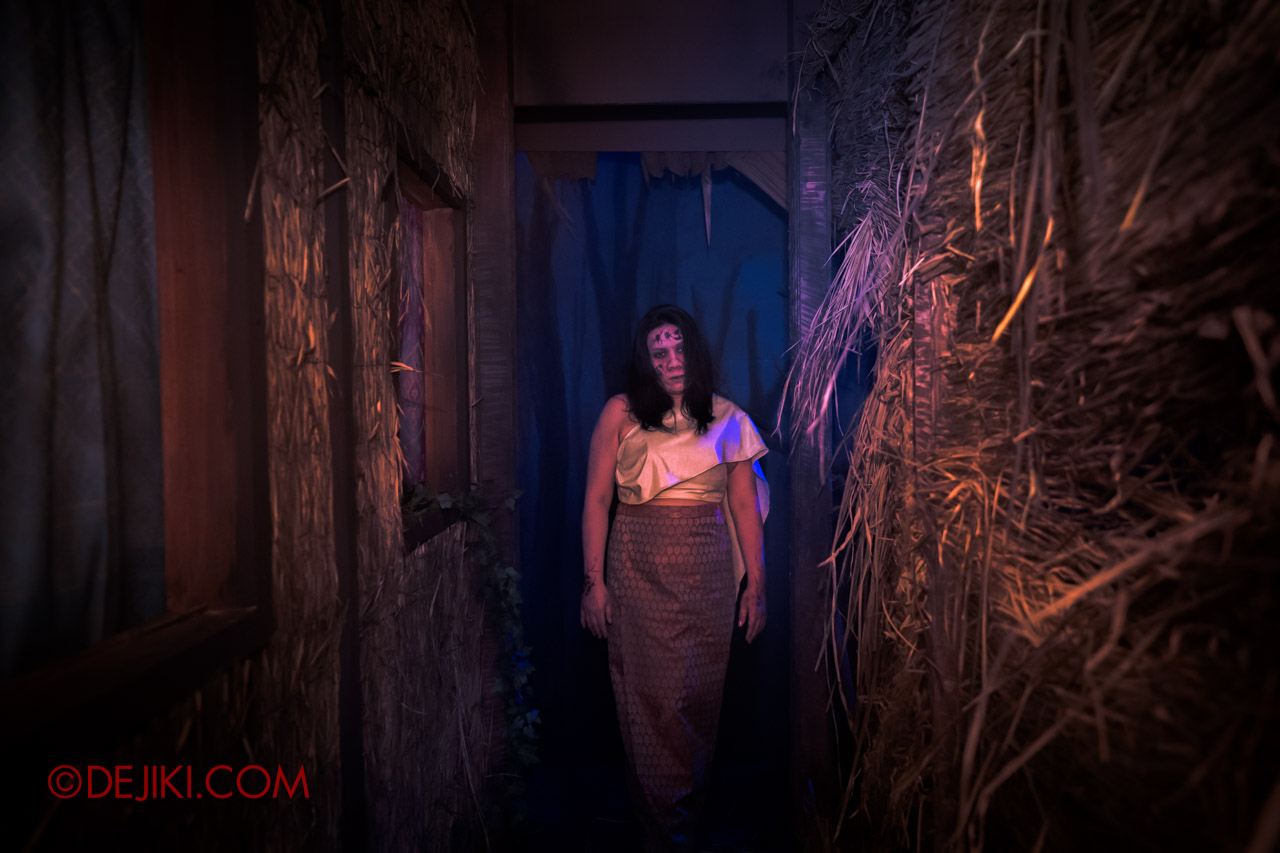 Few survivors, trapped in a trance, lures you indoors.
Inside, you see a beautiful dancer – but things are not as they seem.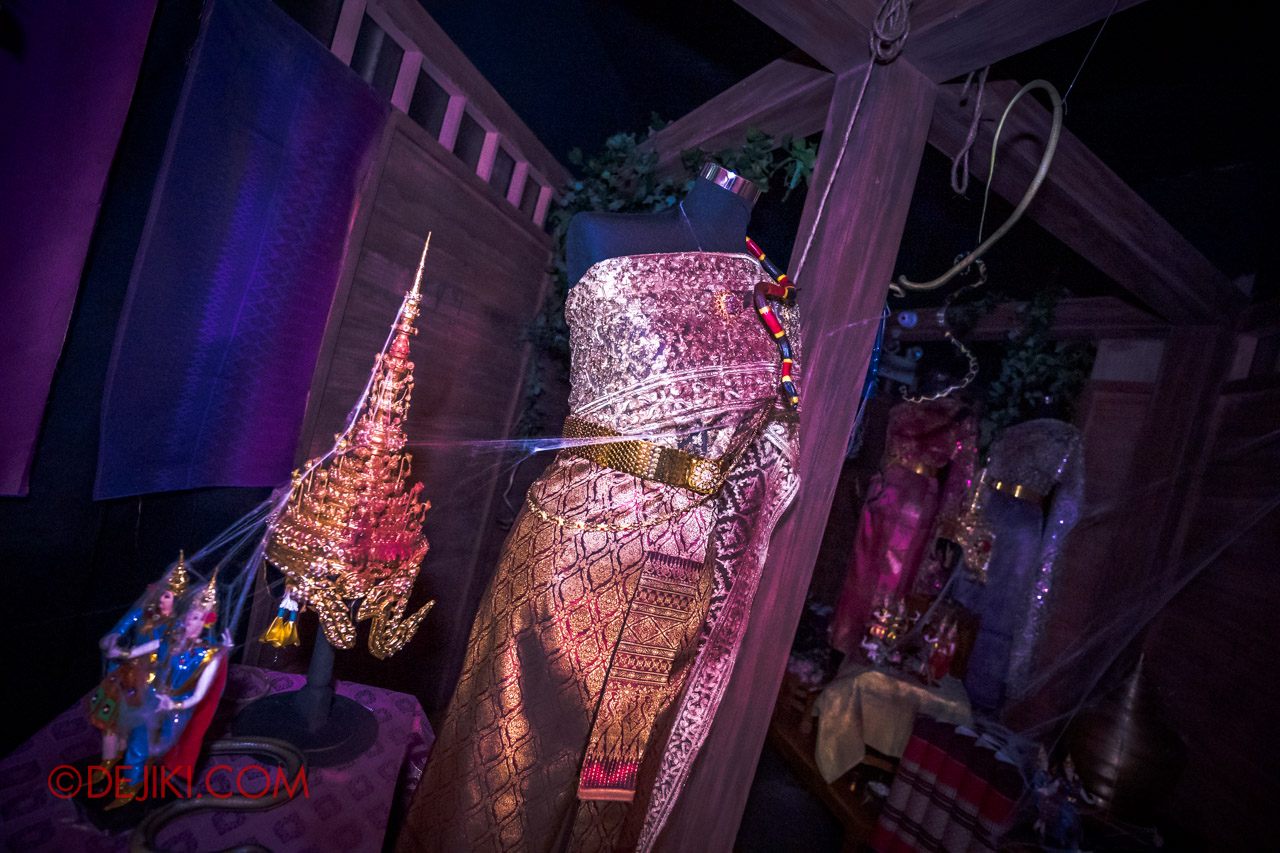 The rooms further on offer a glimpse into the dancer's past, with luxurious costumes and ornaments on display.
With no clear way out, you step into another corridor, only to realise that the situation has gone far worse than you could imagine.
Here, a Serpentine Guard drains the blood of victims. You could also feel the great serpent's presence.
The walls break apart, leading you to the entrance of Naga's Temple.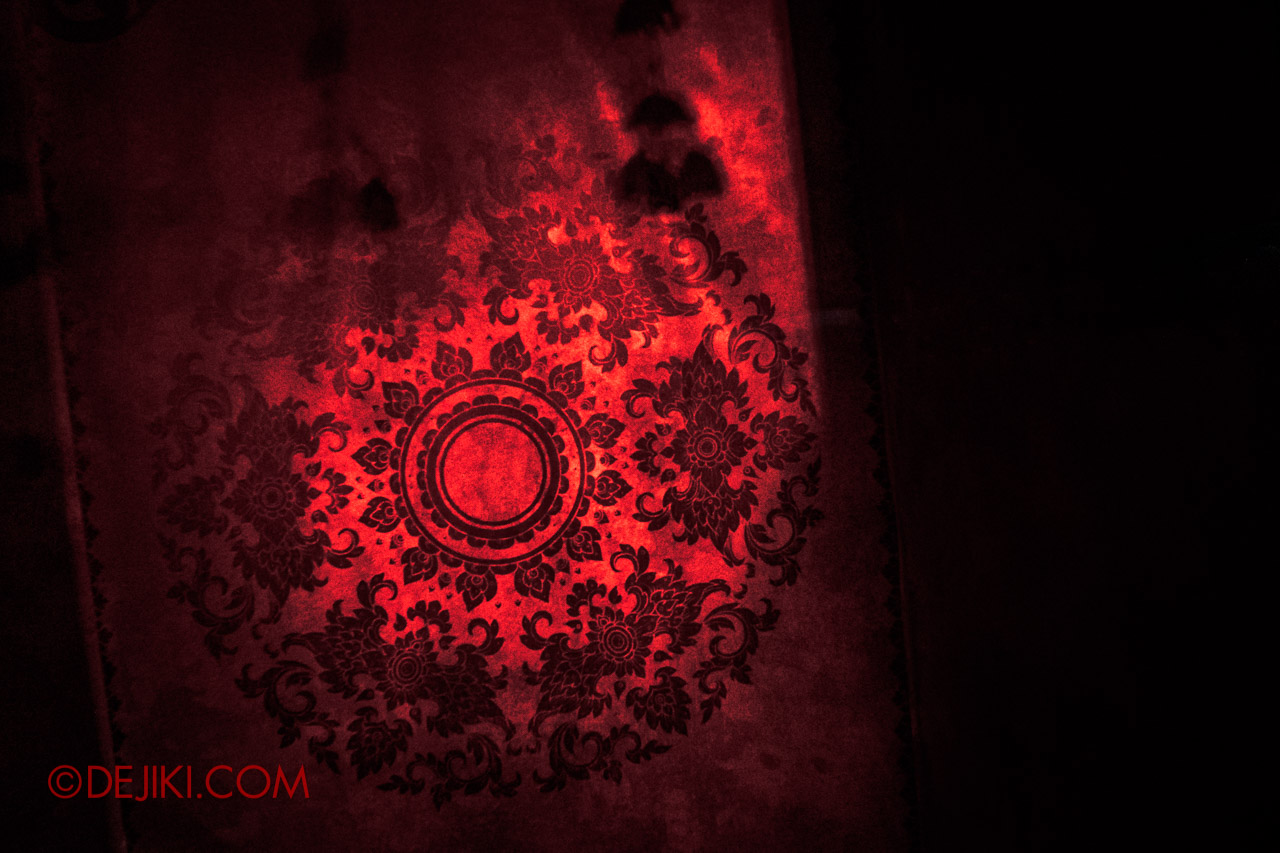 It is too late to turn back, as you have become the next sacrifice.
In Naga's Temple, you have to face the demonic spirit in the flesh. Countless snakes and serpents engulf the temple, coiling on every pillar and surface.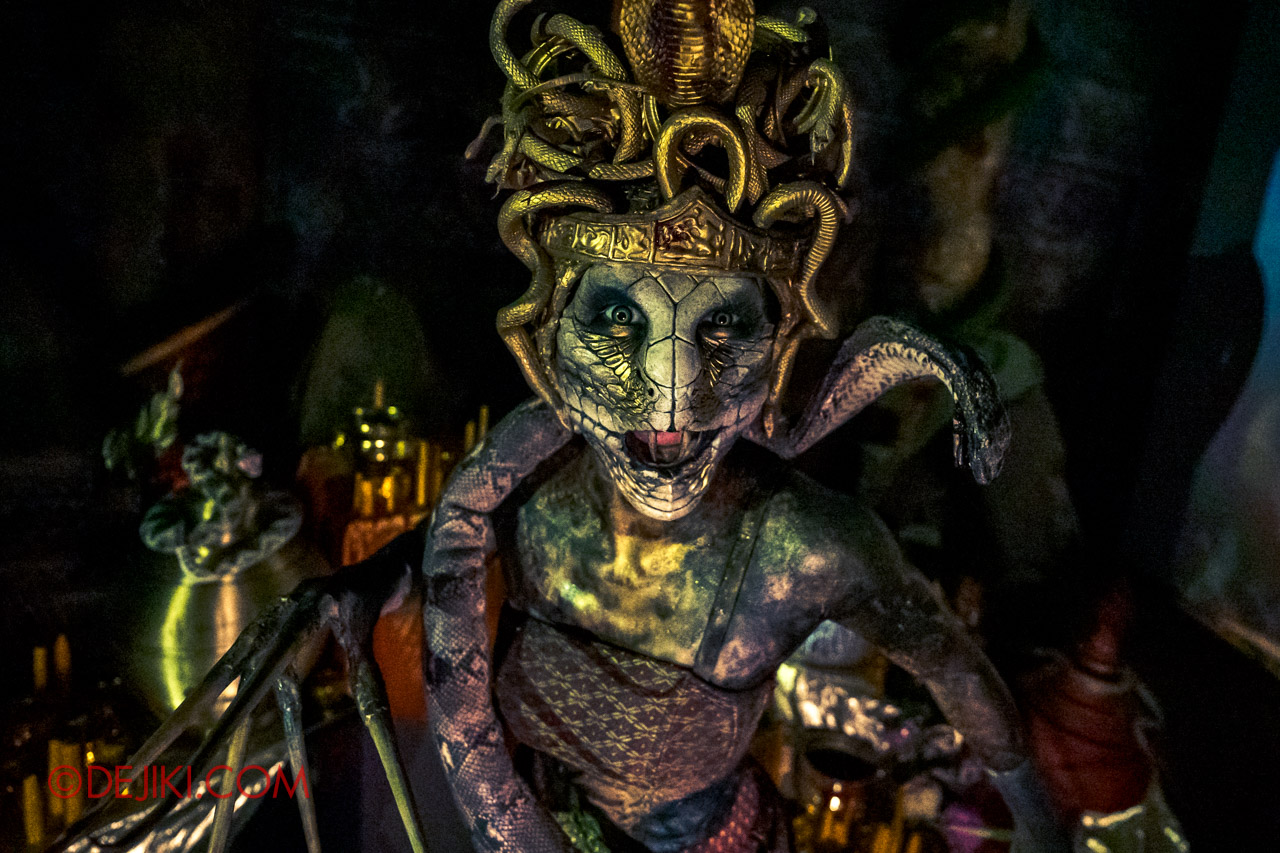 The Serpentine Spirit lures you into the jaws of Naga, as you become consumed by the curse. Completely.
---
Discover the full Curse of the Naga experience at Universal Studios Singapore's Halloween Horror Nights. Get all the info you need at my Halloween Horror Nights 9 Event Guide.

Stay tuned for more of the HHN9 SNEAK PREVIEW series, where you will get a first look inside another haunted house: The Chalet Hauntings, and uncover more insights from the park's Creative team.
---
Special Thanks to Resorts World Sentosa
Get more HHN9 updates
Follow me on Facebook and Instagram (@dejiki)
Prepare for Halloween Horror Nights 9
Get all the info you need at my Halloween Horror Nights 9 Event Guide.
Halloween Horror Nights 10 (2022)
HHN10 REVEALED: Ticket and Event Guide
Halloween Horror Nights 10 MEGA Review: Photos of all Haunted Houses and Scare Zones
SPECIAL FEATURE: Behind the Scenes at HHN10 Haunted Houses
HHN10 RIP Tour (VIP Tour) Review

Features on Haunted Houses, Scare Zones and Experiences
The Silenced Auction (Opening Scaremony) | DIE-ning with The Dead | Monsters & Manifestations
Escape The Breakout | Killustrator: The Final Chapter | Hospitality of Horror
Operation: Dead Force | The Hunt for Pontianak | Dark Zodiac

Trick or Thrills (2021)
Halloween Horror Nights Exhibition
2021 Day and Night Halloween: DIE-ning with the Dead, Universal Monsters Scream Alley


Halloween Horror Nights – The Archives


Click to Expand and see all posts from past Halloween Horror Nights
Subscribe to Dejiki.com or Like my Facebook page for notifications of updates.
---