Witness Universal Studios Singapore's gradual transformation into a world of terror, directed by the vision of The Minister of Evil, in the HHN4 Before Dark photo reports.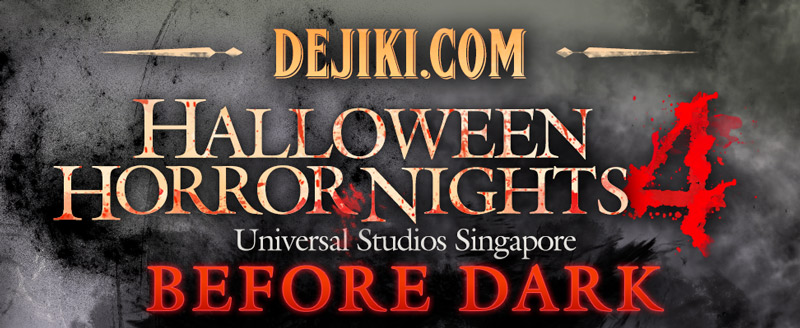 ---
Dejiki.com's Before Dark series is a day-time photography log showcasing the elaborate creative work behind Universal Studios Singapore's frightening blockbuster event, Halloween Horror Nights 4. Check out past years' Before Dark features here.
◂ Minister of Evil ▸
The entrance of Universal Studios Singapore is now adorned with two grim pillars, welcoming guests to the new world ruled by the The Minister of Evil.
These solemn stone pillars have the HHN4 logo embedded into them and are likely to glow at night.
Hollywood Boulevard: Under new management.
Big screen in the middle, ensuring a decent view of the new leader, for all.
I'm sure we'll all be blinded with envy of the Minister's prowess… in some ways or another. Look at all those lights!
◂ Demoncracy ▸
Lady Liberty falls, while demonic forces rise at New York zone.
The props bring nothing but a promise of a dark future.
◂ Bogeyman ▸
Sting Alley (Water Street of New York zone) is now crammed with countless cupboards and cabinets. Terrifying surprises will await guests at every turn.
It's just furniture. But is anyone else feeling the chills?
More curious, gigantic toys and a twisted playground lie ahead towards the path to Sci-Fi City.
At least the artwork here is cute.. so far.
Beyond closets, cabinets and playgrounds: A trail of iron meshes lining a cramped corridor for the damned.
And more cubes.
More.. stuff. Did all of these come from House No. 13?
◂ Canyon of the Cursed ▸
Yet to be cursed. Enjoy it while it lasts.
◂ Scary Tales ▸
Minimal stuff to report here. Well, except some wires appearing around the area:
The frayed, broken ropes around the canopy at the entrance to Jurassic Park have even replaced.
Fixtures are installed at two sides, probably to light up the giant storybook pages at this scare zone.
◂ The Haunted Houses ▸
Construction is ongoing at all haunted houses. Unless the park is kind enough to extend a behind-the-scenes tour for us, we'll only have these limited shots from the outside. I must warn everyone, DO NOT trespass, please! Construction is going on at these backstage areas, so for your own safety, don't wander about. Unless you don't mind having something haunting you for the rest of the year.
One of the military buildings at MATI CAMP. Some metal fences (from Total Lockdown, in 2012?) spotted at the bottom left.
Looks like there's no running from Jing's Revenge, with that maze-like layout! Can't wait.
Some alien spaceship thing spotted at The L.A.B.
---
Stay tuned for the next BEFORE DARK…
Want more updates on Halloween Horror Nights? Subscribe to dejiki.com or Like Dejiki.com on Facebook today!
Are you brave enough..?
Ever thought of attending Halloween Horror Nights 4? Get all the event and ticketing information you need at the 2014 Guide to Halloween Attractions in Singapore here!
Halloween Horror Nights 10 (2022)
HHN10 REVEALED: Ticket and Event Guide
Halloween Horror Nights 10 MEGA Review: Photos of all Haunted Houses and Scare Zones
SPECIAL FEATURE: Behind the Scenes at HHN10 Haunted Houses
HHN10 RIP Tour (VIP Tour) Review

Features on Haunted Houses, Scare Zones and Experiences
The Silenced Auction (Opening Scaremony) | DIE-ning with The Dead | Monsters & Manifestations
Escape The Breakout | Killustrator: The Final Chapter | Hospitality of Horror
Operation: Dead Force | The Hunt for Pontianak | Dark Zodiac

Trick or Thrills (2021)
Halloween Horror Nights Exhibition
2021 Day and Night Halloween: DIE-ning with the Dead, Universal Monsters Scream Alley


Halloween Horror Nights – The Archives


Click to Expand and see all posts from past Halloween Horror Nights
Subscribe to Dejiki.com or Like my Facebook page for notifications of updates.
---