Fairy tales take a dark turn in Grimm Encounters, where the Pied Piper's evil tunes have twisted childhood stories into gruesome fantasy.
---
WARNING
Photos of a haunted house attraction at Halloween Horror Nights 11 are featured in this article as a special showcase. This article contains spoilers.
Copyright Note: All content on this website, including Halloween Horror Nights photos and writeups cannot be reuploaded onto other websites without my permission.
---
Overview and Thoughts
Grimm Encounters is one of Singapore's original haunted house this year, bringing twisted fairy tales into an intense experience with unique indoor environments. The park had the Scary Tales (2014) scare zone at Jurassic Park nearly 9 years ago with a similar theme. With a haunted house format in 2023, more elaborate scenic designs and tricks can be achieved, while also creating an intense experience for park guests.
This time, the plot revolves around a manipulative and evil Pied Piper, who has corrupted the realm of fairy tales and started tormenting the inhabitants of the forest with his dark music, while causing a mass infestation of rats.
Despite its size, the park's creatives managed to fit in 8 major scenes of which 5 of them feature fairy tales that guests can visit and witness the horrific transformation. There are some rather unique effects, such as UV lighting in one scene, and projection scrims creating 'holograms' of Pied Piper towards the end. I was surprised however, that the "rat room" and use of rats was actually quite restrained.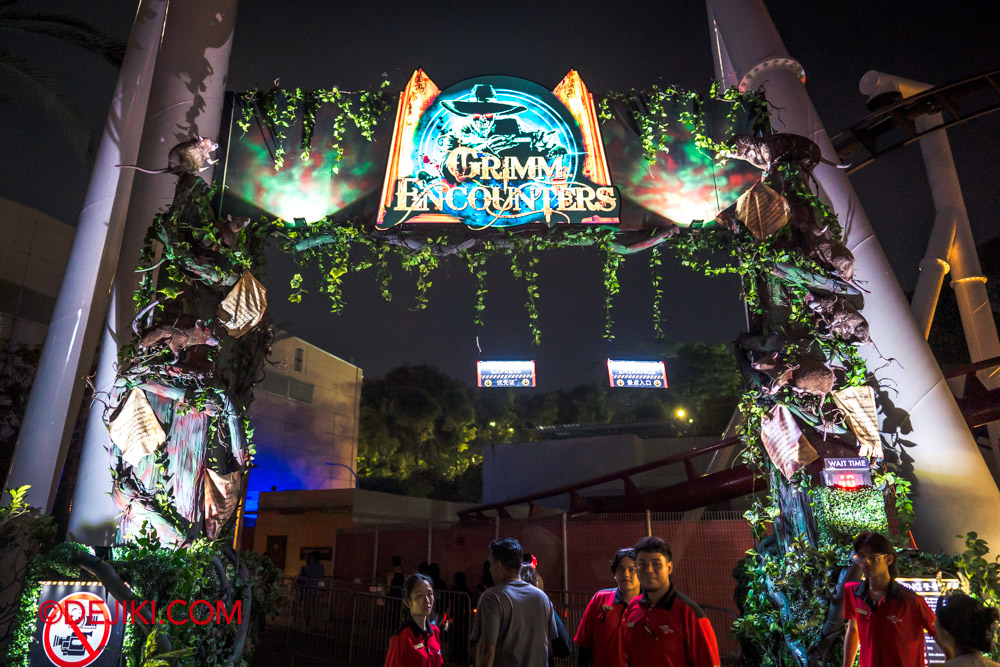 With its small capacity and location as "the house in the middle", Grimm Encounters is expected to have moderate wait times that peak about 2-3 hours into the event.
---
Grimm Encounters – Haunted House Photo Tour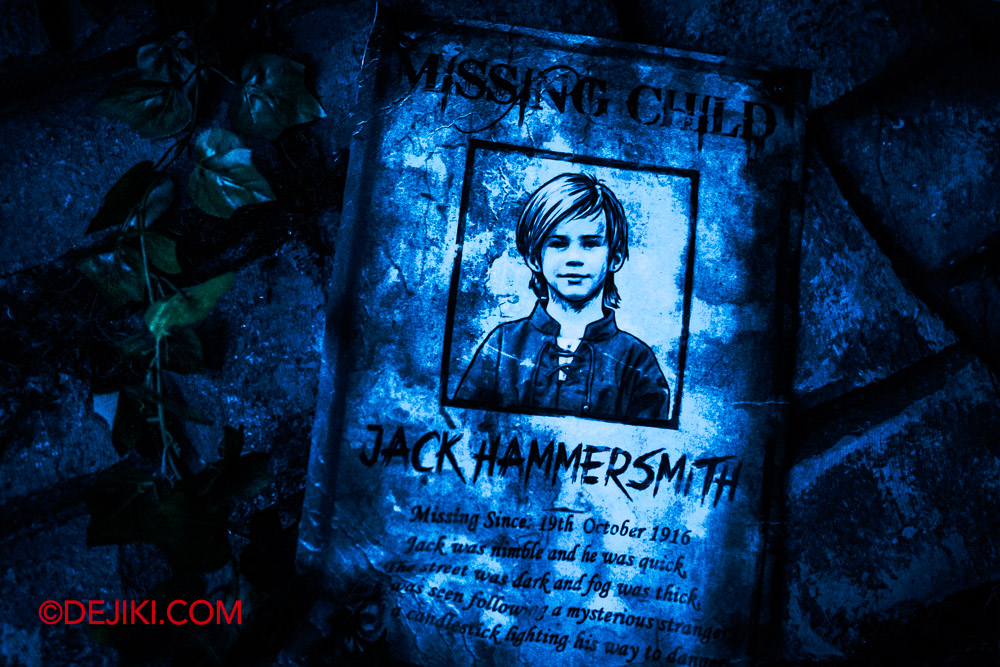 Missing posters of children catch your attention as you wander into an alley, away from the bustling roller coaster in the park.
A doorway opens from the stone wall. Beyond, you see a scene of a foggy forest.
Soft flute music fill the air, as you step inside to make sense of the surroundings.
The Pied Piper suddenly appears from the shadows, startling you. He beckons you to go on, into the Gingerbread house. A twisted creature hurries you in.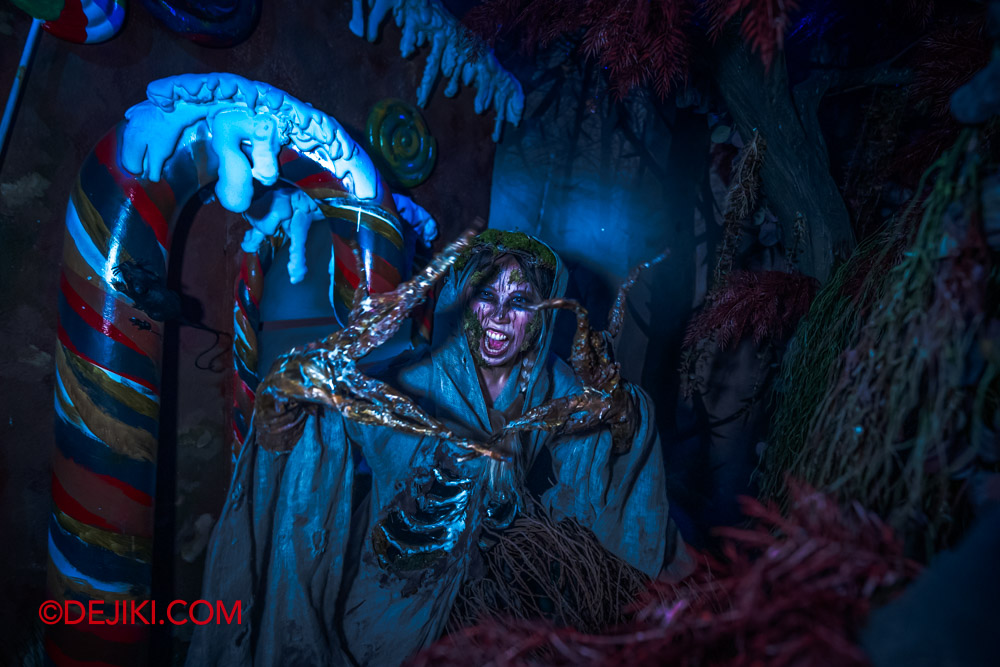 Doused in overwhelming, sweet scents, the house felt like it was melting from the overloading of candy.
Gretel warns you to leave immediately, as Hansel has met a fiery end.
Dashing out of the house, animal hides and fur strips blind the way forward.
You realise that it's Red Riding Hood's grandmother, trapped in a blood-soaked room that is hard to walk in.
Red Riding Hood gets her revenge, as you make your way out.
Snow White resting peacefully in her glass coffin. She is surrounded by Magic Mirrors, all of which are trying to talk to you, hindering you from leaving.
Moving along the forest, you walk past a tower with overflowing golden hair messily hanging all over. Rapunzel is still up there.
Another gate is unlocked, leading you into a castle where Sleeping Beauty is awake, unaffected in a room of countless spindles, all connected in a web of shiny threads.
She does however, hide a dark secret, and perhaps has outwitted her original captors.
Leaving the castle, you find yourself in the dark woods, with lingering tree creatures.
The Pied Piper appears at every side as you walk through the passing. He has been leading you through the fairy tales all along…
Trapped in a cave overflowing with rodents, with no turning back. The rat children emerge from the shadows, dragging you deeper into the Pied Piper's lair.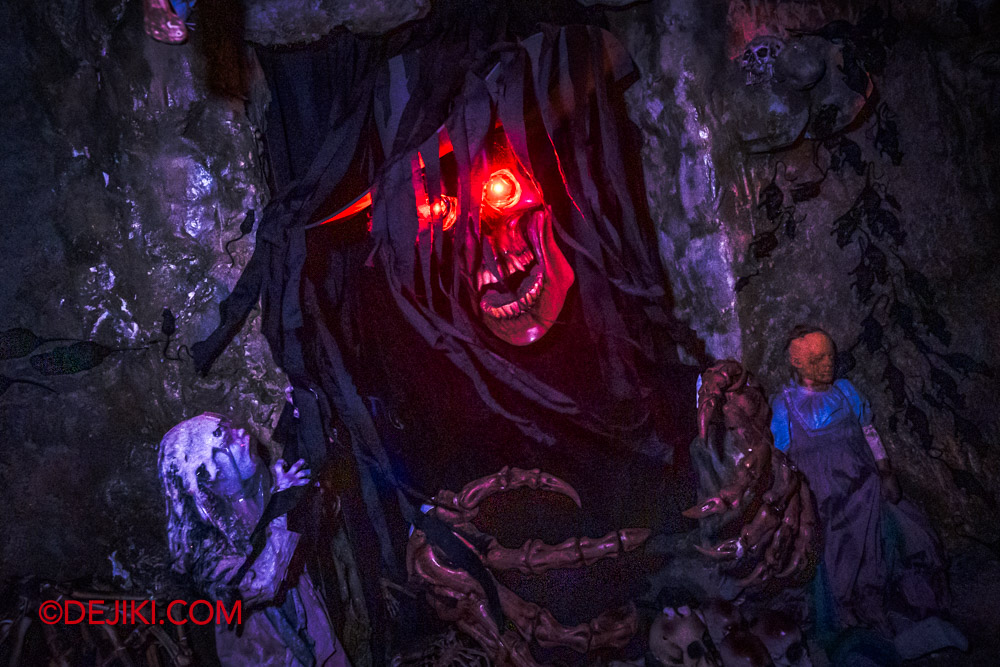 The Pied Piper reappears, this time in his true, gigantic form, making sure that you will not escape the fantasy realm twisted by his dark music.
---
Halloween Horror Nights 11: Select Nights 29 Sep – 4 Nov
Halloween Horror Nights 11 MEGA Review by DEJIKI
Read my full review and see photos from this year's haunted houses, scare zones, the Opening Scaremony show, and DIE-ning in Hell special experience.
Halloween Horror Nights 11 EVENT GUIDE
Stay prepared. Get essential info in my Halloween Horror Nights 11 Event Guide, including event calendar, tickets and add-ons prices, plus Tips & Tricks.
Get more HHN updates
More photos from this year's HHN attractions will be published on my Instagram (@dejiki), Tiktok and on this website as special features. Follow me on Facebook for updates.

---
Halloween Horror Nights 11 (2023)
HHN11 REVEALED: Ticket and Event Guide
Sneak Preview: DIYU: Descent Into Hell, Rebirth of the Matriarch, Icons and more
Halloween Horror Nights 11 MEGA Review: Photos of all Haunted Houses and Scare Zones
HHN11 RIP TOUR (VIP Tour) Review

Features on Haunted Houses, Scare Zones and Experiences
Grimm Encounters | The Weeknd: After Hours Til Dawn Nightmare
Judgement Day (Opening Scaremony) | Netflix's All of Us Are Dead
DIYU: Descent Into Hell | Rebirth of the Matriarch
Dead Man's Wharf | The Cursed Kiramam
The Hacker + The Hacker: GAME OVER

Universal Studios Japan (USJ) 2023
Halloween Horror Nights 2023/ HAHAHA! Halloween Party! Event Guide


Halloween Horror Nights – The Archives


Click to Expand and see all posts from past Halloween Horror Nights