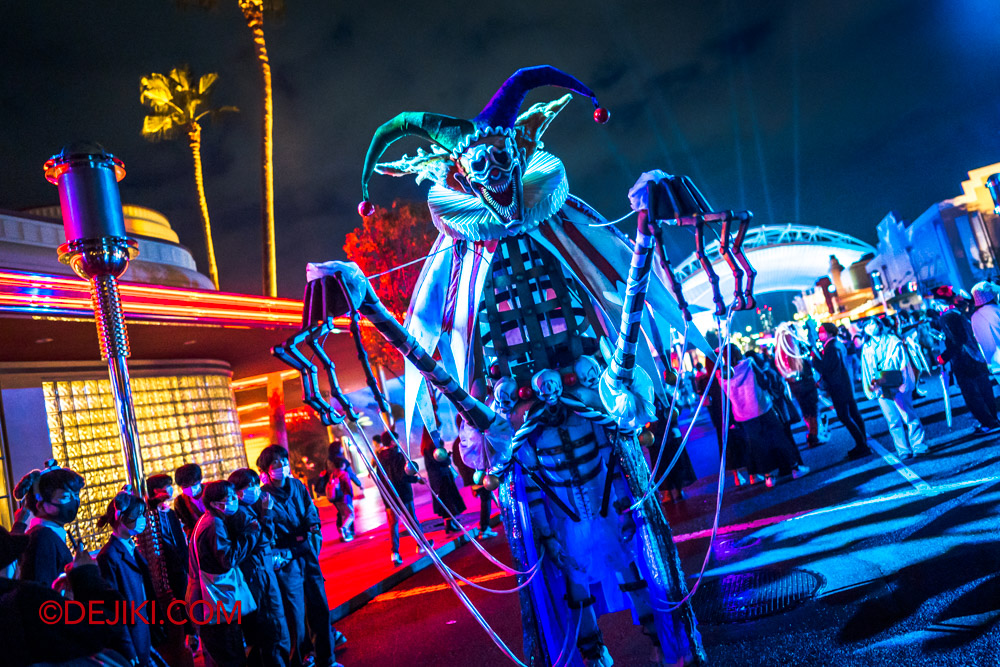 The Halloween Horror Nights event with NO LIMIT! at Universal Studios Japan, one of the top theme parks in the world!
Halloween Horror Nights at Universal Studios Japan's NO LIMIT! Halloween
As part of its 2022 NO LIMIT! Halloween programme, Halloween Horror Nights returned to Universal Studios Japan with a full line-up. The park has a unique Halloween format – with horror attractions available from late morning, and street zombies roaming around numerous areas in the park at night.
Halloween Horror Nights 2022 in Japan features 3 haunted mazes (haunted houses), a stage show, and numerous scare zones in the form of street zombies and dance experiences – this time with stronger visual themes compared to what I saw in my last visit in 2017.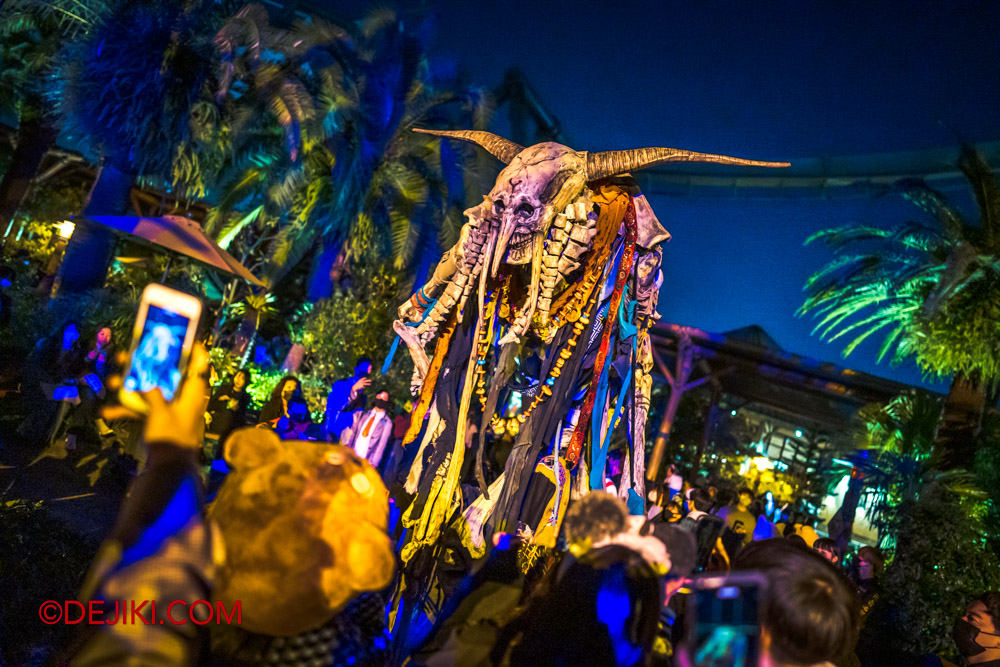 I visited Universal Studios Japan on Halloween (31 October) itself, as the third stop of my Asia Tour. The park felt like pretty much pre-pandemic apart from new COVID measures such as compulsory mask-wearing and use of hand sanitizers at various touchpoints. USJ's strong attendance and massive crowds are back in full force, and the horror and regular attractions were all seemingly operating at full scale and capacity. However, some fans may be disappointed with the line-up with just the Universal Monsters: Legends of Fear as the new attraction, while the other 2 mazes are repeated from the last full HHN back in 2019.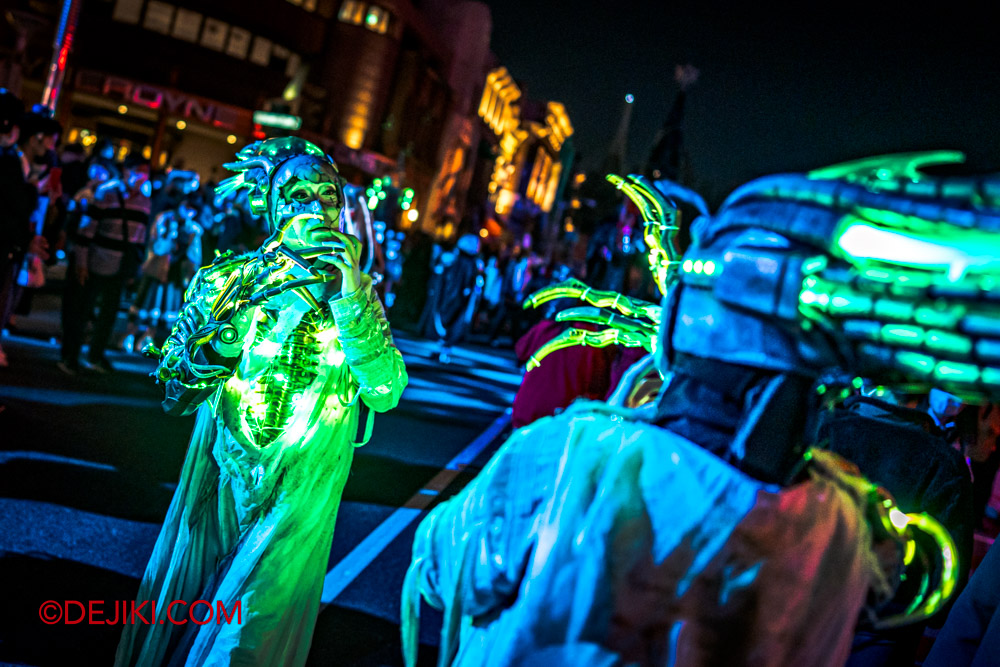 With the unique format of Halloween Horror Nights in Japan, HHN is not a 'special event' that is separately charged. Everything is included in the Studio Pass (admission ticket). Guests can enjoy the park's regular attractions from morning, including non-horror Halloween content such as Minion Monsters meet and greet. Horror attractions will begin to be available in the late morning, and when night falls, the park transforms into full Horror Nights mode with zombies roaming the streets until park closing.
---
Halloween Horror Nights Japan 2022 – Horror Mazes
Known as horror mazes or haunted mazes in Japan, these walkthrough attractions with special effects and performers. Horror Mazes are open from 10AM till park closing.
BIOHAZARD: THE EXTREME+ (Resident Evil 2)
BIOHAZARD: THE EXTREME+ is the enhanced version of the 2019 horror maze. Inspired by the Resident Evil 2 game, this attraction offers two paths inside the Racoon Police Department (RPD): Leon Route and Claire Route. This interactive maze has certain game elements and you will get a different ending depending on your group's performance throughout the experience.
I've played the excellent Resident Evil 2 (remake) game several times, so this horror maze was naturally very enjoyable. Like the game, while both routes take place 'at the same time and place', and depending on the path chosen the story has slight variations – a key scene showing the menacing 'Mr. X' chase down Leon or Claire – and witness how either of them escape from the Tyrant.
Many parts of the maze are guided by various RPD officers who are all trying to lead you to safety and fend off mutants that appear along the way – a clever method to manage flow and pace out guests, and ensure that the attraction runs at optimal efficiency. Both routes take place in the same venue in the park's Palace Theater – even the queue area is shared and both lines run parallel. However, guests on one route will not meet the other along the way, as they split up at the entrance of RPD.
No photography is allowed inside any of Japan's mazes, so here are some photos of the themed queue.
Although the attraction lacks expansive sets to bring out the scale of RPD from the game, it did replicate the scary hallways and zombie ambushes very well. The whole survival action experience felt very well-designed and exhilarating, simulating the 'survival horror' gameplay of the original media. Both routes will eventually lead to an arena where you will pick up a submachine gun and defend against either the Super Tyrant or mutated William Birkin. I'm not sure what has been enhanced for the 2022 'EXTREME+' version, as I've not experienced the 2019 original. If anyone knows, please post a comment.
To experience BIOHAZARD: THE EXTREME+, guests will need to have Time Entry Ticket (for the chosen character's route), which can be obtained at the park from the Official USJ app or in person at the Terminator 2: 3-D attraction. Alternatively, the HHN Express Passes are also available.
Presentation: ★★★★★★★★
Horror Level: ★★★★★★
---
Universal Monsters – Legends of Fear
The new horror maze this year is inspired by the 2019 Universal Monsters maze at Universal Studios Florida's Halloween Horror Nights 29. While the attraction entrance features Dracula, Frankenstein's Monster and the Mummy, other classic monsters, such as Quasimondo, the Bride of Frankenstein, the Phantom of the Opera, Dracula's Brides, and the Wolfman are also in Japan's maze.
It's a beautifully designed maze, with detailed sets and choreographed scares, but the scaled-up scenes with use of mirrors and other big effects from Orlando's version were not replicated here.
Guests are pulsed into the house in small groups, and one guest in each group given a lantern – which I got to hold. The lantern changes colour and brightness depending on the rooms. This makes the house feel more interactivity, but isn't really needed to see because it's not a very dark maze to begin with. If anything it probably helps scare actors "see" incoming guests.
Presentation: ★★★★★★★
Horror Level: ★★★★★
---
Cult of Chucky
Return to Harrogate Hospital and witness Chucky's violent and cruel massacre within. This maze debuted in 2017, and I've walked through that maze several times during my visit in the same year. It returned in the 2019 line-up, and now, after 3 years of hiatus, Chucky is back.
The house has a very similar, if not exact same layout as 2017, down to the queue setup, scenes, and props, and even the finale chase sequence. While I really loved this house back in 2017, I am surprised that the park decided to stick to the original with no adjustments – maybe the sets had never moved out of the soundstage all these years.
I suspect that this 'Chucky hospital' format might be retired after this year, as the same maze has been used for 4 seasons since 2017. Perhaps with the new Chucky TV series, there is opportunity to create another setting for Chucky to terrorise.
Presentation: ★★★★★★
Horror Level: ★★★★★★
---
Halloween Horror Nights Japan 2022 – Shows
Sherlock Holmes: The Curse of the Rose Sword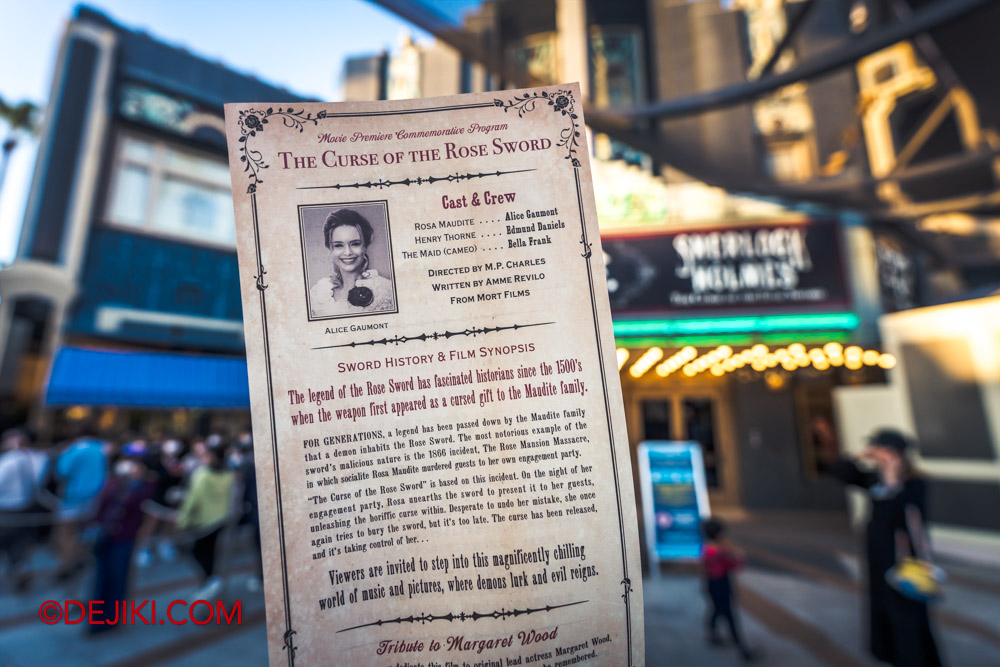 In this 'horror theater' experience, you are attending a premiere of The Curse of the Rose Sword movie, which goes wrong when a murder takes place, and the real 'Curse' of the Rose Sword is unleashed. Sherlock Holmes rushes in to solve the mystery!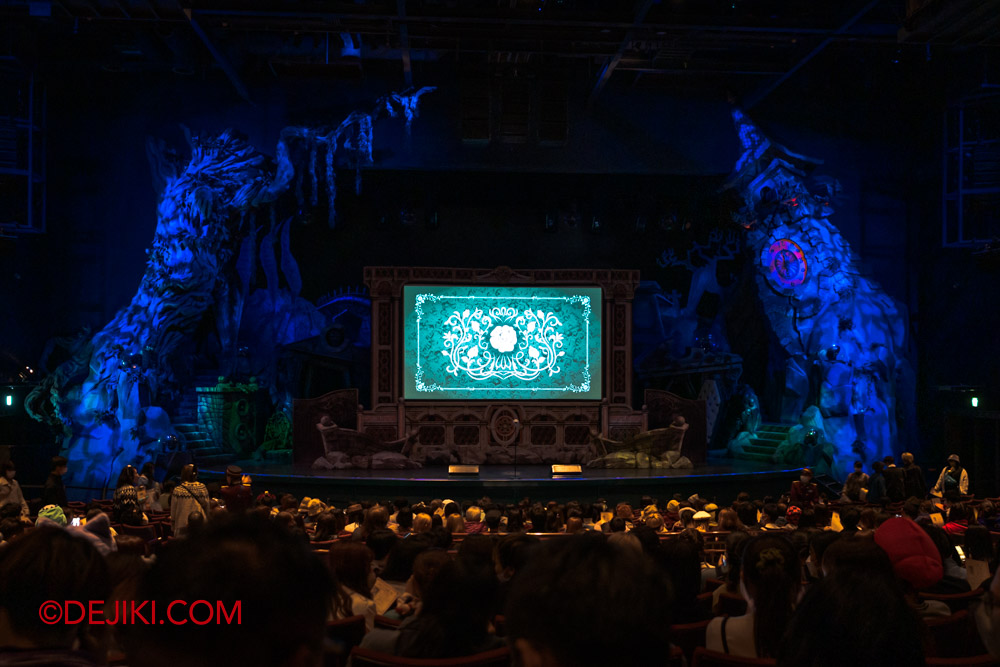 The show is entirely in Japanese, but the premise and theatrics of the performance are simple enough to follow along.
---
Zombie de Dance
The last aspect of Japan's Halloween Horror Nights would be its scare zones, but since I'm already on shows, let's jump to Zombie de Dance.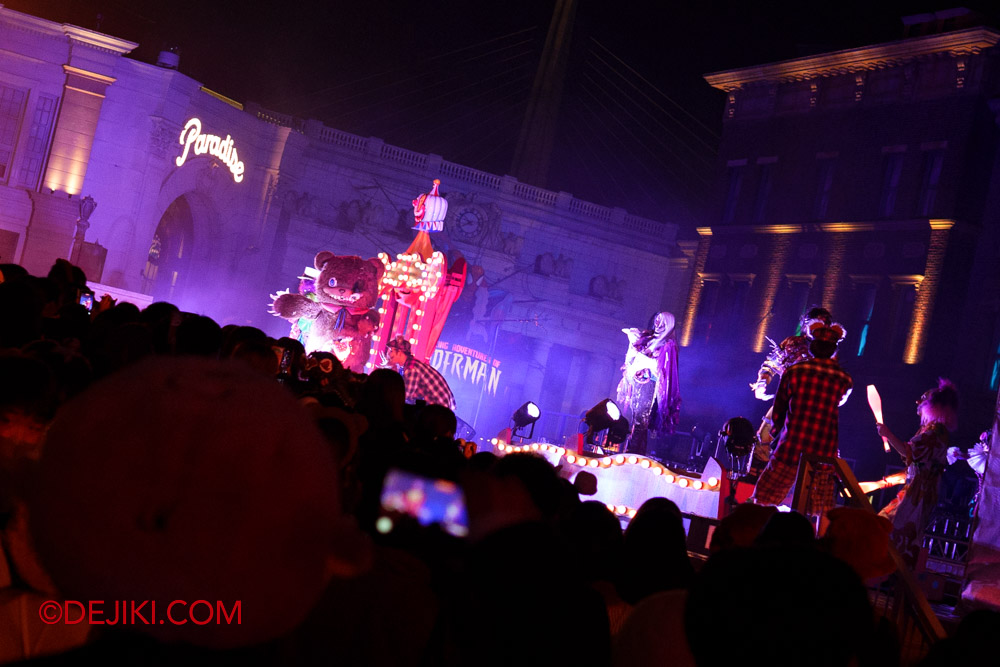 Every 45 minutes or so, the zombies in scare zones will go into a frenzy, dancing to 'Rat-tat-tat' by J SOUL BROTHERS III from EXILE TRIBE. Then at the park's Gramercy Park area, you can enjoy the grand show, Hamikuma Psycho Circus, where this year's icon, the Hamikuma bear, leads a mad circus troupe into what it calls the craziest circus in your life!
There are also special dance shows at certain areas of the park, such as zombie break dancing in the Chainsaw Chain-Gang scare zone.
According to the park, this will be the last year that the 'Rat-tat-tat' song will be used for Zombie de Dance. The song is also selectable at Hollywood Dream: The Ride.
---
Halloween Horror Nights Japan 2022 – Scare Zones
At Universal Studios Japan, scare zones are park-wide street zombie encounters at several areas, particularly the open streets in Hollywood, New York, San Francisco, and Jurassic Park.
Essentially every area has zombies of a certain theme, and they all stay in characters as zombies, so they don't stop and pose for photos!
As government regulations require everyone to wear masks, the park's entertainment team has done some very impressive and creative special effects with masks – they either blend in with the overall look, or stand out as decorative masks in a good way.
Hamikuma Psycho Circus
Hamikuma, an evil teddy bear brought back to life, is this year's icon at Universal Studios Japan's Halloween Horror Nights. With its return from the dead, it also unleashed the undead all over the park, with Hamikuma's Psycho Circus as its base at Gramercy Park.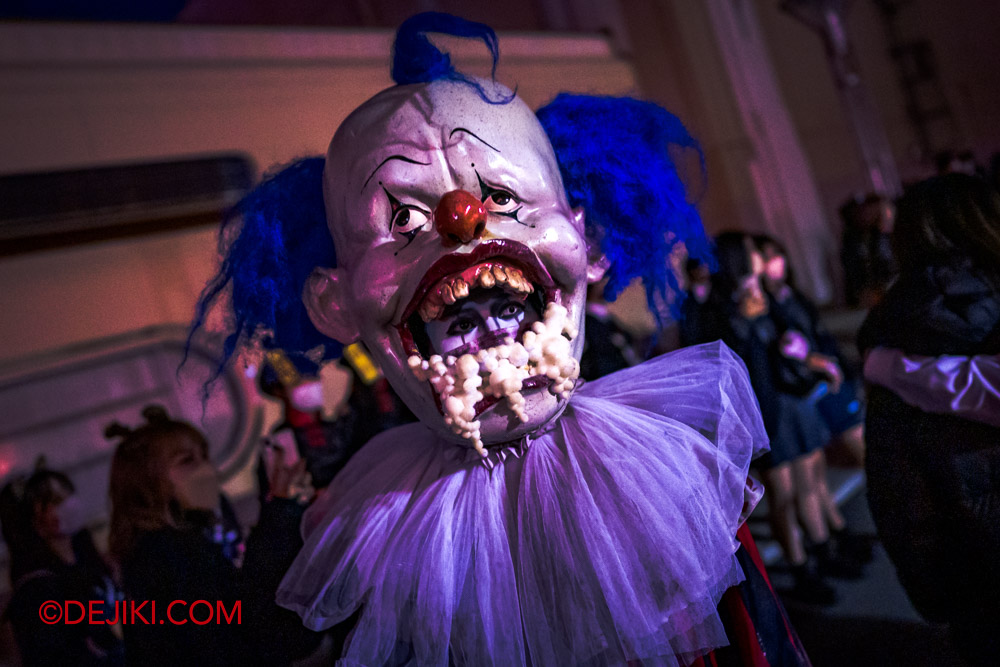 Watch where you walk, because the insane circus is filled with horrifying clowns!
---
Circus Freaks
Explore a dark world behind the hauntingly magnificent circus, where the grotesque Circus Freaks hide in pain.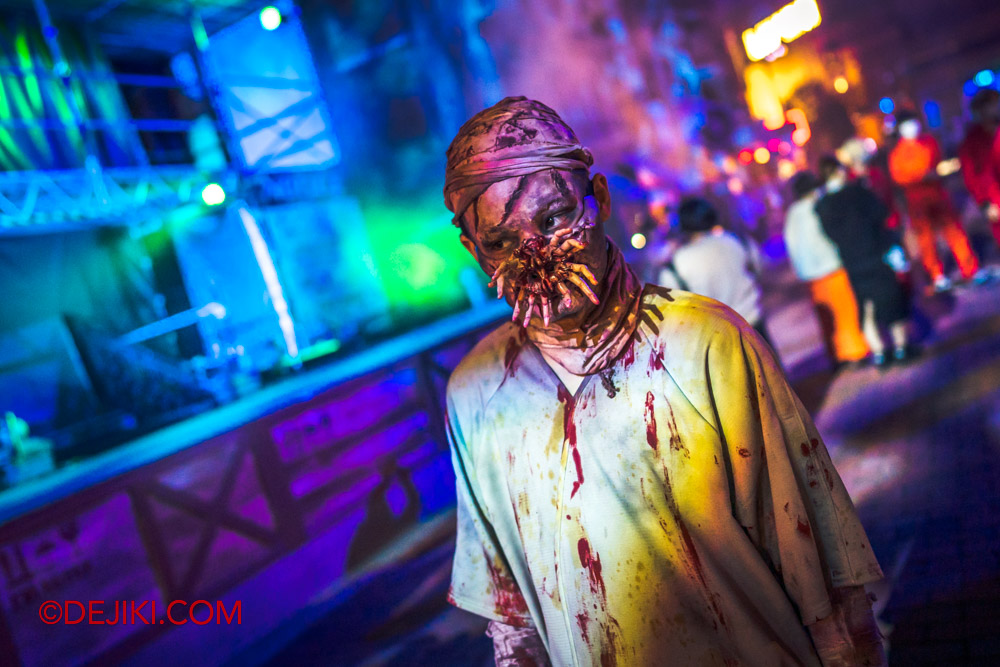 ---
Atrocious Ancients
Step into the world of Atrocious Ancients, where cursed mummies and a secretive tribe are dwelling in the dark jungles.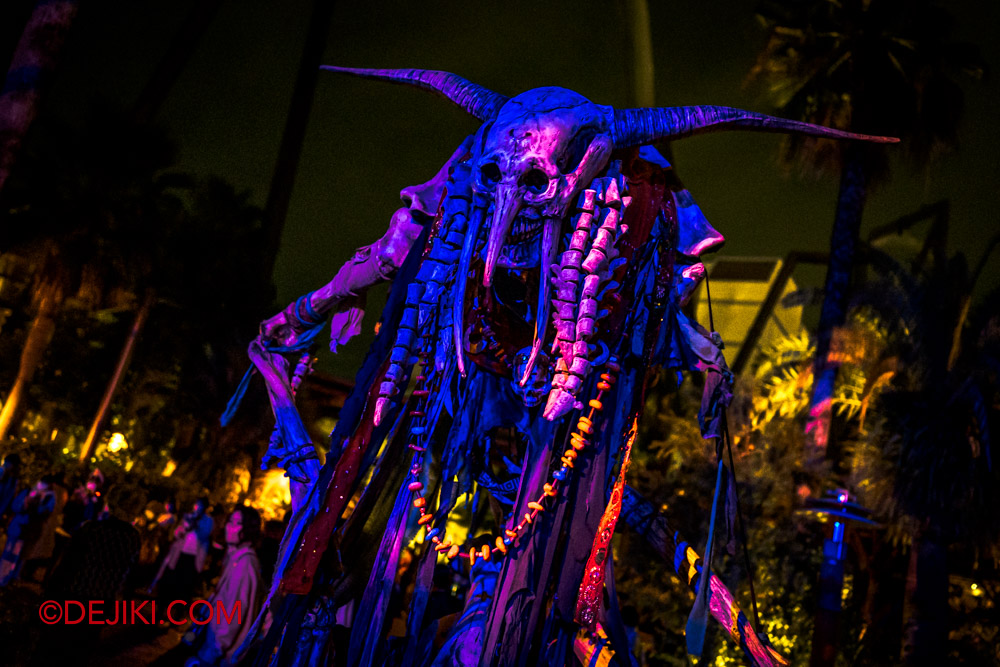 This giant skeleton is perhaps one of the most iconic characters at this year's event.
---
Gothic Killer Cuties
Beware of the Gothic Killer Cuties, which are all hiding their sinister side behind their cute doll-like appearance.
---
Tortured Test-Subjects
Tortured Test-Subjects have escaped from an underground facility. They now wander the streets for their next victim… You!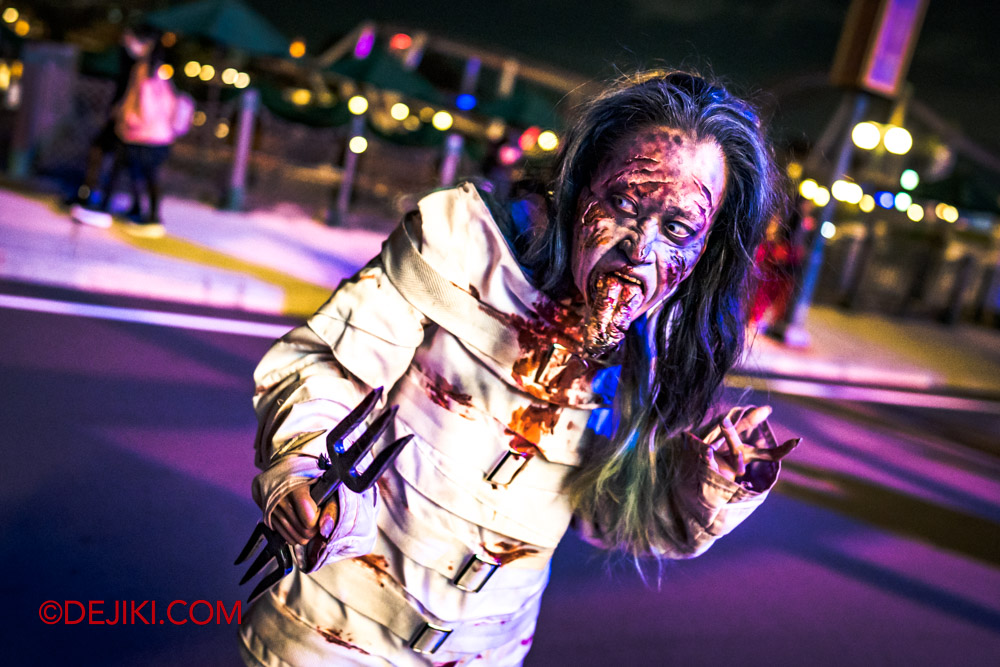 ---
Murderous Monsters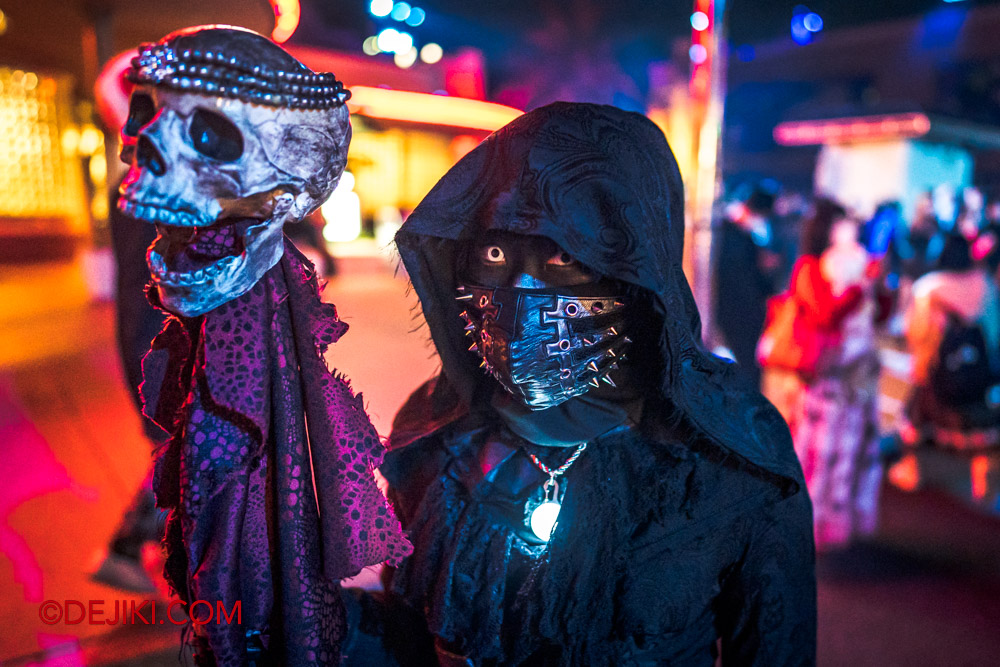 Stay close to your group as you explore a realm ruled by the Murderous Monsters – familiar creatures made more evil with a mysterious, glowing poison.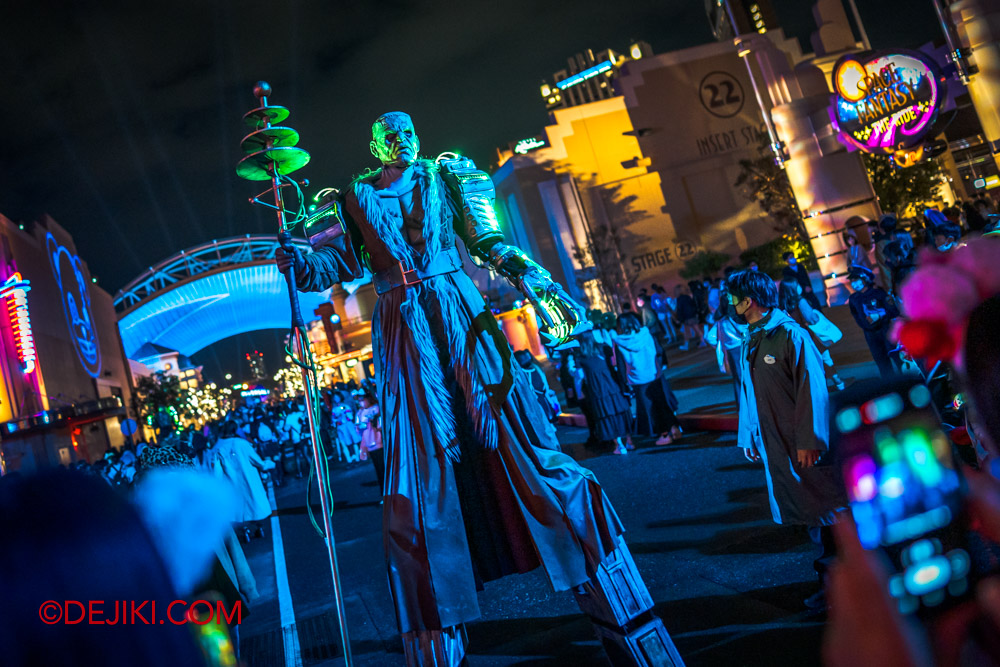 ---
---
Chainsaw Chain-Gang
Be careful when you roam the territory of the dangerous Chainsaw Chain-Gang, which was once an imprisoned band of violent criminals, now transformed into vicious zombies, and armed with chainsaws!
---
Coming Soon: NEW Universal Studios Japan articles
Stay tuned for more articles on Universal Studios Japan, including Super Nintendo World.
---
Halloween Horror Nights 10 (2022)
HHN10 REVEALED: Ticket and Event Guide
Halloween Horror Nights 10 MEGA Review: Photos of all Haunted Houses and Scare Zones
SPECIAL FEATURE: Behind the Scenes at HHN10 Haunted Houses
HHN10 RIP Tour (VIP Tour) Review

Features on Haunted Houses, Scare Zones and Experiences
The Silenced Auction (Opening Scaremony) | DIE-ning with The Dead | Monsters & Manifestations
Escape The Breakout | Killustrator: The Final Chapter | Hospitality of Horror
Operation: Dead Force | The Hunt for Pontianak | Dark Zodiac

Trick or Thrills (2021)
Halloween Horror Nights Exhibition
2021 Day and Night Halloween: DIE-ning with the Dead, Universal Monsters Scream Alley


Halloween Horror Nights – The Archives


Click to Expand and see all posts from past Halloween Horror Nights