Transport yourself to the Mushroom Kingdom at Universal Studios Japan's SUPER NINTENDO WORLD, a highly interactive and immersive themed area!
Super Nintendo World is perhaps the most exciting addition to Universal Studios Parks yet! Inspired by the iconic characters and environments of Nintendo's classic games, this themed area offers immersive and highly interactive adventures, from exciting theme park rides to numerous big and small experiences all around.
Originally slated to launch in tandem with the 2020 Tokyo Olympics, the world's first Super Nintendo World at Universal Studios Japan eventually opened in early 2021. It will be built at other Universal Studios parks, namely: Universal Studios Hollywood, Epic Universe at Universal Orlando Resort, and lastly, Universal Studios Singapore. All of these Worlds across the globe will be slightly different, with Singapore's expected to be a scaled down version.
---
As there is a lot of photos and content, the Super Nintendo World series will be split into 4 articles, with this page providing an overview of what the zone is about, along with tips on how to get inside this zone, and how to spend your time there.
Welcome to Super Nintendo World at Universal Studios Japan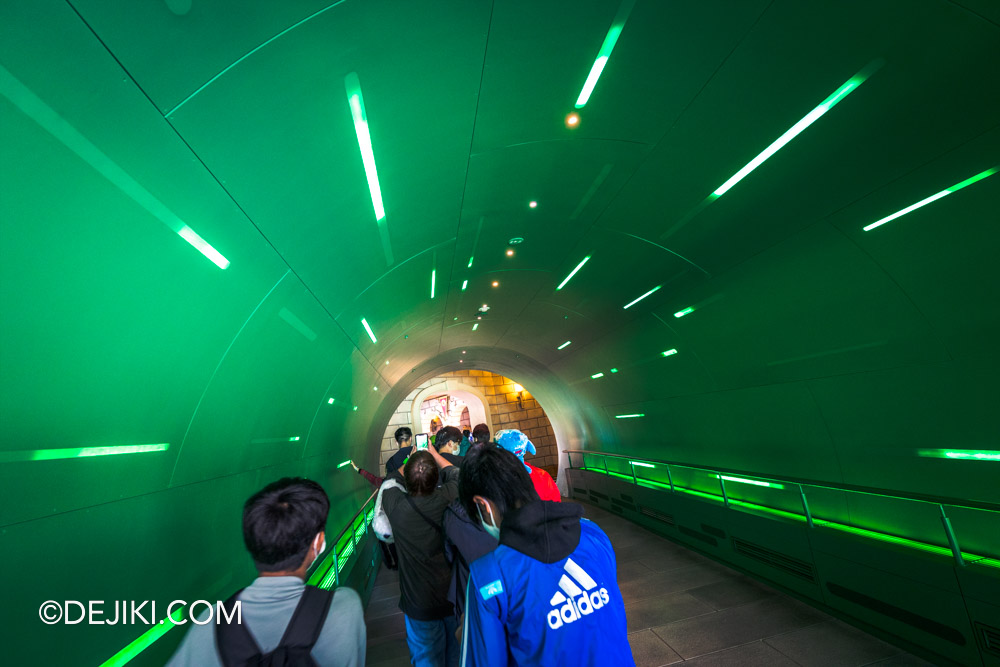 The warp pipe leads you to Peach's castle, and after stepping out…
Welcome to Super Nintendo World!
The entire land is bursting with animated objects and characters, and with the joyful melody of the video games in the air – it's just like the Super Mario games! Right across the other side, you see a line of Yoshi moving slowly on a bridge, that's the Yoshi's Adventure ride!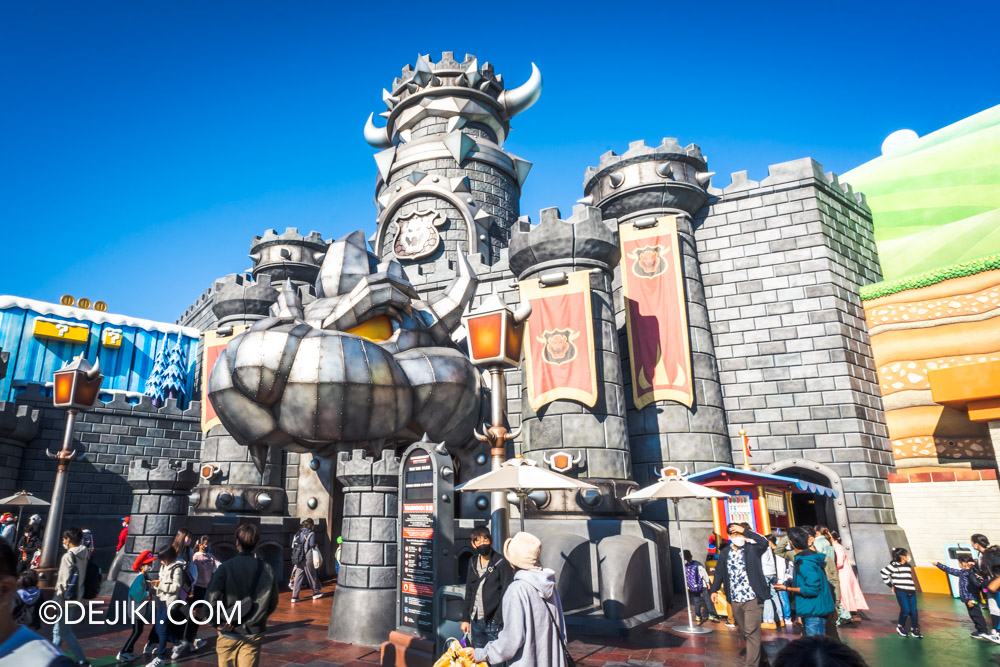 At Super Nintendo World, the star attraction is none other than Mario Kart: Koopa's Challenge (also known as Mario Kart: Bowser's Challenge). Taking place inside this imposing Bowser's Castle, this is an indoor interactive dark ride that uses augmented reality to simulate the action-packed thrills of racing, Mario Kart-style. Explore the castle and see more photos of this attraction in this special feature article!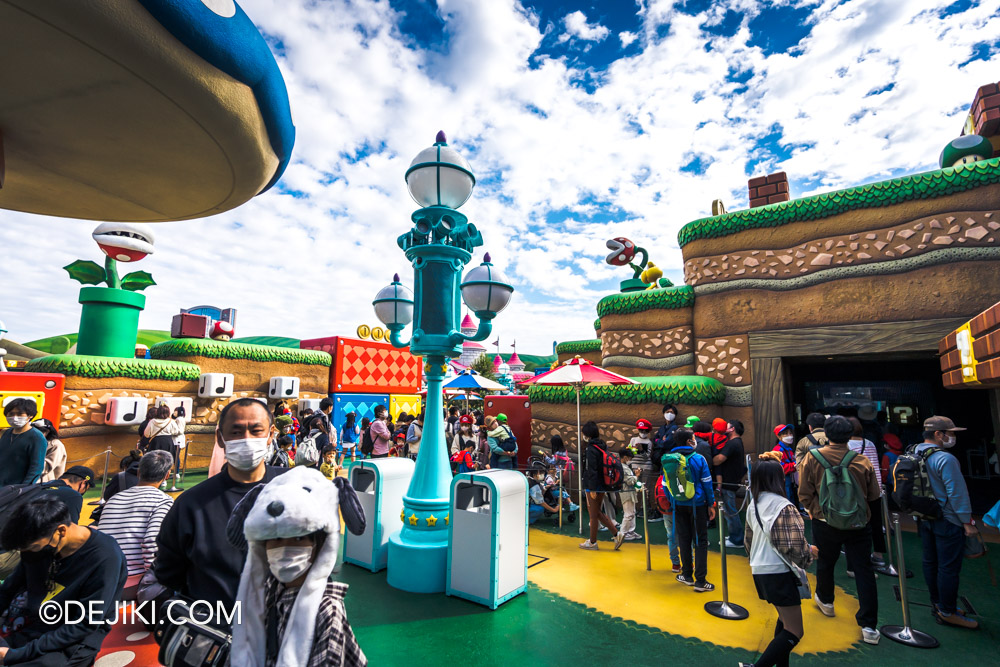 Unlike other themed areas, Super Nintendo World is full of fun games and activities – many objects are interactive, such as the iconic Question Mark Blocks from Mario games.
To unlock the full experience, you will need to buy a Power-Up Band, which functions as your "game save" profile, recording your score and collections within the entire area.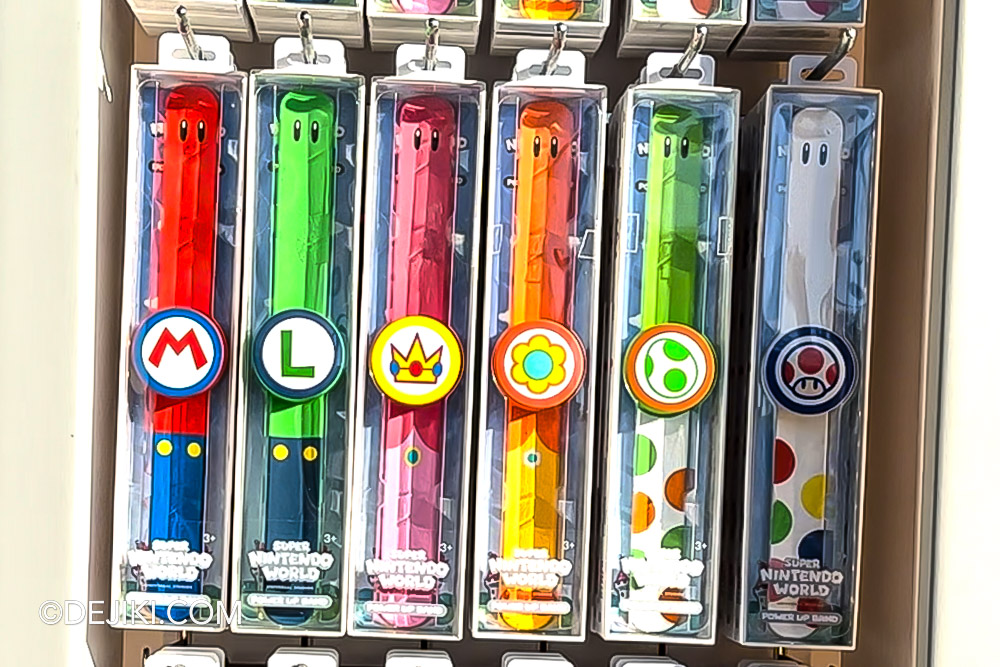 Currently, 6 designs of Power-Up Bands are available. They cost JPY3,800 each (~S$38, US$27.5)
This area of Super Nintendo World, also known as the Super Mario Land section, comprises numerous minigames. More on that in another upcoming article.
As a multi-tiered themed area, Super Nintendo World has its facilities divided across two key levels. The upper level houses numerous minigames, the entrance to Mario Kart: Koopa's Challenge, Mario Motors store, and Pit Stop Popcorn, where you can buy popcorn buckets with the Mario Kart design or the glowing Super Star!
At the lower level, you can find Kinopio's Cafe (Quick Service Restaurant), Yoshi's Snack Island, 1UP Factory megastore, and the entrance to Yoshi's Adventure. And a lot of blocks to punch, everywhere!
Meet and Greet at Super Nintendo World
It's the Mario Brothers! Mario and Luigi will meet guests in the middle of the area.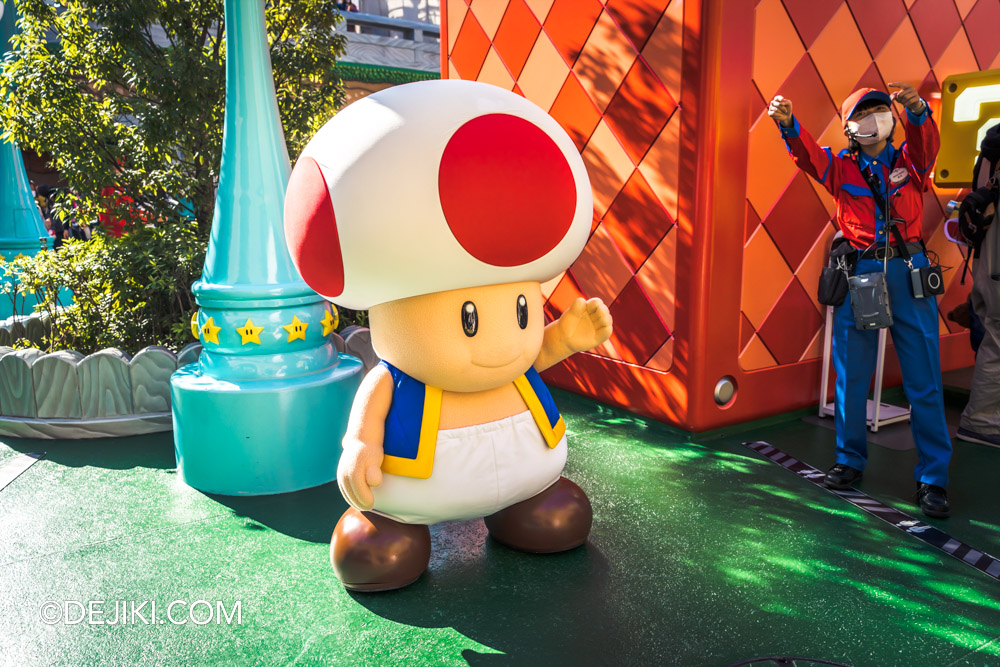 You can also find Kinopio (or Toad) lingering nearby too!
Princess Peach will meet guests at a gazebo near her Castle, at the upper level of Super Nintendo World.
Less than a year after opening, Universal Studios Japan announced the expansion of Super Nintendo World with a Donkey Kong-themed area. This would lead to that area, and the expansion is expected to be ready sometime in 2024. Notably, the expansion will include a new thrill ride that uses a cantilevered roller coaster system.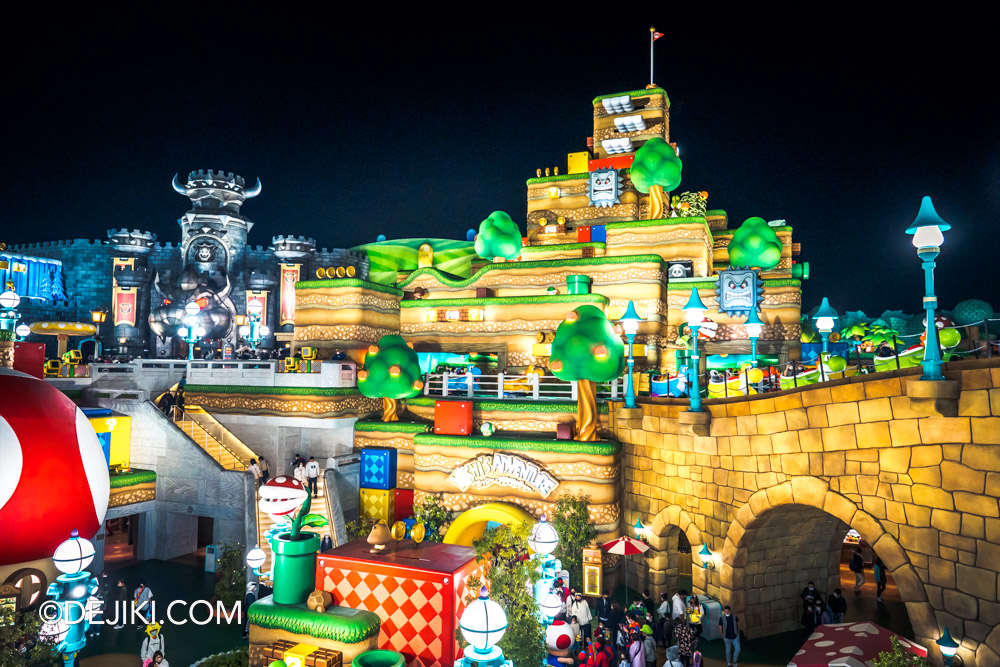 Day or night, the entire area feels very energetic with the environment perpetually moving.
From a design point of view, clever use of stacked structure has packed a lot of facilities within one area – with enough capacity to operate safely, especially with USJ's legendary attendance. You enter from the second level and discover seeing a whole world below. This is not implemented at the Universal Studios Hollywood version of the land, which has the area entrance and its Peach's Castle at ground level. The Yoshi's Adventure attraction is also not built in Hollywood's version, but will be available at Orlando's Epic Universe.
However, all versions of Super Nintendo World will have its interactive features and games, which will be the focus of another upcoming article!
---
Video Highlights: Super Nintendo World
---
Getting to Super Nintendo World at Universal Studios Japan
Super Nintendo World is tucked at the corner of the park, and you'll need to walk through Hollywood and Amity Village zones, towards Waterworld to get there. However, as with all popular attractions and themed zones at Universal Studios Japan, the park may use the Area Timed Entry Ticketing system to manage crowds in Super Nintendo World.
All Area Timed Entry Tickets do not guarantee access to experiences and attractions in Super Nintendo World.
Universal Express Pass (with a Super Nintendo World attraction)
Guests with Universal Express Passes that includes Mario Kart: Koopa's Challenge and/or Yoshi's Adventure would not require a Timed Entry Ticket as their Express Pass would automatically include Timed Entry for Super Nintendo World, which is scheduled before the timeslot to use the Express Pass for the attraction. Please check your Express Pass for the timeslot to enter Super Nintendo World and the attraction.
Super Nintendo World's Timed Entry Ticket System
Depending on the park attendance and crowd conditions, there might be different requirements for entry to Super Nintendo World. You can check the status with the USJ App's Area Timed Entry Ticket section, or at the entrance to Super Nintendo World, near Waterworld. This system is called 整理券 (seiriken) and is commonly used in Japan. For USJ, these are the common statuses that will appear in the app and on-site:
No Area Timed Entry Ticket
During periods with low crowds (e.g. first moments after park opening), there will be no capacity restrictions in the area, and all guests can just walk into Super Nintendo World.
Area Timed Entry Ticket
On a typical day when Super Nintendo World is expected to be crowded, only guests with an Area Timed Entry Ticket may enter the area. To get an Area Timed Entry Ticket, you will need to use the official USJ app to scan your group's park tickets, and pick an available timeslot to visit. Alternatively, you can get a physical ticket from the Central Park (beside the lagoon). You can then enter Super Nintendo World at the chosen time.
You can only have one Area Timed Entry Ticket at any time. So meaning if you wish to visit the area twice in a day, you should pick an earlier slot first, and try again for another one later in the day, if it's available.
Area Standby Entry Ticket (Lottery)
On days with very high attendance, the standard timed entry tickets would not be issued, and the park will use a lottery system instead. Only those selected in the lottery can enter Super Nintendo World at the designated time. If the park has run out of Standby Tickets, the status Standby Ticketing Complete may be displayed.
Out of Timed Entry Ticket
This means that the tickets have run out.
---
Once you've cleared the Entry checkpoint, the path leads you to Superstar Plaza, where you can buy the Power-Up Bands and take photos with the iconic warp pipe and Super Nintendo World sign.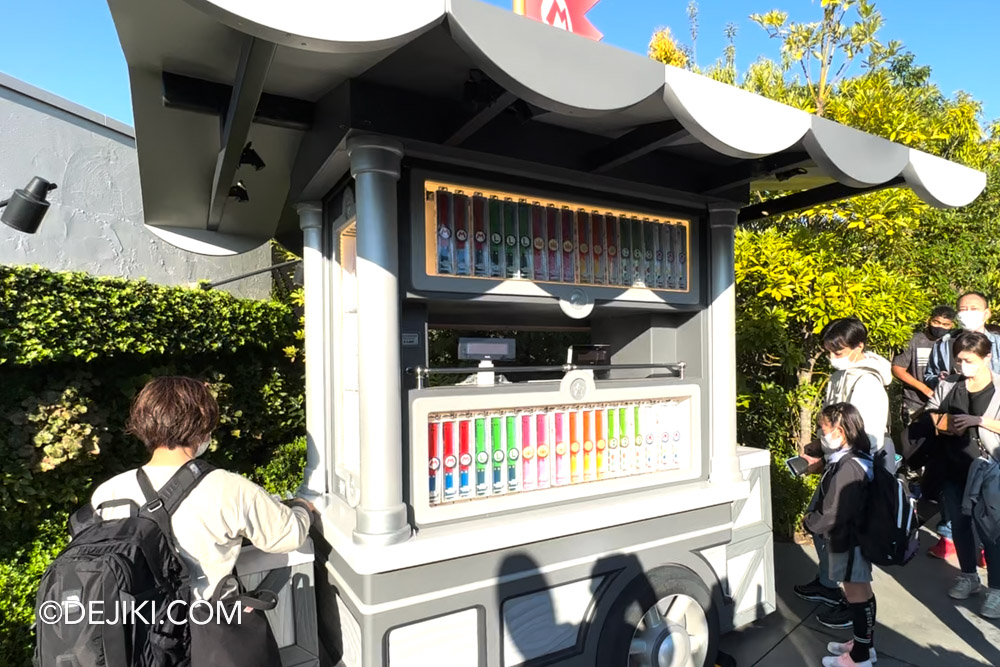 Can I enter Super Nintendo World more than once a day?
Yes. I've entered the area 3 times in a single day, using different methods:
1. Walk-in, during the park's first opening hour (No Area Timed Entry Ticket)
2. Entry via Express Pass in the late morning (Express Pass included Timed Entry Ticket)
3. Entry via Timed Entry Ticket in the evening (Selected timeslot in the App)
Once a Time Entry Ticket has been used and the timeslot has passed, you may request for another one if there are still tickets available.
---
Get your tickets to Universal Studios Japan
Park Admission
To experience Super Nintendo World, you will need an admission ticket (Studio Pass) to enter Universal Studios Japan. After that, you will need to check in the park if an Area Timed-Entry Ticket is required.
Park Admission Ticket
Price
Universal Studios Japan 1-Day Studio Pass (via Klook)

from

S$83
Universal Studios Japan 1.5-Day Studio Pass (via Klook)

from

S$132
Universal Studios Japan 2-Day Studio Pass (via Klook)

from

S$164
(Purchases made via Klook will help support Dejiki.com at no extra cost to you)