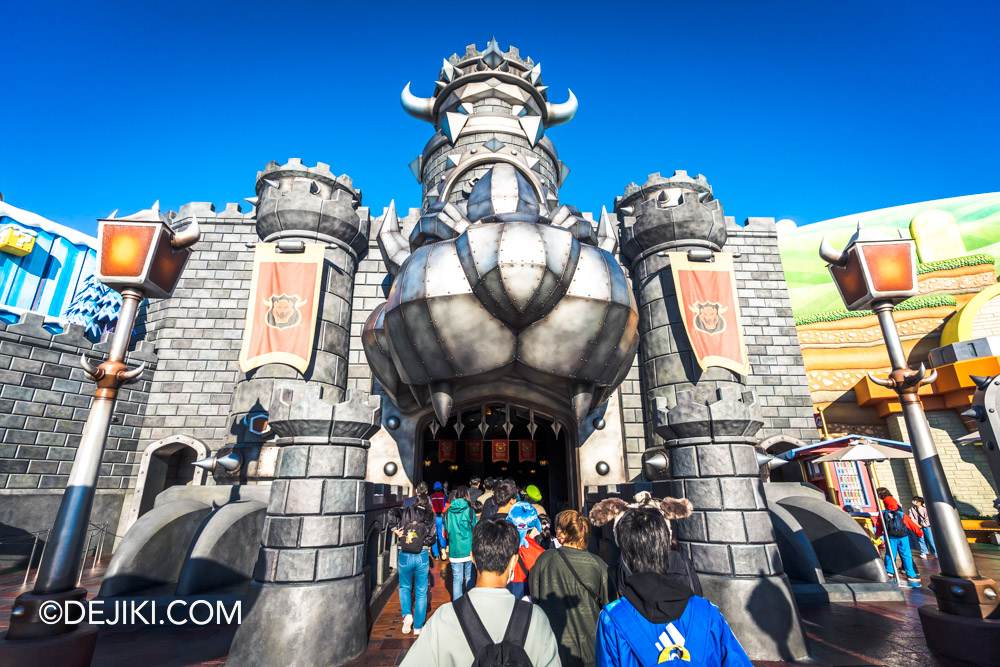 Go on an exciting race through iconic tracks from the Mario Kart games, now brought to life at Super Nintendo World with the magic of augmented reality!
Mario Kart: Koopa's Challenge – Ride Review
(Also known as Mario Kart: Bowser's Challenge at other Universal Studios Parks)
As the headlining attraction at Super Nintendo World, this fancy ride combines several display technologies, with augmented reality as a key driver, combined with projection mapping, screens and environments with SFX lighting. When all put together, it creates an immersive video game environment that simply feels exciting, and more importantly, fun.
Despite the name and fancy promotional videos, this is actually not a kart racing attraction. I would say it is more like an on-rails shooter attraction that takes place in environments inspired by Mario Kart games' race tracks. Don't expect high-speed racing, because the ride vehicles actually move rather slowly, and requires fancy magic of the AR headset, projection mapping and wind effects to make it feel like you're blitzing through the race tracks.
While it's meant to simulate a race, it has nothing to do with driving skill. For a start, each kart has 4 driver seats, and none actually control the movement of the kart.
To win the challenge, you and your fellow kart-mates will need to get a score of at least 100 coins. Along the way, several Quick Time Events (QTE) challenge you to respond quickly and turn the steering wheel at a certain direction to 'drift' – 3 coins for every turn done correctly. And be prepared for visual overload and frenetic moments from Mario Kart games – that aspect has been replicated well enough for this ride to earn its name. It's still a very enjoyable interactive attraction.
You will also earn coins when you hit the rival team's (Team Koopa) racers and other enemies along the way with shells, using buttons on the wheel; not by 'throwing' them with your hand as the extraordinary promo videos suggest. The 'aim' is controlled using your head, so you'll be looking all over the place to find targets – with the AR headset which is cleverly designed to magnetically attach to the fitted visor handed to you in the queue.
The ride is also integrated with the Power-Up Band, with your progress and performance, such as coins collected and game achievements, recorded to your profile. You just need to link your band with the steering wheel after pulling down the lap bar in the kart.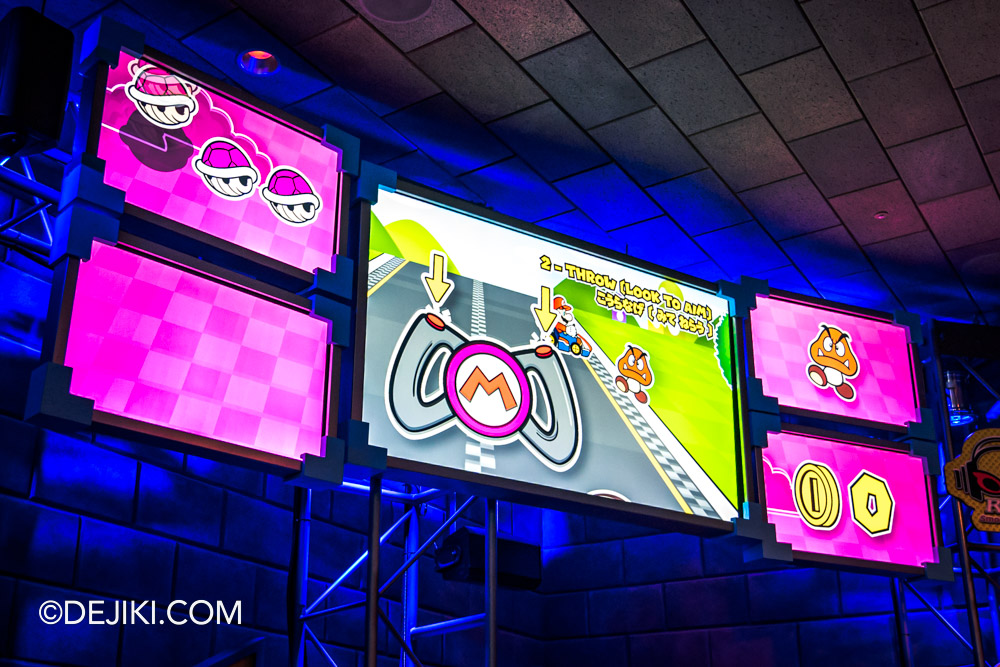 Tech wise, the AR headset's glass has a narrow field of vision, likely to minimise distortion and guest discomfort. Unfortunately as the screens and projection effects are not refreshing at the same frequency (and the visual fidelity for AR is much lower, which is to be expected), it causes the visual experience to often feel disjointed, especially at moments where animations are intended to "pop" from AR to another environment. The ride is full of clever ideas waiting for technology to catch up. Perhaps in the future, with tech upgrades, this could be improved.
With expectations of the attraction out of the way, it's time to really enjoy the themed spaces in this attraction, which are all beautifully designed and amazingly sculpted.
---
Mario Kart: Koopa's Challenge – Tour of Bowser's Castle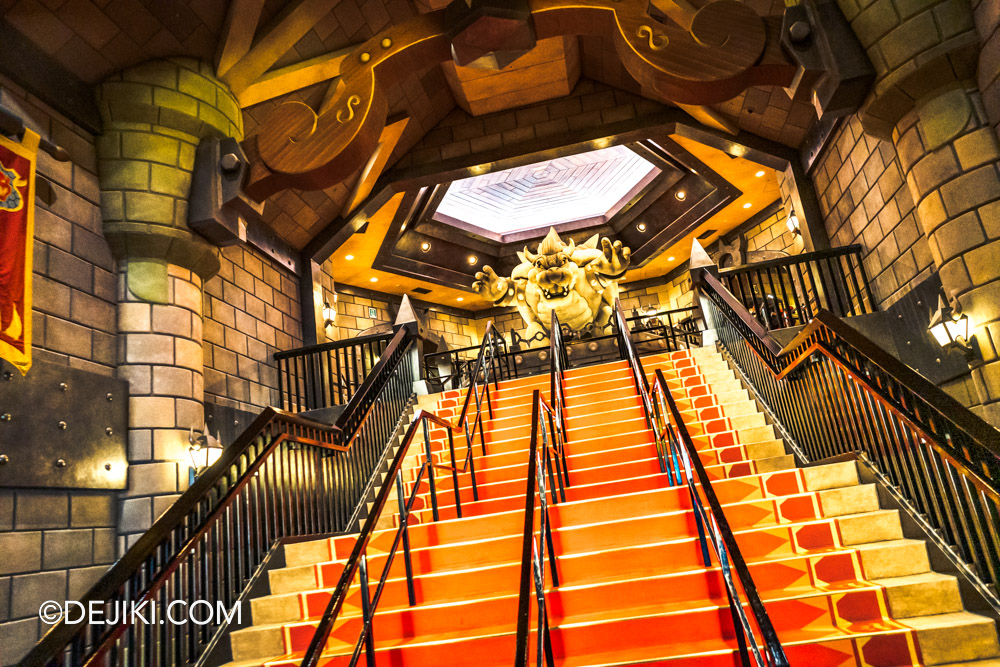 Welcome to Bowser's Castle, where you are greeted by a majestic statue of the King Koopa himself.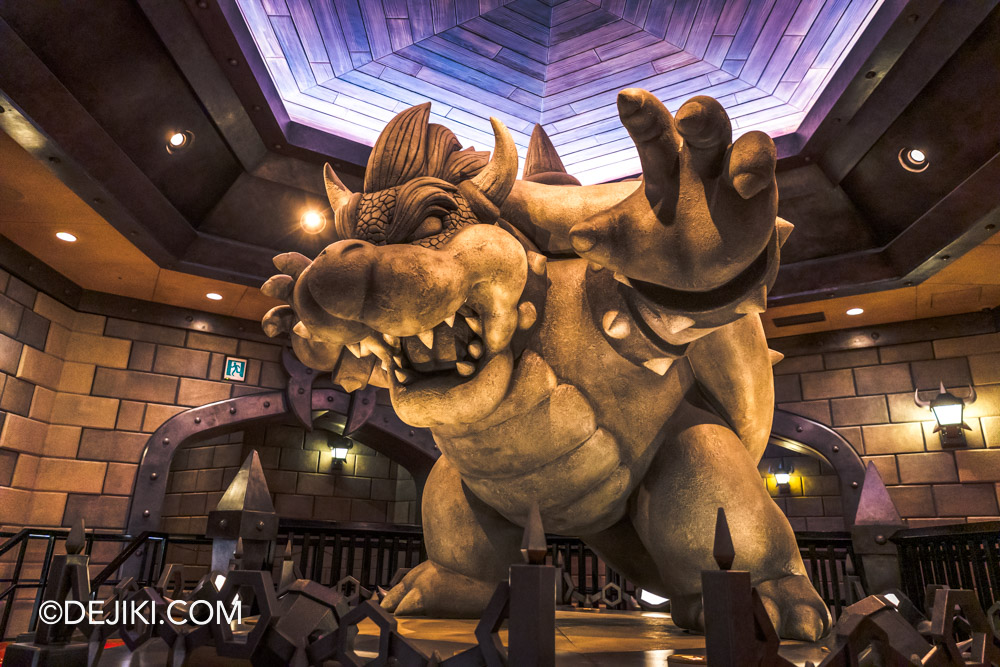 Bowser is Mario's arch-nemesis across the entire Mario universe. Tread carefully as you explore the castle.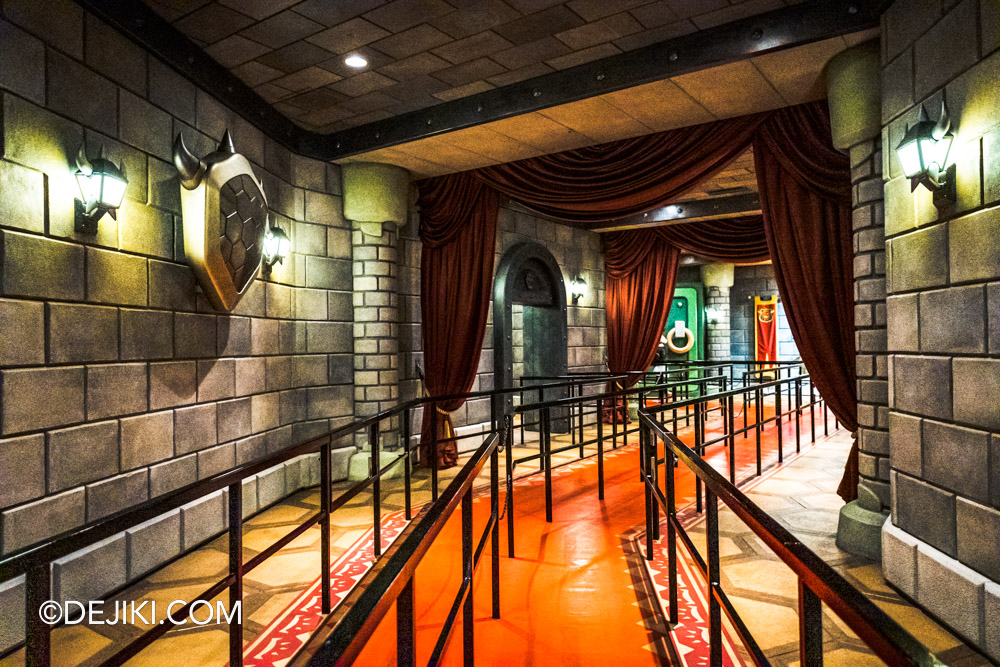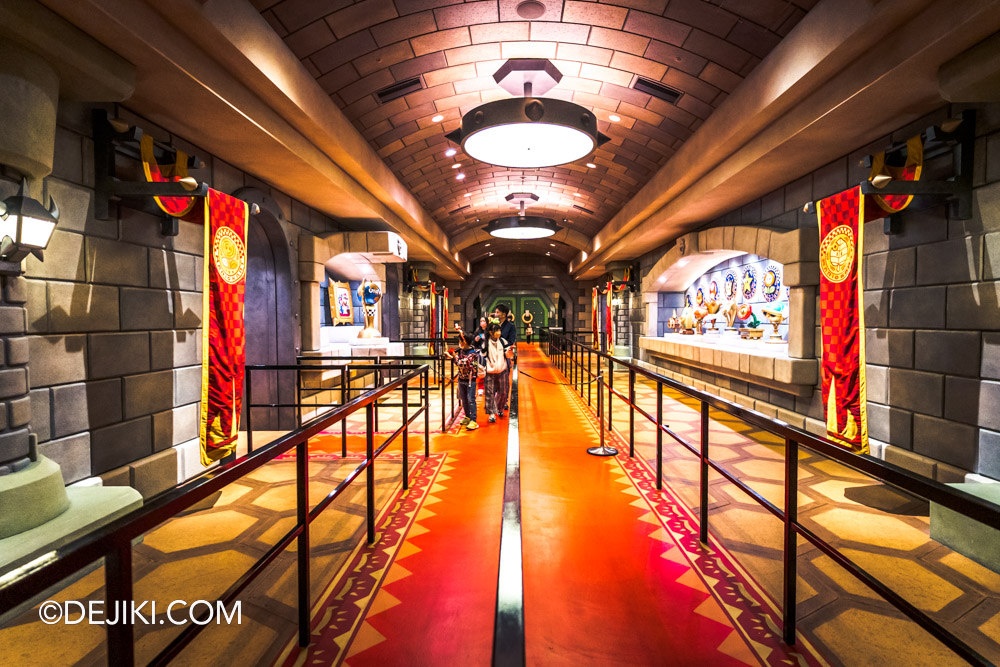 These long corridors would remind fans of Bowser's Castle maps in several games.
Don't miss the various Mario Kart trophies along the way, plus this new one: The Universal Cup!
Depending on the wait time, you may be diverted to an extended queue area which is less fancy, and more like a giant maze.
While kept simple, the queue does feature numerous posters and props from the Mario Kart franchise.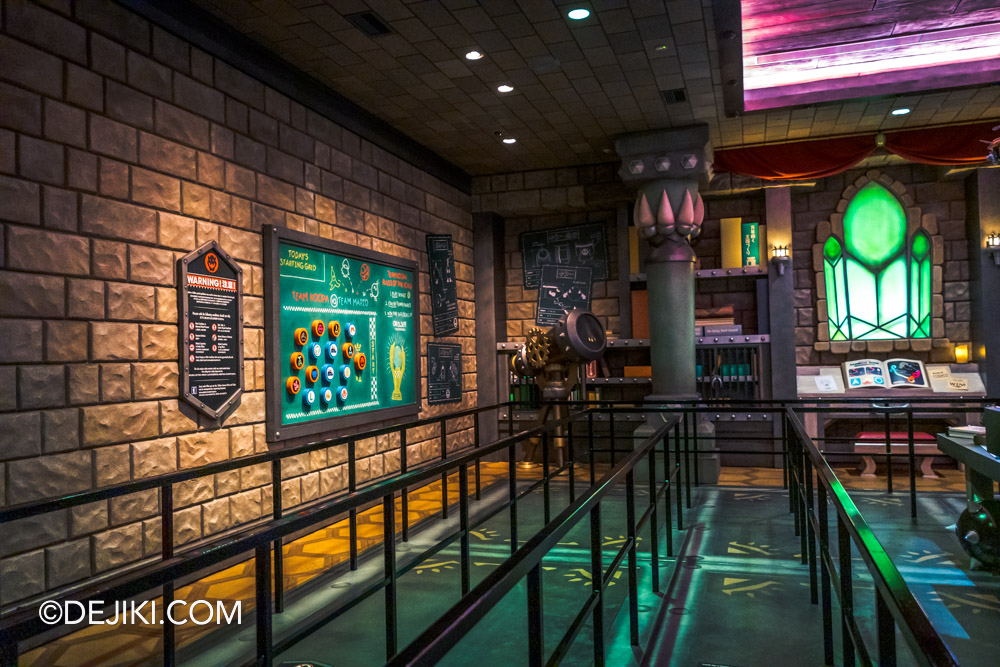 After exiting this maze, you'll end up in Bowser's Study area.
Bowser's strategy: Brute Force to victory!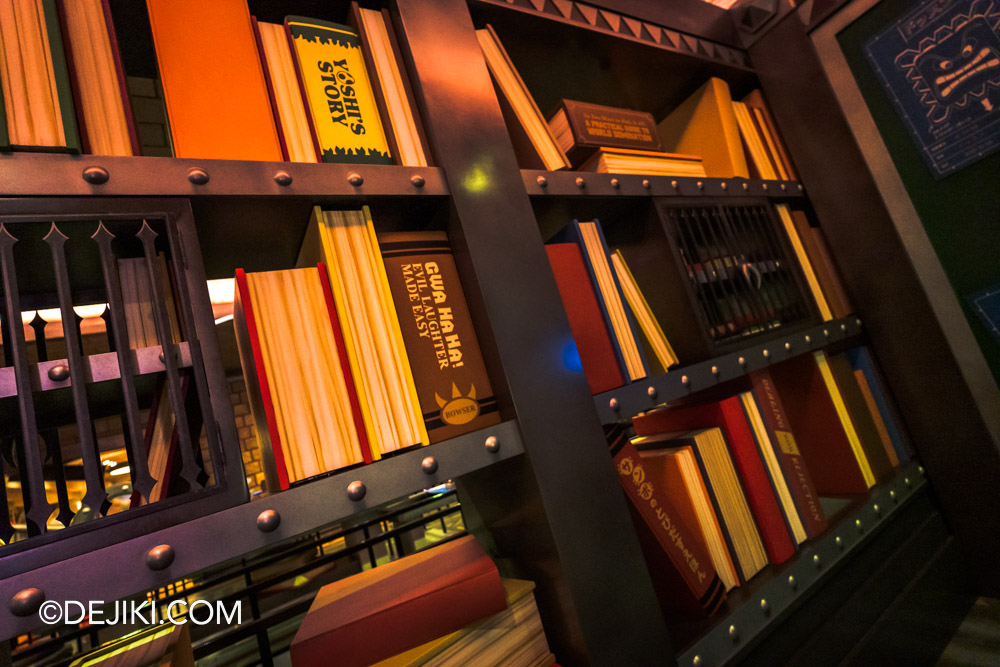 Look out for some interesting book titles and other surprises around the shelves.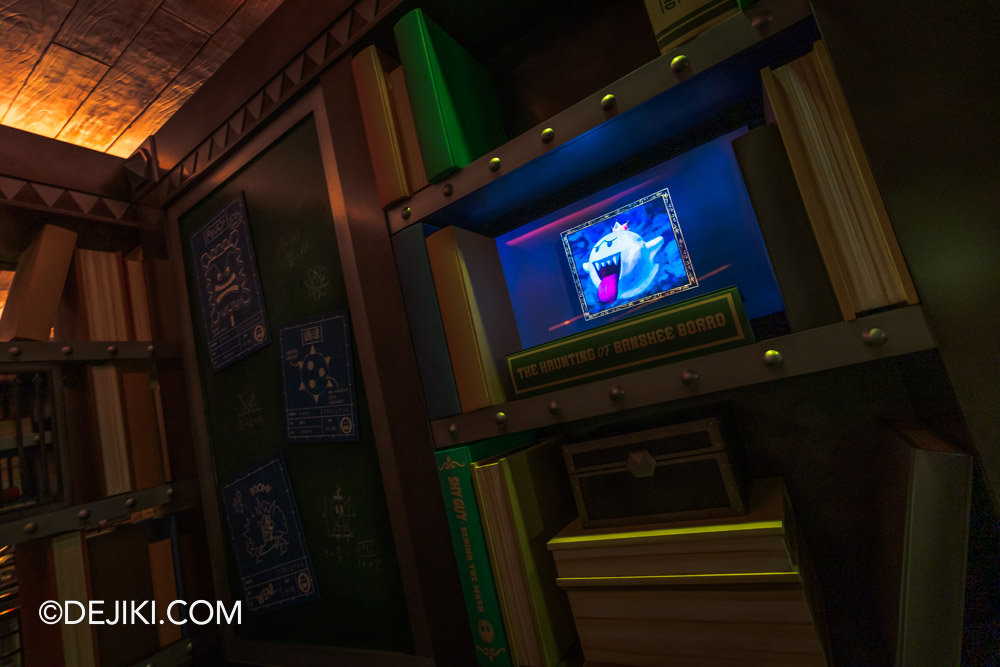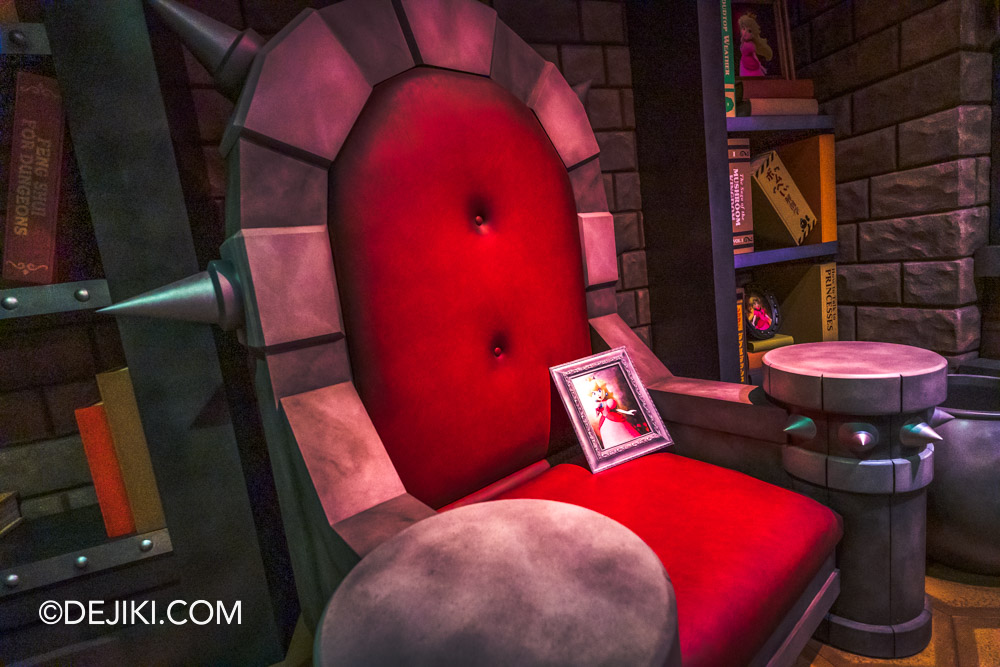 Over the decades of games and media, Bowser is still chasing Princess Peach.
Exiting the study, you find yourself in a noisy factory area where Mecha Koopas, Bob-ombs and Bullet Bills are stored;
As you wait for the line to move, watch how Bob-ombs are made and tuned – it's very amusing.
Over at the next section, crew members are here to hand you visors.
Stylised like Mario's iconic red cap, these visors are to be worn during the ride (or as early as you want in the queue), because the AR headset on the ride vehicle will magnetically attach to it.
You are then ushered into the Mario Kart TV (MKTV) media room, where a myriad of displays showcase the characters and frenzy that's going to happen.
The next pre-show room explains the mechanics of the Mario Kart ride experience – essentially:
– Turn the steering wheel when prompted. Successful drifts will earn coins, up to 3 at every turn.
– Shoot shells (when collected) at Team Koopa racers, enemies, and targets to earn coins.
– Hitting Team Mario racers will not earn coins.
– Riders need to collect at least 100 coins to win.
Check out Team Mario's race kits!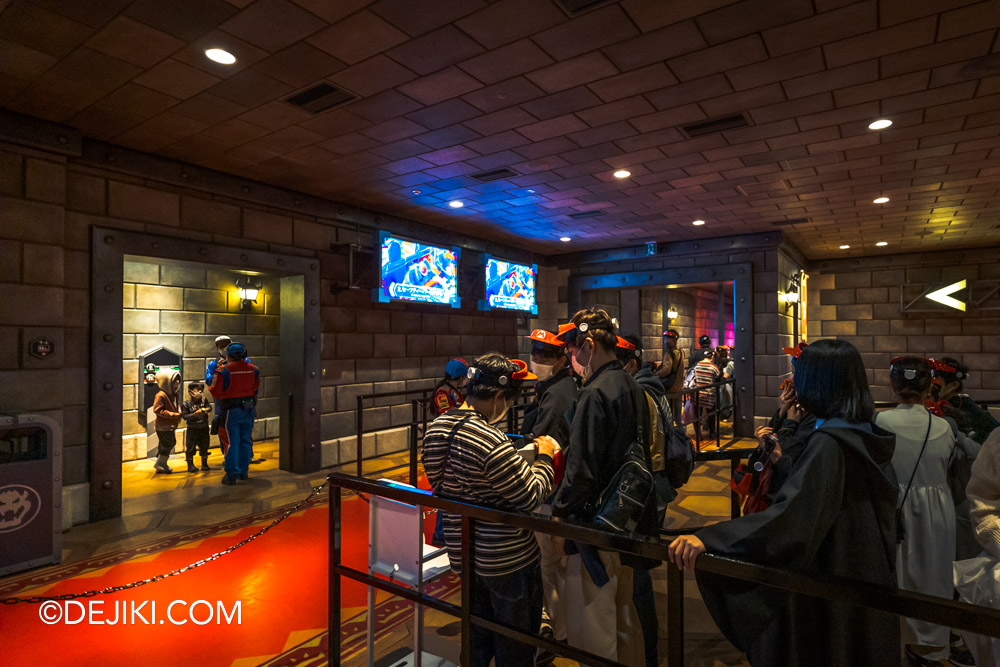 Note: If you chose the Single Rider line, you will skip most of the themed queue environments and pre-shows, and end up here.
Your journey continues through the factory-dungeons, but not for long!
Fun Fact: The Mario Kart show building has 3 levels, with the guest entrance/ exit in the middle level, and the queue taking up most of the third level. So after going up one level (Bowser's Statue), you eventually need to make your way down to the lowest level, where the loading and unloading platforms are.
After the ride, you will need to walk up the stairs back to the middle level and exit through the Mario Motors store.
Finally, you see the Karts, you're nearly at the race!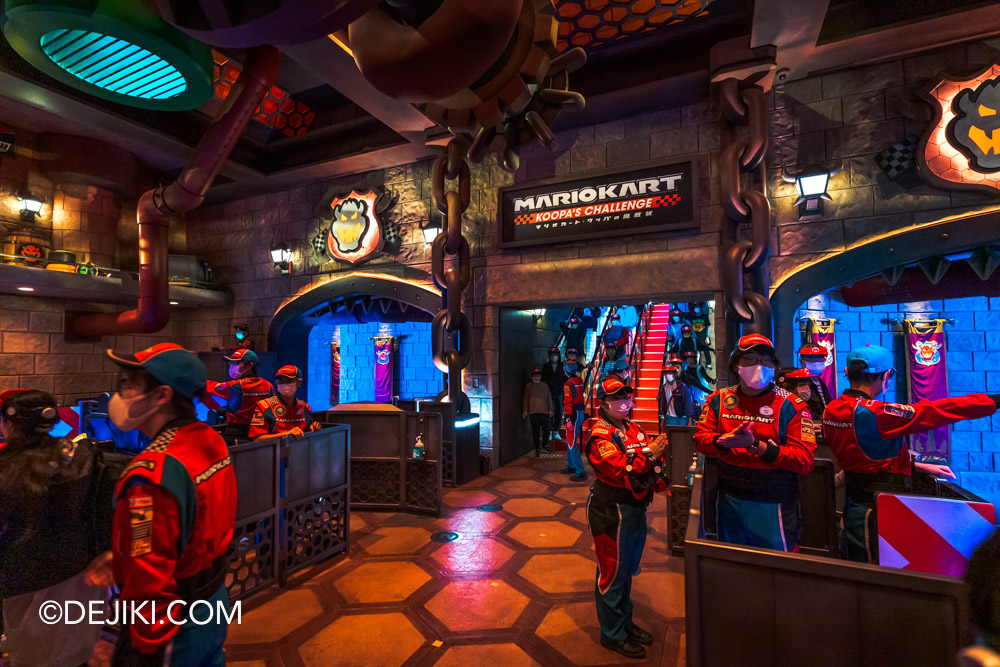 Mario Kart: Koopa's Challenge uses dual platforms for loading/ unloading, with 4 ride vehicles (16 guests) dispatched for each race. It's always so busy. The karts' design take on the anti-gravity mode from Mario Kart 8, with wheels turned sideways, and feature glowing strips, just like the game.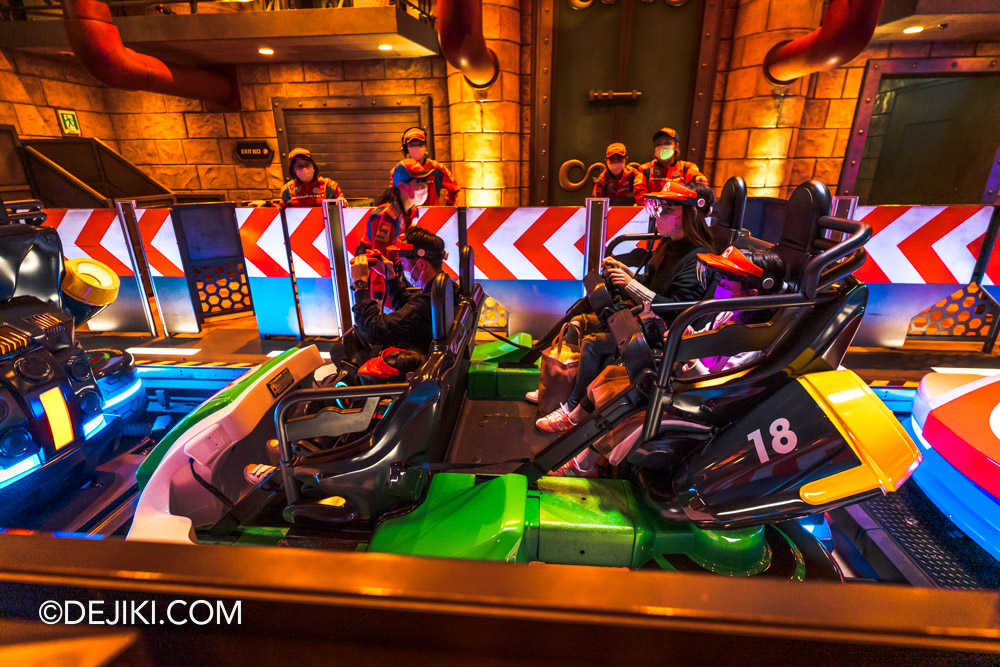 Strap in, wave your Power-UP Band at the 'M' logo on the steering wheel, and you're good to go! The race will bring you through environments inspired by Mario Kart games, including: Bowser's Castle, Piranha Plant Slide, Dolphin Shoals, Twisted Mansion, Cloudtop Cruise, Grumble Volcano, and Rainbow Road.
---
Get your tickets to Universal Studios Japan
Park Admission
To experience Super Nintendo World, you will need an admission ticket (Studio Pass) to enter Universal Studios Japan. After that, you will need to check in the park if an Area Timed-Entry Ticket is required. For more details, jump to the Super Nintendo World overview article.
Park Admission Ticket
Price
Universal Studios Japan 1-Day Studio Pass (via Klook)

from

S$83
Universal Studios Japan 1.5-Day Studio Pass (via Klook)

from

S$132
Universal Studios Japan 2-Day Studio Pass (via Klook)

from

S$164
(Purchases made via Klook will help support Dejiki.com at no extra cost to you)