Super Nintendo World is also filled with adorable fun activities for all: Yoshi's Adventure, Kinopio's Cafe (Toad's Cafe), many other themed food and of course, the shopping experience at Universal Studios Jpaan!
Yoshi's Adventure ride
Unlike the action-packed Mario Kart: Koopa's Challenge attraction, Yoshi's Adventure is a gentle, family-friendly outdoor ride that brings you on a short adventure around the upper level of Super Nintendo World. This is an omnimover-style ride where the ride vehicles are all in a loop, moving slowly on the track. You will board your own Yoshi from a rotating platform.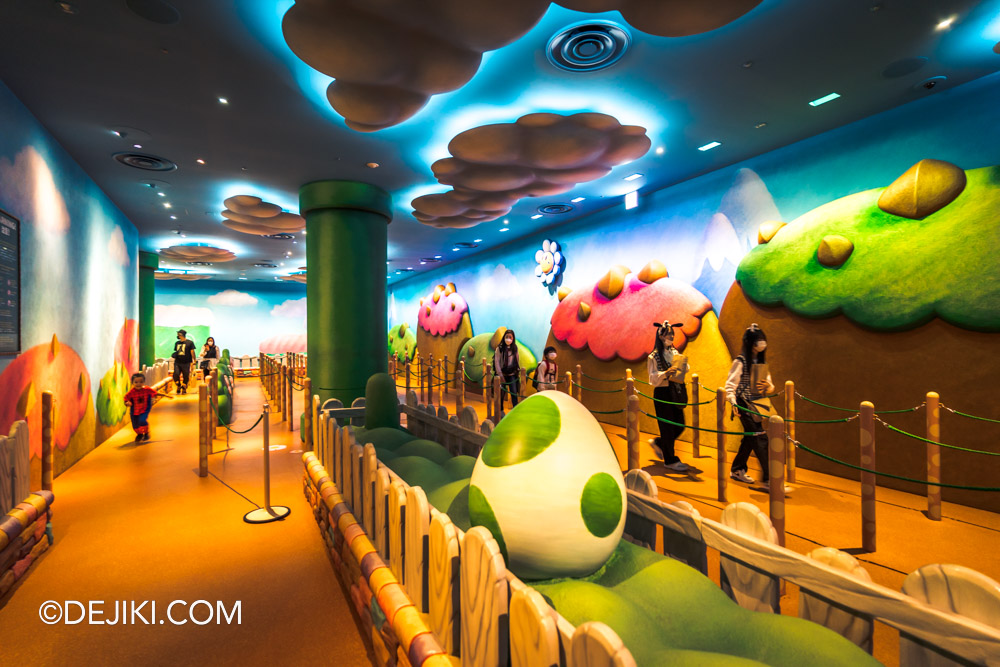 The queue inside Mount Beanpole is beautifully designed and takes on a different look from outside – with softer shapes and colours, reflecting the Yoshi games' art direction. Enjoy rearranged music from the Yoshi games as you wait in line.
Along the way, you'll meet Toadette who shares more about Yoshi's Adventure, and reminds you to look out for Captain Toad (I suppose, as I had to move quickly through this area…)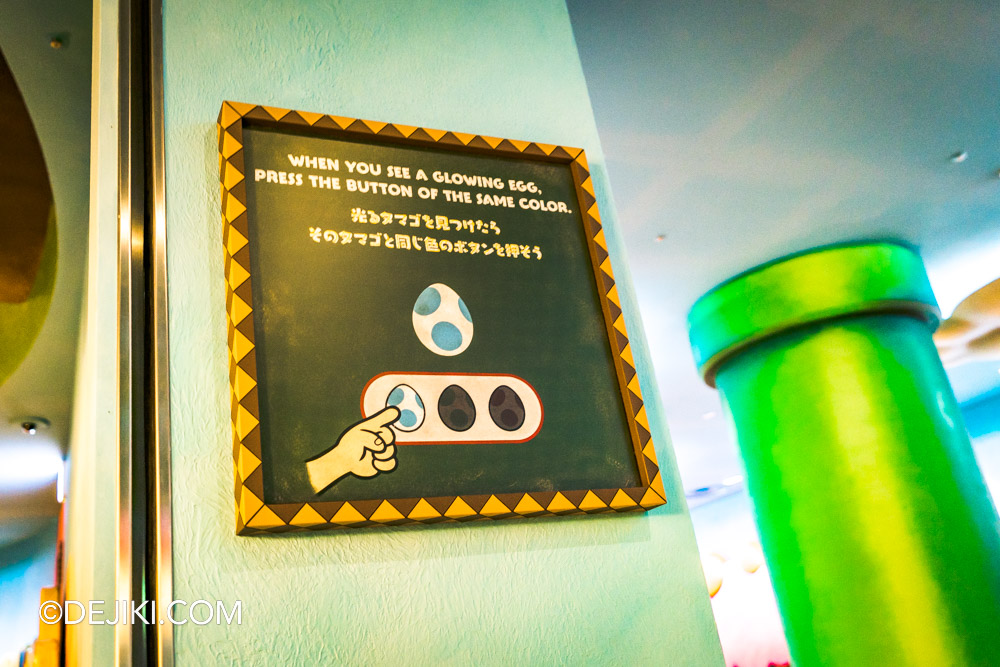 While on your adventure, you'll have to look out for three special eggs, and press on the egg buttons in your Yoshi ride vehicle when you see them!
This feature appears to capture your ride count on this attraction for the "Yoshi's Adventure" stamp collection in the Power-Up Band game profile. Apart from the ride, there is a unique Egg Block in the queue which awards special virtual Stamps for your profile.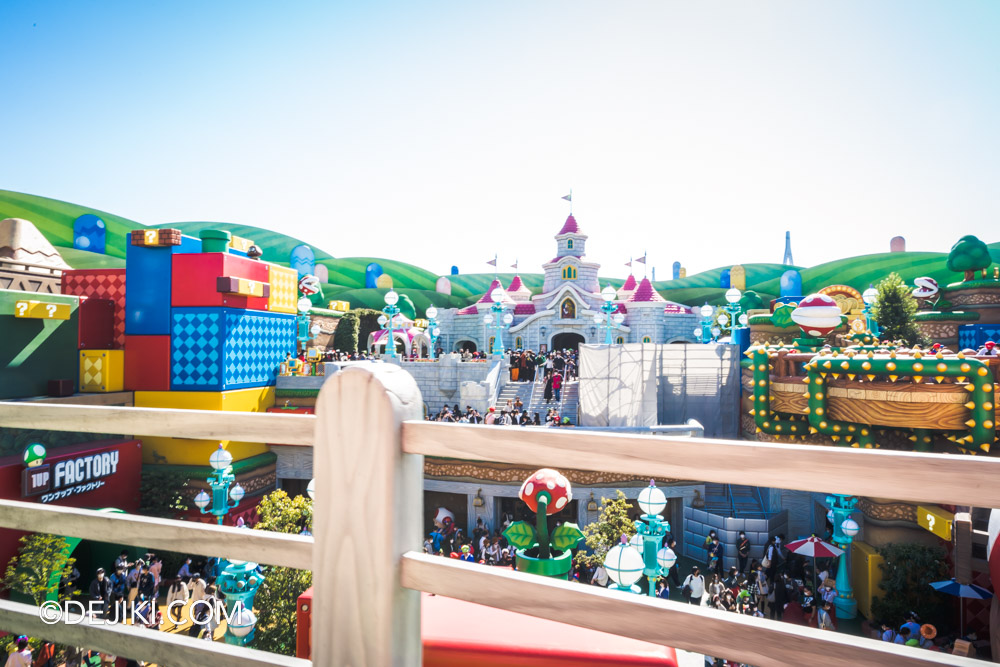 Once outside, you can take in a unique view of Super Nintendo World, as there's no other way to see the Mushroom Kingdom from this side!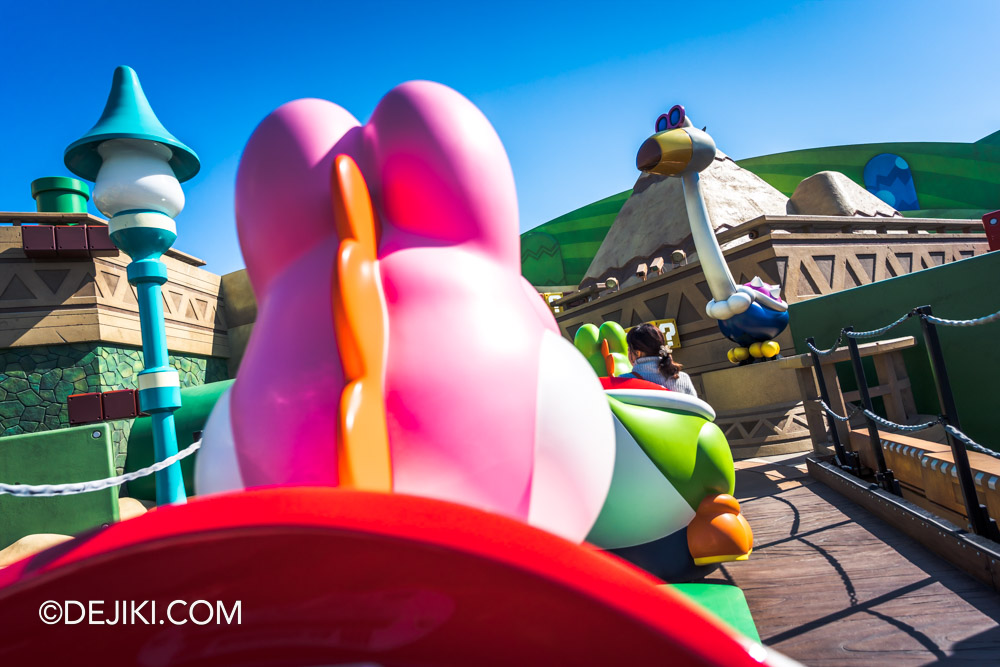 Likely for safety reasons, the park has added more barriers and ropes along the outdoor section after Super Nintendo World has opened. Unfortunately this impacts the experience of the ride.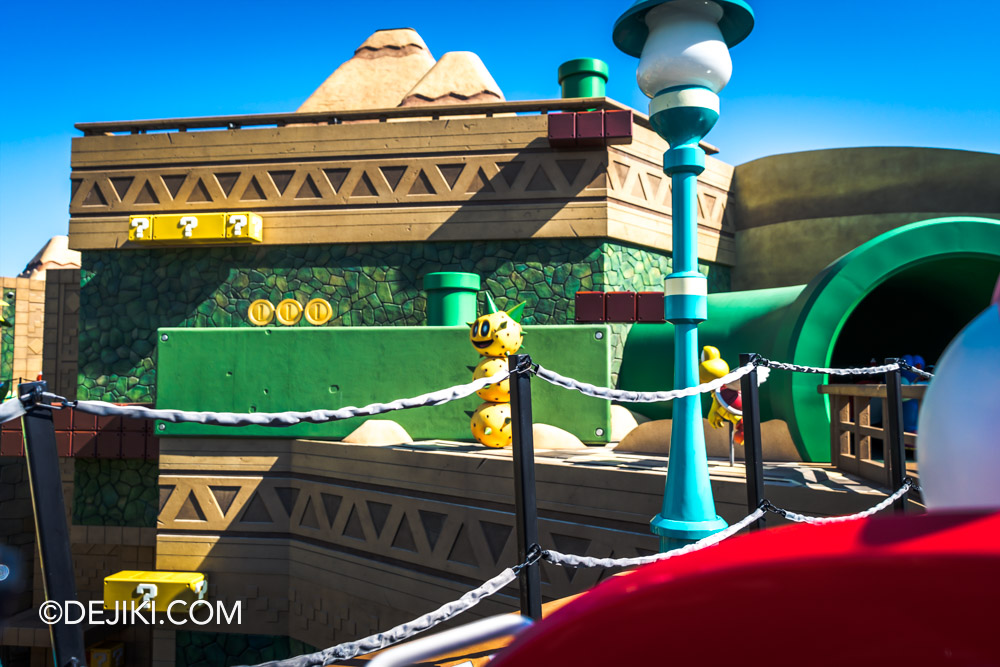 The warp pipe transports you to another space… a brief indoor section in this adventure.
You find Yoshi transporting Baby Mario. Spot the Kamek behind? Take note of the egg that it's carrying!
Before you warp into another world, you'll see a pink Yoshi with Baby Princess Peach!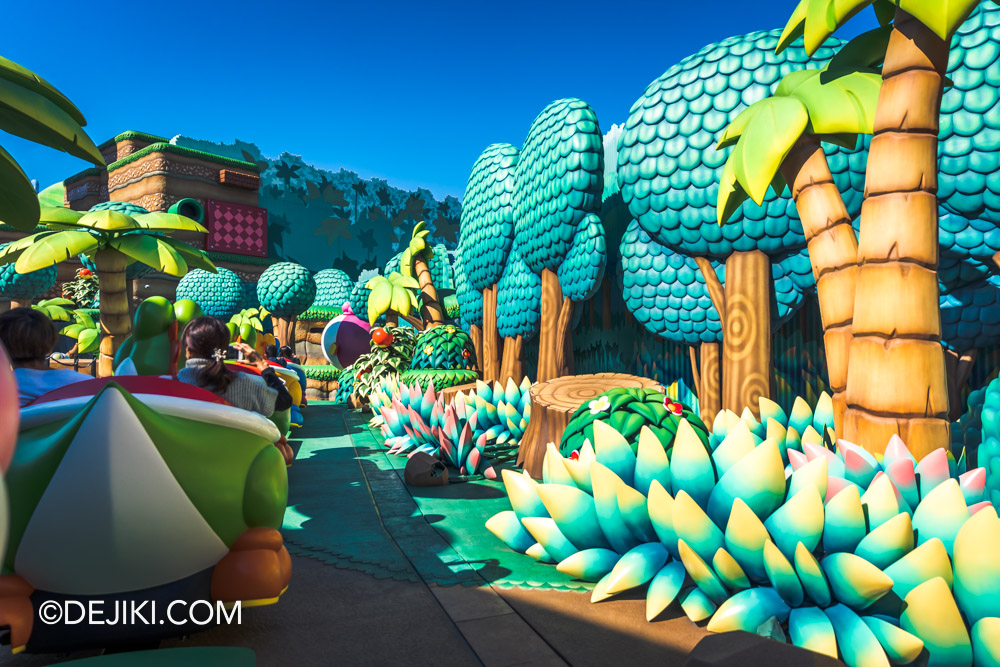 Back outdoors – with some baby Yoshis in the wild.
And then you'll find Captain Toad, and the treasure he has found – the Golden Egg!
---
Kinopio's Cafe (Toad's Cafe)
While he isn't out hunting for treasure or meeting guests for photos, Toad (Kinopio) spends the rest of his time running his restaurant: Kinopio's Cafe.
The unmistakable Mushroom-shaped house at the lower level transports you into a surprisingly huge restaurant – cleverly integrated into the land's stacked design.
This is the only restaurant in Super Nintendo World, and it's very, very busy. Sometimes you can't even join the line to get in, and Timed Entry Tickets will be issued at the restaurant entrance.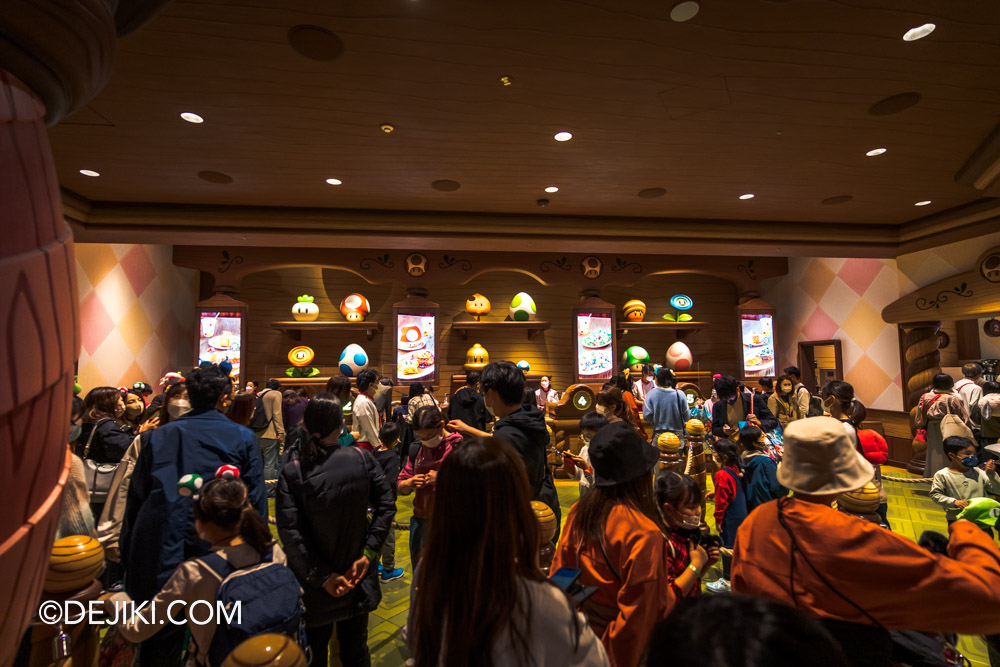 Once inside, it could be another 30 to 60 minutes wait. Don't forget to tap your Power-Up band on the 'presents'. The space allocated for the queue is huge, but good thing is the line is always moving – though at a slow pace during peak periods.
Although the official park website has a menu, it's only the tip of the iceberg. What's actually available on the menu (and the updated prices), are on these menus in the park. Kinopio's Cafe is a quick service restaurant with meals served to your table. After ordering, you will be handed a numbered 'block' that you have to place on the assigned table.
One thing to take note, you can't return here to order more items. So basically you have to order everything right here, right now. There's no dining time limit, so order away and take your time to enjoy your meal!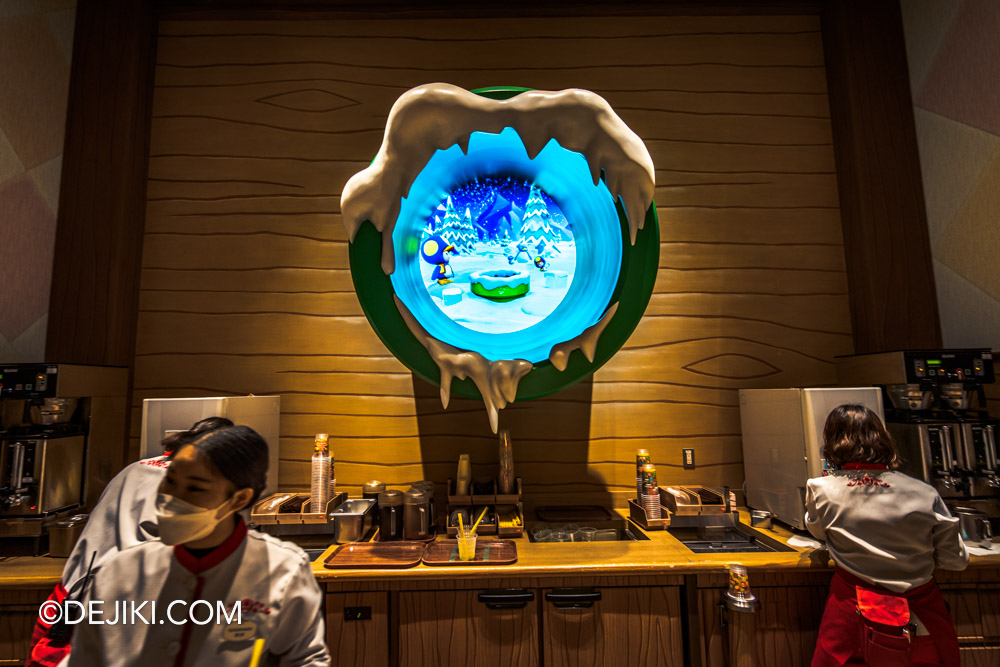 While meals are served to your table (and table is assigned based on availability and group size), you will first need to collect your drinks from this counter, which features an amusing animation of Toad and friends "collecting ice cubes" for your drinks. After this you will be guided by the cafe crew to your table.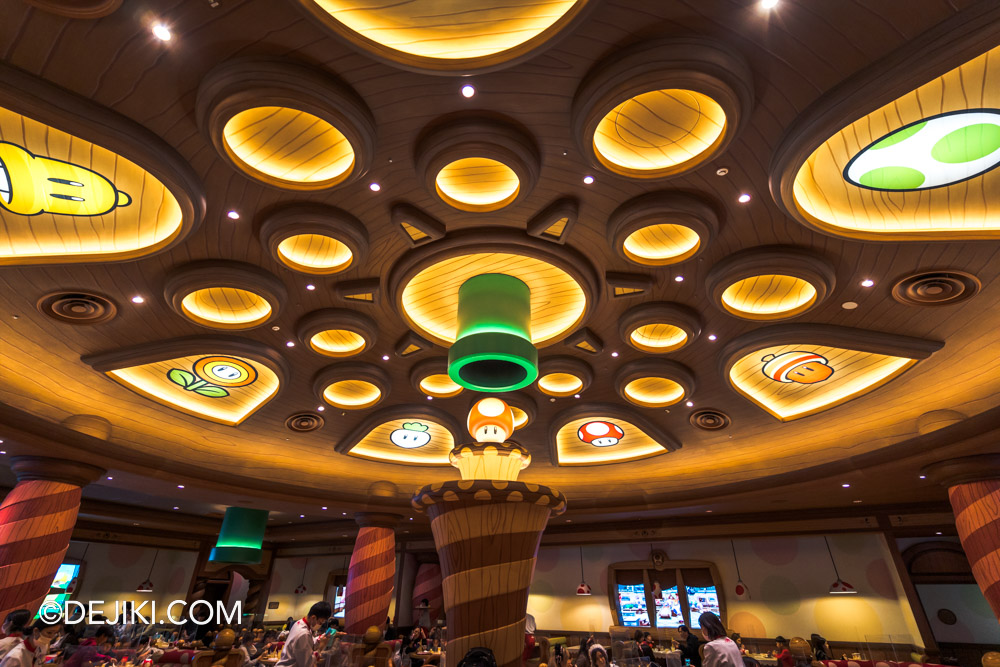 The dining hall has many sections, but in the middle of it all is the Super Mushroom.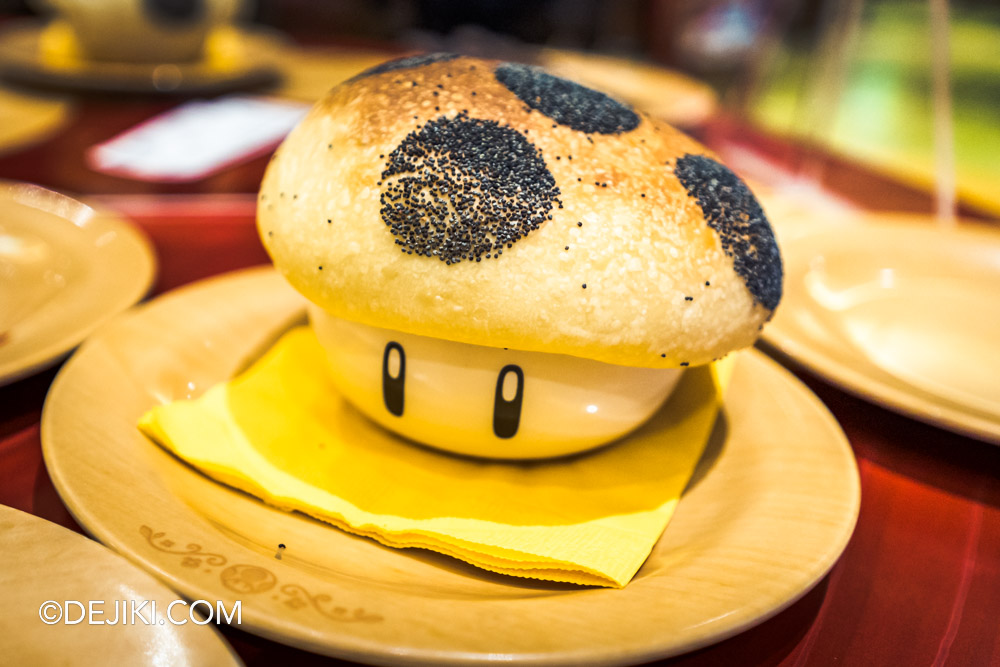 As for the food, popular choices include the Super Mushroom Pizza Bowl JPY1,600 (~S$16), which features a very thick pizza top which you have to peel away to reveal the mushroom and tomato-based sauce within.
Teriyaki Chicken & Super Star Rice – JPY2,200 (~S$22) is probably one of my favourite main dishes in the park. You can't go wrong with teriyaki chicken, and the rice is very tasty.
King Bowser Hamburger Steak – JPY2,400 (~S$24) is served with either bread or rice. It's a hamburg steak so don't expect much.
? Block Tiramisu – JPY800 (~S$8). You won't know which 'Power-up' you'll get! Pair it with the Super Star Lemon Squash JPY650 (~S$6.5), which I found too be too sweet.
Goal Pole Cake – JPY800 (~S$8), which resembles the Mount Beanpole outside.
---
Yoshi's Snack Island
You can also grab more snacks at Yoshi's Snack Island, located at the base of Mount Beanpole towards the entrance to the upcoming Donkey Kong area.
Green Shell Calzone – JPY800 (~S$8), with a scrumptious yakisoba filling, this brings back good memories of the delicious snacks at Tokyo Disney Resort.
Yoshi's Lassi Strawberry – JPY700 (~S$7), a refreshing drink in a cute cup.
---
1UP Factory
My advice is to have your Nintendo World shopping spree at the 1UP Factory megastore, located at the lower level of Super Nintendo World.
This store can feel very overwhelming as it's typically busy all the time. Thankfully, almost all the payment counters are staffed most of the time, so the checkout lines move quickly.
For a sample of what's available, check out the Official Website. There's probably nearly a hundred unique items to buy here, and it's too much to list (plus the price keeps changing).
While seasonal merchandise, such as the new Christmas collection, is also available here, there are some items that you can only find in other stores, such as the Mario Kart-specific items at Mario Motors (Upper Level, beside the Mario Kart attraction) and the '8-bit Super Mario Bros.' and 'Whose Cap?' collections outside Super Nintendo World.
The great thing about shopping in the park is that credit cards are widely accepted, whether by chip or contactless methods. Do all of your shopping in the park and remember to keep your receipts for tax refund – read more below!
---
Meanwhile, since we're on the topic of Nintendo-themed food and merchandise…
There's actually more Nintendo-themed merchandise available inside the park (at Hollywood zone), and also at the Universal Studios Store outside the park at Universal Citywalk Osaka.
If you somehow couldn't get into Super Nintendo World, consider this your consolation prize.
Mario Cafe & Store (Outside Super Nintendo World at Hollywood zone)
At the open street near Hollywood Dream: The Ride, the Mario Cafe & Store offers some sweet treats and merchandise based on the 'Whose Cap?' line. This cafe and store opened before Super Nintendo World.
Mario's Cap Strawberry Shortcake and Luigi's Cap Grape No-Bake Cheesecake – JPY700 (~S$7) each.
Mario's Strawberry Soda and Luigi's Green Apple Soda – JPY600 (~S$6) each.
One thing to note is you are not allowed to dine in the cafe itself (yes…) because the whole area is decorated for the sole purpose of photo taking only. In the end, we sat down at the outdoor area of Mel's Drive-In nearby to enjoy these desserts and watch the action happening at the park's Halloween Horror Nights.
---
Tip: Tax Refund for Tourists
Universal Studios Japan offers tax-free shopping for tourists. While the process is not that straightforward, all you really need to do is bring your passport, purchased items and all receipts to the Tax Refund Counter (located at Studio Gifts West, near the park entrance) and the staff will do the rest. You will get the refund in cash, regardless of payment method. If you don't have all of the required items, then you cannot claim tax refund.
Also if the counter is closed because the park has technically closed, then you also cannot return the next day to process your claim, even if you have park admission for the other day.
You can only claim back 6.7% on qualifying items (and not the full 10% consumption tax), if you are eligible and the purchase total is at least JPY5,000. All items are considered consumables and will be sealed in clear bags at the Counters, which you are not supposed to open until you have departed Japan.
Interestingly, Super Nintendo World Power-Up Bands are tax-refundable, and the staff will repackage them into boxes at the Counter. Food items that are meant to be consumed in the park (such as Popcorn Buckets) are excluded from tax refund. Only the souvenir boxed food items qualify.
---
Get your tickets to Universal Studios Japan
Park Admission
To experience Super Nintendo World, you will need an admission ticket (Studio Pass) to enter Universal Studios Japan. After that, you will need to check in the park if an Area Timed-Entry Ticket is required. For more details, jump to the Super Nintendo World overview article.
Park Admission Ticket
Price
Universal Studios Japan 1-Day Studio Pass (via Klook)

from

S$83
Universal Studios Japan 1.5-Day Studio Pass (via Klook)

from

S$132
Universal Studios Japan 2-Day Studio Pass (via Klook)

from

S$164
(Purchases made via Klook will help support Dejiki.com at no extra cost to you)