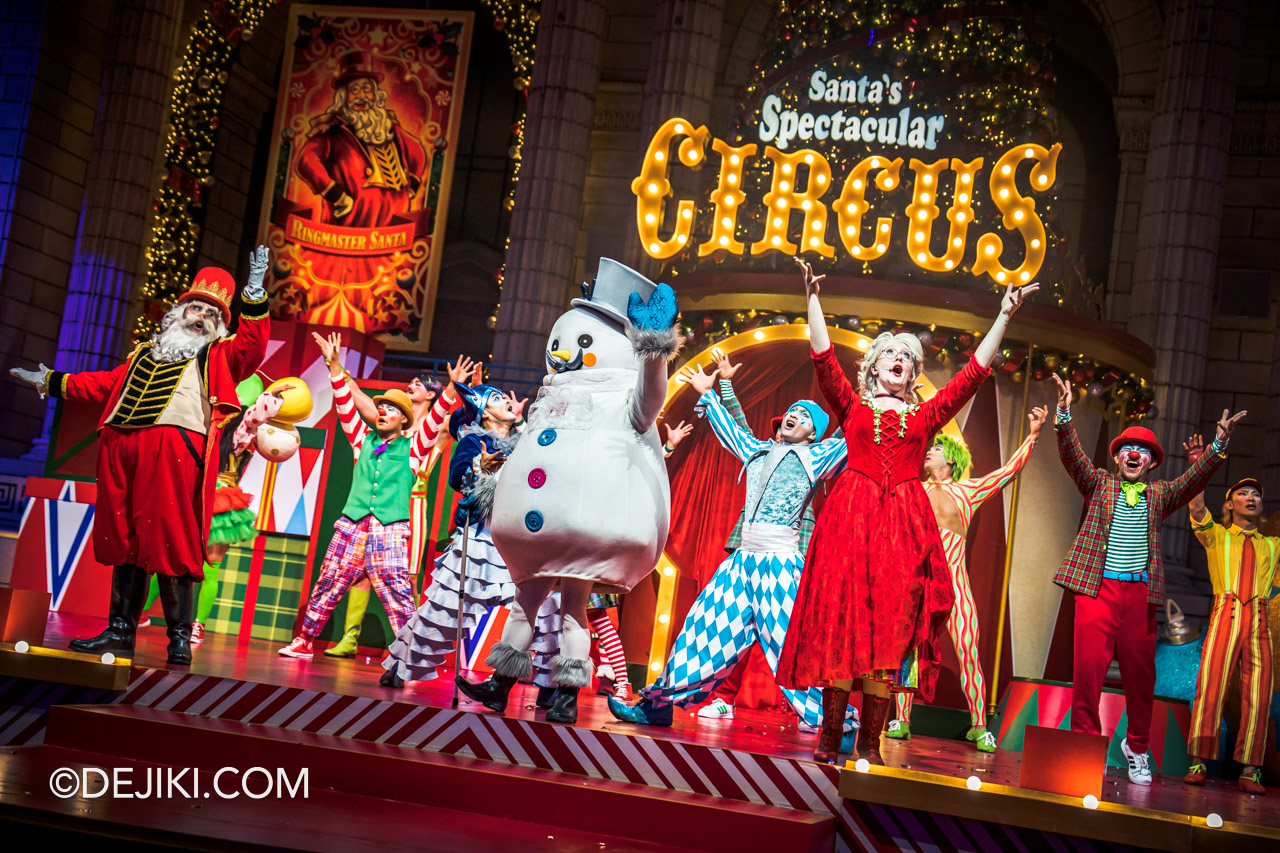 Discover the wonders of Santa's Spectacular Circus at Universal Studios Singapore's event for the Christmas season.
A Universal Christmas 2022 event
A Universal Christmas returns to Universal Studios Singapore this holiday season, with a Circus spin to the festivities. Not to be missed is a new stage show at New York zone, Santa's Circus Extravaganza, which also has a mini pre-show parade along the street.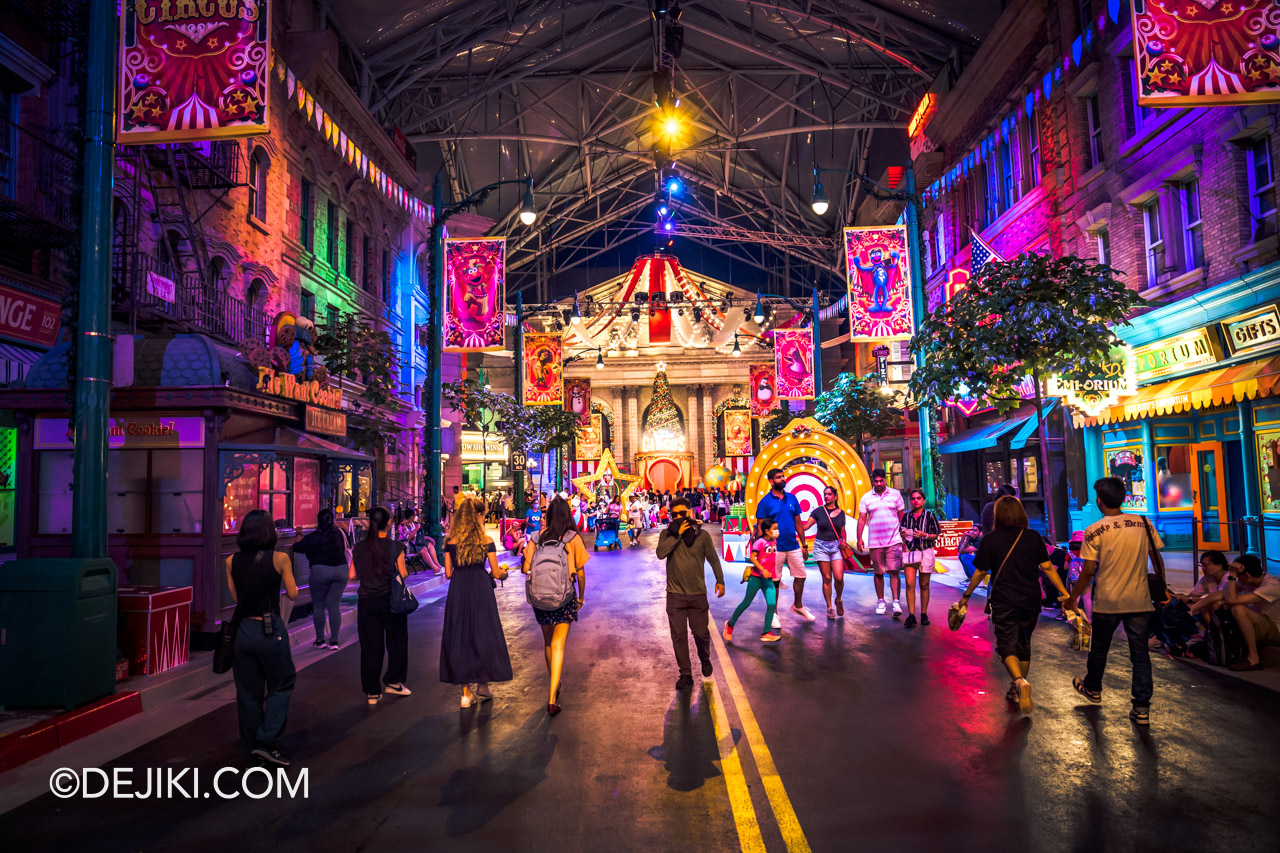 A Universal Christmas 2022 – Park Hours and Tickets
During A Universal Christmas 2022 event period (from now till 2 January 2023), the park will be open daily from 11AM to 8PM. Guests can enjoy all shows, Meet & Greets featured in this article with a park ticket:
Universal Studios Singapore Park Ticket
Price

A UNIVERSAL CHRISTMAS 2022


Included with USS Daytime Park Admission
+ Christmas Treats voucher* – S$20 (Adult)/ S$10 (Child)
+ S$5 Retail voucher**
$101.95/ 81.15
(Adult/ Child)
Book via Klook »

A UNIVERSAL CHRISTMAS 2022


Included with USS Daytime Park Admission
+ Christmas Treats voucher* – S$20 (Adult)/ S$10 (Child)
+ S$5 Retail voucher**
$98/ 78
(Adult/ Child)
RWS website »
* Redeemable at selected restaurants and food carts in the park.
** Redeemable at shops in the park except carnival games
---
A UNIVERSAL CHRISTMAS 2022 Vlog
Watch this vlog for video highlights of A UNIVERSAL CHRISTMAS and other stuff from the December 2022 USS park update!
---
A Universal Christmas 2022 event highlights
During this event, you can enjoy a handful of new shows at the park.
Santa's Starlets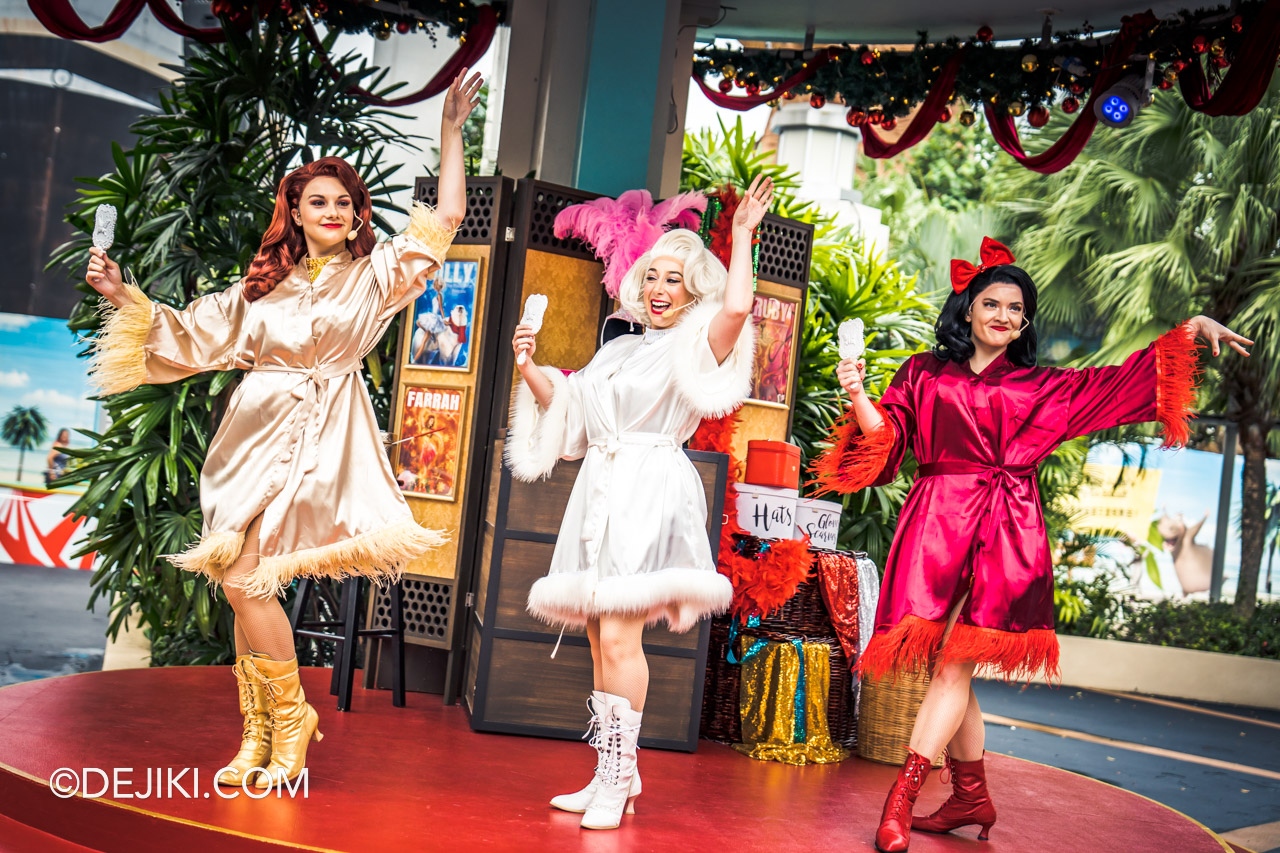 Catch the Starlets (Farrah, Polly and Ruby) as they each try to outdo each other in the competition to be Santa's next star!
The show takes place as a refreshed Mel's Stage, with red flooring and a new marquee.
---
Santa's Circus Extravaganza
Over at New York zone, where Ringmaster Santa set up his Circus, you can enjoy the Grand Parade where over 40 characters will walk down New York, and the new stage show, Santa's Circus Extravaganza, starting right after.
In this 20-minute show, watch as the circus troupe members dazzle with their acrobatic tricks and special acts.
The first act after the big intro: The Minions and Jolly Jumpers.
Unfortunately, the Circus loses power during the show, and the Naughty and Nice List goes missing. Mrs Claus quickly figures out who is behind it all.
Jack Frost arrives, with a plan to take over Santa's Circus.
Santa finds a way to resolve the situation, melting away the Christmas blues…
Of course, listening to Mrs Claus' advice, Santa relents and finds a new purpose for Jack, transforming him into Jack Frosty the Snowman. Cue heart-warming songs and enchanting snowfall as everyone gathers for this magical holiday moment.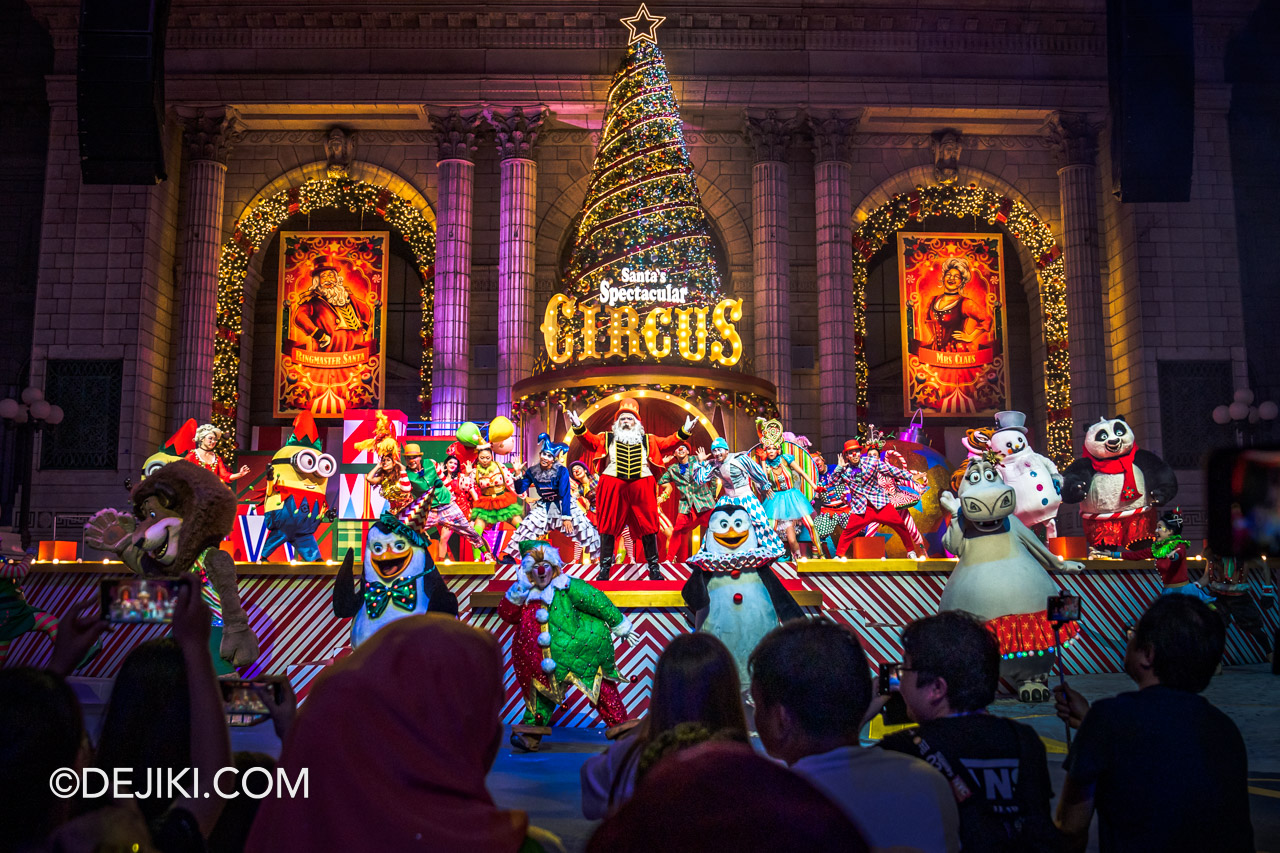 Just when you thought the show's over, even more characters join for the grand finale.
This is then followed by a longer, almost blizzard-like snowfall that is truly wondrous.
Watch a video of the Santa's Circus Extravaganza show here:
---
The Christmas Carnies
Before watching the parade and show, meet various characters from Santa's Spectacular Circus at Meet & Greets happening throughout the day around the park.
In Hollywood, you can meet and chat with The Christmas Carnies, including the colourful Barker, Candy Cate and the macho Strongman Sam.
---
2022 Christmas Meet & Greet at Hollywood stage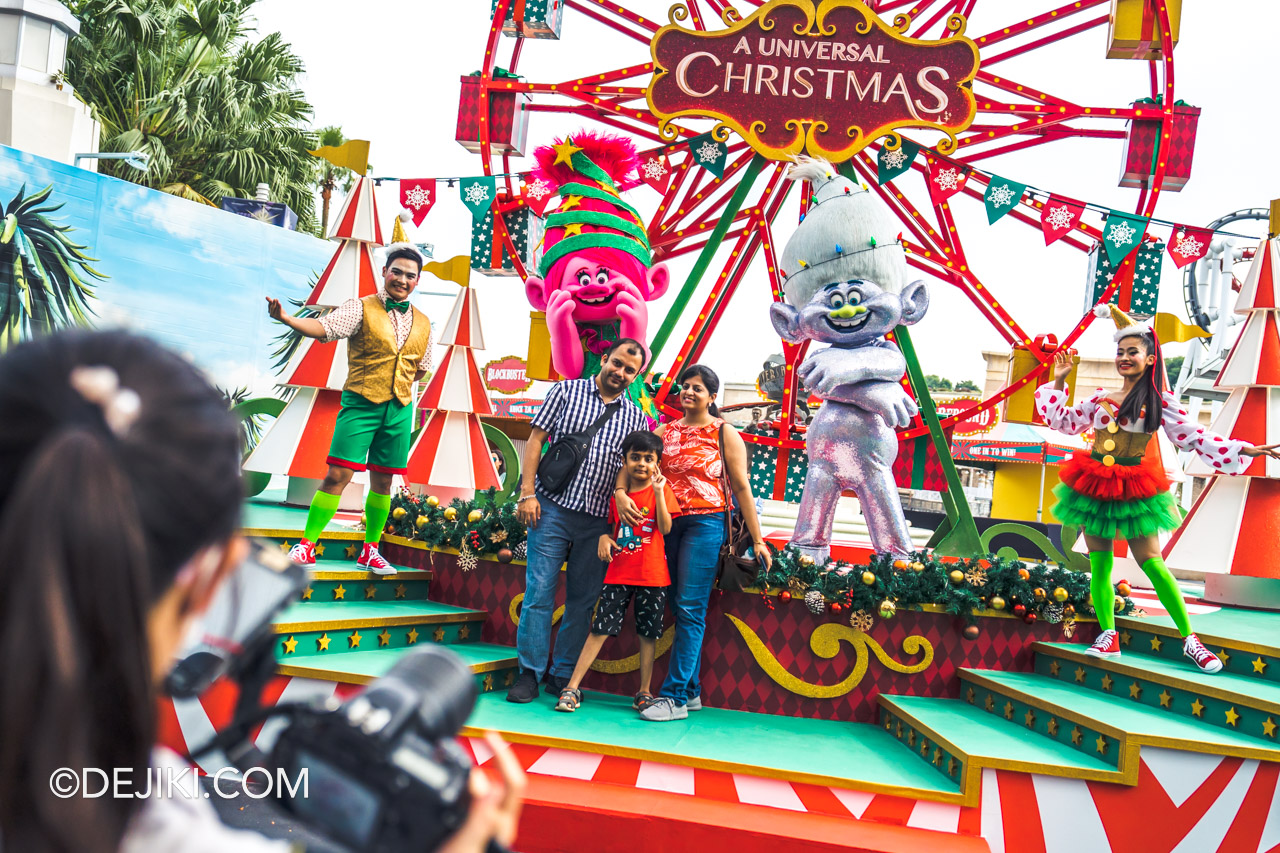 The Hollywood stage features a ferris wheel adorned with presents, and you can meet the Trolls: Branch, Princess Poppy, and Guy Diamond.
Master Tigress and Po from Kung Fu Panda, with festive outfits.
Lastly, the Elf Minions are back!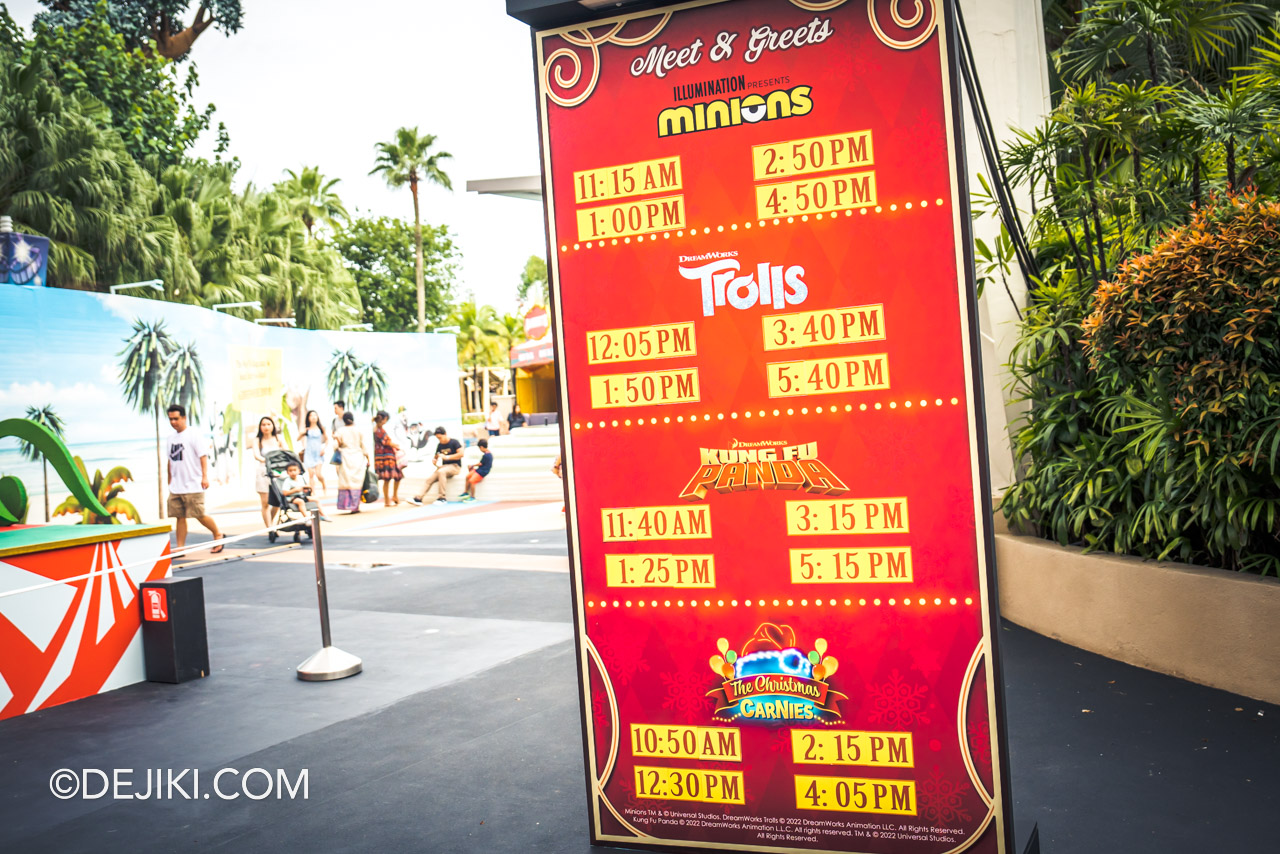 For this event, you will need to check Meet & Greet timings on the boards in the park itself, as the USS app only has the schedule for each location, but not the characters that will appear.
---
Let it Snow at New York zone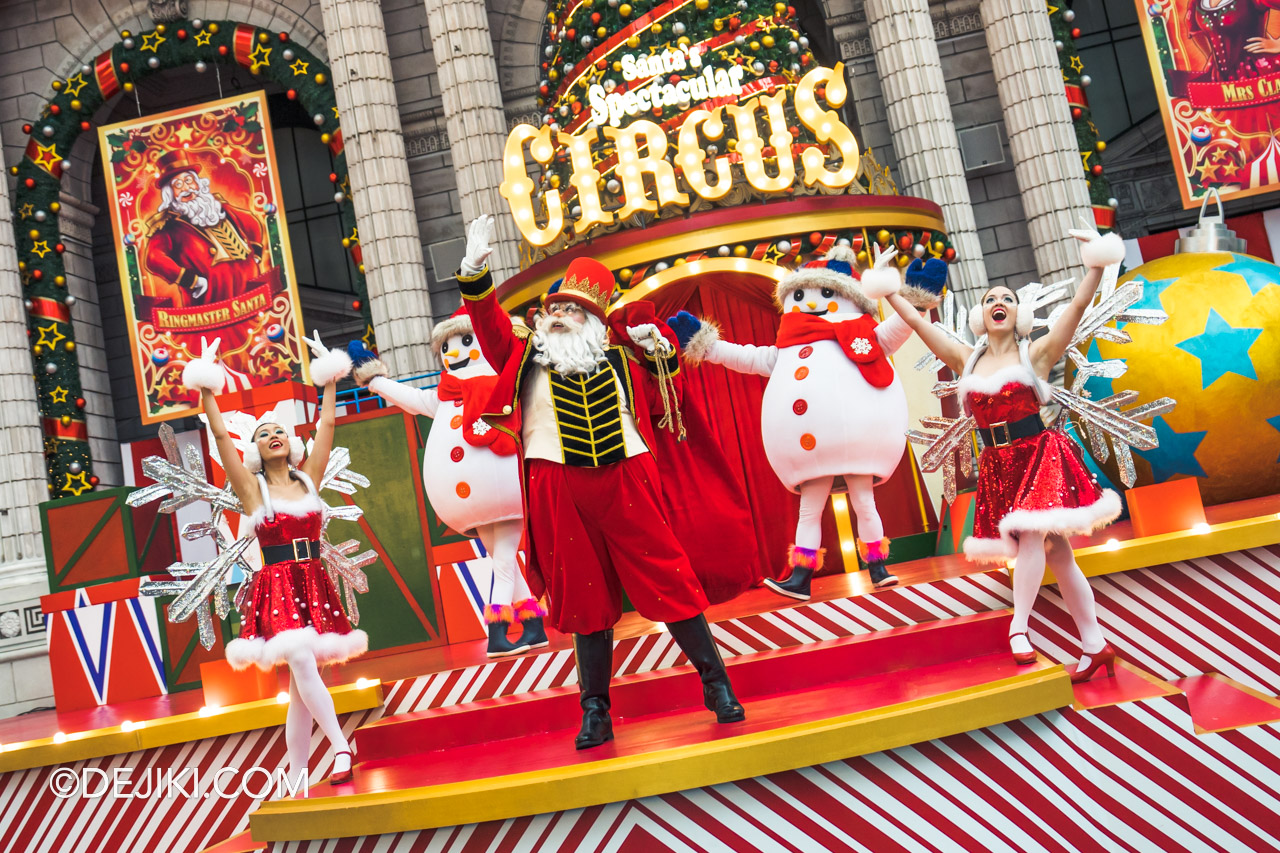 Snowfall finally returns to Universal Studios Singapore after a 2-year break. This time, you can meet Ringleader Santa, Santa's Showgirls, and the snowmen as the group dances to Let it Snow.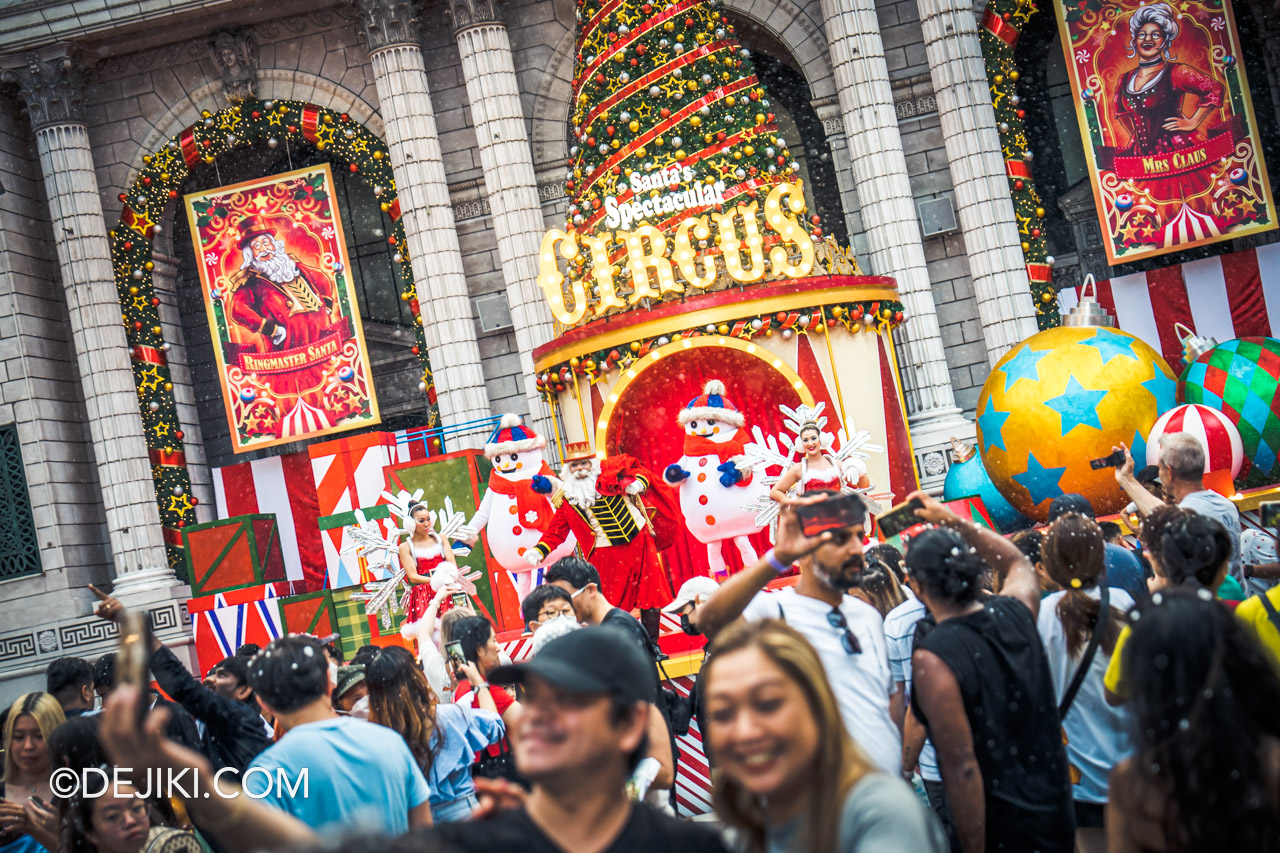 Each snowfall happens just for a few minutes so don't wait!
---
Superstars of the Circus at New York zone
New York zone has several kinds of Meet & Greet experiences happening all day, and sometimes it happens as a combined session known as the Superstars of the Circus.
New to the park is The Twinkle Tinsel Troupe, starring the Unicyclist/Ribbon Dancer Elf, Peppermint Plate Spinner, Toy Soldier, and the Elf Duo.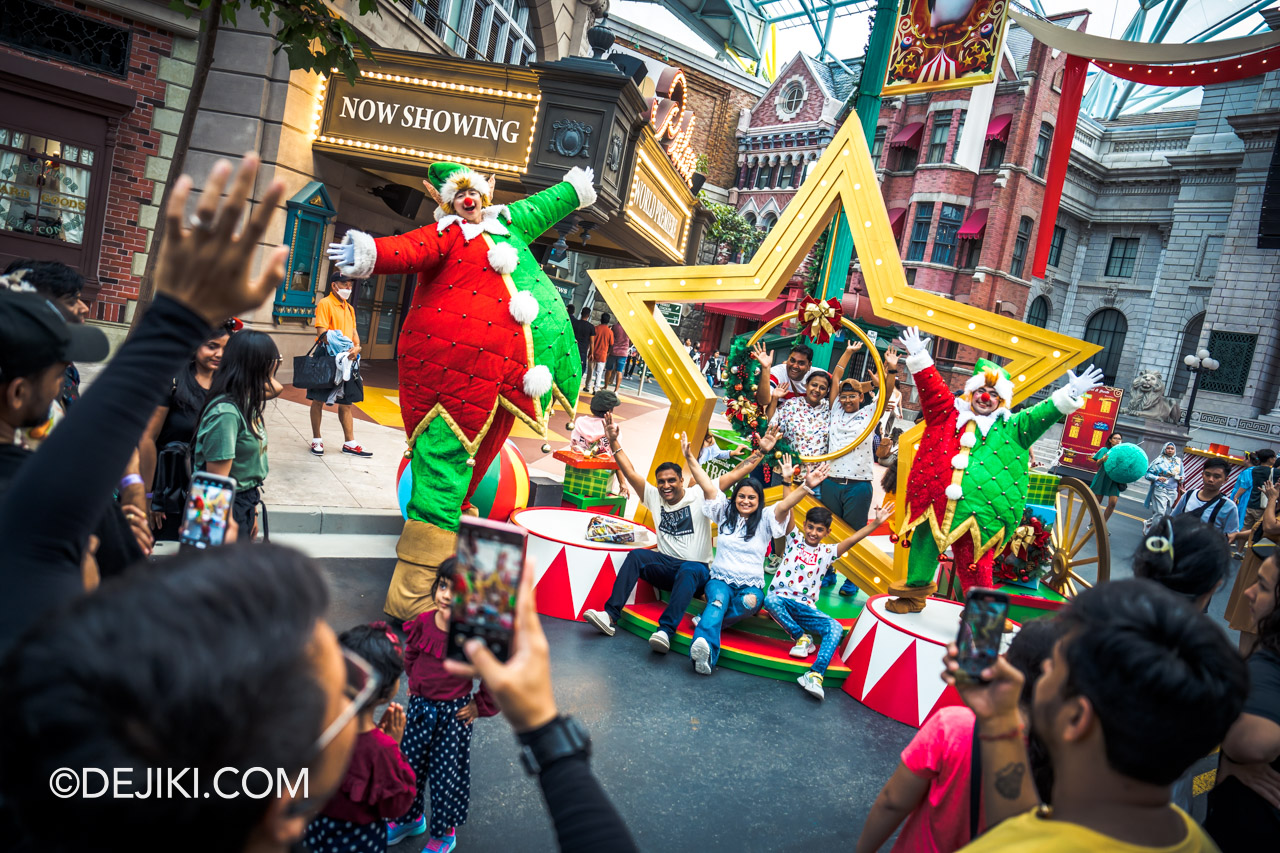 Make use of the new sets on the street for memorable photos!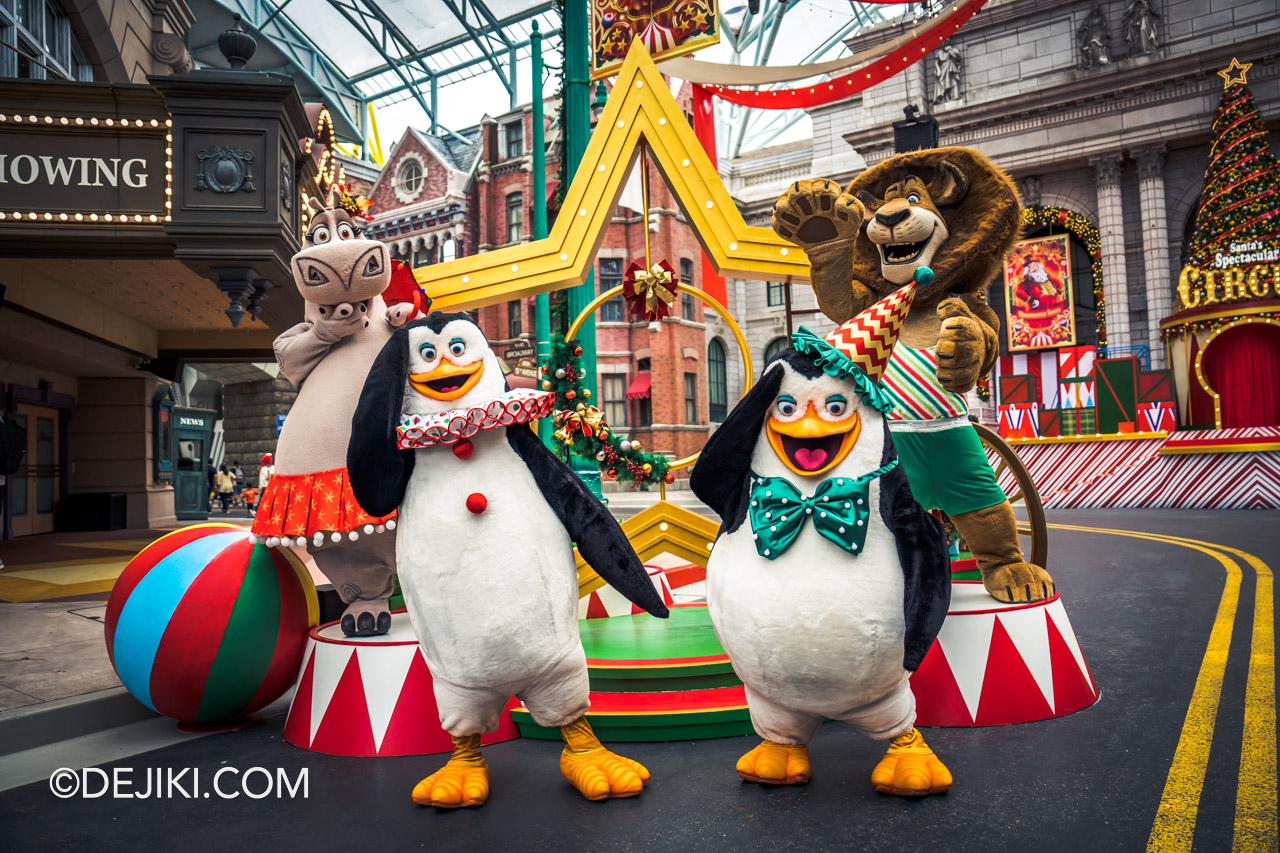 At the circus, you can still meet friends from Madagascar: Alex, Gloria, Private, Kowalski
Sesame Street Gang has Big Bird, Grover, and Elmo joining the circus.
---
Far Far Away (Shrek franchise) Meet & Greet
New this year: An interactive Gingy's Sweet Meet & Greet over at Far Far Away's Milk Bar, which will surprise and delight as Gingy will actually speak to you!
Meet Shrek and Fiona in Santa and Mrs Claus-style outfits at the Far Far Away castle fountain!
Lastly, Puss and Kitty have moved to Hollywood, with a new Meet & Greet spot to celebrate the new Puss in Boots: The Last Wish movie.
Apart from all these, the park's standard Meet & Greets at Sci-Fi City, Jurassic Park and Ancient Egypt are still available during A Universal Christmas 2022.
---
A Universal Christmas 2022 – Festive Dining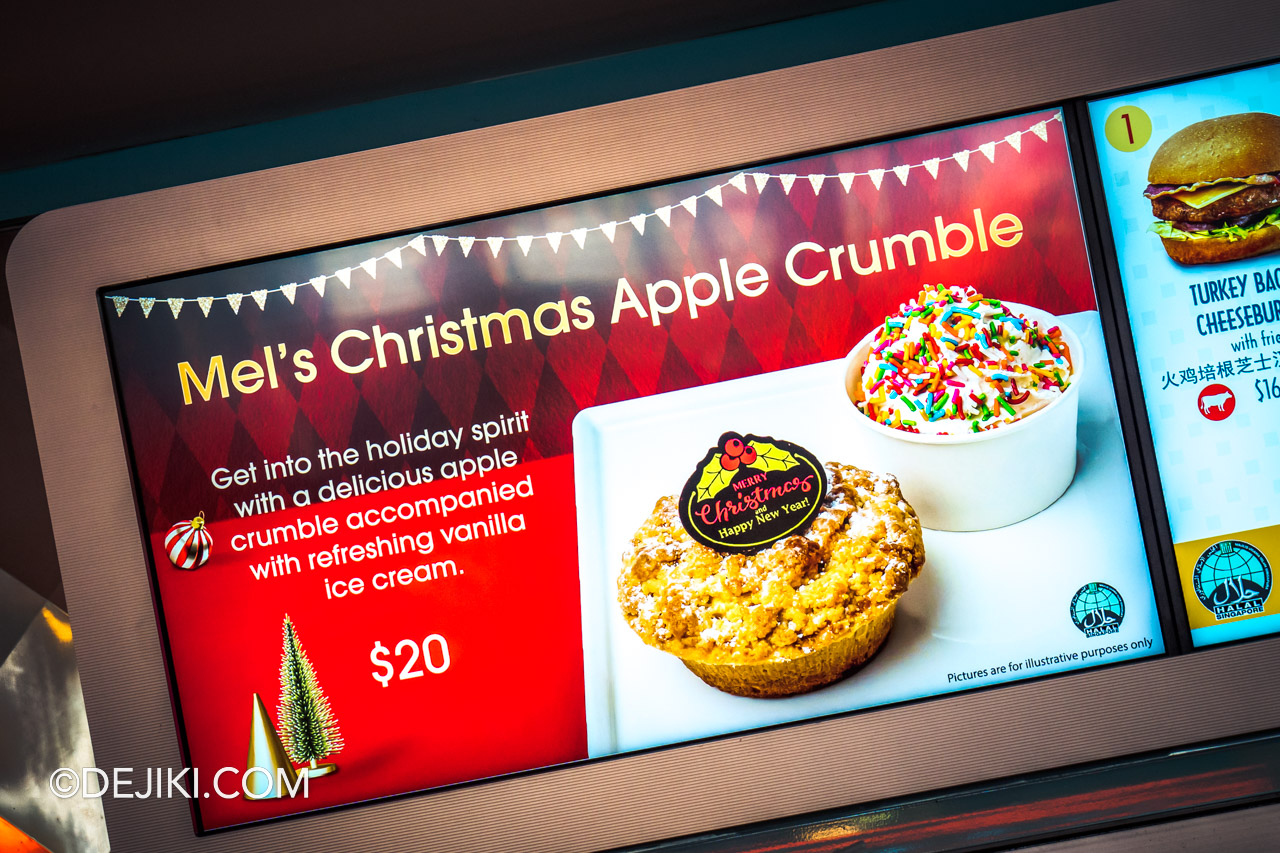 Indulge in sweet treats around the park, starting with Mel's Christmas Apple Crumble ($20) at Mel's Drive In.
Over at Loui's NY Pizza Parlor, you can enjoy the sweet and savoury Loui's Christmas Stromboli ($20) and the refreshing Merry Melon Ice Cream ($10)
Fossil Fuels at Jurassic Park has this interesting Santa's Choco-fruity Skewers ($20) available.
Star Snacks has a variety of desserts available, with cakes and pastries at $10 each, and the rainbow-sprinkled Candy Apple at $6 each or $10 for two.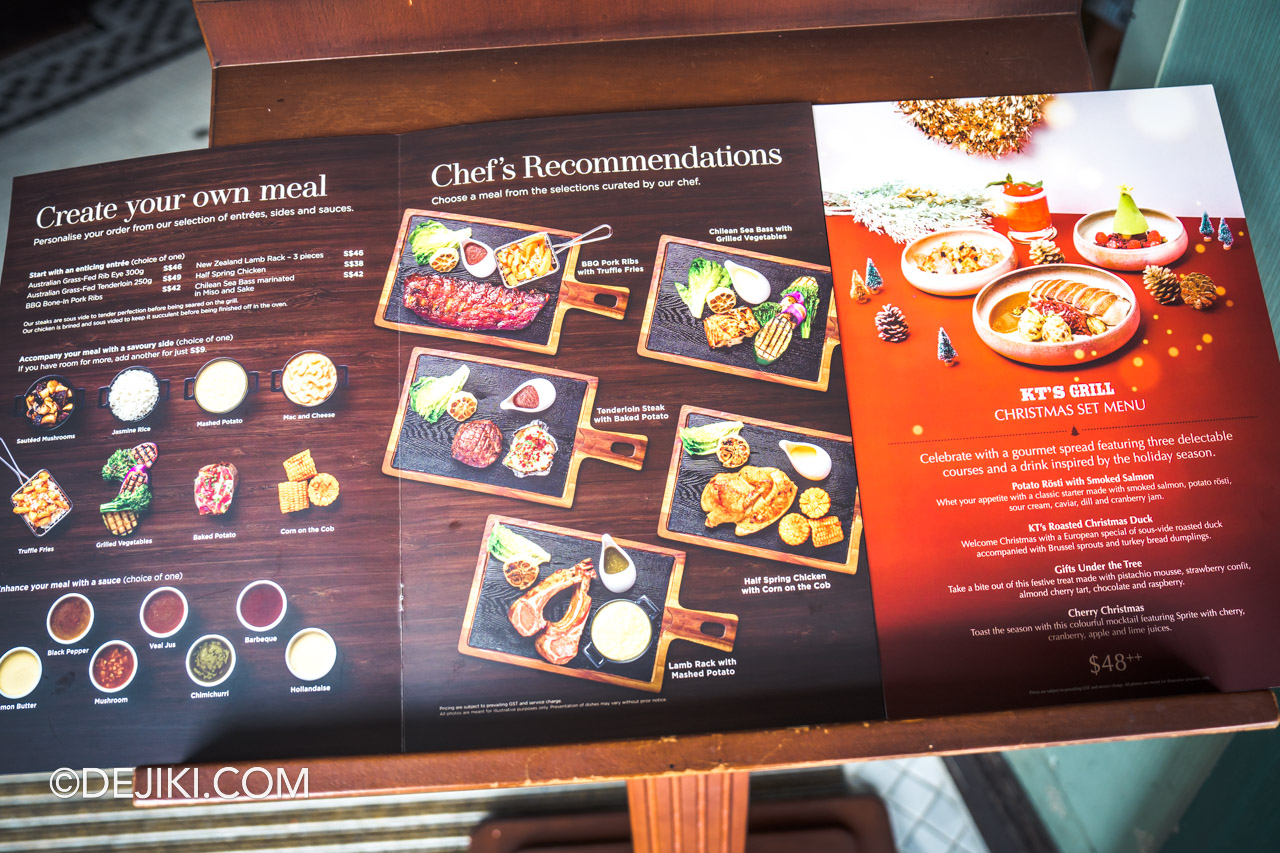 KT's Grill has reopened with a new dining concept with personalised entrées system. Also, during this season you can enjoy its Festive Menu.
Here's a peek at its seasonal interior decor.
---
Other Park Updates
Staggered Ride Operating Hours
While the park will be open daily from 11AM to 8PM (30 Nov 2022 to 2 Jan 2023), not all of its attractions will be available. Some rides will operate on a staggered timing system.
11AM to 6PM: Battlestar Galactica: HUMAN, Enchanted Airways, Sesame Street Spaghetti Space Chase
11AM to 8PM: Accelerator, Dino-Soarin', King Julien's Beach Party-Go-Round, Transformers: The Ride, Treasure Hunters
12PM to 7PM: Canopy Flyer, Lights, Camera, Action!, Puss in Boots' Giant Journey, Jurassic Park Rapids Adventure
1PM to 8PM: Battlestar Galactica: CYLON, Shrek 4D, Revenge of the Mummy, Magic Potion Spin
Note: Ride timings may vary daily. For latest updates, check in the park or with the USS App.
2023 Park Opening Hours
The park's published schedule for Jan and Feb 2023 indicated a big change: From 4 Jan 2023 (Wed), Universal Studios Singapore will be open 6 days a week: from 11AM to 6PM daily, except Tuesdays.
It looks like the park is steadily ramping up to a full-week operations, and this suggests that that multi-visit passes, such as the Triple Thrills Pass may return in 2023. And perhaps eventually sometime next year we may see some sort of new Season or Annual Pass programme if the situation improves further.
---
Christmas Carnival Games
It's not a circus without carnival games! Try your luck at Blockbuster (Clear 3 blocks with one throw), Basketball (One throw into hoop to win), and Rebound (One ball bounced off board to basket to win). Prizes include these roly-poly Christmas characters, Teddy bears, and Golden bananas.
---
Christmas Merchandise Update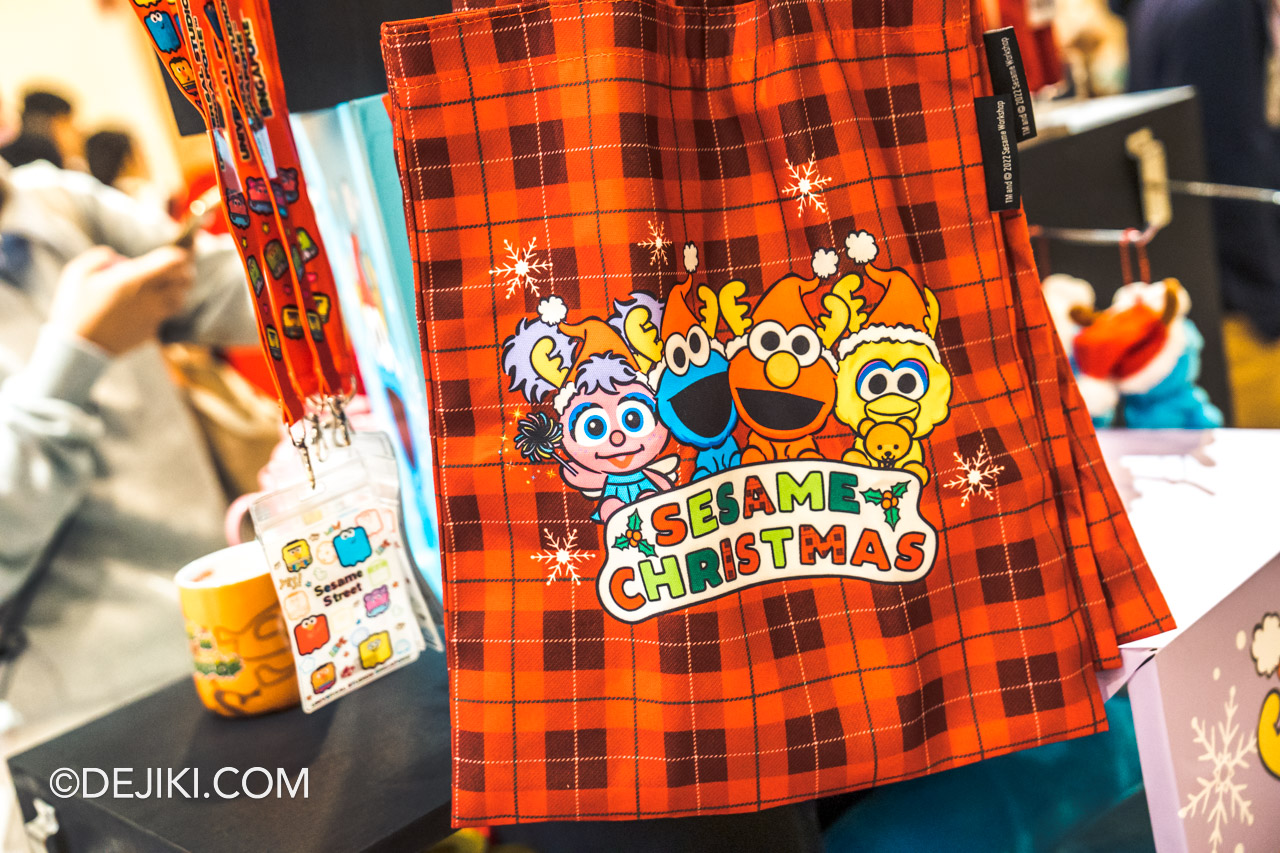 Here are some Sesame Street themed merchandise available for the festive season, such as Sesame Christmas tote bag ($32).
Cookie Monster Keychain Plush ($20).
Elmo, Cookie Monster, Abby Cadabby Plush ($30).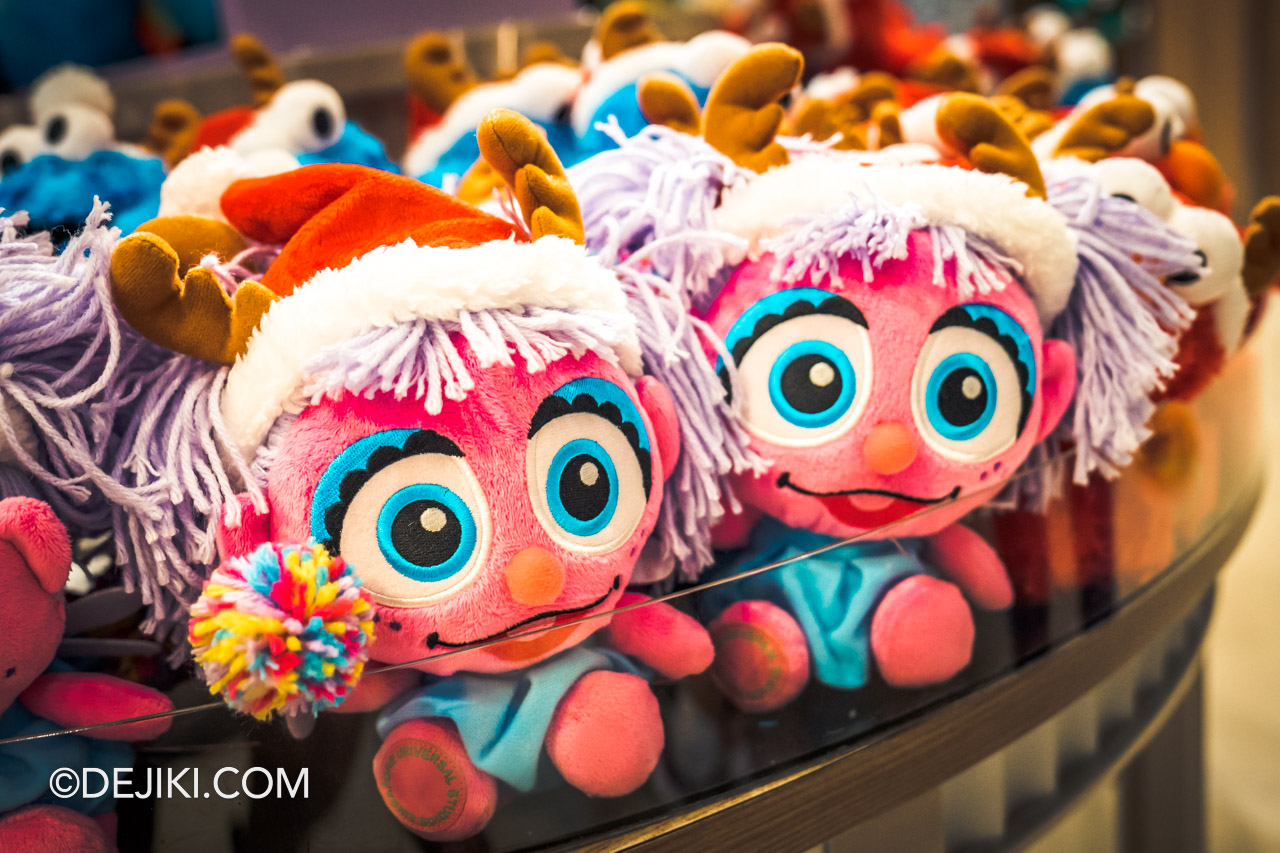 ---
Minion Land construction
Lastly, some updates on the park's expansion project.
Demolition works at the Madagascar zone appear to be progressing faster, with parts of the Madagascar show building coming down. I believe the entire queue area has already been flattened for them to move onto the ship.
The iconic Baobab tree is also being taken apart. Hopefully this means that sometime next year we will see the the hoarding panels shifting further away from the Hollywood stage.
Here's a rare shot of the ship cut open.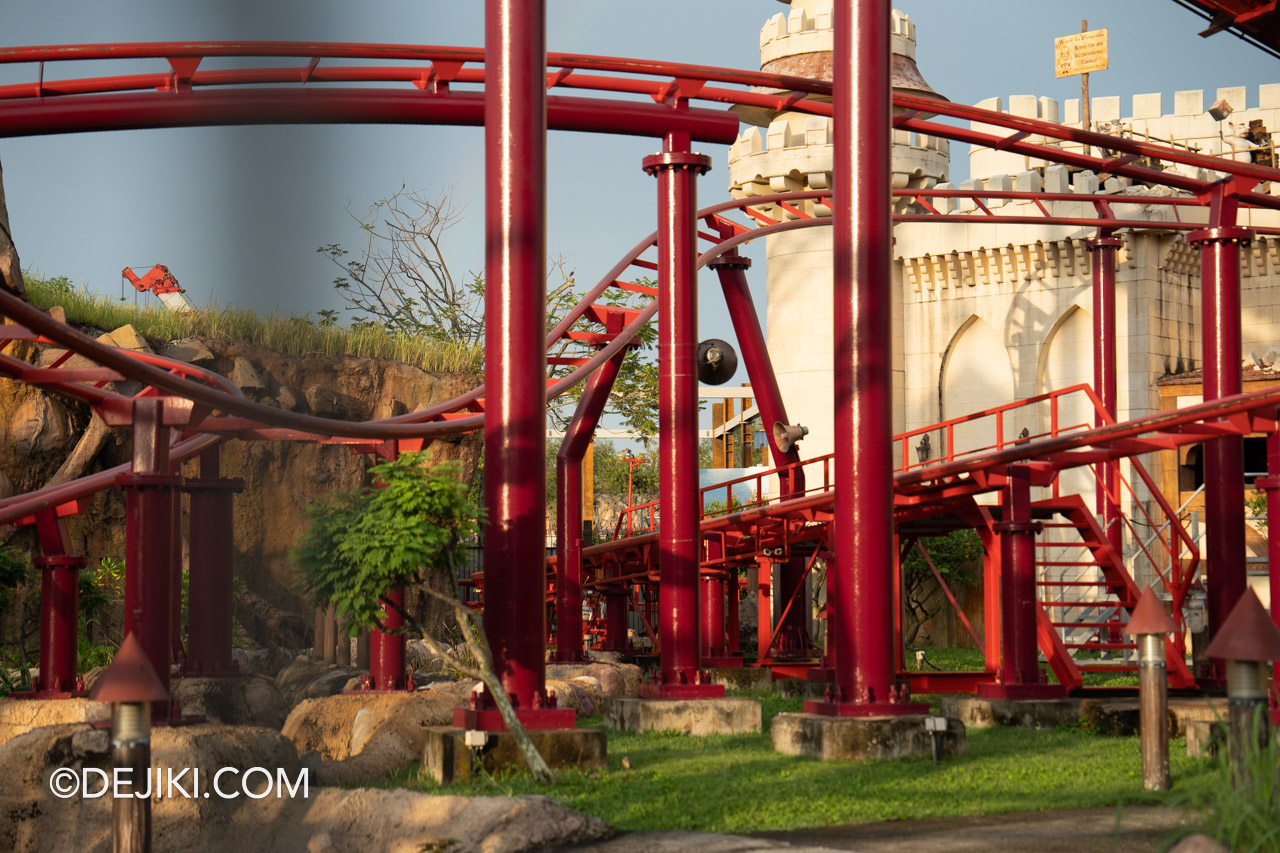 Structural work for Minion Land can be seen while on Enchanted Airways, or even from the lagoon walkway if you look hard enough.
---
Repainting Battlestar Galactica: HUMAN vs CYLON
Sometime during HHN10 season in late October, parts of the grey CYLON ride track began taking on a darker shade.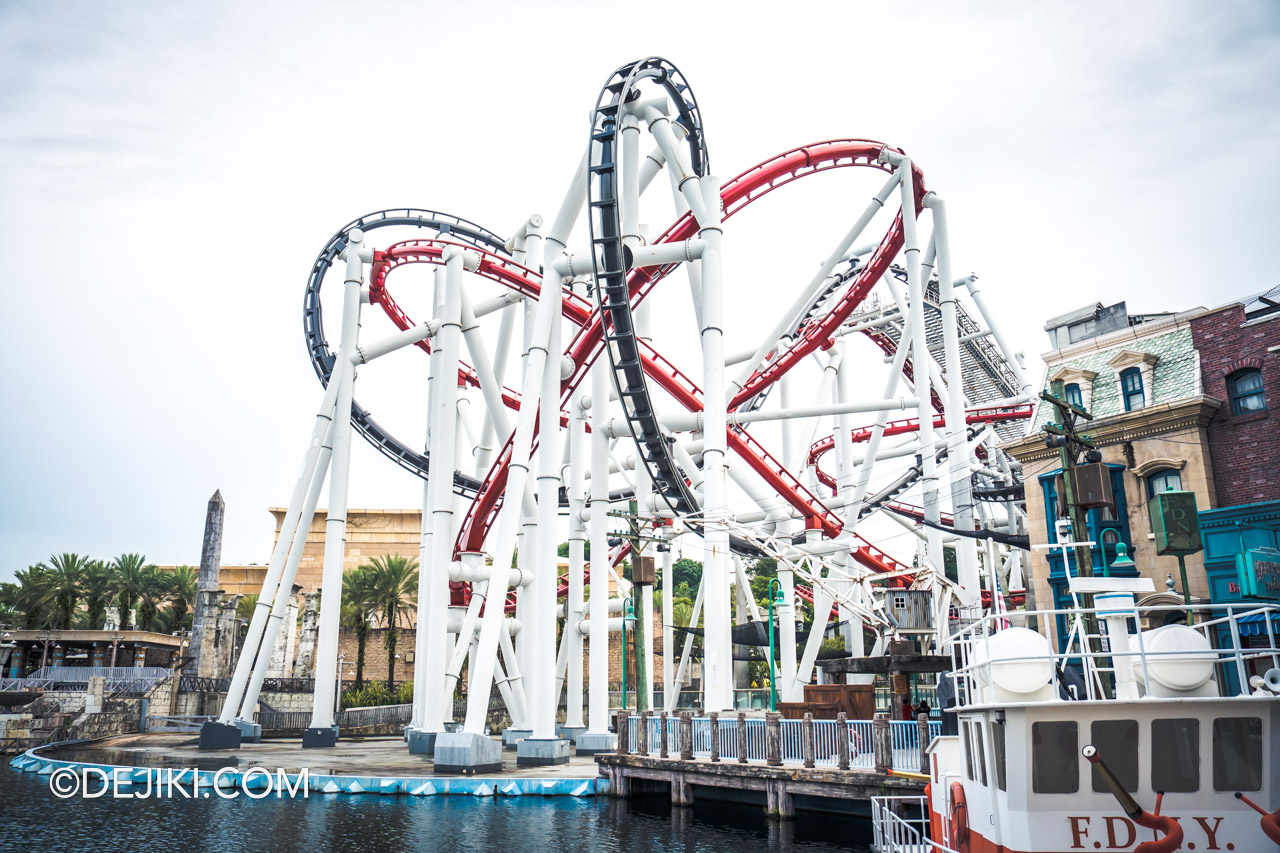 It appears that the repainting works are nearly done, with both the red HUMAN tracks and grey CYLON tracks looking darker than before. The ride's appearance last changed in Sep 2016, before that it had its original Red and Blue look.
While this is just an appearance change, the ride experience is still fairly the same. The coasters are no longer timed to launch together for the dueling action; any criss-crossing or near-miss moments happening nowadays are unintentional – it's just that both stations happened to launch at the same time.
Who knows, perhaps sometime for a park major anniversary milestone, the ride may revert to its "classic" look as part of the celebrations.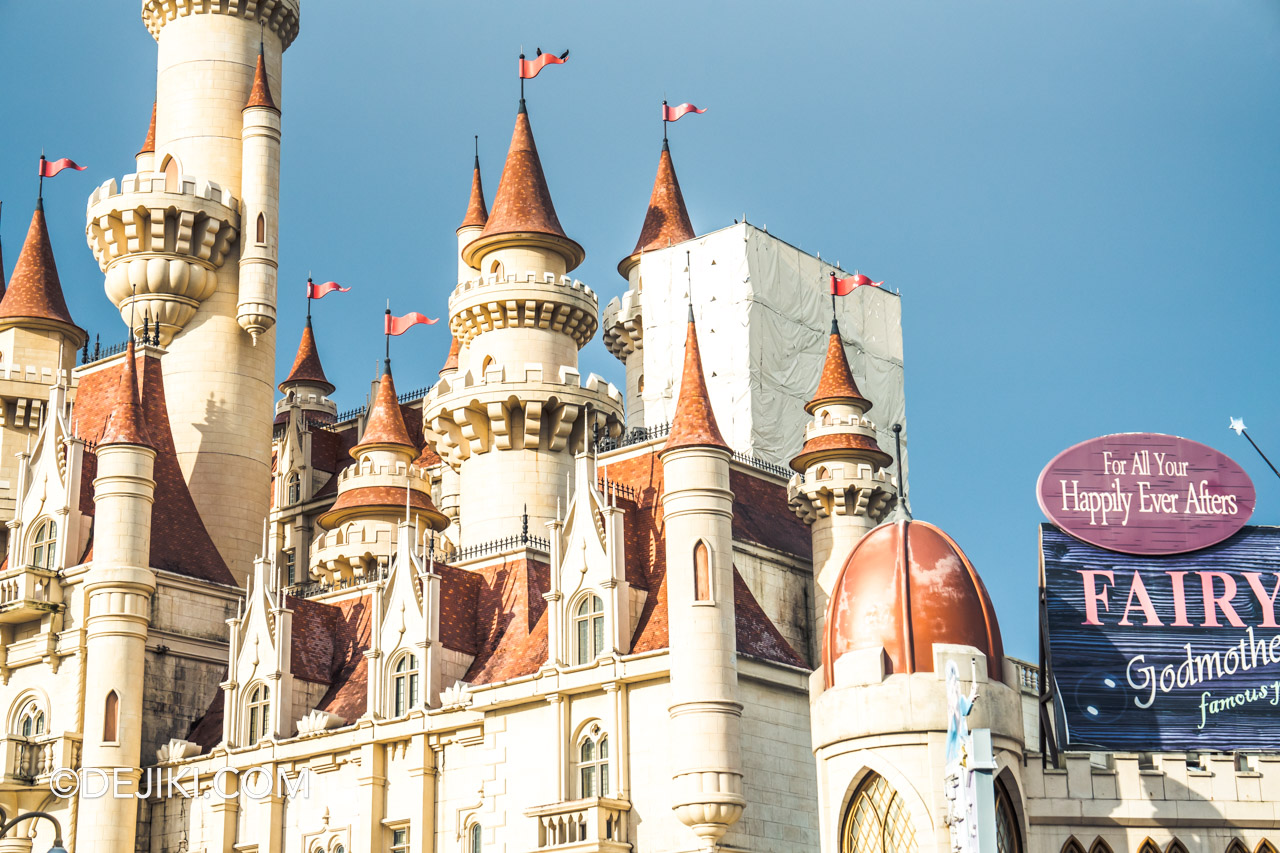 Separately, it appears that the Far Far Away castle is also undergoing refurbishment works, with some towers covered up. The main front section of the castle is in quite bad shape.
---
Get your tickets to Universal Studios Singapore
Enjoy A Universal Christmas from 23 November 2022 to 2 January 2023.
Universal Studios Singapore Park Ticket
Price

A UNIVERSAL CHRISTMAS 2022


Included with USS Daytime Park Admission
+ Christmas Treats voucher* – S$20 (Adult)/ S$10 (Child)
+ S$5 Retail voucher**
$101.95/ 81.15
(Adult/ Child)
Book via Klook »

A UNIVERSAL CHRISTMAS 2022


Included with USS Daytime Park Admission
+ Christmas Treats voucher* – S$20 (Adult)/ S$10 (Child)
+ S$5 Retail voucher**
$98/ 78
(Adult/ Child)
RWS website »
* Redeemable at selected restaurants and food carts in the park.
** Redeemable at shops in the park except carnival games