Celebrate the Year of the Rabbit at Universal Studio Singapore's 2023 Lunar New Year event!
2023 Chinese New Year Event: Hop Into Fun
From 13 January to 5 February 2023, enjoy auspicious seasonal activities as you Hop into Fun at Universal Studios Singapore's 2023 Lunar New Year event. The park will also be open daily from 22 to 30 January – the first 9 days of the Lunar New Year calendar. During those days, guests can receive a lucky red packet with a random prize: From Universal Express passes to vouchers for use in the park.
Extended Park Hours
On select event days, such as 21 to 24, 27 to 29 January, and 3 to 5 February 2023, you can enjoy extended park hours (till 8PM) and a special evening programme, Stay and Lo Hei with The Stars, which combines the refreshed Sesame Street Monster Lo-Hei and Dance of the Dragon shows.
Universal Studios Singapore Park Ticket
Price

Universal Studios Singapore (CNY 2023)


USS Daytime Park Admission
+ USS CNY Treats voucher* – S$20 (Adult)/ S$10 (Child)
+ S$8 Retail voucher**
+ S$5 Exclusive USS merchandise voucher***
$88/ 68
(Adult/ Child)
Book via Klook »
* Redeemable at selected restaurants and food carts in the park, only valid for CNY-themed items
** Redeemable at shops in the park except carnival games. Minimum spend of S$50 required.
*** Redeemable for purchase of exclusive USS merchandise (item's usual price up to S$10)
---
VLOG: Universal Studios Singapore: 2023 Chinese New Year Event
Watch this vlog for video highlights of the 2023 Chinese New Year event!
---
2023 Chinese New Year Meet & Greets
This year marks the return of the 'Bunny Minion', with Kevin wearing a Bunny headband.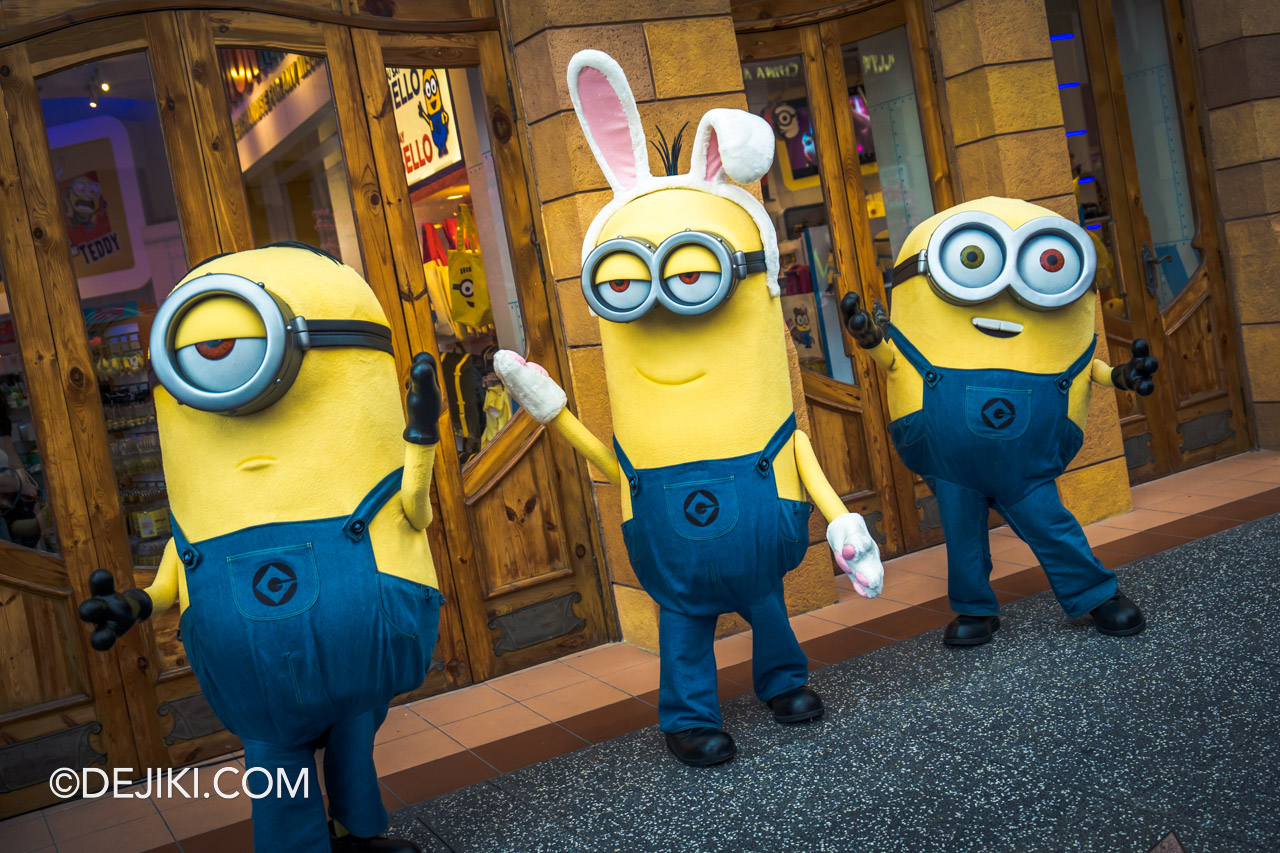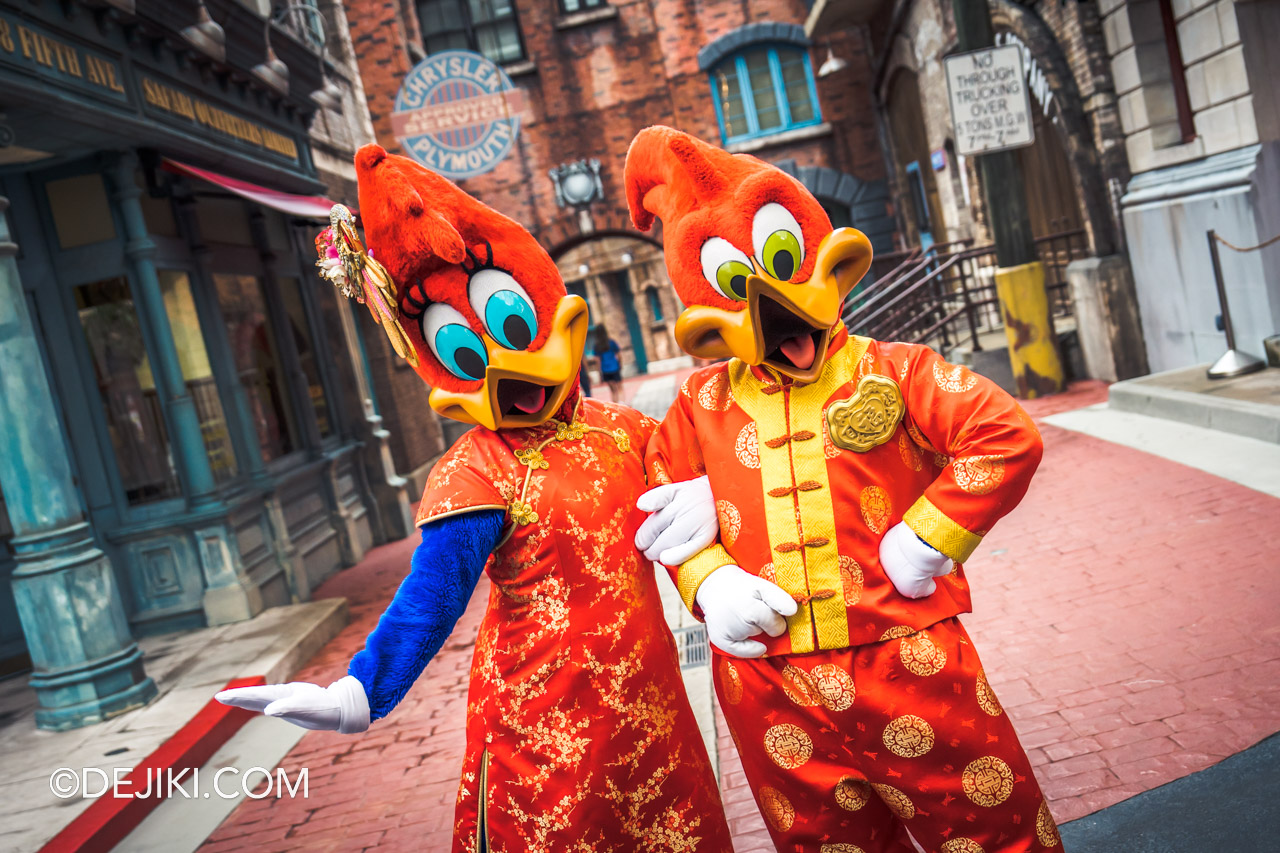 Other park characters appearing in their Chinese New Year outfits include:
Winnie and Woody Woodpecker
(Madagascar) King Julien, Alex and Gloria
(Kung Fu Panda) Po and Master Tigress
(Trolls) Branch and Poppy
(Sesame Street) Elmo, Abby Cadabby, Oscar, and Cookie Monster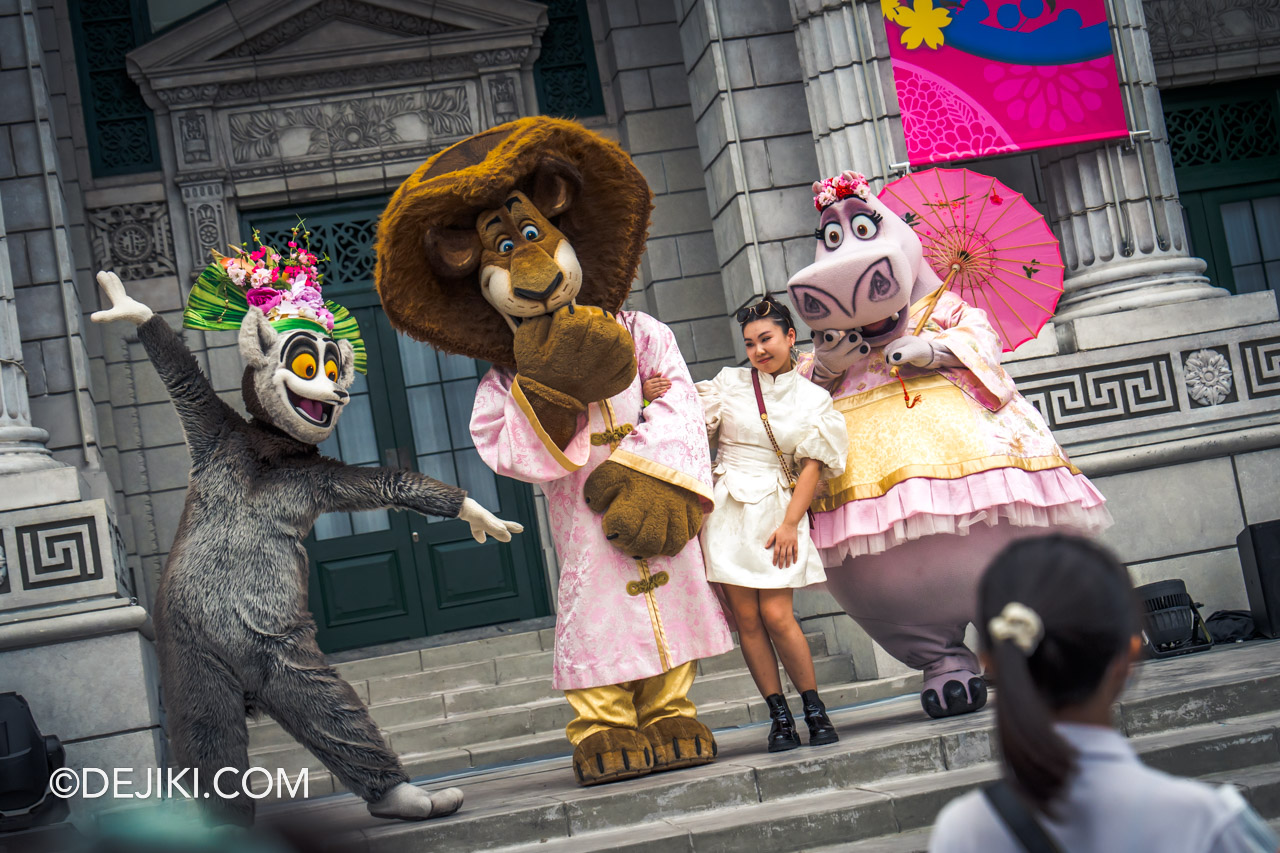 Also, Optimus Prime and Megatron will also be interacting with guests with some mandarin greetings for a limited time at Sci-Fi City.
---
Rhythm Truck 2.0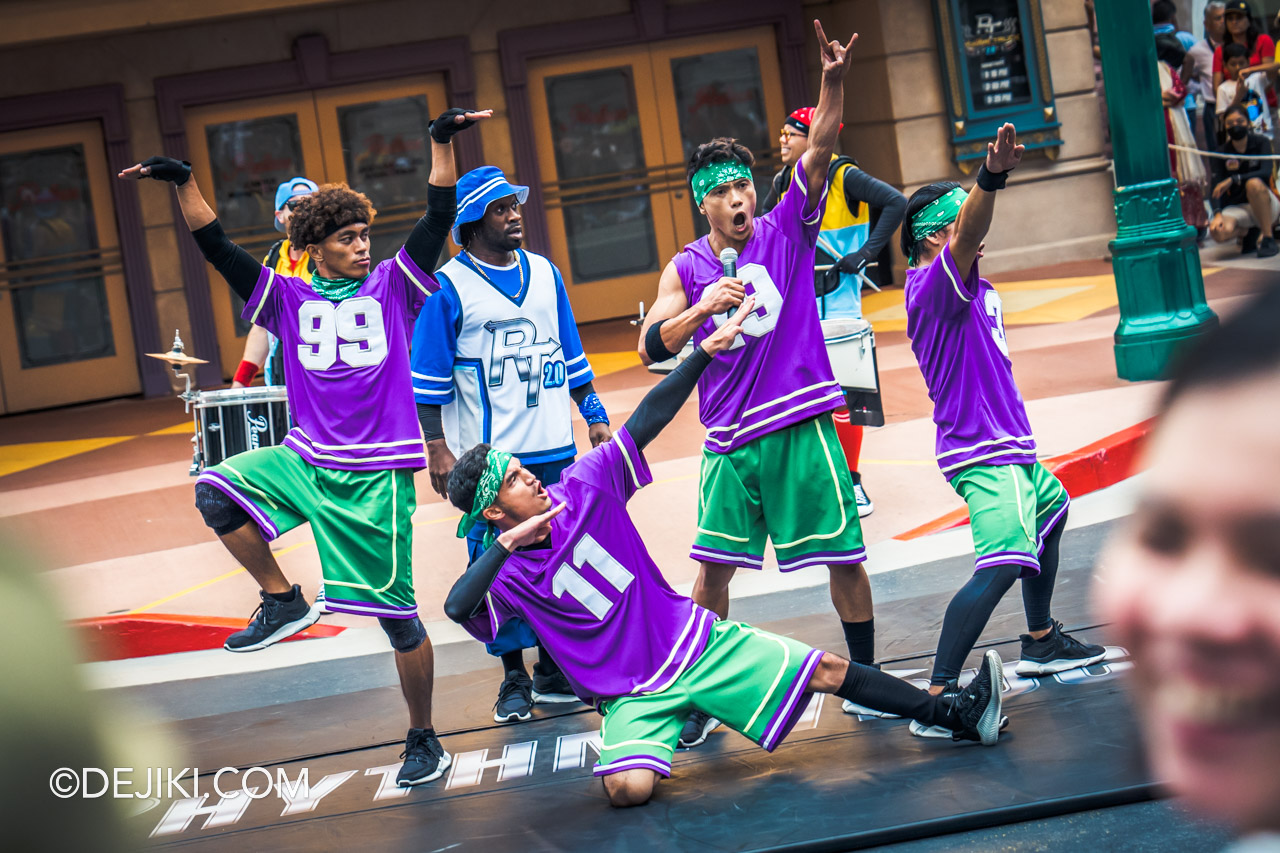 Just in time for the festive season: B-boy tricksters and street dance-offs are back with the relaunched Rhythm Truck 2.0!
Supersonic Crew (B-Boys) show off their tricks as the Beat Shakers (Drums) join in, sparking a few rounds of dance-vs-drums duels.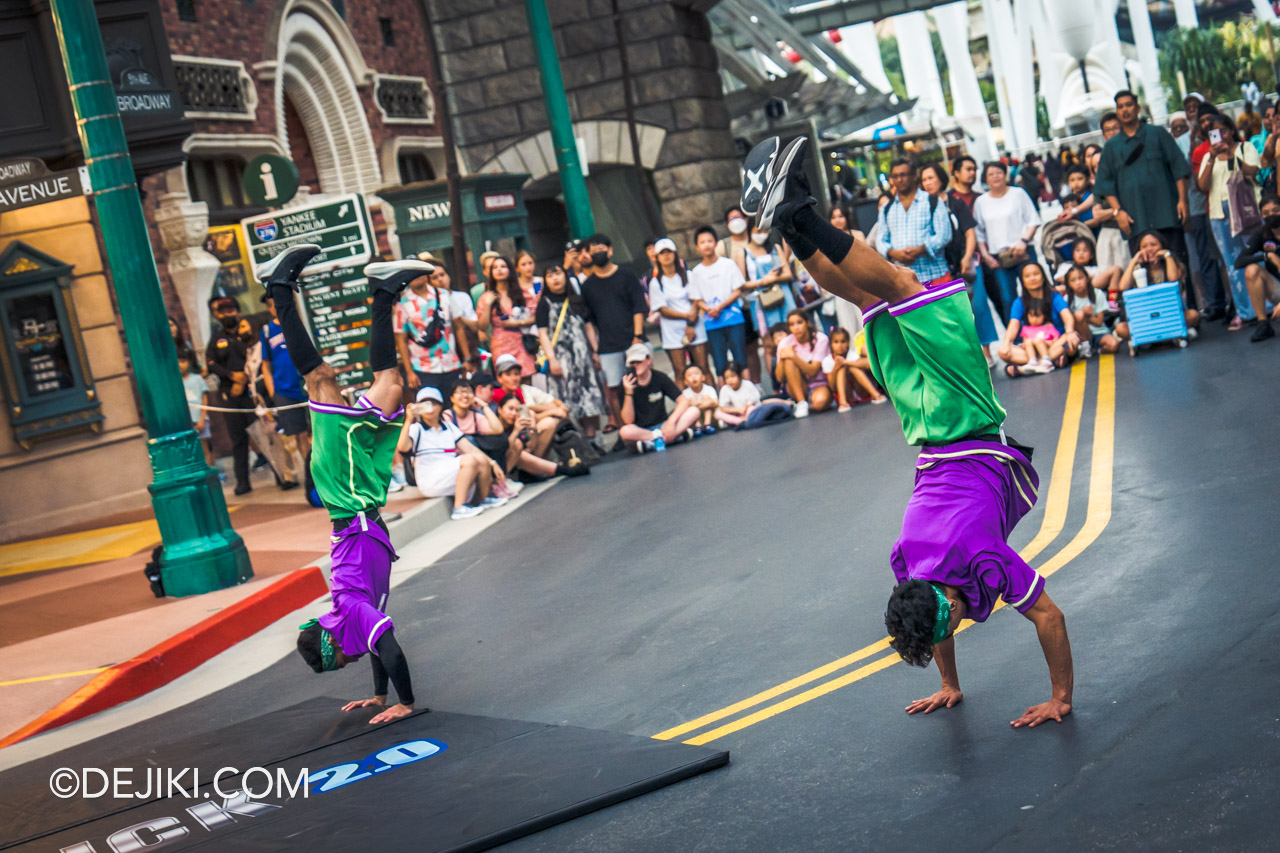 Similar to past iterations of Rhythm Truck and Rockafellas shows, lucky guests will get picked to join in the fun!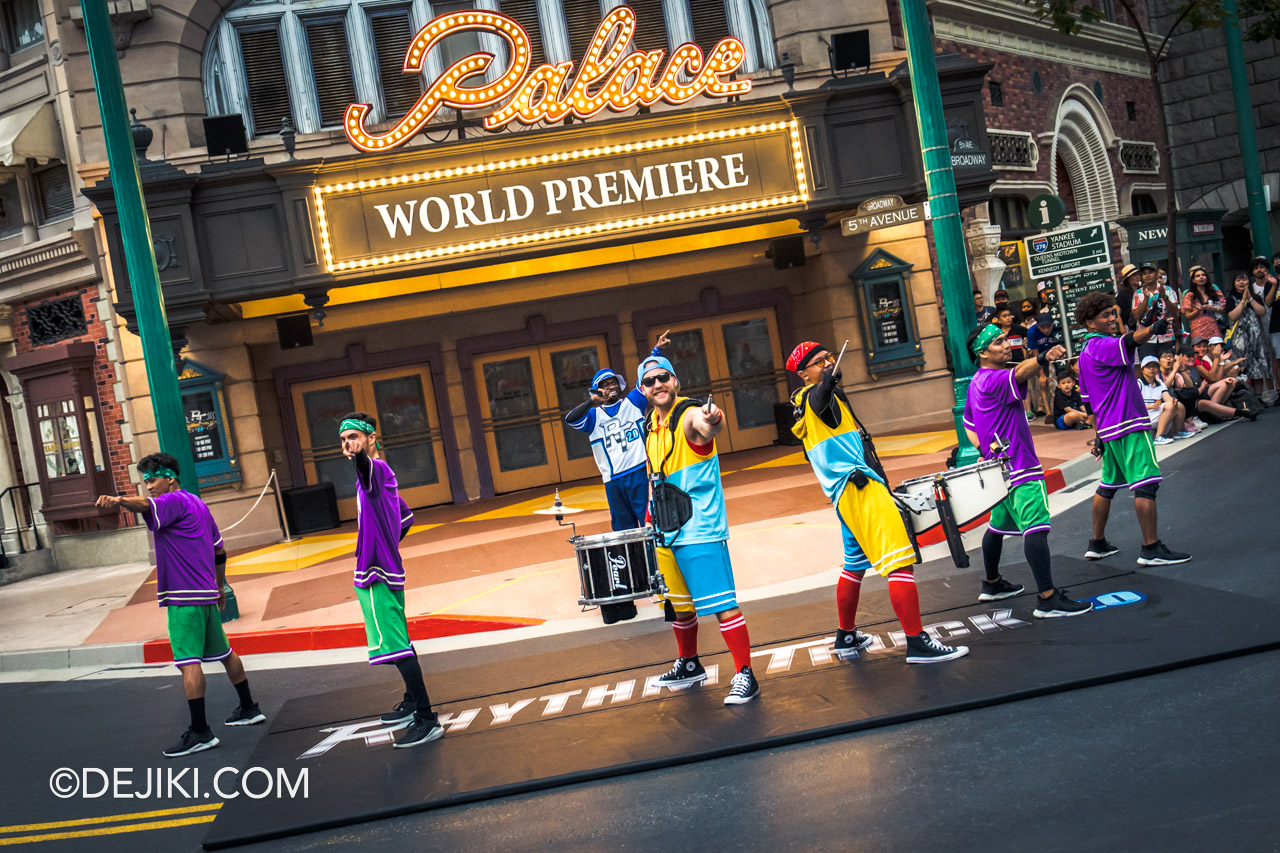 (Due to wet weather, the actual truck skipped its appearance, but the show still went on)
---
Stay and Lo Hei with The Stars
Enjoy an auspicious spectacular that is only available on some event days (21 to 24, 27 to 29 January, and 3 to 5 February 2023).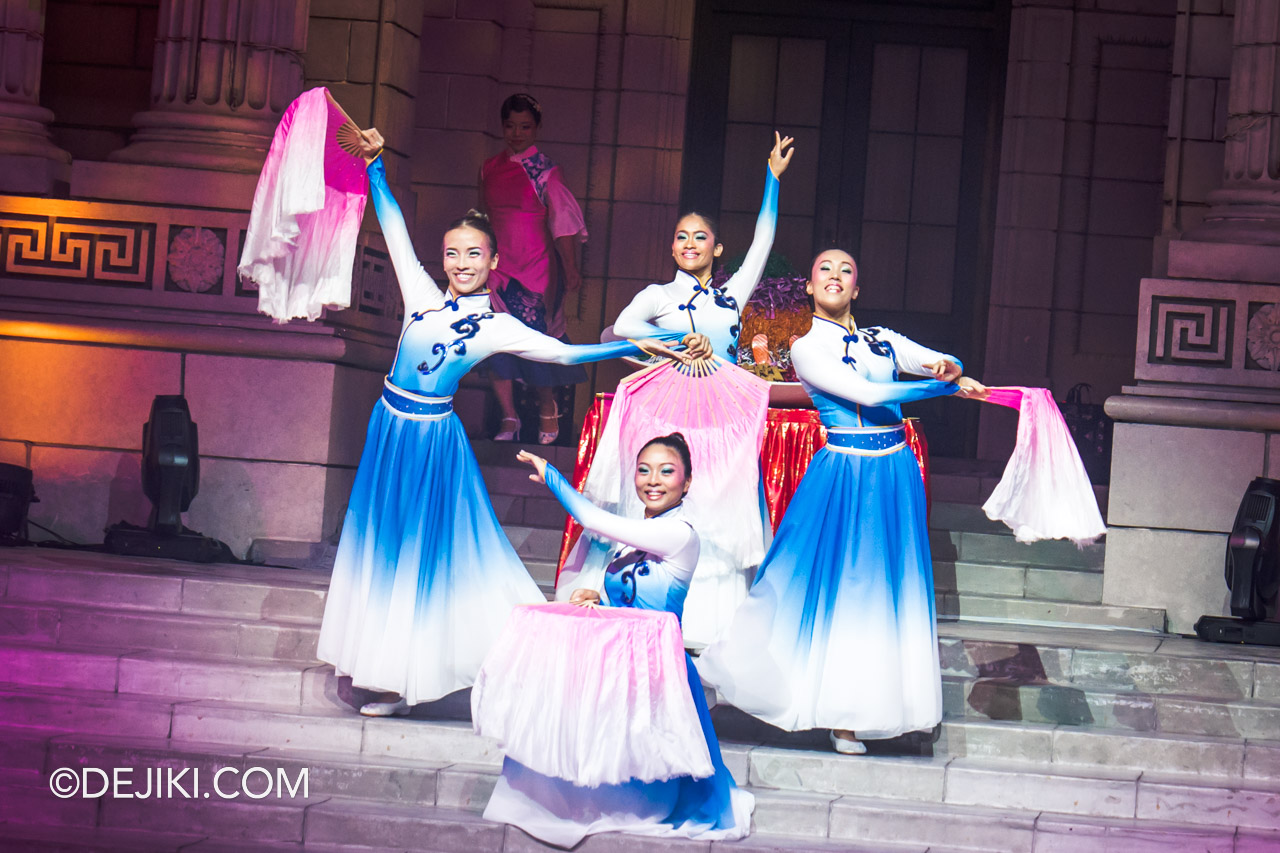 The show starts off with roaring drum beats, and dancers join in with elegant, cloud-like movements.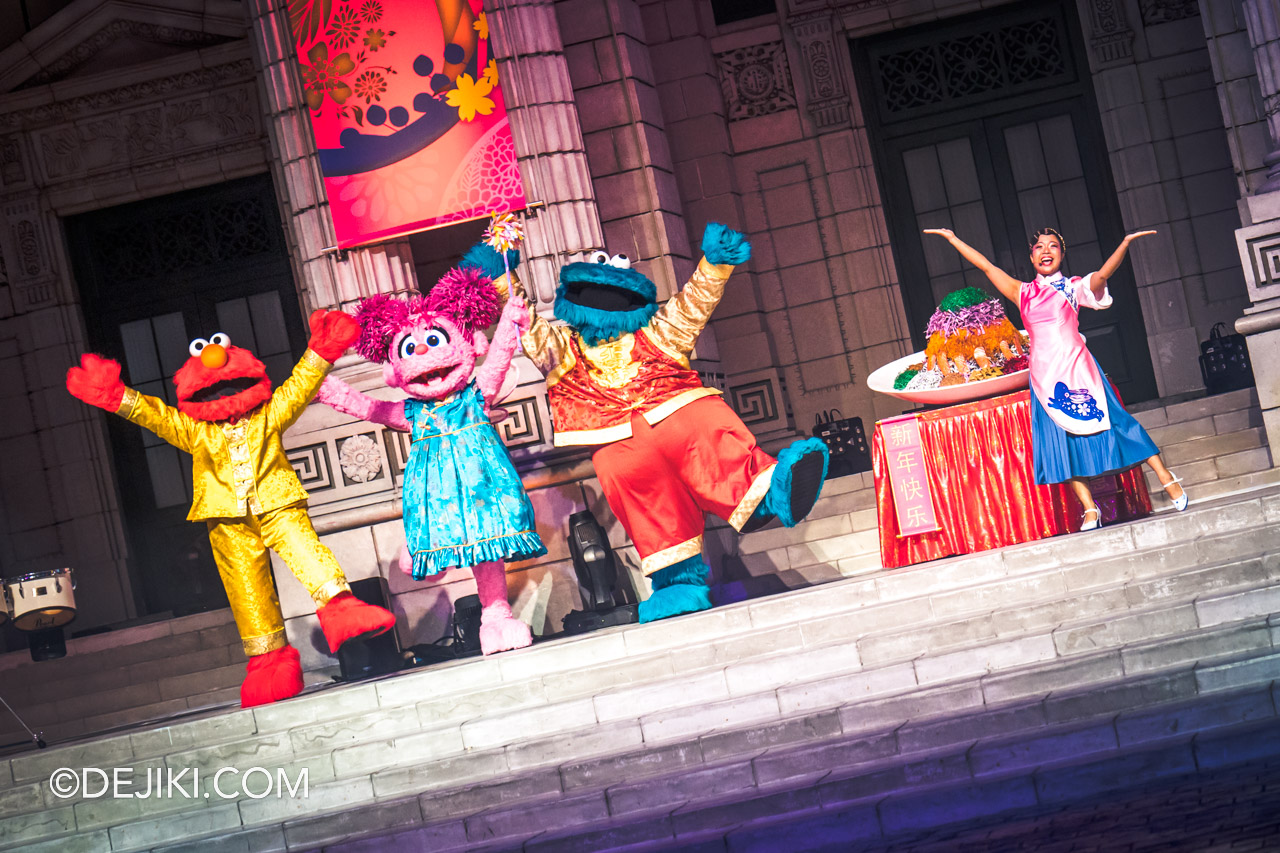 Sesame Street friends soon appear, ushering the new year with a new show inspired by the original Monster Lo-Hei.
Many boisterous "Huat ah!" shouts later, the Lo-Hei concludes with a surprise from Cookie Monster.
Suddenly, the stage goes dark and a mysterious voice exclaims that we are all chosen to receive the Universal Blessing. Drummers engage in a drum duel, and the action is quickly followed with dancers with LED fans representing clouds.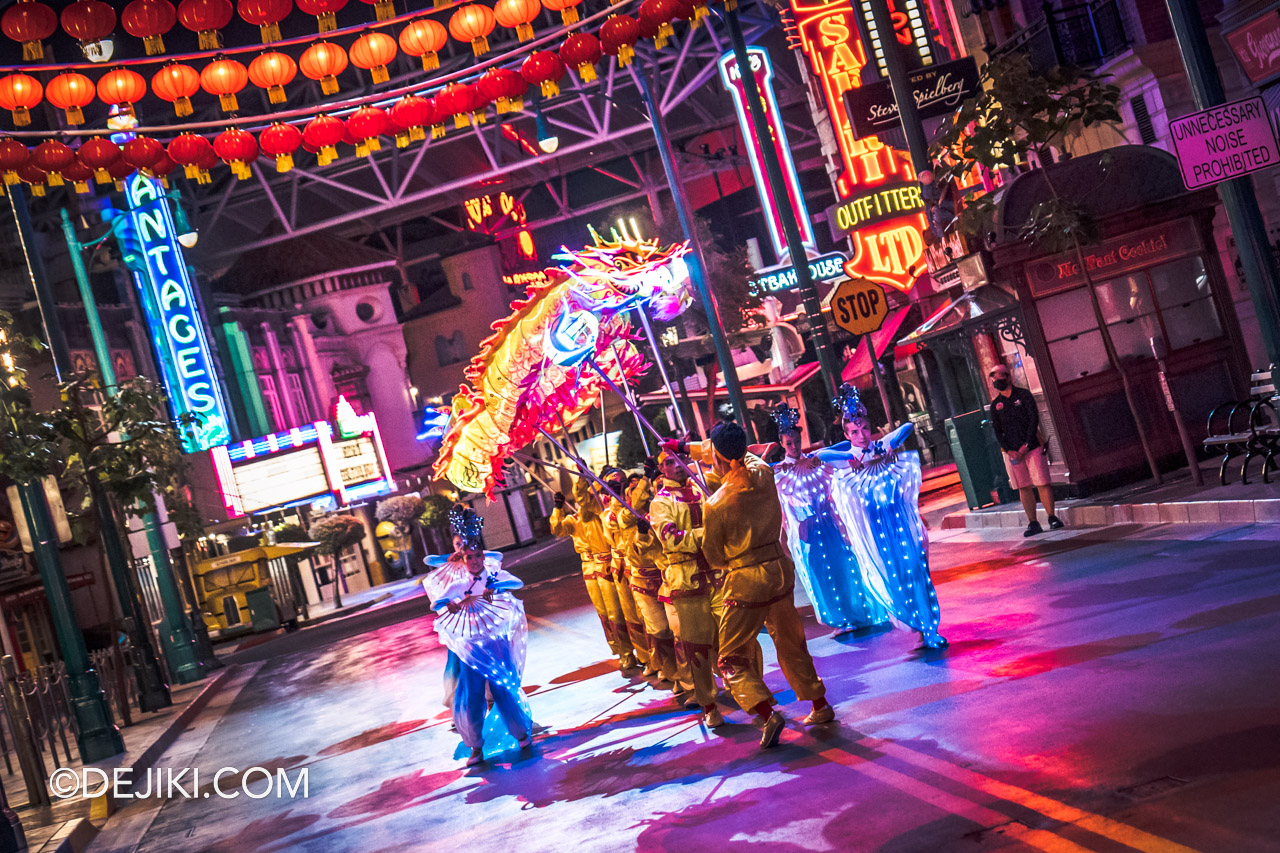 The Dragon of Fortune arrives, racing through the street of New York as it delivers good fortune.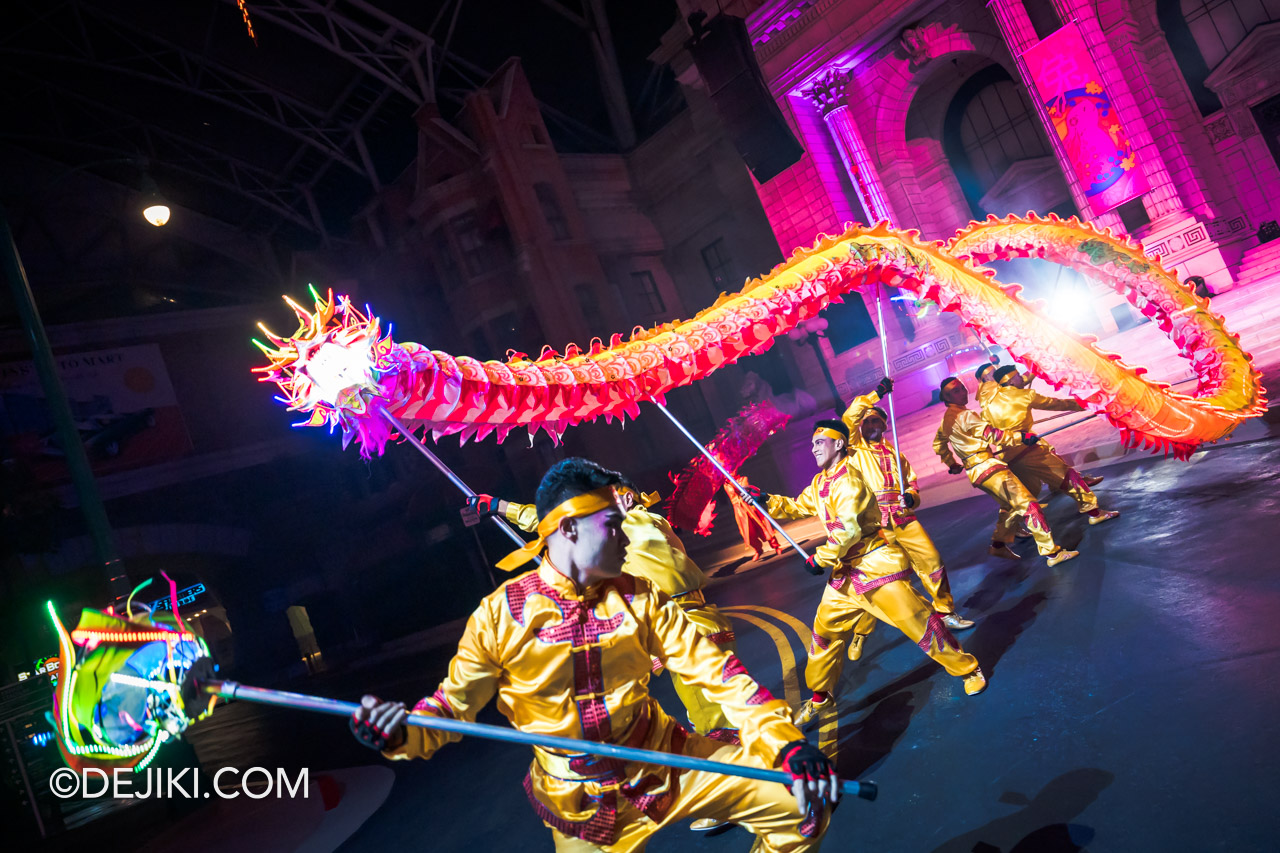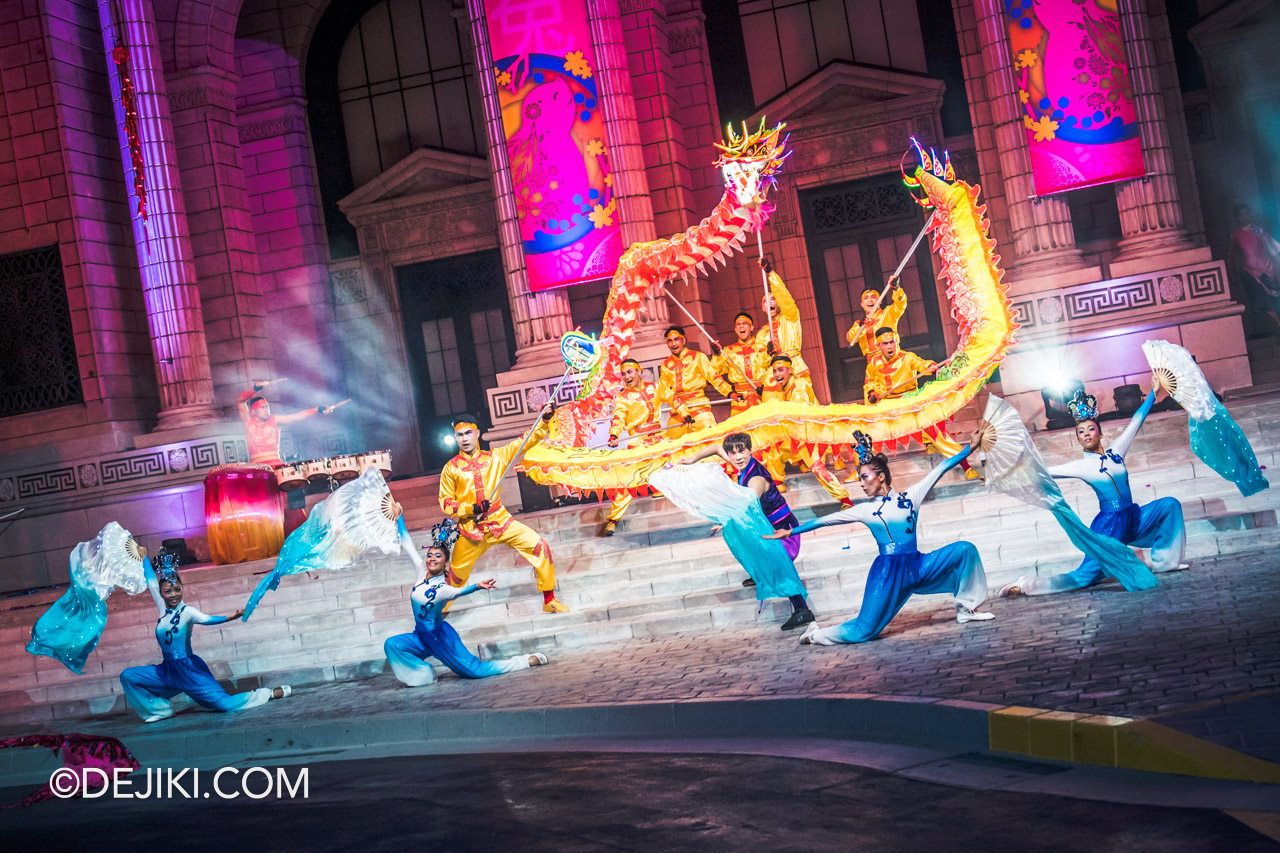 "The Universal Blessing of Success and Fortune is complete!"
---
Park Decorations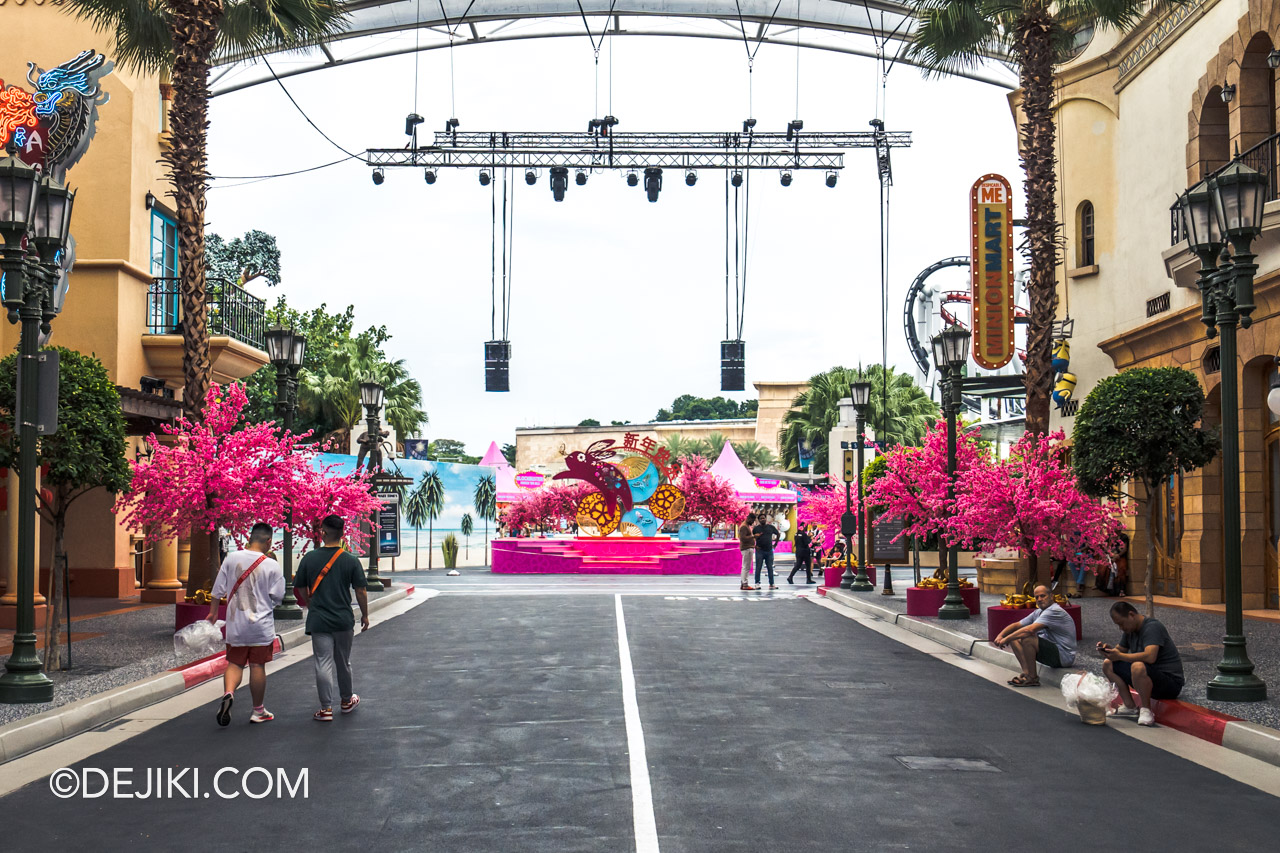 The cherry blossoms trees from last year have returned, filling Hollywood Street with many potential photo spots.
At night, the trees glow, offering photo opportunities that were reserved for IT'S SHOWTIME! Premium Experience last year.
The carnival games area at Hollywood zone's fountain is still around, but with a new look.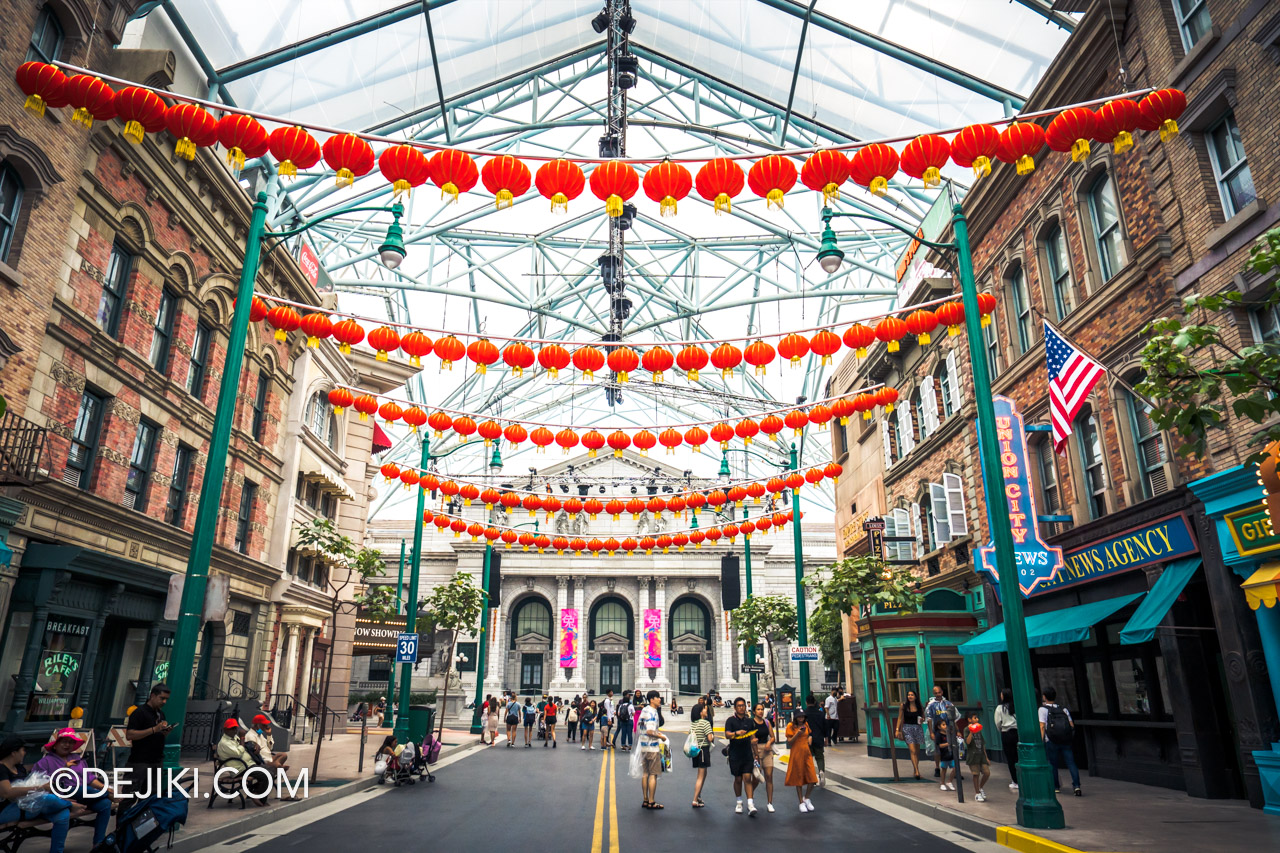 Over at New York, the street is decorated with rows of red lanterns, which are part of special show lighting during 'Stay and Lo-Hei with the Stars'.
---
Other Park Updates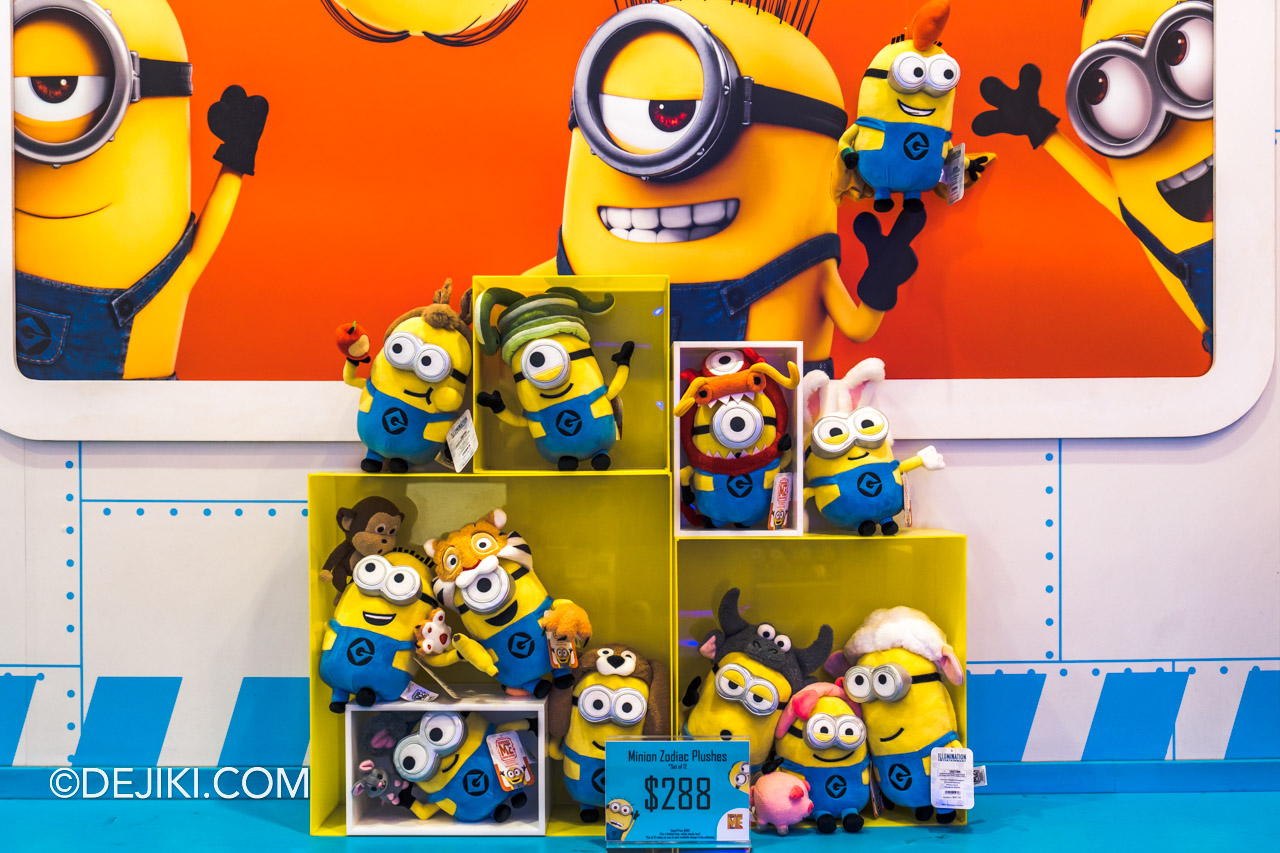 The Minion Zodiac merchandise line is now expanded to include plush toys ($29 each). All 12 designs are available, and you can get the complete set, priced at an auspicious $288.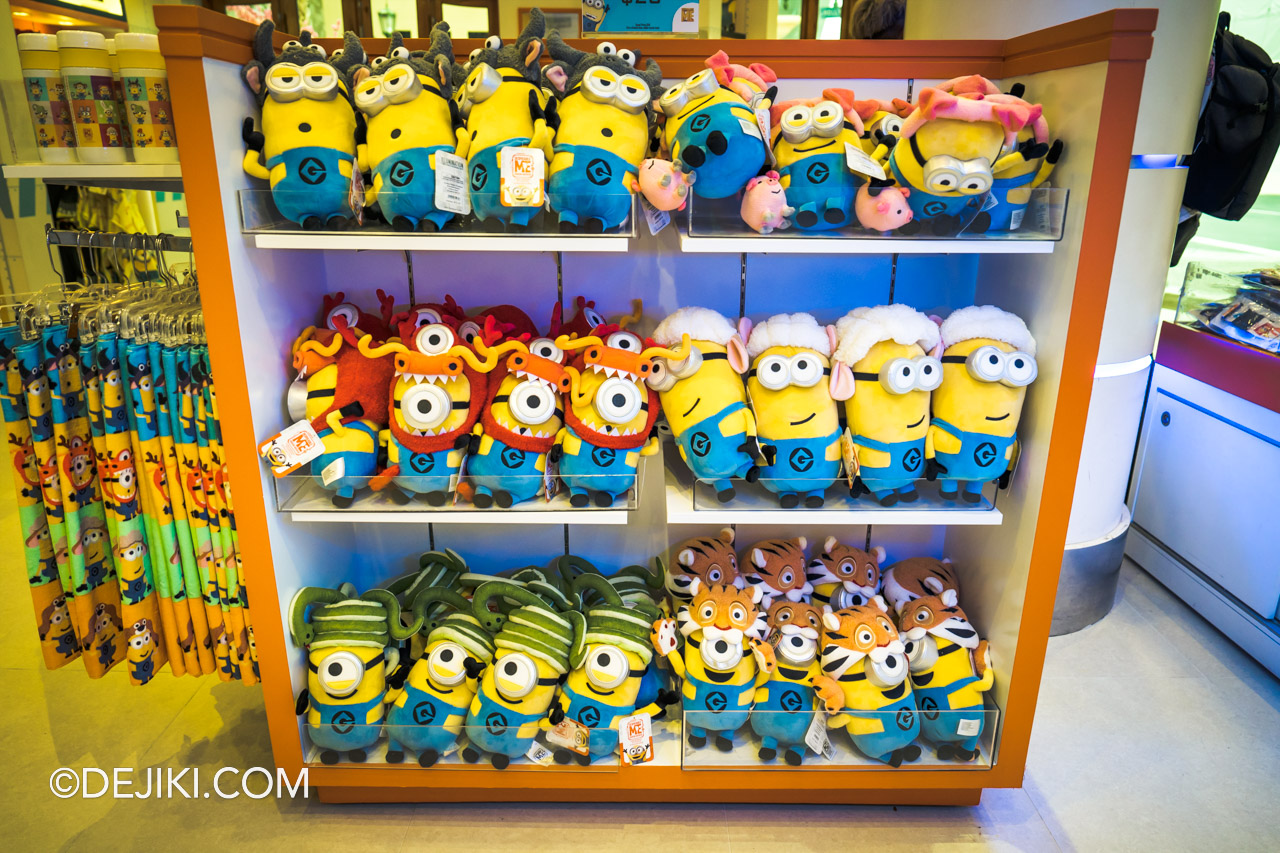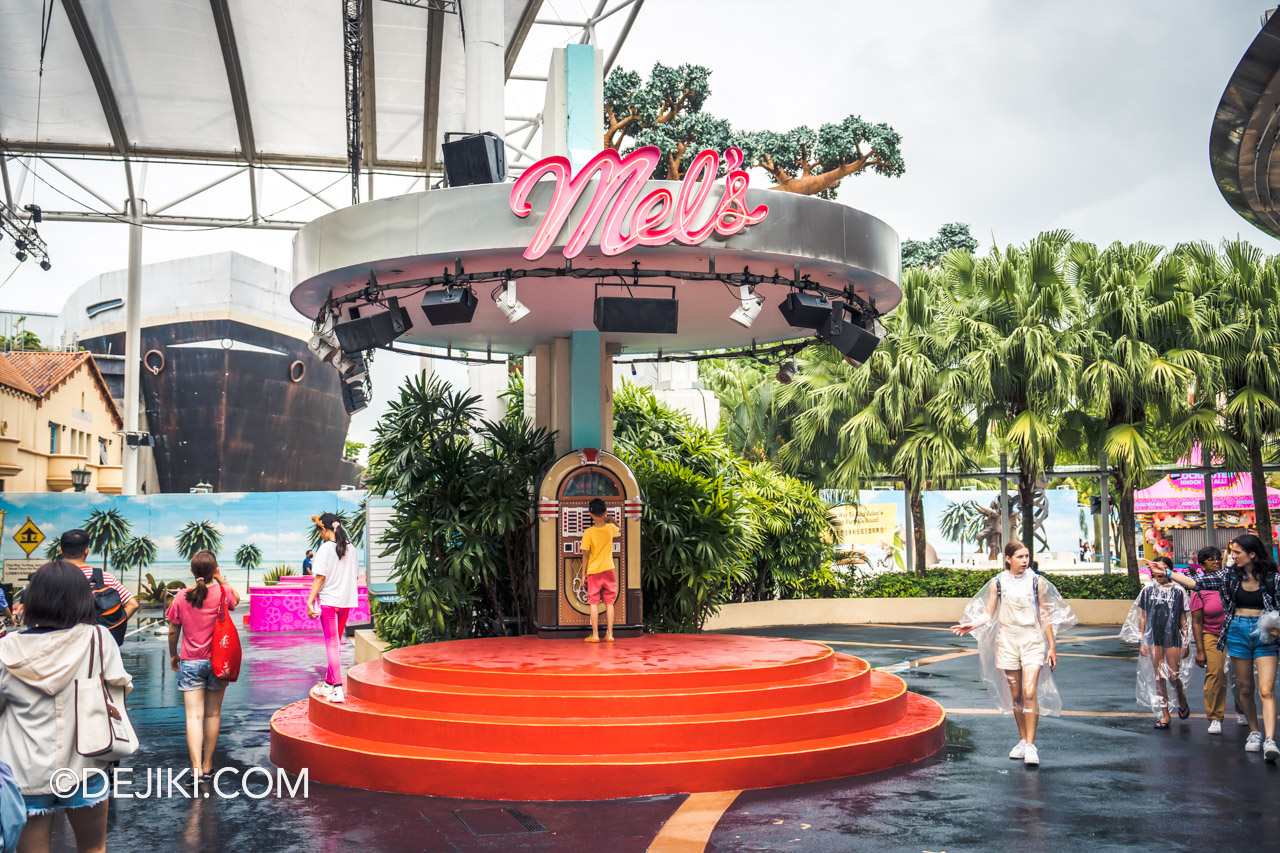 With the departure of Santa's Starlets , the sign at Mel's Stage has been restored. The stage floor is staying red, it seems.
Pantages Hollywood Theater had its iconic neon lights overhauled. It was completely gutted late last year.
Refurbishment works at Far Far Away castle continues, with the completed towers looking much lighter than the rest.
Minion Land Construction Update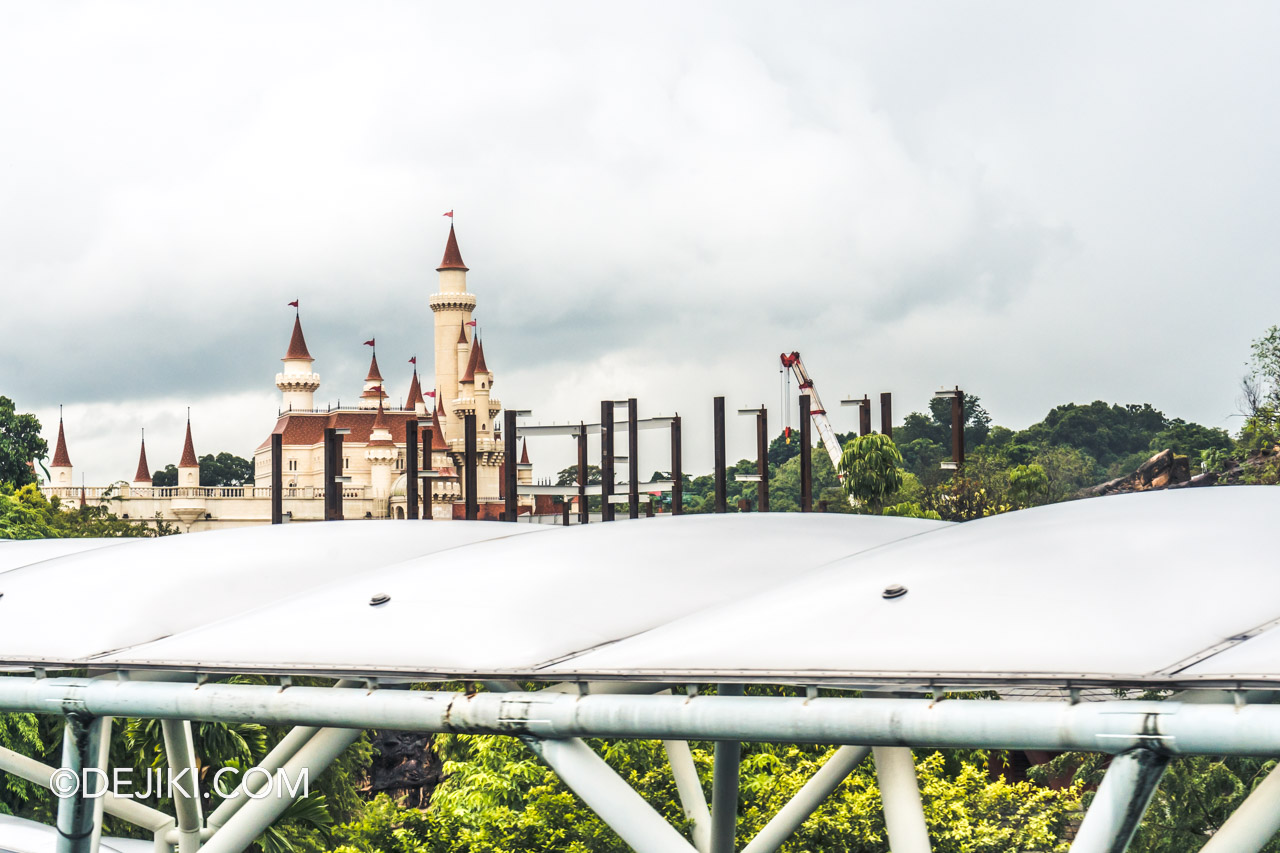 Here's some construction updates for Universal Studios Singapore's Minion Land. Progress for the Despicable Me: Minion Mayhem show building has gone vertical, with structural beams for the theater rising out of the old restrooms and Marty's Casa-Del-Wild restaurant.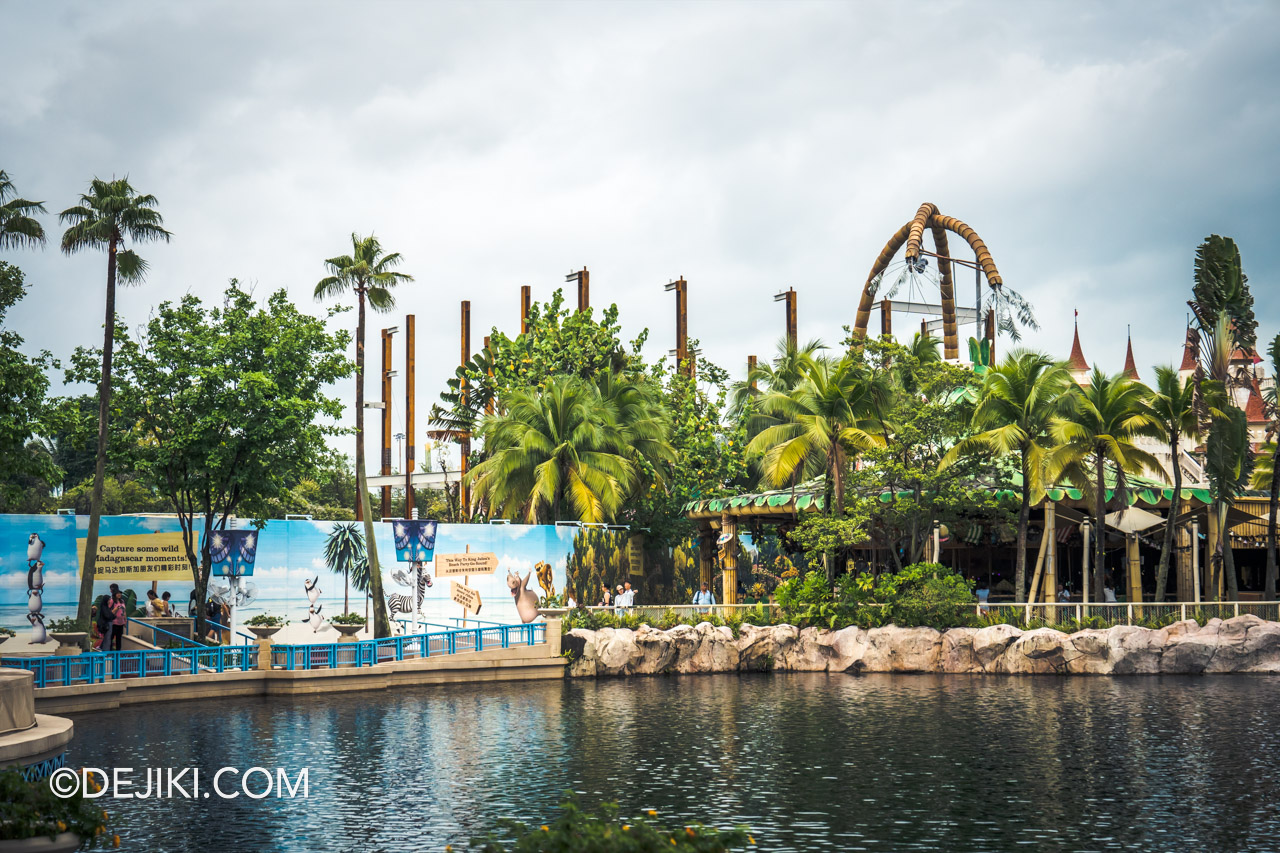 From the looks of things, this is going to be a tall show building which will definitely impact certain sightlines within the Far Far Away zone. You can even see it from outside the park.
While it's not clear what is the progress within the Madagascar show building, at least a few more parts of the ship hull were removed.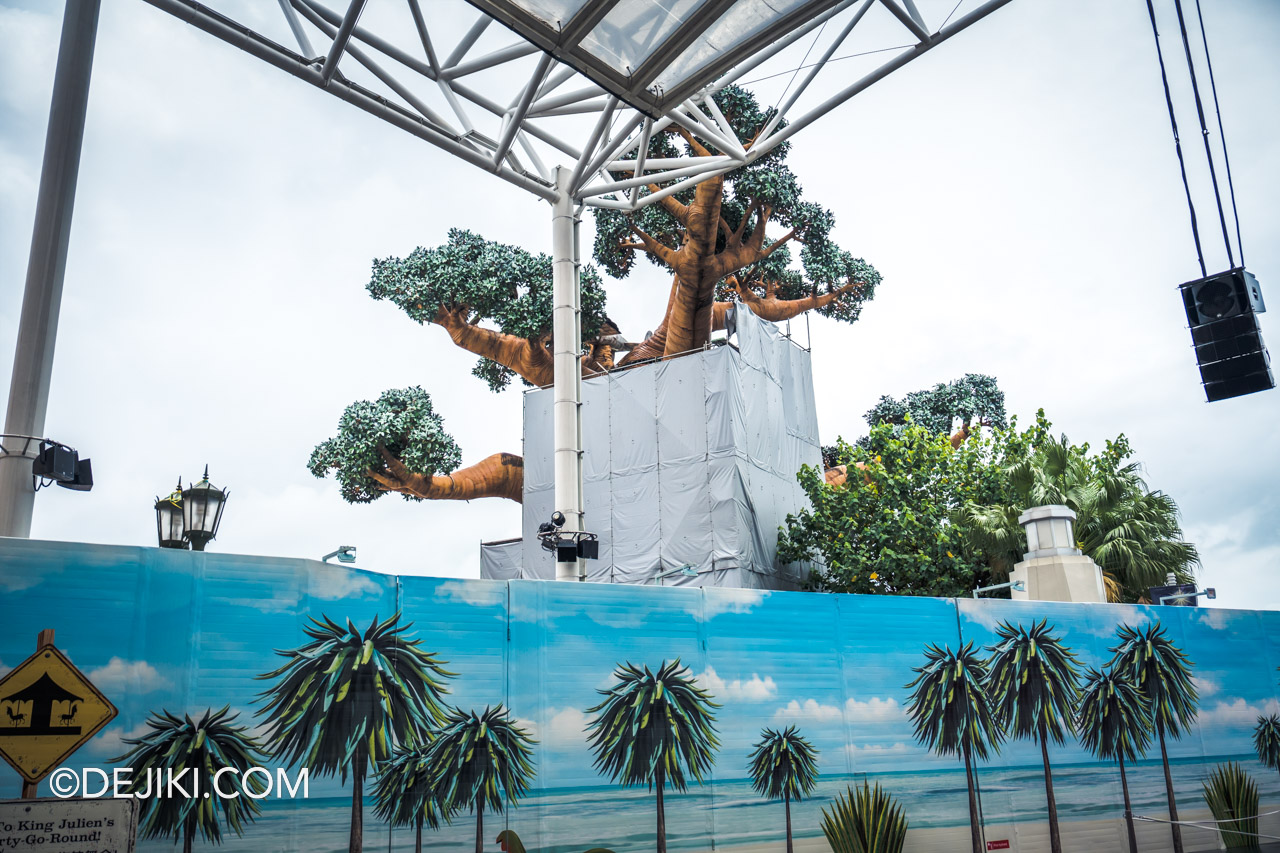 And did you notice what else has been removed at the tree?
---
Resorts World Sentosa news – Enter the Bunnyverse
Apart from Minion Land, some area of Resorts World Sentosa will be getting a facelift as part of resort expansion plans. There will also be some new fun additions, such as these rabbit sculptures as part of the Bunnyverse.
This is a resort-wide project to celebrate the Year of the Rabbit. I've been told that there will be 'seasonal' bunnies appearing throughout the year, such as one to accompany the upcoming Van Gogh: The Immersive Experience, which will be a new attraction opening from March 2023 for a limited time.
Currently, the largest bunny is located at the Ave8 (the fountain area along the path leading to the Imbiah area of Sentosa). Have fun finding them all around the resort!
---
Get your tickets to Universal Studios Singapore
Universal Studios Singapore Park Ticket
Price

Universal Studios Singapore (CNY 2023)


USS Daytime Park Admission
+ USS CNY Treats voucher* – S$20 (Adult)/ S$10 (Child)
+ S$8 Retail voucher**
+ S$5 Exclusive USS merchandise voucher***
$88/ 68
(Adult/ Child)
Book via Klook »
* Redeemable at selected restaurants and food carts in the park, only valid for CNY-themed items
** Redeemable at shops in the park except carnival games. Minimum spend of S$50 required.
*** Redeemable for purchase of exclusive USS merchandise (item's usual price up to S$10)